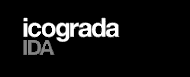 Article on Icograda. Read full-text here.
The beginning excerpt says:
"Now more than ever, due to the growing understanding of the benefits of design to business, UK design firms have the opportunity to articulate their offer and evolve their business model. Maxine J Horn, CEO, British Design Innovation presents a view on the process of change the design sector needs to go through to secure its future professional status."
The headings in the article are as follows:
Brand Owners understand the value of design
Educate the client?
Categorise or accredit design firms?
Innovation is the new buzz word.
Design leadership high-end strategic-led user centered designers
International competition versus new income models
Opportunities and issues affecting middle ground design firms
The widening gap between small niche and global design firms
Conclusions:
All type and size of business is expressing a desire to recognise the role design – sometimes hand in hand with innovation – can play in communicating brand attributes to consumers through products and services and thereby assisting in increasing sales revenue. If the design sector is to take advantage of this desire then it must seek to allow differentiation of offer.Any design company can aspire to be the very best in the sector, discipline and service it offers regardless of whether it is a high-end consultant, mid level agency or production-led studio.

A re-categorisation or accreditation of the commercial design sector is not only inevitable but a beneficial necessity to all parties concerned.

New income models such as licensing, royalties, extended usage fees and greater understanding and tighter control over IPR is essential to protect the future of the design sector.

A greater acceptance of responsibility over communication of capability and transparency in costs must be provided to clients. And the courage to walk away from clients and projects that cannot be delivered within the proposed budget or a negotiation of a more commercially savvy, shared risk deal is more appropriate than under-cutting fees.

There have been several wake up calls to the design sector.

1.7bn cost to the sector in free pitching (on a 4.6bn turnover) BDI/Firedog Pitch versus Productivity survey November 2005

Salaries increasing fees reducing Willett Kingston Smith/DBA fee survey February 2006

Drop in turnover and fee income over past five years down from 6.2bn in 2000 to 4.6bn in 2004/5 (recording an all time low of 3.9bn in 2003/4) BDI/Design Council/UK Trade & Investment Design Industry Valuation Survey s 2000 to 2005

It is time for the design sector to take serious note and decide how to move forward.
The article also covers some client-designer issues as discussed in the previous discussion that Mike and I had.