Updates from Naina.co on Facebook | Twitter | Instagram | Pinterest
( Email us on [email protected] for hiring & commissioning enquiries for a wedding in your family! )
The wedding details were finely selected considering Gaurav and his entourage of friends are alumni from the National Institute of Design. A warm, charming and loving bunch of people.
Mehendi / Henna tattoos on Gaurav's and his brother's arms – the tattoos spell out the brides' names in Hindi. Both the brothers were getting married simultaneously. See Shikhar & Ritika's wedding here.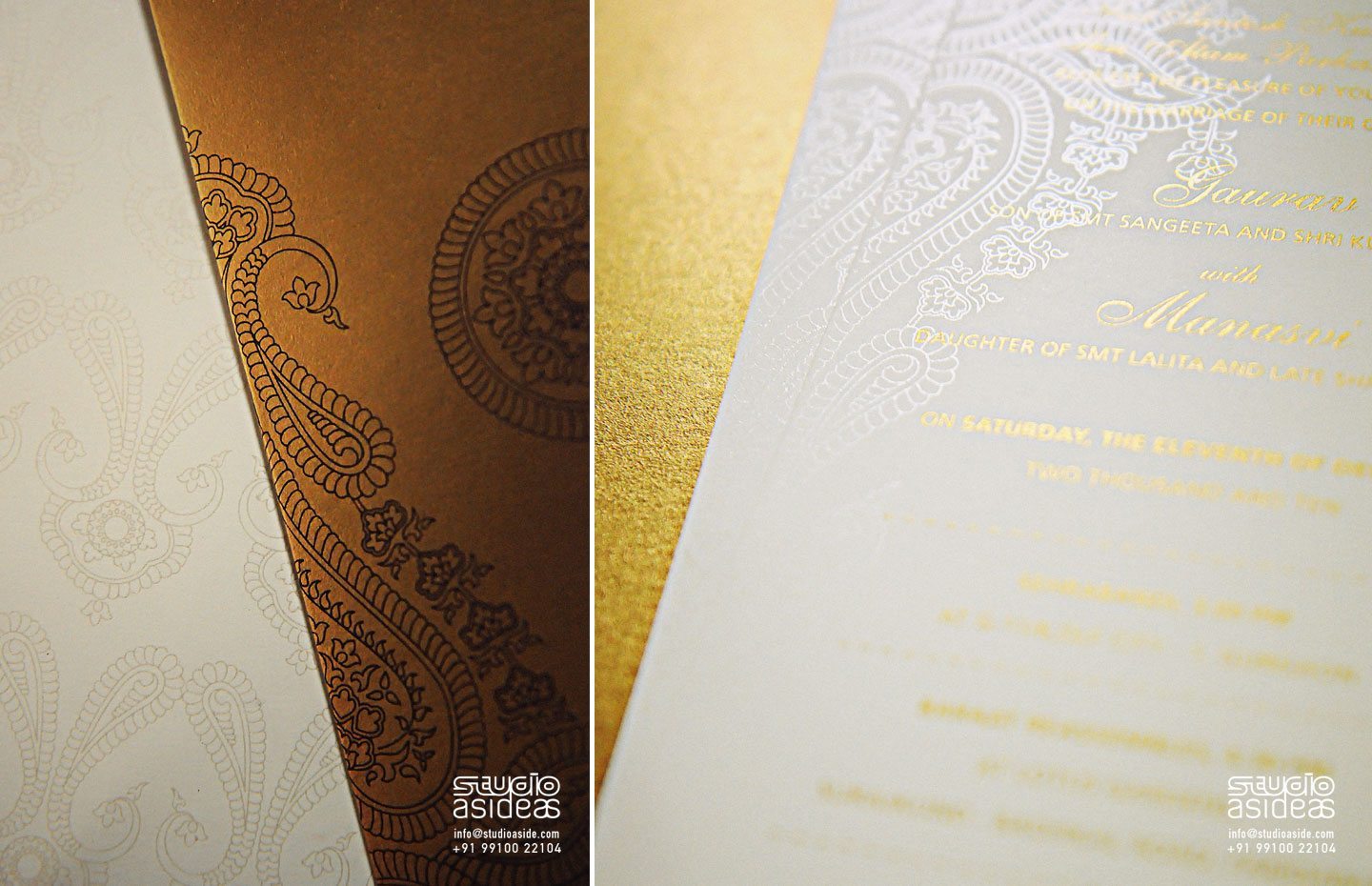 Wedding card designed by Gaurav – the groom – himself.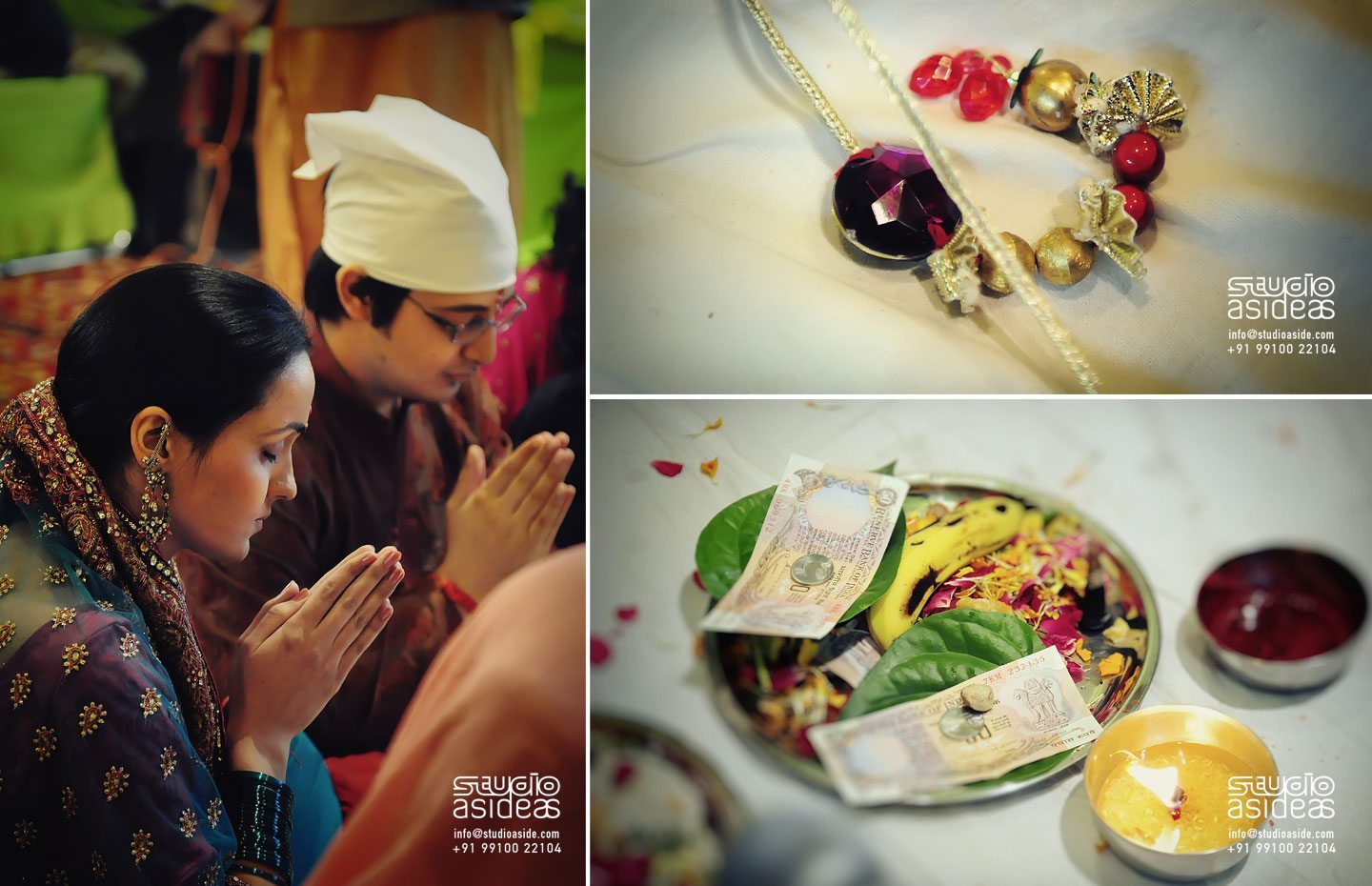 Gaurav and Manasvi at the Mata Ki Chowki, two days before the wedding ceremony, taking blessings of various gods and goddesses and families of both sides.
Manasvi and Gaurav after the chunni ceremony.
Gaurav with his mother and aunts at the haldi/turmeric ceremony on the day of the wedding ceremony.
Gaurav's turban before he leaves for the wedding / marriage venue.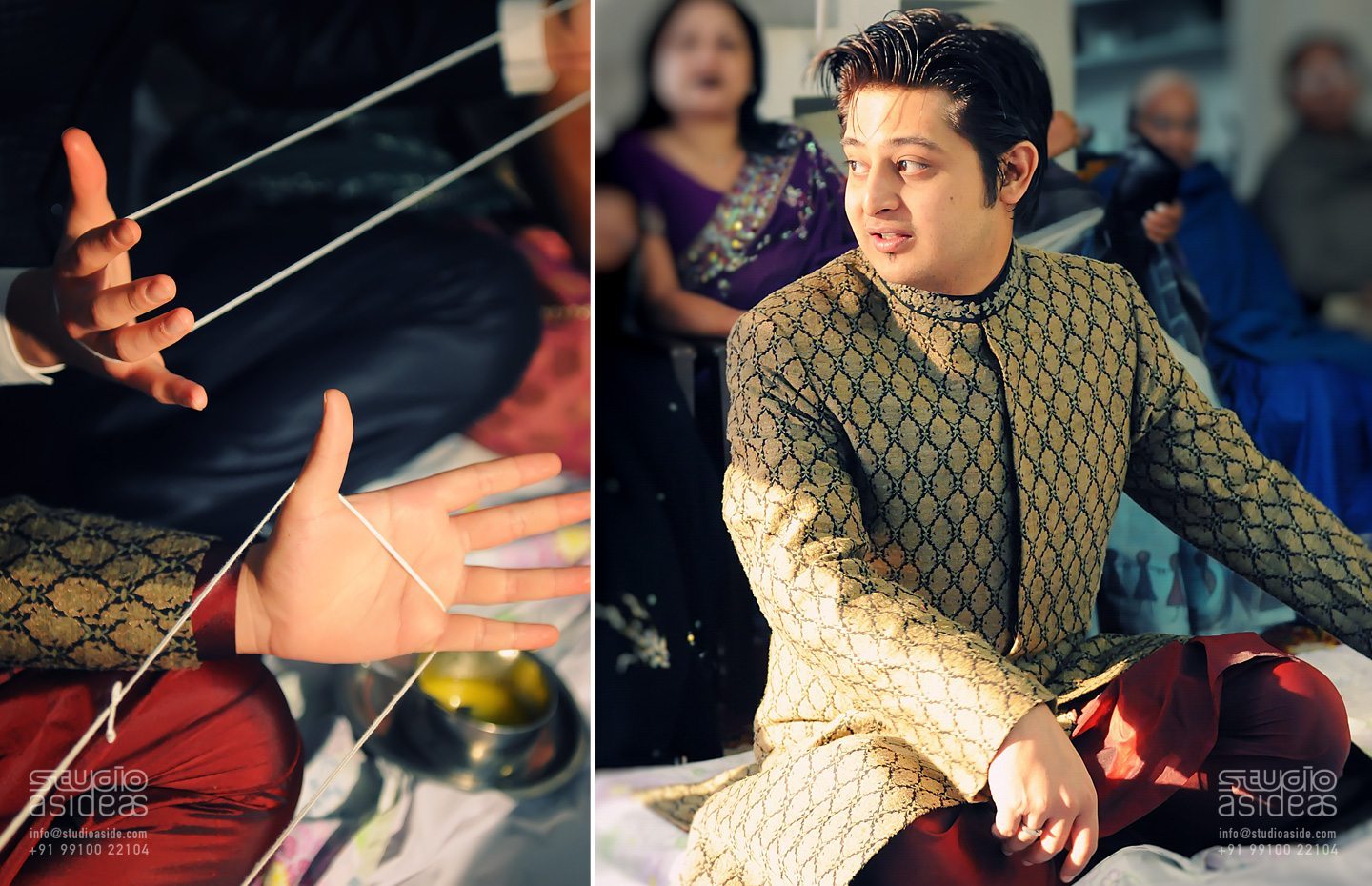 The groom at the thread ceremony after the haldi ceremony and before he leaves for the wedding venue.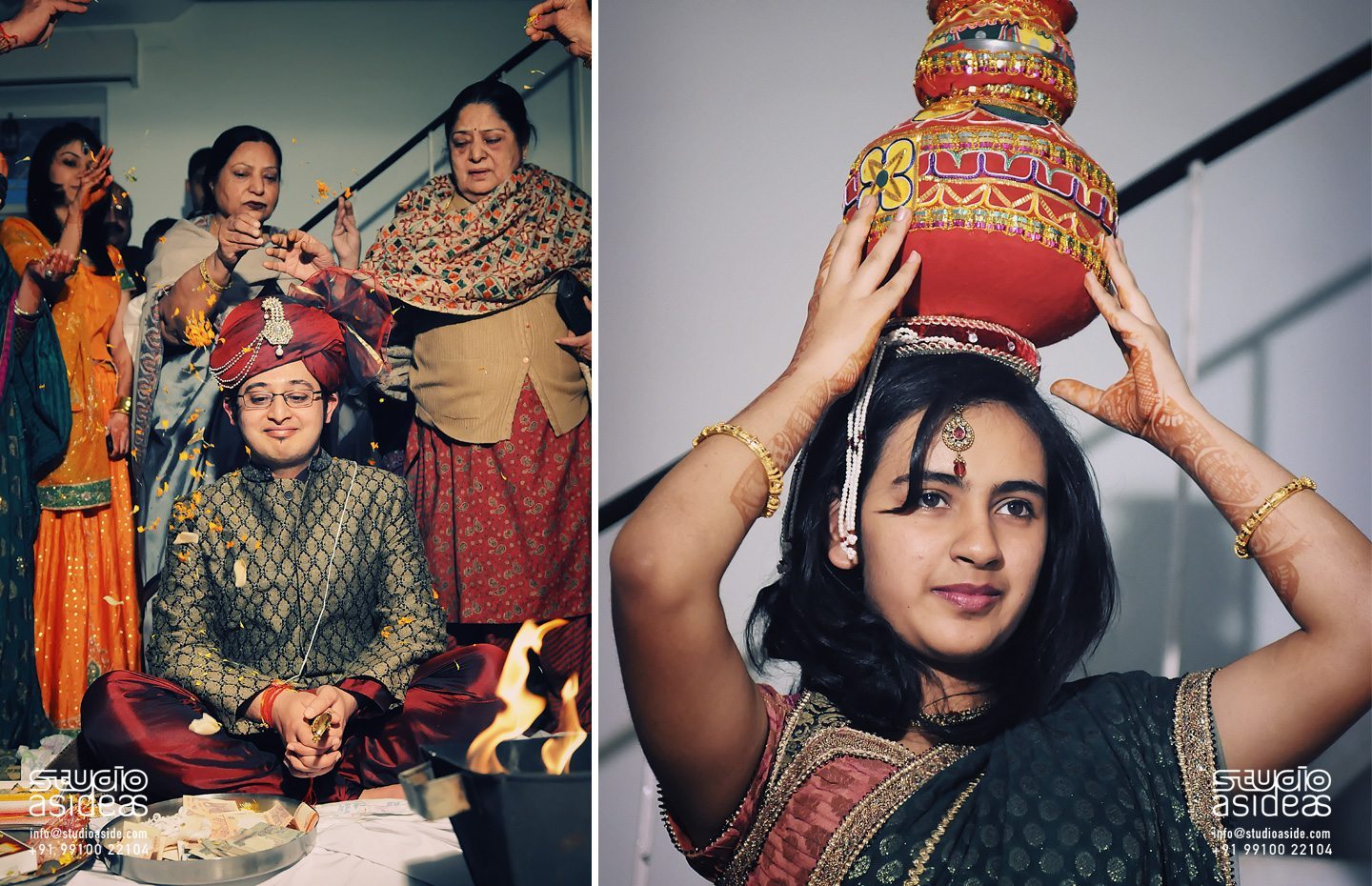 After the completion of the puja, flowers are being showered on the groom and his cousin sister carries the shagan clay pot to mark the beginning of the auspicious time.
A small replica of a sword handed over to the groom after the thread ceremony.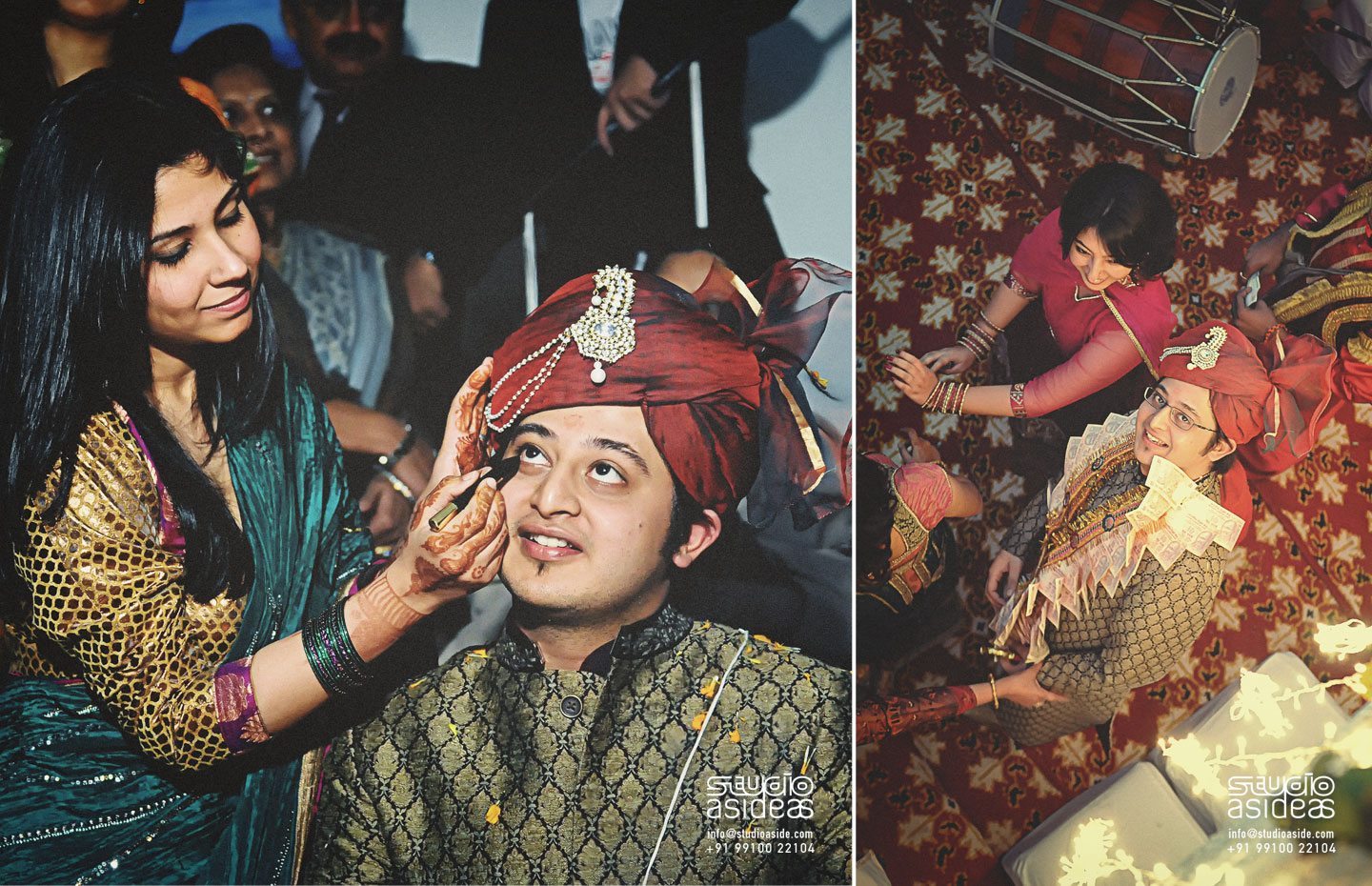 The groom's sister-in-law applies kajal to his eyes to keep away the evil spirits. And on the right, the groom dancing to the beat of the dhol before he leaves for the wedding venue.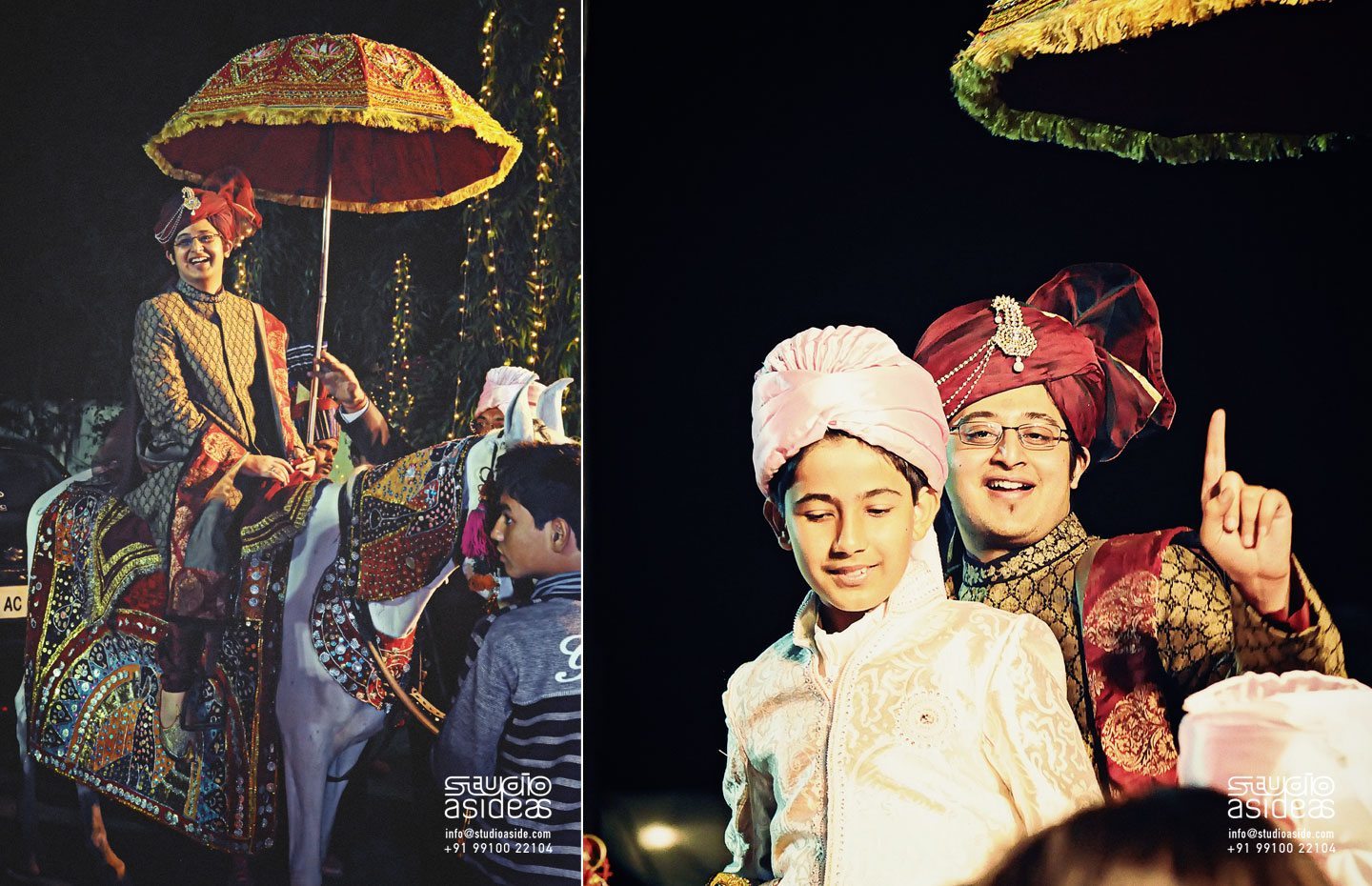 Gaurav, the groom, on the horse right after reaching the venue for the wedding, leading the baraat.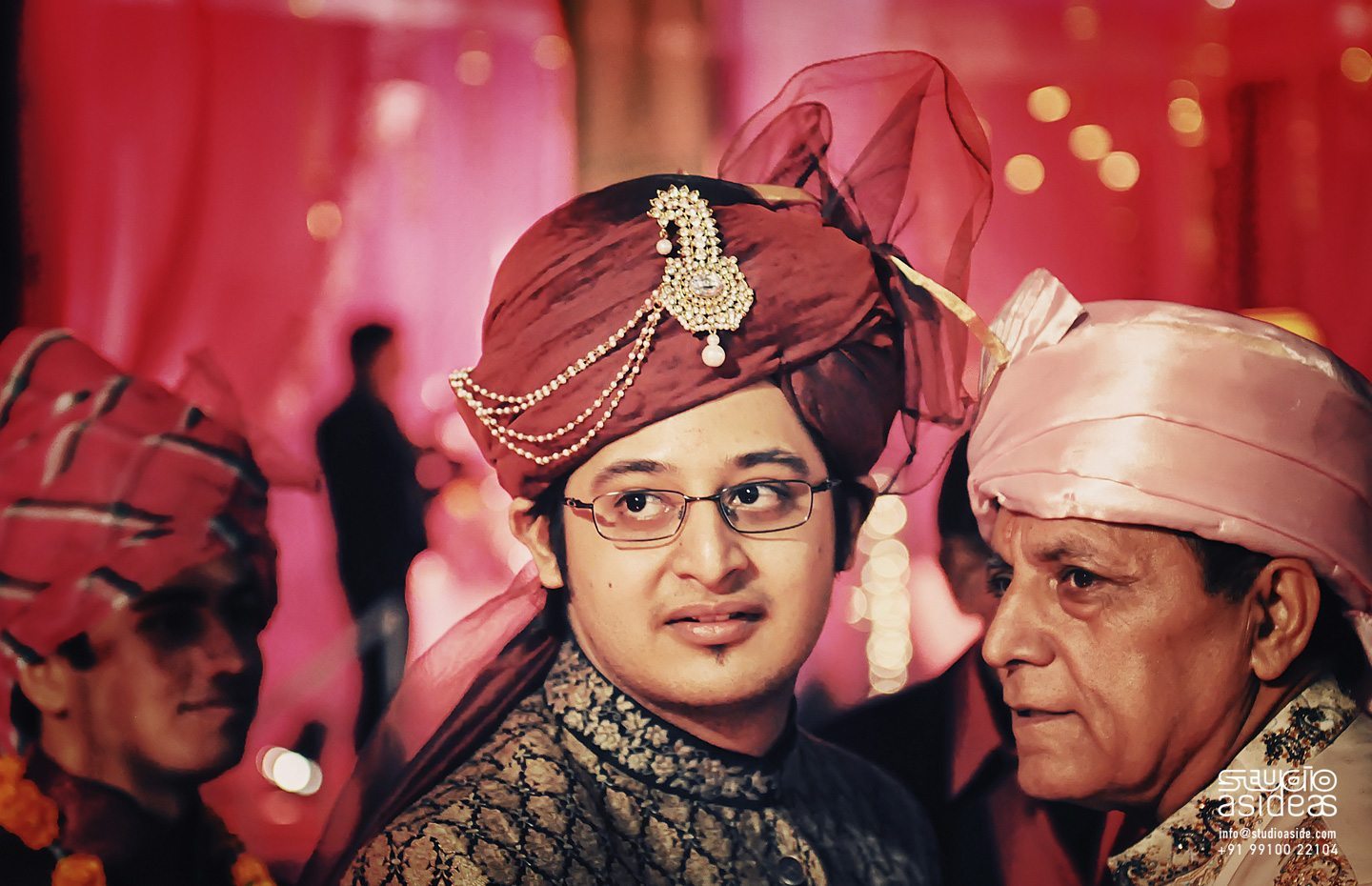 The groom, after he has been welcomed by the bride's family at the wedding venue.
Manasvi, the bride, busy with the finishing touches before she leaves to meet the groom at the venue.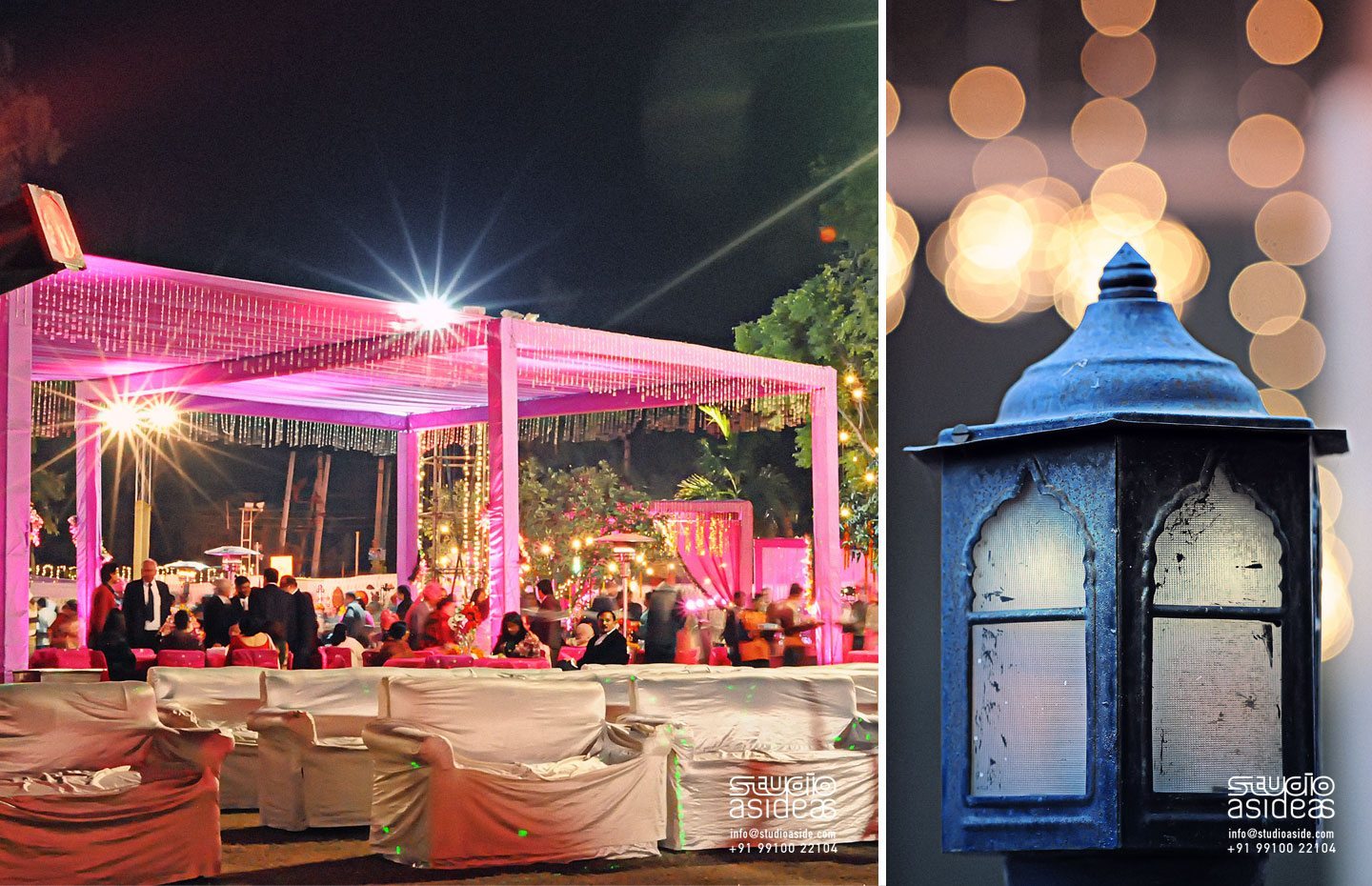 Photographs from the wedding venue on the left and the groom's house on the right.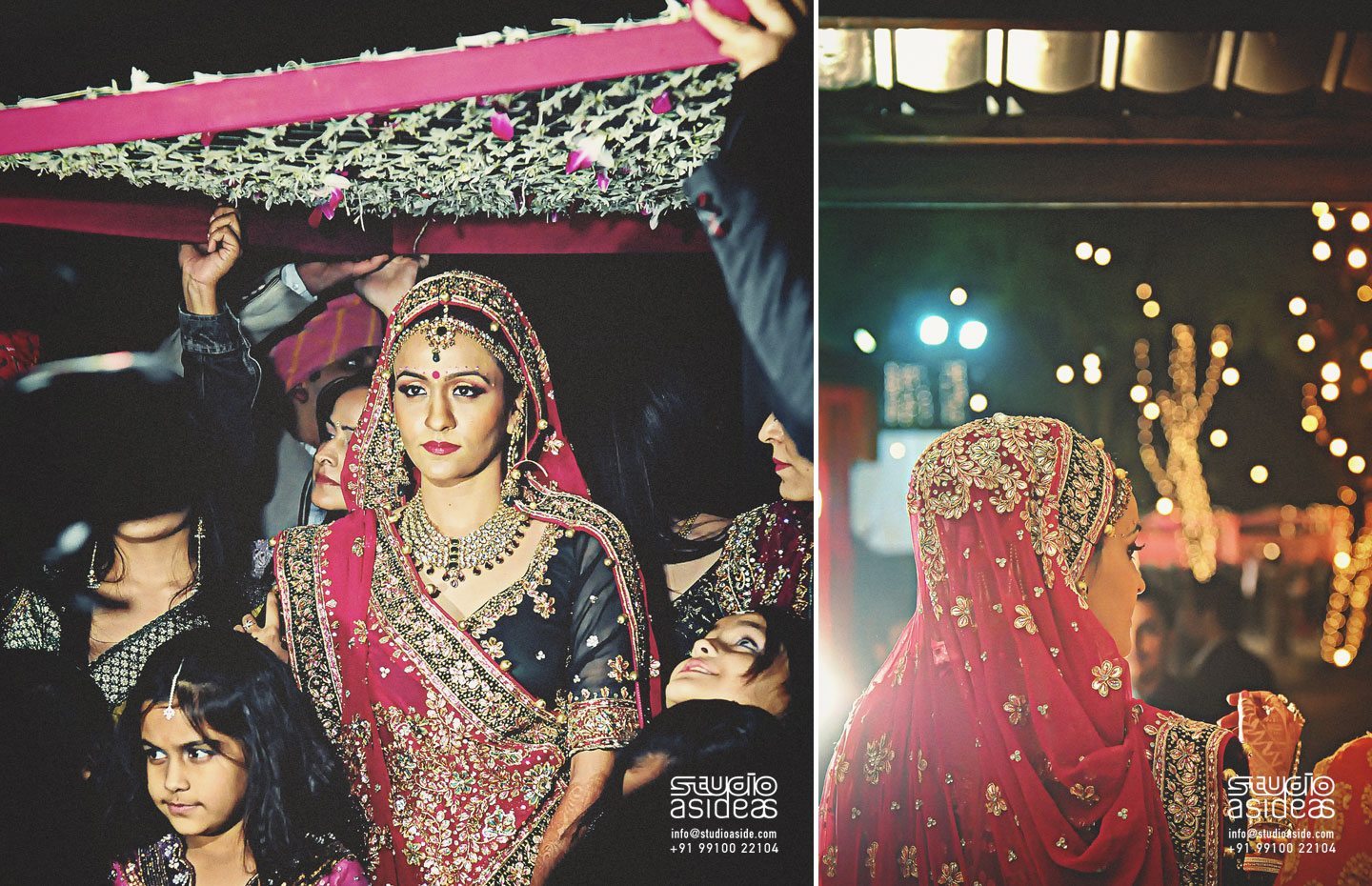 The bride being led out to the venue under the chaadar. It's a woven tapestry of flowers, which is carried over the bride while she walks to the mandap.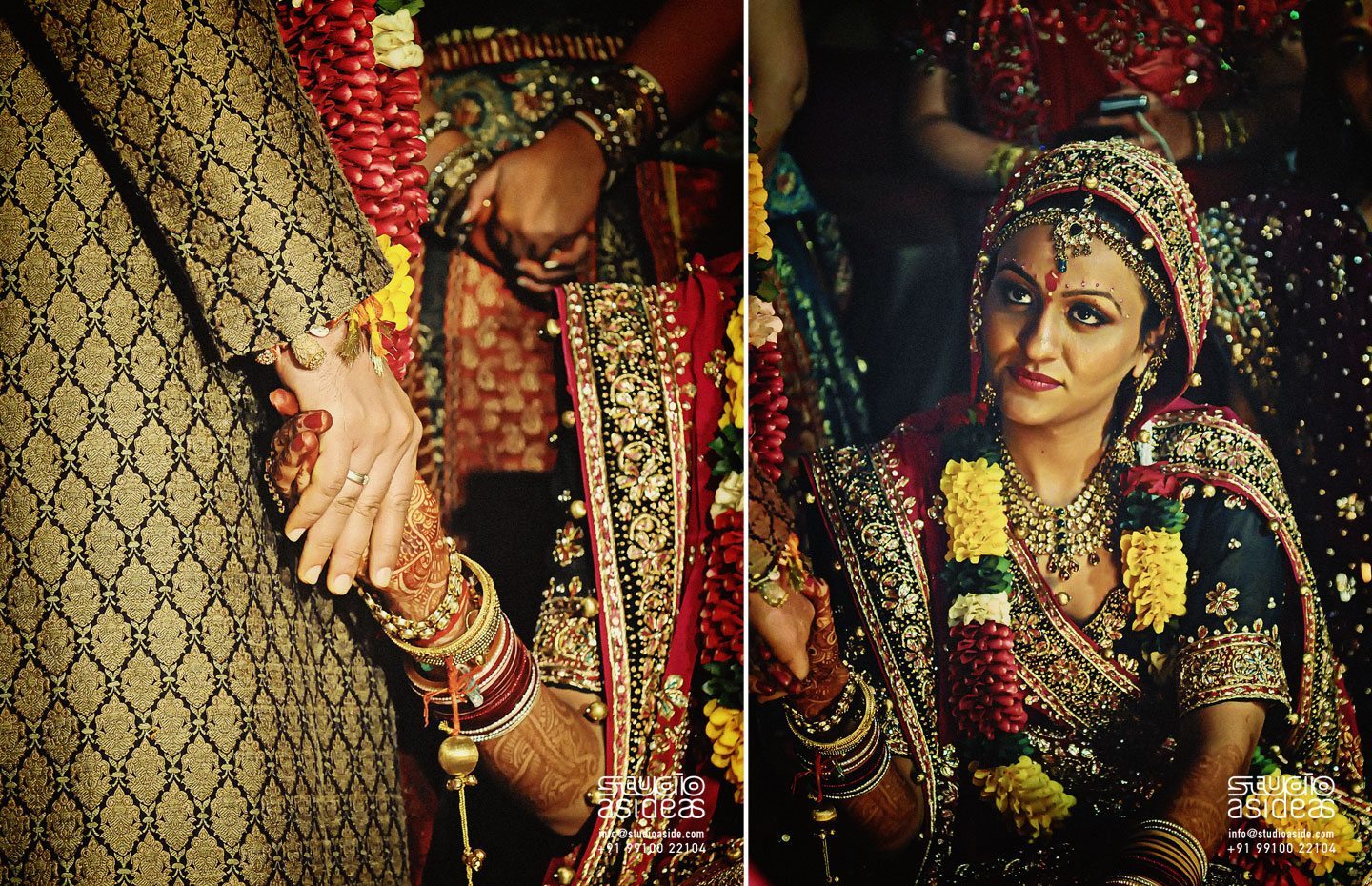 The bride and groom at the mandap during the various rituals of an Indian wedding.
The now-married couple climbs onto the stage to begin receiving guests and blessings.
The day after the wedding, the couple posing together on the roof of the groom's home.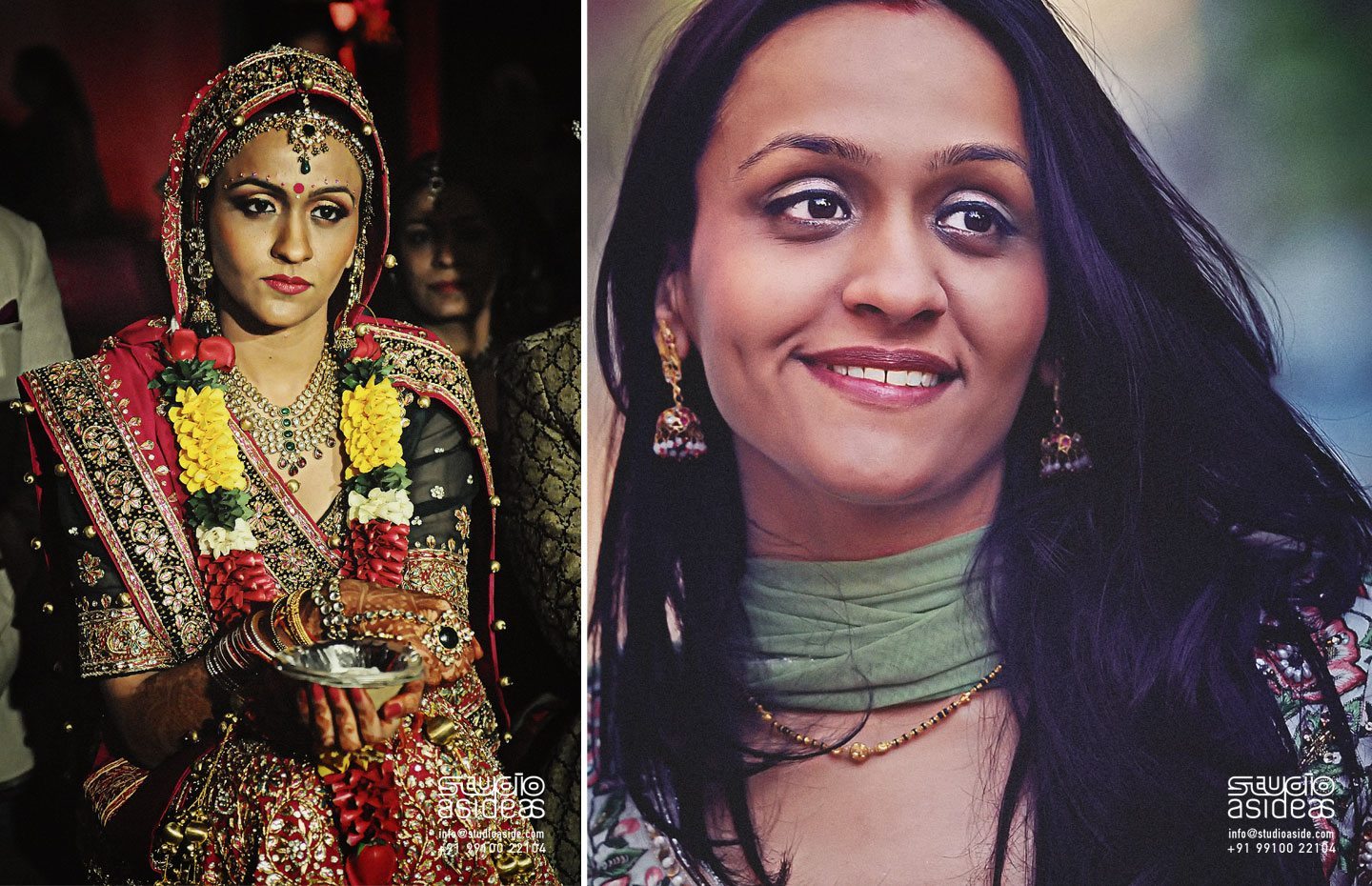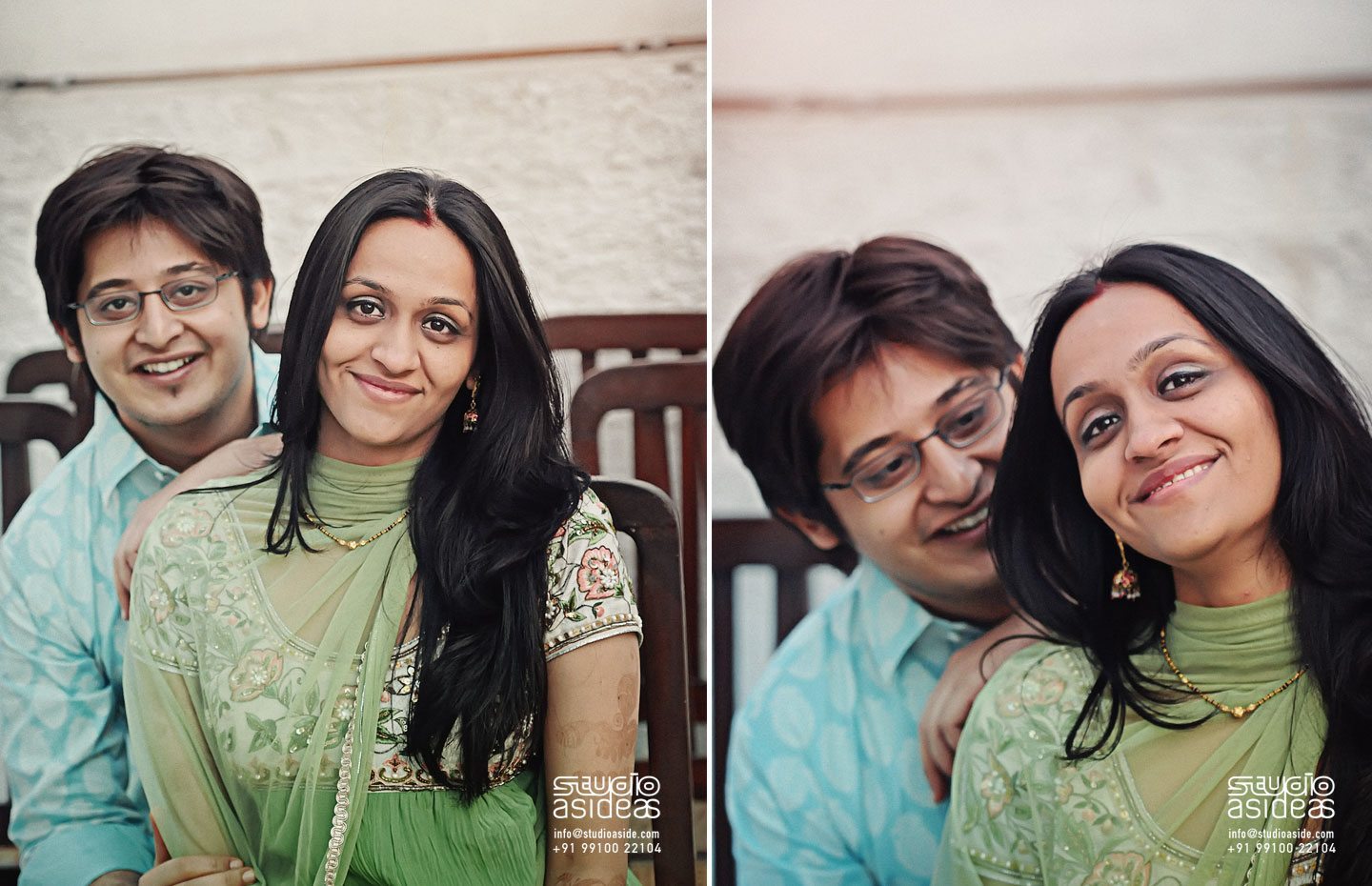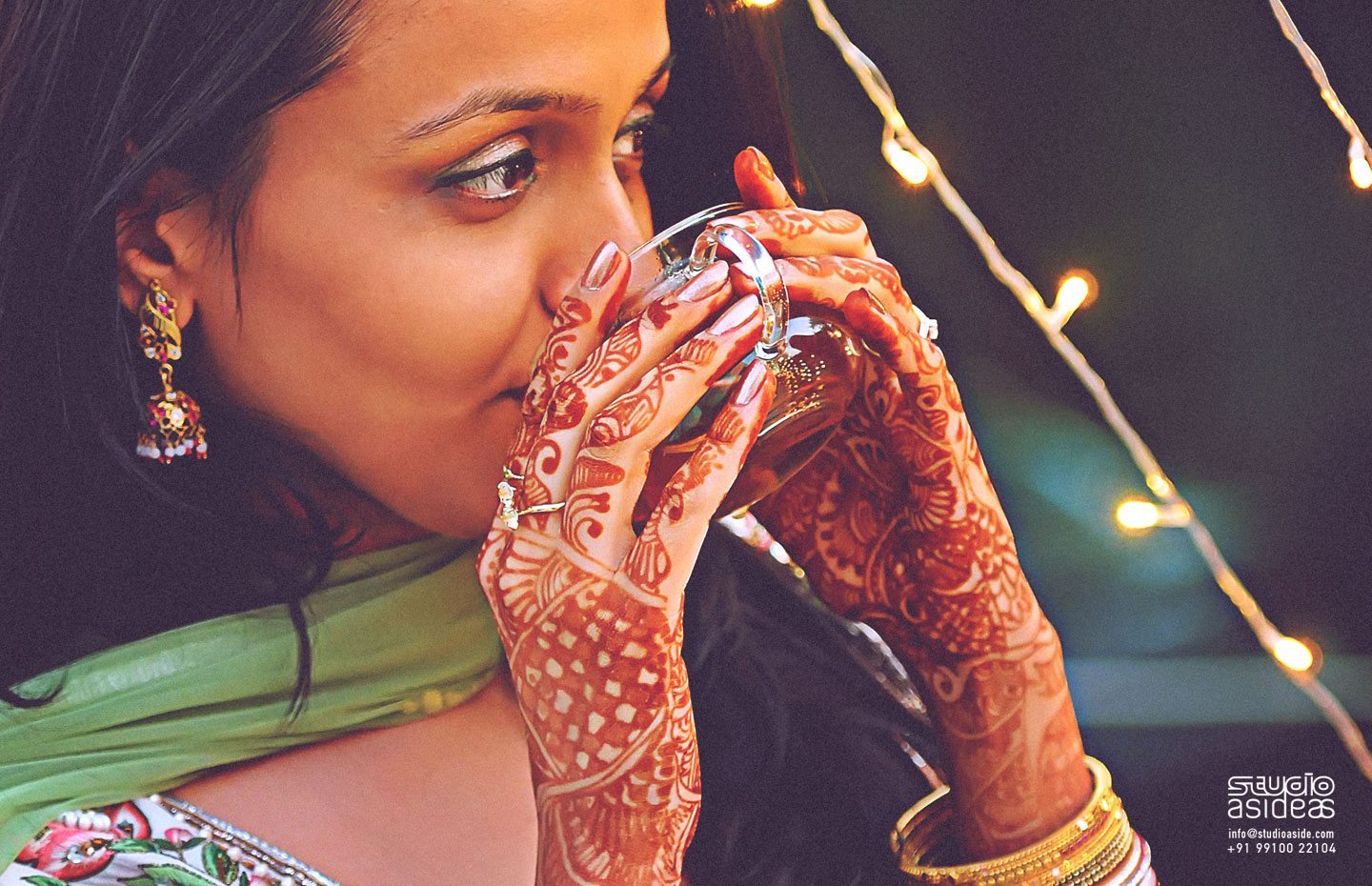 Many thanks to Gaurav and Manasvi for allowing me to be a part of their wonderful wedding. I love how the images turned out – I try to use a different tone and effect for each wedding album depending on either the client's preferences or based on the vibe I get – yeah – don't ask me to elaborate! I made a lots of friends as well and it's awesome connecting with everyone on Facebook afterwards. I still talk regularly with Gaurav – about things Android and #apps!
Updates from Naina.co on Facebook | Twitter | Instagram | Pinterest
( Email us on [email protected] for hiring & commissioning enquiries for a wedding in your family! )