Fine Art Wedding Photography by Jose Villa & Jeff Kent : How to capture images with style for the modern bride. After I read and reviewed The Luminous Portrait I realized my reading would be incomplete if I did not also read Jose Villa's book on fine art wedding photography. And I am happy to report that I was right [ I love being right *grin* ]. Here are some images from the book alongwith some of my favorite parts.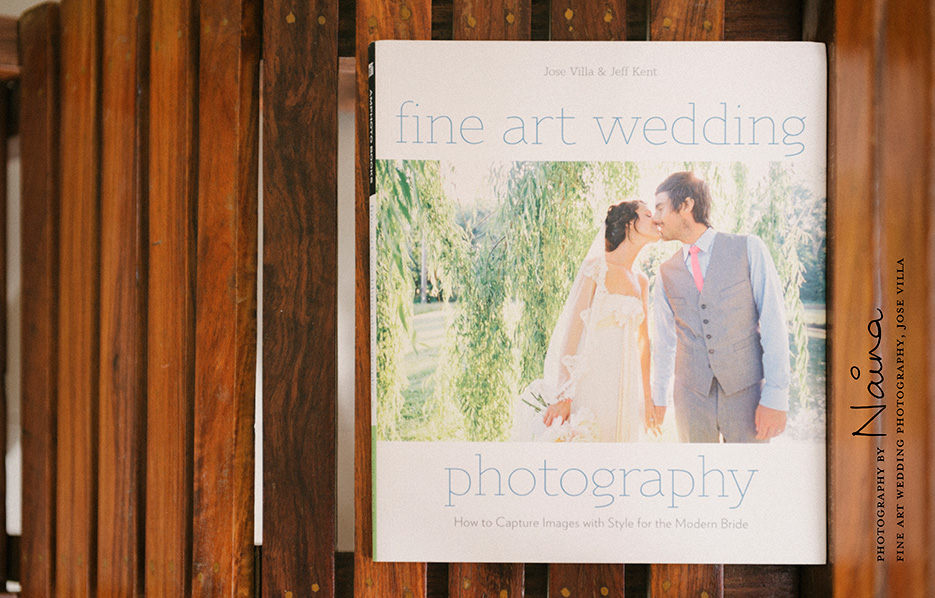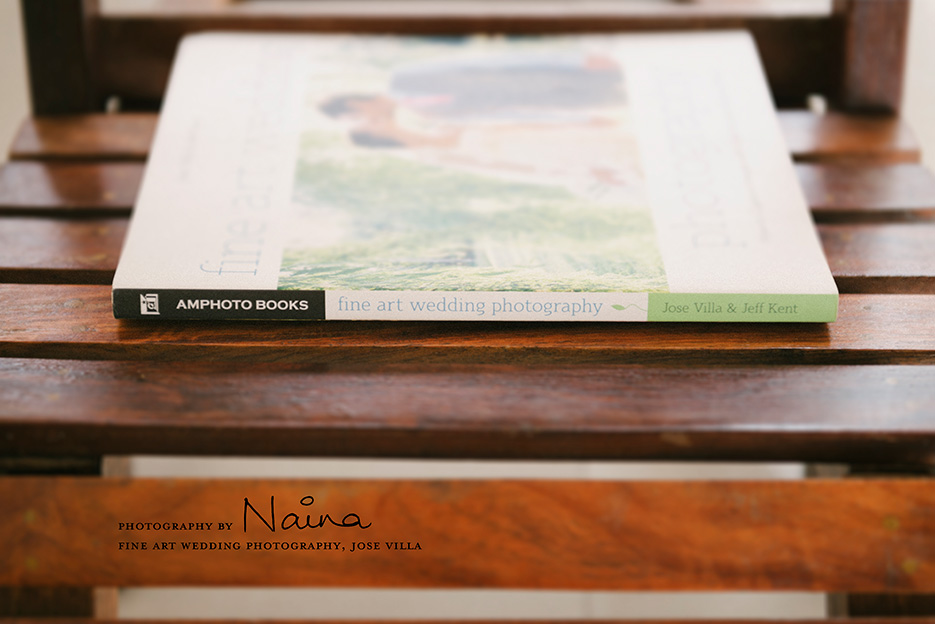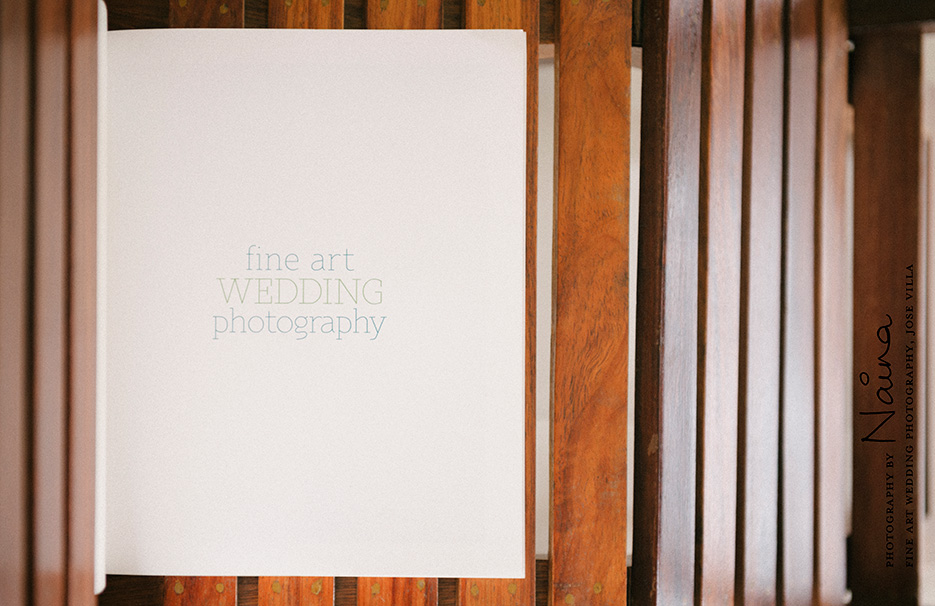 The design of the book is simple and it is a quick read – I was done within a few hours. I am familiar with Jose's work so the visuals were not new to me but it was really nice to know – as an overview – how he does what he does. He shoots film, which I knew beforehand.
The gear he uses is a Contax 645 and Canon EOS 1V cameras alongwith the following lenses : Carl Zeiss 80mm f2.0, Canon 16-35mm f2.8, Canon 70-200mm f2.8, Canon 50mm f1.2 [ which he uses for portraits ] and the Canon Macro 100mm f2.8. When he is in need of artificial light, he uses the Canon speedlite 550EX and 580EX as well as the Sony HVL 20DW2 Video light. Jose shoots film and uses Fujicolor Pro 400H, Pro 800Z and Superia 1600 for color and Fujifilm Neopan 400, Neopan 1600, Kodak T-Max P3200 and Ilford Delta 3200 for black and white.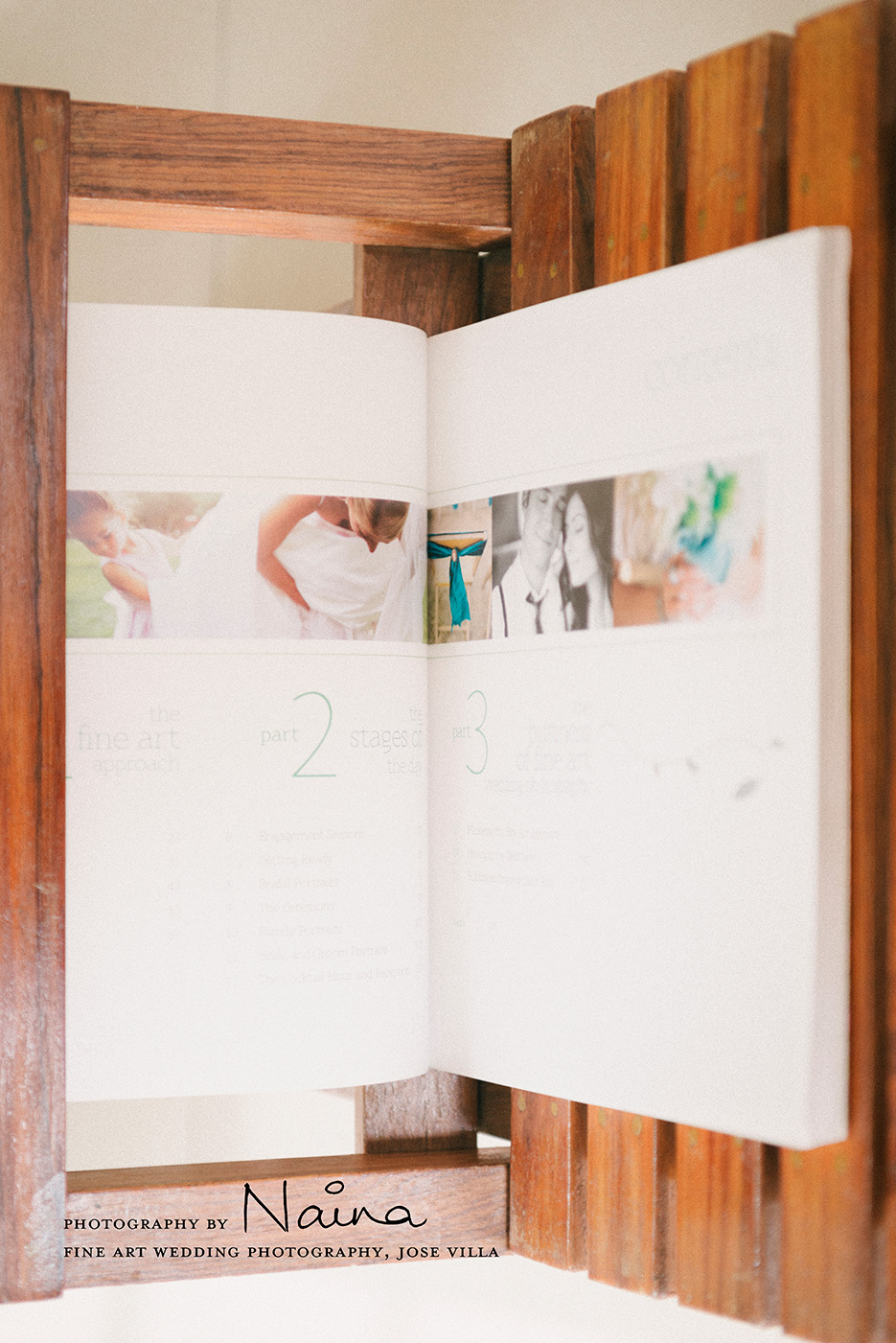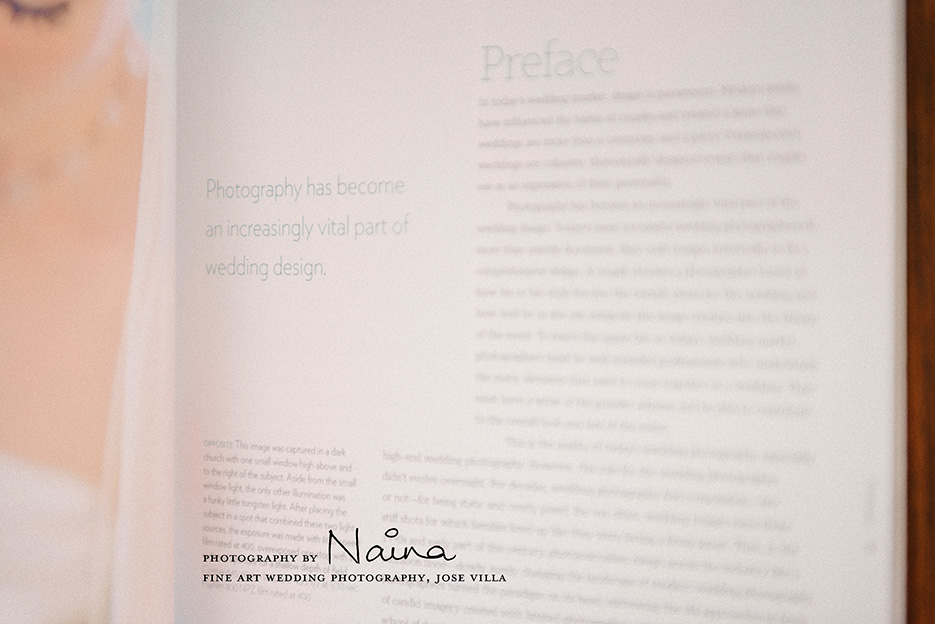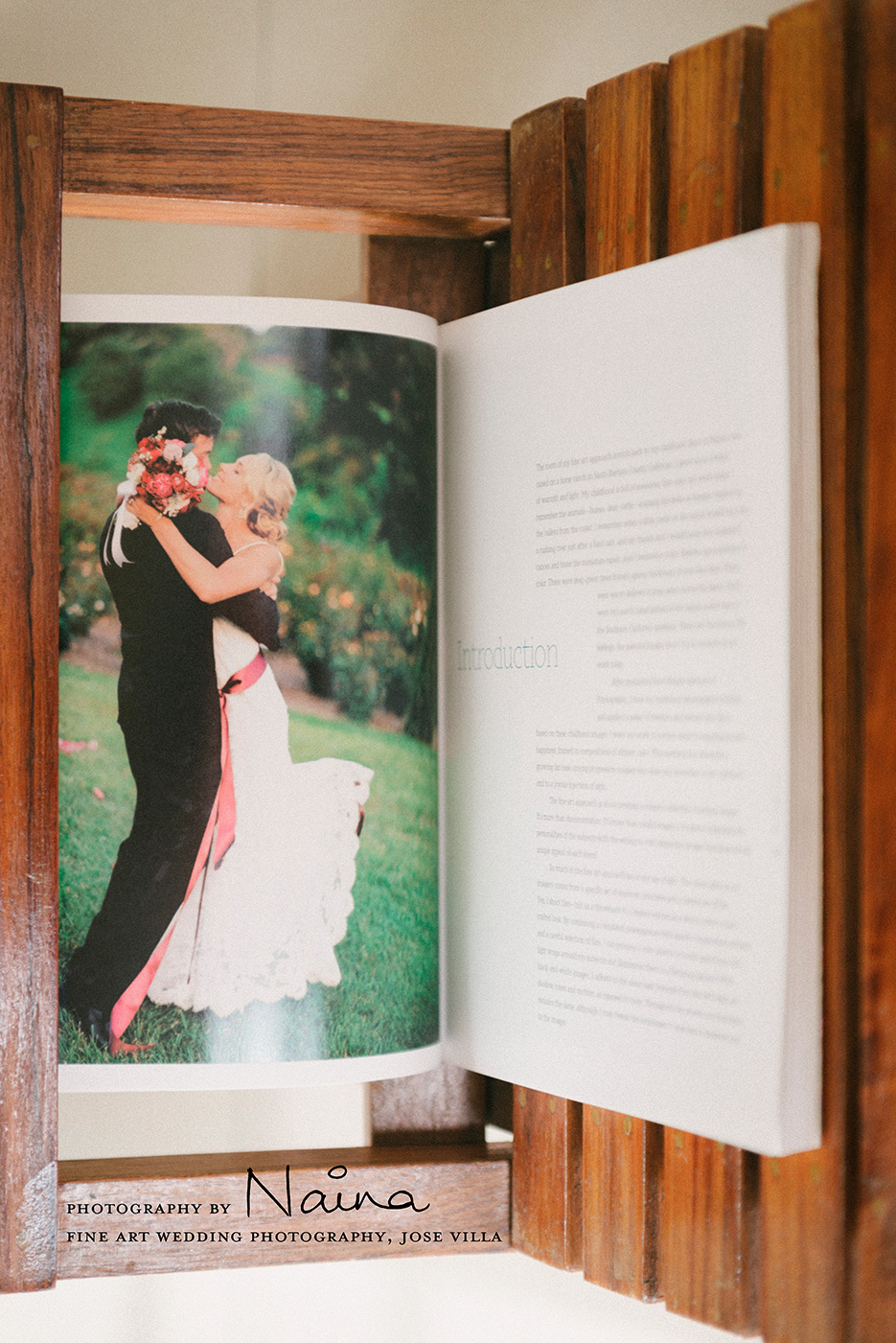 The first chapter of the book starts with a blurb : "The fine art approach is about creating a cohesive piece of art, not merely a record of the wedding day. It's about coordinating the personalities of your subjects with certain settings and specific shooting techniques to make images with distinctive stylistic appeal."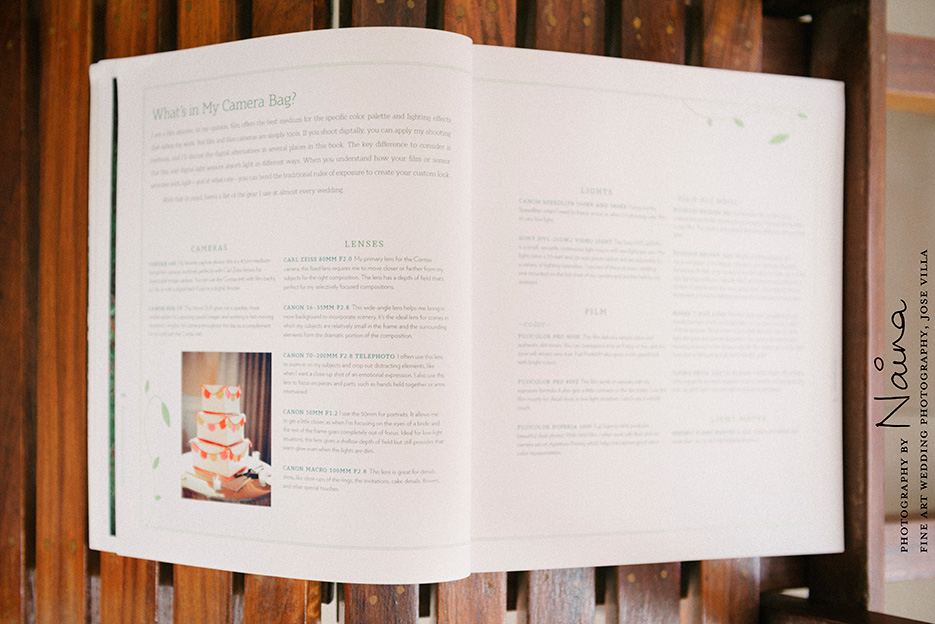 In the first part of the book – till page number 73, Jose talks about Light : how to use natural light, using artificial light, dealing with bad light; Exposure : overexpose the images, expose for the shadows, use a wide open aperture; Color : creating a warm palette, avoiding color shift, the film advantage; Direction : setting the scene, directing the portraits; Composition : create a clean canvas, crop in camera, use the rule of thirds; and along with the images in the book, he also gives short explanations of what he was thinking and how he got a particular shot along with the technical details of ISO, Aperture and film.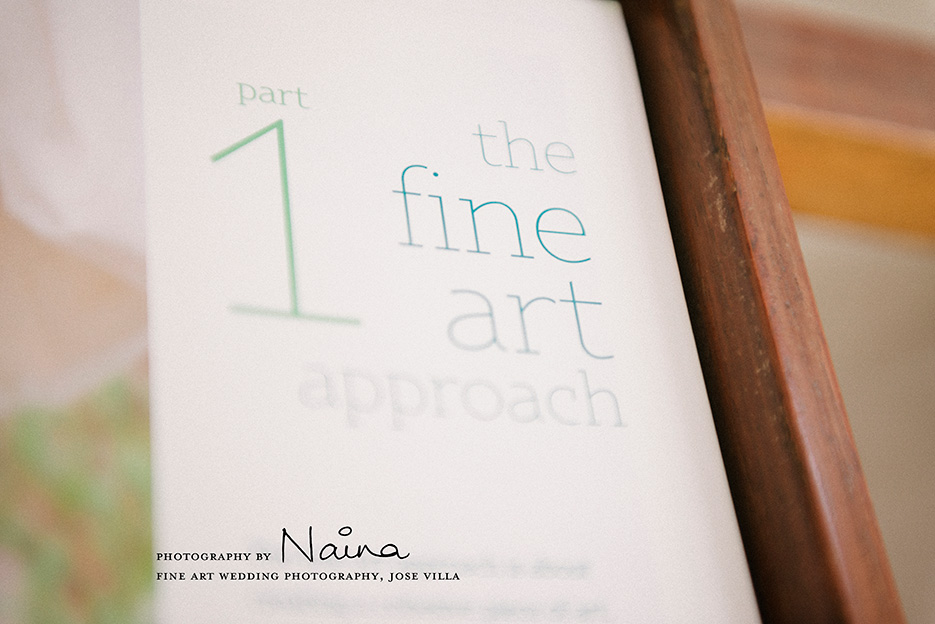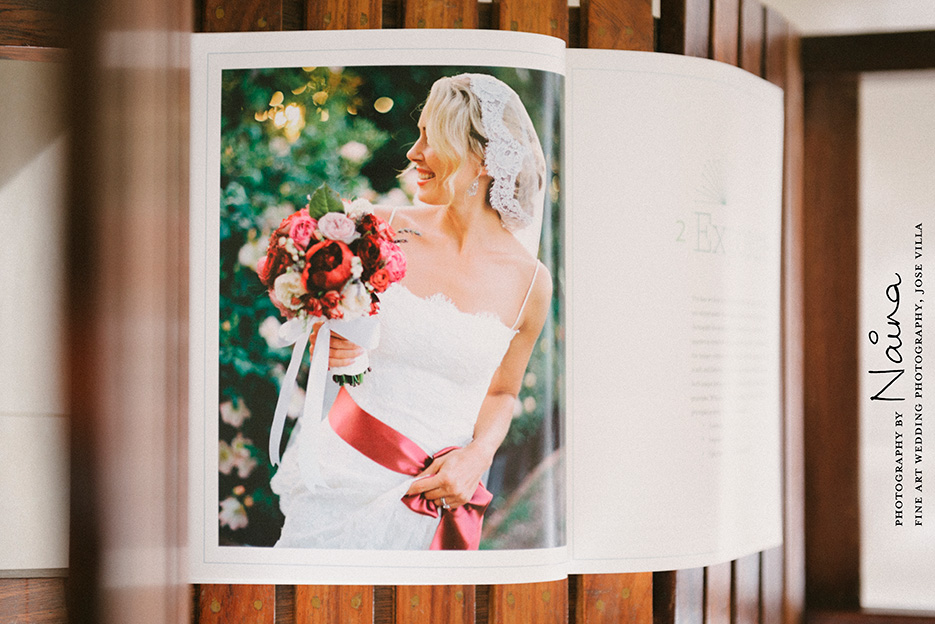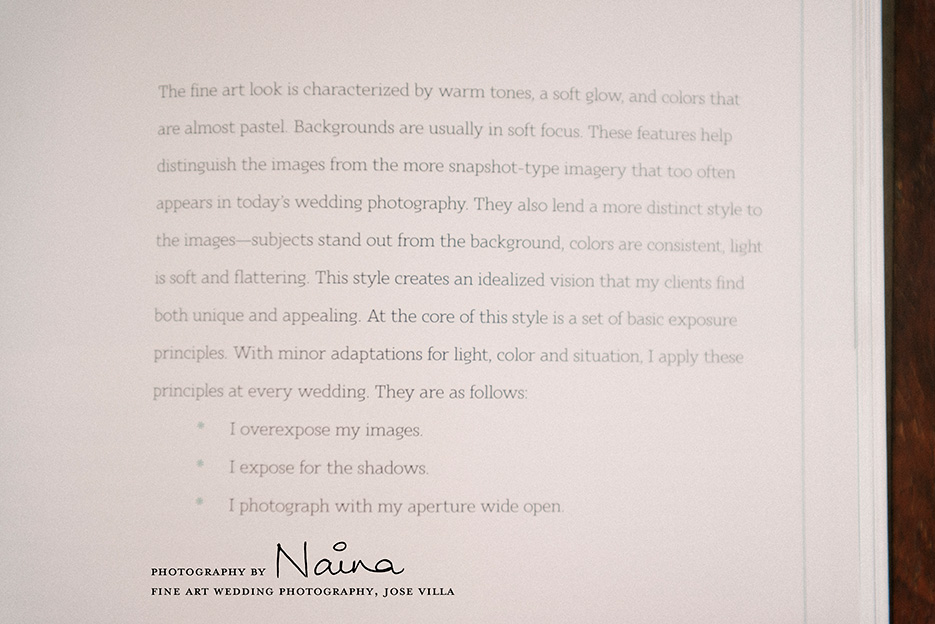 In the second part of the book, Jose talks about the wedding photography process : The stages of the day. He talks about engagement sessions, getting ready images, bridal portraits, the ceremony, family portraits, bride and groom portraits and the cocktail hour and reception. He talks about his experiences – some of the most interesting stuff is in the green boxes titled "Lesson Learned".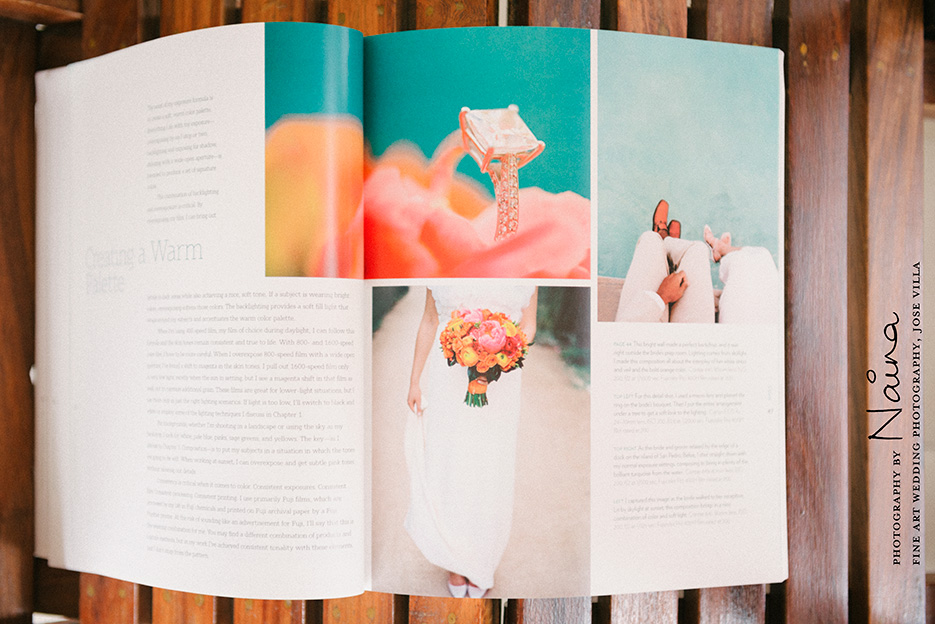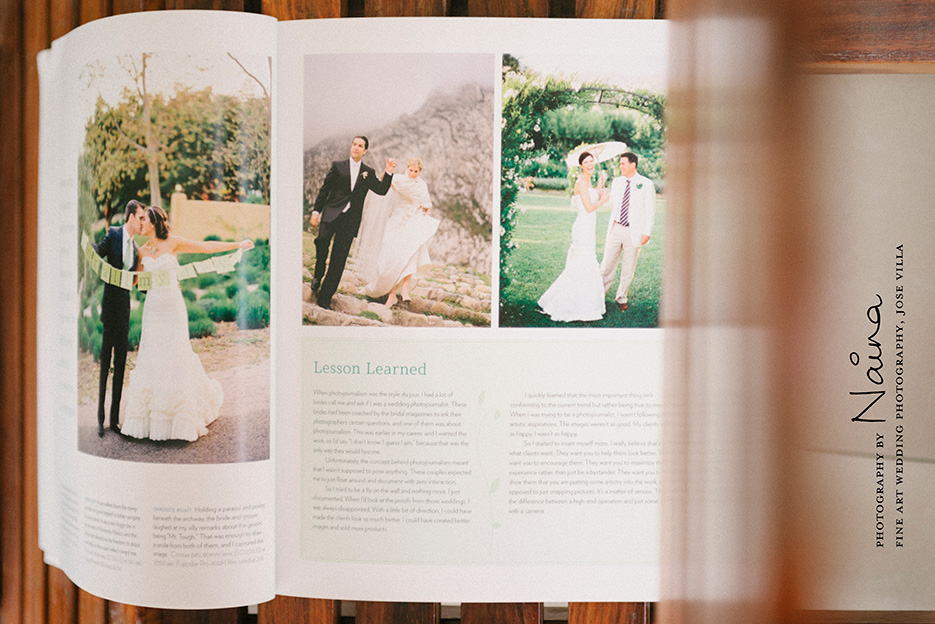 After page 127, the third part of the book talks about the business of fine art wedding photography. Jose says, "Establishing a photography business with a fine art angle means courting a specific, high-end clientele that both appreciates photography and is willing to pay a premium for it. Backed by strong marketing and superlative service, the fine art approach could be your stairway to the next level of success." While Jose doesn't give away everything of how he does it, there are indicators and definitely more meat in terms of content than I have seen / read in other photographer's books.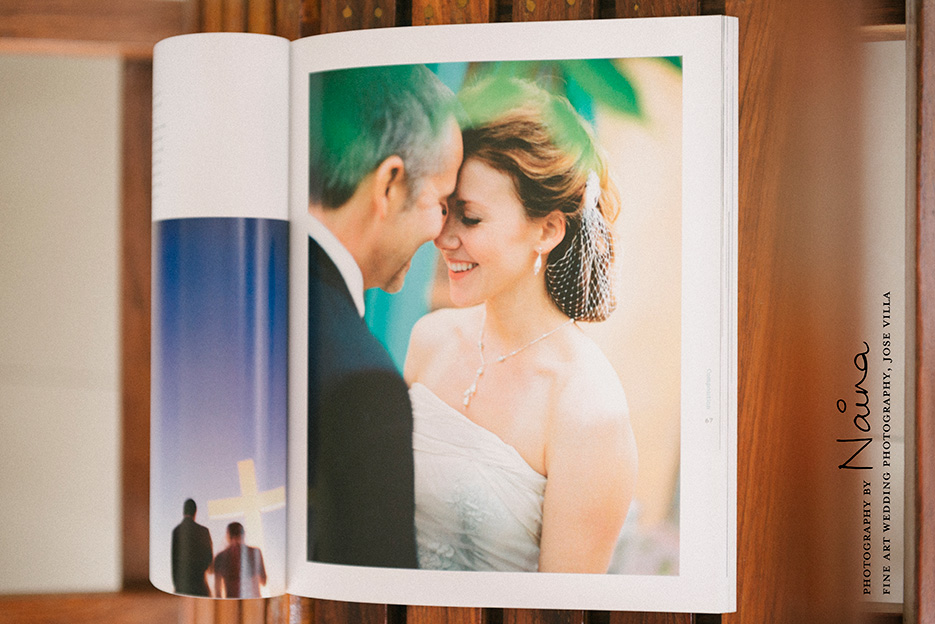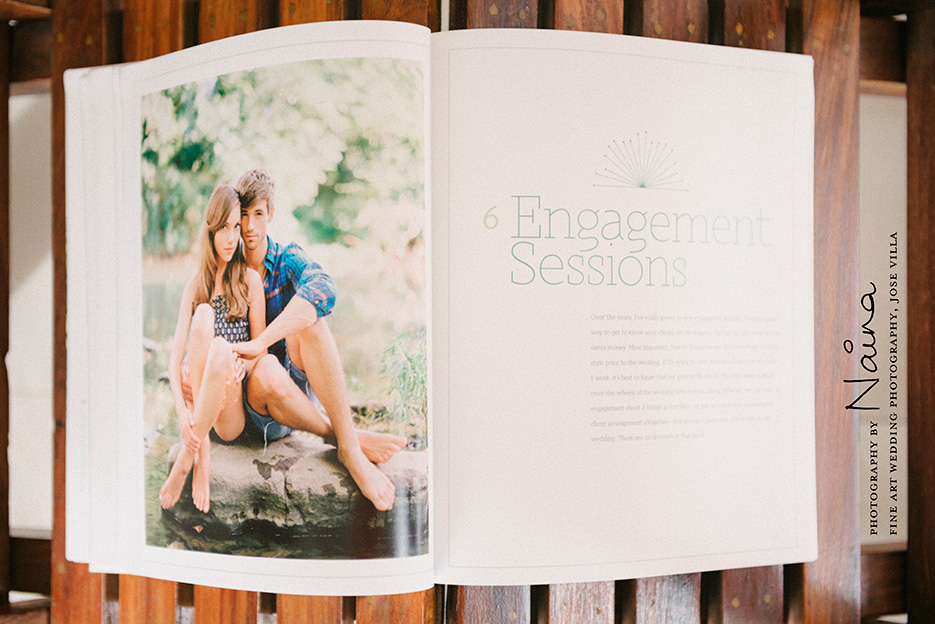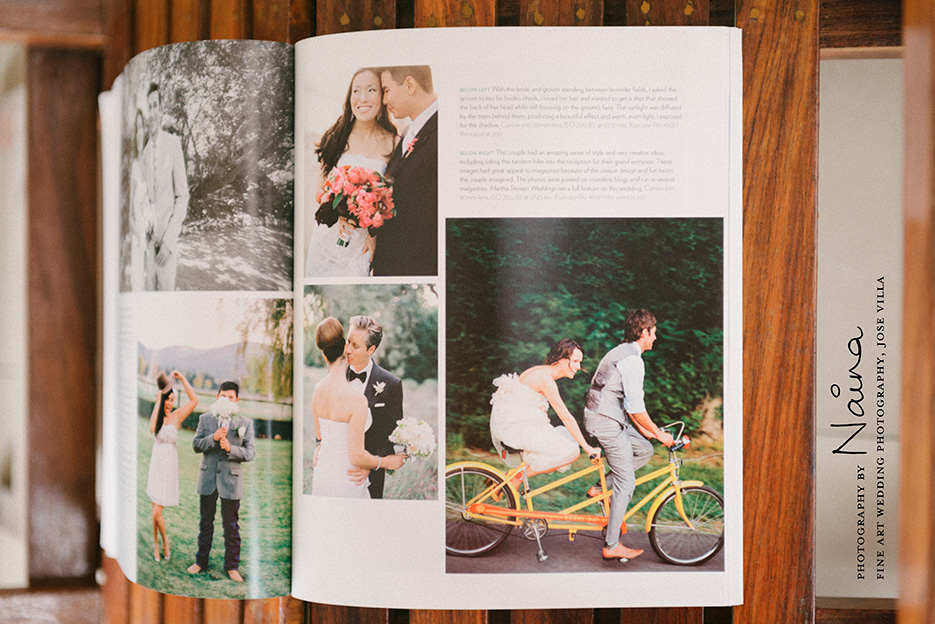 In the end, even though I am based out of India and primarily focus on shooting Indian Weddings that usually take place at night and have a very different set of variables as compared to a Church wedding, I found this book useful. It gave insights into how someone more experienced than I am has been doing it and how he speaks of and approaches his business. It is encouraging to know that Jose posts many images from his weddings onto his blog.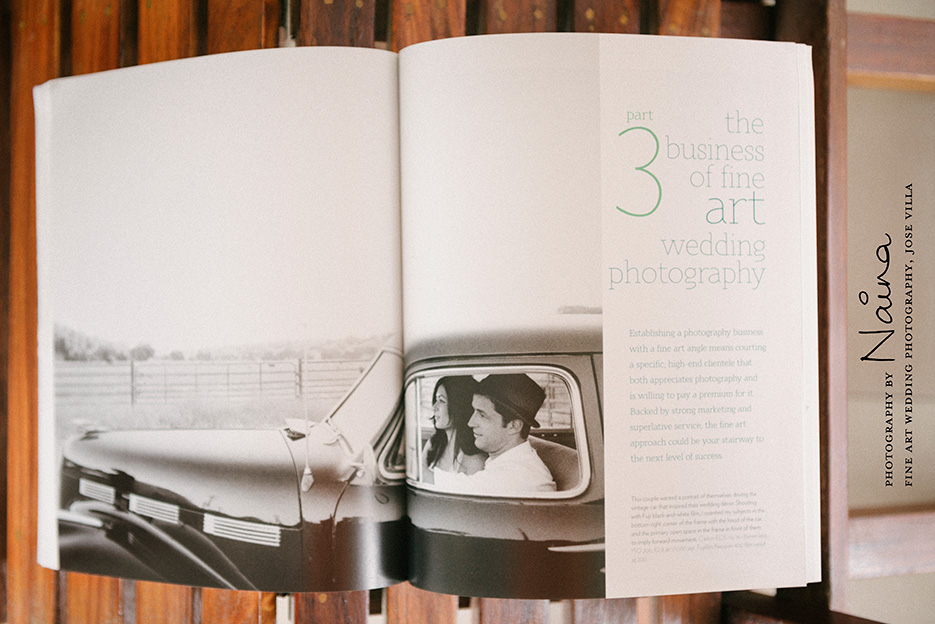 Jose ends the book by saying, "Remember, success in today's market is all about standing out in a good way. It's about distinguishing yourself from the legions of average photographers out there and carving a successful niche that will last for years. The fine art approach is one path, one mind-set that can help you move your business in the direction you want it to go. The framework has been established. The philosophy is in place. What you do with it from there is up to you."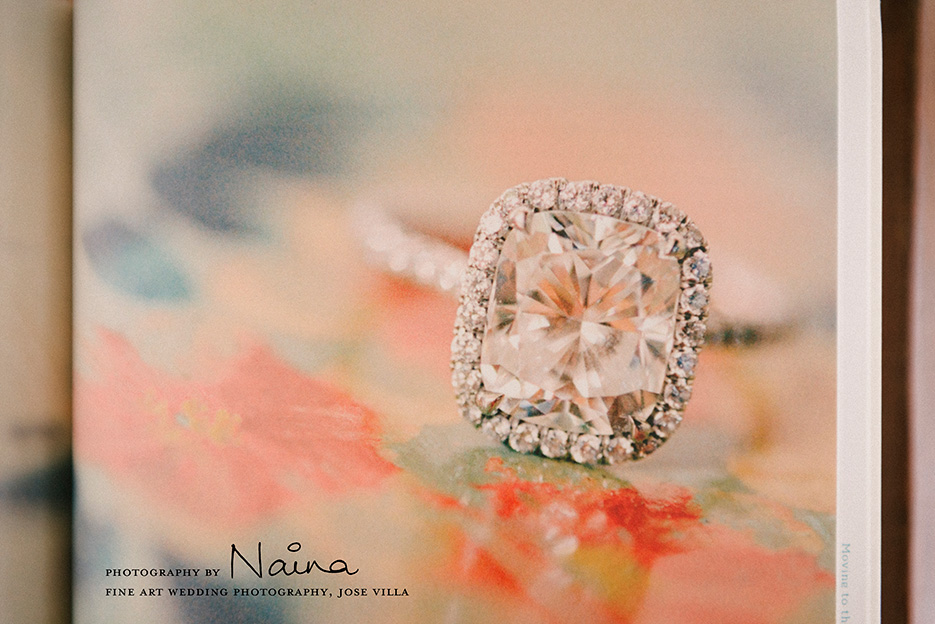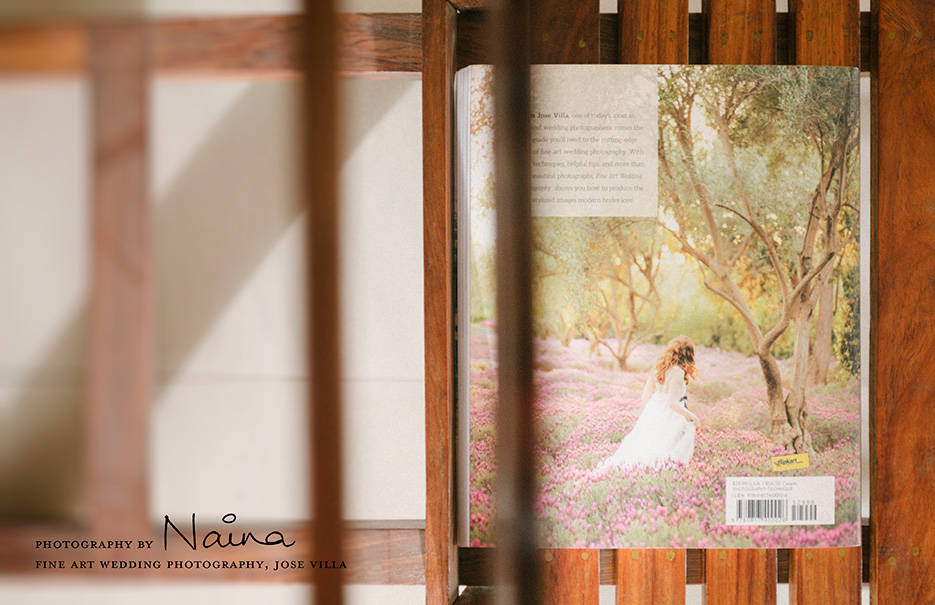 Jose Villa has been named one of the top ten wedding photographers in the world by American Photo. He definitely touches upon more pricing and marketing subjects in the business section of the book. It has found a space on my book shelf. I bought this book from Flipkart in India.