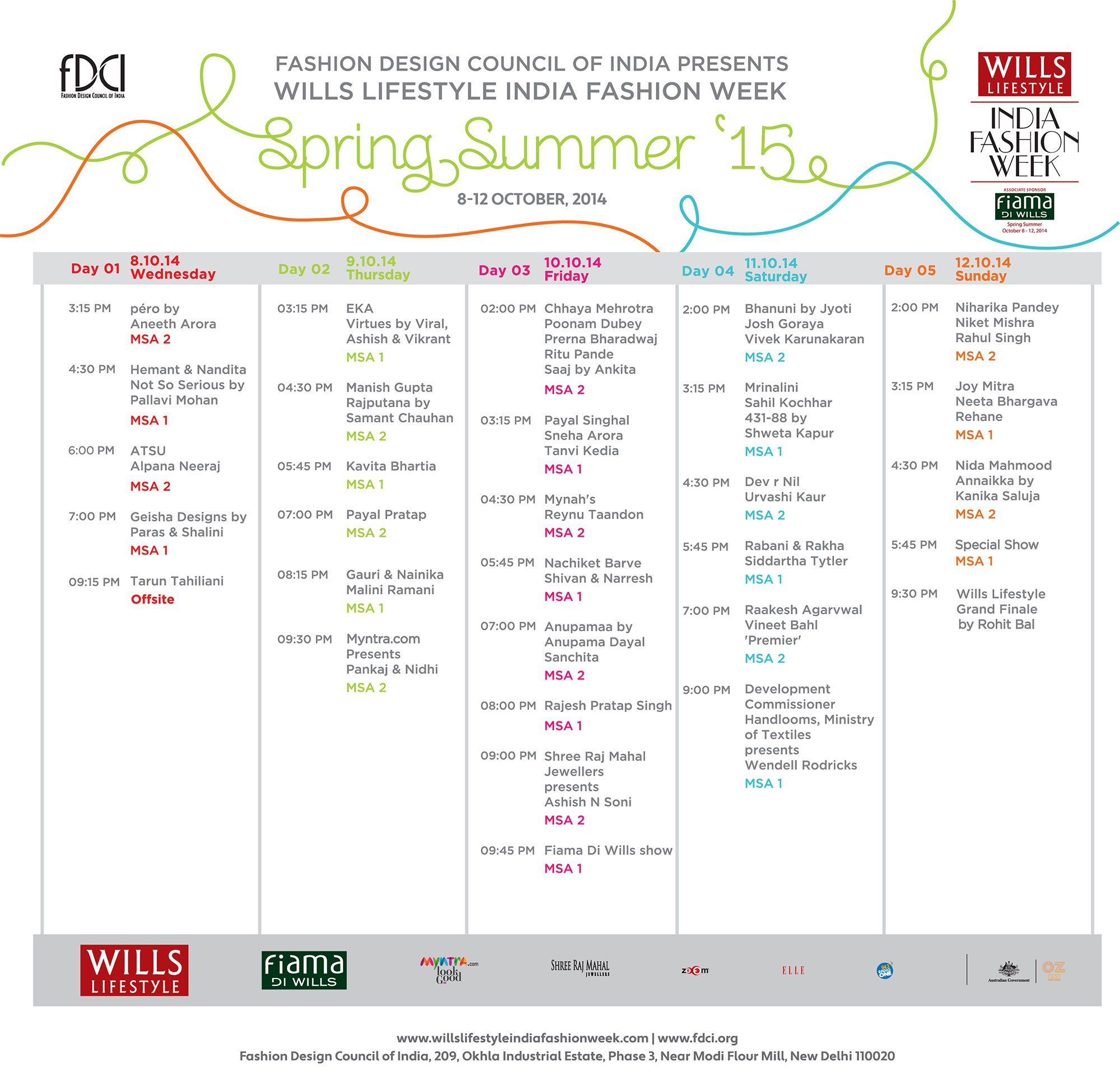 The show schedule for the Wills Lifestyle India Fashion Week, Spring Summer 2015 is out and I've got my eyes on the following :
On Day 01
The opening show by Aneeth Arora followed by Hemant and Nandita.
The only offsite show of the season by Tarun Tahiliani. Ooooh, where might this be!
On DAY 02
Fiama Di Wills and Pankaj and Nidhi had collaborated last season and I'm curious to see what fabulousness Pankaj and Nidhi will spin now for Myntra.com
On DAY 03
Nachiket Barve ( there were Maori tattoos in his makeup last time and I'm excited to see what new things he will be showing us this season! )
Shivan & Narresh ( these two boys just opened up a store at Select City Walk and I'm delightedly waiting to see what they're doing next with their clothes. )
I'm also curious to see what Shree Raj Mahal Jewellers are doing with Ashish N Soni.
And of course the much awaited Fiama Di Wills collaboration ( has it been revealed yet because I haven't heard much – oh I'm lying through my teeth – I know exactly who will be showing! Much excite indeed. )
Wow. Day 03 looks super packed!
On DAY 04
Sahil Kochhar's second catwalk show. ( The first one was supremely beautiful for a debut show. )
The finale on Day 04 is of course my favourite Wendell Rodricks and this time on behalf of Development Commissioner Handlooms, Ministry of Textiles.
On DAY 05
A special show at 1745? What's this all about. All eager to find out.
Oh and that break between the special show and the Grand Finale does NOT bode well for people like me who will probably be at the venue for the entire day on all five days. I'm going to have to get innovative and think of what to pass time with before Rohit Bal starts the show on time ( hopefully! )
Those are my favourites and the shows I'm looking forward to. I will also be covering this fashion week extensively with my camera and looking forward to meeting all of Indian fashion's familiar faces as well as saying Hello! to the new ones, Expect updates starting on the 8th of October and going on till the 12th of October, which is when WIFWSS15 is scheduled for this year.