Michael Kors ( Estee Lauder ) has launched three new fragrances in India ( these were declared launched in Indian in July 2014 ). Sporty Citrus, Sexy Amber and Glam Jasmine. I'm sharing a visual interpretation of what my nose senses when it is in contact with each of these fragrances as they interact with my skin. Considering they're launching in India, only a riot of colours would do them justice! ( MK's campaign ties in each fragrance with the three moods of the MK woman who is bold and sexy. Their campaign video can be seen here on YouTube. )
( To sweeten the deal for people who follow me on Twitter, there's also a contest. One each of these fragrances to give away to three awesome people! A short introduction to the Michael Kors brand and these fragrances and then details about the contest that will be taking place on Twitter. )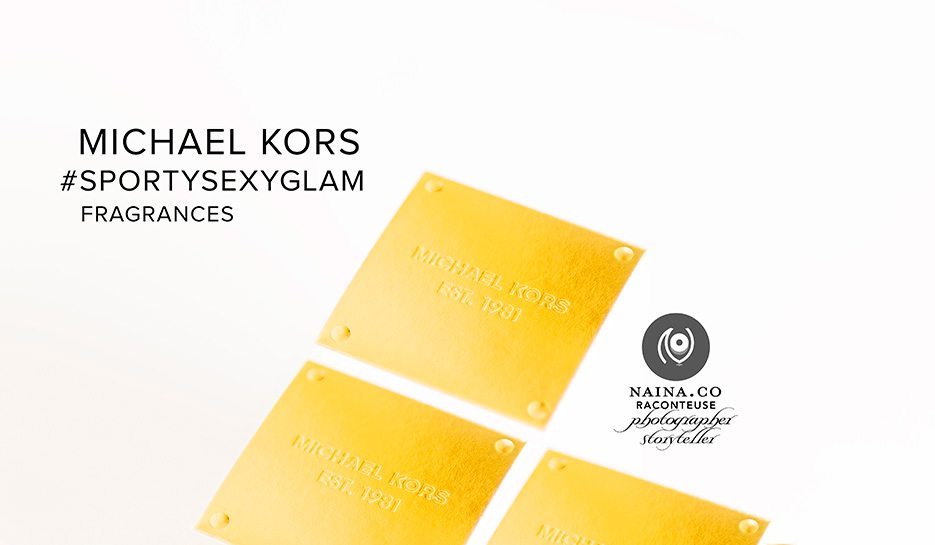 As a campaign, I believe Michael Kors has done a wonderful job of tying in each fragrance with a feeling. Sporty, Sexy, Glam. Ingredients and actual aromas are also linked to each of those words, which made it easier for me to shoot around a concept. ( As you will see in the photographs below. ) From the image below, you can also identify the different colors of each of the fragrances. Sporty is transparent, Sexy is a warm honey hue and Glam is a beautiful light pink.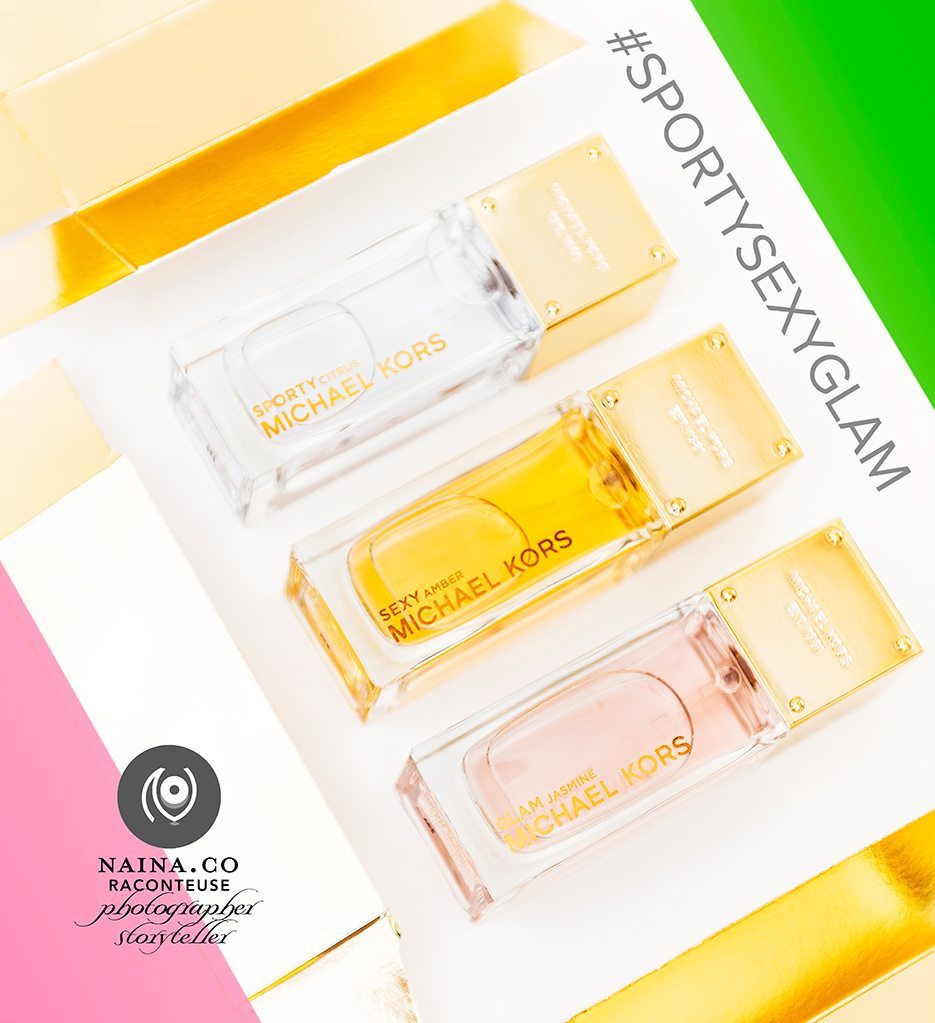 #MKSporty
Sporty Citrus is what one could start the day with. Squish the nozzle on your pulse-points ( wrists and neck ) and you're set for most of the day. All three fragrances are long lasting & you would probably need another spritz just after lunch. To freshen up.
My nose couldn't detect much citrus in Sporty but it is the sharpest of all three. The top note is fruity and zingy. Within a few minutes you can tell that the mid-notes are still fruity and fresh but softer, more floral. There's an almost mandarin-like gentle, sweet aroma. This fragrance was designed by Honorine Blanc for Michael Kors. Two words that I would personally use to describe this fragrance are "clean and bright".
( Fragrances are intensely personal and I highly recommend going to a physical store, spraying a tester on your pulse points and walking away. Smell it on your skin all day and then decide if you like it. There's no other way of really purchasing a fragrance. The amount of time I spent spraying these three on myself and then nosing them was way more than the time I spent photographing these images! )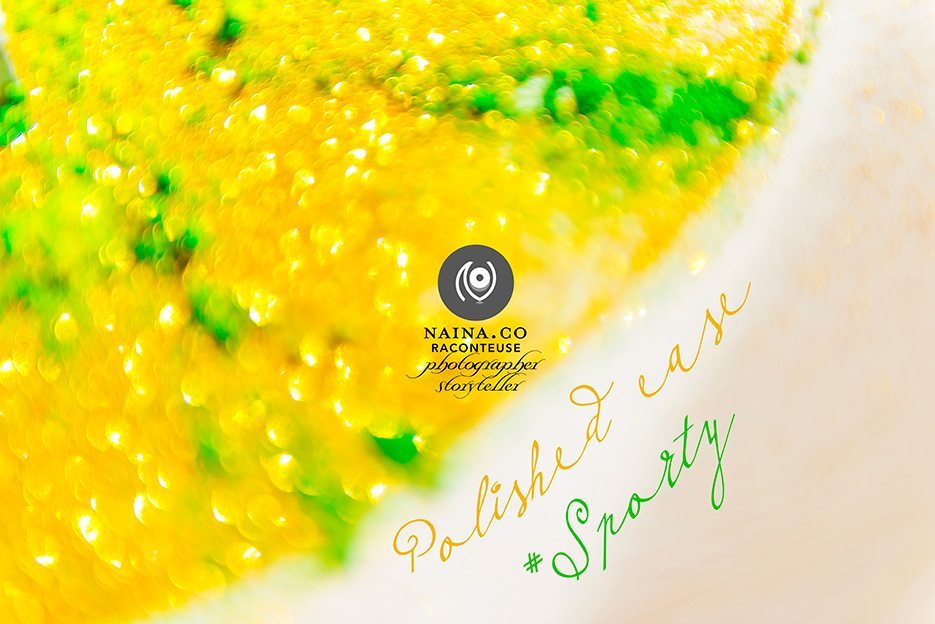 Green for the zing in the top note and the warm yellow for the sweet sunshine. The name doesn't do this fragrance justice – there's not much citrus in it – more orange blossom sweetness. This would be a day fragrance for me or if I need to go out in the evening and need a slightly fresh sweet kick.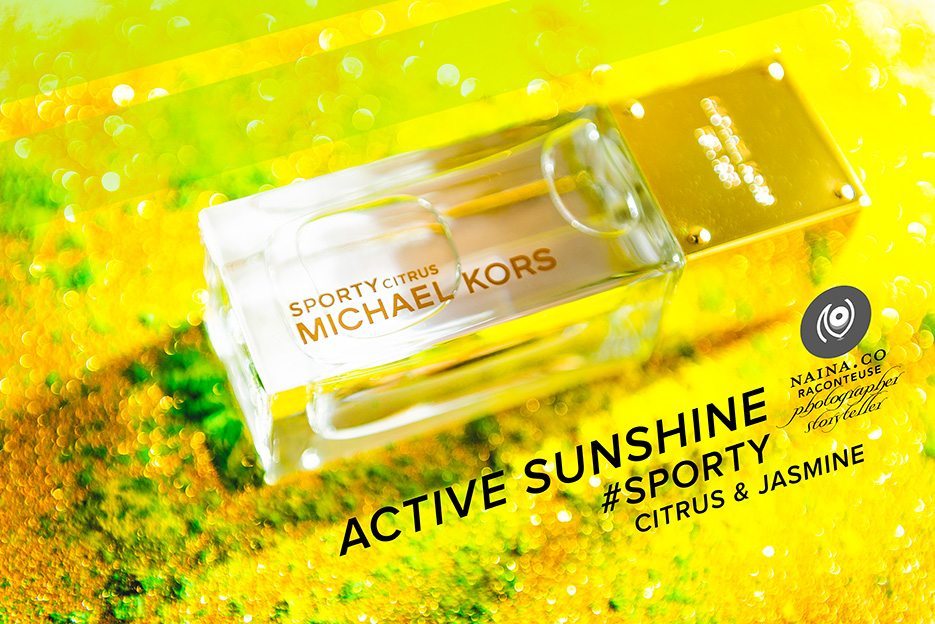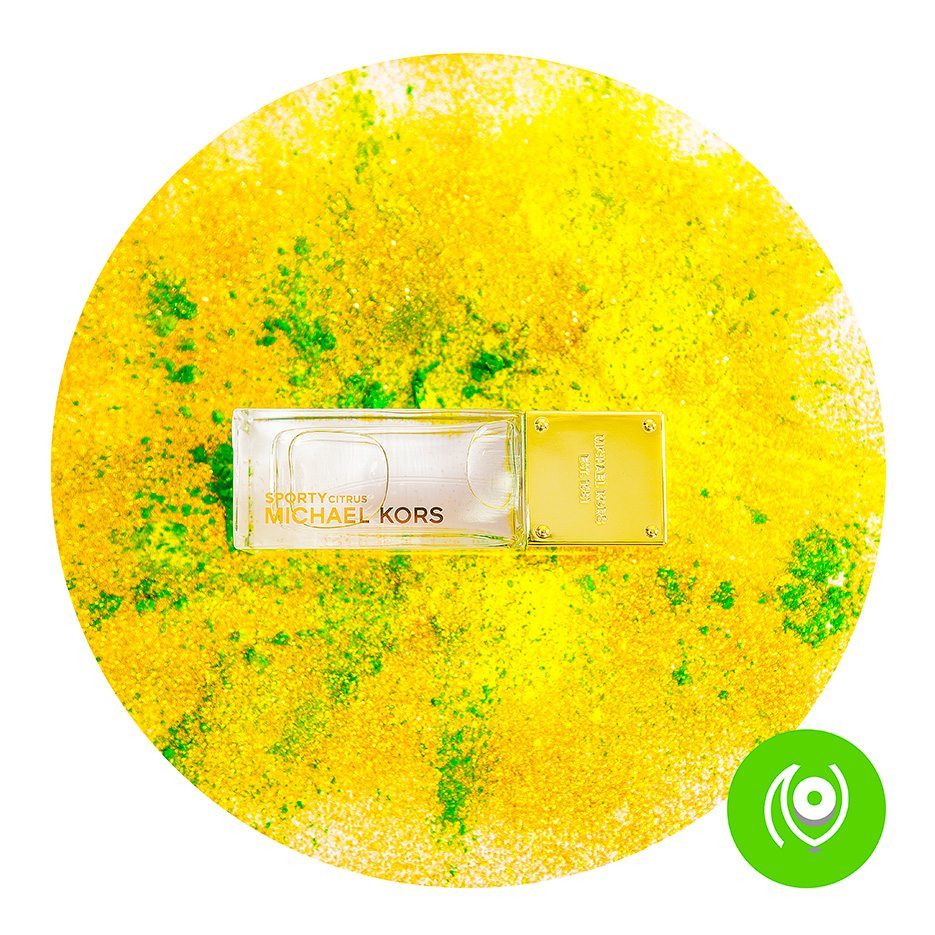 After that beautiful blast of freshness, I'm taking you straight to #MKSexy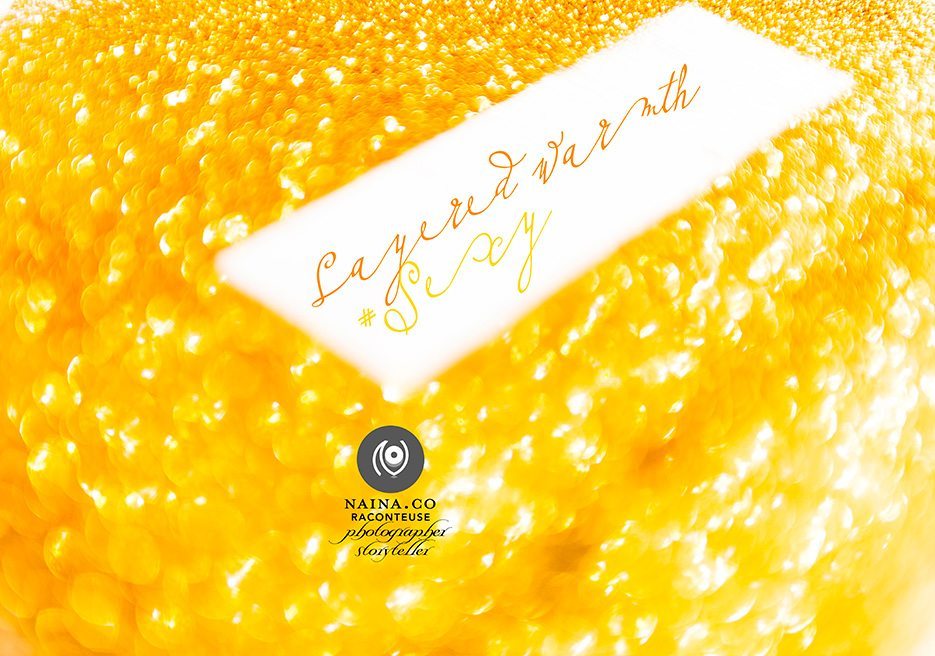 Sexy Amber is hot and heavy. It starts out fresh and light and the top notes are musky and powdery to my nose. This fragrance has been designed by Harry Fremont for Michael Kors. After a few minutes, it moves into creamy, warm, woody – but still powdery notes. My nose can clearly pick up the amber. It is floral too but not as much as Sporty Citrus. In this case I think the name Sexy Amber does this fragrance justice.
I would wear this in the Autumn / Winters and probably in the evenings.
I wore this on my wrist during the day for a couple of hours and then went in for a shower. After I got out, I nosed my wrist out of curiosity and a deep musk fragrance still lingered. The powdery notes had been completely stripped and there was this dark, beautiful musk that lingered for another hour or so. This is the longest-lasting of all three fragrances.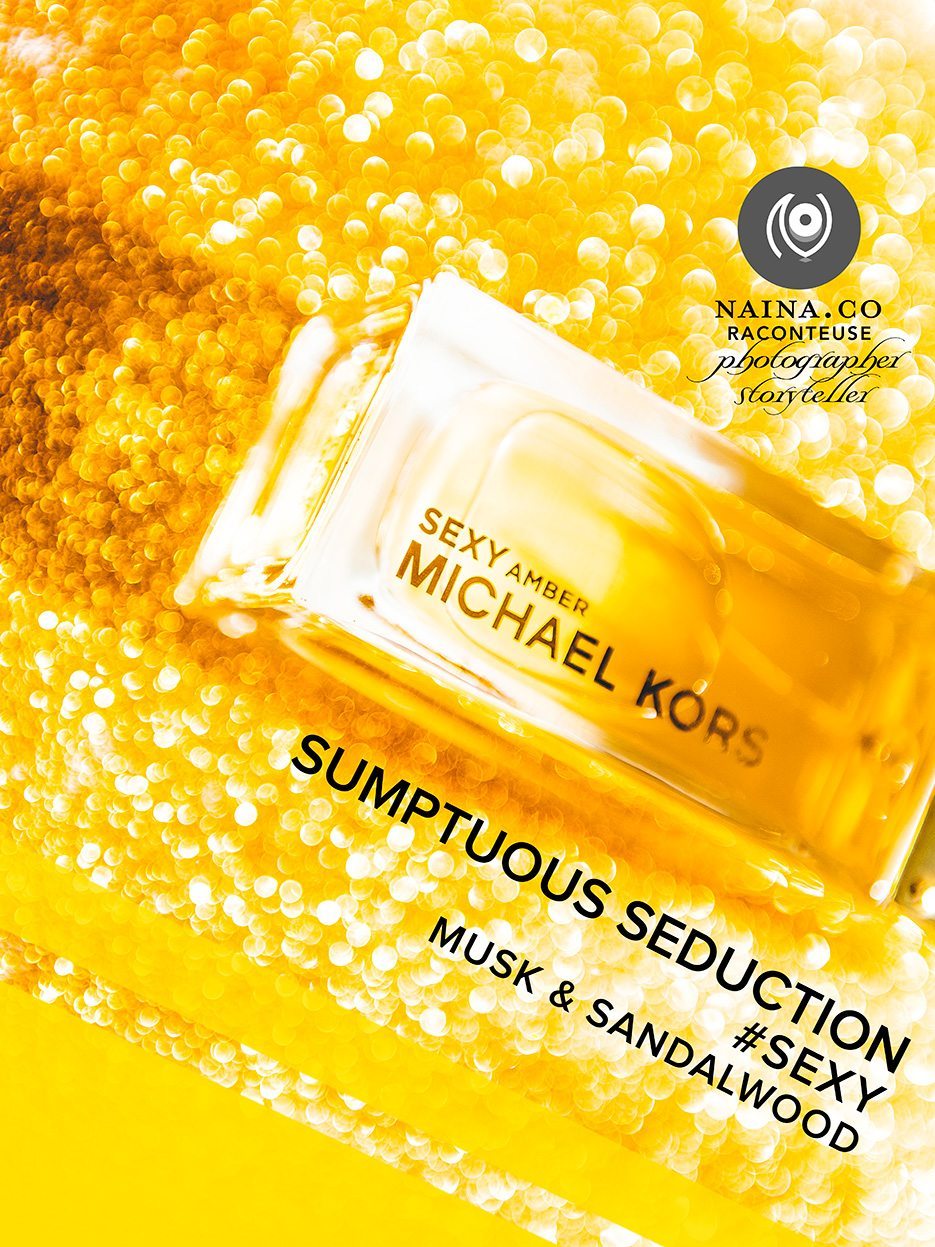 The heaviness and glitter of gold represent this fragrance for me. The woody warmth and the deep amber remind me of a golden glowing liquid. Like a fine, smooth Scotch.
( If you've spritzed #MKSporty on one wrist and #MKSexy on another, you will notice the change in sharpness. Sporty is still zingy and fresh after a couple of hours and Sexy is warm and powdery. I love doing that. Switching from one wrist to another. Keeps my nose busy. )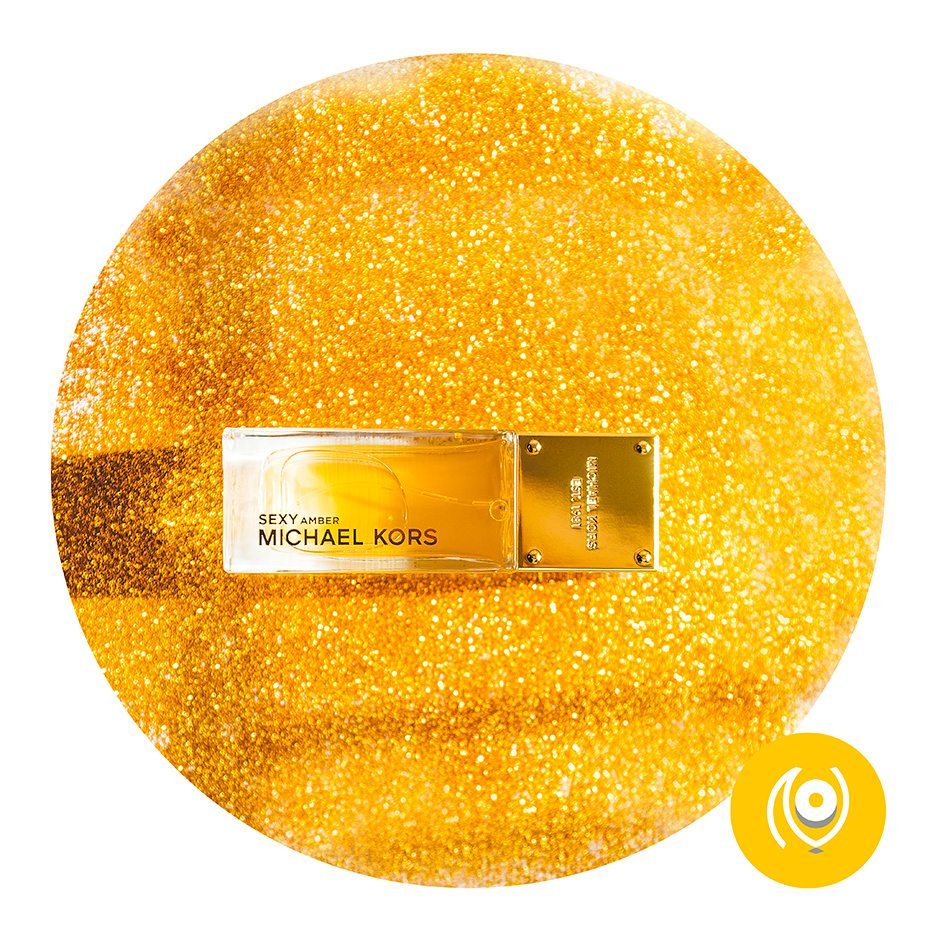 After the headiness of gold, we are now sampling the glitz of #MKGlam with Glam Jasmine and my, is it Jasmine or is it Jasmine!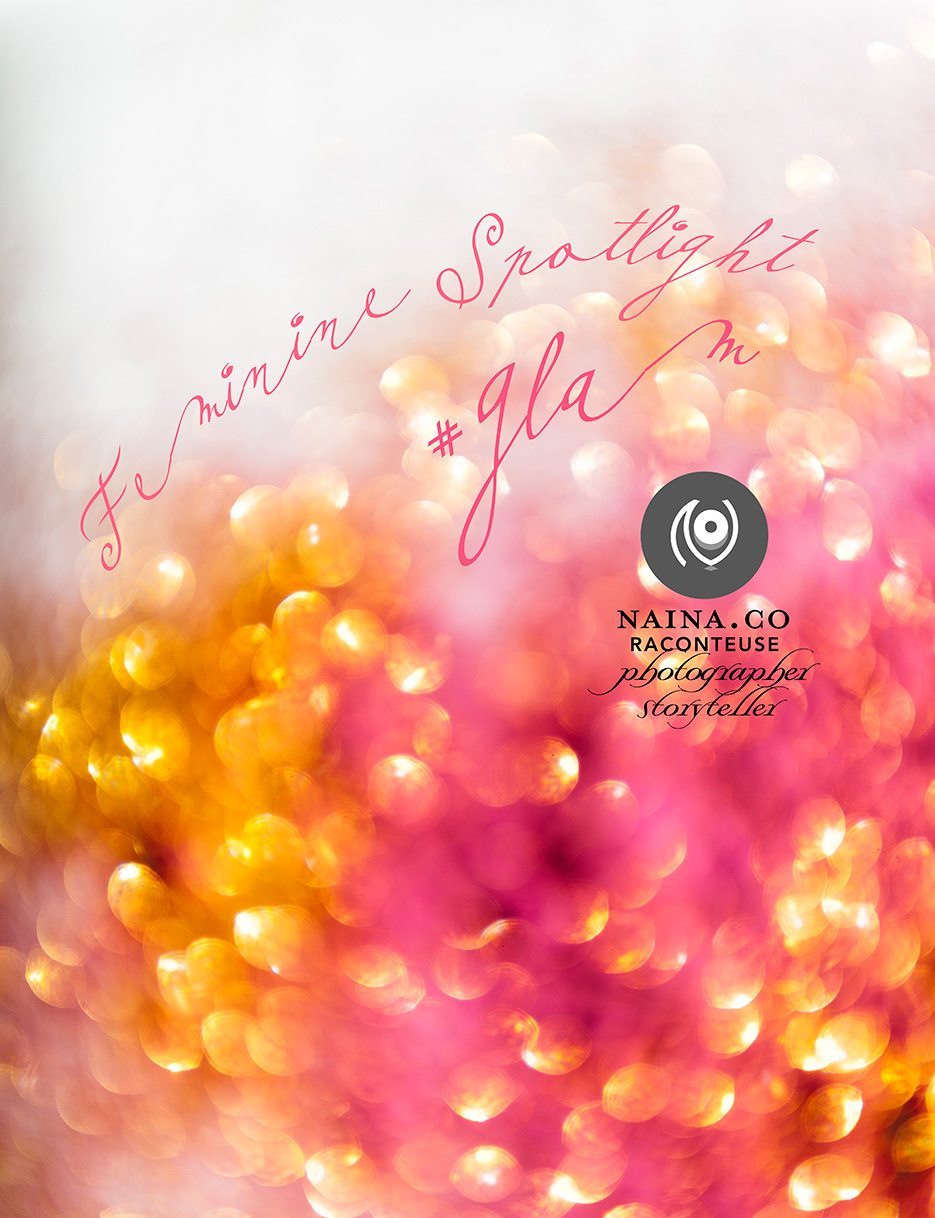 Feminine spotlight indeed. Jasmine isn't a personal favorite because it is usually not done too well and the fragrance overtly reminds me of unsavoury oily jasmine rather than fresh flowers. I was afraid I wasn't going to like this one but luckily it didn't turn out that way at least for the top notes.
The top notes are Jasmine. Strong, sharp, floral, Jasmine. This Michael Kors Glam Jasmine fragrance has also been designed by Harry Fremont. This one's potent. If you wear it on too many pulse points, you're going to smell like a garden. Go easy.
After a few minutes, one would think that the fragrance would settle but not this one! This is powerful Jasmine through and through. The end notes though are slightly woody / warm / musk but still clearly identifiable as jasmine. Considering my personal bias against Jasmine, this is my least favorite of the three. I do understand its appeal amongst a lot of my girlfriends though.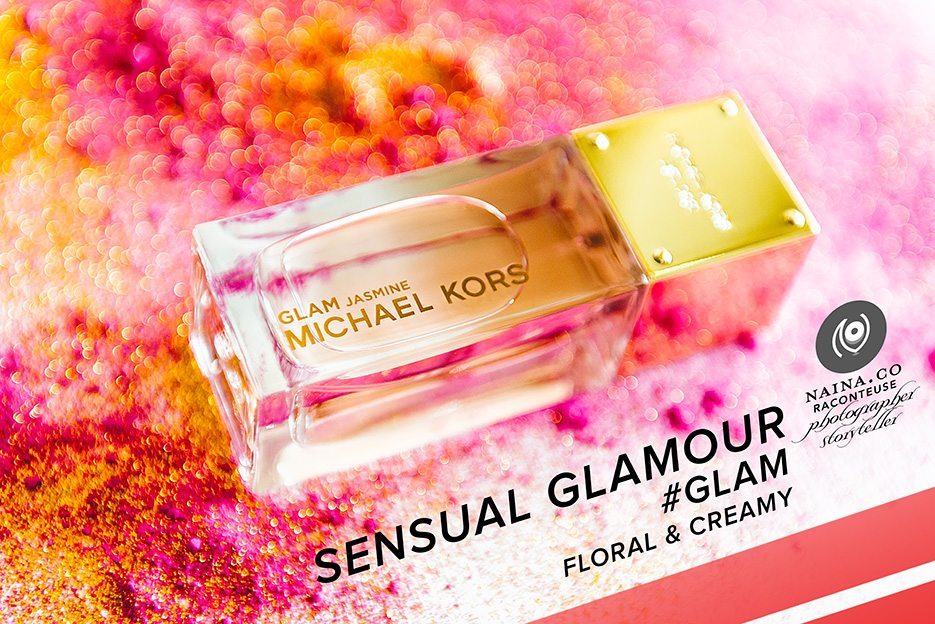 Pink and gold glitter represent this fragrance for me because they're both festive and glamorous and over the top and that perfectly fits what my nose thinks of this fragrance! Glamorous. I would prefer to wear this fragrance layered and not on its own. If I'm going to wear it in the day, I would first apply Glam Jasmine and then follow it up with Sporty Citrus and if I'm going to wear this in the evening, it's going to be Glam Jasmine followed by Sexy Amber ( and maybe a second layer of Sexy Amber to cut out the overtly feminine Jasmine floral notes. )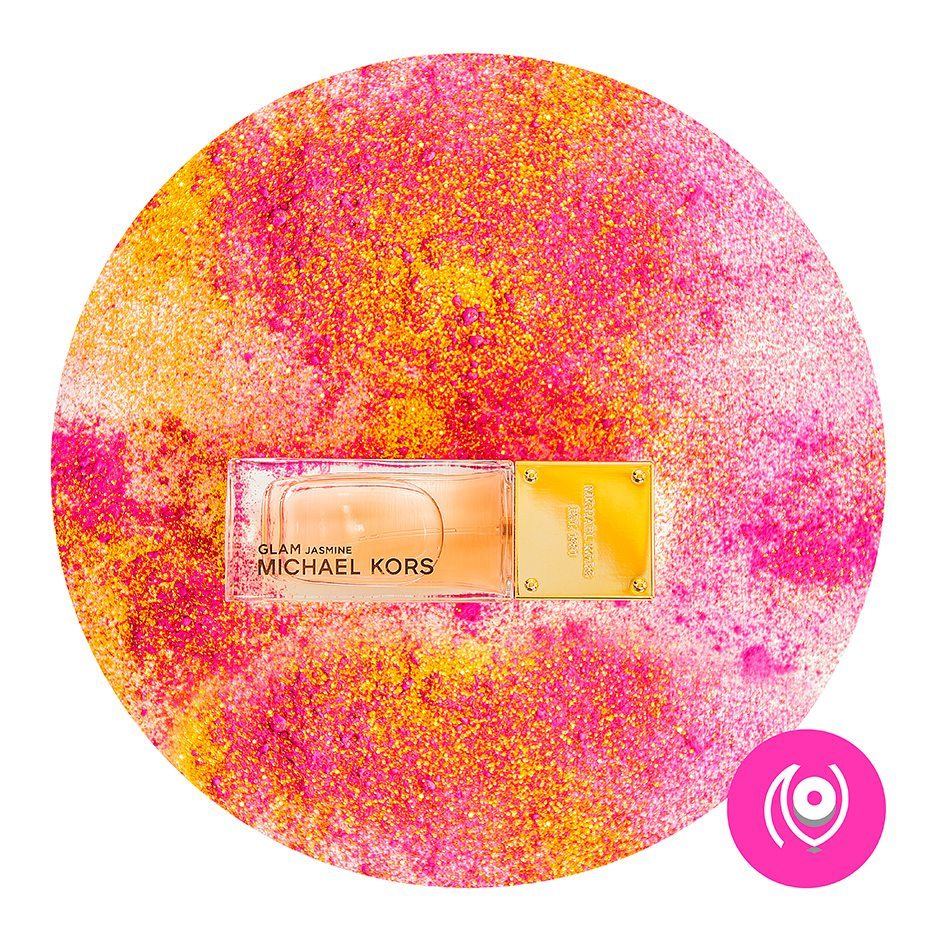 Not only do each of these fragrances work individually, the best part is you can also layer them! Which is one of the reasons why I believe this #SportySexyGlam campaign is a success. Fragrances are intensely personal. They smell different on different people and layering fragrance adds a different dimension altogether.
If I had to pick a favorite amongst these three, Citrus Sporty would be my clear winner.
Apart from the how the fragrances appear to my nose, the design of the bottles is also worth mentioning. The way the gold cap fits on top of the bottle especially. There's a nice tangible "click" when you are popping the cap back after using the fragrance and that adds this intanglible feeling of satisfaction each time you're done spritzing your pulse points. It is a small but very effective packaging design element that I love.
All three fragrances are bold and not for the sensitive nosed-ones. You have been warned.
Contest Details
01. You have to be based in the National Capital Region ( Gurgaon, New Delhi, Noida only. )
02. This is a Twitter contest so you have to have a Twitter account.
03. While following my Twitter account @Naina or the MK Twitter account @MichaelKors is not mandatory, if you would like to stay updated on this and other contests from either the MK brand or the Naina.co blog, following is highly recommended. ( We will be announcing the winners on Twitter and we will tag your Twitter handle. )
04. To participate in the contest, you have to Tweet to @Naina & @MichaelKors using either one of the #SportySexyGlam hashtag and tell us why you think either of those fits your fragrance profile. For example : "I'm Sporty because kick-starting the day is important to me! Orange blossoms! Aaaah! @Naina @MichaelKors #SportySexyGlam" OR "Sexy, subtle & warm are so ME! @Naina @MichaelKors #SportySexyGlam" OR "I would love to be reminded of peaceful Japanese flower gardens & my soul needs that right now. Glam it is! @Naina @MichaelKors #SportySexyGlam"
05. Winners will be mutually decided by the Michael Kors' team and me. There will be three winners. One for each category. ( Decision will be final & binding. )
06. Yes multiple entries are allowed. Tweets ONLY. No @mentions or @replies or RTs will be counted.
07. Contest starts today i.e. 5th September and closes seven days from now i.e. 12th September midnight. CONTEST EXTENDED TILL 14TH SEPTEMBER MIDNIGHT! Tweet away! Make it Sporty, Sexy and Glam! Don't forget to keep it funny. ( Winner Twitter handles will be announced on Twitter and on this blog as an annotation "UPDATE" right at the top of this post as well as in a #WhatsUpNaina blog post before 22nd September. )
Michael Kors Online
The #SportySexyGlam page on the Destination Kors website.
You can purchase these new fragrances at MK boutiques in Bombay ( Palladium Mall ), Delhi ( DLF Emporio ) & Kolkata ( Quest Mall ). Link to MK's store locator.
Michael Kors on Facebook | Twitter | Instagram | Pinterest
Previous Michael Kors brand stories on the Naina.co blog.
( *Client )