(First things first. You can purchase these on my online shop.)
HORIZONS CONCEPT
Horizons are calm. With leading lines. Like a bright burst. There's balance and symmetry. There's Hope and color and Harmony. Painting lines is also calming and I use it for my "inner peace" practice. With my first solo art exhibition, (I'm painting the collection currently), I'm exploring new horizons in my growth and development as an artist and human being. A new relationship with myself, with colors, with art.
From a practical point of view, I needed to keep interested folks engaged while I worked on the art. I don't want to showcase the paintings till the exhibition is launched. And I do want to keep the conversation alive. The Brooches were born out of that need and desire. The canvases are round, the Brooches are round. There are lines on the canvases, there are lines on the Brooches. Both are colorful. There are similarities and differences. While the canvases will be for decoration and display, the brooches are a way of wearing art – much more functional than the canvas pieces. The brooches also make art more accessible to those who are curious but don't want to invest big immediately.
Widening my horizons with wearable art jewellery!
Some of the pieces pictured below have already been sold – none of them will be replicated. I do accept commissions for bespoke pieces.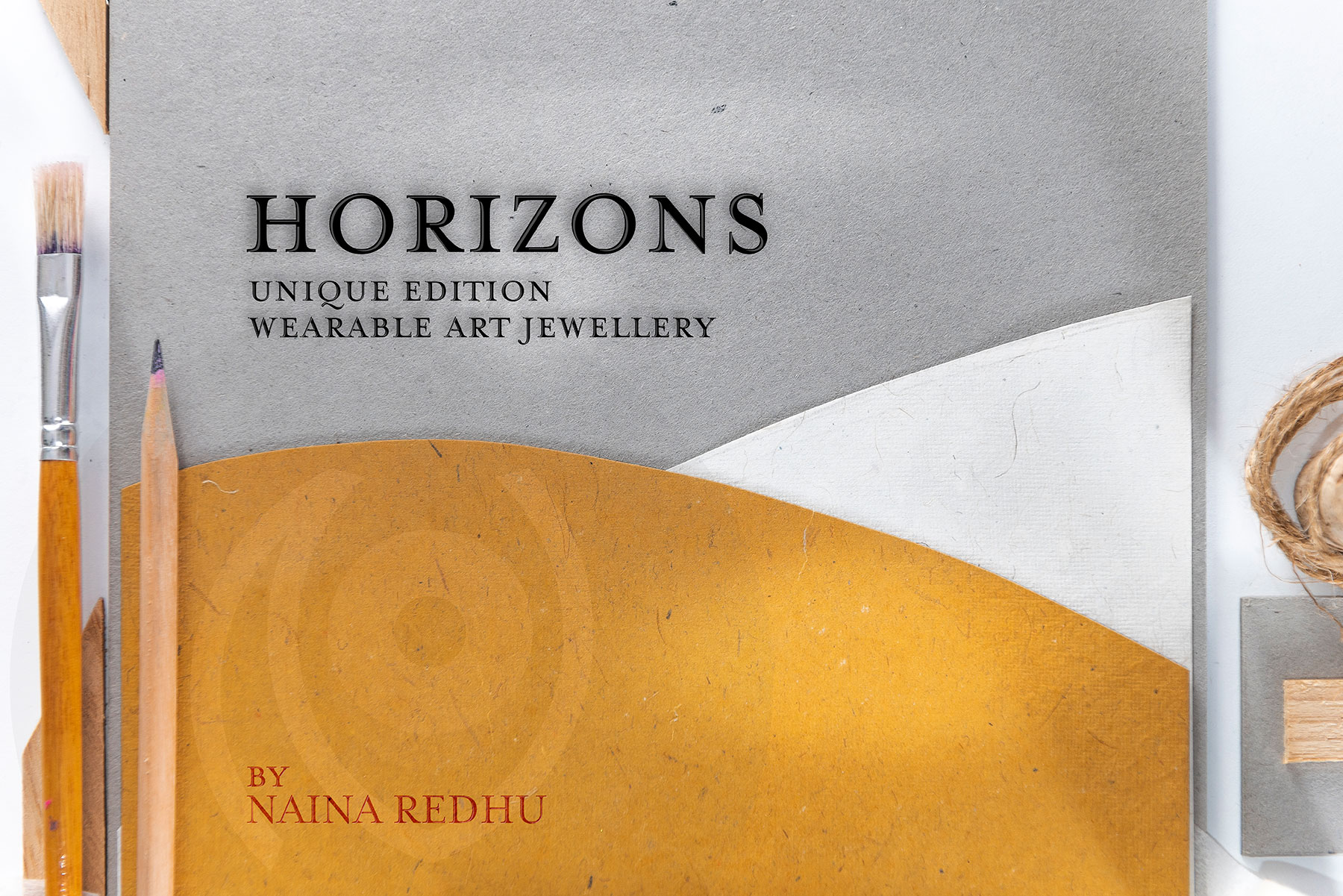 MATERIAL AND SIZES
I started with three sizes : 2.5 inches, 3 inches and 4 inches diameter circles.
Material of brooches is wood. It is not particle board, it is not MDF. It is wood.
The clasp is not a pin. It is a magnet. You can put slight pressure on it and slide it to unclip. I was frustrated with the bad quality of pins available in the market. Some of them would invariably tear through silk or wool and destroy my garments. I was lucky to find someone who told me "magnets"! ( Thanks to Kanika and Harsh over at SayItWithAPin for guiding me! They make beautiful brooches too. I LOVE the camera ones. )
I'm exploring a 2 inch diameter as well. While the brooches are unisex – anyone can wear them – most of my male friends have expressed that they might be even more keen to wear them if they were just a little bit smaller. Hence the 2 inches. Coming soon!
STOCK STATUS
HORIZONS001 through HORIZONS016 are now SOLD. HORIZONS013 is reserved for my personal collection. HORIZONS011 ( 4 inches mini-painting ) and HORIZONS009 ( 2.5 inches ) are pre-numbered and available on the store on the day of publishing this blog post.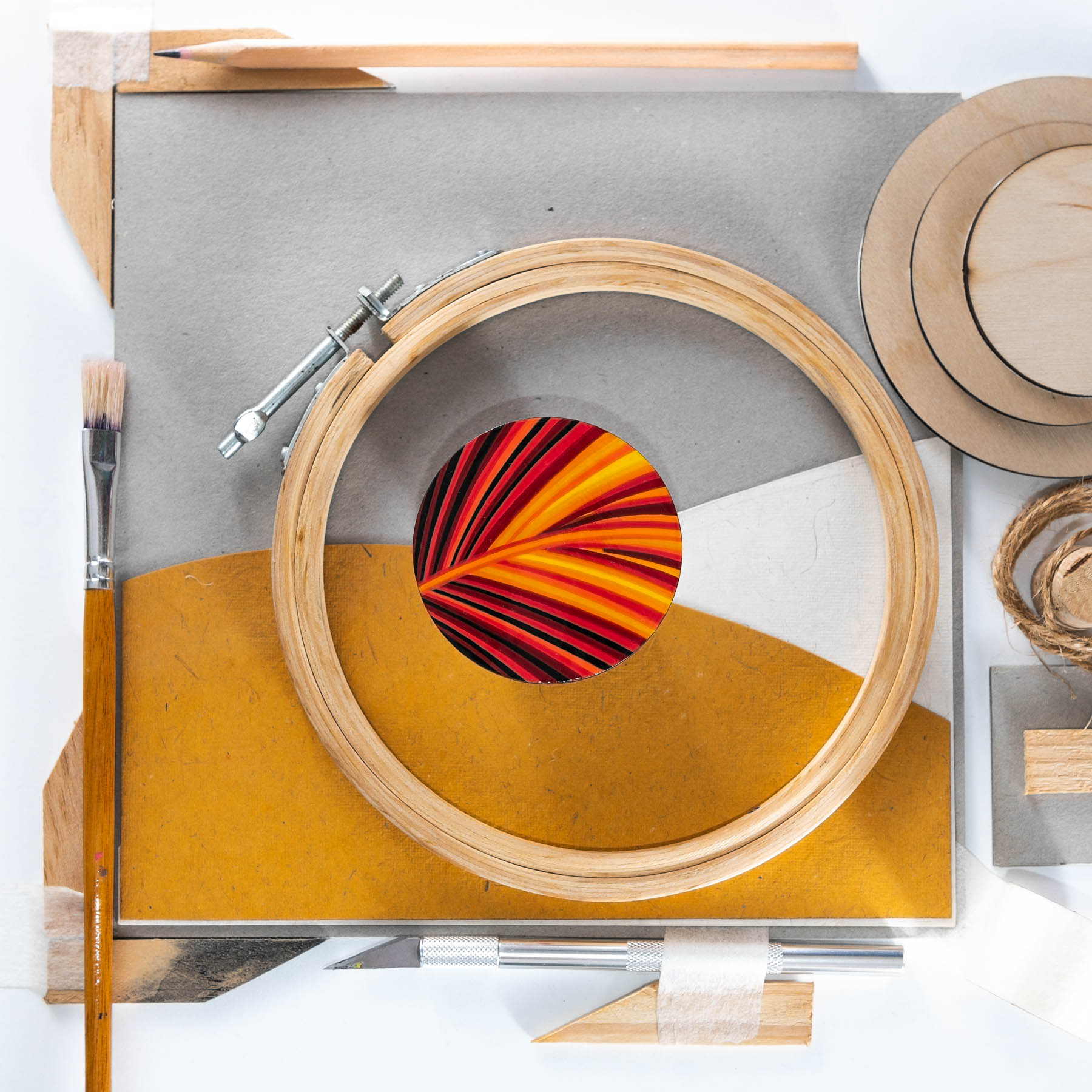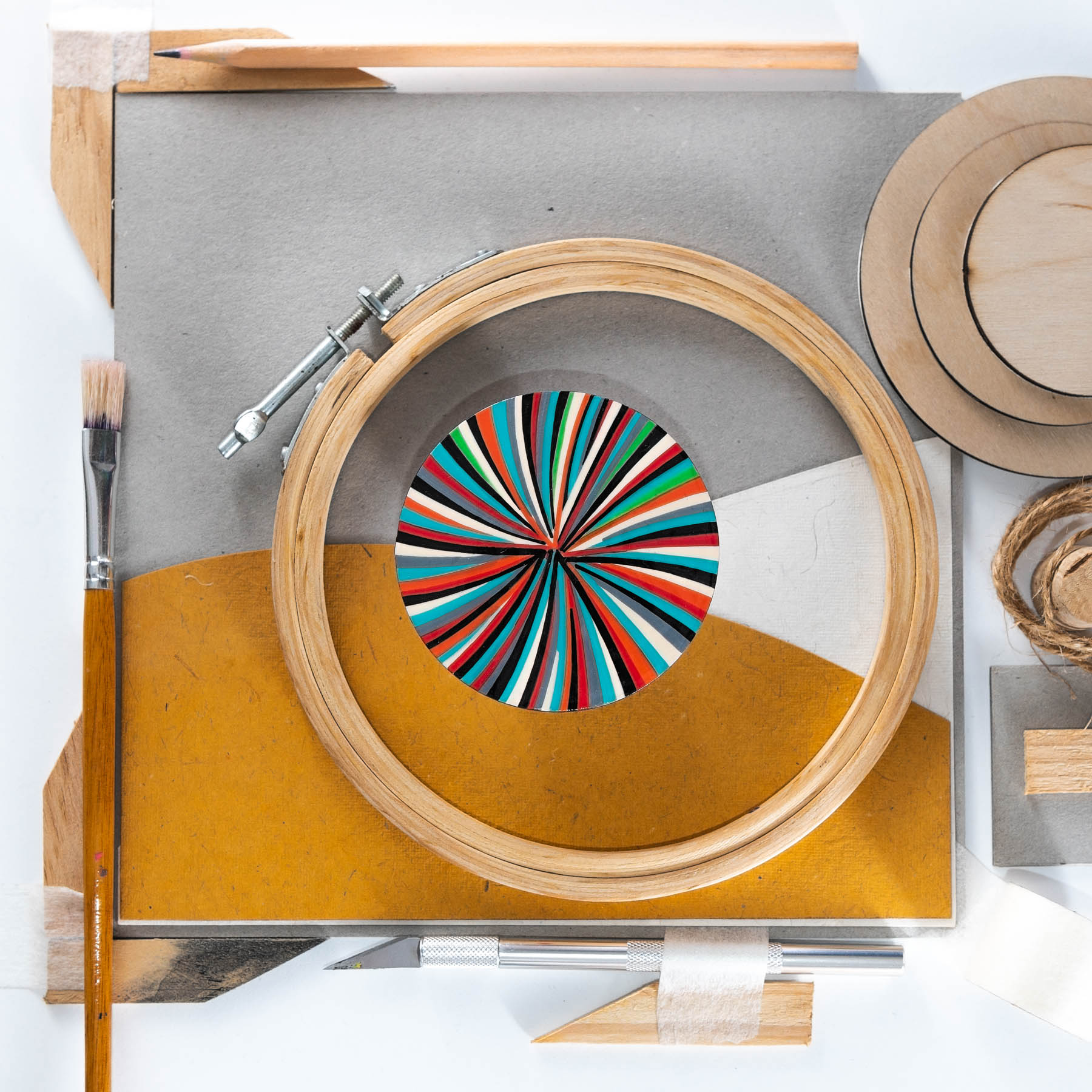 INSPIRATION FOR MY FIRST EVER PRODUCT
I have always wanted to produce art and I always have. In one form or another. Photographs, now for more than 15 years. Sketches, when I was younger. Even paintings and pastels. Over the last six months, however, there's been a bit of a forest fire under my ass kind of situation and I have been experimenting and creating like never before.
This is the first time I have actually managed to produce a physical product. I have attempted photographic prints and canvas prints of my photographs previously. Those did not work out probably because it wasn't the right time.
In my personal opinion, the brooches have already been quite successful. This has given me courage to try and work out the photographic prints once again. I am going to curate a small selection of abstract / semi-abstract images from my prolific portfolio and then let's see how I manage the logistics for that product!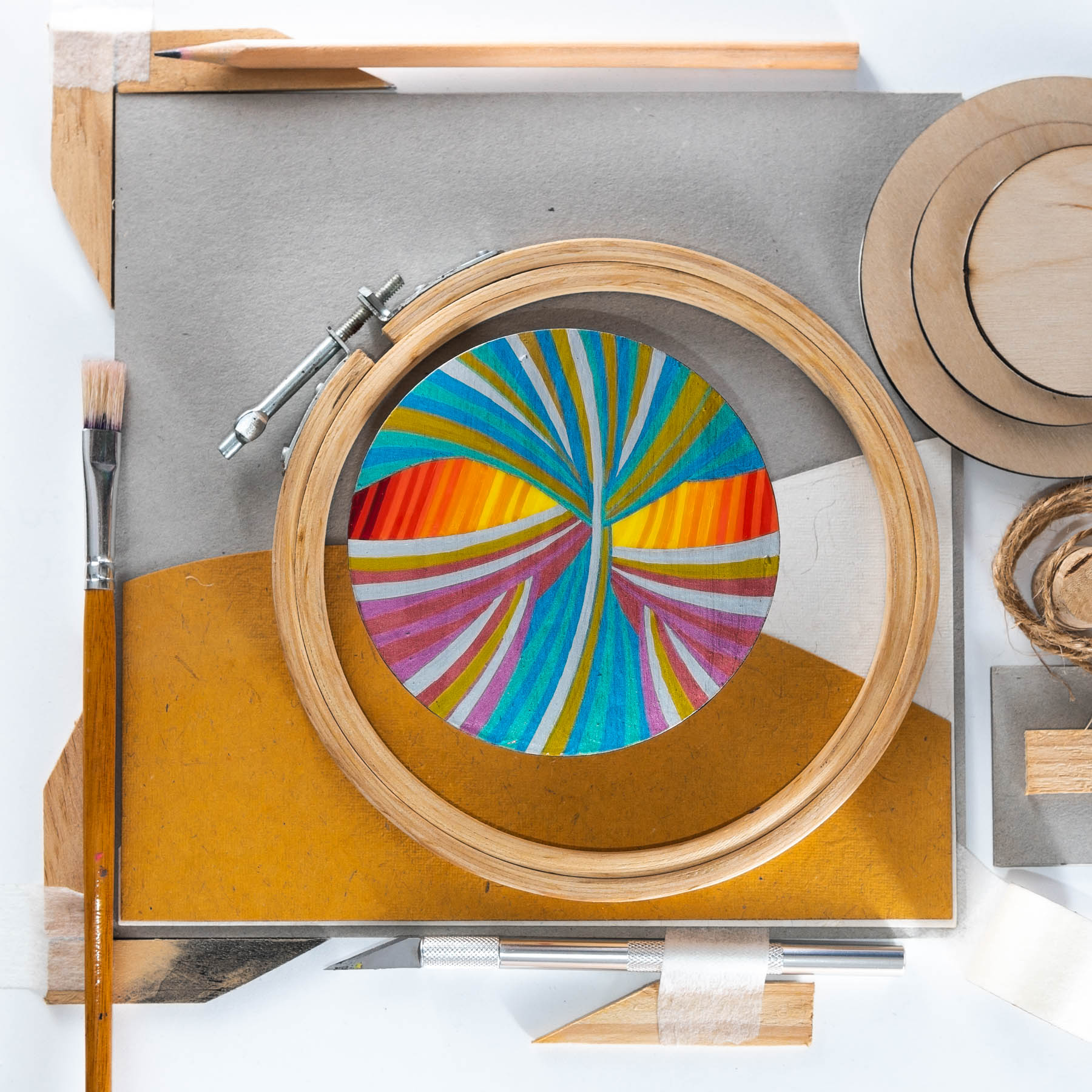 PRODUCT PHOTOGRAPHS
If you see photographs of the brooches that have been sold – the ones I shipped out to buyers before I could wrap my head around things like marketing and branding, you will see the brooches perched on mini-wooden-easels in front of a colorful art piece. These images were shot on the phone. ( Yay #TeamPixel! ) I didn't want to not have any images but I had absolutely no bandwidth to even consider a "shoot".
Things have slowed down a bit now and I've had time to consider the concept note and the branding. It's a simple shoot where I've used a monochrome scheme ( white, grey and some warmth ), lit it with two speed lights, put the camera on a tripod, and shot with a remote trigger. A pencil a paint brush, painter's tape, pieces of wood used to stretch a canvas, blade for cutting, twine, cork, wood pieces used as the base for the brooches and an embroidery frame are the objects I've used to frame the shots.
The white and ochre paper pieces interact to form a horizon line on the grey card stock.
I wanted to keep it simple but also wanted it to symbolize "horizons" in some form.
My focus is always going to be on the quality of the art pieces, so, I did not want to complicate the photography process. But I also wanted something I could possibly replicate simply, replacing a few core items, when I decide to do a new series – like the CAKE brooch and the GOLD series ( that I might include in HORIZONS ).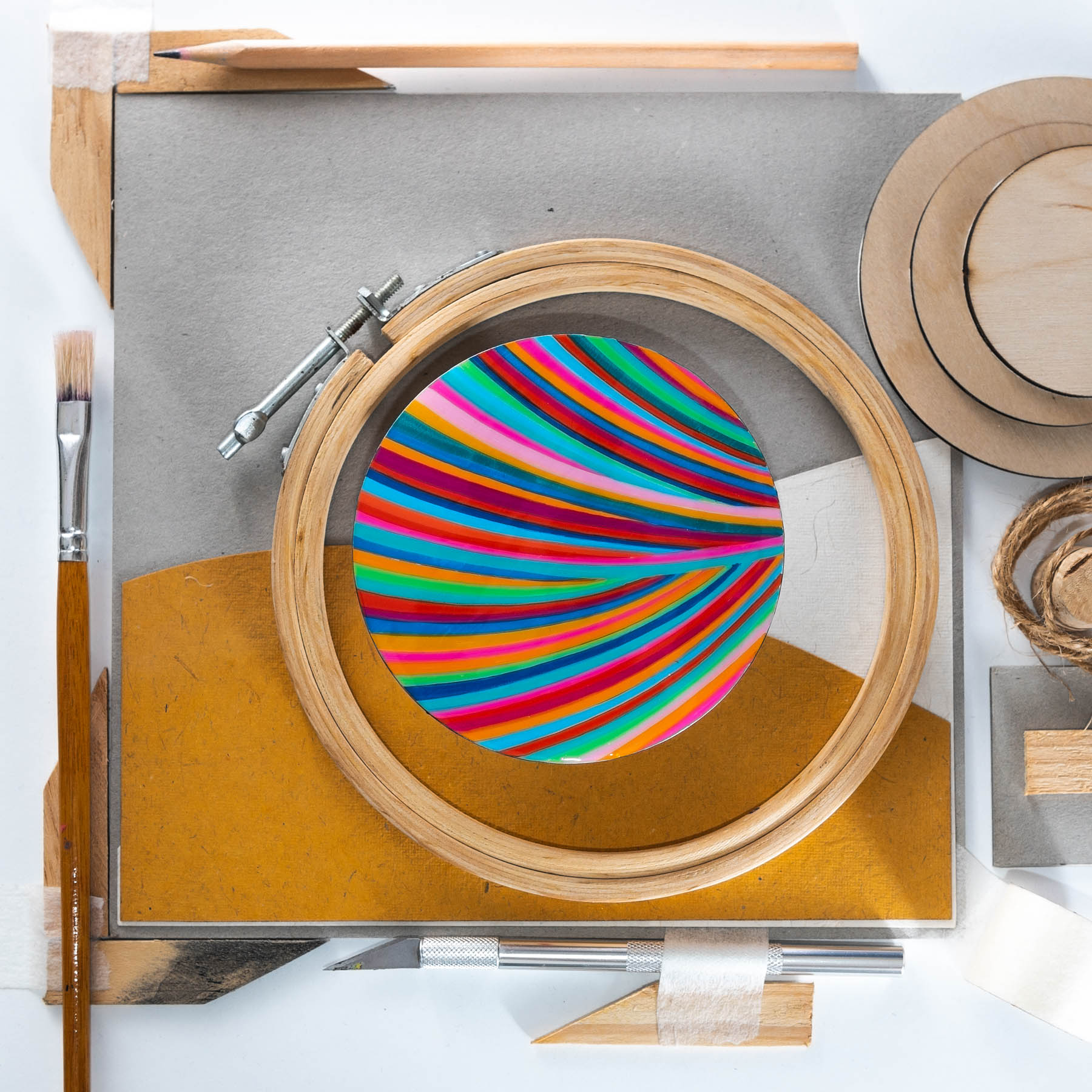 PRICING
The brooches are being retailed at introductory prices currently. Considering all the feedback I have received, I will increase prices at some point. It takes quite a bit of time from prepping the surface, to actually painting, to sealing the brooch with multiple layers of varnish.
Some techniques take longer than others.
Of course, if you're going to compare the pricing of the brooches to the pricing of the canvases I'm working on ( the smallest of those is 24 inches in diameter ), the brooches are going to seem like a STEAL.
On the date of publishing this blog post, the 2.5 inches brooch retails for Rs. 1,750; the 3 inches brooch retails for Rs. 2,250 and the 4 inch mini-painting retails for Rs. 2,750. Shipping within India is included in these prices. Shipping outside India is a flat rate of Rs. 2,500 in addition to the price of the brooch.
CERTIFICATE OF AUTHENTICITY
Each brooch is delivered with its own Certificate of Authenticity. Each piece is a unique work of art and as such, might have increasing value as time passes. To have documentation to establish the provenance, date and artist, each piece must be accompanied with a Certificate of Authenticity. If any of my customers, eventually, want to see the art or pass it on to their family, if the piece is accompanied by a CoA, it is more likely to retain or even grow in value.
This also provides some measure of control over original art and keeps fake pieces at bay.
If you find something that claims to be "Made by Naina", but there's not form of CoA with it, it's fake.
THE BEGINNING
I mentioned the brooches for the first time on my Instagram feed on the 27th of March. Within the first 48 hours, I was entirely unprepared for the eight orders that were placed. Since then, the last two weeks have been a mad scramble to put all the other logistics in order. Shipping and courier. Boxes and bags for packaging and shipping. What to write the notes on. What to write in the notes. The Certificate of Authenticity. How to brand the brooches? And a whole lot of other stuff that I am quite sure I am forgetting.
I even recorded a podcast / video episode on #TheNainaRedhuExperience to give an update and document my progress on the brooches.
I also went to Kinari Bazaar in Chandni Chowk, on my own, to look for packaging options. It was a complete disaster. If I want to give quality to my customers, Chandni Chowk is NOT going to help me with that goal.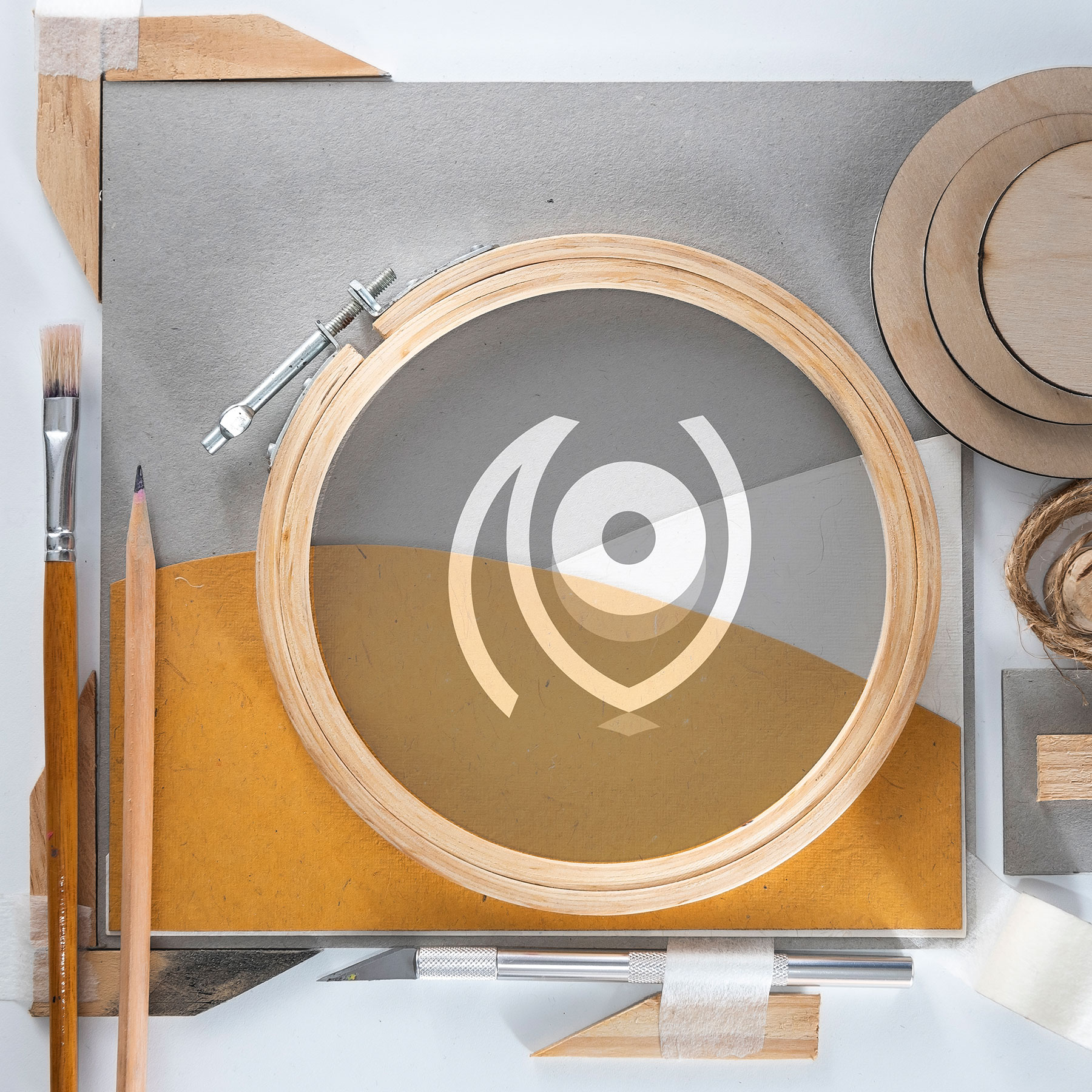 SHOP
All of the above – and many more – are available on my online shop for purchase. I'm using Instamojo as the payment gateway and International payments are also accepted. I ship worldwide and request for a lead time of 15-21 days. Longer for bespoke commissions.
It's been amazing. Thank you. Keep your eyes peeled for new additions to the store!