"In Time" Art Series for Diwali 2020
With layers of time and our own perseverance, we will dip our toes in dreams again. My our plans be shinier still. In time, we will heal and build. Each painting is a mini landscape of our lives, if you look just a little bit closer. A life lived.
Our lives, across the globe, have been fragmented severely in 2020. Shiny plans and dreams lay scattered about, broken. The best case scenario : postponed. The series was born from a desire to capture the significance of our spirit as human beings, to persevere through layers of whatever life throws at us.
May love be unrequited no more, may our spirits be elevated, may the magic return in all aspects of our lives, may the "scene" change soon enough, may we find the time to dig deeper, may we make memories and may there be a change of fortunes.
Pieces In The Series
One 8 inch canvas painting ( ready to ship ), called "In Time".
One 3 inch diameter brooch.
Seven 2.5 inch diameter brooches.
Seven 2 inch diameter brooches.
And there is a 24 inch painting called "Landscape Of Memories", which is currently in progress.
Technical & Material Details
Acrylics on wood, like all my other wearable art brooches.
Magnet Clasp at back : no pins to prevent damaging your fine silks and cashmere.
This series also uses gold and copper foils.
The foil, paint and varnish are all hand-applied.
A multitude of layers of varnish with different paint and foil applications to create a feeling of depth and visually separated layers on each brooch.
Styling The Brooches When You Wear Them
Use a brooch to clasp the edges of your cashmere or silk stole. Or wear it directly on your brocade blouse. Remember, the magnet is removed with ease when you SLIDE it off instead of PULLING it off. The bright colours of the brooches, alongwith the metallic glint make them suitable to wear both during day brunches and evening celebrations. In the photographs, I've shot them on a white background, a black background and also on a white cashmere sweater, a pashmina shawl, a Chanderi silk stole, Parsi embroidery and a Banarasi brocade stole.
Wearable Art Brooches make for great one-of-a-kind gifts for those who have everything. If there is someone in your life who has everything and you're always struggling to give them a unique gift, you're on the right website!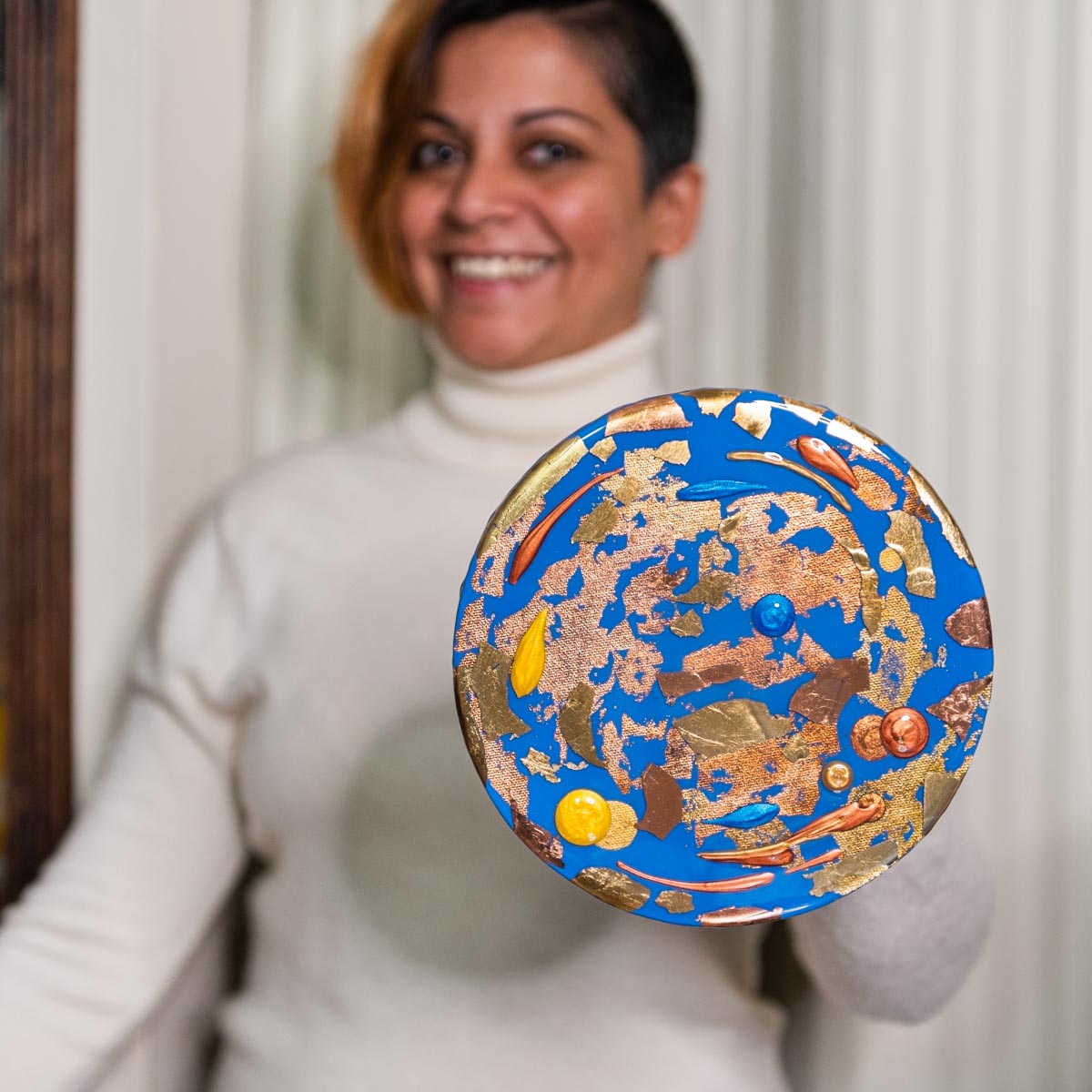 If you're seeing this web page and have scrolled enough to get to this sentence, thank you. Thank you for supporting my work by visiting the link that brought you to this page. Thank you for spending time reading through and looking through my art. Thank you for being here. Yes, blog traffic DOES mean a lot to a blogger. Viewers of art, DO mean a lot to an artist. I own this platform and there are no ads, no algorithms, no deception.
If you know someone who might like to take a look at this page as well, please share naina.co/diwali with them.
Happy Festive Season!
In time, all will be well.
Love,
Naina