I always carry my own coffee with me whenever I'm traveling. But this trip to Magnetic Fields Festival, even though I was carrying my stash, I didn't even look at it because there was Blue Tokai Coffee to serve me up! Thanks for keeping me alive these three days and hope I can lay my hands on that cold brew some more whenever I see BTC.
After hearing about "Magnetic Words" for a couple of days, I spotted a slot where a speaker would be talking about fragrances and scents. Regular readers of this blog know how much I love fragrances ( I have a monthly series called #FragranceOfTheMonth ) and I just had to be there! The words she used and the feelings she evoked and the fragrant strips she handed out, all added to the magic of being at the Magnetic Fields Festival.
Jahnvi Dameron Nandan spoke about "What Is Your First Memory Of Smell?"
Earlier, Bharat has listened to William Dalrymple and right after Jahnavi's session was Raghu Karnad. Both were excellent I hear. Sad to have missed William's session but I heard a bit of Raghu's and it was too heavy and brutal for me to listen to for long. So Magandeep and I headed to the roof that suddenly seemed to be teeming with other revelers!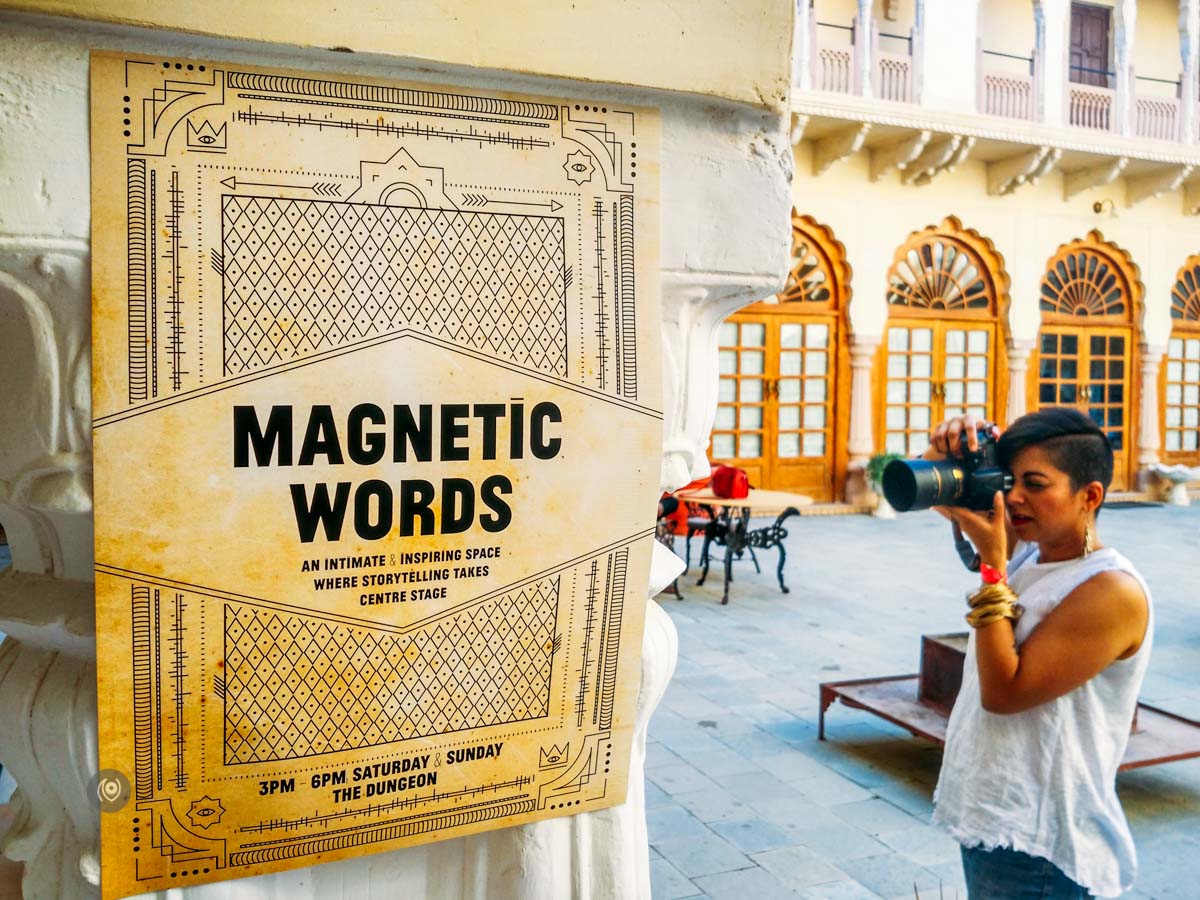 We spent a few minutes soaking in the lovely views after the sun had set – but figured out soon that the access to the Badal Mahal had been opened by someone without permission and the palace guards were politely requesting everyone to leave.
Since we had some time on our hands, I also walked through other parts of the Alsisar Mahal that I had not take photos of earlier. And there's a lot to photograph – entire sections were closed to "tent visitors" and even people who were living in the palace rooms couldn't access everything. I don't think I can even imagine how big this place truly is!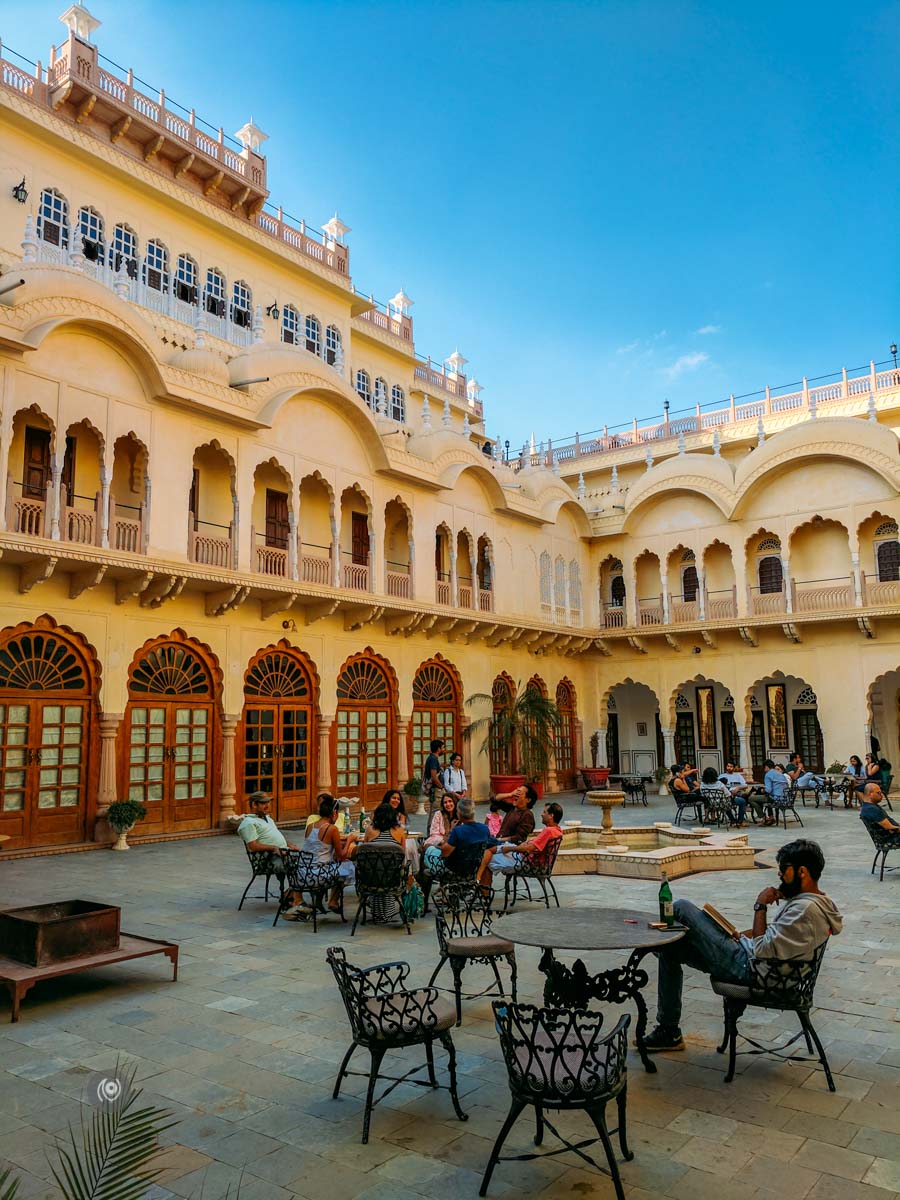 The blue skies continued to dazzle us and people were chilling wherever they could find a spot. On the grass, on the tables and chairs in the courtyard, in the bar and food area, at the palace reception and even back at their tents.
I went back to the tent to layer up for the night – it's too hot during the day for any layers whatsoever.
After getting back to the palace grounds and tasting some coffee liquer with Jameson, and lounging around on the sun beds in the lawn, I was wondering what to do next. The music ( except the one act we caught on Day One ) was not really my scene, so I was looking for things to do.
Too many people were smoking and I couldn't breathe anymore, so that sealed my plans and I headed back to the tent. I spent the next few hours photographing some timelapses while seated at the "tent porch". Adding layers to my clothes as the evening progressed. Smokes from bonfires started blocking the view to the stars, so I decided to go to bed early. ( Personal bonfires are strictly not permitted though – and I overheard a couple of security personnel discussing how to go about shutting them down. )
We were also informed that the party would be moving from the Palace grounds to the tent area around 2200 hours. I was prepared with my ear plugs but did not realize that the party would be two tents away from mine. My whole body reverberated the entire night from the shitty bass they were playing. All night and all morning. Thankfully I did catch some shut eye – we had to get on the Jameson bus early next morning.
Most of the people in our group were out partying and music was on full blast even when we left the next morning at 9 a.m.! Madness! Surprisingly, a lot of people had left on the morning of Day Three – our guess is that most had jobs to go back to and the next day was a Monday – so best to catch some sleep and rest and hopefully be fresh for office. Thankfully we had no such worries – although we did have a dinner date that both of us really wanted to go to. But that was late Monday evening and we were hoping to reach Gurgaon by afternoon.
I didn't photograph much on the phone during our drive from Alsisar to Gurgaon but there are DSLR photos of the street and people and I'm going to be blogging those soon enough.
Click on the link below for other stories from the Magnetic Fields Festival, 2016!