Shop My Original Art Merch
Shop my merch : tees, journals, smartphone cases, mugs & tote bags. Also available : wearable art brooches, canvas paintings & fine-art posters.
As with most things in life, everything happens when it's supposed to happen. A few months ago, I started following Neha on Instagram after someone else I follow re-shared her comic. Then I discovered Minty and Neha's Mom on Neha's Instagram stories and I was ( am still am ) completely smitten. I also followed Neha on Twitter subsequently. We exchanged a few DMs on Instagram and I told her I'd love to come and photograph her and Minty and her Mum sometime. Eventually we got on the phone for a voice call and it turns out that Neha had interacted ( or tried to ) with me a few years ago – on Twitter. And it hadn't gone as well as one would have imagined. I don't have the details but my response was not as nice as Neha had probably expected and I think she promptly unfollowed me. Which was probably well-deserved. My excuse is that online communication can create "miscommunication". Maybe I was having a bad day or maybe I was just an idiot a couple of years ago. Maybe I still am an idiot – who's to say! But I think I redeemed myself enough that Neha agreed to allow me into her home and we spent a really fun afternoon together.
Neha is a young, firebrand, talented, entrepreneur, who will most definitely go onto to do really well for herself. She already is doing well for herself but, in addition, I can only foresee greater things for her. She is likable, smart, passionate and has the first-mover advantage in what is soon going to be a cluttered industry in India. She understand the pulse of the market and delivers value to her clients accordingly. Her client projects shine as much as her personal projects and that feed of Insta Stories can be a whole internet series on its own.
After we'd met and I'd edited the photographs, I sent her a bunch of questions. The "interview" is after some photos below.
Much gratitude to Neha's Mom as well – for tolerating my camera so close to her face and also all over her home. Minty of course was a darling in front of the camera – my speedlight / flash, even though it was bounced, bothered her initially, so we did away with the flash and got some photographs of her in natural light. ( So, photographing this set of photos, I realized it's probably best not to use a flash when photographing doggos! )
( As always, all images can be viewed at larger sizes – all you have to do is click on the image! )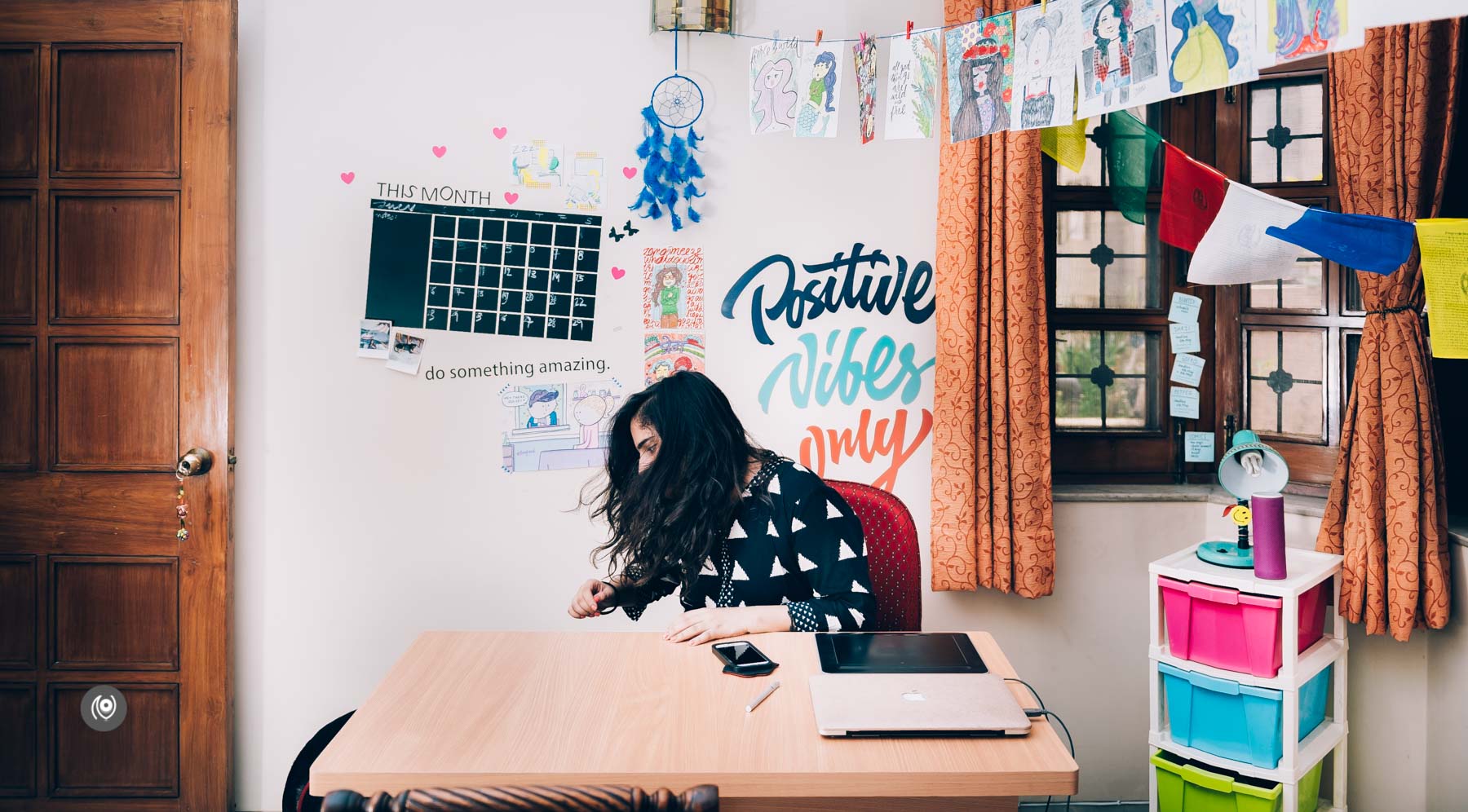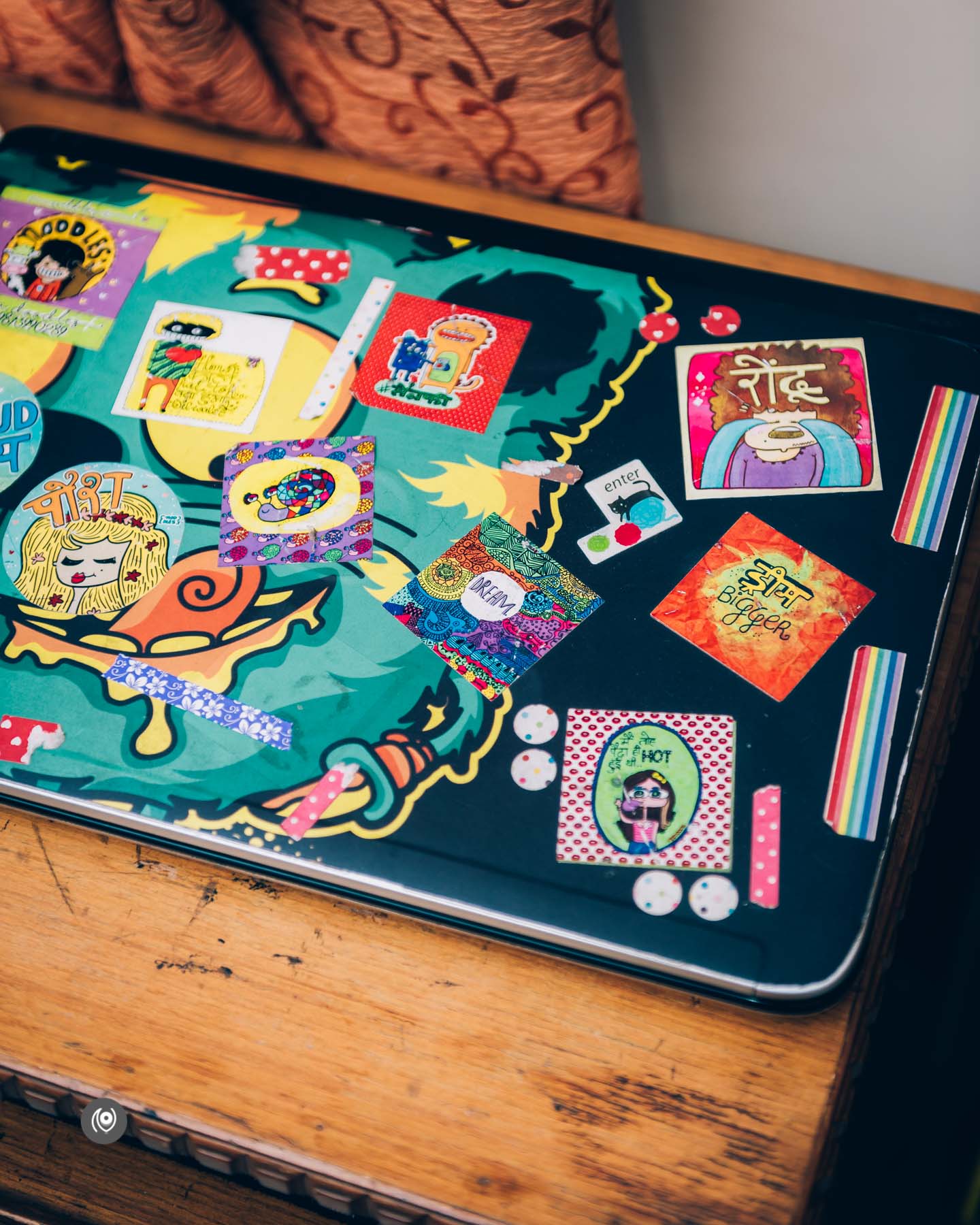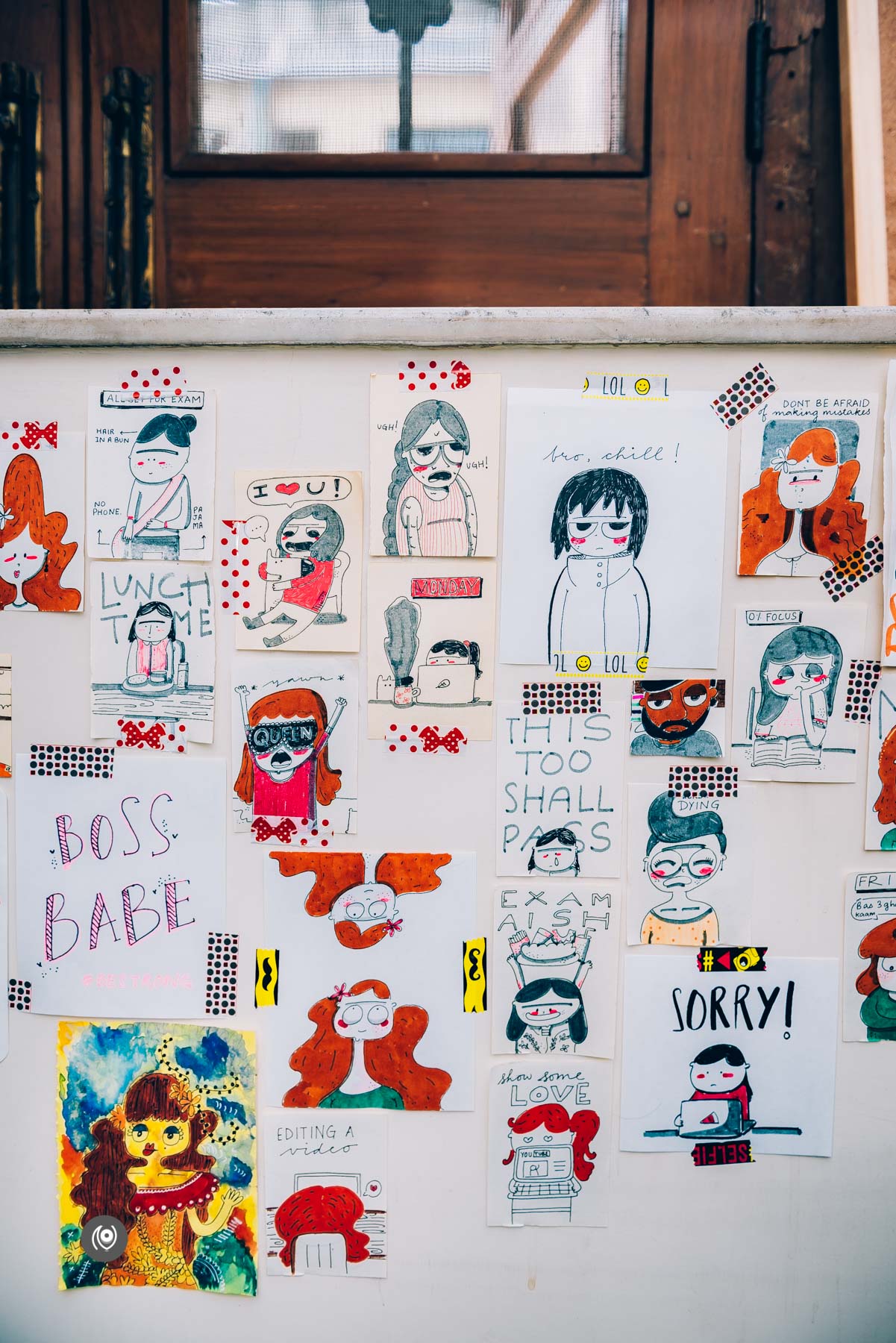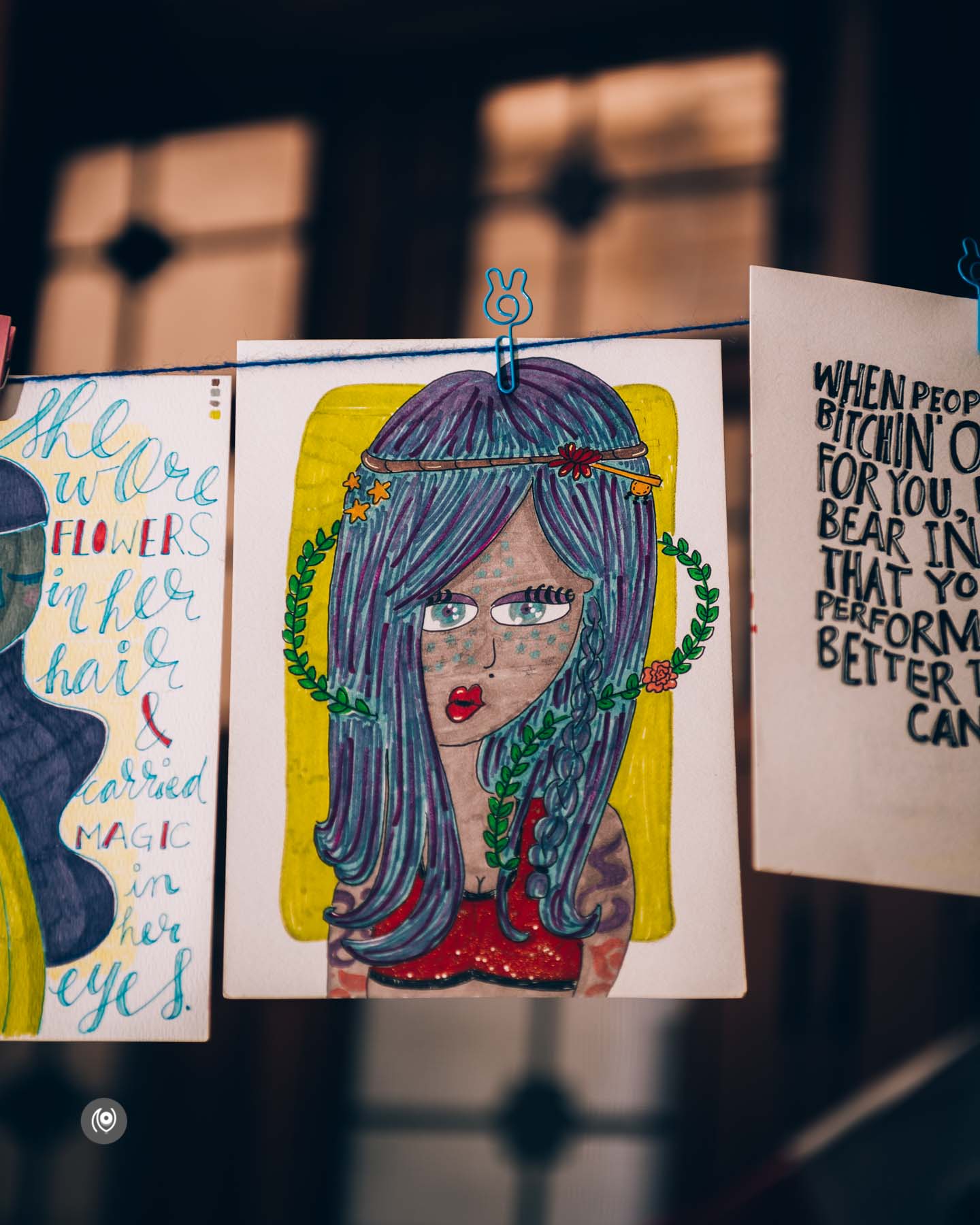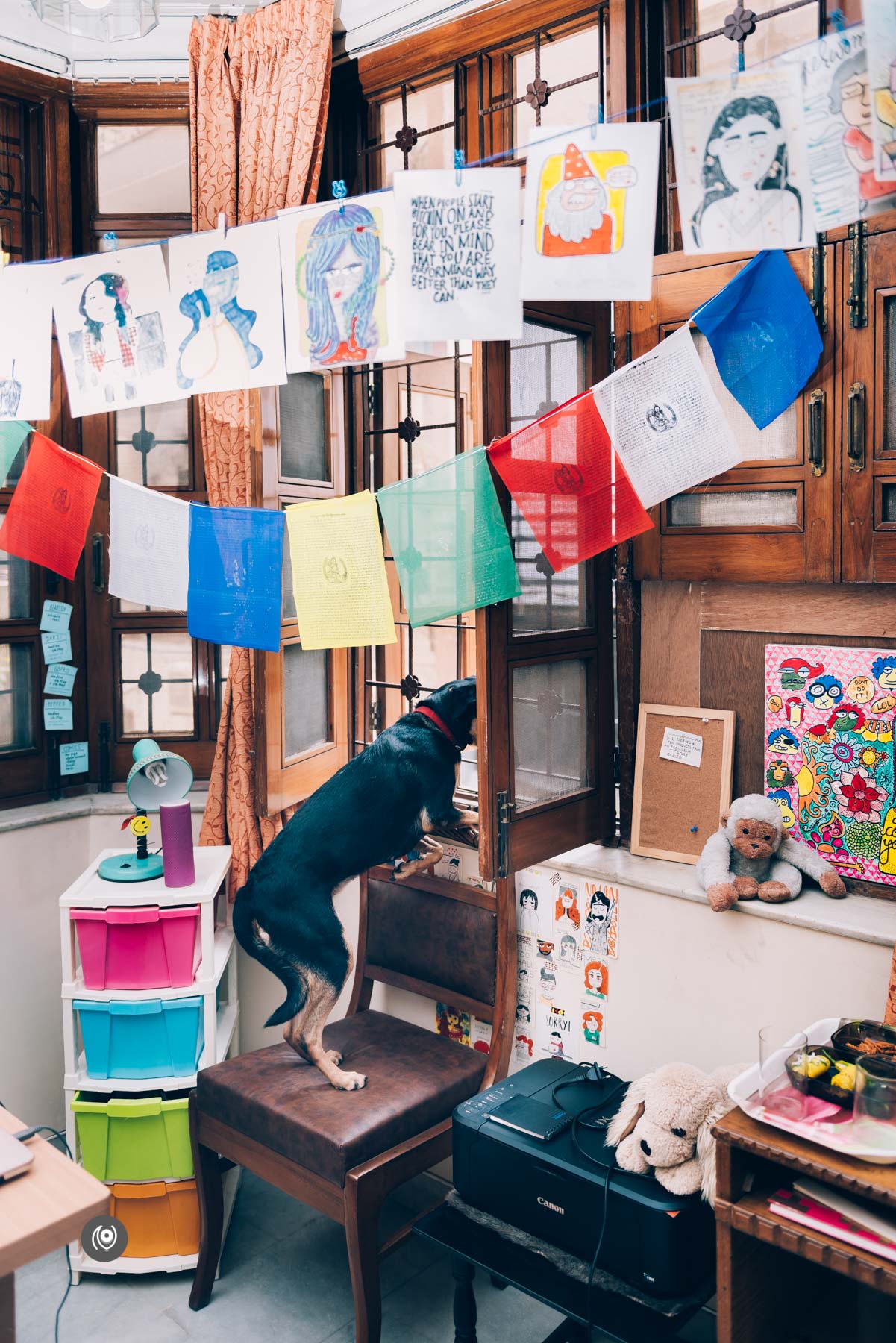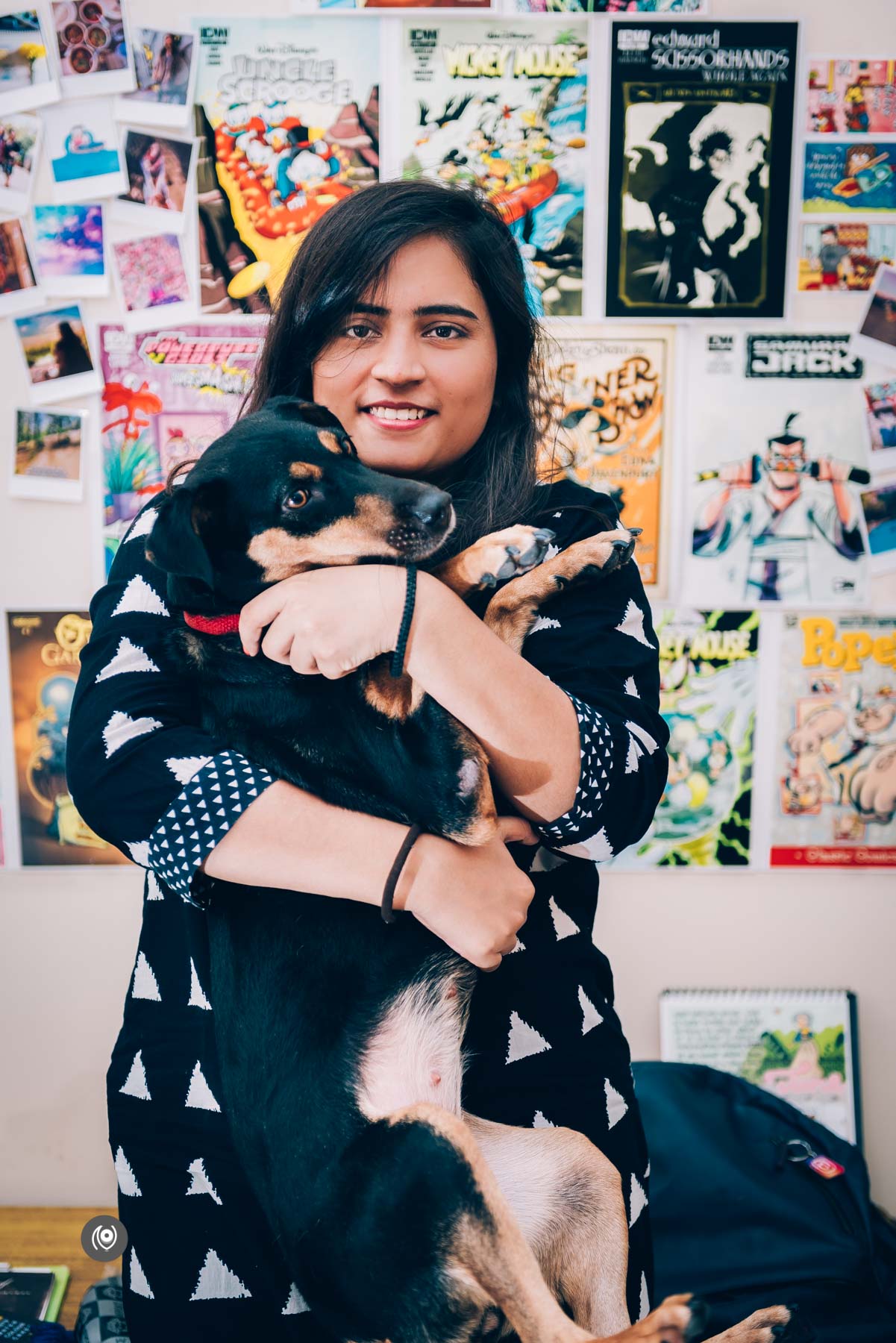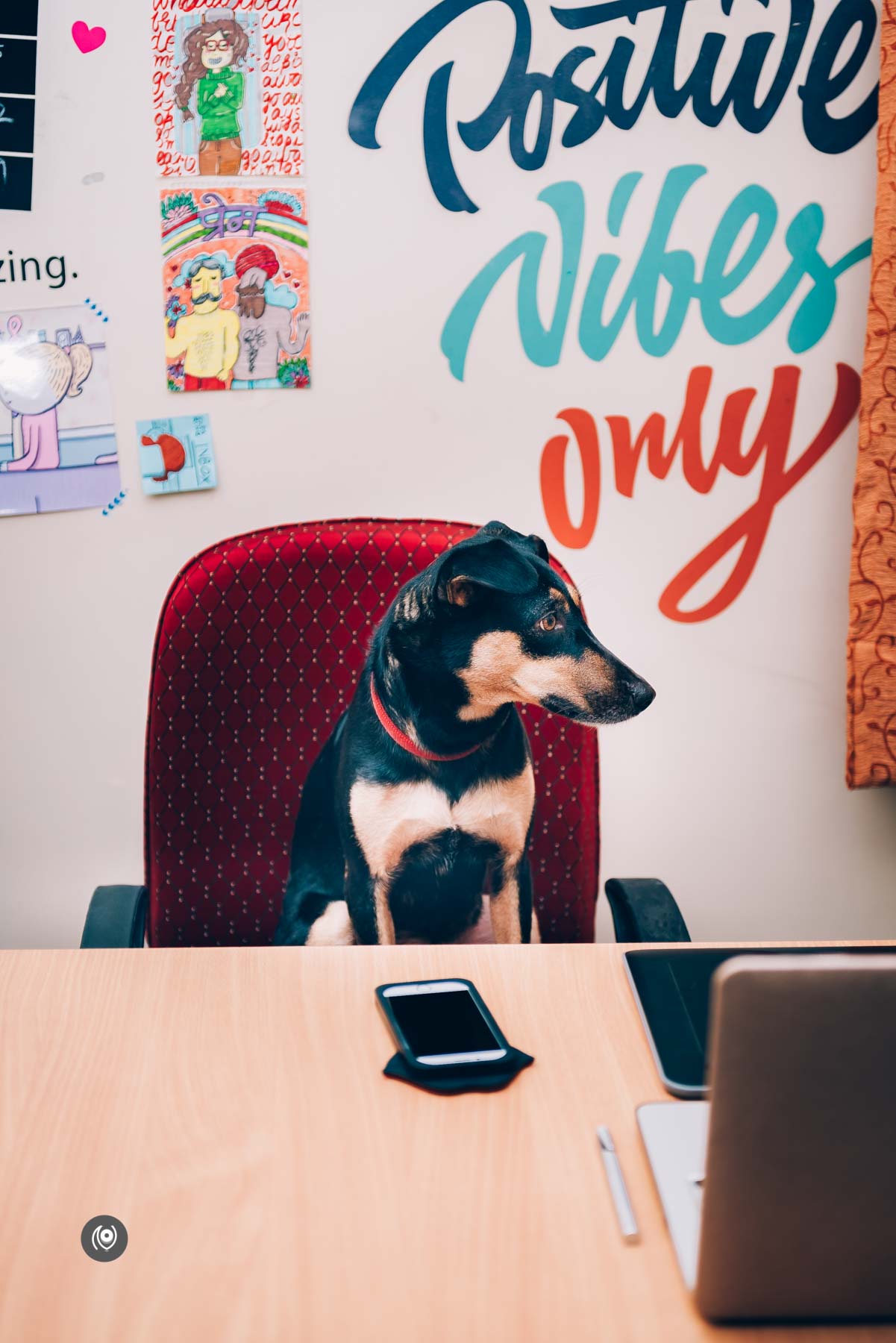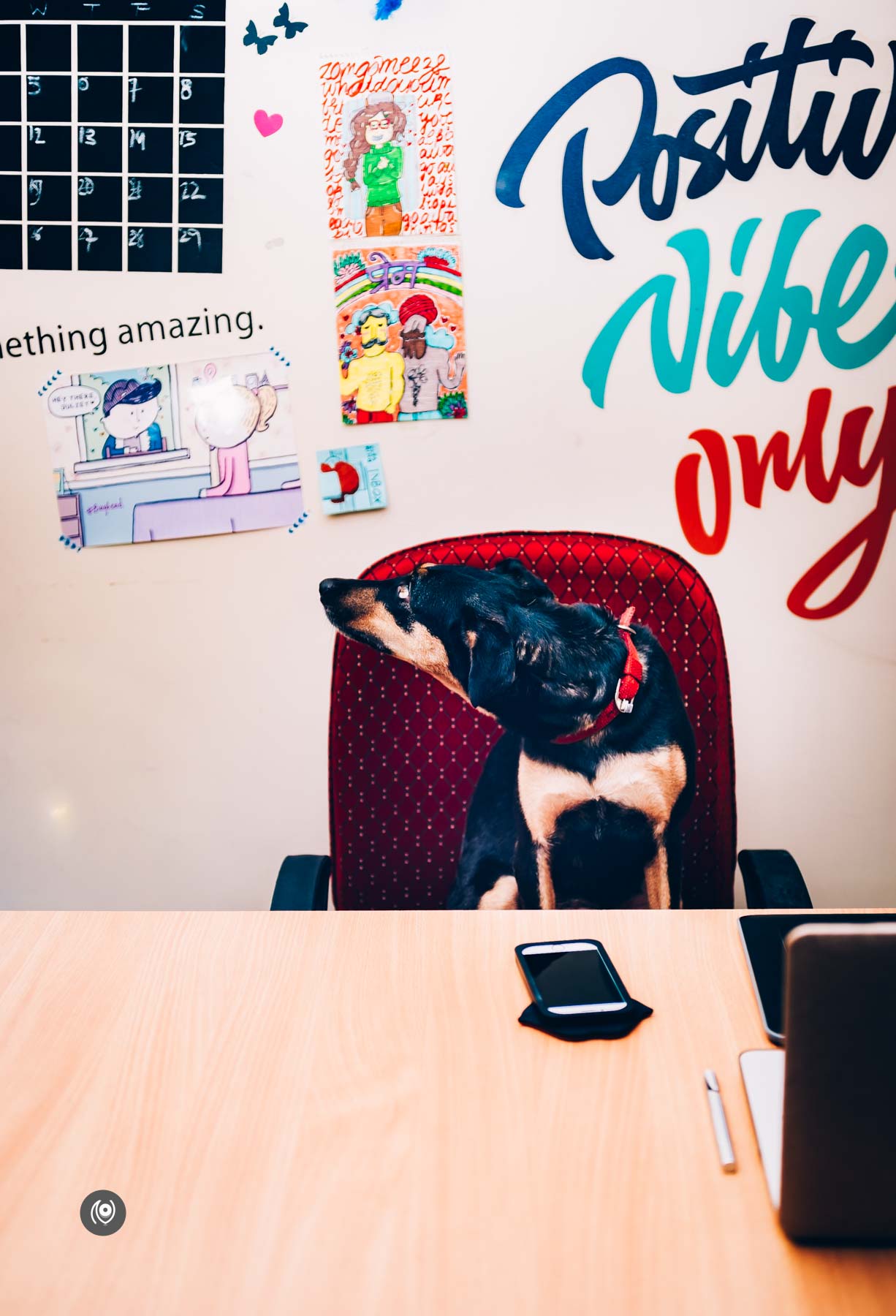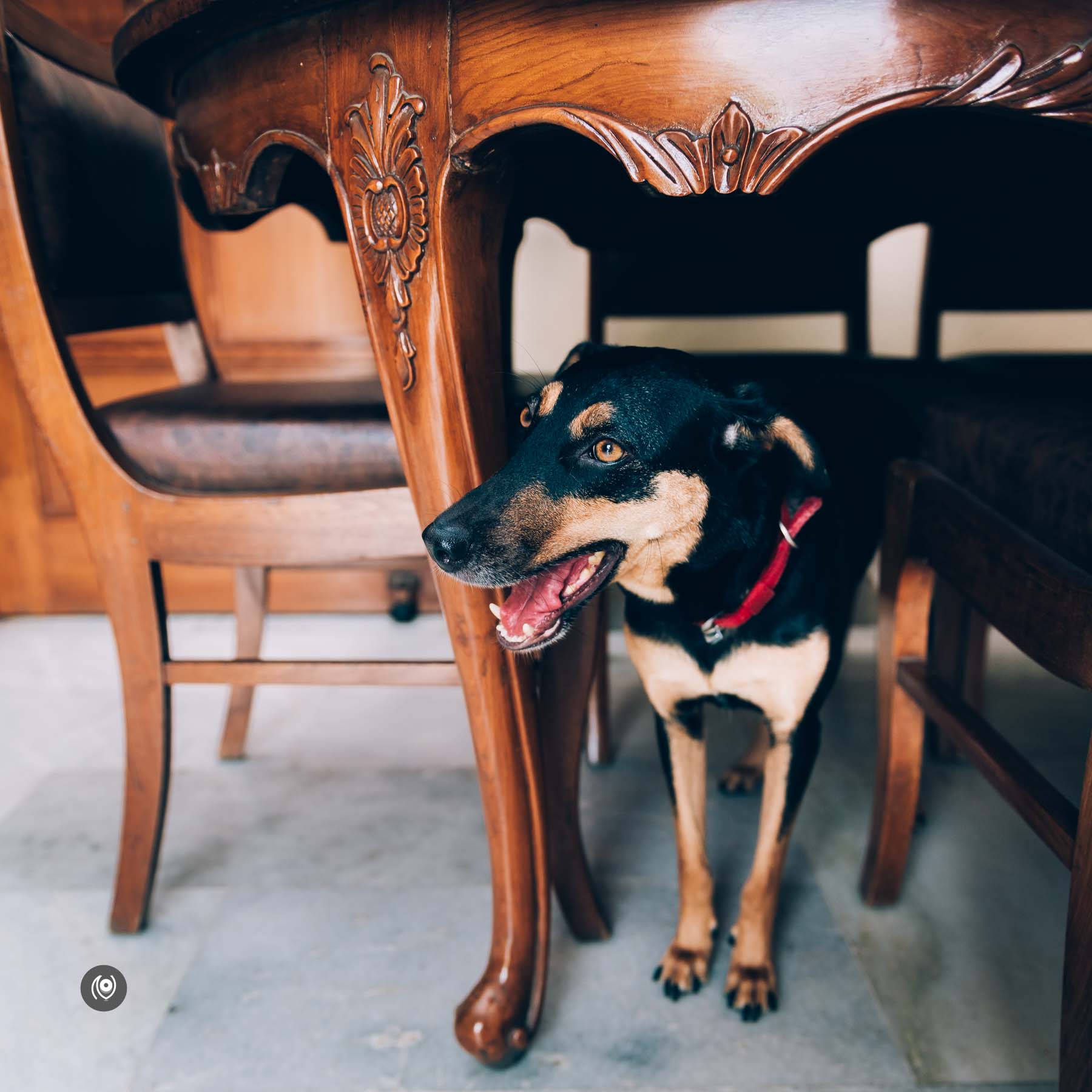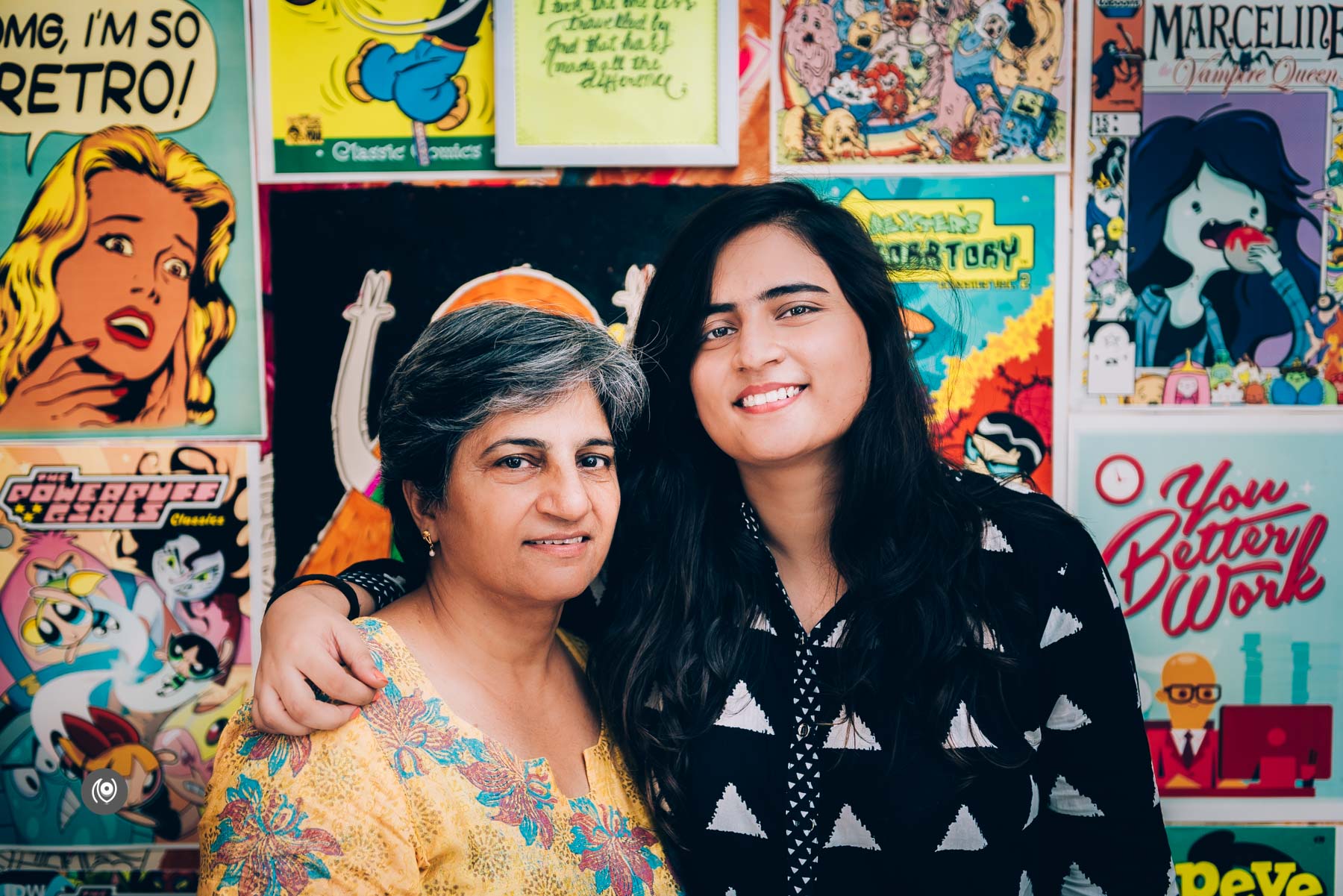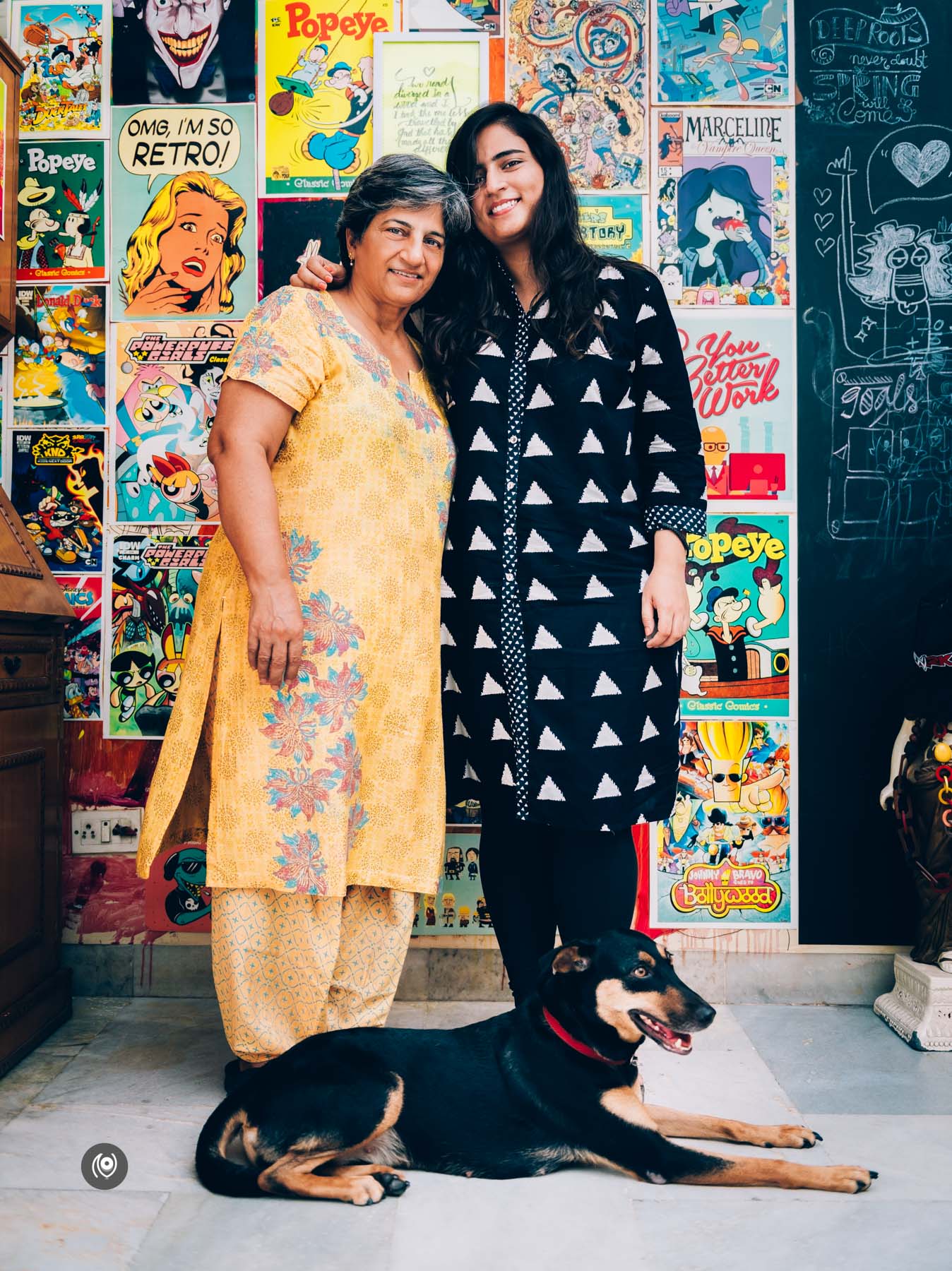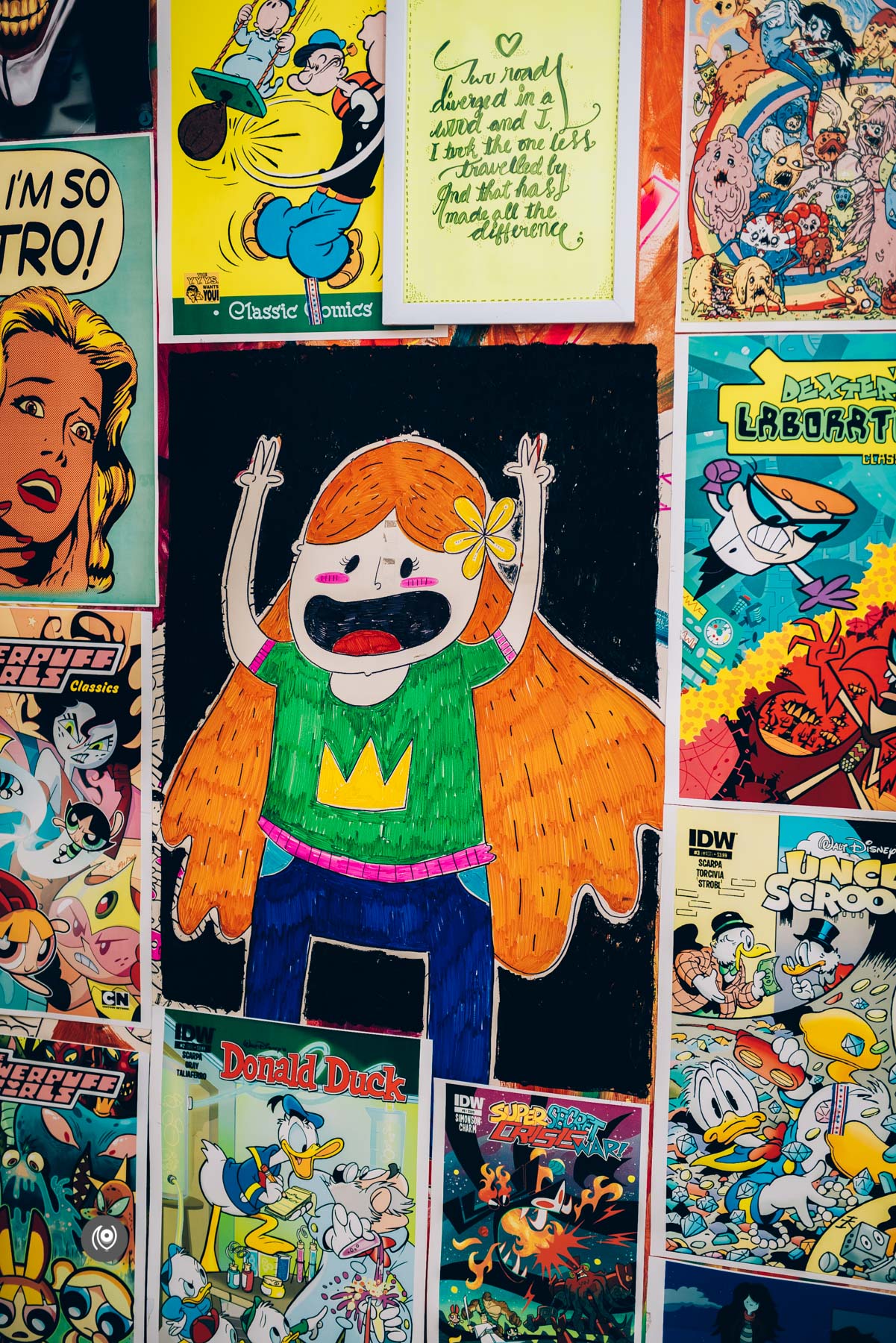 Here's the interview. This is the first time – literally – that I've attempted an interview. I emailed the questions to Neha after I'd spent time with her. Her email response carried the answers and I have reproduced them below, as-is.
01. When did you start doodling? Were you always a doodler? Did you draw when you were young? On walls / furniture?
I have been a doodler ever since I was a kid. But my doodling was limited to the back of my notebooks. This skill increased ten fold when it was an especially boring subject/lecture. My doodles were mostly about song lyrics and teachers with their catch phrases.
02. When did you decide to be a doodler / illustrator professionally? How do you define yourself – like if I had to introduce you to someone, what would you prefer I introduce you as?
One of my initial doodles about Honey Singh (big fan btw!) got noticed by a lot of people and was published in The Telegraph – Kolkata along with the link to my Facebook page. That is when I received my first commissioned project. So you can say I decided to be an illustrator the moment I realised that doodling could earn me money.
I define myself as a positive content creator. As vague as that term sounds, I find it the only way that describes what I do. Because I make doodles and illustrations but I also make videos and click decent photographs. Sometimes I also do song animations, gifs, stop motions. So I cannot put myself in a certain fixed category. But I make sure everything I do is done with the aim of putting a smile across peoples' faces.
03. What, if any, have you been employed as before you decided to doodle professionally? Where? After how long did you quit?
I had been pursuing Chartered Accountancy owing to my good grades in school. But I had realised soon enough that it wasn't for me. I did not have a Plan B though. I was lost and didn't know what else to do. So I kept pursuing CA. Before finding my passion in illustration I was employed in a Chartered Accountancy firm as an Article Trainee for a little more than 2 years. Soon after finding my passion, I quit.
04. Apart from being a professional designer / illustrator / doodler, you are also considered an "influencer". How did that happen? What was the first indication in your opinion, when you realized you are also an influencer? Do you get requests to post about brands on your social media? If yes, how does that work? Examples?
As a teenager I was always insecure about my body. But a few years back I decided that it had to stop. I started working on my body and I started loving it. But the biggest realisation happened when I figured that I didn't need to be a particular size to love how I looked or to love how I feel. I started posting about the journey and my insights on my social media and realised that it was helping so many young girls feel comfortable in their own skin. Girls would message me saying how a certain post had helped them overcome a certain insecurity. That is when I also realised that my opinions and my journey are influencing people who follow my work.
Yes, I do get requests from brands to post their content. With that regard, I am very particular about what goes on my feed. I do not post content created by a brand i.e video ads, posters etc. I post content that is created by me for a brand or I post reviews about a product they'd want me to try out. In short there needs to be some value addition from my end for a post to go up on my feed. I would never post an ad just for the money that a brand is willing to pay me. My audience follows me for my work and I will always try to do justice to that fact.
05. What are some of your most favourite client assignments? Your personal favourites ( allowed you to be creative ) and the prestigious ones ( elevated your position in the market )? ( Please give links – if on Insta – or any other platform. )
My current favourite client assignment has to be the doodle song series I created for Dunkin Donuts on Rakshabandhan. They gave me the liberty to be as creative I wanted and I feel that is the reason I am very happy with the output. Link : https://www.instagram.com/p/BXU5iE0FkbO/?taken-by=dunkinindia and https://www.instagram.com/p/BXZbGPOFGto/?taken-by=dunkinindia
Another favourite (and prestigious one) was the work done for Nivea. I created 20 illustration for their Valentine's Day campaign. These are my favourite ten of the lot : https://www.instagram.com/p/BRFd8tSjzhV/?taken-by=neha.doodles
My first prestigious assignment was for The Body Shop. I made 3 GIFs for their 10th Anniversary in India. The GIF was to document their journey. 1: https://www.instagram.com/p/BGW_-eIBDKy/?taken-by=neha.doodles 2: https://www.instagram.com/p/BGb5X8fBDOz/?taken-by=neha.doodles 3 : https://www.instagram.com/p/BG37GcABDCR/?taken-by=neha.doodles
06. Apart from client assignments, what are some of the most fun stuff you've created? ( Please give links – if on Insta – or any other platform. )
I am a big fan of punjabi artists Honey Singh, Badshah, Pav Dharia etc. So one post that will always be close to my heart is my first doodle song : Mercy by Badhshah. https://www.instagram.com/p/BWSdl8oDpDU/?taken-by=neha.doodles (It was also appreciated and retweeted by Badshah btw)
Another segment I do on my Instagram is Unwanted Opinions by Neha Doodles where I give my opinions on maybe an ad, a movie, a TV show, a song etc.
I also created a bunch of geofilters for Snapchat that got approved. Two of my favourites are for Model Town & Pitampura. Links : https://www.instagram.com/p/BHytTriArAg/?taken-by=neha.doodles and https://www.instagram.com/p/BG_CFxmBDEY/?taken-by=neha.doodles
07. What is your opinion on the doodling / illustration industry in India? Where is it in terms of maturity? What are some areas where it needs to improve? Something about the industry that give you hope?
The illustration industry is very young in India mainly because there isn't a formal course/degree in the same. You could go to a design school but illustration is only a small part of it. Most of the leading artists here are self taught. Also it is very underrated right now. Even brands have a hard time figuring out how much effort goes into a single post hence they are always underestimating the cost that will go in it. But we are getting there. And I feel the future is only bright.
08. What is your Mom's name? Does she doodle? Any other artistic angles to her personality that you might have been inspired by?
My mother's name is Rajni. No she doesn't doodle AT ALL. She tried once and said "yeh doodle iss kamre se bahar nahi jaana chahiye". But she is an excellent critic. Her art lies in telling me what's wrong and what can be improved in what I am drawing.
09. How did Minty's name come about? How old is she? Where did you find her?
We had a Daschund when I was a kid. Her name was Minty. And she looked EXACTLY the same as present day Minty. So Minty's name is actually Madam Minty Masala The Second. She is almost 3 years of age. We adopted her from Friendicoes – an animal shelter and NGO in Delhi.
10. What are you doing when you're not doodling? How do you kill time when work is slow? Is work ever slow?
I am almost NEVER not doodling. If I am not working for a brand, I am working on a personal project. If I am not making digital art, I am doodling traditionally with a pen and paper. On very rare occasions when I am not drawing, I like to binge watch TV Shows.
A lot of artists, when they get famous, stop posting on social media too often and then what started as their passion becomes regular work that they don't like as much. I have sworn to myself that I will never let that happen. I will always draw for myself and for my audience. That will always be a priority. So even if work is slow, I am never sitting and brooding about it because I am busy making content for my page. Work used to be slow when I had just started out. But a little more than two years in the business, I thankfully get steady work now.
11. Links to all your social media pages and websites please. Wait, you don't have a blog?! Why? How do you share your portfolio with clients and with your audience?
Instagram : www.instagram.com/neha.doodles
Facebook : www.facebook.com/neha.doodles
Twitter: www.twitter.com/nehadoodles
Youtube : www.youtube.com/nehadoodles
Snapchat : @neha.doodles
( My Snapchat was also featured by BuzzFeed in 21 Indians You Should Add on Snapchat, Like, Yesterday and by HuffingtonPost in These Are The Only Indians You Need To Follow On Snapchat Just saying 😀 )
I did have a blog when I had just started out. But it became very hard to maintain. Also I do A LOT of different work which is often not connected to each other. And my personal projects that go on my social media often are more creative than commissioned works. So putting EVERYTHING out on a blog becomes very confusing for a client who is looking for a certain sort of work. I find it more convenient to share relevant sample work with a client after one expresses their interest in working with me.
12. If someone would like to hire you, what is the best way to reach you?
Mailing me : [email protected] DMs and messages get lost in the sea.
13. Are there any blogs / social media accounts you follow that inspire you and / or make you happy?
Yes. I religiously follow @owlturdcomix @adamtots and @garbagebinofficial on Instagram. And Lilly Singh's Youtube channels are my dose of inspiration everyday.
And, here are some more bonus photographs of Minty! Enjoy!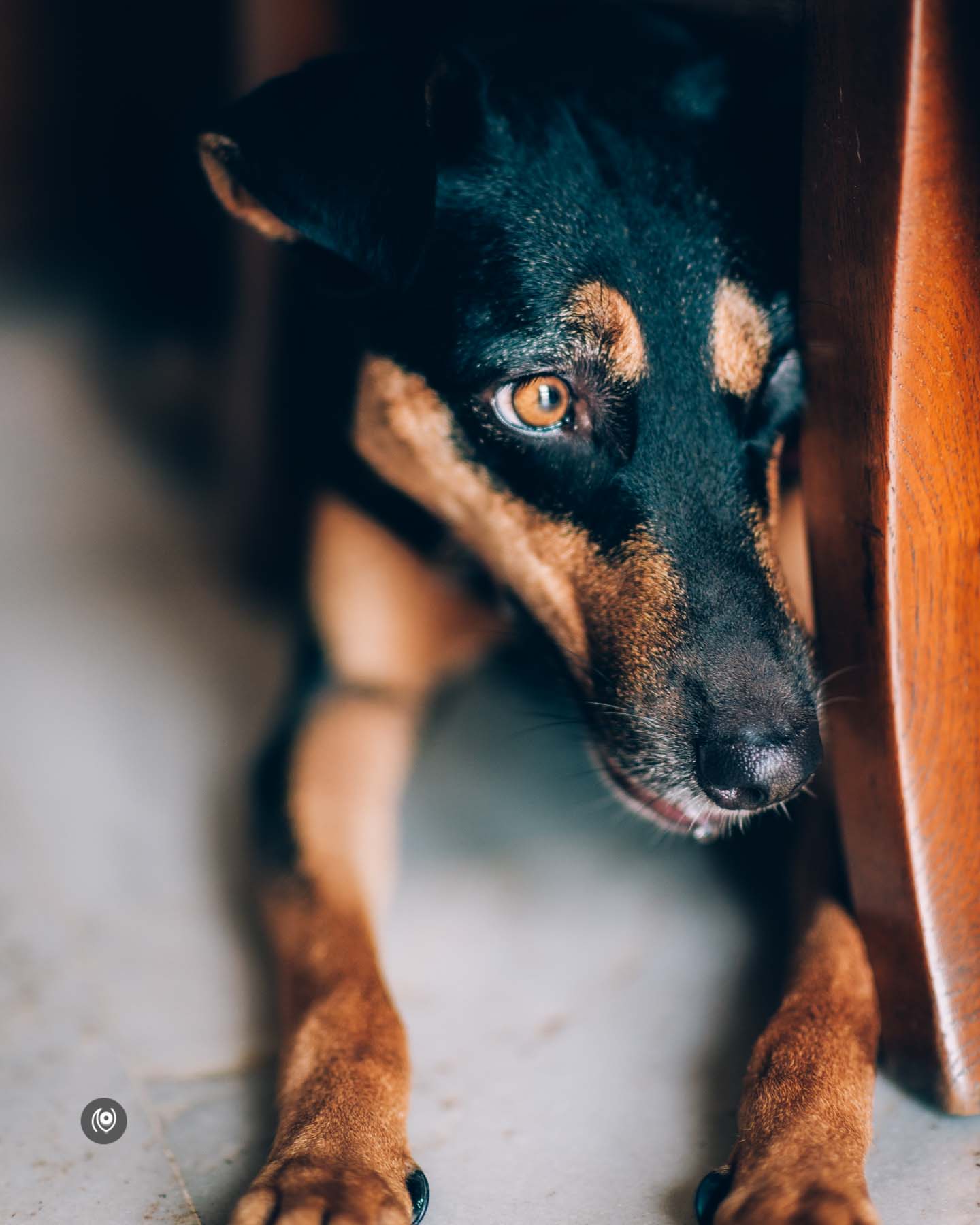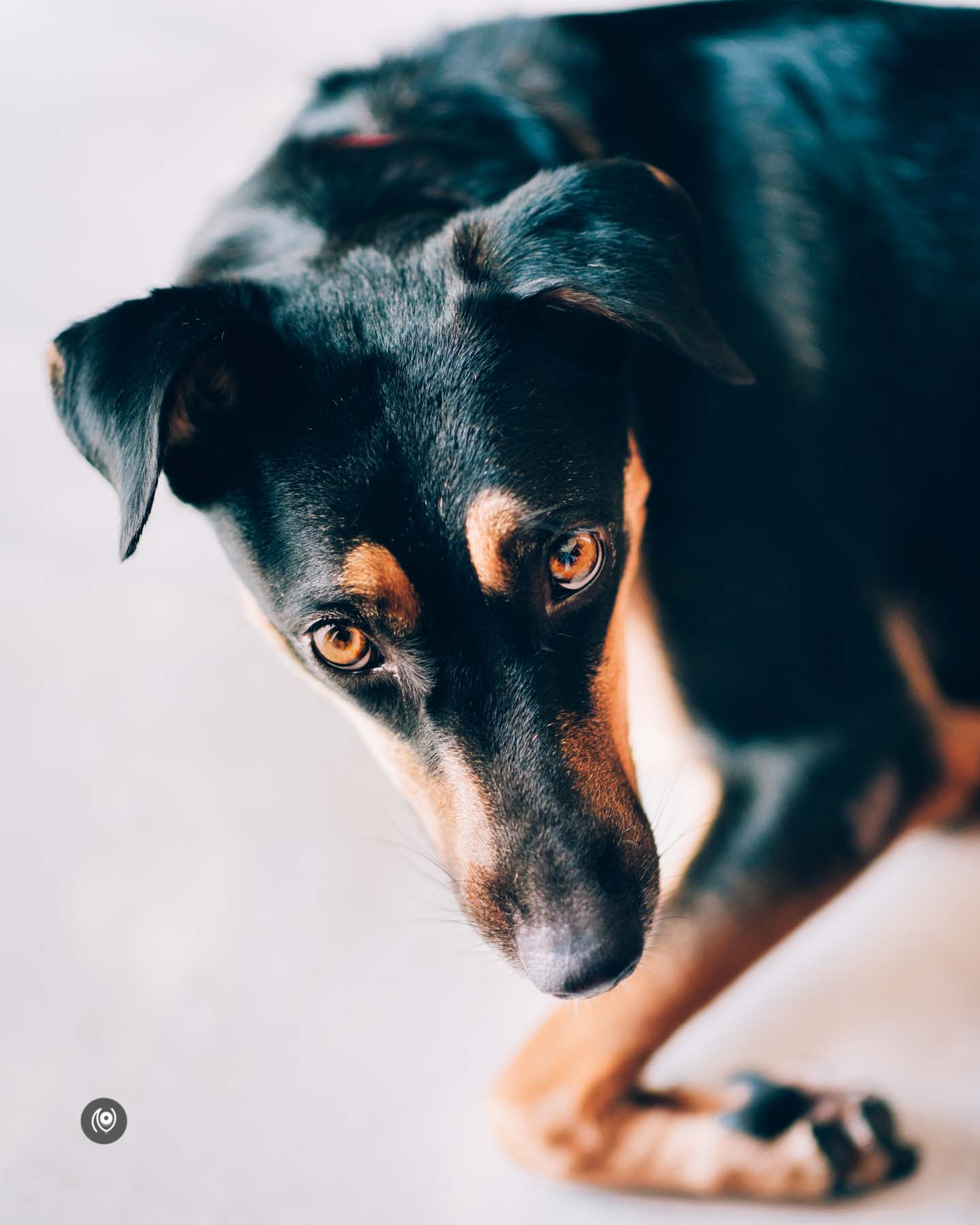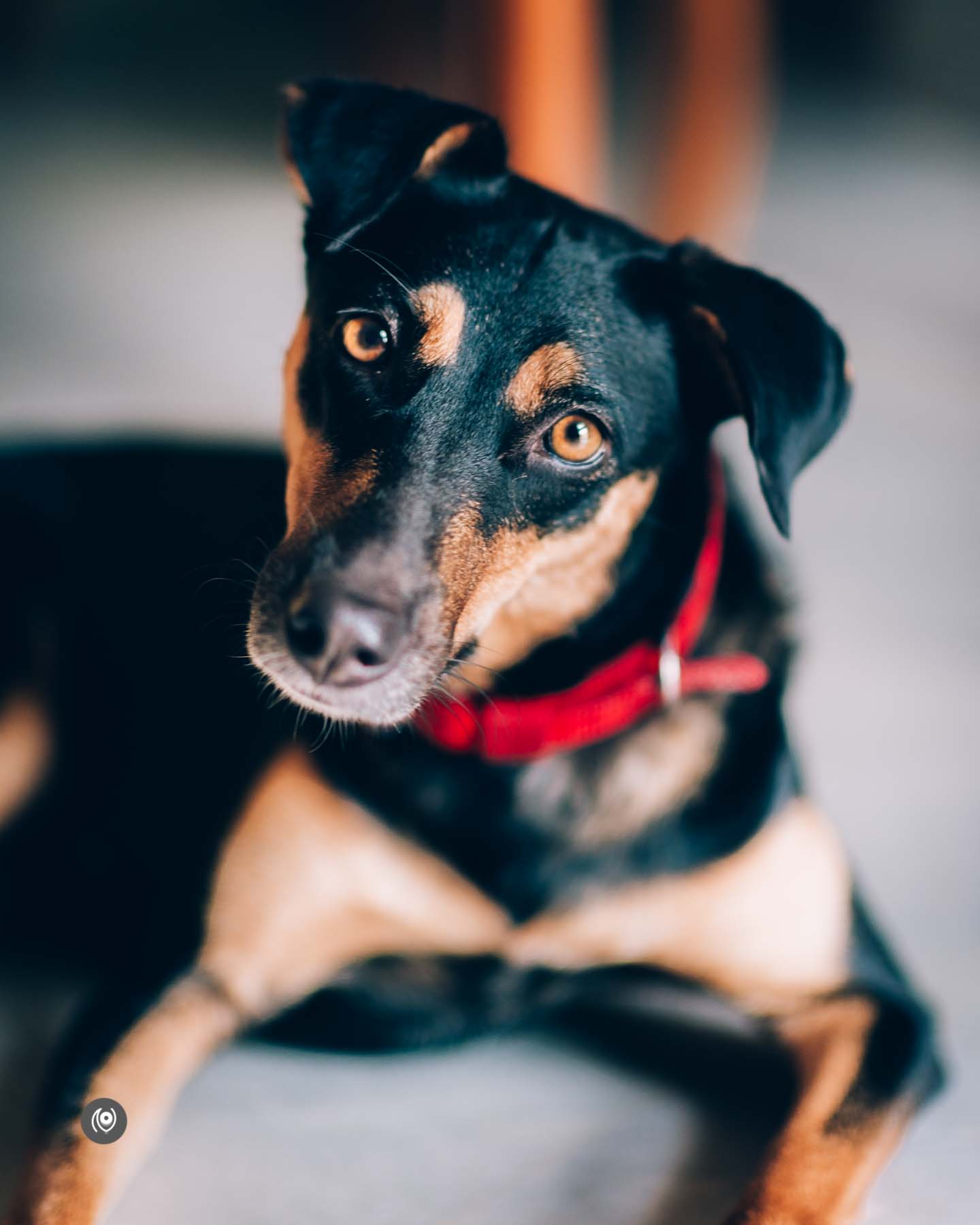 Neha Doodles : Store | Instagram | YouTube | Twitter | Facebook