The Five Photographs Published in the January 28th issue of HTBrunch. Including the Cover Image above.
A special double edition, wellness special. "Grace, Grandeur and Grey Hair. Mother-daughter Sharmila Tagore and Soha Ali Khan Pataudi front your guide to living better." Interview text by Samreen Tungekar. Photos shot by me, exclusively for HT Brunch. Make-up by Arjun Bundela, hair by Bharti Chavan. Soha styled by Neha Bijlaney. For clothing / jewellery credits, scroll to the end of this post. ( All images can be clicked on if you'd like to view a larger size! Just hit the Back button once you're done and you'll come back to the blog post. )
My Other Favorite Photographs From the Shoot : In Color
Both the ladies were delightful and they're beautiful – had a hard time picking out limited numbers to publish on the blog!
In Black and White
Had to choose some that I thought worked really nicely in a monochrome version.
The HTBrunch Issue and me posing with it.
Well! I HAD to! This is always going to be my FIRST cover. ( Even though I've photographed another cover previously – for the Asian Lawyer magazine – but this is another level! )
Behind The Scenes
I had done a brief recce a couple of days prior to the shoot date. There were more than a handful of places that I'd scoped out and wanted to use as a backdrop. Their home is absolutely lovely and while I had to pick only three spots to photograph, I kept coming up with more than half-a-dozen spots and had to, sadly, cut out those at the bottom of the preference list.
The camera I used is a Nikon D810. The lens was my trusty 24-70mm f2.8. I had two off-camera speedlights for the first 75% of the shoot. Once both the ladies sat down for the interview, then I was photographing with one on-camera speedlight. The ceiling was low enough to bounce off a lot of light everywhere.
As much as I'd like to claim that I had planned each shot, the truth is that this was my typical "wing-it" shoot. One of the advantages being that I got it done chop-chop-chop on time, without delaying anyone, even though our slot for the gig started a bit delayed due to the previous interviewing party. I was QUICK. And I was sweating like a pig because I was so nervous. ( This isn't the first time I'm photographing actors – remember the Durex shoot with Ranveer Singh? The major difference between that shoot and this one is that in this one, I was literally like the 5th/6th person in the room and the subjects were ONLY looking at and posing for me. With the Ranveer shoot, I was more like a fly on the wall. This HTBrunch shoot had me front and center and boy did I SWEAT! )
And Finally… YAY!
Now how does one top this? When 2018 has started on this note – it's just January – where do I go from here?! What level of hustle does one have to rig up to go forwards and upwards from here? I have no clue. Meanwhile, I'm still swimming in the awesomeness of this opportunity. To get paid and recognized for the work I love, is something I am never going to come to terms with. I can never believe I get to live a life like this.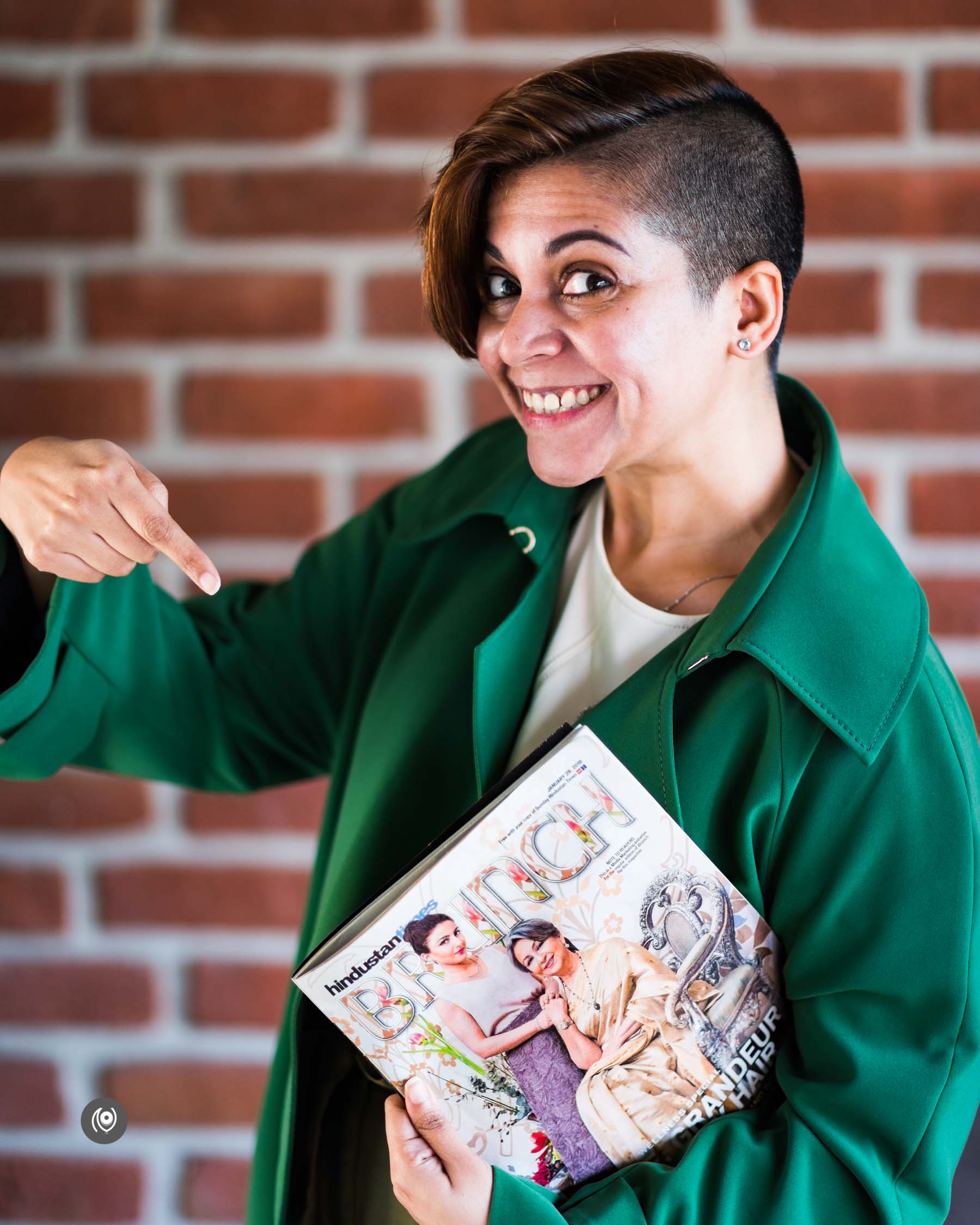 Thank you Sharmila Maa'am and Soha for being completely patient with a newbie like me. I hope I wasn't too much of a pain. Sometimes the camera doesn't focus and I'm sorry I made you hold your poses for longer than necessary. Both of you have such wonderful skin – I couldn't stop gawking. You're both also stunningly beautiful. The evening was a treat for me.
Thank you Pawan, for introducing me to Jamal – he had nowhere to go when we were in Paris and Avignon and I got to hang out with him and learn from him. Thank you Jamal, for taking a chance on me. It is incredible to learn from you and collaborate with you and it means a LOT to me that you think my work is good! Thank you Samreen for the advice tidbits and for being so lovely and supportive throughout the assignment. Thank you Tamanna for helping coordinate the shoot and interview. And of course, thanks Bharat for being my HAWT stand-in model and for being the tripod for the speedlight AND for photographing me on-the-gig – those images are priceless to me.
When I'm posing with the magazine, wearing the green jacket, white top and khakhi trousers, the garments are on loan from H&M India. I'm in love with the green jacket. Thanks Keerti – for styling my totally unfashionable ass.
Soha's top ( gold / satin ) from MadGlam and earrings from Chic Therapy ( available at Minerali Store ). The purple ensemble ( top and skirt ) worn by Soha is by Vedika M. Earrings worn on this outfit are by Priya Chandra ( available at Minerali Store ). The third ensemble worn by Soha, v-neck top by Knya, beautiful long brown skirt by Sameer Madan, jewellery by Evara, shoes by Christian Louboutin. Sharmila ma'am wears Chanderi silk sarees (gold one and green one ) by Raw Mango.
You can follow Soha online : Instagram | Twitter
If you missed the print version of this HTBrunch ( there's a new issue each week on Sunday with your copy of the Hindustan Times newspaper ), you can read the story online here.
Much gratitude to my editor Jamal Shaikh ( the national editor for HTBrunch )!