Western Digital India has officially launched the My Cloud Home storage solution. To put it simply, it's a central HDD that you can also share with someone else at home. There's an app that you can install on your mobile phone that will then help you sync up all the data on your devices, even if you're traveling – a remote backup – but to a hard drive, which has conveniently stayed back at your home. For most typical users, a 2TB drive will be more than enough to last a couple of years at least. Auto backups of all your photos and videos and what have you. I'm not a typical user and need about 2TB per year on average – and going forward, I'm going to be needing 4TB each year.
The archive you create on the My Cloud Home is searchable as well, which makes it more convenient. Although, you will need access to the internet to access the archive – which is how remote backups work as well. This isn't a professional NAS – more for the needs of those who struggle with space on their mobile devices and hate deleting anything.
I've been waiting for storage prices to come down – and I've been waiting for many years! The prices are coming down but not as quickly as I'd like. As a professional photographer, the number of hard drives required to create two backups of my work, quickly multiplies. About 24 at last count.
The My Cloud Home product has been launched in white and silver casing only for now. Capacity wise, there's the 2TB, 4TB, and 6TB, and the Duo with 4TB, 8TB, 12TB. The Duo is where there's a Mirror RAID that essentially creates a second backup of your data. I'm quite used to assembling my own external / internal drives for backups and doing the whole mirroring etc. If you're confident in your ability to rig something up on your own, it'll be cheaper than investing in this device – but then you won't have things like the app on your phone to access the data for example. Neither will you have the clean and neat closed box – assembling this stuff on your own can get messy.
Find out more : WD India on Facebook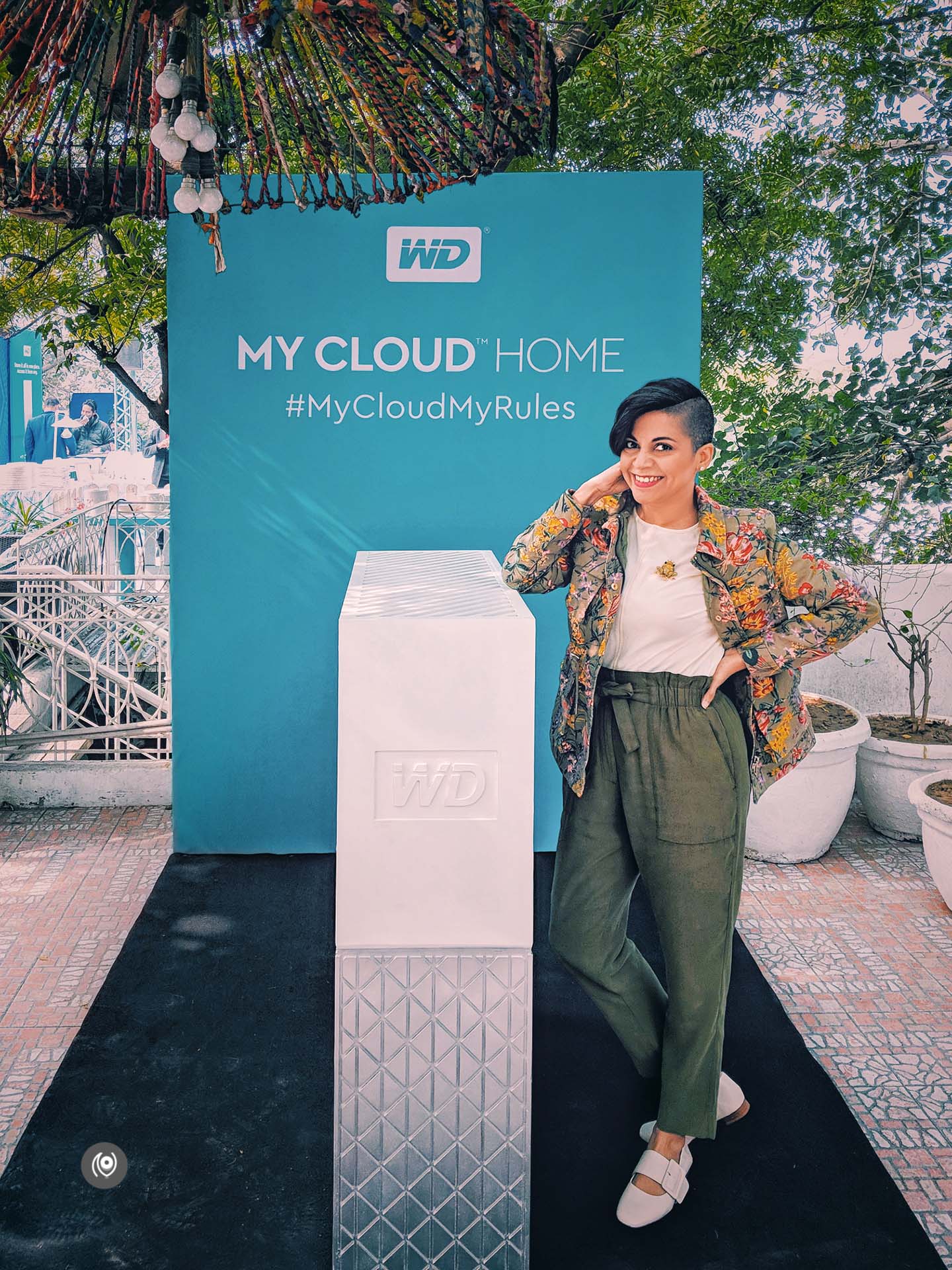 I'm wearing a head-to-toe look courtesy H&M India. Thank you for the picture Gauri!
The launch event took place at Olive, Qutub. I was hired to attend and write about my experience.
I've written about my storage situation earlier – although it's a bit outdated now in the sense that I have a LOT more hard drives. More technology-related features and stories can be found under #EyesForTechnology