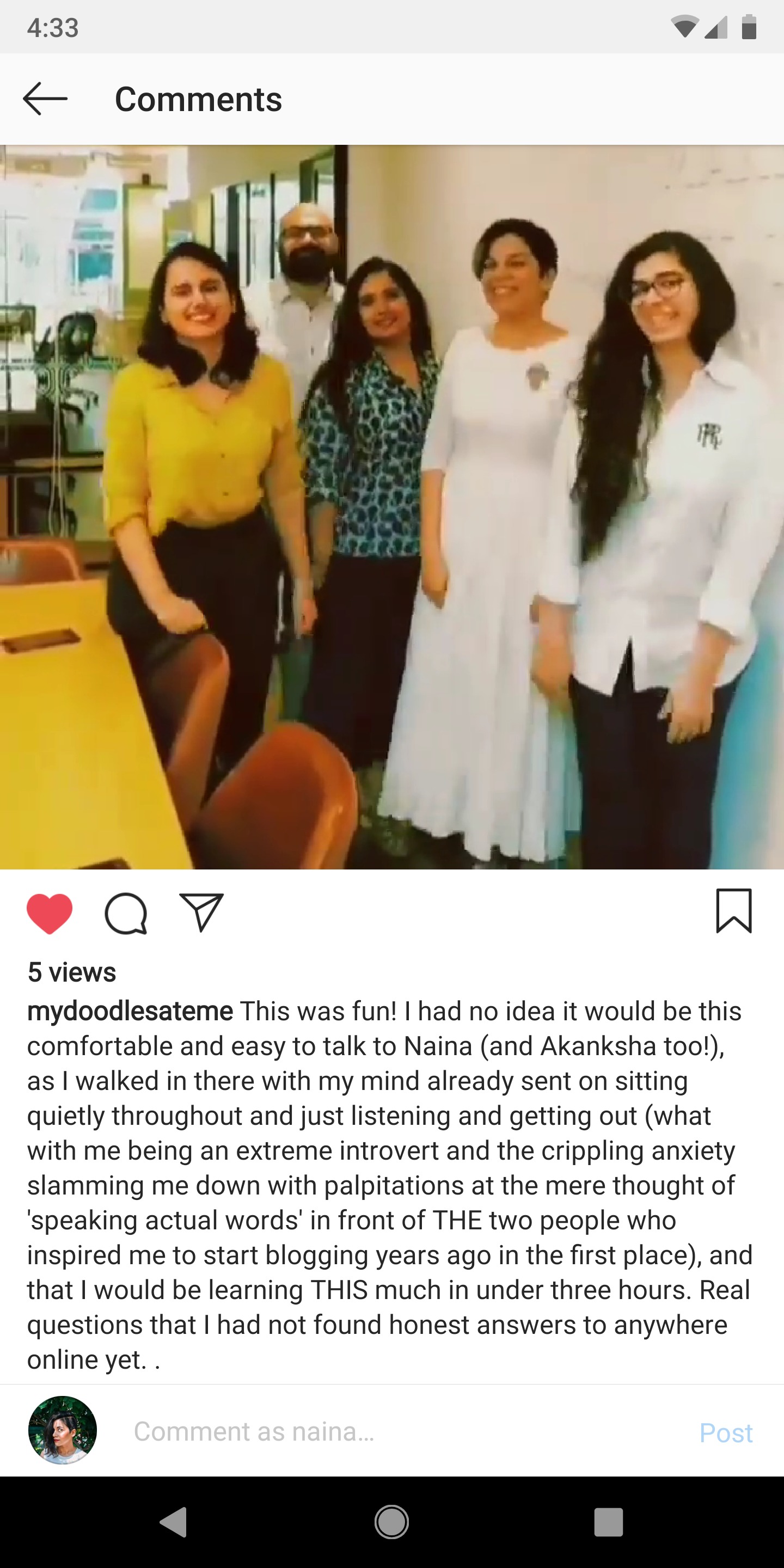 25th August, Gurgaon
Content of the Workshop
We kicked off the workshop with a quick round of #EyesForPeople portraits for all the seven participants.
Then, instead of the traditional and very boring powerpoint presentation method, I launched into blog posts. I developed content for 9 blog posts, specifically for this workshop and I opened up each one of those one by one and talked about what they covered.
Participants asked questions throughout the workshop and I tried my best to address all queries.
I shared examples of Instagram accounts that I believe are doing a great job with brand building. I shared links to the apps and software I use to edit my images. I shared some very basic & doable pointers to make better photos whether shooting on a mobile phone or on a DSLR and we also discussed the importance of an Editorial Calendar.
Participants also received access to all nine blog posts and will have access forever.
Attendees included a professional photographer, a professional blogger, a professional illustrator and a digital marketing professional. I can safely say that I too learned a lot from our conversations and discussions. One of the attendees was not able to make it due to ill-health, so there were four attendees, me and Akanksha as support.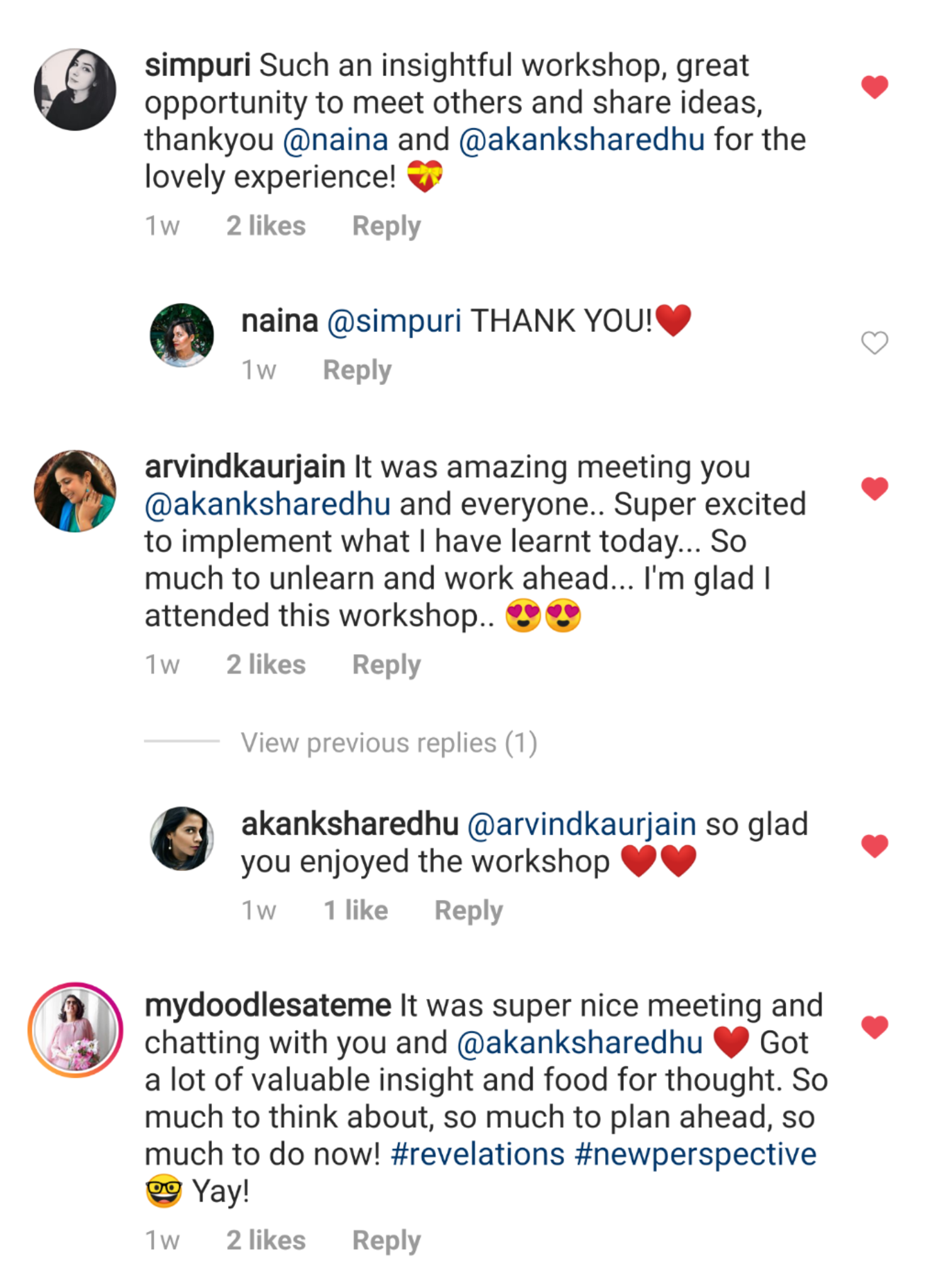 What's Next
I've announced a workshop in Bombay on the 26th and 27th of October! Let's see how that goes.
If you would like to be informed about any upcoming workshops / on-ground events, you can sign up to my mailing list / newsletter. ( It is infrequent & it is easy to unsubscribe at any point, I promise I won't guilt trip you AT ALL. It is the first place where I share new products on the store or new photo editing apps I've discovered or new workshops I'm announcing. That sign-up page also has a newsletter specifically for brand and PR folks who can use it to stay updated with my latest work and travel dates. )
Acknowledgements
The first edition sold out in 04 days but the second edition sold out in TWO days! It's been quite stunning and I'm ALWAYS pleasantly shocked at the response from everyone. Thank you for coming Harshal Arora, Arvind Kaur Jain, Simran Puri and Aparna Singh.
Could not have done it without the on-ground support from my sister Akanksha Redhu. She sat through the entire three hours, photographed the workshop for me and even re-filled my glass of water.
Here are some photographs. ( I've been thinking about the photographs and documentation of upcoming workshops and I don't think I will be doing it this extensively going forward. I'll get a tripod and take a self-group-portrait at the end and I already shoot portraits of the attendees for the #EyesForPeople series. Especially as I travel to other cities, it will not be possible to ask Akanksha to take out so much time from her already-grueling schedule. Finding dependable support that can measure up to my exacting standards will also be a nightmare. )
For Future Workshop Announcements
This was the second edition of #WorkshopsByNaina, which is an on-ground initiative under the umbrella of #TheNainaRedhuExperience videos & podcasts. The first workshop was conducted on the 30th of June and you can read more about it here.
Subscribe to my YouTube channel for the videos. The podcast is called "The Naina Redhu Experience" and can be found on iTunes as well as any podcast app that you use. This is the RSS feed for the podcast. There's a LOT of free content on this blog and on my podcast – start there!