In the sentence, "You know nothing Jon Snow.", I see myself as Jon Snow. All the time. Which is not a nice picture to paint, especially professionally. But, here we are. While this can also point to the fact that I'm always open to learning and always hungry to learn more and more, it does create a sense of dissatisfaction that I believe I could do without. But maybe this is also what fuels me? I don't know. See?
The current bout of dissatisfaction, coupled with my struggle to cure myself of my Instagram addiction has led to this. I'm painting again.
For the first time, it feels like I'm painting with purpose. It has always been a creative endeavor for me to play with colors or to make "something". But this time, while it did start out as, "I've got this white canvas with a black print on it that I hate so much, let me just throw some color on it and let's see what happens". It has now evolved to feeling like I'm building something.
I used to sketch in school and always strove for "realistic perfection". And mostly, I failed miserably. It is only now that I'm realizing that that's not the kind of art I was meant for anyway. I love color and that's where my strengths are OMG why have I not been pursuing that agenda?!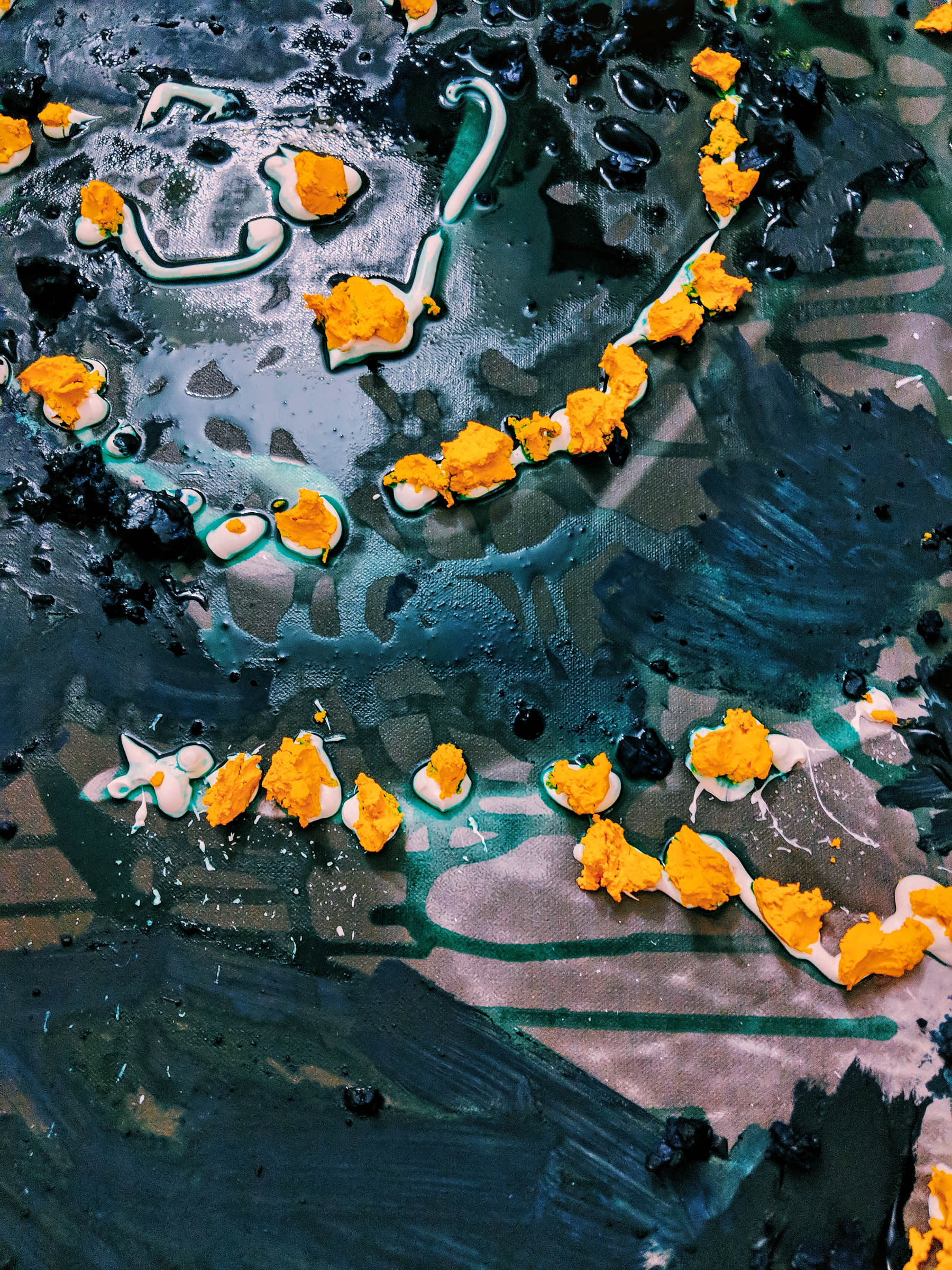 This is part one. I started working on this piece on 11th of August. I'm not sure how I'm going to decide that it's DONE. It doesn't FEEL that it's done yet. This is progress I've made before September started and I have added more since then. There's pink and more yellow and there is hopefully going to be some lilac and white coming soon.
I post these as updates on my Instagram feed with the hashtag #KhaosPhilos ( which also happens to be one half o my tattoo and is supposed to mean "Chaos Lover" in Greek ). There's other art I've sold, that I managed to have myself photographed with, that I've also uploaded with that hashtag.
A happy piece borne out of my dissatisfaction is welcome. I'm unsure what I'm going to do with it – wall space at the apartment is always coveted and I'm running out already. With at least 7-8 other things that are either already framed and waiting to be hung or waiting to be framed still. I LOVE color around me. Maybe I'll put it up for sale on the shop, not sure. Most of the time, I end up loving a piece so much that I do not want to part with it anyway. This piece is even more special and not just because of the amount of time I'm spending building it. I think this piece represents a second tipping point in my life.
See more : for a look at some of the previous art pieces I've painted or photographed or put together, whether sold or otherwise.
I haven't manage to put any of the art on the shop yet, hopefully soon. Meanwhile, you can always email me when something interests you!