After having thought about this idea for all of five minutes, here it is on the blog. I miss looking at print magazines. I LOVE print. As a photographer, apart from the convenience of being able to share my photography portfolio online for international clients to see – without my having to bear the cost of shipping portfolio books far and wide – I do have printed books of my work, which I love showing to whoever could possibly be interested. I love looking at my work in print. The thrill of an image I shot, showing up in a printed publication, is still quite something else. ( It's a whole lot better when I've been paid for it *wink* ).
There have been past features on this blog about printed things under the #EyesForPrint tag. While buying up the EyesForPrint.com and re-directing it to point to the tag's page is the easiest thing in the world, keeping up the commitment to blog about this subject at least once a month is a discipline I struggle with. Having seen some success with the #FragranceOfTheMonth features ( publishes monthly here ) and the #WTFNaina series ( publishes each Monday – yes, I went "Weekly"! The horror! ), I've been emboldened to try a few more series that I might be able to keep up at least monthly.
This is one of those. There are some publications I particularly love. Harper's Bazaar is one. So, this month ( September 2016 ), we have the latest Harper's Bazaar edition. I'm sharing some of my favourite campaigns from within the magazine – great photography is a sight for sore eyes. I'm also sharing some of the lust-worthy stuff that I found inside the publication – and other stuff that caught my eye. With a short video snippet at the end – I'm still working on my accent – the ten days in Los Angeles last year have left an impression on my A's. I say "laast" instead of the Indian "last". Faast instead of fast and some more godawful affectations that come on especially when I'm aware my voice is being recorded. Yikes!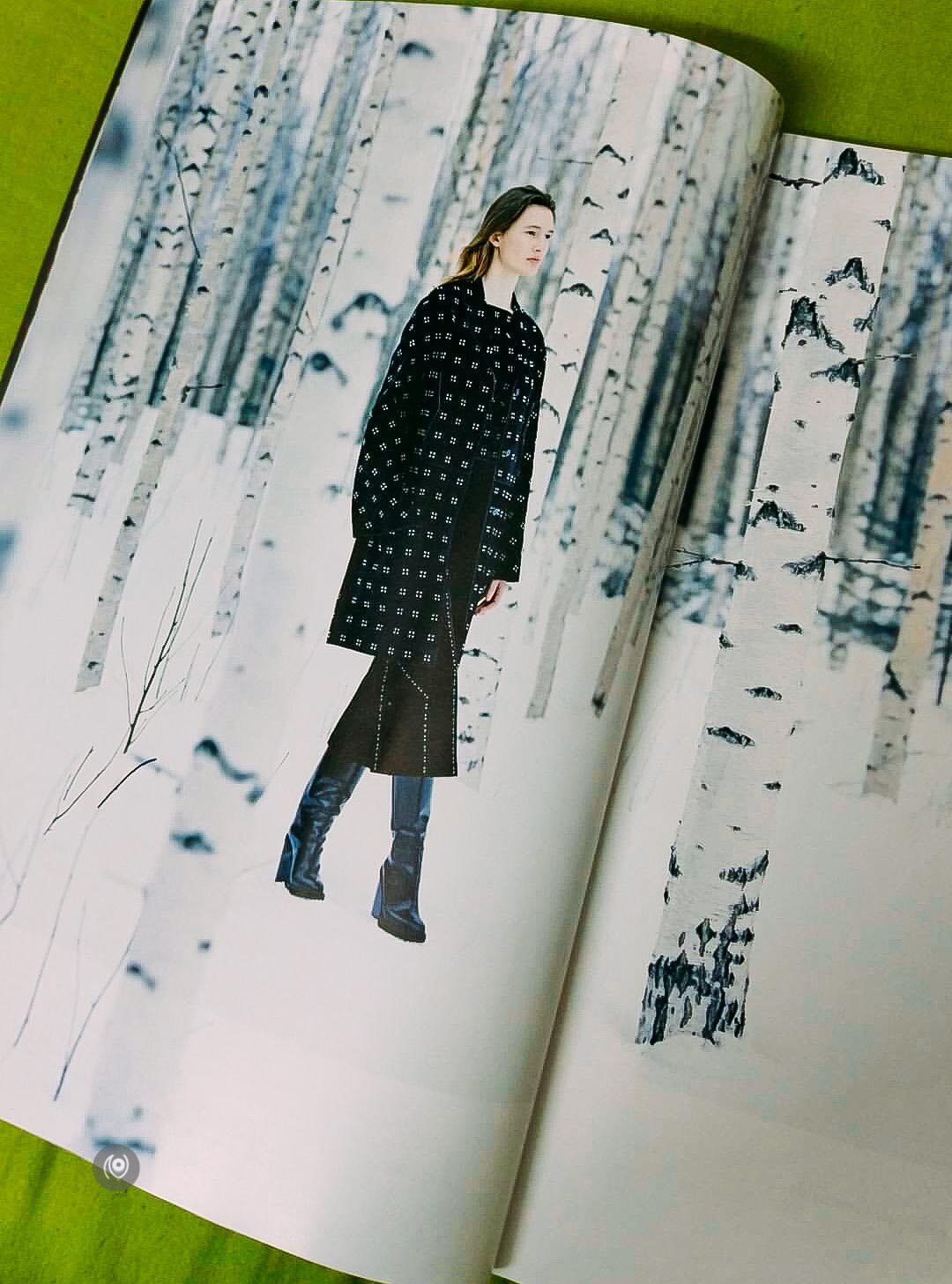 Above, from the Hermes campaign. I'm a huge fan of Hermes' photography. And always a little jealous that I haven't gotten to work with the brand as much as I would've liked to. Images from this brand's campaign are always "clean". Even if they use a lot of patterns and colours, which they do sometimes, the images still tend to give a nice and clean vibe. It's the same here. White. Perfect for lighting the model – but a nightmare to balance exposure. Snow can be tricky. This is from their "Hermes by Nature" campaign. ( If you're interested in how Hermes works with photographers, there's a nice interview on L'Oeil de la Photographie with the Japanese photographer Yoshihiko Ueda and Hermes' art director of communication Victoria Marenzi. )

Below. That shoe. I doubt I have to say more but even though I don't wear heeled footwear, I can admire them – from a distance. This one's by Balenciaga. The structure of the embellishment and the way it flows along with the shape of the shoe is just spectacular. I can close my eyes and imagine myself wearing these and going "clickety-clack" on a polished marble floor as sunlight bounces off the floor, onto my shoes and nearly blinds everyone within viewing distance. Those farther away are intrigued by the sparkling reflections they see on the walls and the ceilings. ( I did get lost in my imagination there – but what else does a girl do when confronted with beauties like these! They're crystal-embellished satin pumps. )

Above, that bag. Bottega Veneta. I've always admired the brand's work. And they seem to excel with their bags year after year. Not only am I in love with the signature Bottega leather weave on their bags, I'm also in love with the colour of the one in the above photograph. This is a shoulder bag in Barolo Calf with their signature Intrecciato details. It has been photographed well too – the way the leather shines in the bright light. Yummy.

Below, always a pleasure spotting model Bhumika Arora on the international runways. Seen here on the Trevi Fountain runway, walking for Fendi.

Above, GUCCI's Zebra leather pump. What a spectacular shoe! Bold and graphic. ( As a side note, I recently reviewed the In The Name of GUCCI book authored by PAtricia Gucci for The Luxury Issue of Business Today magazine. ) The way Kenneth Willardt has shot the shoe seems to make it look larger than life. It looks somewhat less spectacular on the GUCCI website! Kenneth is a Danish photographer based out of NYC and I've been following his work via his Instagram feed. Spectacular work.

I was attracted to the page below for obvious reasons. I love fragrances and I'm always looking for something new to try. Haven't tried any of these three fragrances! The Hermes Neroli looks especially enticing. If I run out of options on the #FragranceOfTheMonth series, I've got three fragrances to pick from right here for reference. ( One way to make my own notes AND review a print publication! ) GUCCI Bamboo also sounds mysterious and warm.

Above, a page from the "Urban Legend" feature about Samhita Arni's graphic novel called Sita's Ramayana. The book portrays its protagonist as the ultimate feminist icon. Beautifully illustrated excerpt there. The concept isn't new but it's always lovely to find a different interpretation from a different writer's perspective. In this case, the writer is also an illustrator!

Below, a double spread from the fragrance feature from the Louis Vuitton portfolio. LV has announced it's entry into the fragrance market internationally – and with quite a loud bang. The news is everywhere. I couldn't be happier – because – you know – the world needs more fragrances! The caption top right reads, ""For me, the rose is they symbol of femininity. It embodies mystery and sensuality." says Seydoux of Vuitton's Rose Des Vents scent." LV is launching six fragrances in addition to the rose : Turbulences, Dans Le Peau, Apogee, Contre Moi, Matiere Noire and Mille Feux. I can't wait for them to get to the Indian market in 2017.

Above, that blue bag and those shoes! The colour and the forms are eye-catching. I was immediately drawn to the page and wanted to know more. By Celine. The bag in front is the Croissant Pouch handbag in lambskin and the bag behind it is the Large Ribbon handbag in calfskin ( my preference out of the two. ) The shoe is the Soft V-Neck hand stitch pump in petrol nappa. A beautiful form and sounds soft too. All from Celine's Winter 2016 Collection.

Below, a photograph of model Karmay Ngai, photographed by Porus Vimadalal for the "Shimmer Town" feature in this edition of Harper's Bazaar. The model is wearing a Bibhu Mohapatra top. Striking photographs of a very well-styled and edited shoot.

And finally, above, Selena Gomez on the back outer cover of the magazine. I saw her last in the film The Fundamentals of Caring. Lovely film, watch it if you can. I caught it on Netflix India. On the magazine here, she's been photographed for Louis Vuitton by Bruce Weber as part of the Series.5 campaign. She strikes me as someone who is doing well for herself and I'm glad she's pursuing films too. Little known secret about me is that I've always been curious to find out what it would be like to act. I haven't ventured in that direction mainly because : TIME. ( or rather the lack of it. )

Below, some video shorts combined – where I spotted a particular feature and either liked or disliked it and decided to talk about it instead of writing about it. ( My social media scheduling tool of choice, CoSchedule, announced just yesterday that users can now schedule videos too. Earlier one could only schedule text and still images. I recorded these video snippets prior to this announcement and included them in this story just so I could try out the new CoSchedule feature! )

Of course, this edition of Harper's Bazaar India has a whole lot more content for you to read and look at and savour! Don't just go by my favourites – I couldn't taken photos of all the pages in the magazine and even that doesn't do justice to print. Any print. So go pick up a copy – and not just because there's Priyanka Chopra on the cover – she is – and there's a whole multi-page, multi-photo feature about her inside the magazine too 😀

Well. There you have it! What do you think about this feature? Should I go ahead and give it a shot over the next 3-4 months to see how it is received? Would you like to me to look at Indian print publications only or should I dare to look at some international ones too? ( I'm hoping you'll say "international" because then I get to spend some petty cash picking out those expensive but delicious large format ones! )

Harper's Bazaar India : Print Subscription via Magzter | Instagram | Twitter | Facebook

Check out more #EyesForPrint features on this blog.