Writing book reviews is fun. And I don't mean that THAT simplistically. The entire process is fun. Especially when one is writing on a deadline, for a publication like Business Today.
From getting to choose the book, to ordering it, receiving next-day-delivery from Amazon, enjoying reading the book, drafting the review and submitting it. To finally getting to look at the book review in print in the latest edition of the fortnightly. Spread over two pages no less! And that cover! The Luxury Issue 2016 is where the book review appears. I've reviewed "In The Name of GUCCI", which has been authored by Patricia Gucci, the daughter of Aldo Gucci, who is credited with making the GUCCI brand the powerhouse it is known to be today.
That I get to play dress-up and pose with my byline in print, is another "fun" thing to do altogether! This is also the first #CoverUp edition we shot as residents of Gurgaon city. And I could not possibly be more pleased. ( There's going to be a LOT more happening on this blog in the days to come and I'm thrilled to say that moving to Gurgaon is indeed as good as I had imagined it to be. One of the best things I've done in years. )
In The Name of GUCCI is available in a hardback version on Amazon India and you can pick up a copy of the latest Business Today while you're at it. Apart from my book review, there's a whole host of good stuff in this edition of BT about the Luxury Industry not only from India but internationally as well.
The publication of this book review has emboldened me to write more on Naina.co and I've been at it quite diligently. There's no method to the madness yet but I can see some weekly coherence on the editorial calendar. I've never agreed with the "print is dead" pieces that have been doing the rounds since Hood knows when and I'm thrilled to announce a new monthly series I will be publishing on the blog, where I will be picking up a print publication and "reviewing" it. We haven't yet decided what we're going to call it but it will be a nice way to pay homage to print. I love print. It has become more precious with the advent of blogging, which makes it even more crucial to nurture it as much as one can.
Details of the flat-lay below :
Mascara by Dior : Maximizer 3D Triple Volume Plumping Lash Primer plus Overshow Iconic Curl.
Lipstick is Maybelline New York's Moisture Whip Waterproof Lip Liner in Cranberry ( with a touch of AVON's Ultra Color in Laval Love, not in the photo )
Nail paint is Chanel's Le Vernis Eastern Light
Jewellery is a wrist bracelet in silver by Amrapali
Pen by CROSS & Diary by PaperBlanks
Dior eyebrow kit and gold pouch by Miriam QuevedoGold Hair Mask + Gold Shampoo + Gold Hair Shine Spray also by Miriam Quevedo ( got these from Bloomingdale's Dubai during #REDHUxEmirates )
Gold sequinned dupatta at the bottom of the frame by Swati Narula from their SS16 Bejeweled Blooms Collection
Details of what I'm wearing :
Top / Kurta : Silk, custom stitched decades ago in Pune ( no idea from where but my Mom got it made ). I'm a few sizes smaller than I was when this was made for me.
Bottoms / Denims by Korra Jeans
Footwear : suede and leather brogues by Vanilla Moon
Jewellery by Amrapali
Photographs by Bharat Joshi
The book review can also be read online on the Business Today website here.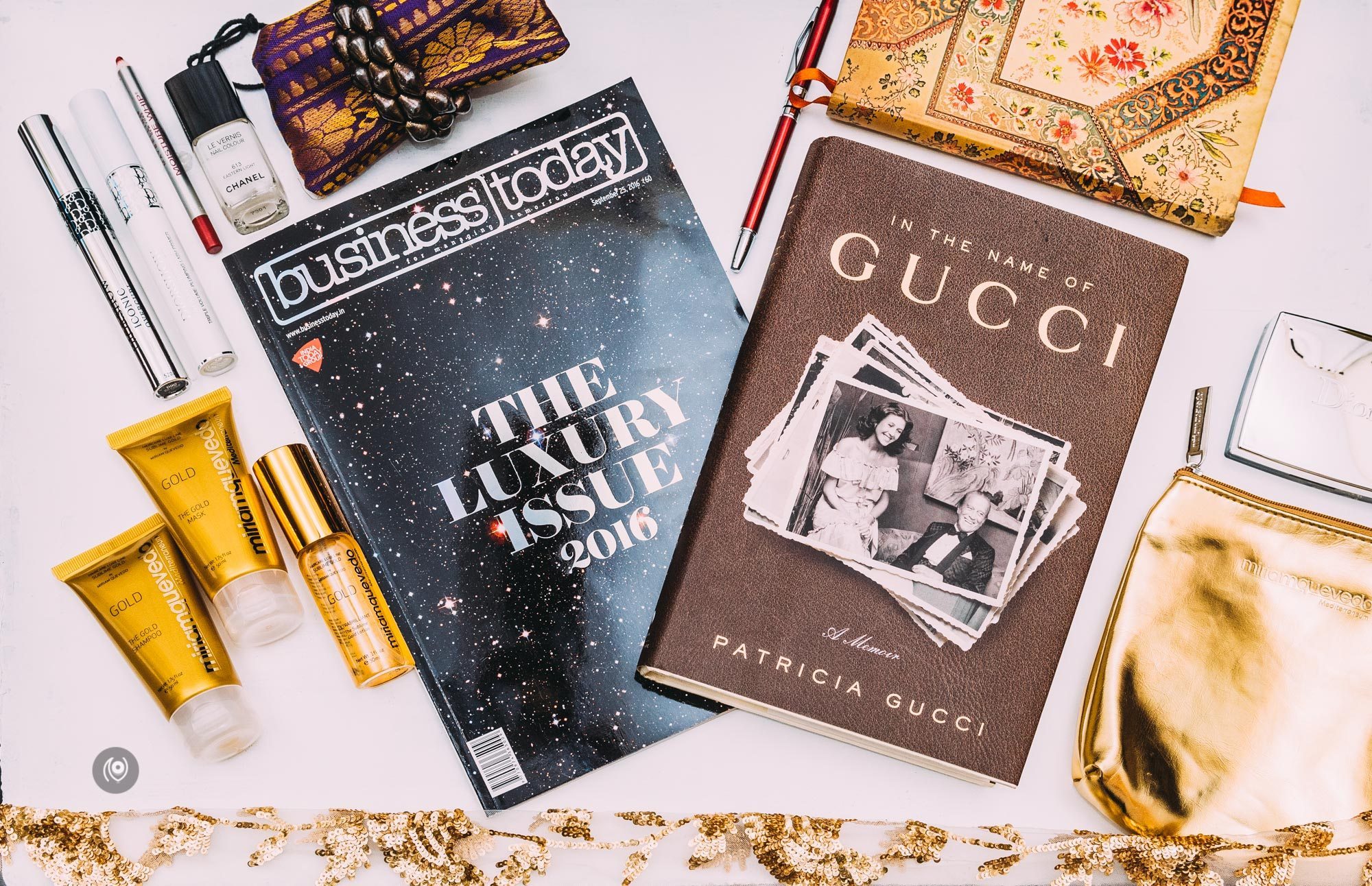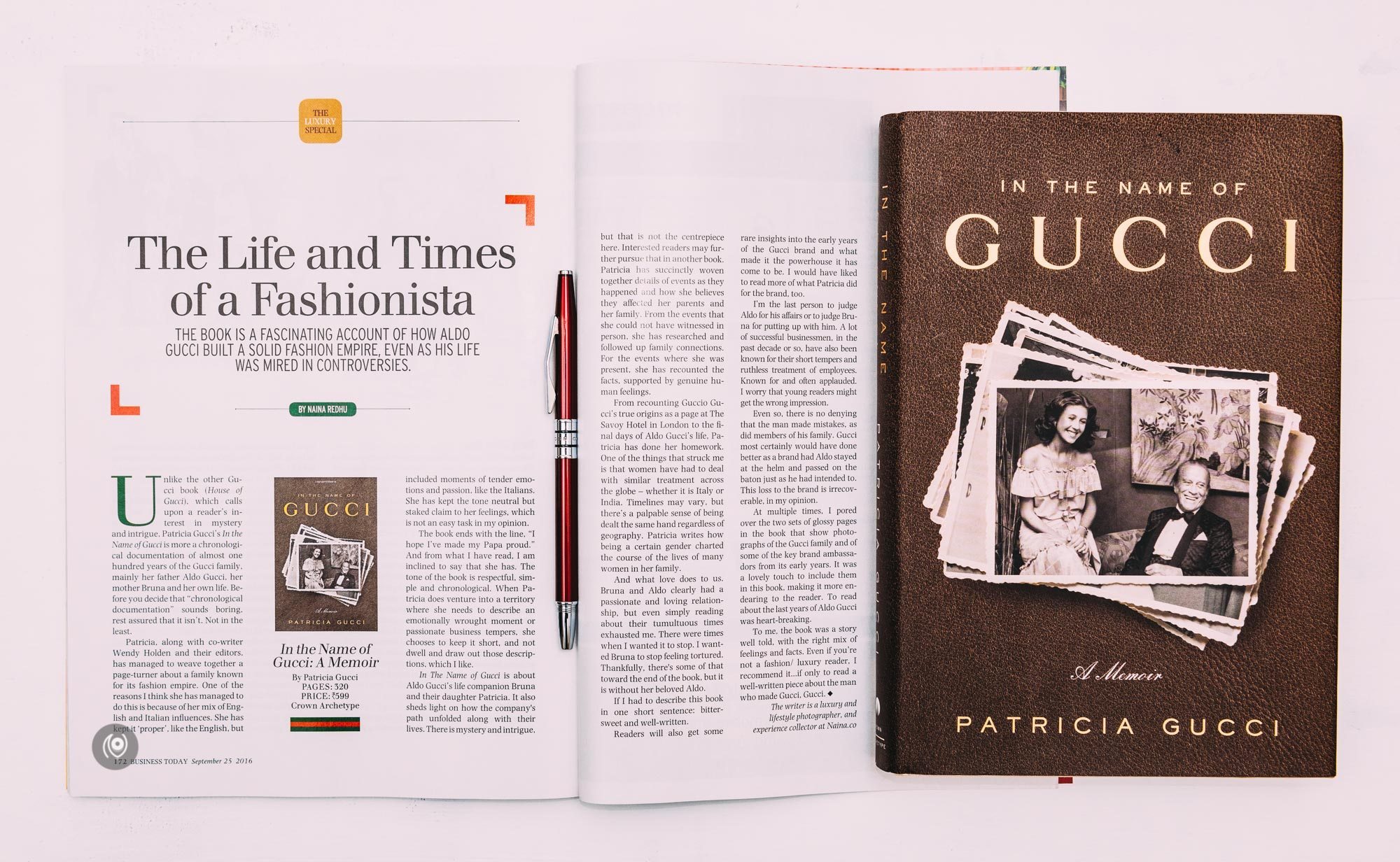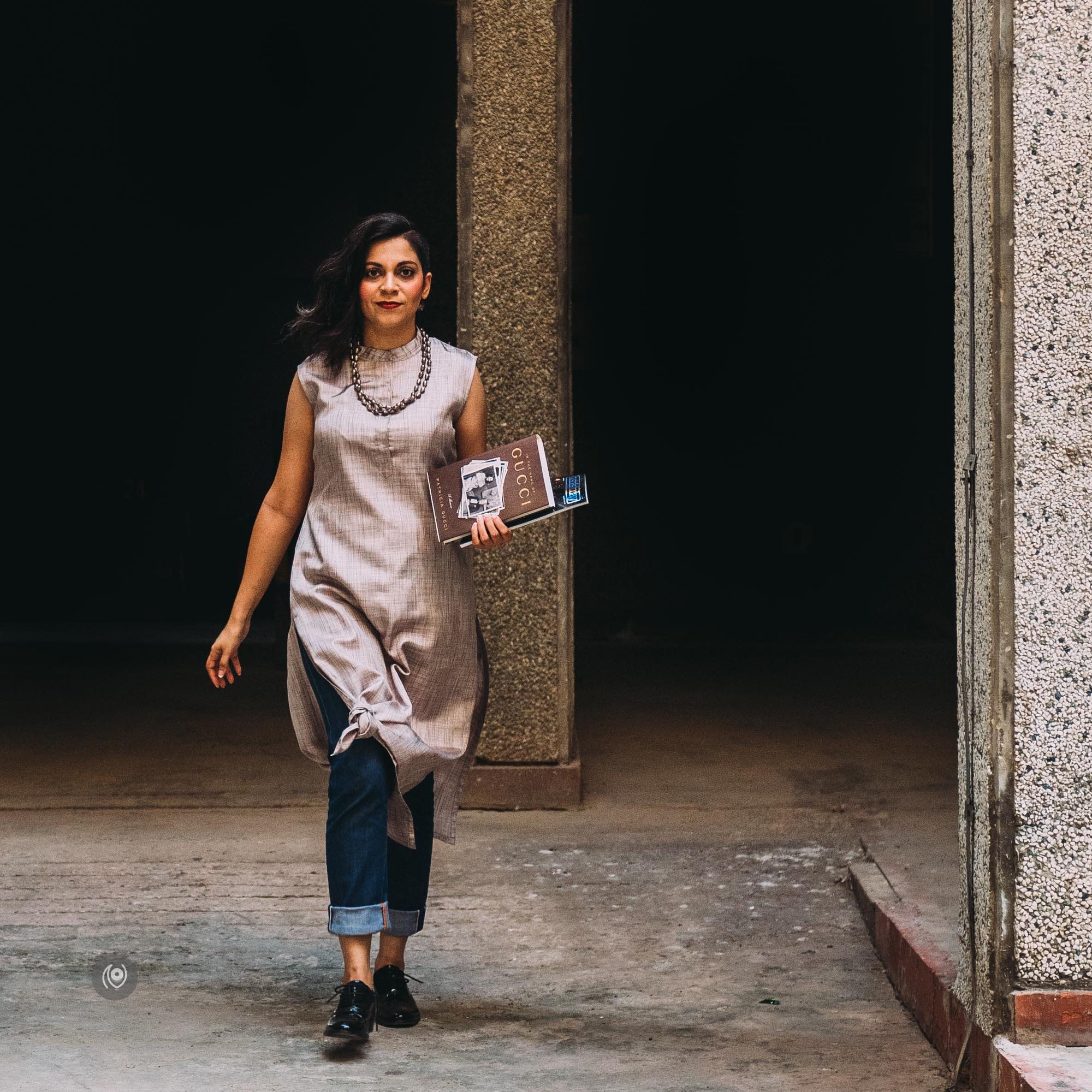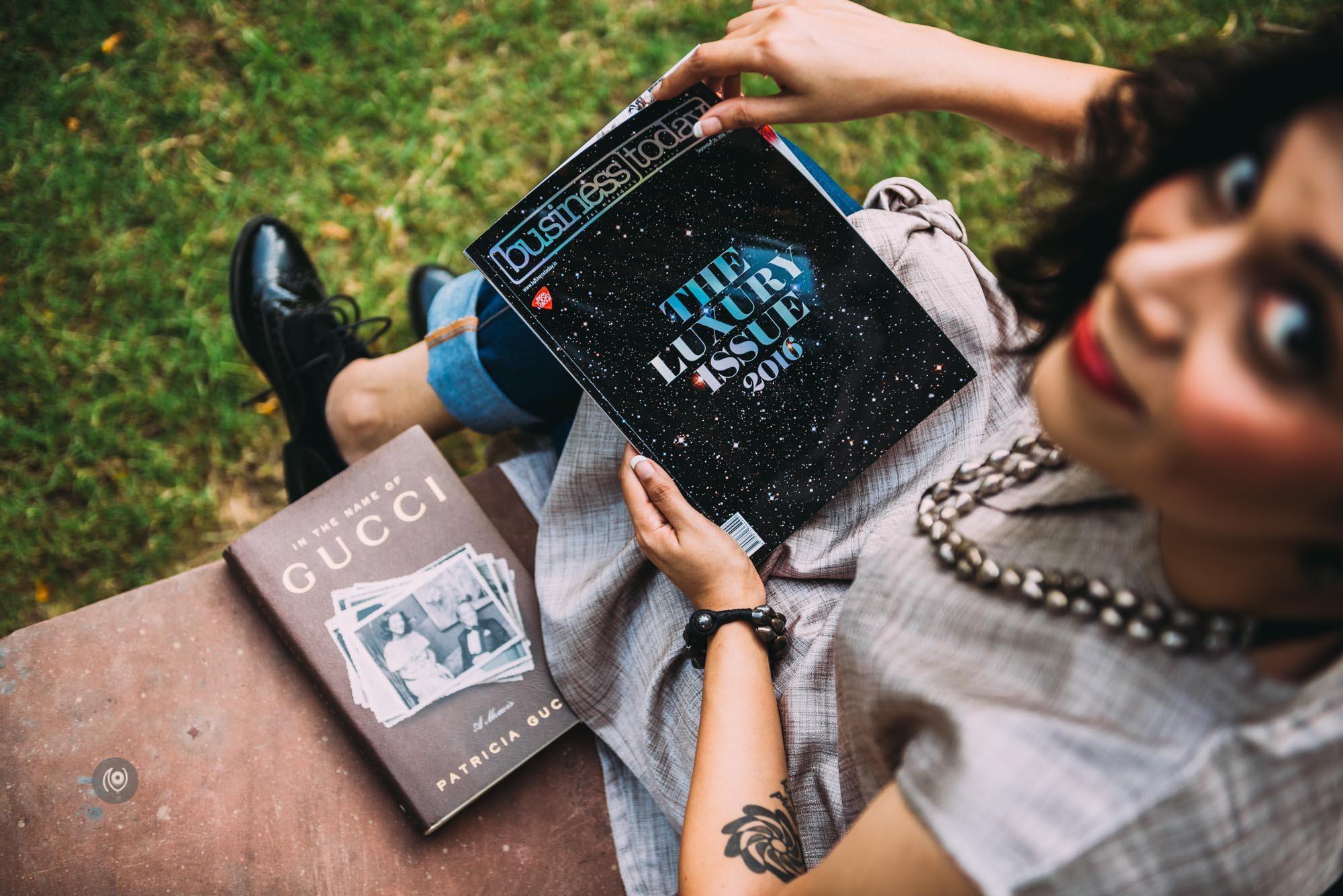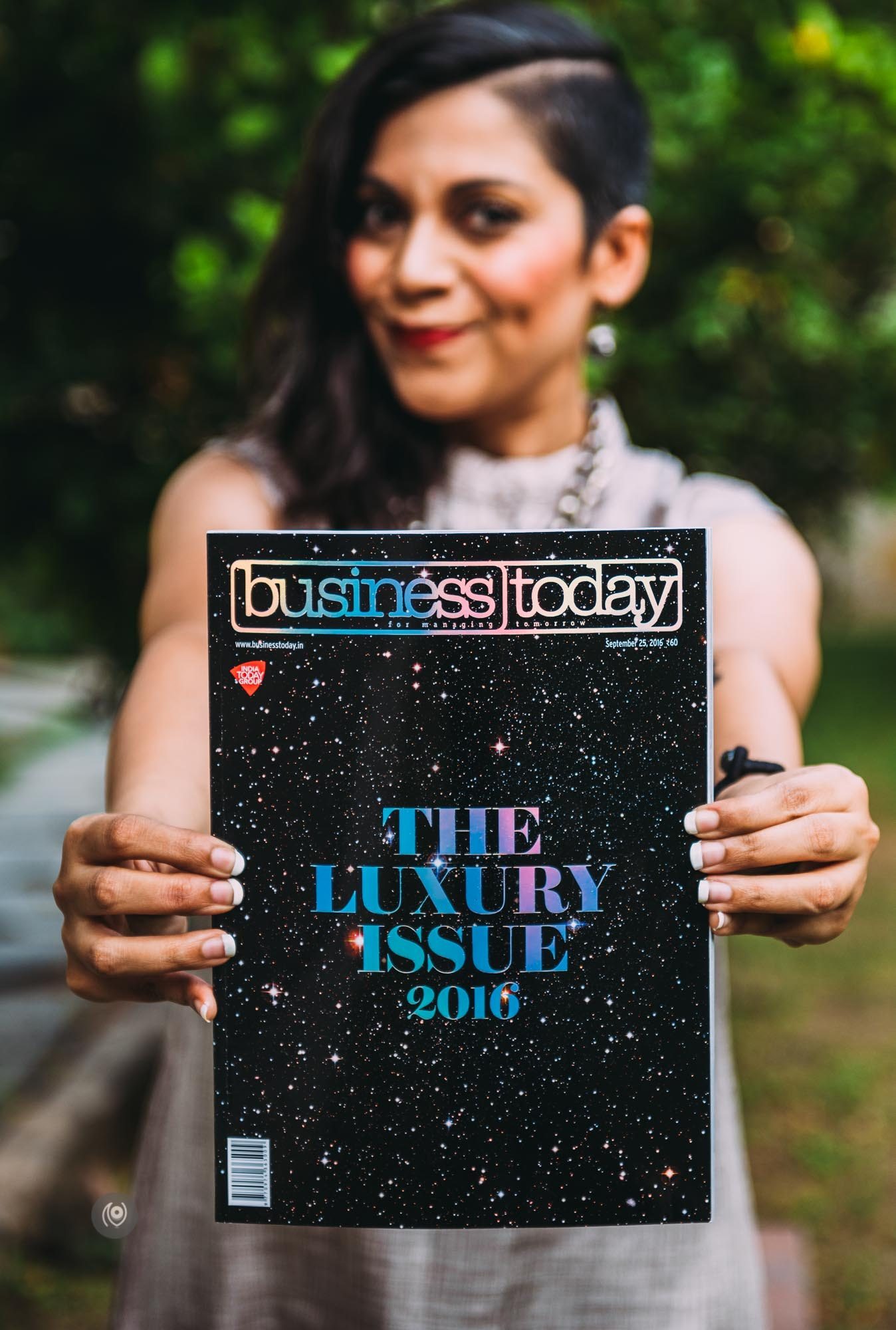 Thank you Sapna Nair Purohit at BT for hiring me to write this!
Thank you for reading and watching this space. In our ongoing effort toward "keeping it real", apart from post-production of images, we refrain from any kind of re-touching or altering of photographs. If we do, from now on, we will disclose that the image has been manipulated for creative effect unless it is completely obvious as in the #EyesForDubai abstract cityscape photographs.
Other Articles & Writing by Naina on this blog.
Following is the book review in its entirety :
Unlike the other Gucci book (House of Gucci), which calls upon a reader's interest in mystery and intrigue, Patricia Gucci's In the Name of Gucci is more a chronological documentation of almost one hundred years of the Gucci family, mainly her father Aldo Gucci, her mother Bruna and her own life. Before you decide that "chronological documentation" sounds boring, rest assured that it isn't. Not in the least.
Patricia, along with co-writer Wendy Holden and their editors, has managed to weave together a page-turner about a family known for its fashion empire. One of the reasons I think she has managed to do this is because of her mix of English and Italian influences. She has kept it 'proper', like the English, but included moments of tender emotions and passion, like the Italians. She has kept the tone neutral but staked claim to her feelings, which is not an easy task in my opinion.
The book ends with the line, "I hope I've made my Papa proud." And from what I have read, I am inclined to say that she has. The tone of the book is respectful, simple and chronological. When Patricia does venture into a territory where she needs to describe an emotionally wrought moment or passionate business tempers, she chooses to keep it short, and not dwell and draw out those descriptions, which I like.
In The Name of Gucci is about Aldo Gucci's life companion Bruna and their daughter Patricia. It also sheds light on how the companys path unfolded along with their lives. There is mystery and intrigue, but that is not the centrepiece here. Interested readers may further pursue that in another book. Patricia has succinctly woven together details of events as they happened and how she believes they affected her parents and her family. From the events that she could not have witnessed in person, she has researched and followed up family connections. For the events where she was present, she has recounted the facts, supported by genuine human feelings.
From recounting Guccio Gucci's true origins as a page at The Savoy Hotel in London to the final days of Aldo Gucci's life, Patricia has done her homework. One of the things that struck me is that women have had to deal with similar treatment across the globe – whether it is Italy or India. Timelines may vary, but there's a palpable sense of being dealt the same hand regardless of geography. Patricia writes how being a certain gender charted the course of the lives of many women in her family.
And what love does to us. Bruna and Aldo clearly had a passionate and loving relationship, but even simply reading about their tumultuous times exhausted me. There were times when I wanted it to stop. I wanted Bruna to stop feeling tortured. Thankfully, there's some of that toward the end of the book, but it is without her beloved Aldo.
If I had to describe this book in one short sentence: bittersweet and well-written.
Readers will also get some rare insights into the early years of the Gucci brand and what made it the powerhouse it has come to be. I would have liked to read more of what Patricia did for the brand, too.
I'm the last person to judge Aldo for his affairs or to judge Bruna for putting up with him. A lot of successful businessmen, in the past decade or so, have also been known for their short tempers and ruthless treatment of employees. Known for and often applauded. I worry that young readers might get the wrong impression.
Even so, there is no denying that the man made mistakes, as did members of his family. Gucci most certainly would have done better as a brand had Aldo stayed at the helm and passed on the baton just as he had intended to. This loss to the brand is irrecoverable, in my opinion.
At multiple times, I pored over the two sets of glossy pages in the book that show photographs of the Gucci family and of some of the key brand ambassadors from its early years. It was a lovely touch to include them in this book, making it more endearing to the reader. To read about the last years of Aldo Gucci was heart-breaking.
To me, the book was a story well told, with the right mix of feelings and facts. Even if you're not a fashion/ luxury reader, I recommend it?if only to read a well-written piece about the man who made Gucci, Gucci.