SOLD OUT
( Subscribe to the Naina.co newsletter for updates on future workshops. Latest #WorkshopsByNaina workshop at this link. )

( Original blog post from 4th of June below).
The first edition of The Naina Redhu Experience, on-ground event. It's like The Naina Redhu Experience podcast, but personal and face-to-face.
For 03 hours, we will be covering : photography + online brand building + primer on Influencer Marketing. Detailed outline below. For further questions, email me on [email protected]
Outline of the day :
– We will begin at 1100 hrs ( 11:00 am ) and spend 15 minutes introducing each other and I will make the #EyesForPeople portraits – you'll get to see how I use light / background / frame the picture etc.
– 1115 hrs ( 11:15 a.m. ) onwards, we will spend time discussing image-making / selection / editing.
– By 1215 hrs ( 12:15 p.m. ), we will be ready to move onto the online brand building part & will discuss Editorial Calendars / sharing online etc.
– By 1300 hrs ( 1:00 p.m. ), we will move onto handling communication online & a primer on Influencer Marketing.
– At 1330 hrs ( 1:30 p.m. ), we will review / ask questions ( questions can be asked during the workshop as well, but we will keep that brief because time flies! )
– At 1400 hrs ( 2:00 p.m. ), we will close the workshop and can leave.
The conference room will be booked till 1445 hrs ( 2:45 p.m. ) to accommodate unforeseen delays. The workshop will start on time. Please be there by 1050 hrs ( 10:50 a.m. ).
Once all spots are filled, I will email basic questions to understand each attendees requirements and tailor the content further so that it is most relevant.
Each attendee will also receive :
01. Their own #EyesForPeople portrait ( see eyesforpeople.com for examples of portraits ) – this will be a digital file and you will have full licensing rights to do with the image as you please. I will retain copyright.
02. A shout-out on Instagram ( my main feed – as part of a carousel post or a single update in the form of a portrait or a group photograph ). The attendee's Instagram account will be tagged – if you are a brand / small-business owner, your business' handle will also be tagged.
03. A link to your social media / blog / website in the blog post about this workshop that will be published on www.naina.co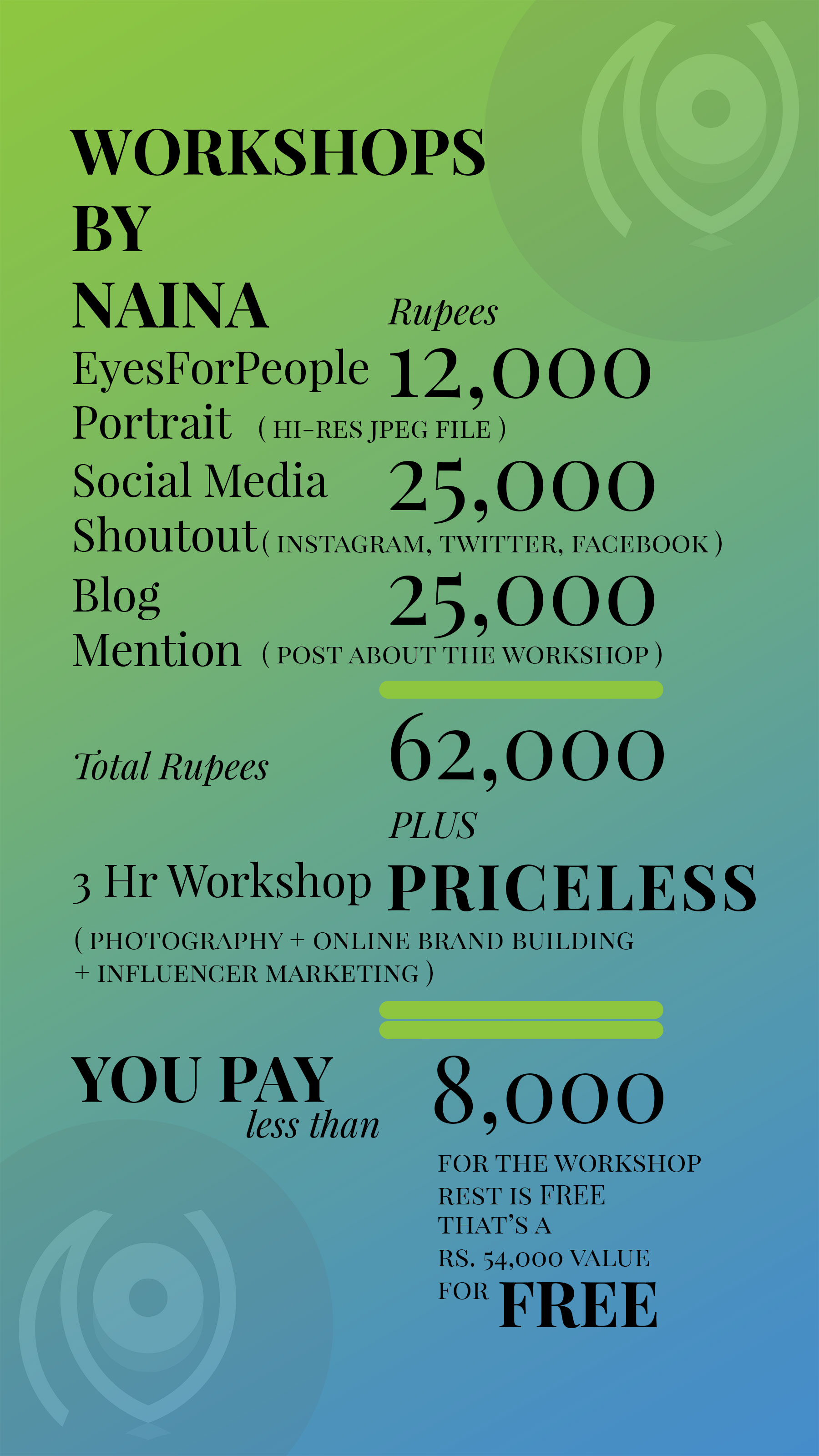 Date : 30th June, Saturday ( 11am to 2pm)
City : Gurgaon
Exact location details to be announced soon – will be indoors, air-conditioned – most-probably a conference-room. No meals are included. Tea / Coffee / Drinking water will be available.
No Refunds ( transferable to another workshop or another attendee – pricing may vary ).
Bring a laptop / camera / phone – you can get all of these or at least one device that can make pictures. If you don't have editing software on your laptop, put some on your phone – you don't necessarily need a DSLR to make photos, even for a brand. Some examples of editing software will be shared at the workshop.
Video recording will not be permitted. Feel free to take photos, as many as you want.
For more details / discussion / future updates, join the Facebook group – all instant updates, date announcements, locations, first dibs etc.