UPDATE 25 July : The replacement unit for the replacement unit arrived on the 20th of July and it was installed on the 21st of July. We let it run for a full night to determine whether it had any issues and shifted the mattress back into the bedroom only on the 22nd of July. Today is the 25th and the old air conditioning unit and the first replacement have been collected by Whirlpool. The second replacement is doing fine and we got to sleep in our bed after almost sixty days. For now, this issue has been resolved. Considering how customer service usually is in India, I am thankful it has been resolved but disappointed with the handling. At the same time, I don't want to waste anymore thought on this.
UPDATE 19 July : The installation people visited again and it was determined that this new replacement air-conditioner unit would also need to be replaced because while the source of the noise was identified, the reason for the noise could not be pin-pointed. We have been told that the replacement unit will be delivered tomorrow, on the 20th of July.
I was wondering why Whirlpool wouldn't test a unit they were sending for replacement and was told that all customers prefer a packed unit and the units are shipped packed from China and received here in India. Hence, no opening and testing here till delivered to the customer.
UPDATE 18 July : A brand new air-conditioner was delivered and installed by Whirlpool. Here are some images from the process.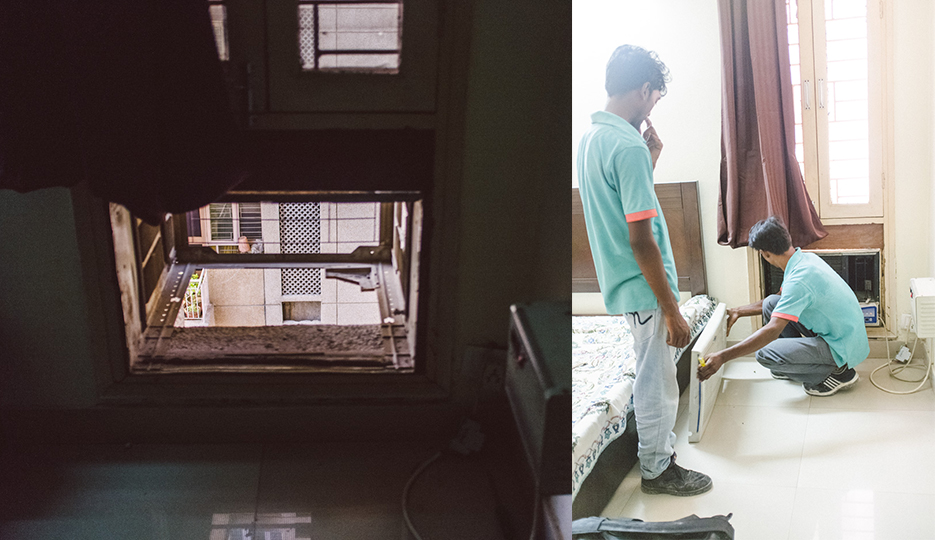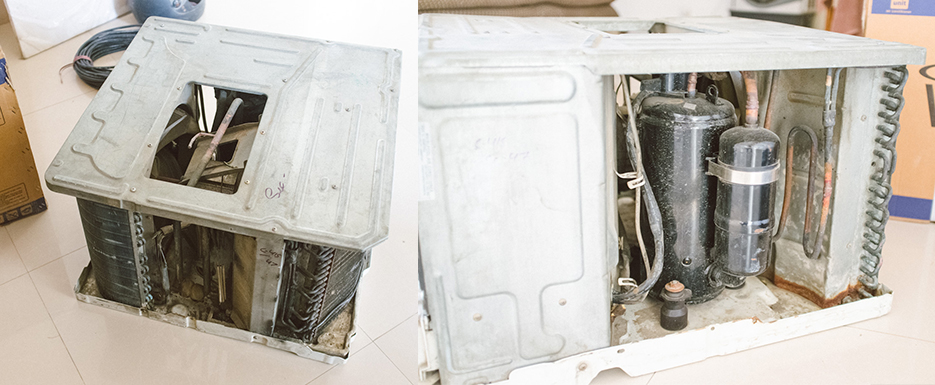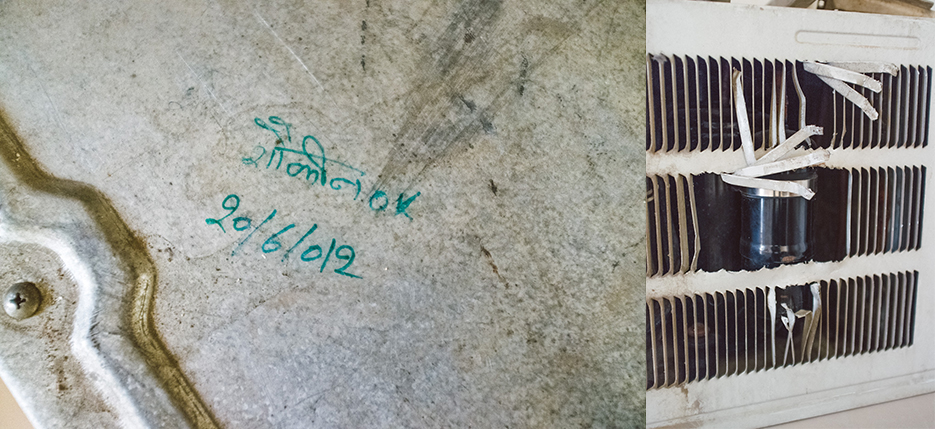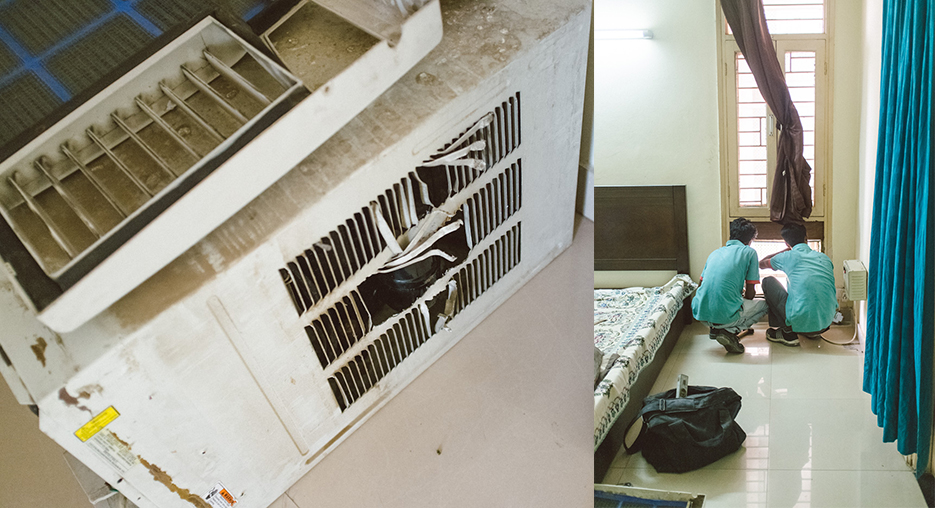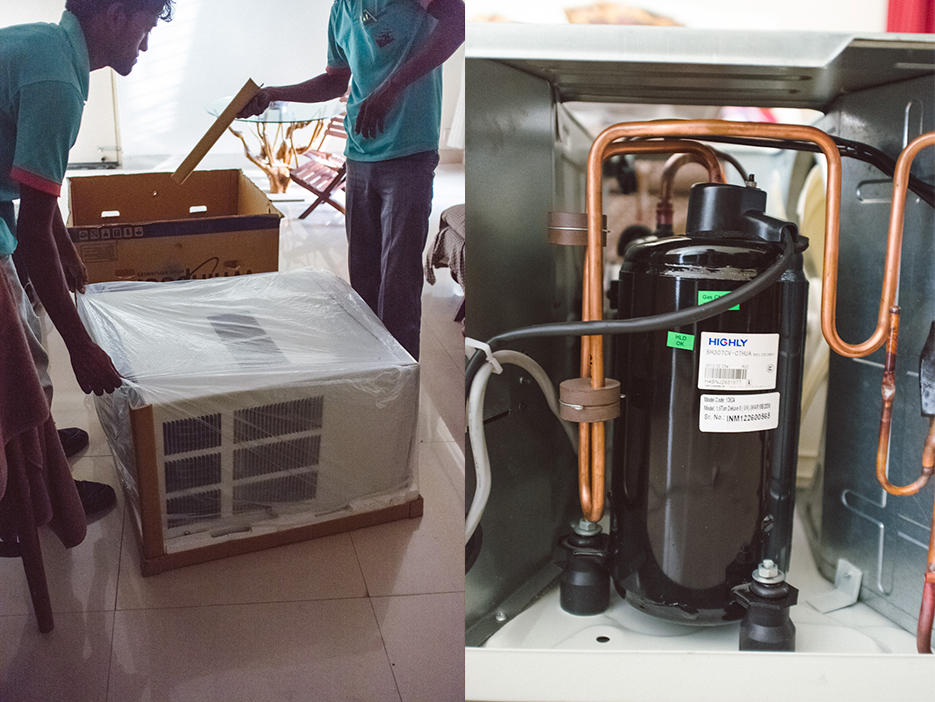 After the installation, we kept the air conditioner running for an hour to check for any problem, while the Whirlpool installation team [ a contractual third party service ] had left. The air conditioner was making inordinate amounts of noise and we assumed it might need a little running-in to make the squeaks go away. Unfortunately, that did not help and we decided to sleep on the mattress on the floor for one more night. @shadeheart also called up the installation people to visit once again tomorrow.
UPDATE 12 July : Whirlpool engineer visited [ he is definitely one of the better people employed at Whirlpool. Opened up the unit and concluded that "the compressor is bad". Nothing new there. He then asked us to give him a printed copy of the bill for this unit and said he would "forward the request to replace the air-conditioner" to his seniors. Meanwhile we had sourced a couple of email IDs of some senior management at Whirlpool and wrote to them with a link to this blog post. A call from the HQ in India was received within 30 minutes of sending the email. The person on the phone told us the air-conditioner would be replaced but only on the 18th of July as their Ghaziabad godown had been shut down by the police due to security concerns for the upcoming Maha Shivratri. We asked him to send this to us in writing, which he did. Now we wait.
UPDATE 11 July : Received a call from the Whirlpool customer care saying they will "send an engineer". We weren't sure what that engineer would do but ok. Also received a cookie-cutter Twitter mention from @whirlpoolcare
ORIGINAL BLOG POST BELOW. Later updates have been published above.
Apologies to interrupt regular transmission but this needs to be done. All main post text by @shadeheart aka Bharat Joshi. The end notes are mine.
This misadventure began on the 31 of May 2012. I raised a complaint with Whirlpool regarding my air-conditioning unit (Model WAWR18G30), which was malfunctioning. I had recently had this thing fixed [ about 30 days before filing this complaint ] while it was still under AMC (annual maintenance contract). The AMC had expired on the 18th of May 2012 and the reason I mention this will become clear later. The following is a factual recounting of how it went down:
May 31: Original Complaint raised (GB0512018970) via Whirlpool customer care. Call center informs me that an engineer will call me in 2 hours and visit me within 24 hours. The engineer, one Mr Pawan Kumar, called me the next day and did not visit me till the 2nd of June.
June 2: The engineer visits, confirms that there is a gas leak and informs me that the unit will have to be taken to a workshop. He tells me that the service center will have it picked up either today or tomorrow (June 3). This does not happen till the 6th.
June 6: Service center picks up unit promising to have it fixed and delivered by the 9th.
June 9: Nothing happens. I call the service center. They assure me I shall have it by the 11th.
June11: Nothing happens. I call the service center again. This time they inform me that there is something wrong with the compressor and they are "still checking" what the problem is. Keep in mind they have had the AC in their possession for 5 days. They promise to let me know precisely what the problem is in a few hours. They do not.
June 12: I call the service center again. Note that it is always I that has to call them, not the other way around. This time they tell me that the compressor will have to be changed for sure. Installing a new compressor will take additional time and I would have to wait till the 14th. Since the compressor is within a 5 year warranty, I do not stress about this too much (the unit was purchased in 2009).
June 14: Nothing happens. I call again. This time they repeat the same story with one new twist. I need to send them a copy of my purchase receipt. This is where it gets interesting. Remember how I had mentioned this unit was under AMC till very recently? Well, part of the paperwork in buying said AMC, includes giving a copy of the purchase receipt. In other words, they already had a copy as per whirlpool's own guidelines and policies. When I mention this they rudely tell me to "present the copy if I want to get my AC fixed". Not wanting to get into an argument with someone that was clearly unprofessional, I email the receipt within 30 minutes of this conversation. I never got an acknowledgement of receipt of this email and had to call them again to ensure they do in fact, have it. Keep in mind, no one had told me anything about presenting a receipt on the 12th, when they had promised to change the compressor in the first place. They come up with this receipt nonsense only on the day that the AC had to be delivered. Even then, it was I that had to call them. Anyway, they now proceed to tell me that the unit will now be delivered on the 18th.
June 18: Nothing happens. I call the service center again. They now promise delivery the next day.
June 19 – June 23: I make a series of calls, sometimes multiple times in day to both the Whirlpool customer service and the service center itself. The sheer amount of incompetence I had to suffer through in both cases is stupefying. The call center had no idea what was going on, beyond it being a "problem with the compressor". I once demanded to talk to a superior or person in charge. They told me a "Senior Engineer" will contact me within 24 hours. This never happened, i.e., no one from Whirlpool has ever called me till date. As far as the service center goes, every time I called them, they had a new bunch of lies to fling. Here are just some of the things I was told: "The new compressor is unavailable" "The new compressor was installed but it was later realized that it was the wrong type" "There is actually nothing wrong with the compressor at all, it's just a standard gas leak" "The compressor has been fitted but has not been tested due to power cuts in the area" etc etc. I cannot stress this enough: Every time I called, I got a new version of what the hell was going on.
June 23: The AC is returned. The delivery guys install it and turn it on to test it. The unit makes a terrible "clanging" noise. They (delivery guys) immediately make a call to the service center informing them of the same. The service center informs me that an engineer in the area will visit me shortly. A few hours later an engineer does arrive (Mr Pawan Kumar again). Upon inspection he calmly tells me that the compressor has been installed incorrectly, ie, it is too big to sit properly in its housing. The noise was due to the result of it hitting the outer casing. Regardless, he assures me, it is a minor problem what would be fixed quickly but not by him as he did not have the necessary equipment. The service center does send two engineers later at around 2230 hours. They take a look at the problem and tell me it's easy to fix and shouldn't take too long. I leave the room for a bit to attend a phone call. After a few minutes, alerted by a loud banging noise, I hang up and return to see this: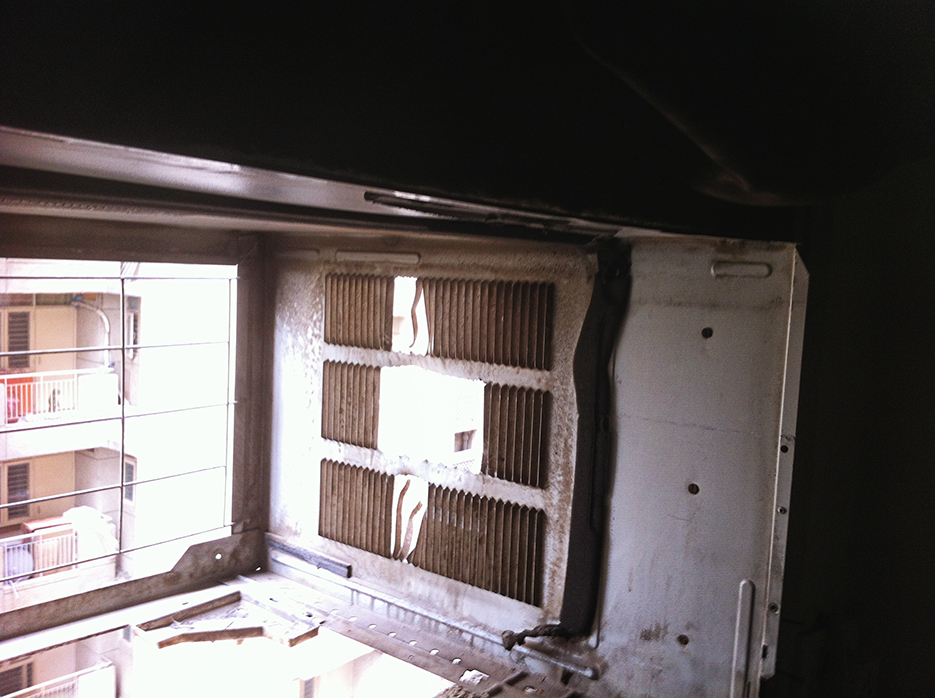 Apparently, that was their "solution", ie, to physically break off some of the vents of the outer casing. They did not consider it necessary to ask me before destroying my property in my own home. Needless to say, I was not happy. But seeing as how the damage was done and the fact that it was almost 2300 hrs. I did not press the issue. At least the AC didn't sound like the apocalypse now. The "engineers" left. The AC ran for about 10 minutes before the compressor cut off and did not start again. Yes that's right, after 17 days of having the AC in their possession, installing a new compressor and "extensive" testing, the service center had returned something that did not work. I would now have to wait till the 25th as the 24th was a Sunday.
June 25: I call the service center inform them of what had happened. The send over Mr Kumar again who upon inspection tells me the AC will have to go back to the workshop. The unit would be collected by evening he promised. Obviously, that did not happen. I did however; get an SMS from Whirlpool saying my "Call has been closed in system." Note that a Whirlpool engineer had just confirmed a few hours ago that the Ac was far from fixed.
June 26: Whirlpool sends over another engineer for "inspection". He comes to the same conclusion.
June 28: The air-conditioner is collected again. And this time I'm told it should take no more than a day or two to be returned.
June 30 – July 2: I call the service center every day during this time. Each time I'm told the AC will be delivered the following day.
July 3: Exasperated at the lack of any progress form the service center, I call Whirlpool customer care in the hopes of finding out what heck is going on. They inform me that not only do they have no idea why my AC is not in my possession; according to their "system" I do not even have a complaint pending. Note that Whirlpool had sent over 2 separate engineers to inspect this unit. The call center assures me I will have the AC tomorrow. I get an SMS in the evening with a new complaint number (GB0712001681). Another SMS follows quickly after; telling me that my call has been allocated to Mr Mohit, who will get in touch with me shortly. In typical Whirlpool fashion, this never happens.
July 6: The air-conditioner is returned. Upon delivery I refuse to sign the receipt until I know the unit is actually working. I tell the delivery guys to wait for fifteen minutes so that I know the compressor actually works. They tell me they will be back in about half an hour as they have another delivery to make and leave. They never return. The compressor still does not work.
July 7: I decide to take Whirlpool to court.
Let's recap shall we? It has been 42 days since the original complaint. This complaint was closed in Whirlpool's system without confirmation from my end. The air-conditioner has been in the workshop twice, spending a total of 22 days being "serviced" with nothing to show for it. The last time the unit was delivered, they did not even bother getting my signature confirming receipt. Technically speaking, as far as paperwork goes, my AC is still in their possession. The service center has straight up lied to me on more occasions than I can count and Whirlpool's customer care is bad enough to make one lose all hope in the human species. I have had better conversations with the mentally challenged. The level of unprofessionalism and incompetence within Whirlpool's service structure (if you want to call it that) is nothing short of criminal.
If you are reading this and are contemplating purchasing anything bearing the name "Whirlpool" on it, do yourself a favor.
Don't.
For these 42 days, we have transferred our bed's mattress to our study room, which is the only other air-conditioned room at home currently, and we have been sleeping on that mattress on the floor. Whenever the air-conditioner has been with Whirlpool, the window space where it is installed is a hole in the wall and that entire room is unusable because of insects / dust / noise. I never imagined that one air-conditioner could cause such protracted stress. It's 42 days on the date of publishing this blog post i.e. 11th July 2012. Oh and all this in the peak of North Indian summers.
I've had some encounters with brands earlier where I tweeted about them / blogged about them when there was bad service / harassment and I usually try to avoid doing that unless absolutely necessary. With this Whirlpool ongoing-harassment, I believe it needs to be put up on the Internet.