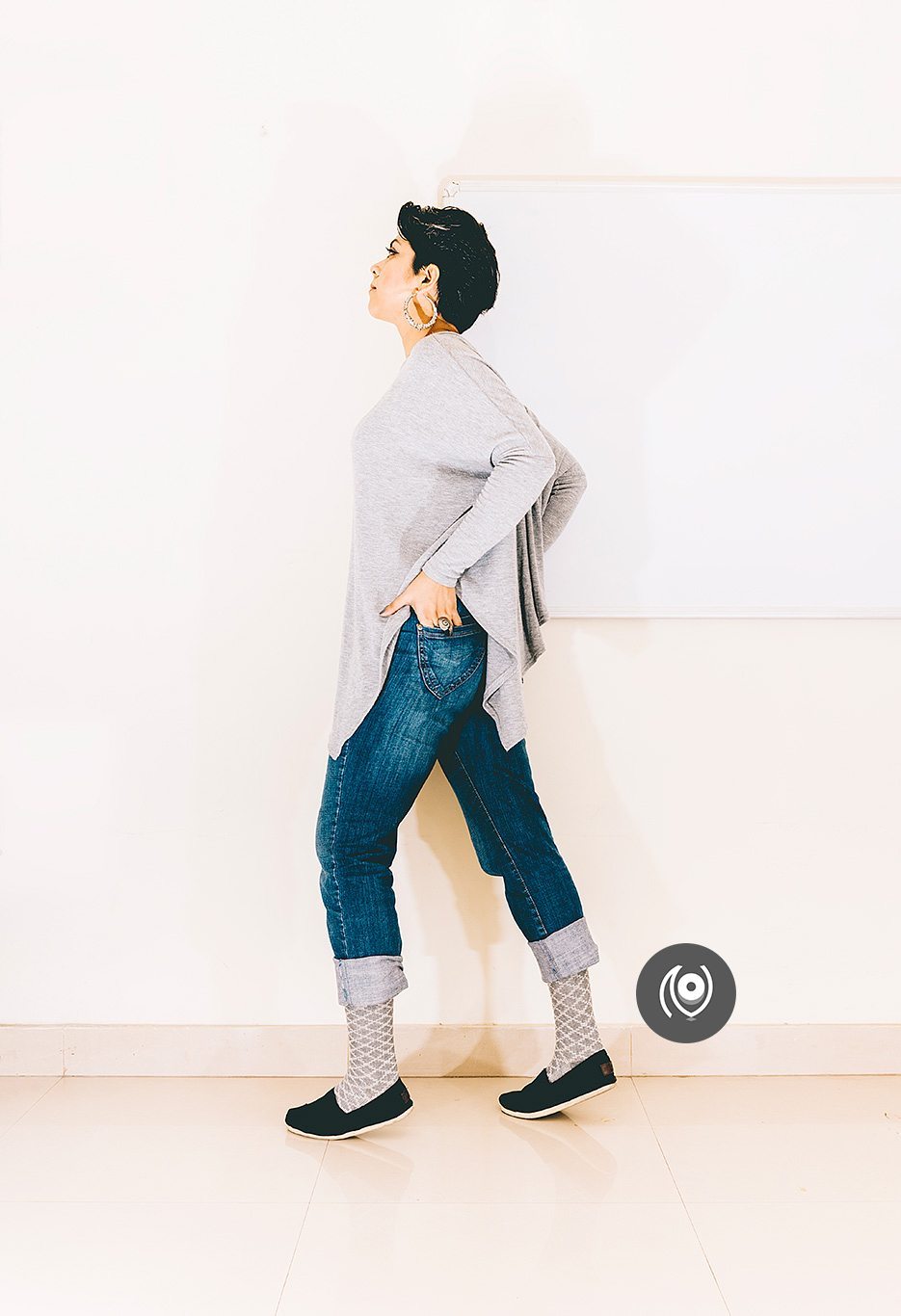 Sometimes I dress like this for a work-day close to home i.e. not driving out of a 20 kilometer radius and no formal client meetings ( I'd roll down my jeans for those ). I've been late to the party of "finding my own style" but I am at-it pretty much on a daily basis now. I prefer comfort over anything else and only lately have I learned that comfort can be stylish too.
I will start from the bottom. Shoes are slip-ons. Top cover is canvas cloth ( not hard like canvas usually is ), base is plastic. A lighter and cheaper version of Espadrilles. These are super comfortable and I have lined the inner-sole with an additional thin foam cut out to make the sole of the foot even more comfortable.
The socks finish just below the knee. These are traditional Bhutanese knee socks that are worn by Bhutanese men. I got them from a street shop in Thimpu and because this is the only pair I have, I don't wear these very often. I was going for a grey / blue-denim vibe here and wanted to show off these socks. If you have a standing work-station at home, these socks can be helpful in regulating circulation in your legs if you stand and work.
Denims for men. I don't know what the style or cut is except that it is comfortable. These were originally purchased by my Mother from Marks & Spencer – Indigo. The jeans are loose around my waist and hips and I like them like this. I do have other slimmer fits but I have been wearing these most often since Mom passed them on to me.
Grey t-shirt. It's a knit t-shirt from a brand I have stopped buying from. I have worn this to a client meeting as well. Since the cut is not something you would normally see on a top, excessive jewellery or accessories are probably best avoided. Also I'm home here so didn't really want to chunk up. The material of this t-shirt is not sweat-absorbing though – and because the sleeves are wide, they don't stick into your armpits to dry the sweat either. Best worn during slightly colder weather.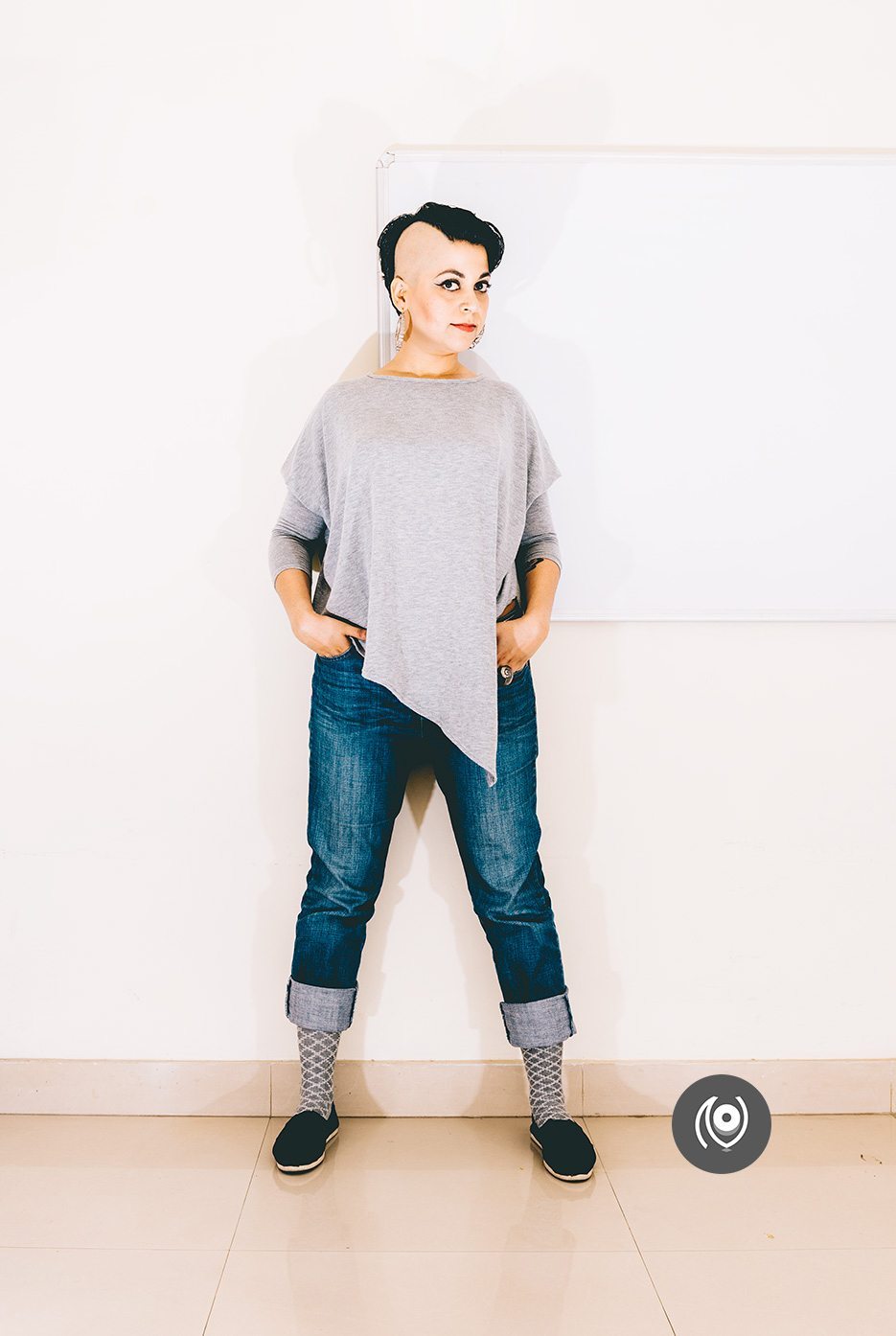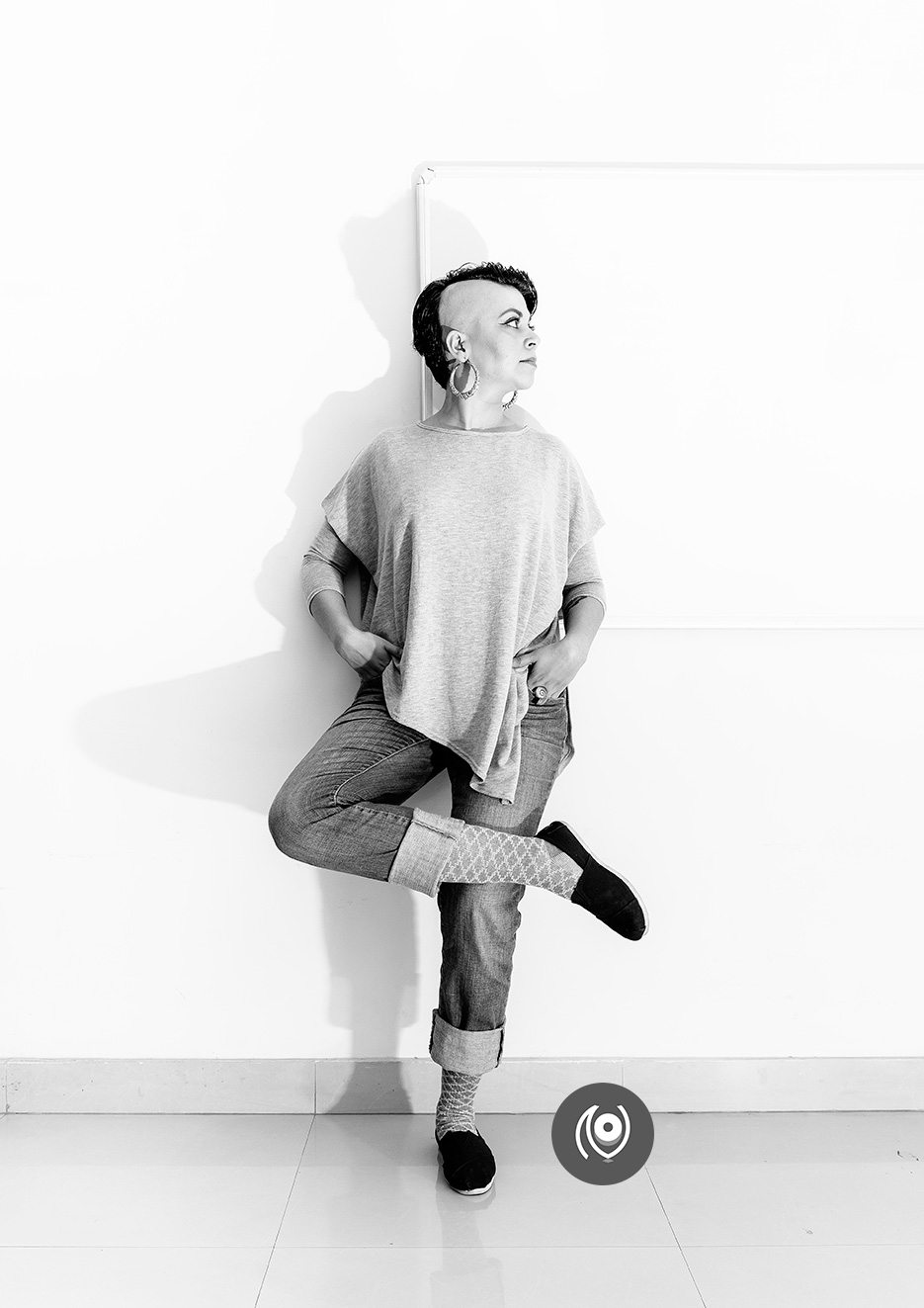 Yes. I shaved a small portion of my head because I have been curious about how this would look. I did not have a trimmer at home and did not have the patience to wait anymore so shaved all of it. Will wait for it to grow back a little before I get exactly what I had hoped for. It is a bit more dramatic than I would have liked. Short hair also means more hair-product and I finished my can of hair spray for this edition of #CoverUp Hopefully my order of a couple of additional cans will arrive by the time I am ready to do another edition. ( What would I do without the Internet? I order literally everything online. )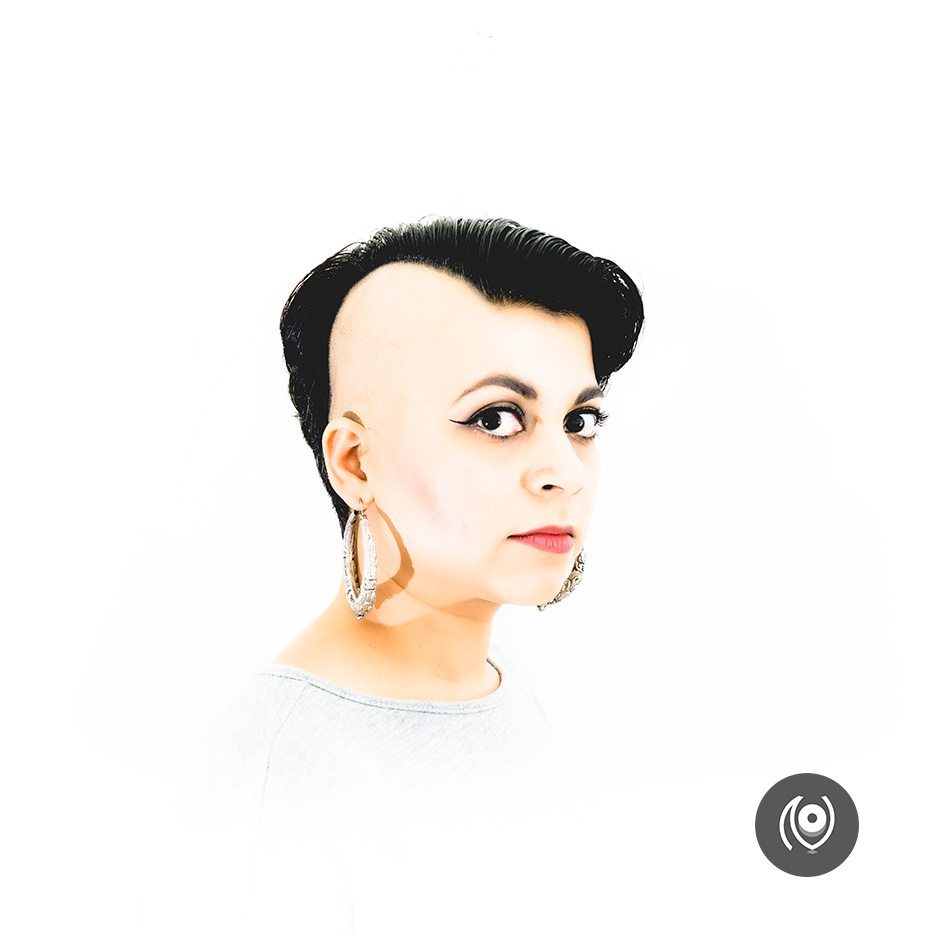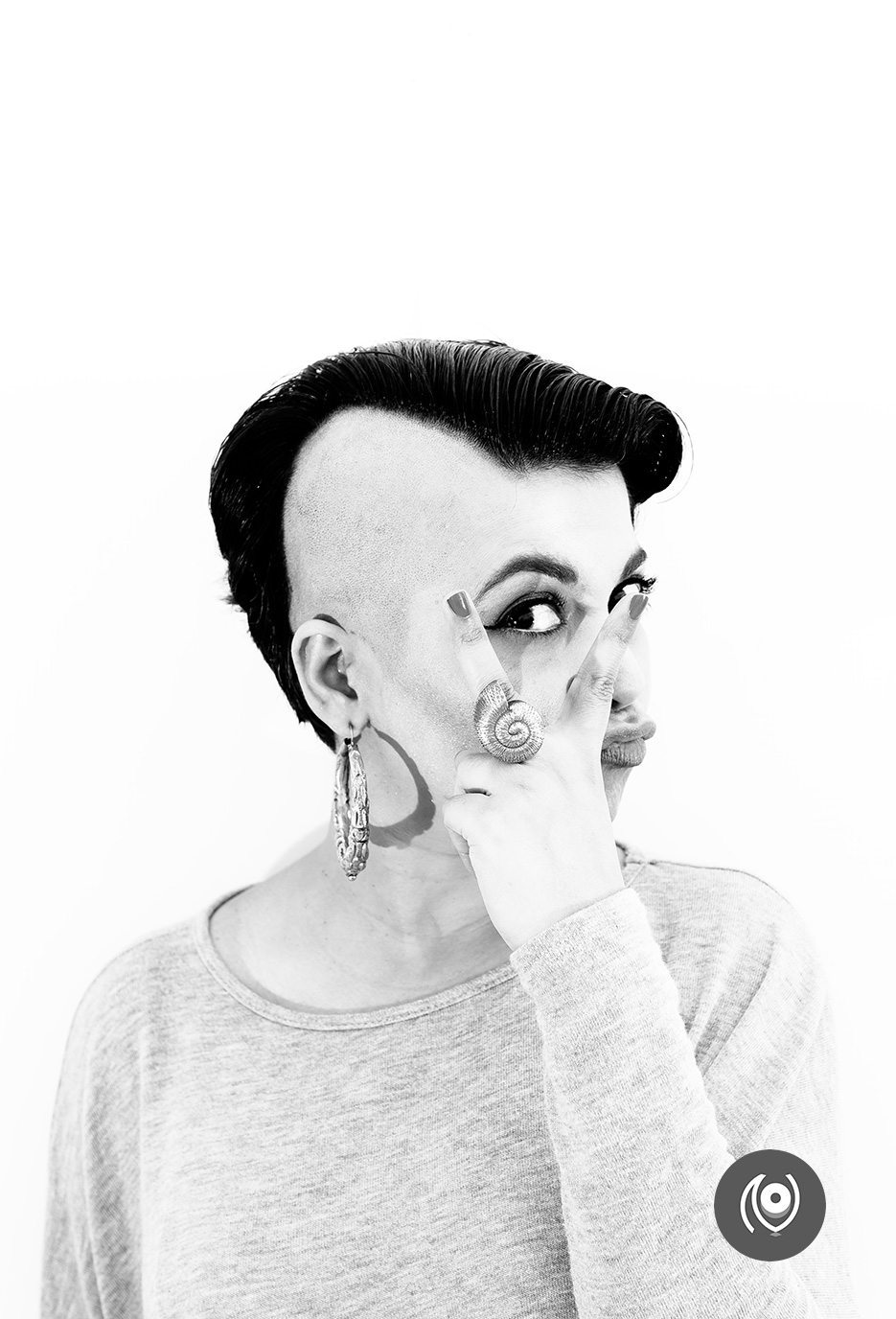 The silver ring is from Amrapali Jewels. The ear rings are silver too but I don't recall where I got them from as it has been a while. Grey nail paint from Sephora. Black They're Real liner from Benefit Cosmetics and foundation and powders from Chanel. Photographs are all self-portraits.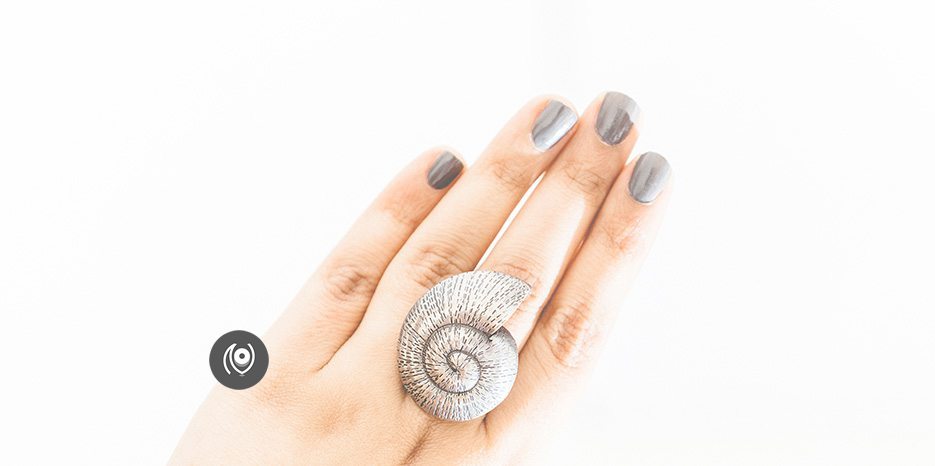 Thank you for playing along as I learn to find my personal style. Till later!