The first time I heard about Google doing anything related to a mobile device was in 2008 when the "G1" was introduced. "Android" sounded instantly appealing but I had to wait till 2010 when Google launched the Nexus One, before I could get my hands on a Google device. Exhortations to friends, acquaintances, extended family, anyone willing to listen, finally led to a family member who agreed to have the device delivered to their US address and then bring it to me when they traveled to India. Within the first month of using and being enamored with my Nexus One, I dropped it and it was done. I immediately started asking around again for someone to bring one more of the same device for me. A friend's friend offered and I traveled to a remote part of Delhi to pick up the device. The broken Nexus One and the device that was intact, stayed in a drawer at my parents' home till early 2016, when my Mum decided to get rid of them – but not before figuring out if they were worth anything. They were to me, which is why I'd hung onto them, but just like that, without my knowing, they were gone.
Of course, I've used the Nexus Series till the Nexus Three or Four ( sorry can't recall ) and then a bunch of HTC devices, which I loved mainly for their camera capabilities. But Android was always crashing, devices stopped working after a couple of years of launching and I wasn't able to identify ONE solid device that I'd really like to own and use.
This fashion week, I quickly borrowed a phone from my neighbour to shoot a model on the runway. The photos was simply brilliant because I could see the subject! The device I was using at the time, was not able to handle the bright spotlight amidst a sea of darkness and the subject was just a shiny bright blob. I asked my neighbour what phone they were using and as expected, it was the iPhone 6S Plus. Man those devices make some brilliant photos. So, this fashion week was when I came the closest to succumbing to an Apple device.
But within a couple of weeks, Pixel happened and here I am! Yes, it takes photos as good as the iPhone does, if not better. Easily handling the spotlight in sea of darkness use case. AND I get to stay on Android without having to worry about headphone jacks and whatnot.
Pixel, by Google, comes in three color variations currently. ( The Real Blue is only available in the US. ) India gets the Black and the Silver. And the device also has two size variations : the regular Pixel 5 inch and the 5.5 inch Pixel XL. A few days ago, Google India hosted a launch event at the Delhi Club House and invited some of the coolest people from all over the country.
Not one to buy gifts for anyone for Diwali, this year, Diwali came early for me thanks to Google! As a luxury & lifestyle blogger, receiving gifts from brands is not something I'm not used to and it can get taken for granted at times. But getting to work with the brand I've been a huge fan of since forever AND getting to take home a Pixel XL device is insanely cool!
I use my mobile device more for listening to Joe Rogan's long LONG podcasts, audio books, other podcasts, tons of music, maybe a movie or two, streaming Netflix and of course making hundreds and thousands of photographs and editing them in VSCO ( which can be quite the memory hog ), updating Instagram, Twitter, Facebook and checking email. I also use the device to make and receive calls but that is not its primary function. As you can imagine, I need a LOT of storage space on the device. The previous device I was using had 32GB of internal memory and I'd also installed an additional 128GB SD Card.
The PIXEL DOES NOT HAVE A MICROSD SLOT! This is insanity! ( I know there's unlimited space on the cloud to store photos but photos aren't the only thing that eats up space. And when I shoot about 3000 photos per evening sometimes, uploading to the cloud might mean a bigger bill when it comes to internet usage, when the internet service provider actually provides the service. ) If you are considering getting a Pixel or yourself, get the 128GB device. The only other option is the 32GB device and I can't even use the data transfer tool to transfer data from my previous phone to the Pixel because the Pixel cannot accommodate all that data!
In terms of what the device looks like, it's a Plain Jane. The number of times I've confused it with my HTC 10 is ridiculous. It's a very nondescript device but many iPhone users have been surprised that they reach for their iPhone and end up picking up the Pixel because from the corner of their eye, the device looks like the iPhone!
But man THE PHOTOS! I've included photos I've shot on the Pixel over the last couple of days – at the launch event, at the hotel where this feature was photographed and all the guest portraits from the launch event. ( Mostly toward the end of this feature. )
Meanwhile, here is me, wearing a Kartikeya India jacket, CottonWorld trousers, Fizzy Goblet juttis and Amrapali Jewels ear rings and necklace. Photographed by Akanksha Redhu at the Presidential Suite at Westin Gurgaon ( thank you Pooja and Mayuri for taking such good care of us! )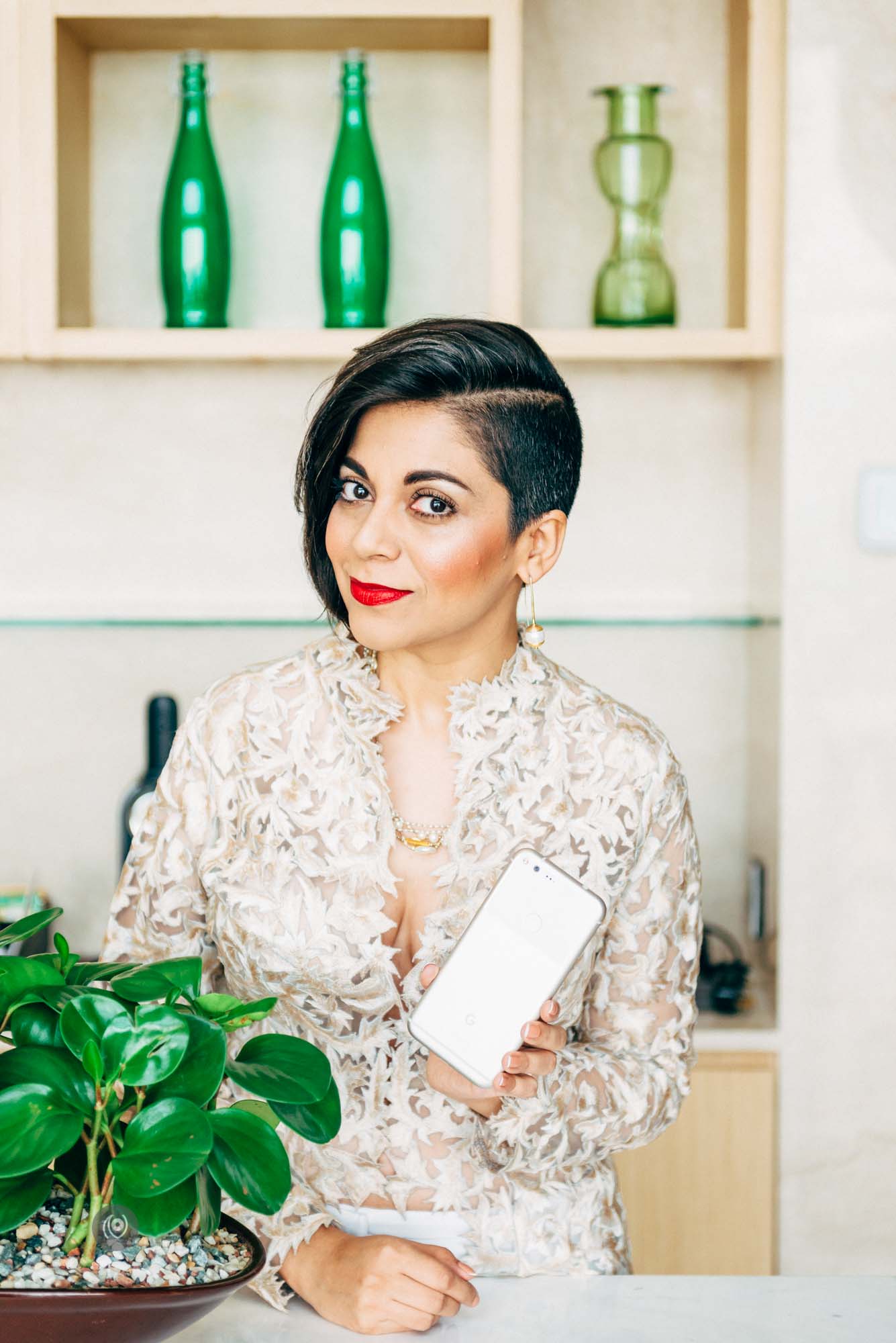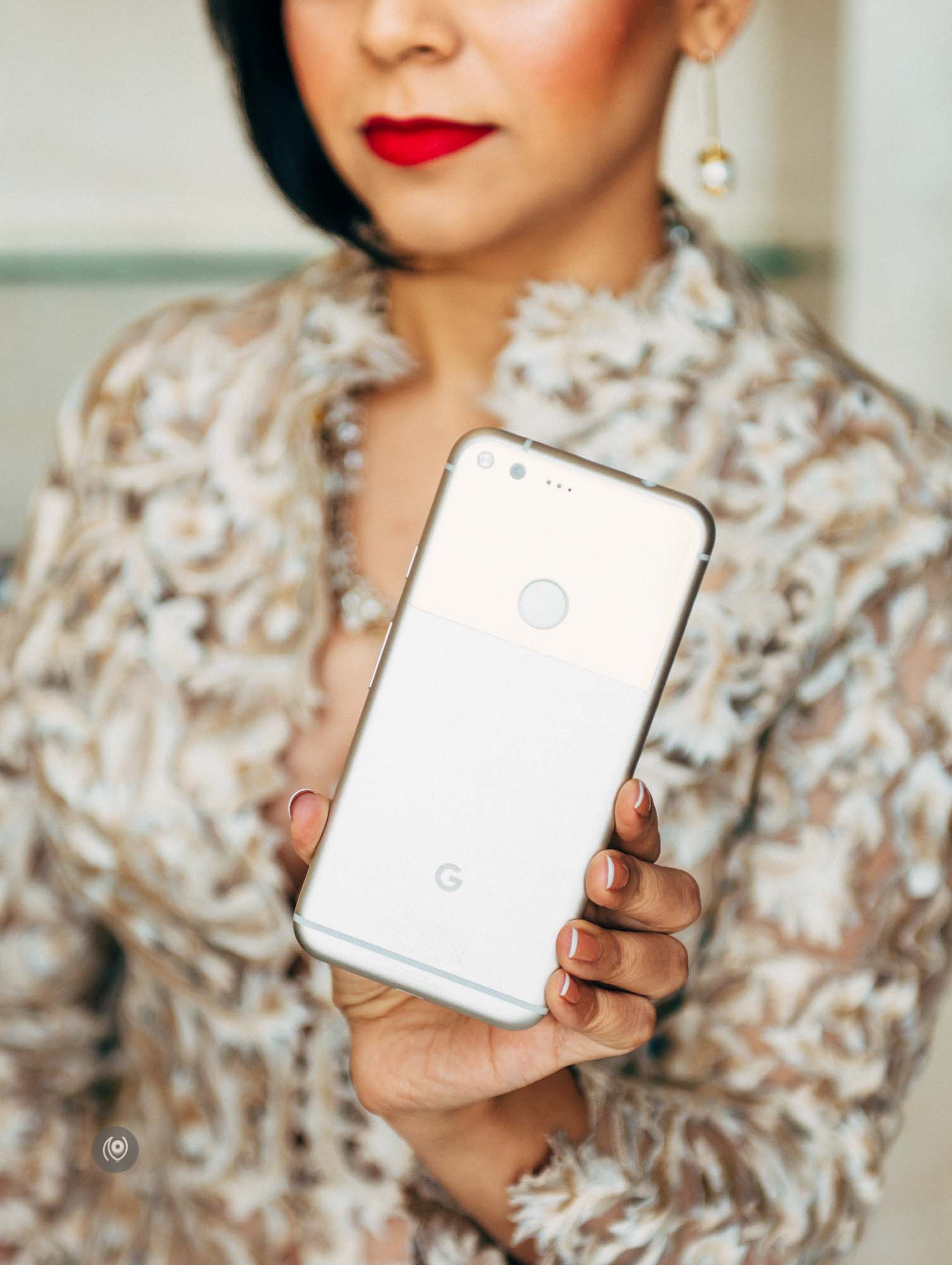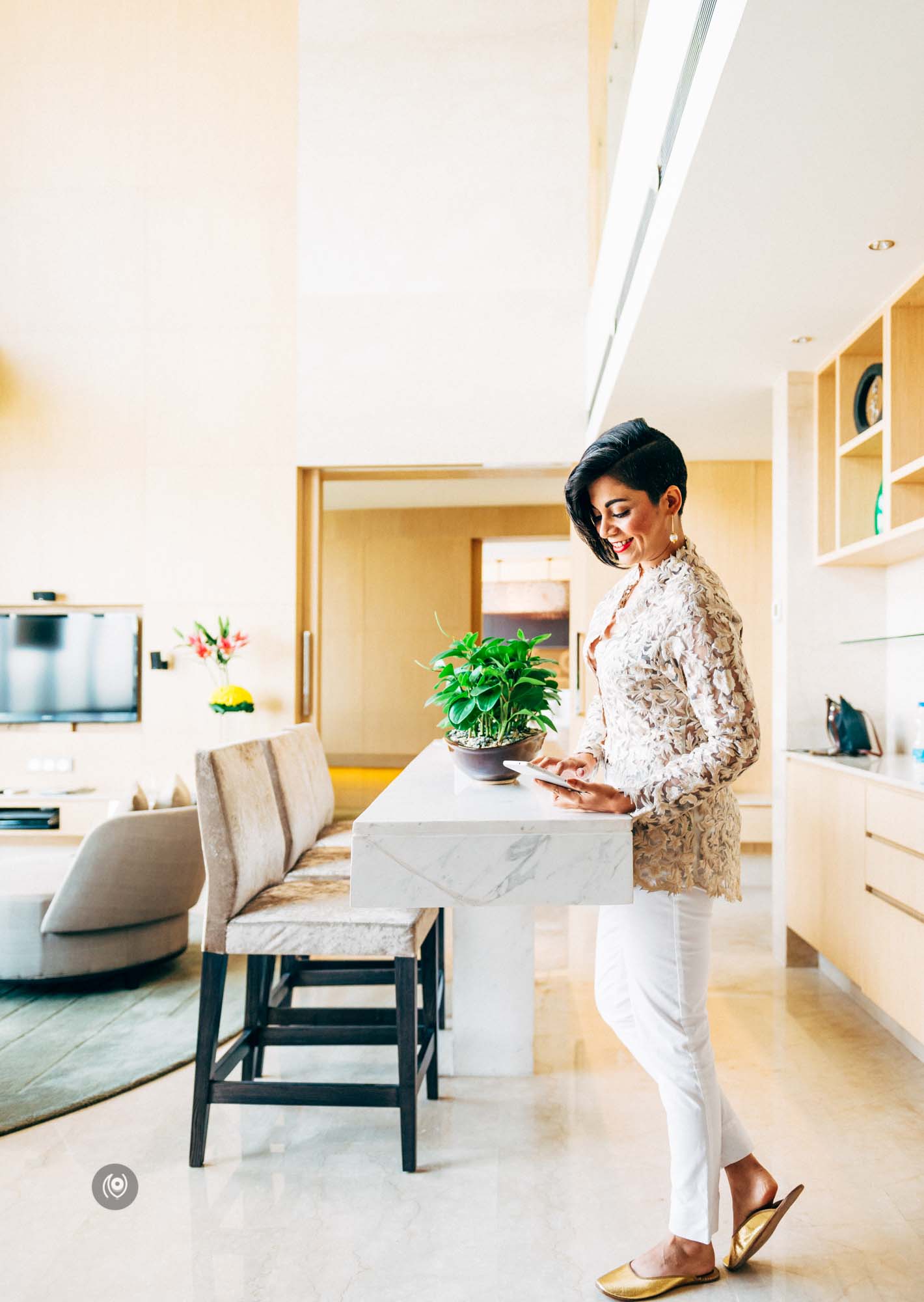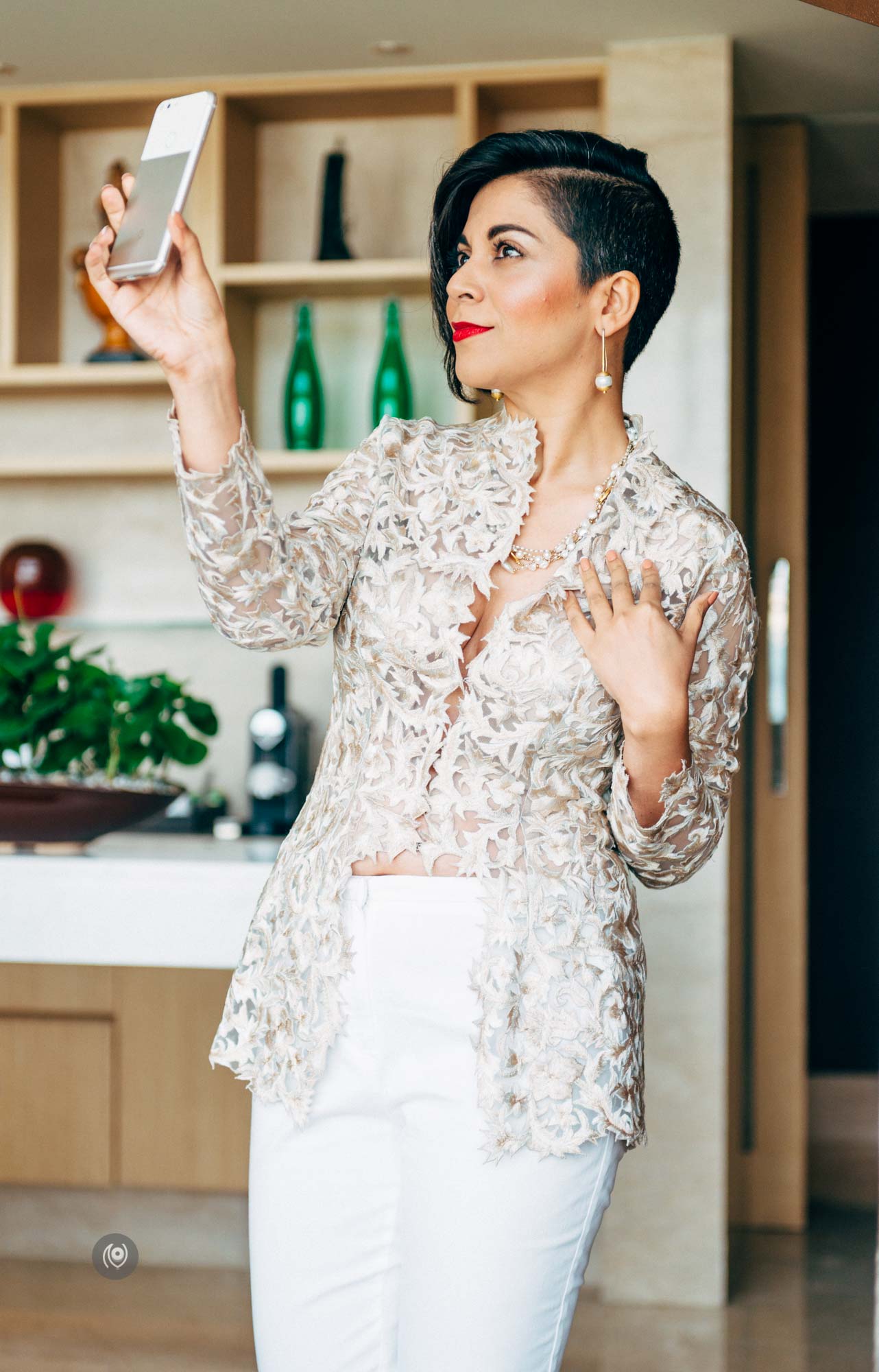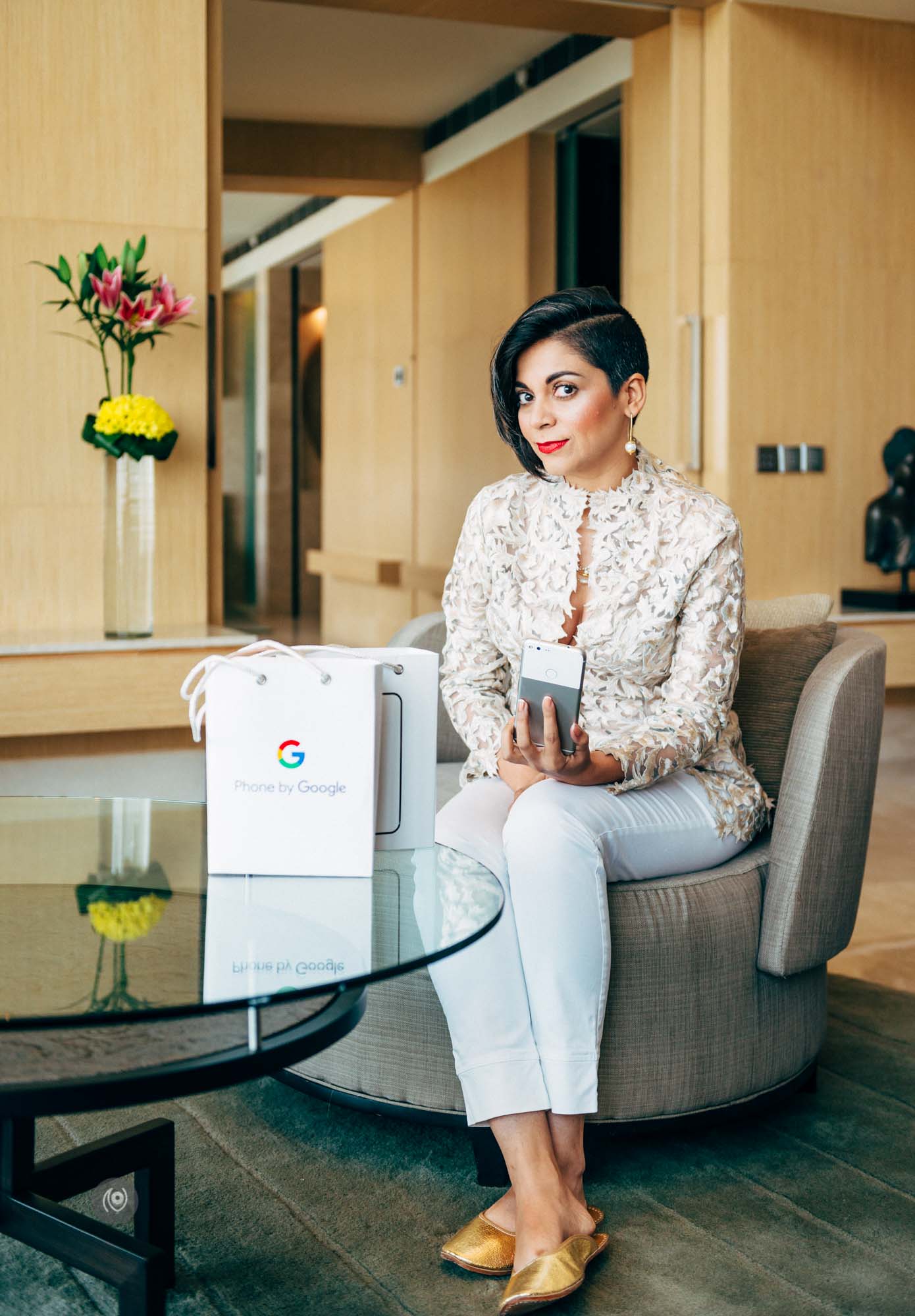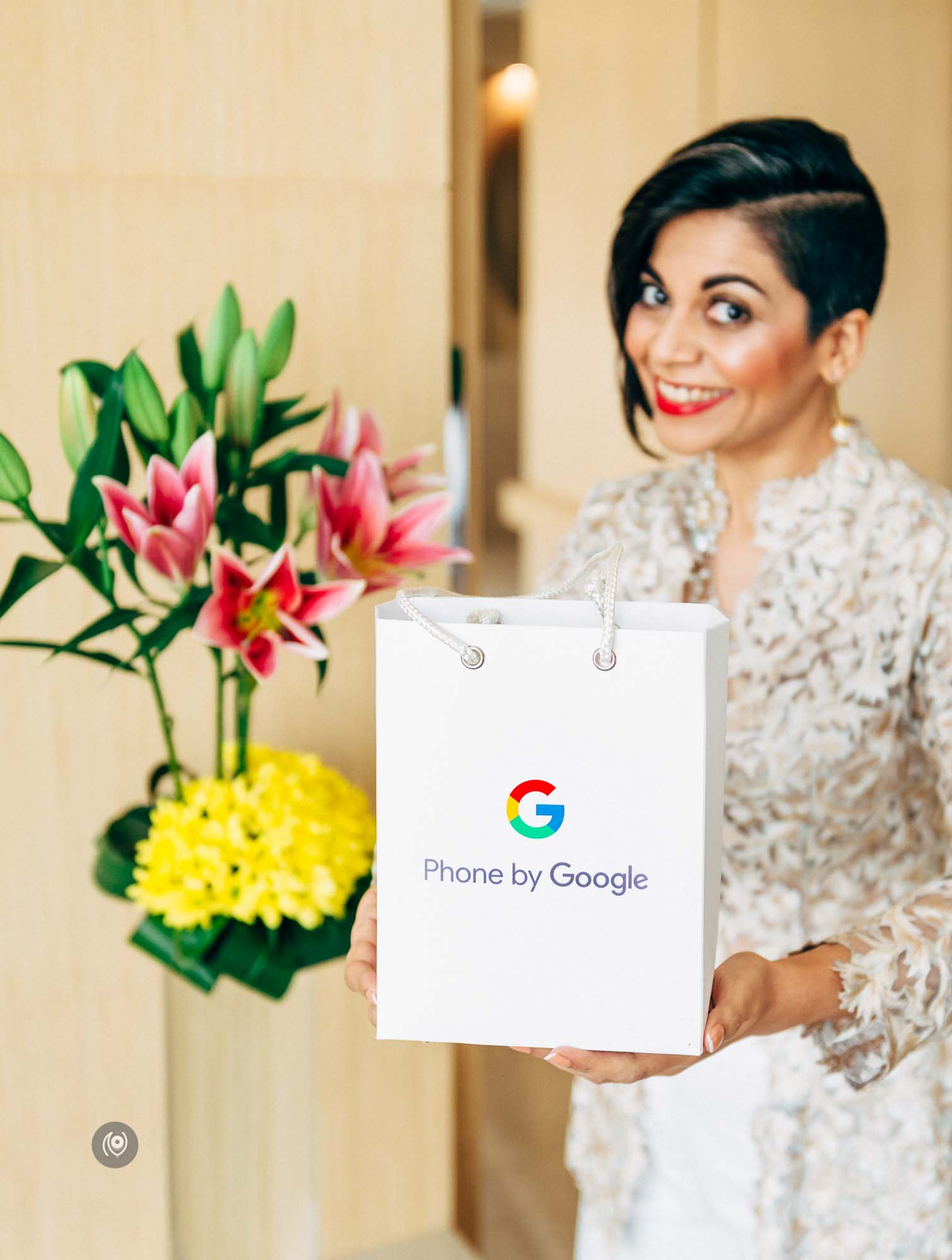 Bring it home this Diwali! Best Diwali gift EVER!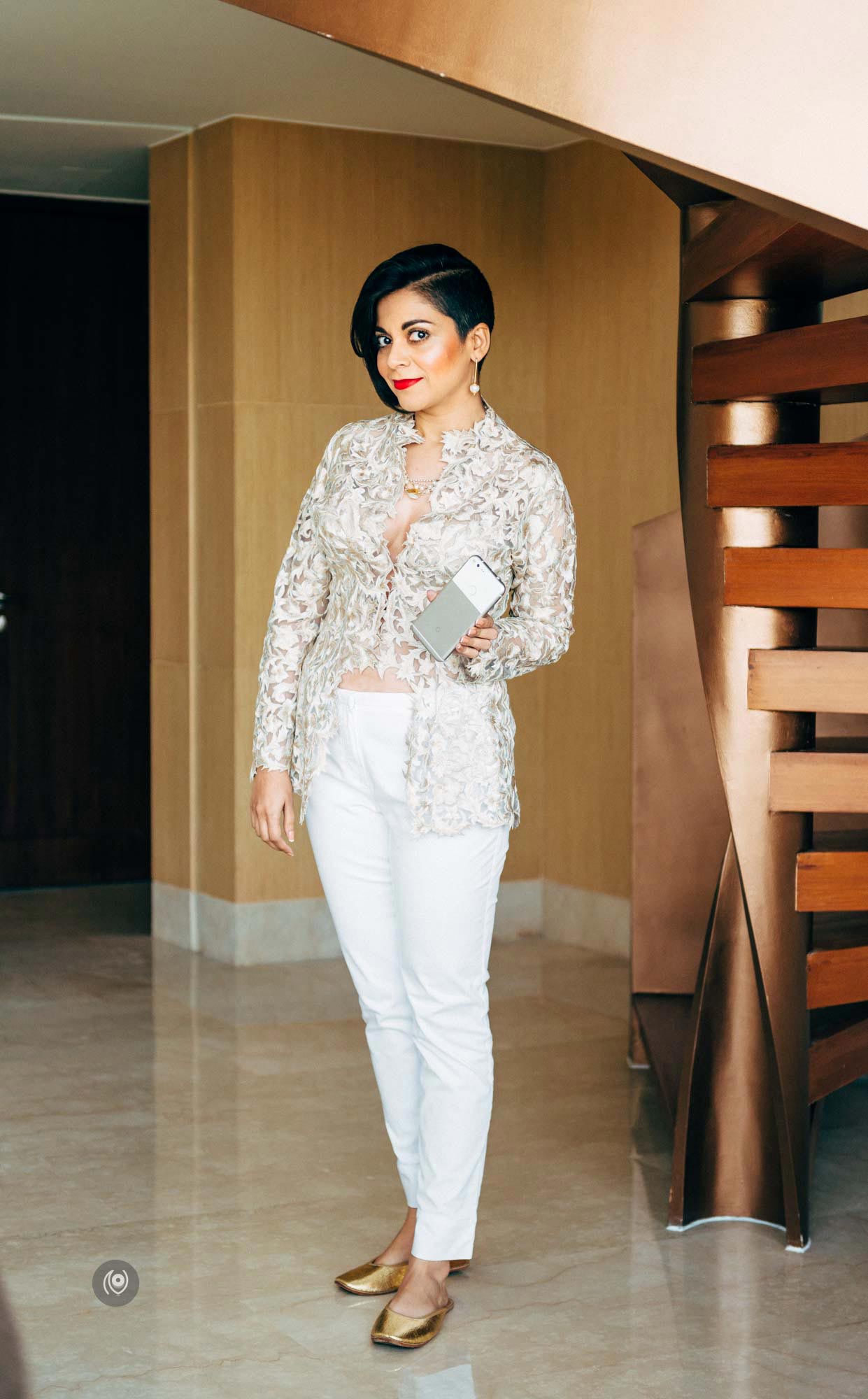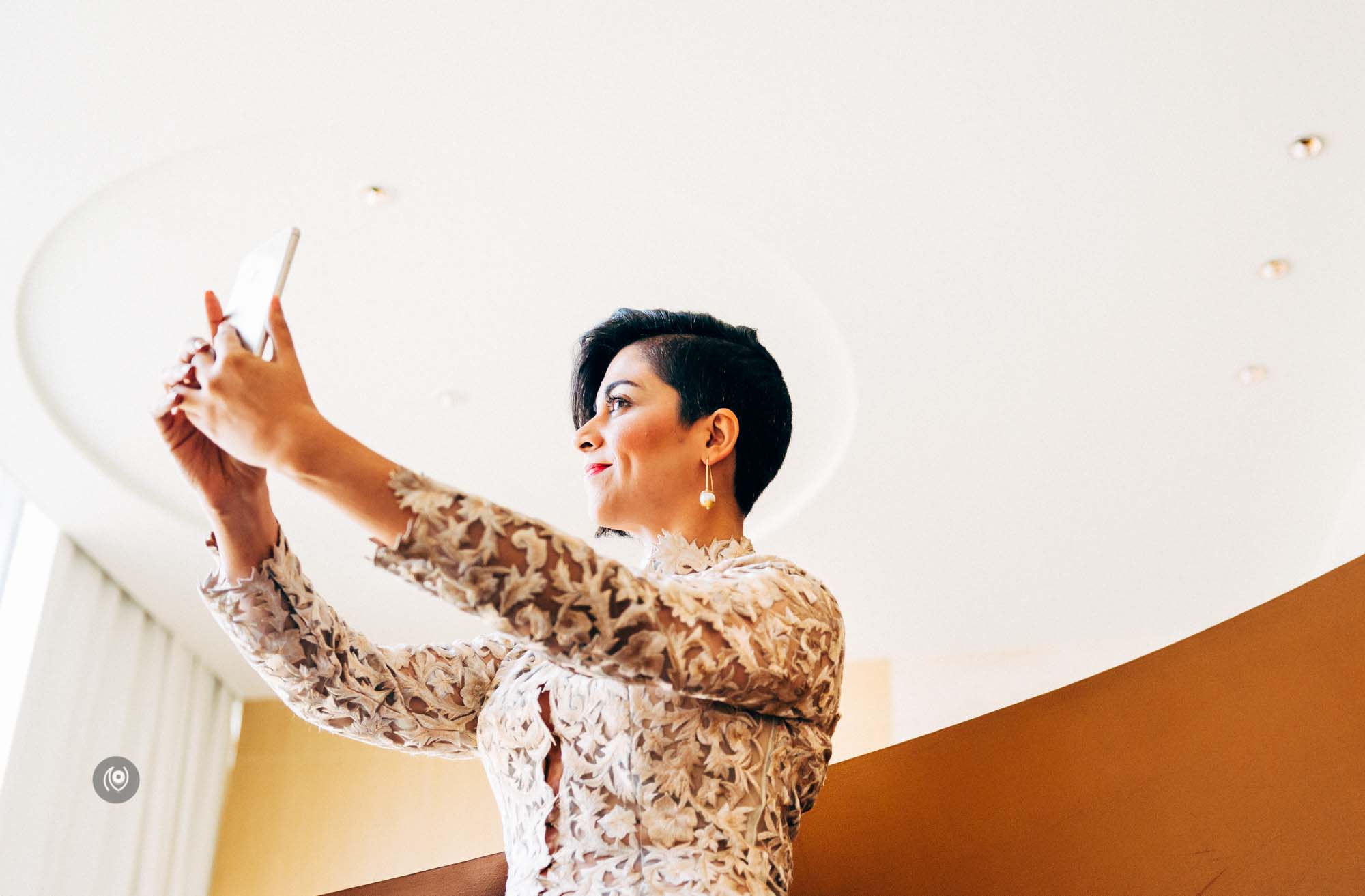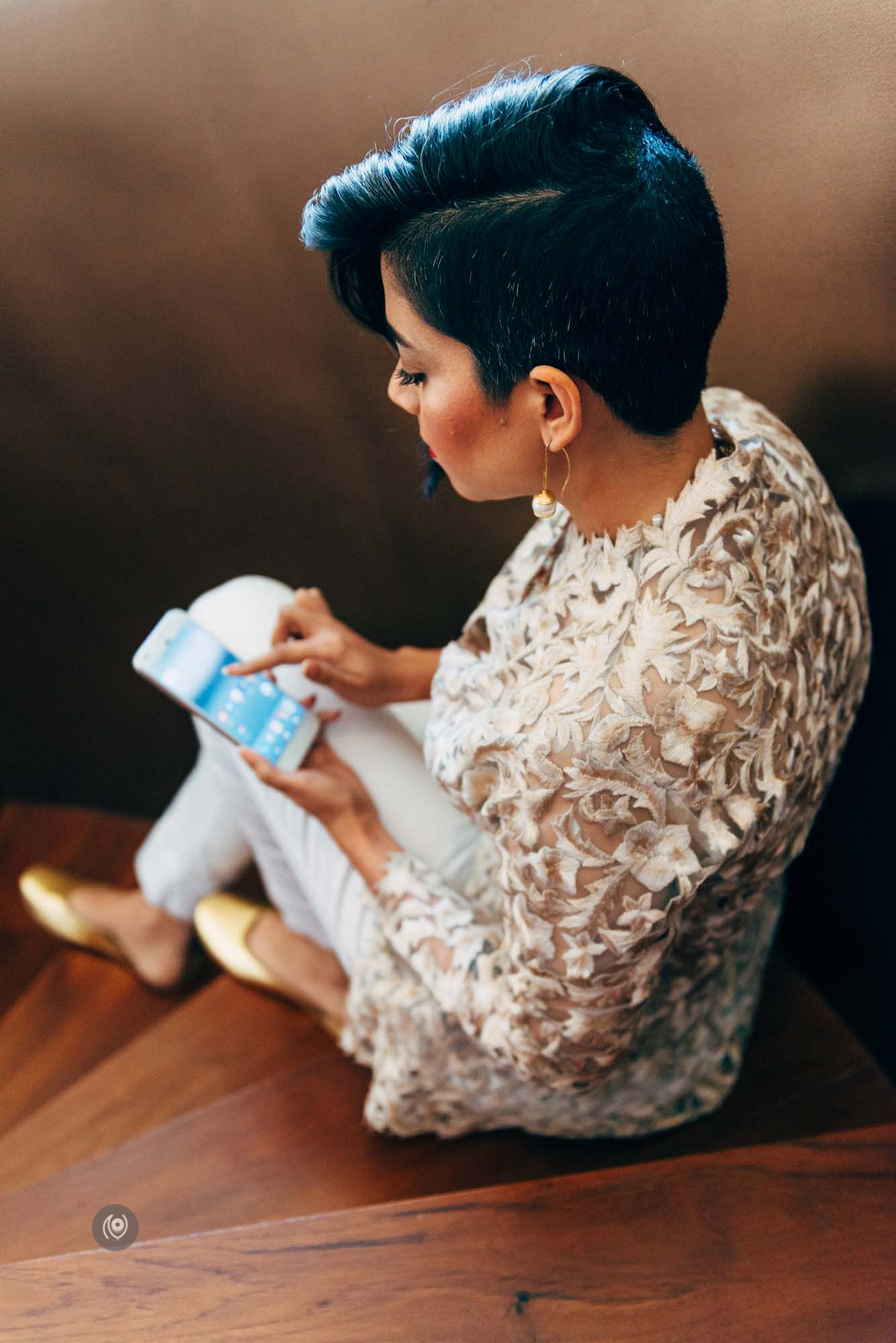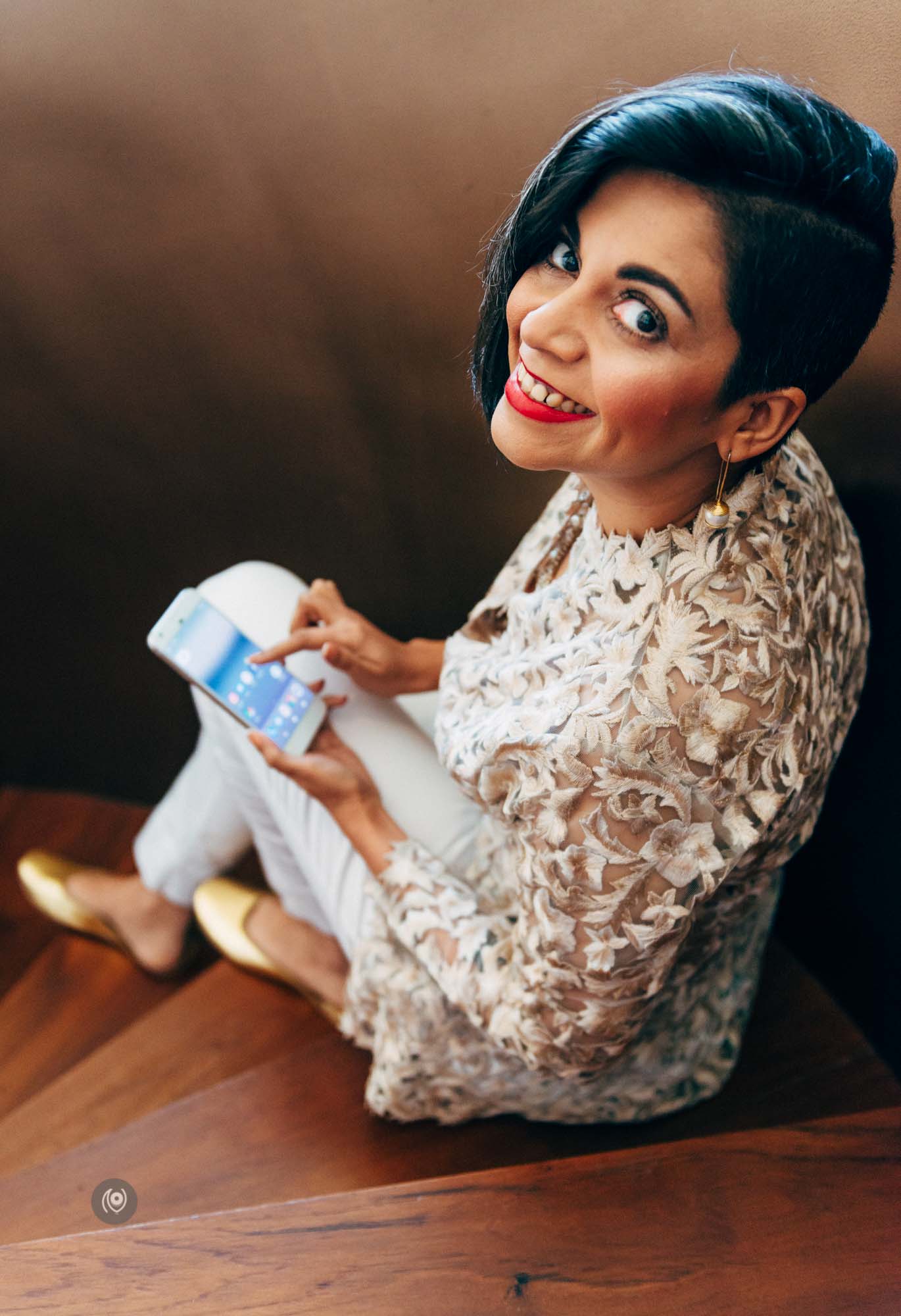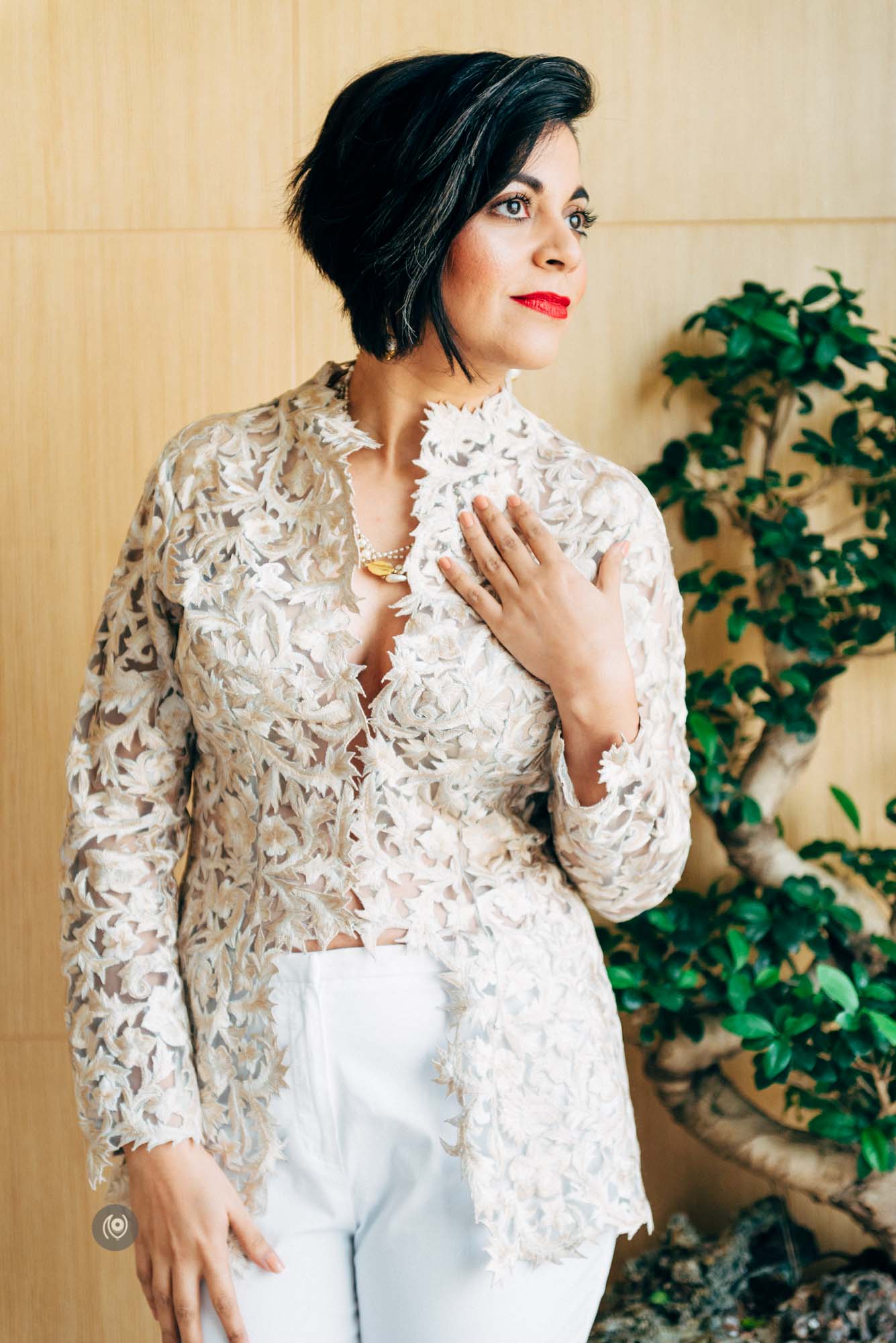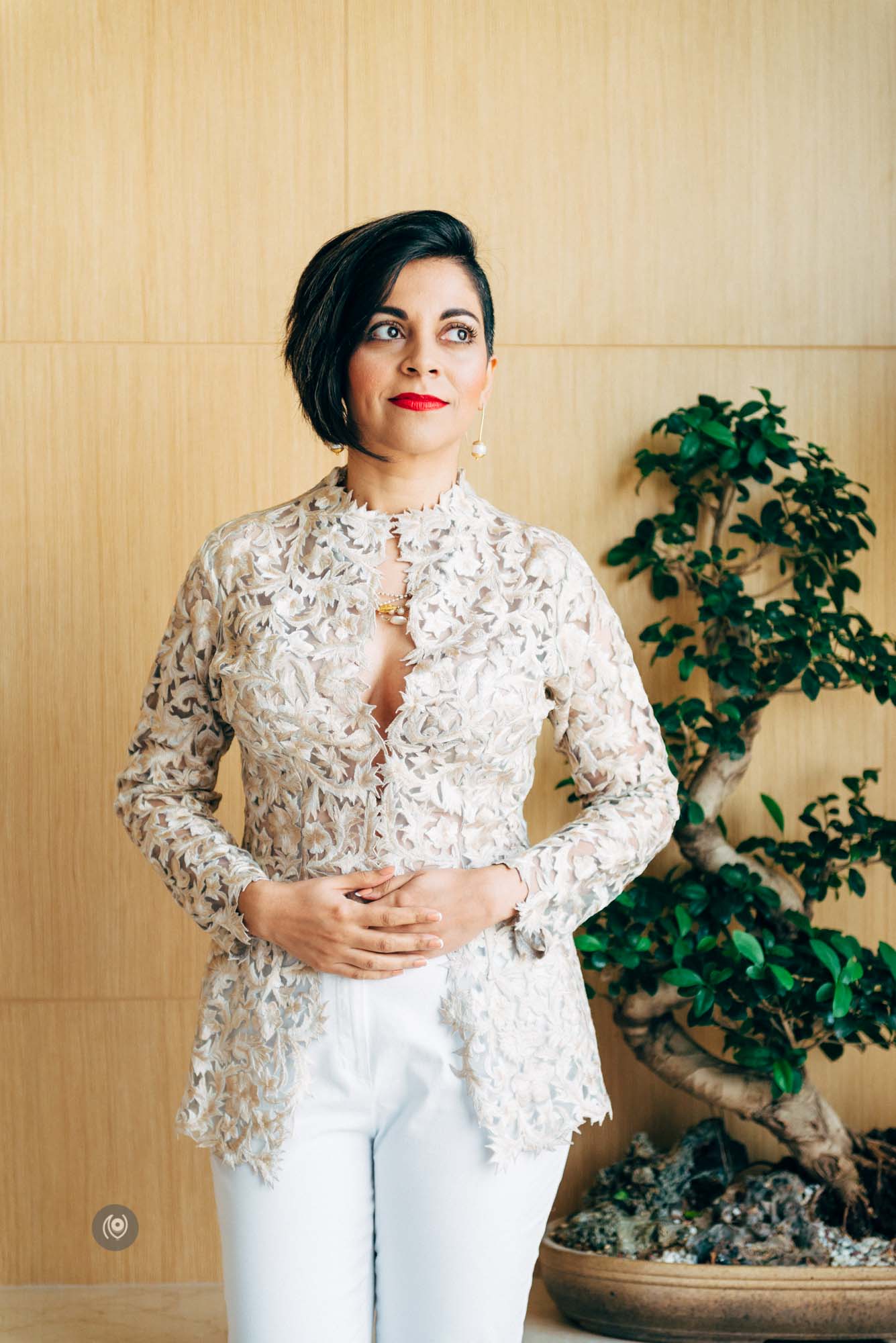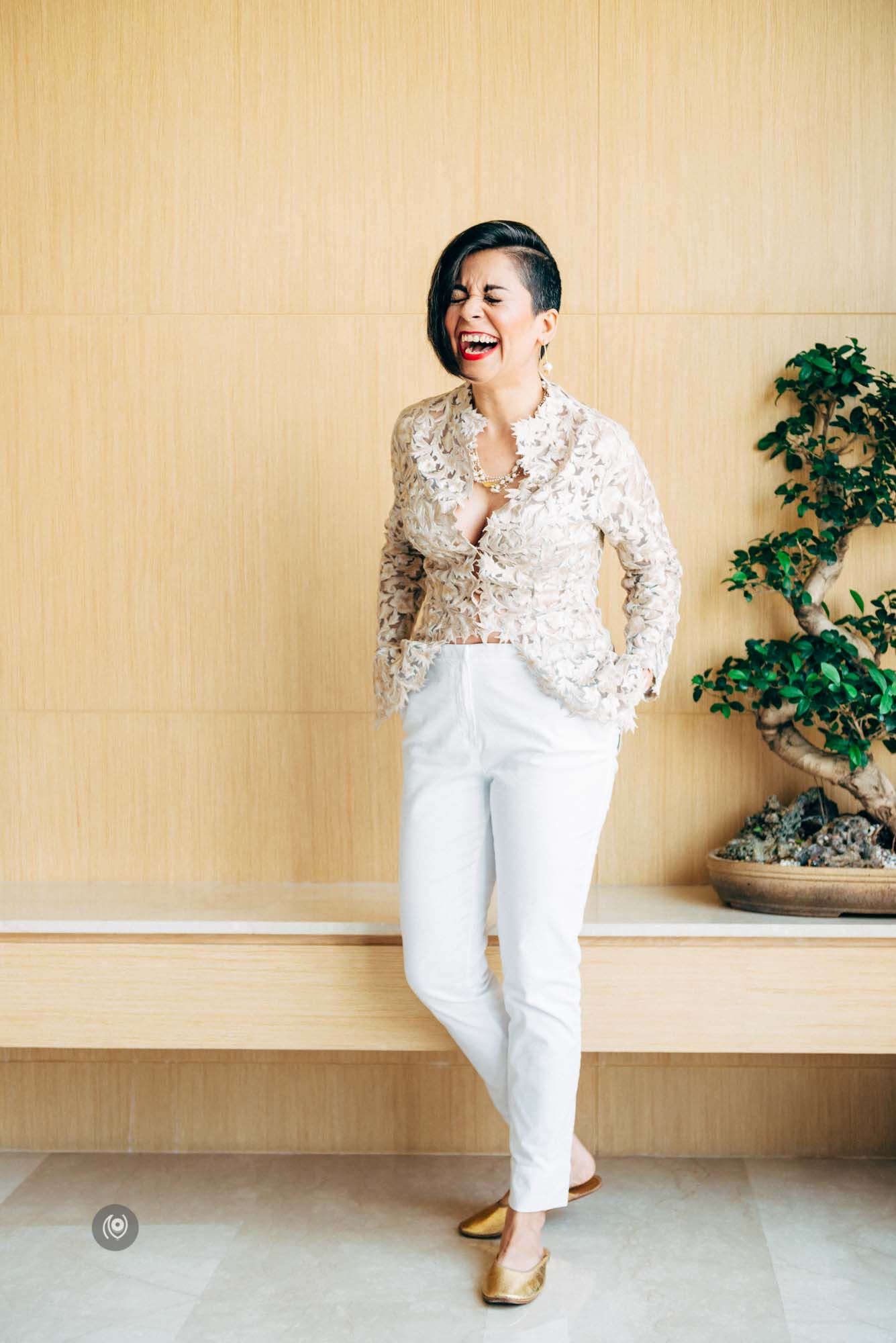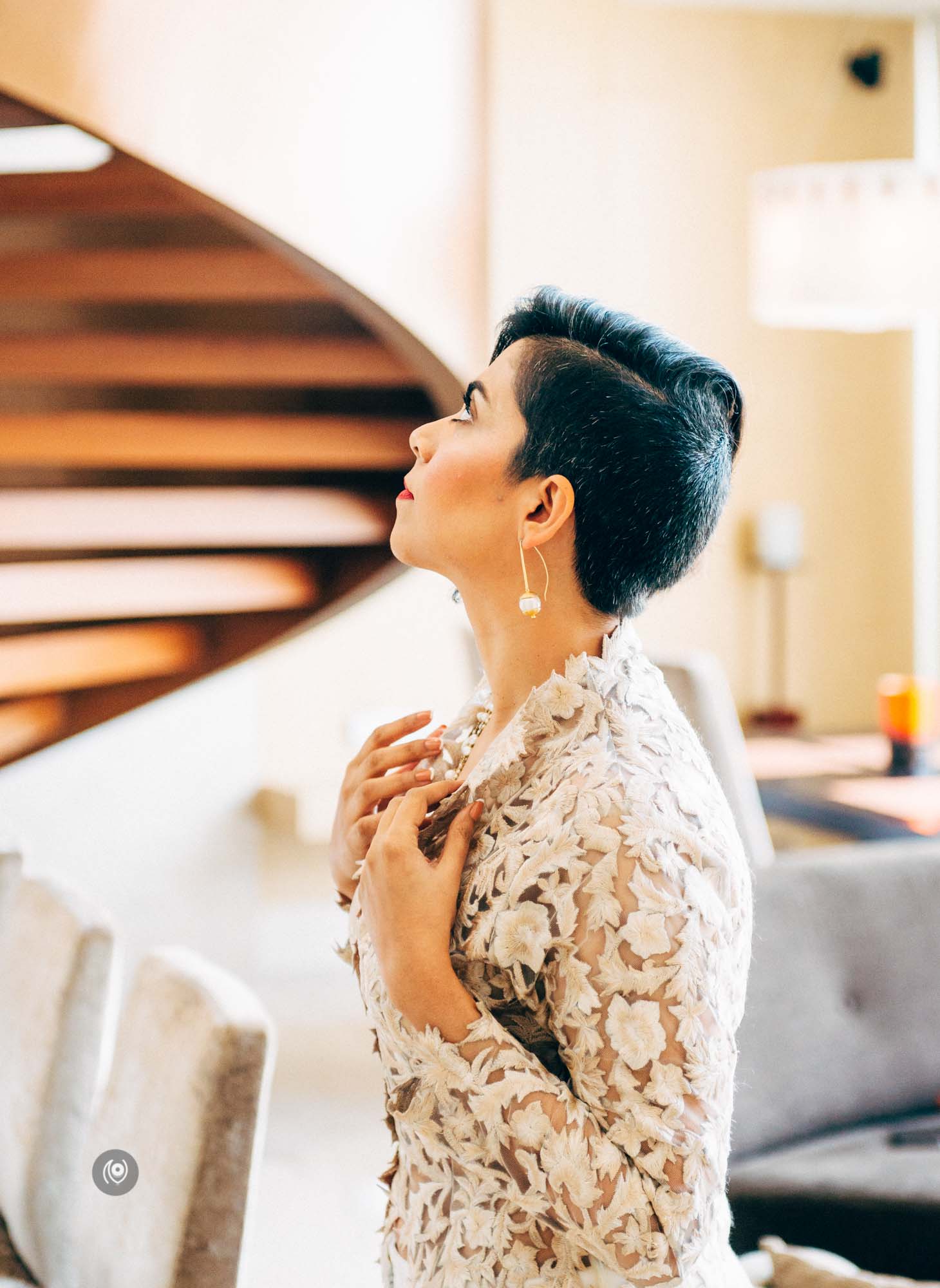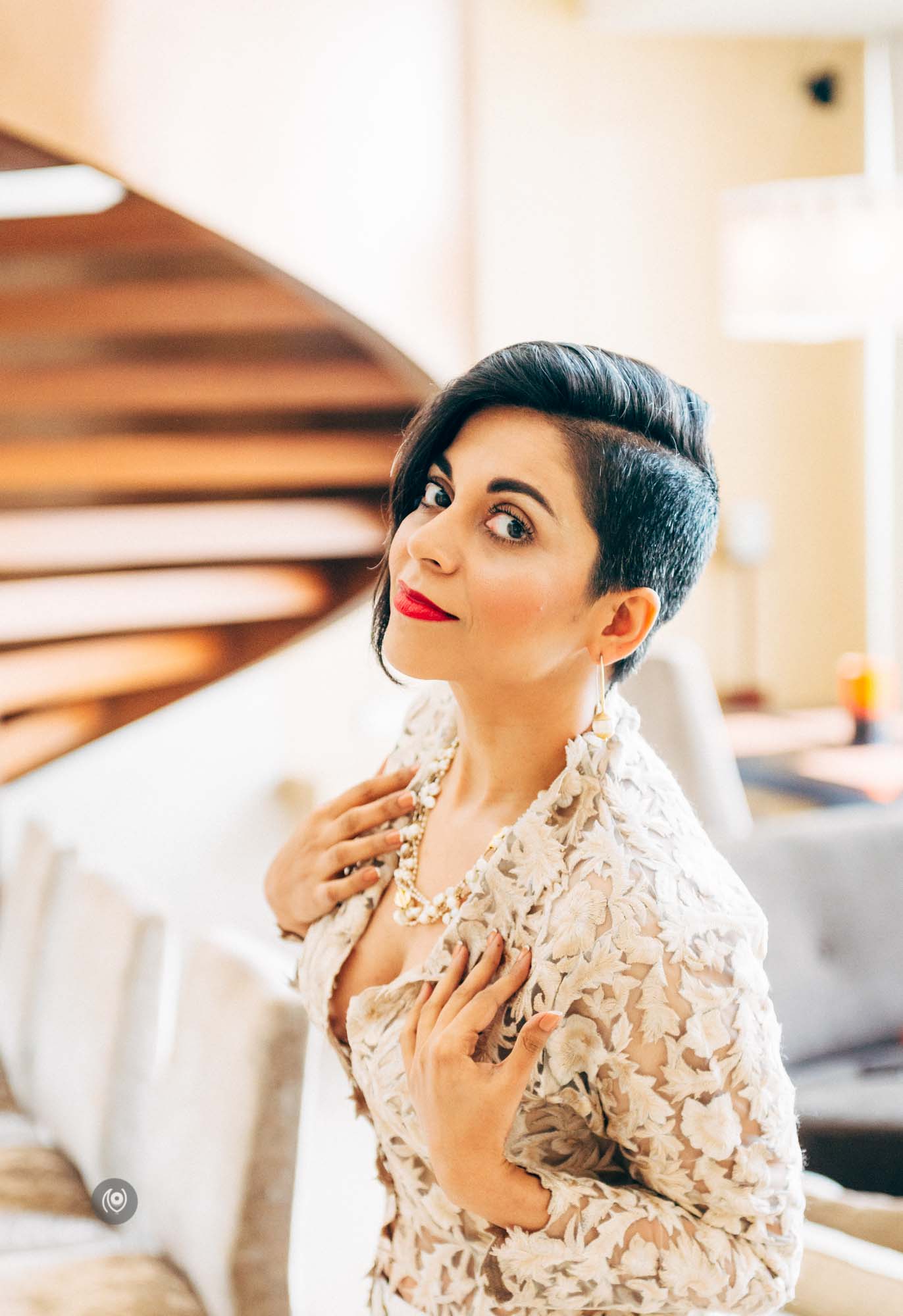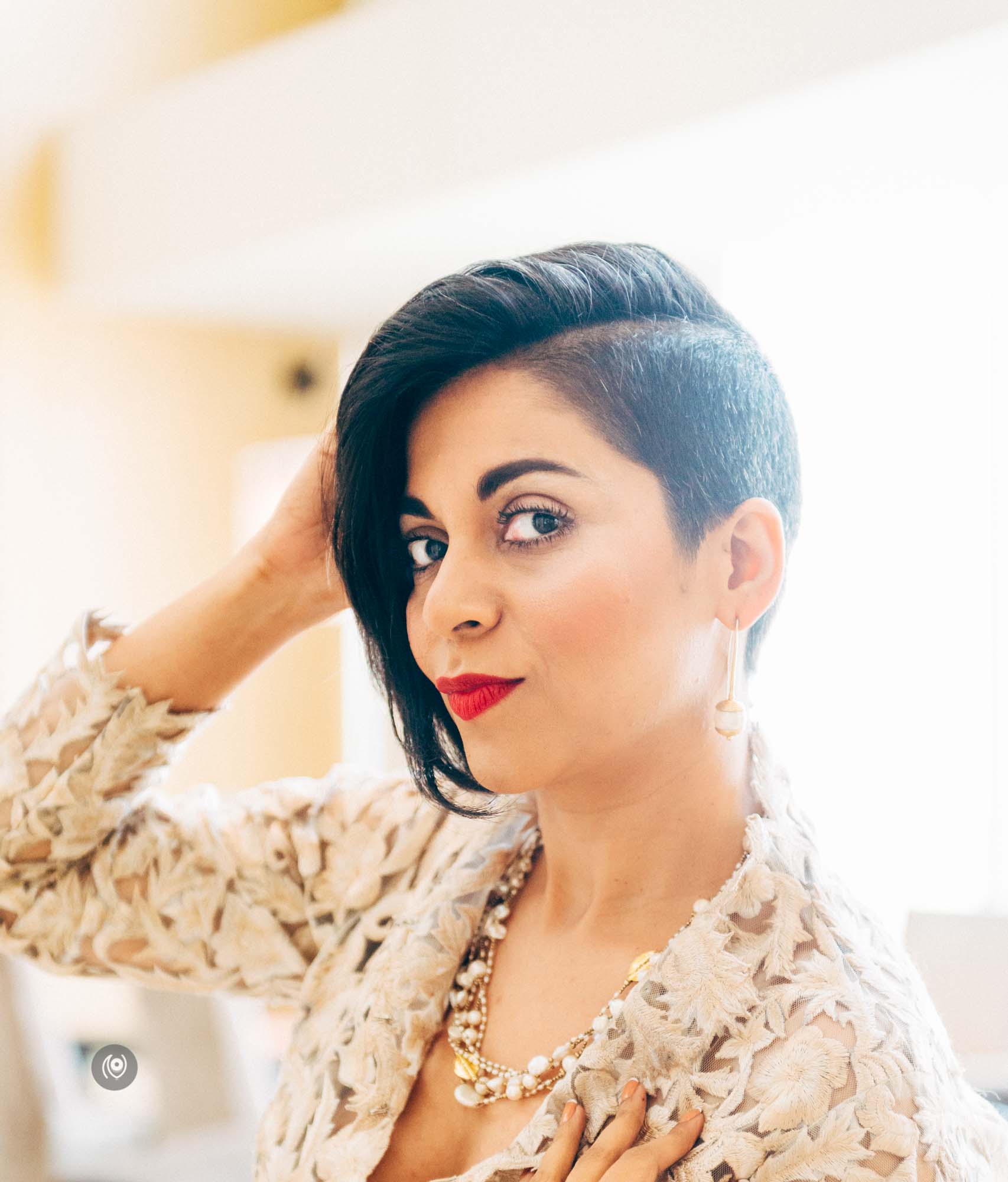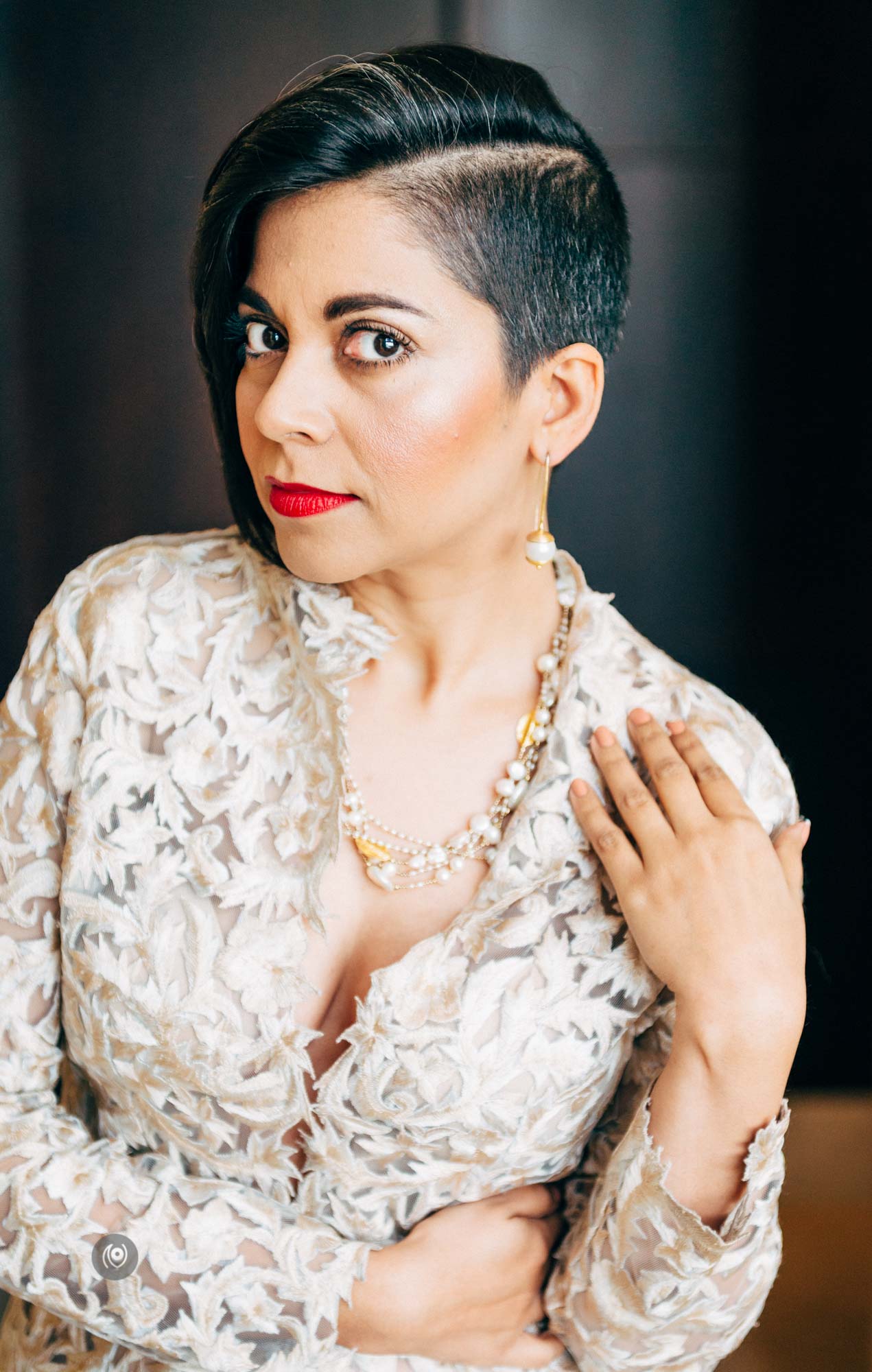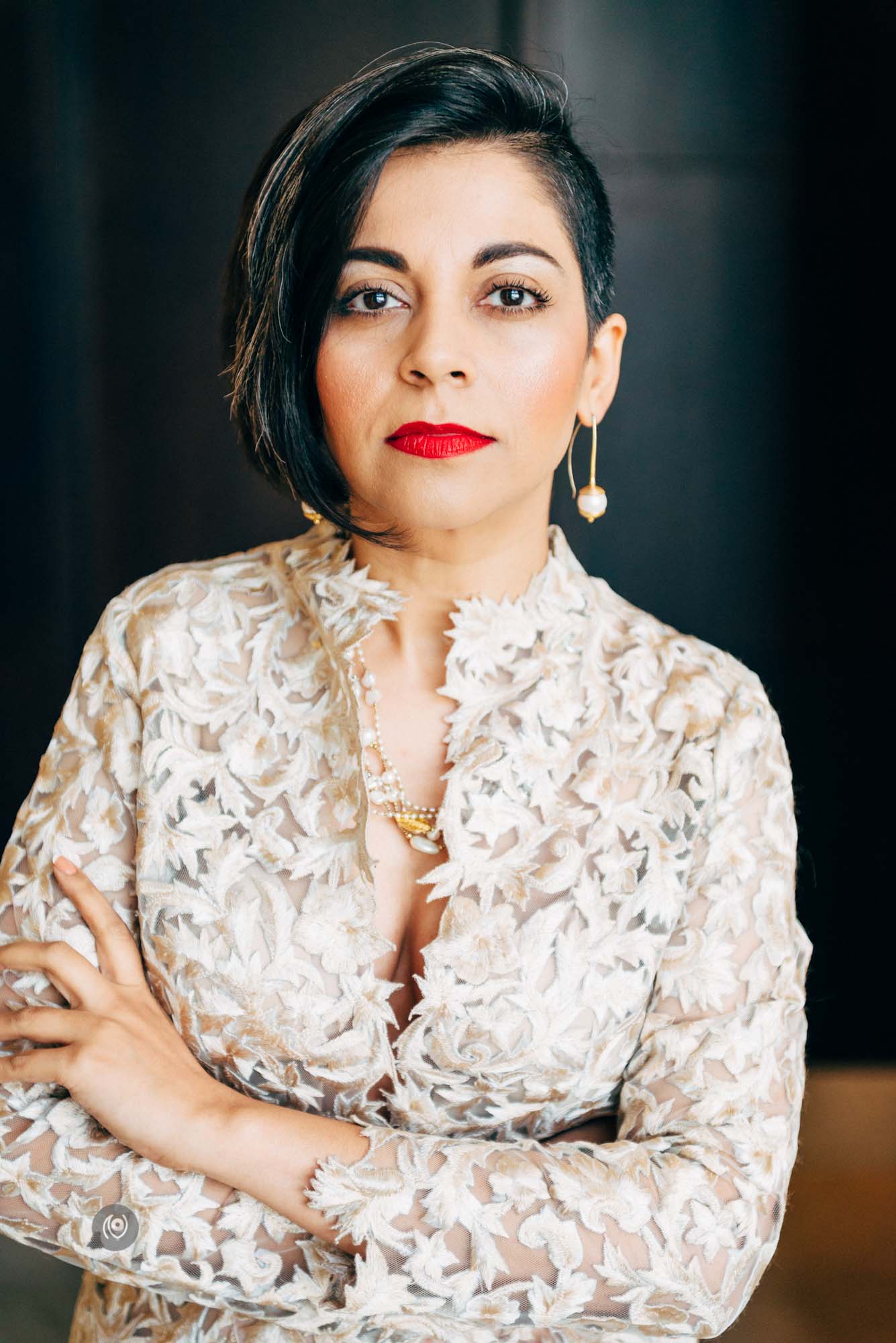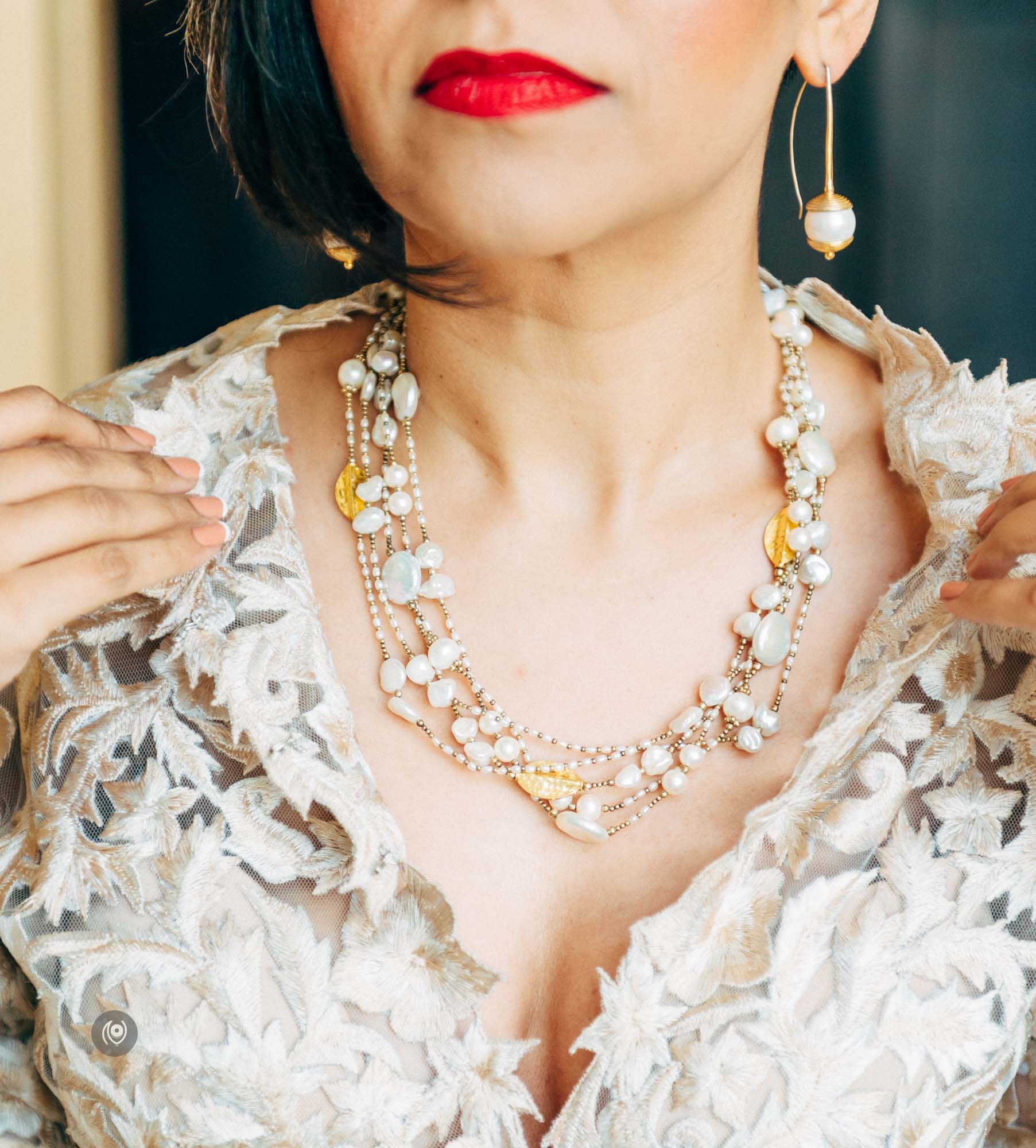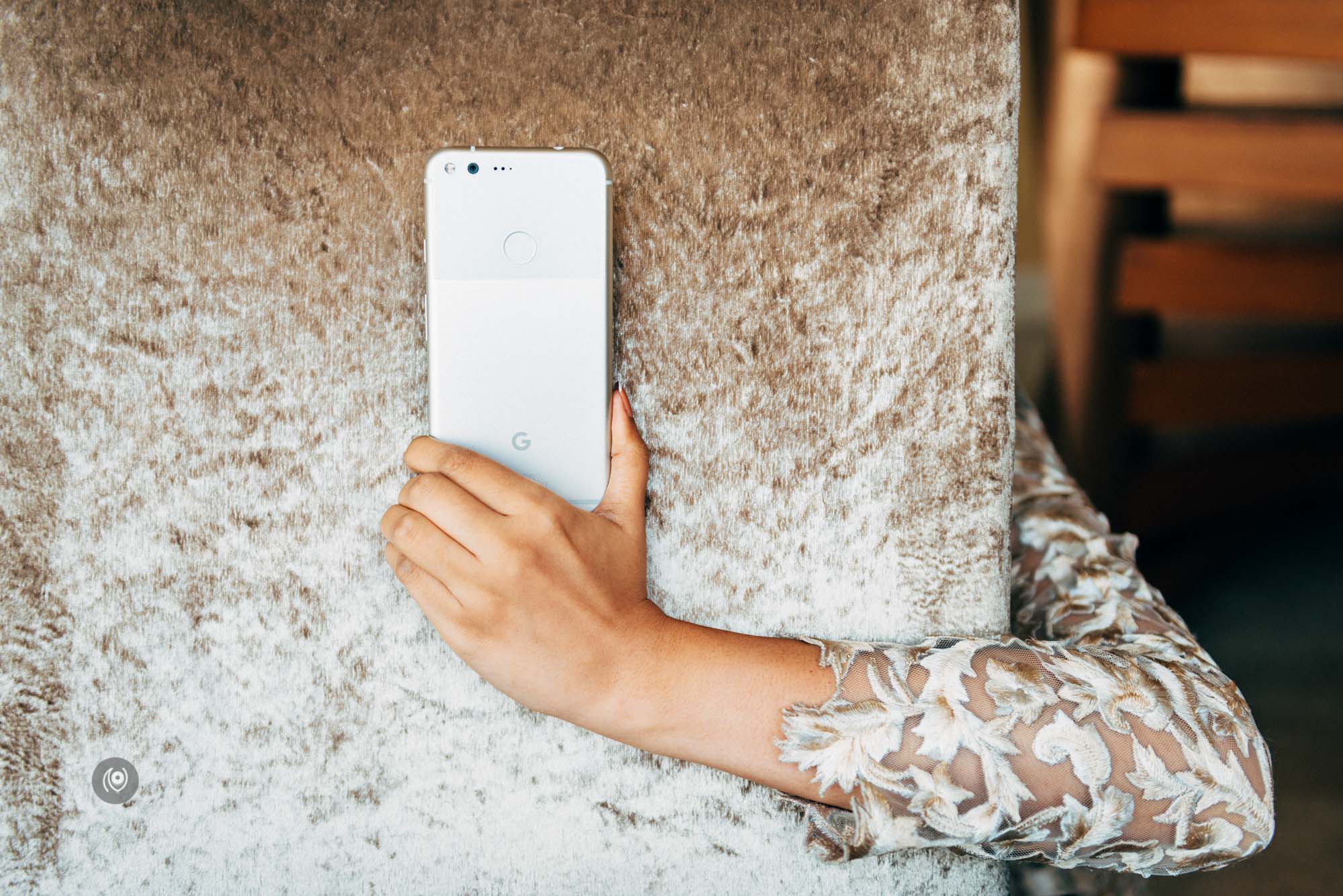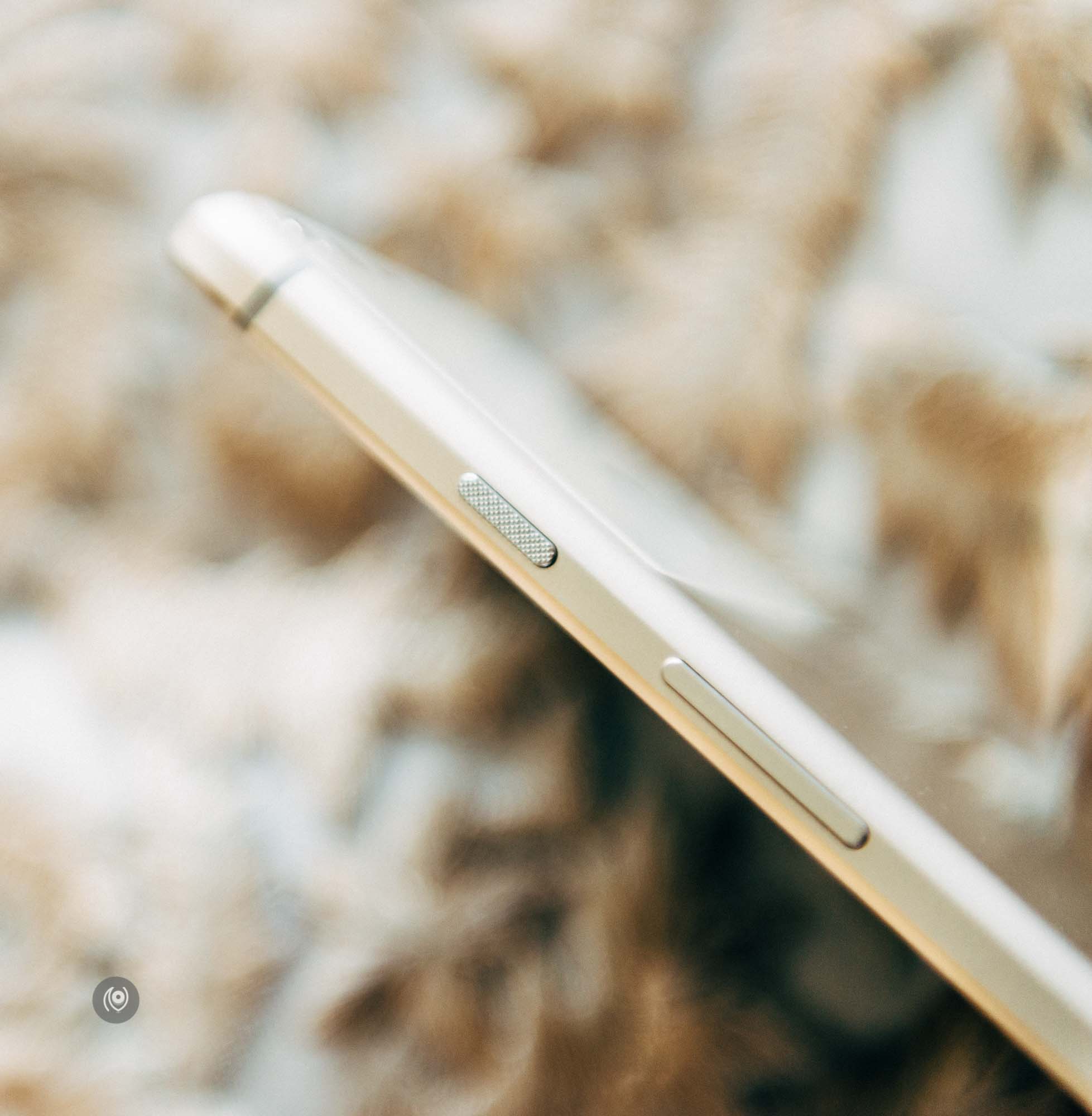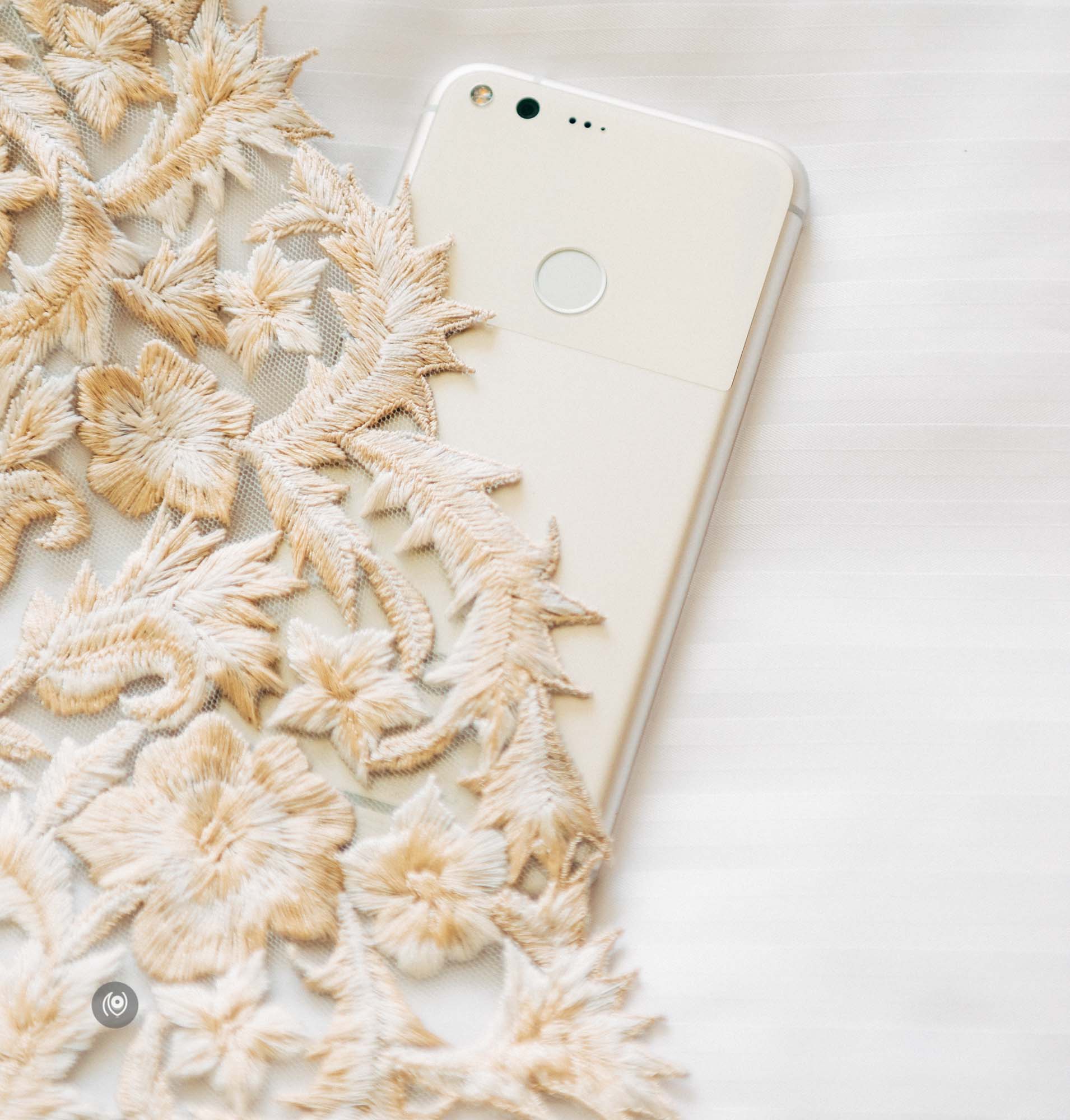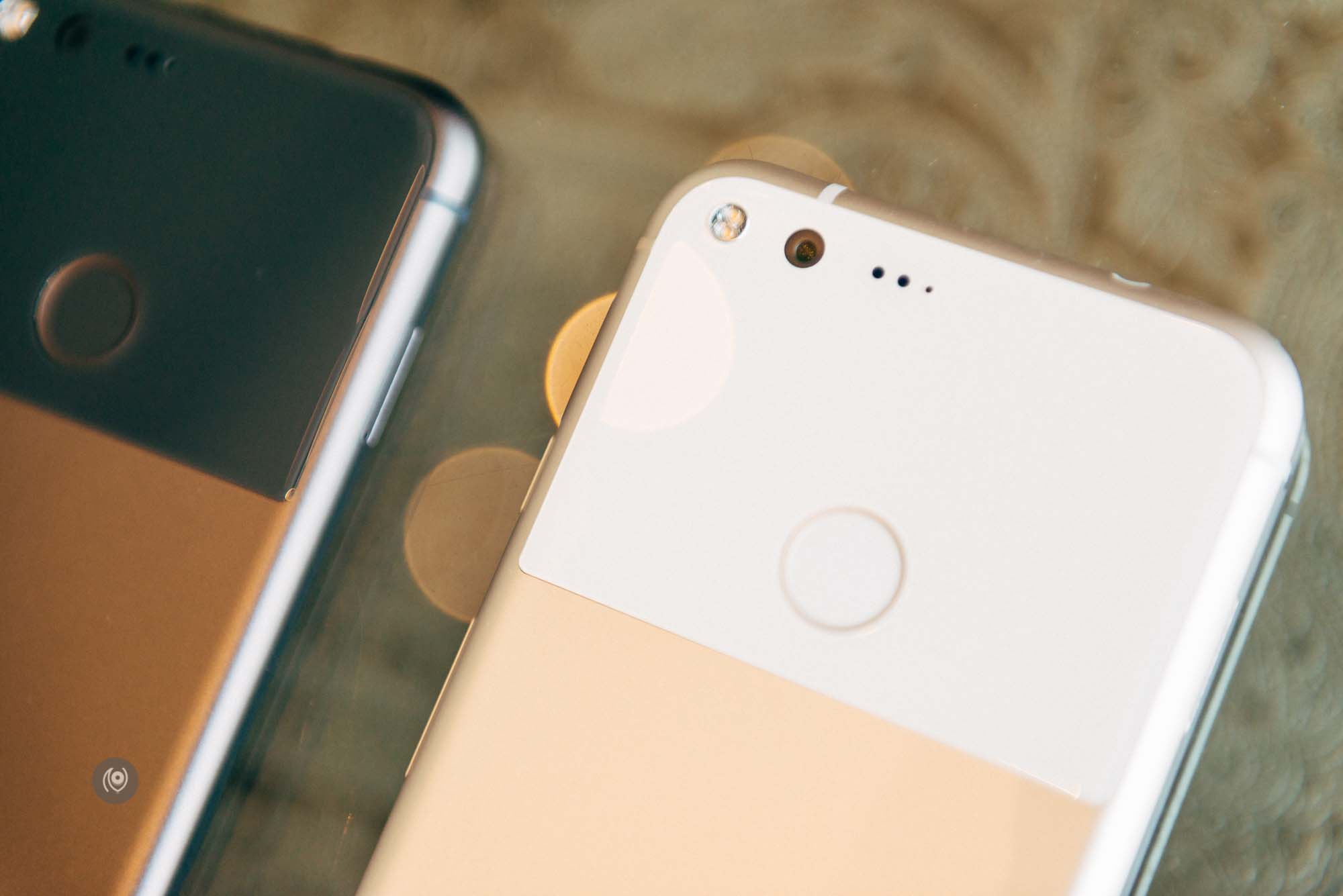 The devices featured in the above images are the black and silver Pixel XL Phones. Devices gifted by Google India. I was hired to photograph guest portraits at the launch event. I used the Pixel XL to make these portraits and then applied the Inkwell filter on Instagram before posting the photos.
My first reaction the moment I held the device in my hands was, "OMG this is so light!" And this was the Pixel XL. Considering the size of the device, it felt lighter than the smaller HTC 10 I'm also using. The second thing I noticed was how snappy the interaction the Pixel's software was. I taxed it with dozens of burst-mode photos and it just kept going with no hitch. A quick charger like the one with the HTC 10 would've been nice. The Pixel does have a quick charger but it charges nowhere near as quickly but the battery on the Pixel lasts a lot longer.
Overall, I'm thoroughly excited about where Google is taking this – as always – nothing new there – always excited about what Google is up to. Including their tear-jerker ads! OMG what is up with those ads! I don't think I've watched a single one without sniffling. I might have also bawled in some. Excellent work.
Before I forget, did you know the Pixel comes bundled with the Google Assistant? I've been pestering her with all kinds of requests and it is just insanely cool to roll over in the general direction of the phone while I'm in bed, say, "Ok Google", and then say, "Set alarm for 8 a.m." AND IT ACTUALLY SETS THE ALARM! I've also taught her names of people in my family, so when I ask her what their names are, she recites them right back. Supremely entertaining and quite a time-saver as well. ( You don't need to unlock the device for this to work – you can just say, "Ok Google" anytime and there she is! )
This Diwali, gift yourself a Pixel!
Read detailed specifications of the device on AndroidCentral.
Google India : Blog | Google Plus | YouTube | Twitter