"You don't wear sarees do you?"
I don't but that doesn't mean that I DON'T. I'm a photographer. I'll do anything for making a picture. 🤌
I was forced to wear sarees for two years during B-School & I developed a visceral hatred for anything draping-related. I used to barely have anytime for breakfast because I had to wake up and go for forced Yoga and then come back, shower, drape a saree and then go to class. 🤯
Barely any time to sleep. Barely any time to even actually study except when in class. It was ridiculous. In hindsight, even more so, which I didn't think was possible.💥
Not the fault of the saree of course but B-School life made me more of a practical dresser. There was no time for style or elegance. Eventually, some of us girls figured out that if you put in the safety-pins a certain way in the pleats and the stacked pallu and didn't take them out while undressing & if you, very carefully, hung the saree a certain way on the hangar, you could re-wear it for atleast a week before the safety-pin holes started to get threateningly bigger.
I did learn how to drape a saree. It's like learning to ride a bicycle. You cannot forget it.
Now of course, you could wear anything but a petticoat under a saree and anything but a typical blouse. Thank heavens because I do not have the patience to get measured for a blouse and then wait for it to be stitched, tried, altered, re-tried, re-altered and so on.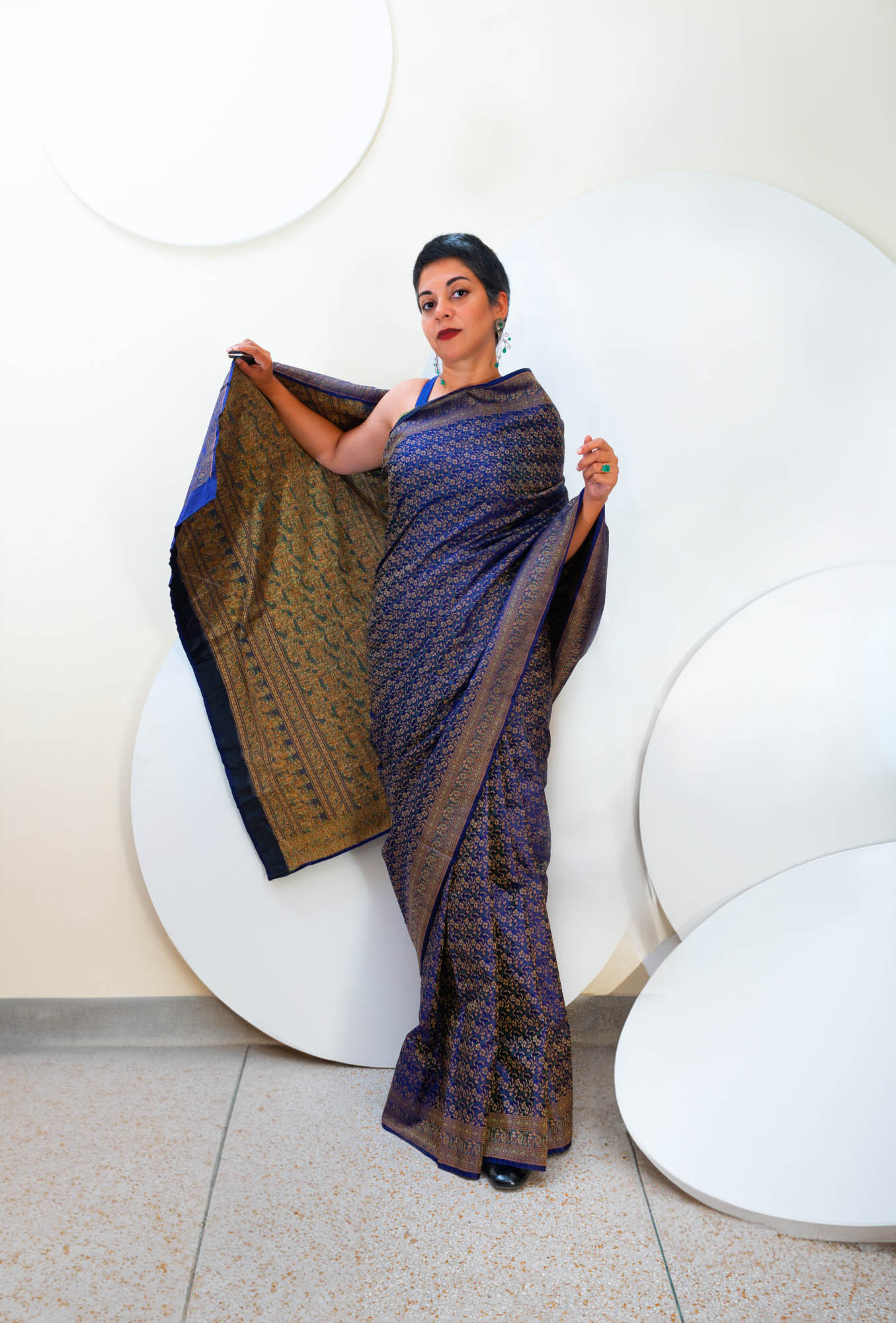 Sweat between the thighs used to be a massive problem. But now one can wear pants under a saree and it's stylish! I love it! ❤️
Earrings courtesy @shayagrams @chhayaisboss
Finger ring is my own.
Saree : from Mom's wardrobe. I'm wearing jeans under it because I don't have a single petticoat. And I'm wearing a Mango ganjee as a blouse. It worked for the purposes of this shoot. Heels of course.
📷 by me