Long having turned up my nose at my notion of what a "Kitty Party" is ( there are many varieties ), when your own mother is part of one, alongwith other grande dames of their respective households ( and some of them have known you since you were in nappies ), there comes a point when one must get involved.
Having chaperoned them a couple of times earlier, taking care of their bookings – and making sure the place they were headed to was fairly warned about how much noise they make – it was only a matter of time we'd put two and two together and work on a story around their "Kitty Party" with a brand I love. ( I'm a fan of Starwood – there's not even an iota of doubt about that. )
So when I pitched this story to Westin, Gurgaon, they agreed to take me up on my offer.
Little did any of know that it would turn out to be a wonderful afternoon with lovely food, lots of laughter, a couple of games and activities, and even a poolside spa experience! And it was a LONG afternoon. The ladies usually start to peel off within two hours of having arrived but at Westin Gurgaon, us two chaperones had to nudge them not-so-gently that it would be prudent to avoid the mad Gurgaon traffic.
After all the eleven ladies had arrived at the lobby, they were guided to the poolside area right outside the gym for a round of healthy mocktails ( none of them drinks alcohol, which we had informed the hotel of before hand ) and a dose of Westin's "express spa". They had a choice of relaxing hand massages or a lovely shoulder massage. Some ladies opted for the former, some for the latter and some for both. ( Who knew, when you're 60+, it's easy to have your request agreed to! It could have also been because of the extremely entertaining banter that the ladies were providing to the masseuses and masseurs. ).
The weather was perfect ( if you don't factor in the pollution in the air in NCR ) and the ladies enjoyed the weak dappled sunlight without feeling too hot. The hotel staff was extremely courteous and polite and by the end of the session, we got a group photo and settled down to sip on the mocktails ( fresh pineapple + cucumber and fresh pomegranate – with some of the fruit pulp still in it ).
Westin has some great options for fresh food and beverages and they've kept up with the increasing demand from customers who want to eat and drink everything "healthy". Luckily, it's easy to spot a hospitality brand that truly does know "healthy" – and no, it isn't just "fresh juices" that fit that bill. In fact, fresh juices can be bad for you because regardless of them having natural sugar, the body doesn't really know the difference. Sugar is sugar. Fiber is important and it's better to eat the whole fruit than drink just the juice.
The ladies were taking their time and we collectively decided to continue with the "games" by the poolside instead of at the Seasonal Tastes restaurant. This was decided considering how much noise they were already making – a lot of fun was being had – and it was best to expend all that noise where no other patrons would be disturbed. The hotel graciously served us nachos with some great dips – getting hot snacks and food would have not made sense because of the distance from the kitchen to the pool area – and we hadn't factored this in earlier. So instead of hot food that had frozen by the time it got to us, we munched on some nachos and the ladies proceeded with their "Tambola".
You can not get the Tambola out of a fauji wife. And eleven of them? A whale of a time.
Seasonal Tastes at Westin always has an insane range of items to choose from – and the brand's push into wellness and healthy food means there's enough to eat even for someone like me who tries to avoid grains and sugar as much as possible. The ladies didn't realize how large the spread was and milled around the "Indian Section" before I sounded the alert for "Chinese" and suddenly there was a beeline for the "Far East" section. And the reaction to the desserts section was way more evident on my face than anyone else's. I had been craving ice-cream for days now – after the Thailand trip and Swensen's, I hadn't had a scoop. And here there were too many to choose from – and all made in-house.
A good spot for a Sunday brunch I reckon. Costs about Rs. 3,000 per head without alcohol. Westin always has something or the other going on – including deals – do check them out on Zomato and keep up with their updates online so you don't miss something special. Links to their social media accounts are at the end of this feature.
The "achaari" chiken tikkas that were served before the meal were fabulous. And the super-foods salad was great too. Westin Gurgaon does food well – and their buffet is more than enough for an entire horde. There's just way too much to choose from. I tend to head to the dimsum section, which is what I did this time as well. Pork dimsums – and I spotted a lovely Bengali coconut fish curry too.
The rose kulfi was great. The coffee ice-cream was great too. I'd have eaten more except I think I got done with my sugar quota for the whole week.
Grateful to Westin and Pooja Singh for helping pull this off impeccably.
The ladies haven't stopped gushing about it and Akanksha and I are still neck and neck vying for the the "favorite child" position with our mother. Although it's no secret that that's Akanksha. But I get my revenge when we get asked who the elder one is. Heh.
As I've gotten older, my search for purpose keeps leading me back to doing something for the parents. I'm extremely lucky to have both of them around and while life's daily to-dos and a separate personal life can mean that we don't spend each day together, both Akanksha and I try to do something for and with them as much as time and work allow. Akanksha recently planned, organized and executed the #EyesForThailand trip for them ( I merely foot 50% of the bill ) and now Westin took me up on an opportunity to organize a Kitty Party for my mother and her friends.
I'd been thinking about this one for months – and then some. Approaching a brand with a personal project is never easy – and one that is SO personal, even more difficult. I will forever be grateful to Westin for this. This meant a lot to me.
I had no doubts about the hotel's capabilities – I already love their food and have photographed at their Presidential Suite previously – but I was touched by how nice each person on the staff was to each of the ladies. Having experienced too many instances of people being rude to senior citizens, I get a bit teary-eyed when someone treats them right.
This feature was as much about Westin's lovely hospitality as it was about me doing something nice for my Mum. And we did it!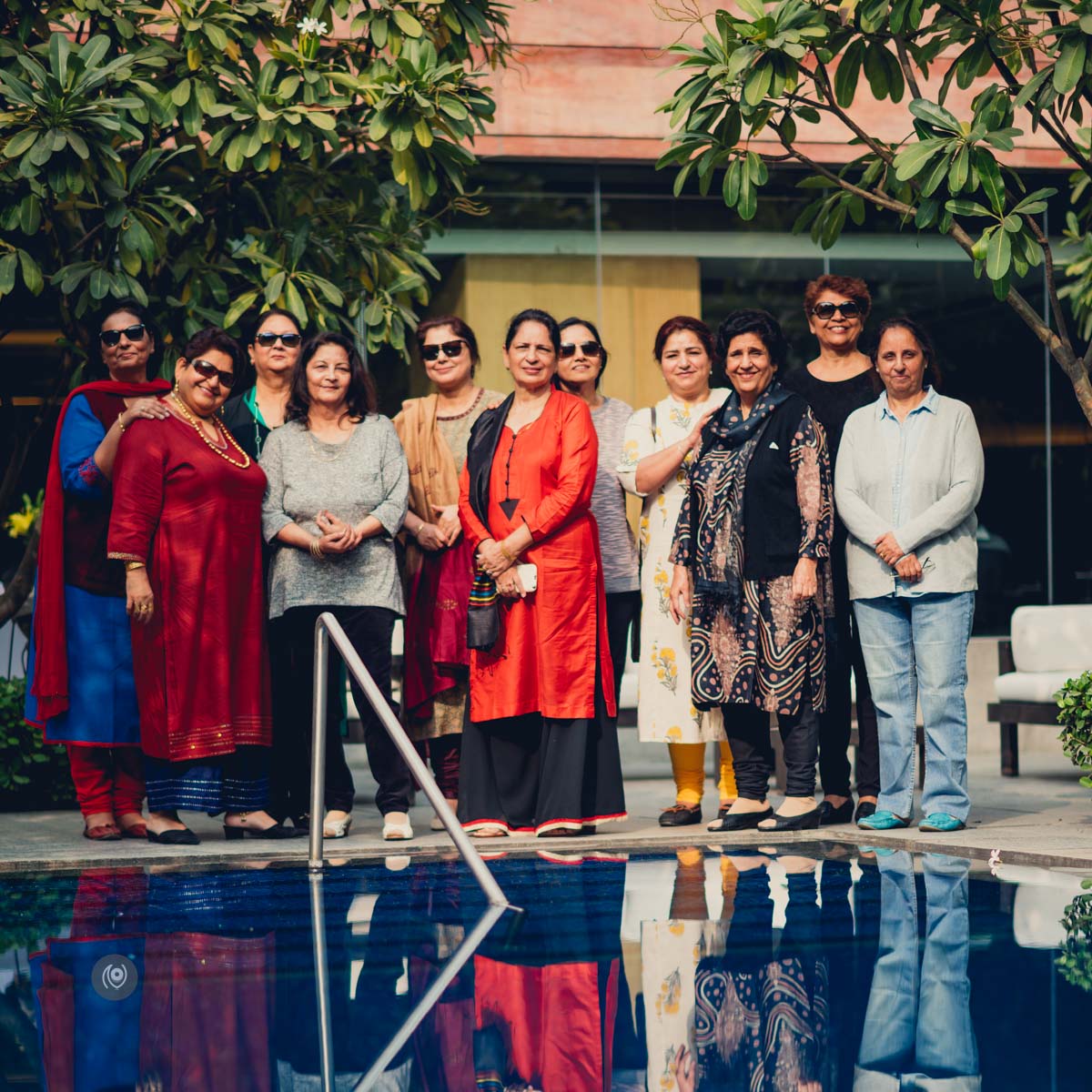 Hopefully the photographs will tell you more than my words ever will. The photo of my Mom's shoulders being massaged – and how the image is framed by the tree on the left – is one of my favorites from this series. All photographed on the new 85mm f1.4 lens I bought just two days ago. Obviously, I'm in love with it.
Never in a million years had I imagined I'd be chaperoning Mom's friends at a "Kitty Party". And never in a gazillion bazzillion years had I imagined actually pitching a story about a "Kitty Party" to a brand I love. Yet, here I am! And what fun it was. Now hopping that the ladies like the photos and I don't get any, "Please remove the wrinkles" demands.
Westin Gurgaon : Website | Twitter | Instagram | Facebook