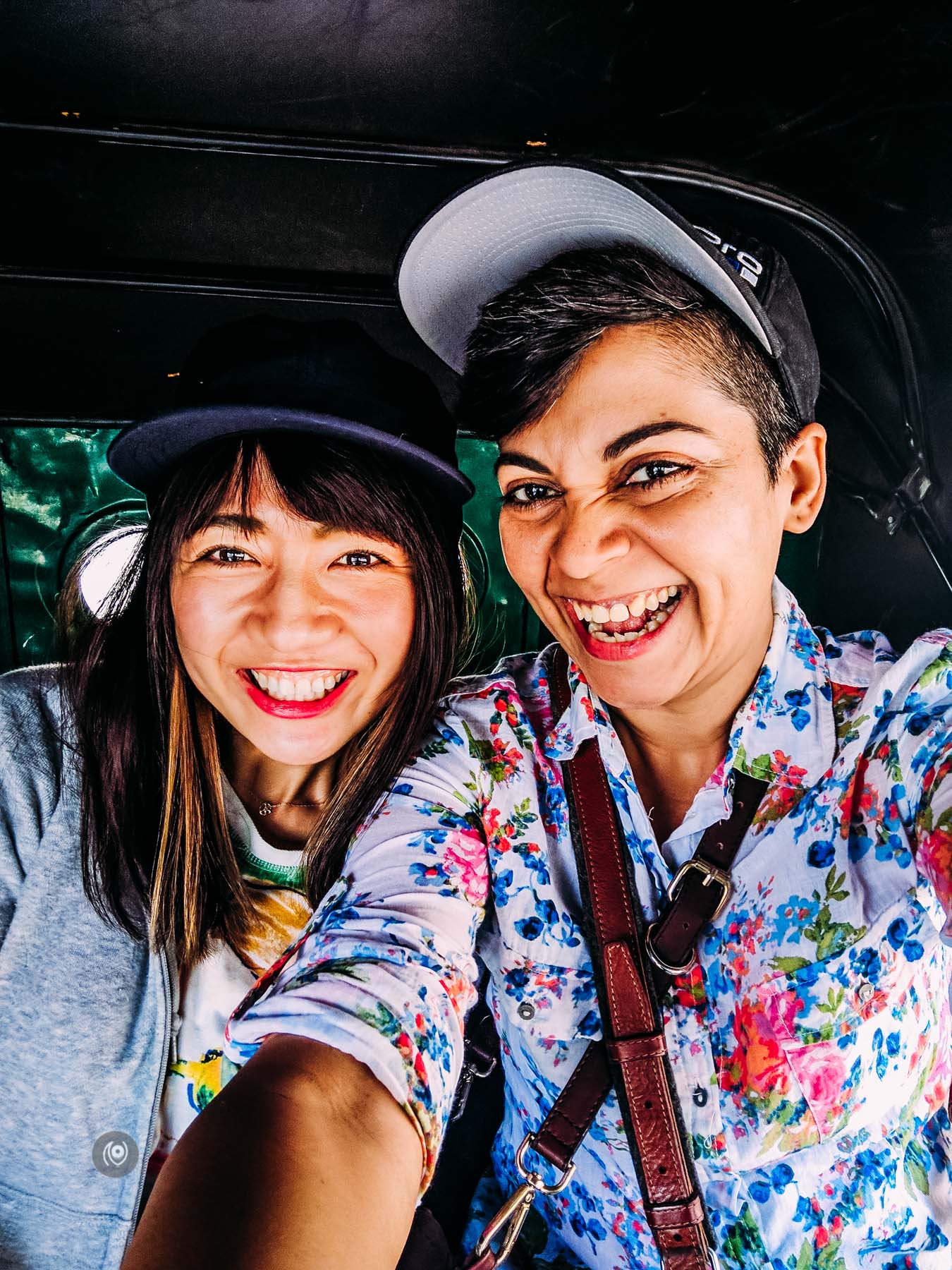 Above : Shiori and I in an auto rickshaw, headed from her hotel ( The Lalit, New Delhi ) to Jama Masjid. You'll never find me in an auto rickshaw in North India, unless I have company. ( For the sake of posterity, I've already blogged – with photographs – the bag of goodies Shiori got for me, all the way from Tokyo. ) After I'd safely sequestered those back into her suitcase ( I was spending the night with her and then we were headed to Varanasi the next morning AND we were going to leave her suitcase at the hotel, which would be picked up by B later and deposited at my sister's place, so that we could pick it up on our way back to the other hotel, which Shiori had booked in Saket. Yes. A lot of planning went into this trip. After my plans to visit Tokyo didn't work out, Shiori decided to take a chance with her plans to visit India. And one evening, the day I'd returned from Rajasthan, there she was! Initially, our plan was to hang out only when she was in Delhi and that she would be doing Varanasi and Agra and anything else she could manage, solo. I didn't want to commit to accompanying her everywhere because I was already tired from Rajasthan. I had only planned to spend the night with her in Delhi. But then I actually met her and of course we quickly booked tickets – plane and train – and off we went! )
But first, Shiori wanted to check out the Jama Masjid, the Red Fort and as much of "Old Delhi" i.e. Chandni Chowk, as we could manage in one day. This is one part of that very long, very tiring, memorable day.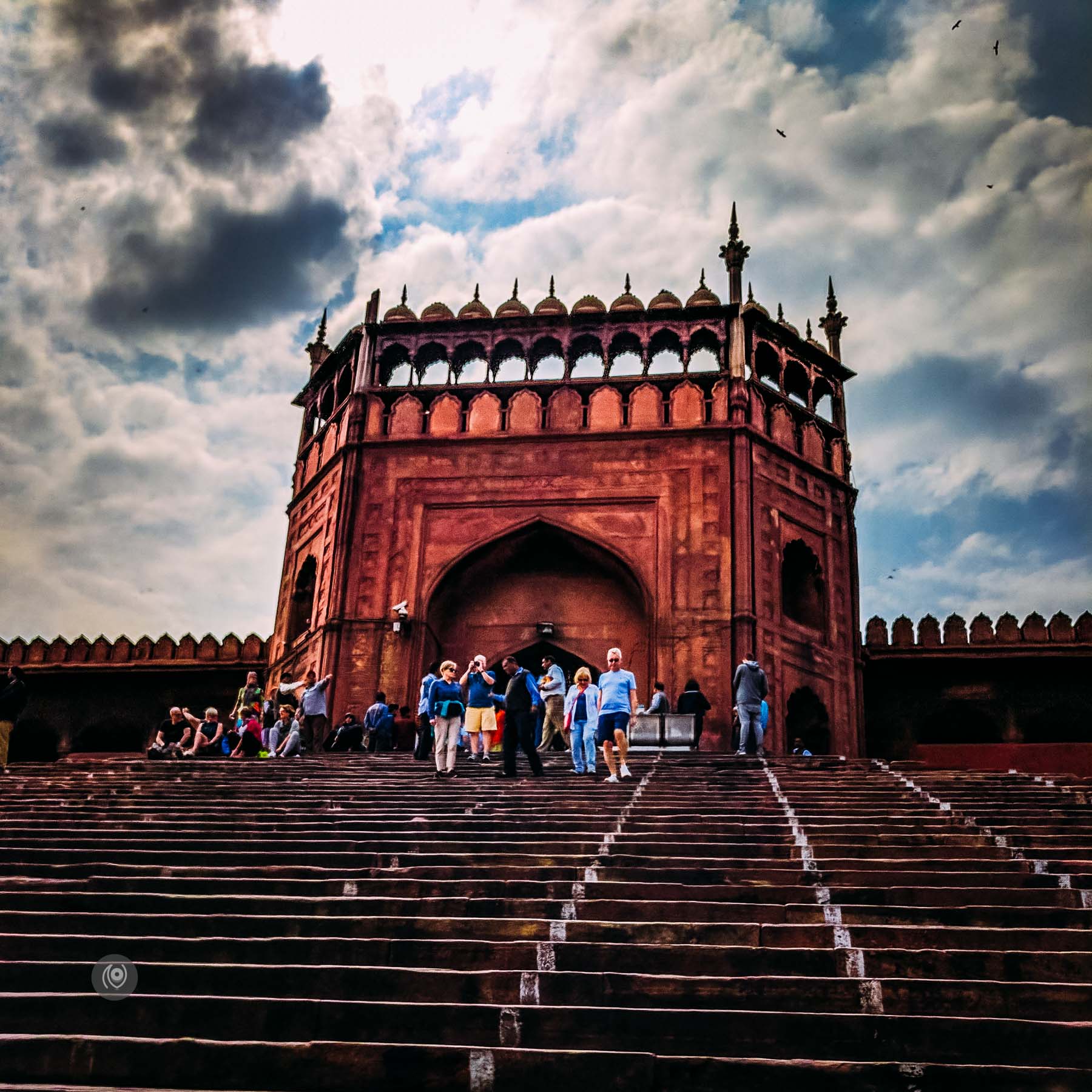 The auto rickshaw from the hotel dropped us off about 500 meters from the Jama Masjid. There appeared to be a traffic jam, we decided it would be quicker if we walked, so we did. After clearing the metal detectors and the stares of the stationed Police officers, we walked up the stairs to be greeted by a throng of people ( all tourists, mostly white ), picking up or depositing their footwear. There were no signs saying that we could do this for a price, so we assumed it was free ( it was not – when we came back to collect our footwear, the "keeper of the shoes" asked us to, "Give whatever you like sister." and wouldn't budge till we had parted with a few tenners ). In retrospect, Shiori was carrying a backpack & we could've easily fit both pairs of shoes in it and carried it with us inside the Jama Masjid complex.
Right after the shoe-collector, there was another gent who gruffly screamed, "Madam, Rs. 300 for camera." I had the Nikon D801 with the 85mm 1.4 lens on it, slung across my shoulder. There was a painted board behind him, which confirmed the price. The board also said that Rs. 300 was to be paid for a mobile phone as well, since that is a camera too. I had a mobile phone in my hand, as did Shiori. But he took Rs. 300 from us, gave us a piece of paper confirming the receipt and waved us on.
Within another two strides, we were accosted again. This time by a man, who basically shoved a colorful drape toward Shiori. I wasn't sure why he wasn't shoving one my way, till I realized I had a baseball cap on. From what I could gather – there was no information board – women's heads need to be covered when they are inside the Jama Masjid complex. ( I've lived in Delhi on and off earlier and I currently live in Gurgaon. This was my first time to Jama Masjid and I was already beginning to understand why I hadn't visited sooner. )
We walked around for a bit, Shiori took off the drape / cape from her head and let it fall to her shoulders – we'd observed a bunch of other Indian and foreigner ladies doing the same, so we went with it – it was hot. We climbed some steps to where other tourists were posing and taking pictures and were immediately accosted by a man who demanded, gruffly, that we show him our "camera receipts". I produced mine, to which he loudly added, accusingly, "Where is the receipt for her camera?" all the while pointing toward Shiori. I explained to him that we'd shown the mobile devices to the main gate and hadn't been charged but he didn't care. He wouldn't let us proceed until I'd produced another Rs. 300. I had raised my voice by then and demanded to know why Shiori was being charged but I wasn't – for my mobile device, to which he responded with, "She is foreigner, she has to pay for everything." Now I was seething with rage. It seemed completely unorganized and at any moment, any strange man could plop into our paths and demand another bunch of money for pretty much anything he wanted. Disgusting. What a "welcome to India" for a guest.
Of course, Shiori couldn't care less. She was here for a purpose and that purpose was to soak in everything she possibly could, as fast as she could. She was unstoppable, always smiling, always looking ahead. I probably got through the 3-4 touristy days in Delhi/Varanasi/Agra solely because of her spirit and attitude. I wanted to punch everyone and everything and she continued to smile. It was no surprise that she wanted to climb one of the minarets that was open to public viewing. No surprise when that had a ticket too. Rs. 50 for the Indian and Rs. 300 for the foreigner. Regardless of how "official" the ticket collector's booth was, this brazenly public price differential is appalling.
Anyway, we climbed the narrow steps of the spiraling tower – we had to deposit our backpacks at the entrance of the tower – the keeper-of-the-bags was unable to explain to us why we were required to do this. He handed out tokens to us – to identify our bags – and off we went with our cameras and mobile phones.
We stopped in the middle of our climb, at the only available window, to catch our breath and to let descenders pass. There really is no room for two people to cross each other unless both decide to rub themselves flat against the walls. When we were finally up top, there were metal grilles obscuring the view of the city, but of course. But we met two fun creators like me, so it was all good.
Above : Ashley Renne aka @travellushes on Instagram. Her YouTube channel.
Below : Brandon aka @officialbrandonblue on Instagram.
They were both here all the way from Atlanta, USA and just like Shiori and me, it was their first time at Jama Masjid. It was their first time in India too – just like Shiori. Brandon was quite stoked to find out that I actually live here. "You actually LIVE HERE! Don't you go crazy making photos and just traveling?" and I was like, "Ummm no. Why would I do that?! It's terrible. It's unsafe. It's polluted." and he could NOT believe what he was hearing. He was like, "But if I lived here, I'd go totally nuts!" Luckily Ashley piped in from the background with, "It's like when we're in Atlanta – we don't do touristy stuff do we?" Because I didn't really know what else to tell him! Even Shiori couldn't believe that I'd never been to Jama Masjid and that I'd been to Chandni Chowk only once and that too only because there was a client photography gig to be done.
I would like to add that this Jama Masjid / Old Delhi visit was TWO DAYS PRIOR TO HOLI. Not only was I dressed "safe", full sleeved shirt, loose denims, sneakers, inconspicuous black backpack, no jewellery – I had also picked a shirt that was already colorful – so if someone did managed to throw colored water on me, even if the shirt got wet, nothing would be "transparent". Yeah, no one takes your permission before throwing color on you – regardless of whether you're a stranger or not. "Consent" is not something most of the Indian populace "gets".
We got some views of the city, stood around for a bit, till it got so crowded at the top of the tower that we decided it was best to leave. Descending wasn't half as tiresome as the ascending was. We were both hungry by then and when we got to the bottom of the tower to collect our bags, yet again, "Madam please give Rs. 30 per bag." By now I think was trigger-happy ( more like "purse-happy" ) and I quickly fished out the cash and we fucked off. But not before I made a mean face and presented it to the keeper-of-the-bags. I know that's childish behaviour but what else to do? If they'd told me at the entrance that Rs. X is the total fee and Y percent of it goes into the maintenenace and upkeep of the Jama Masjid, I'd be more than happy to pay that amount and never think about it again. Heck, I'd be happy to do that. We need to take care of our monuments.
Before exiting the Jama Masjid complex, I asked the "official looking ticket booth" gentlemen where I may take a "foreigner" to grab a bite. I suppose he understood without my having to explain and said, "Madam, go to Al Jawahar, it is right outside the gate and it is clean and quiet. Many tourists go there." I asked Shiori if she really wanted to "eat local" and she confirmed. Almost all my tourist friends get the Delhi-Belly and I didn't want her to get it at the start of her trip.
We walked to Al Jawahar and looked at the menu board. I explained what each one meant – as accurately as I could managed – and we asked for a table. Staff was minimal at this point because it wasn't yet lunch hour and it was easy to find an empty spot. The restaurant has three levels of dining space, so I'm sure they're able to accommodate the rush-hour crowd anytime.
The order was a lot of mutton and chicken and naan. They also threw in a complimentary chicken dish – they were trying something new for the menu and wanted us to have a taste. It was delicious but we were already more than half way through our meal by then, couldn't do it justice. The food was filling, they had bottled mineral water that did not look fake and we had to head to the Red Fort right after the meal. It was probably one of the best local meals I've had in Delhi and it was definitely because of the company.
As we were entering the restaurant, a school boy ( he was wearing his school uniform ), brushed against Shiori. I didn't notice it because I was in front of her – which was the last time I was in front of her – I forced her to walk in front of me at all times from this point on. Shiori looked at me quizzically as she told me what had happened. I was furious and was about to launch a few choice abuses in Hindi – into the ether I might add because I didn't really want to get involved in any sort of conflict / showdown. Luckily, a gentleman – probably in his 50's – sitting on a scooter a few paces ahead of us – had seen what had happened and intercepted the school boy gently. He put his hand on the boy's shoulder and proceeded to explain something to him. We couldn't hear him but it seemed like the boy was getting a gentle lecture about how guests must be treated. I was quite pleasantly shocked – and relieved.
So far, no water balloons or color either. That didn't last too long though, as we took a cycle rickshaw to the Red Fort, since I was NOT willing to take Shiori for a walk-around in Chandni Chowk, I suggested to the cycle rickshaw driver to pedal us through a longish route so she could see some parts of the area. Sure enough, I felt a splash of water on my shoulder within a few feet of having sat in the cycle rickshaw. Someone had thrown a water balloon, presumably aimed at either one of us. the balloon had been intercepted by the rickshaw's roof. Four successive, unsuccessful, water balloon throws later, we were out of their "launch range". It was just the beginning. At the end of the trip, I'm happy to report that we did not get any more water balloons or color thrown on us. Even when we went out in Varanasi on the day of Holi. More later!
*Huge thanks to The Lalit, New Delhi for arranging last minute room add-ons ( ME! ) and the confirmed train tickets to and from Agra. The concierge was par excellence. (Thank you Rajeev for your quick help!)
Read more about the Jama Masjid here on Wikipedia.
See #EyesForDestinations for all travel-related features on Naina.co