( The image above is a cinemagraph – if you're on a slow internet connection, it might take a minute to load completely. )
Golden warmth to you in the new year! Happy 2016!
It's no secret that I'm a huge fan of Kama Ayurveda's products. The boy and I shop from their store at Khan Market whenever we're there. So when an opportunity to work on a barter feature came up, I grabbed with both hands! Their products are rich, creamy, lovely and I especially love the fragrances they infuse in their products – they have worked that out well for the most part. There is one product that I love using but I can't stand the fragrance but I still use it because nothing else works on my hand like the Kama Ayurveda Hand Cream does.
I've focused on moisturising for the winter season in this feature. Growing up, there was no big focus on skin care apart from keeping it clean and maybe using a heavy body cream smeared on the face to prevent dryness and cracks from the cold during winters. Being a fauji family, we moved from tropical locations to desert locations to metro cities etc. and every new location had it's own challenges when it came to skin reactions. I still use soap on my face to clean it – follow it up with awesome moisturising of course. ( I have a soap fetish. So to make space for new ones, I have to use the old ones. )
The products below fit a simple routine. Hands, Feet, Face and Body and Lips. And a nice beeswax candle to add warmth to your senses. I didn't know Kama did candles! I love fragrant candles! Details of all products at the end of the photographs. ( Shot on a beautiful Ritu Kumar dupatta to bring on the holiday bling and gold sparkles. )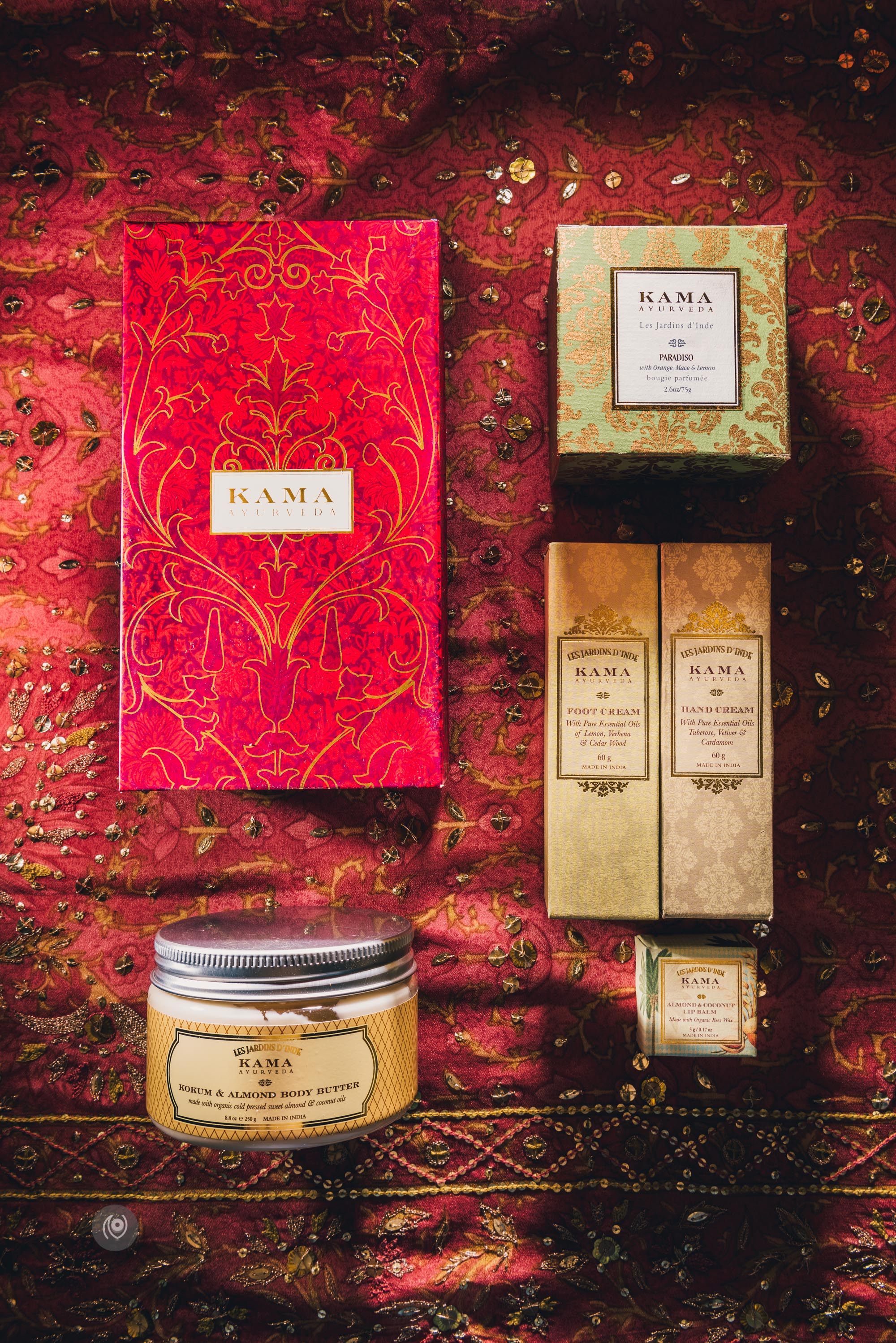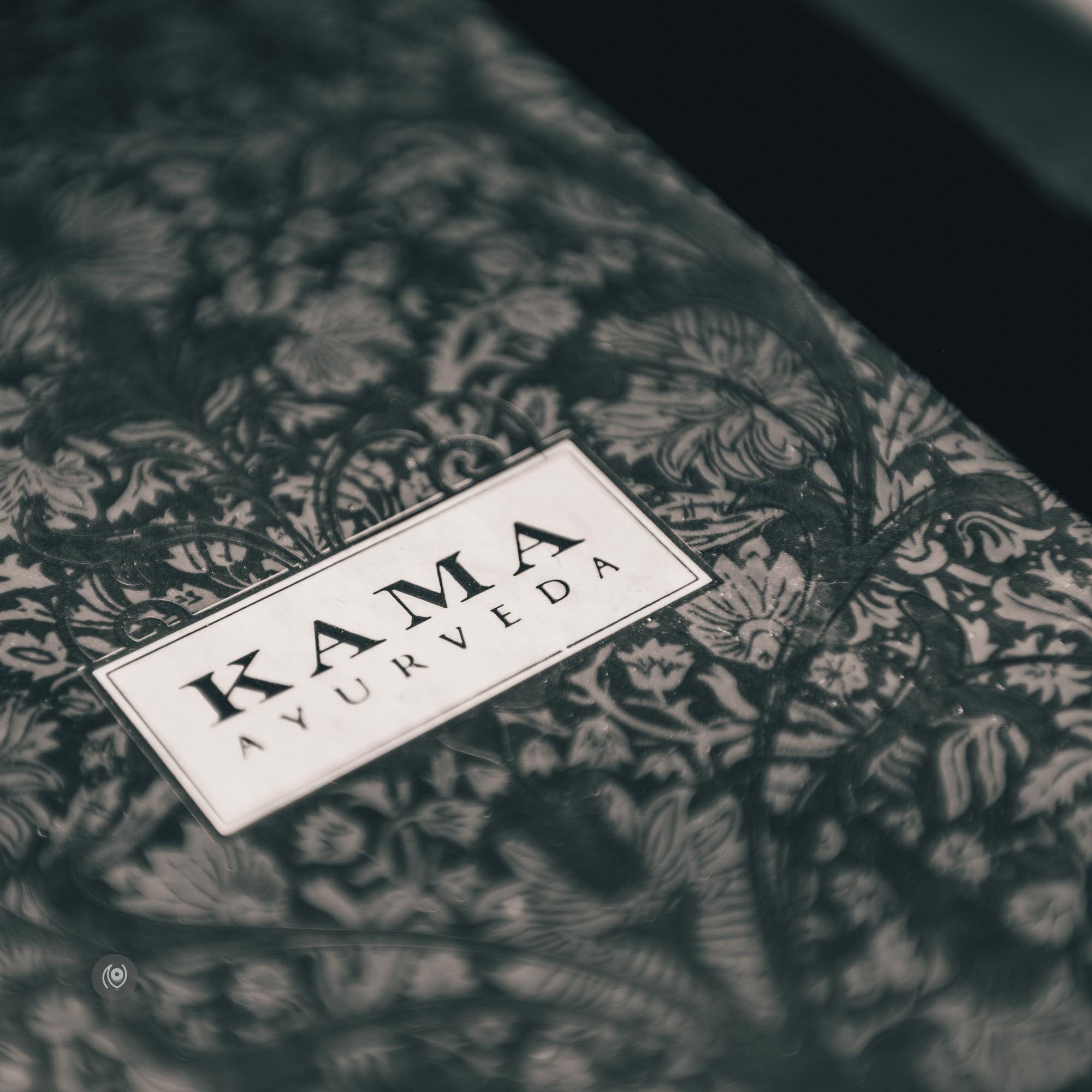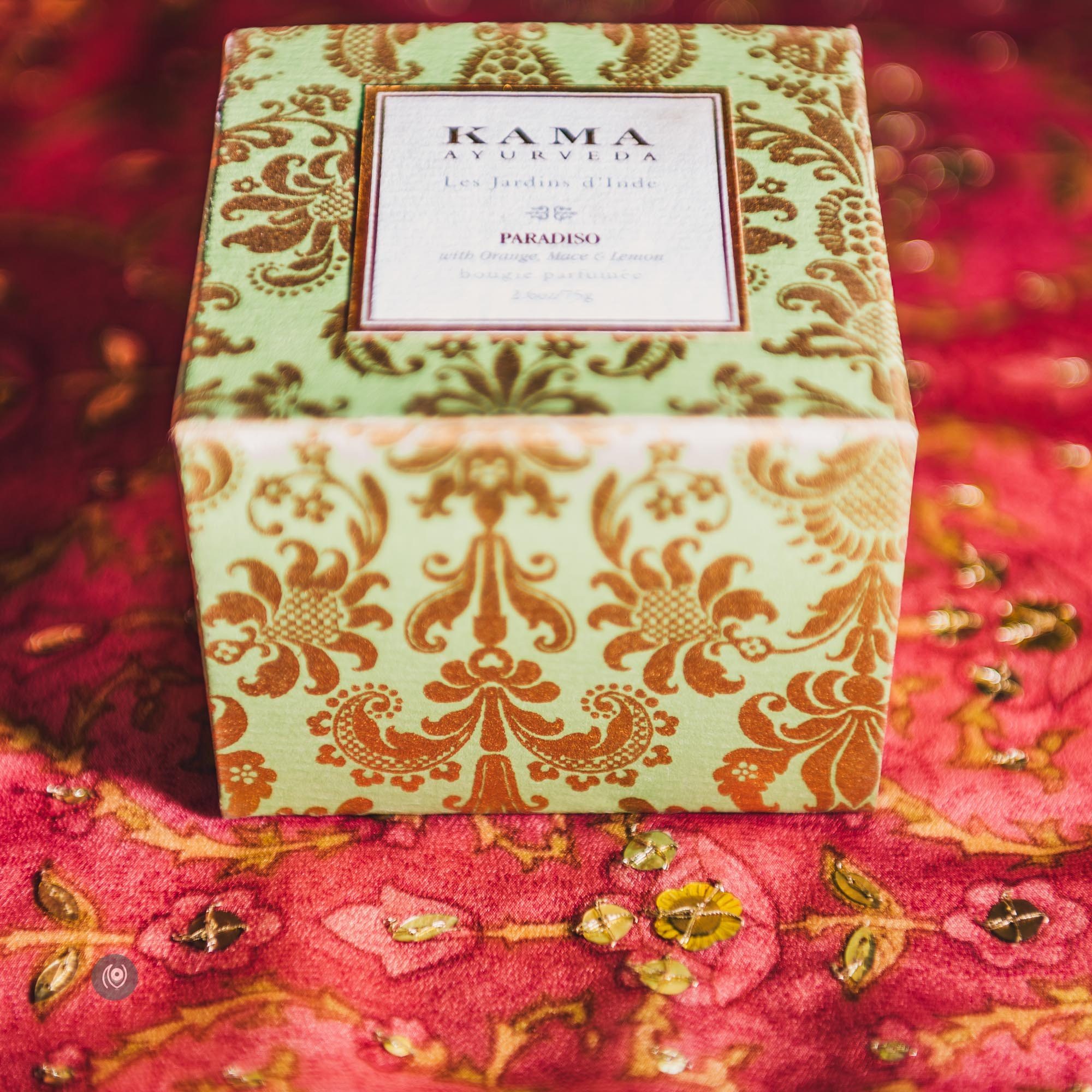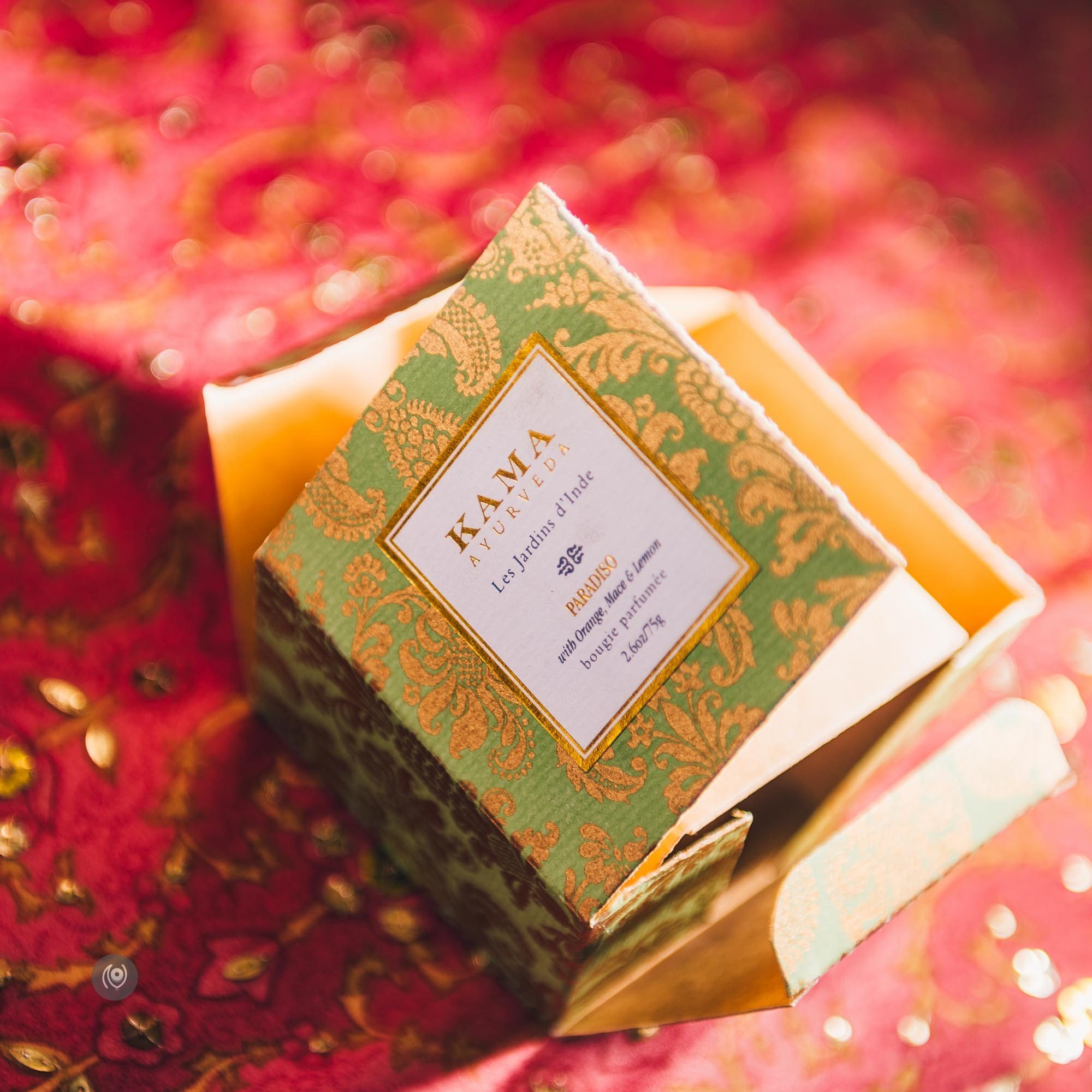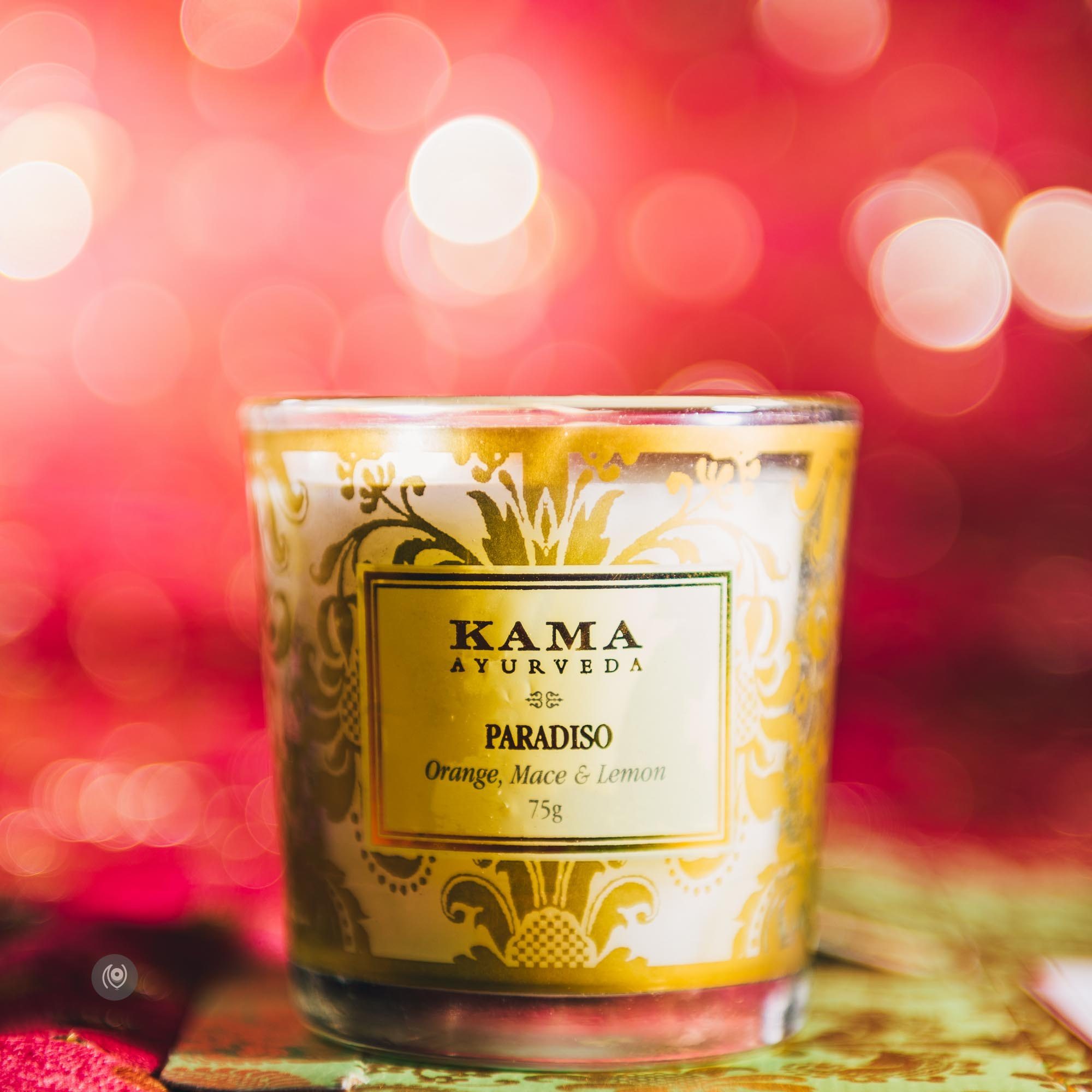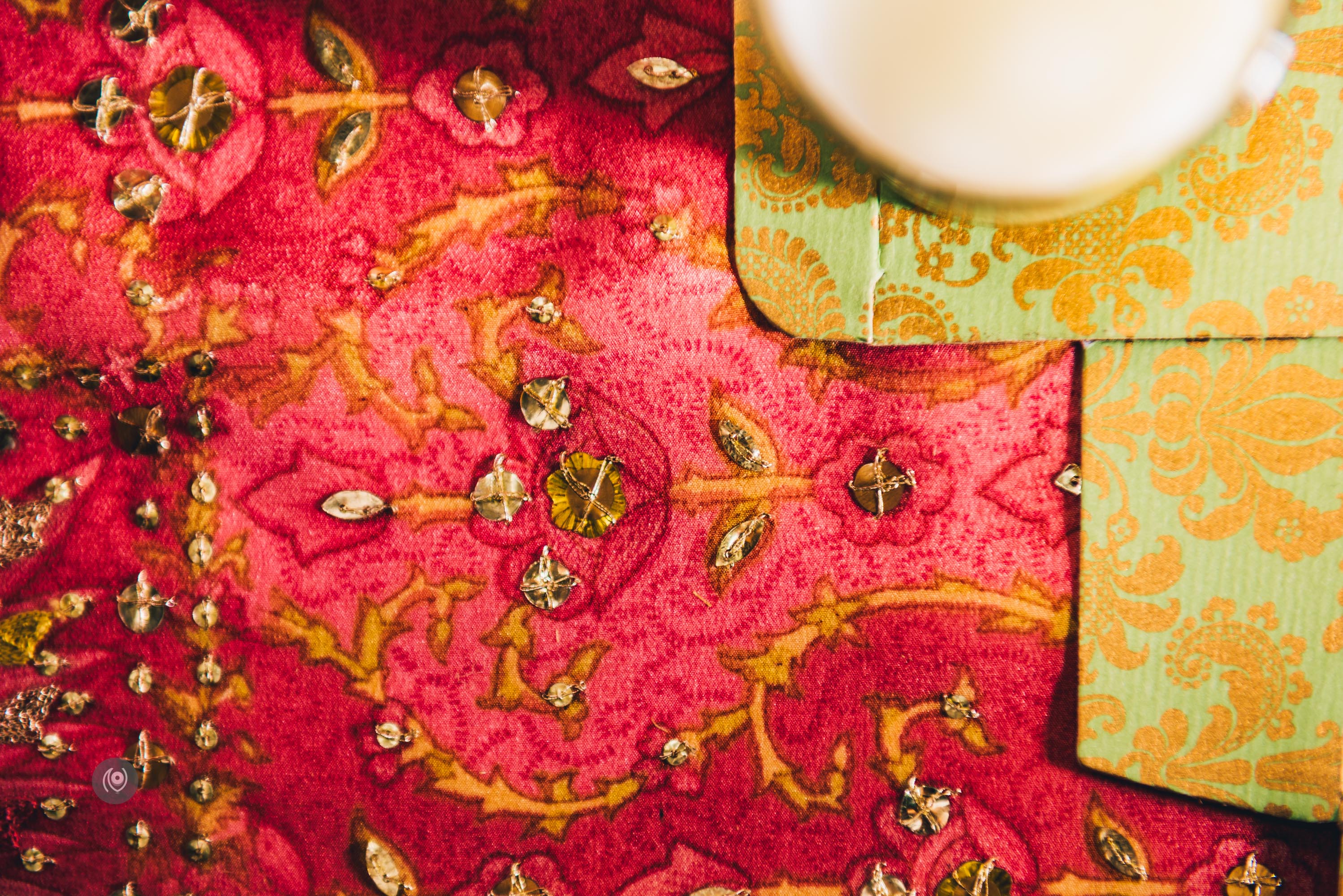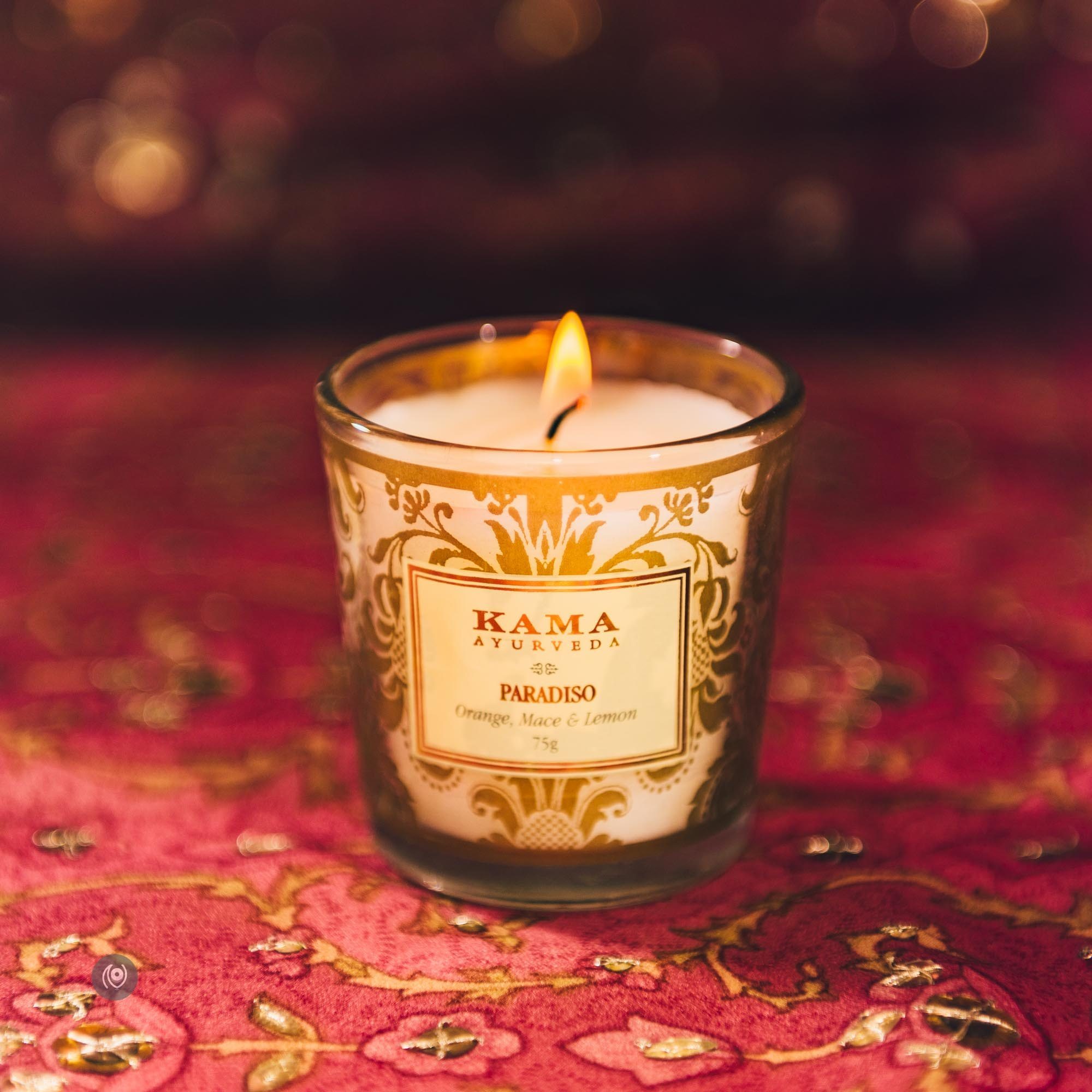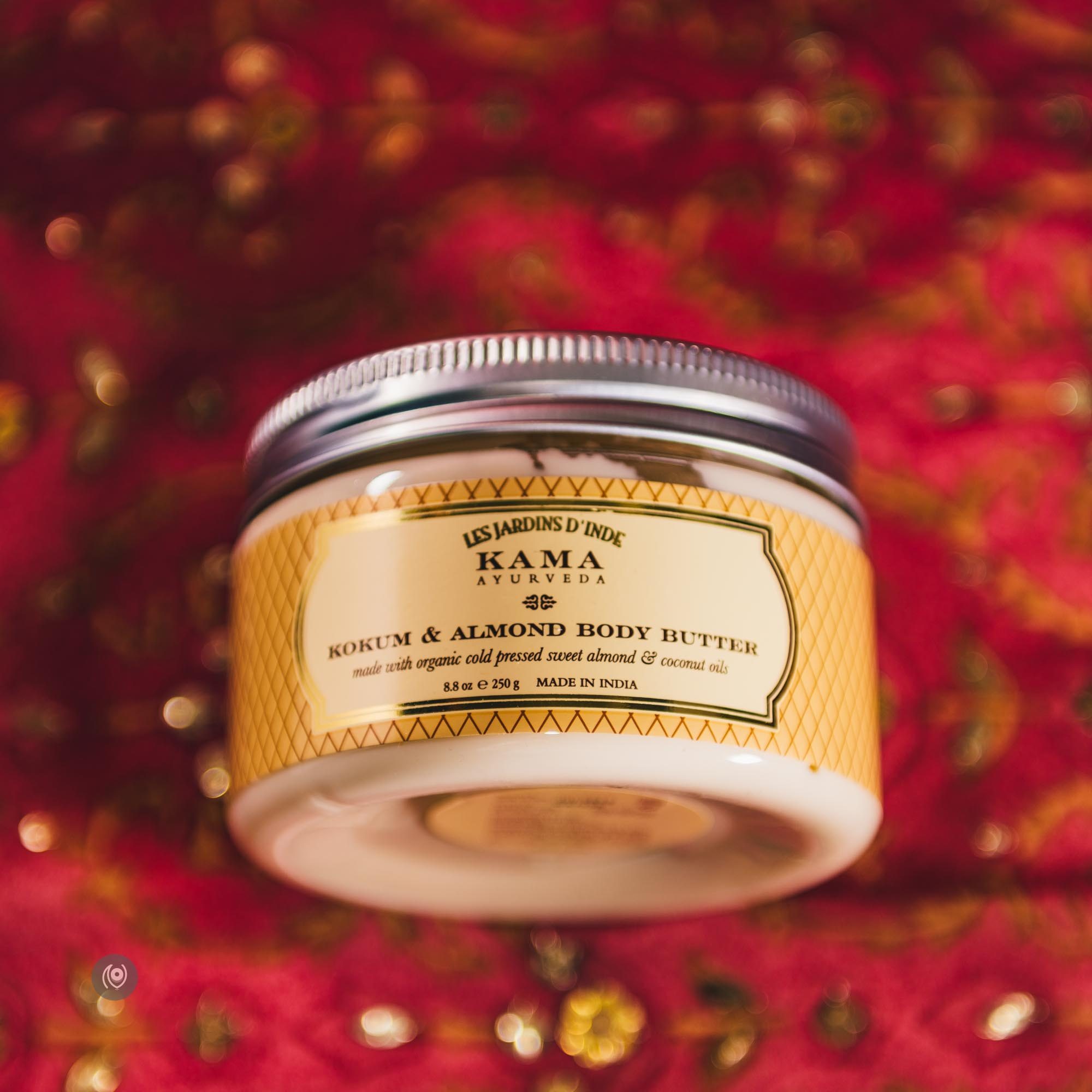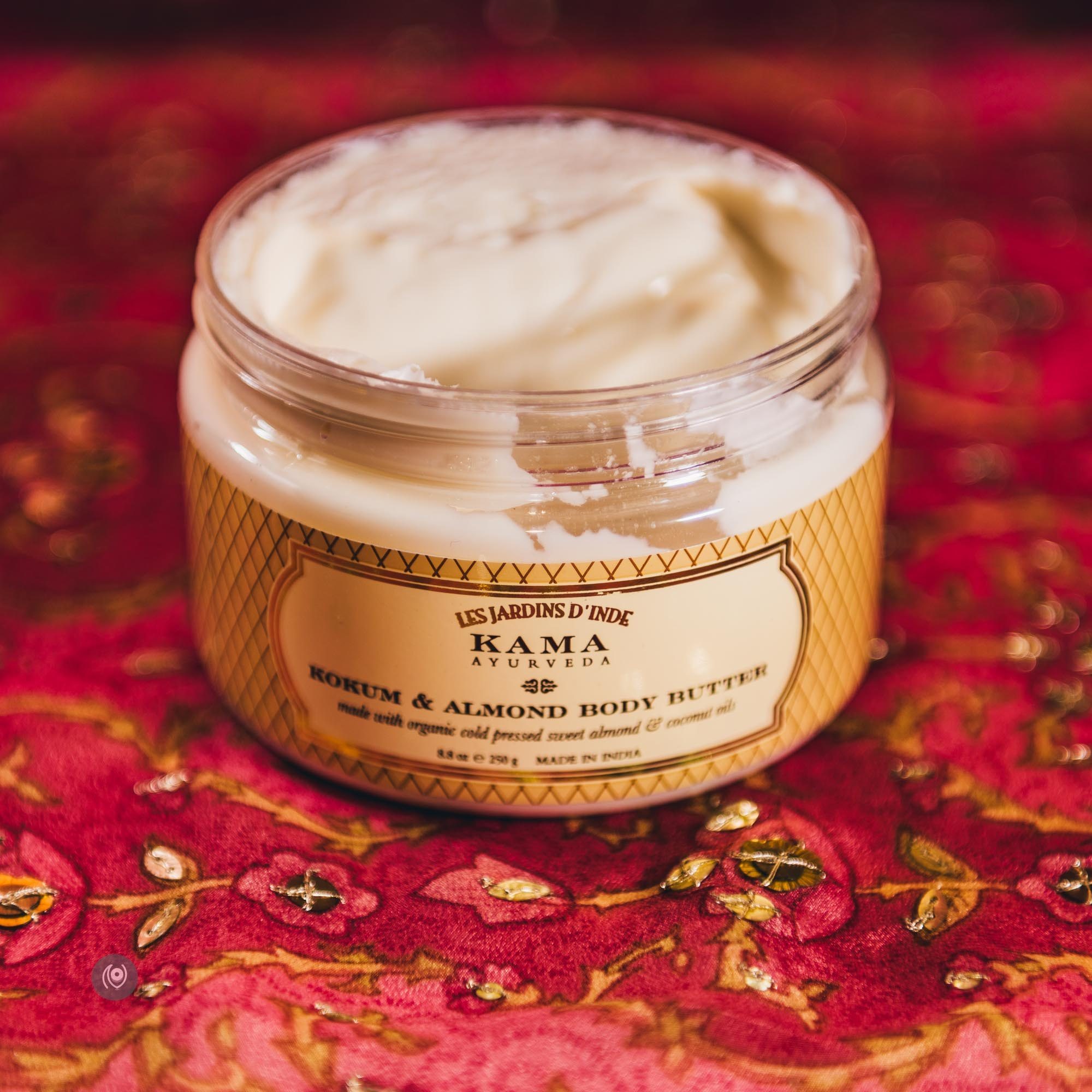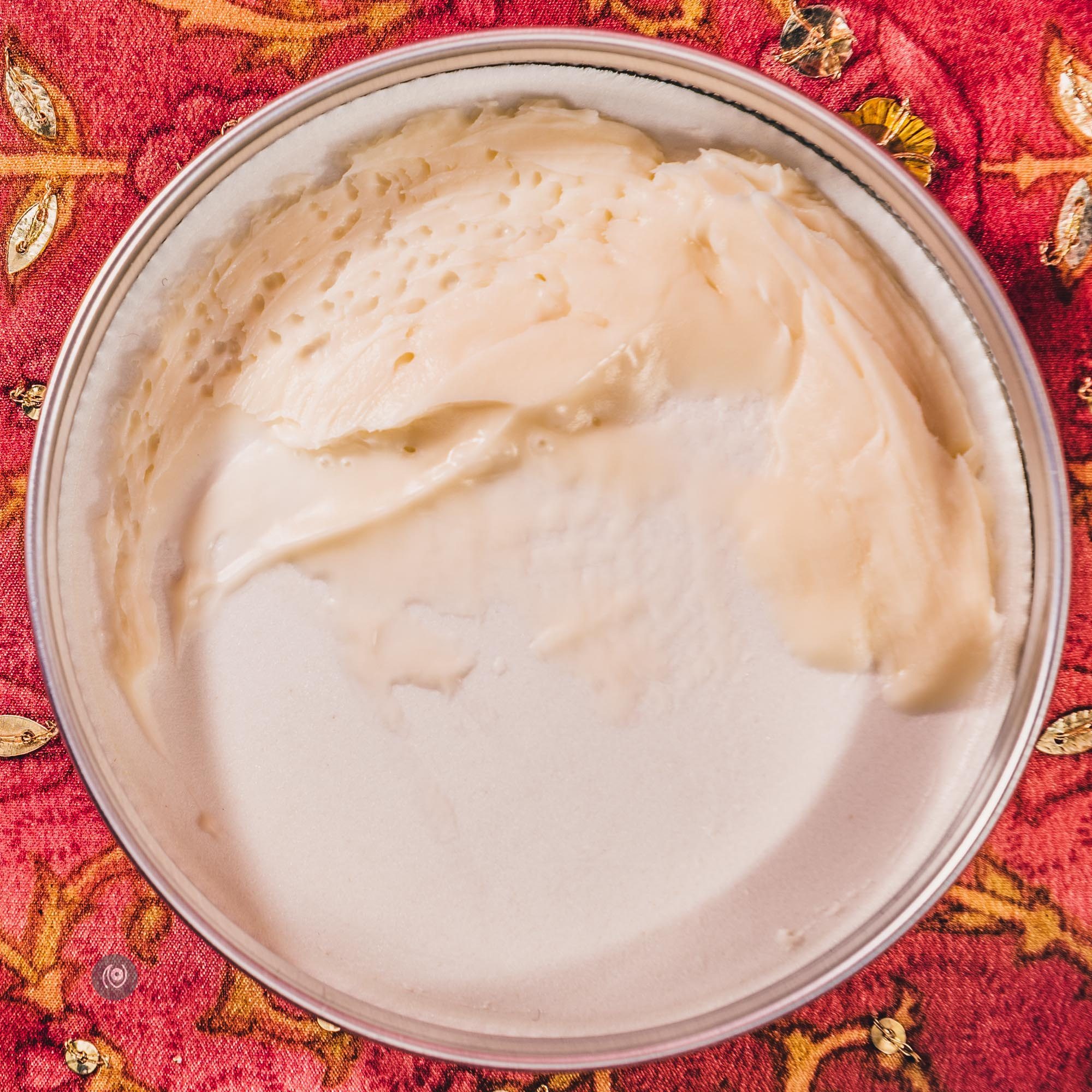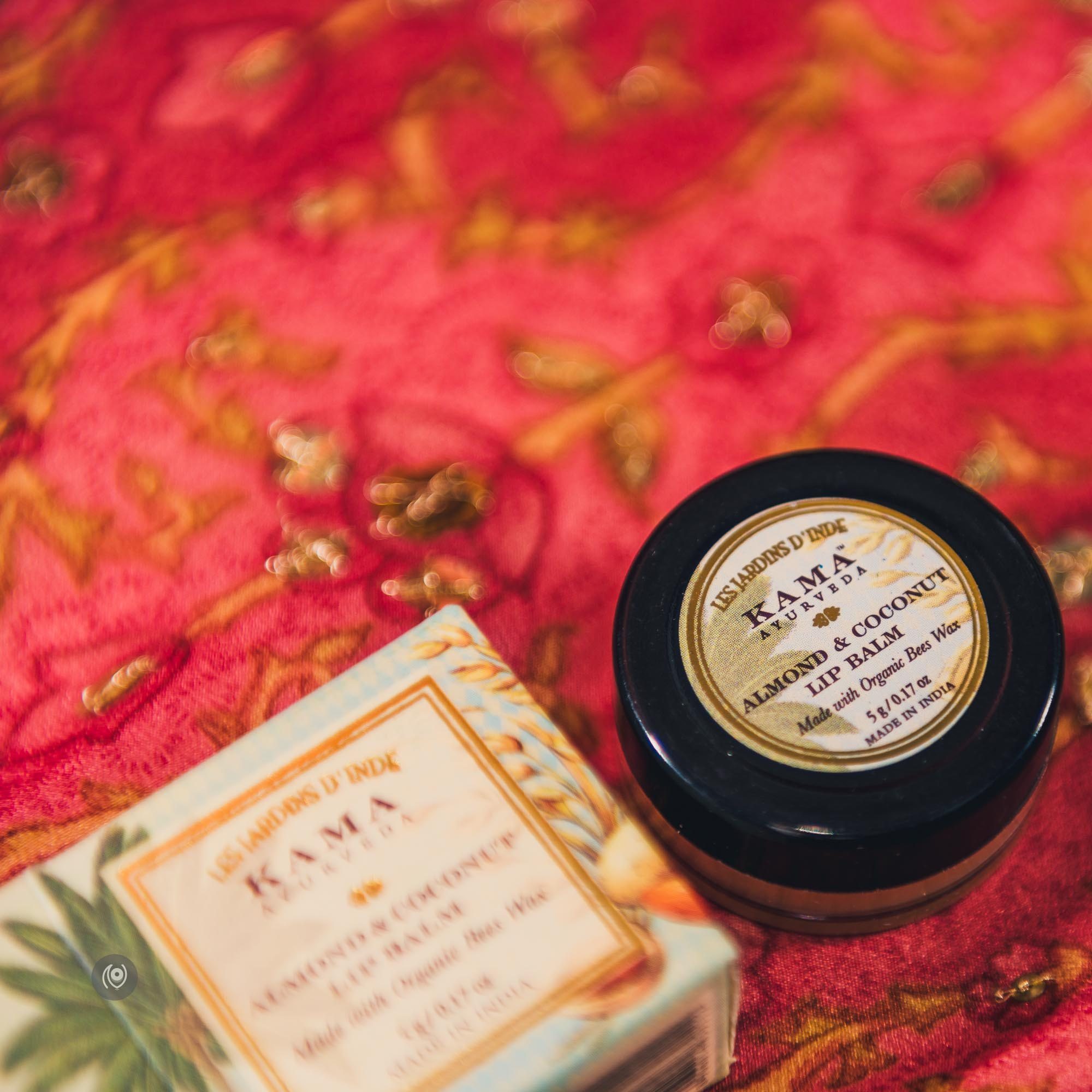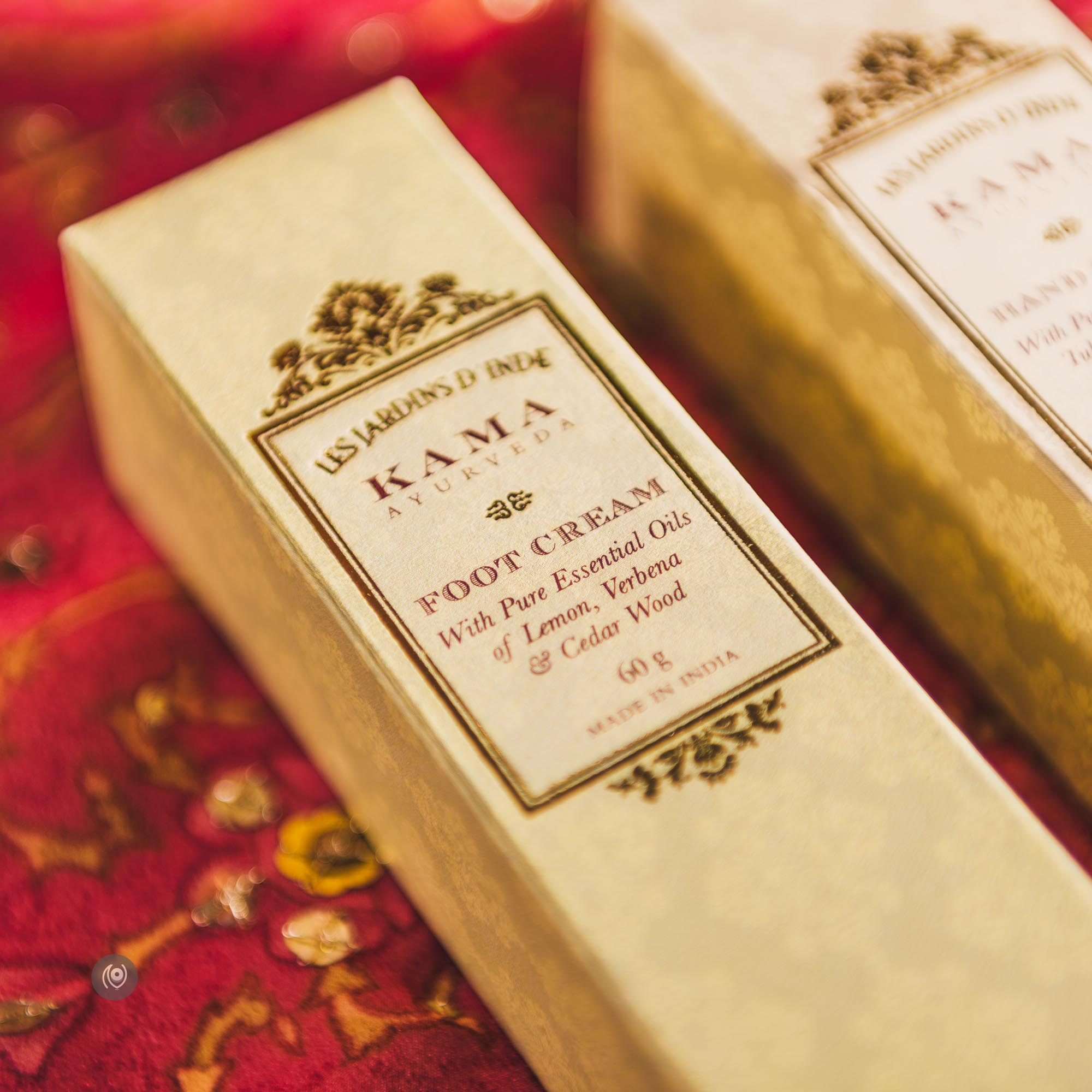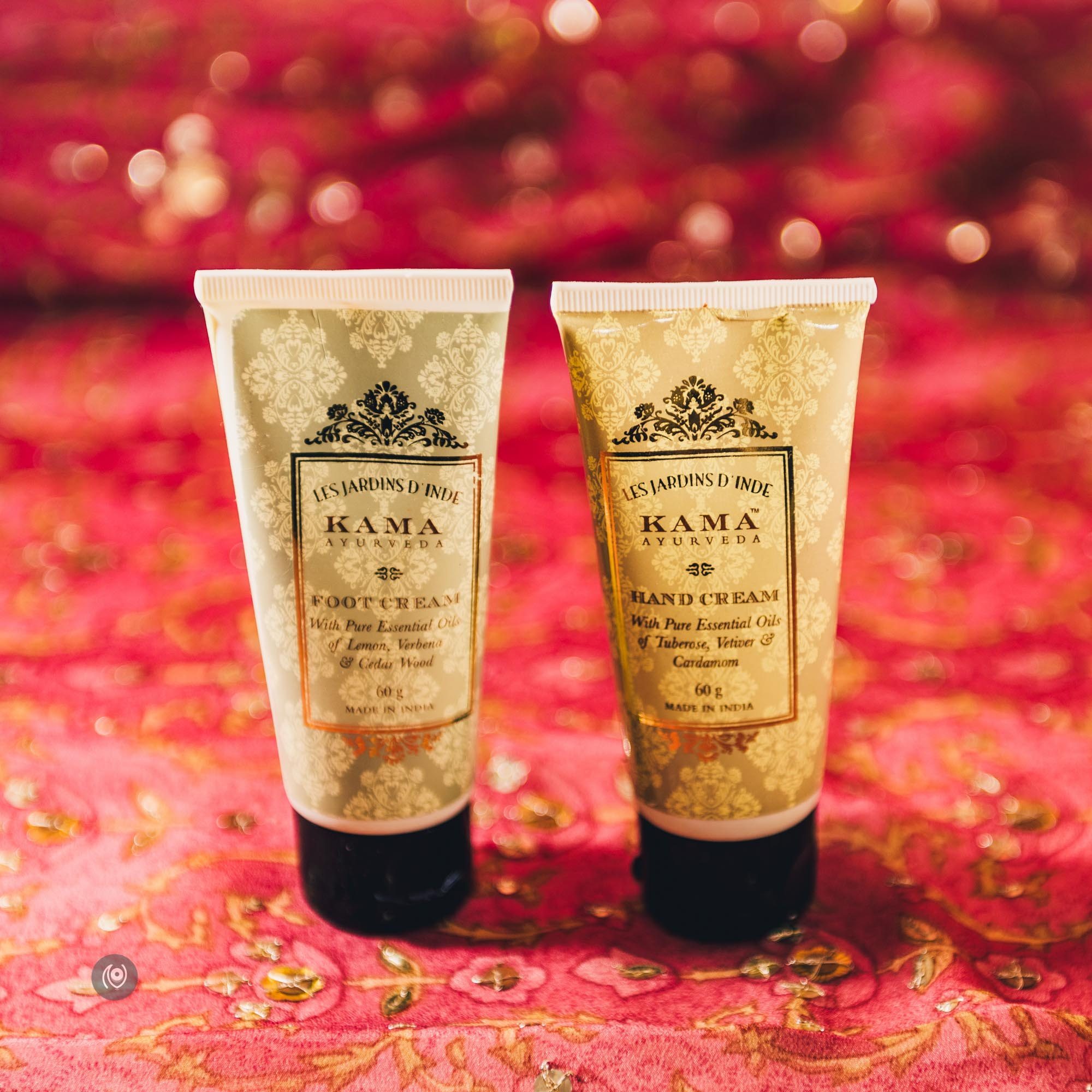 Kama Ayurveda's Body butter, Hand Cream and Foot Cream are composed primarily of natural oils and butters.
Body Butter – Kokum & Almond ( I love the fragrance and I even put this on my face – it's not too heavy – even though I have oily skin, it gets dry and flaky in winters – especially when you're 35 years old and the hormones are starting to get nuts! )
Foot Cream with essential oils of lemon verbena & Cedarwood – love the fragrance on this one – works especially well if you shower before bed time at night, lather this up on your feet, put on loose comfortable soccks and get under your blanky – when you wake up, your feet will be all soft and lovely.
Hand Cream with essential oils of Cardamom, Vetiver & Tuberose – for some reason I absolutely do not like the fragrance on this one – folks in my family have used it and everyone else has no problem with the fragrance but I seem to turn up my nose. Of course I still love the product because it works wonders on my hands and nails. Use it on a daily basis. ( When I'm in a hurry to hydrate my face, I put this on ten minutes before I shower, then after the shower I put on another layer for about ten minutes and then rinse with warm water. Leaves my face feeling supple. It's a heavy cream so I wouldn't advice leaving it on for too long. )
Lip Care : I love lip balms with Beeswax and butters and the Almond & Coconut Lip Balm is a favourite with the boy and with me. He's already using one and always carries it in his satchel and now I've got one for my purse too. The fragrance is unbelievably good.
Paradiso candle with orange, mace and lemon : I love fragrant candles and this one's no different although the fragrance comes off a little sharp for my nose especially when inhaling it up close when the candle is lit. When left in a room for a while, I like how the room smells overall. ( Please don't leave lit up candles unattended at any point. )
Kama Ayurveda : Website | Shop Online | Twitter | Facebook | Instagram
( All Kama Ayurveda products pictured above were sent by PR as a Christmas gift. Dupatta is my own. )
Previous Kama Ayurveda features on Naina.co