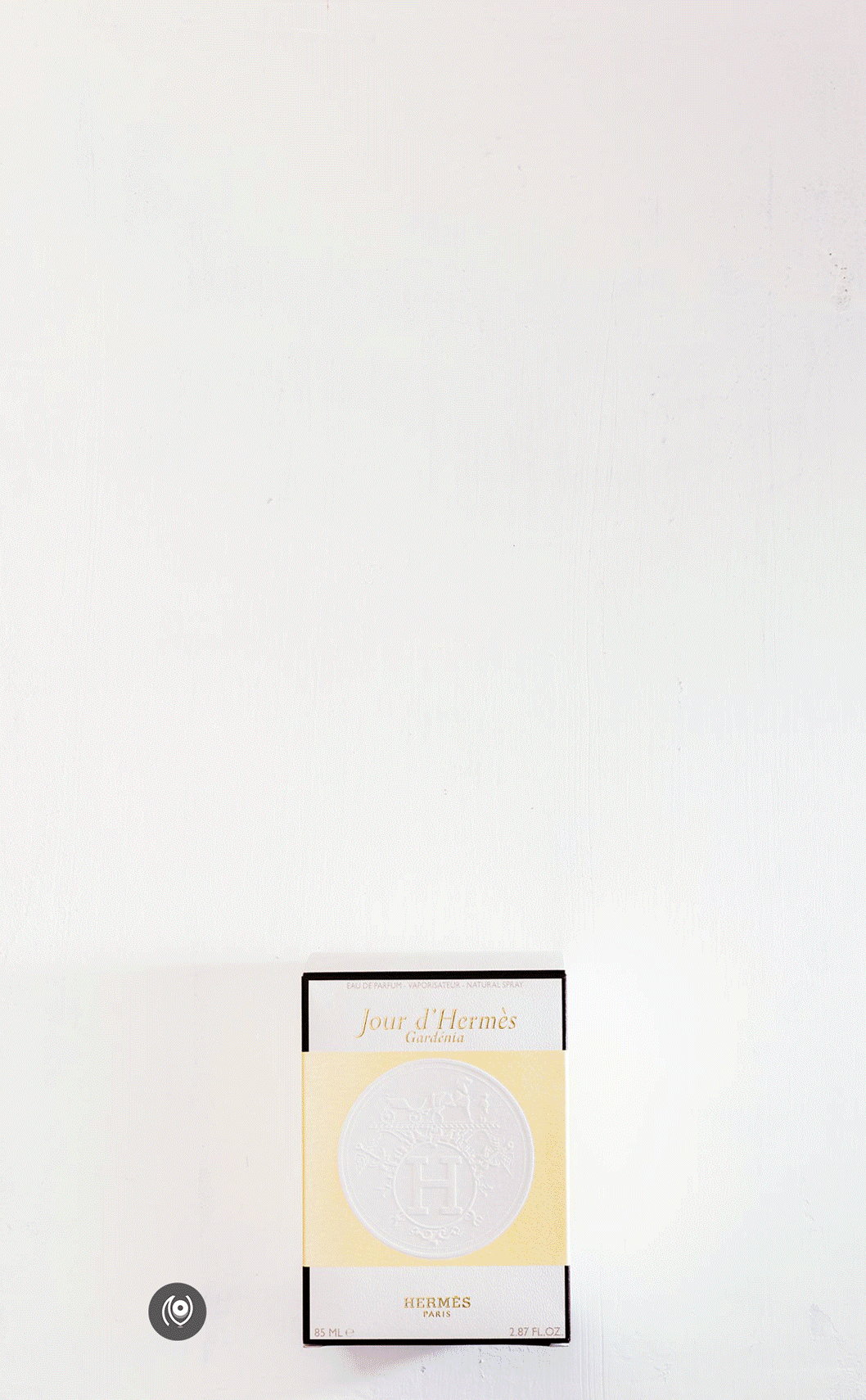 ( If the above GIF is not visible in its entirety on your screen, click here to see it in a new window, where it will be pre-shrunk based on your screen size. )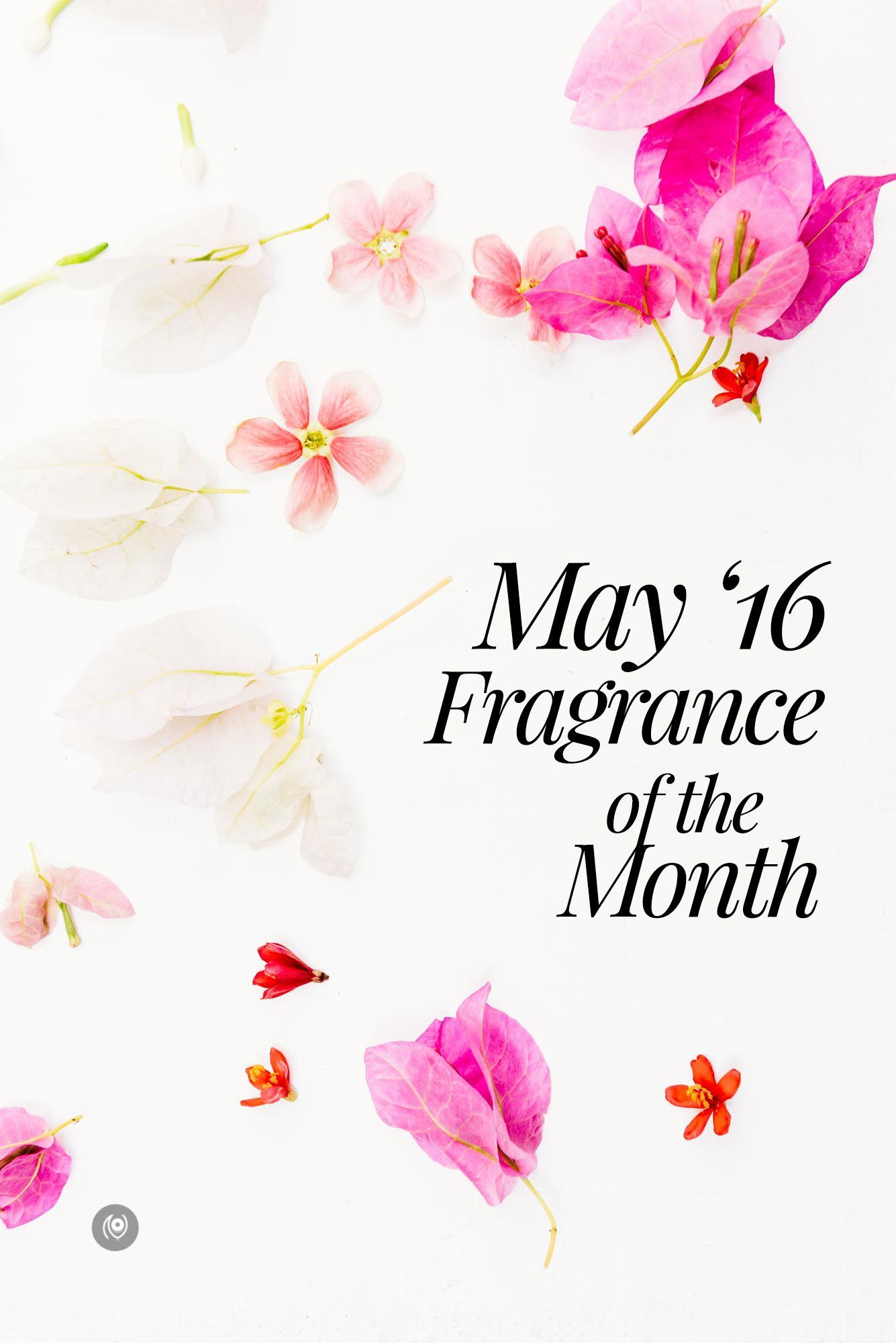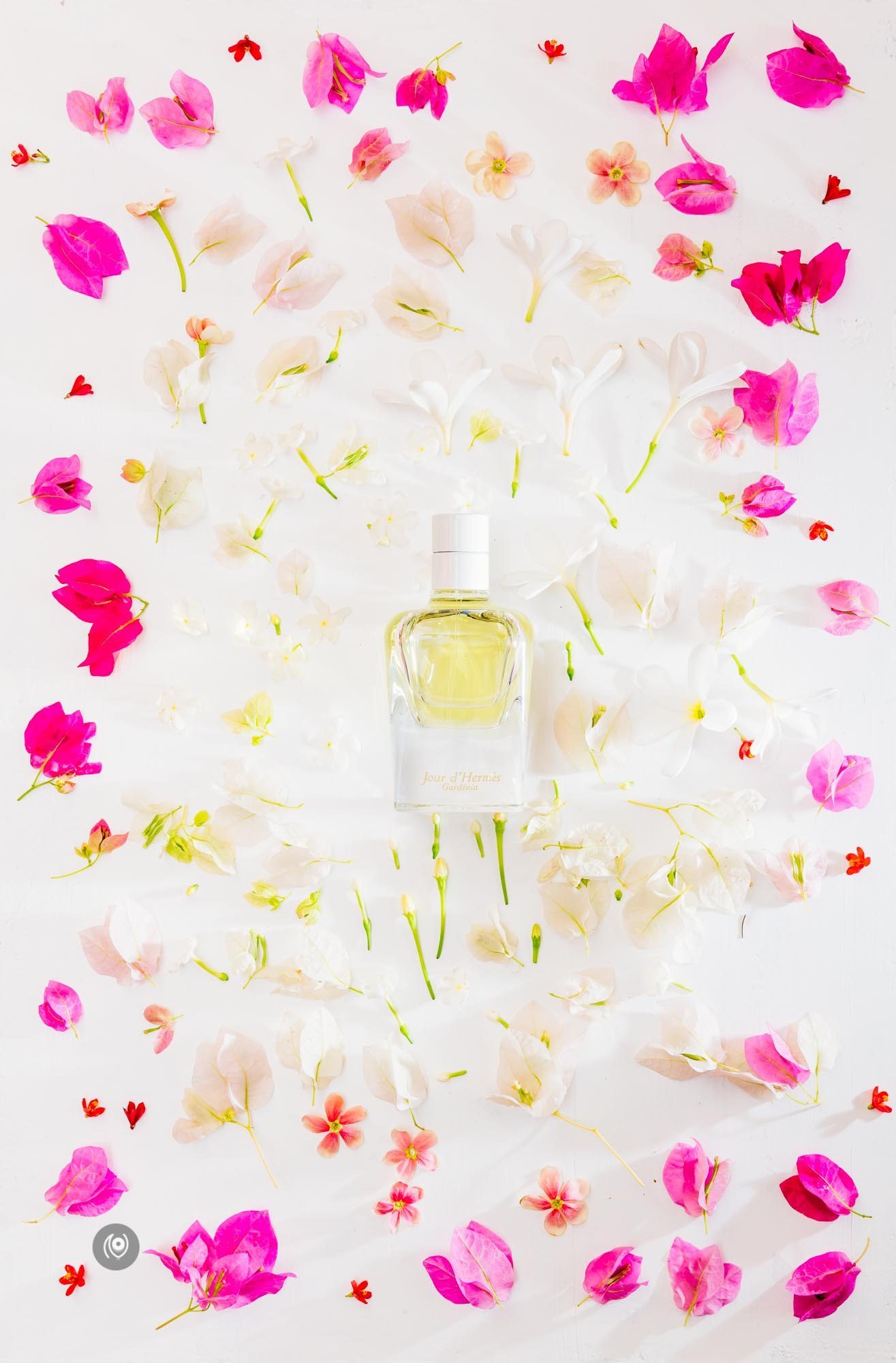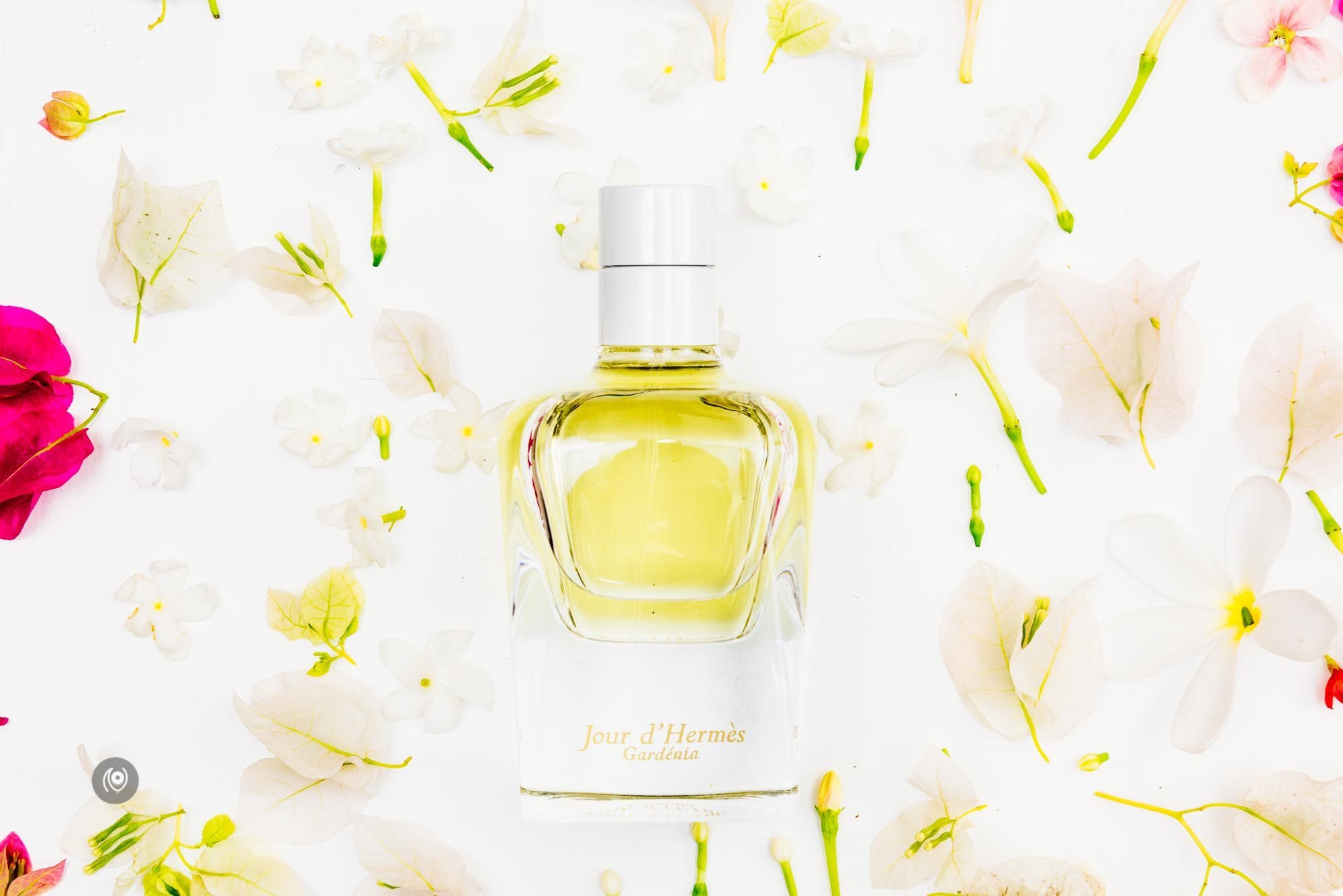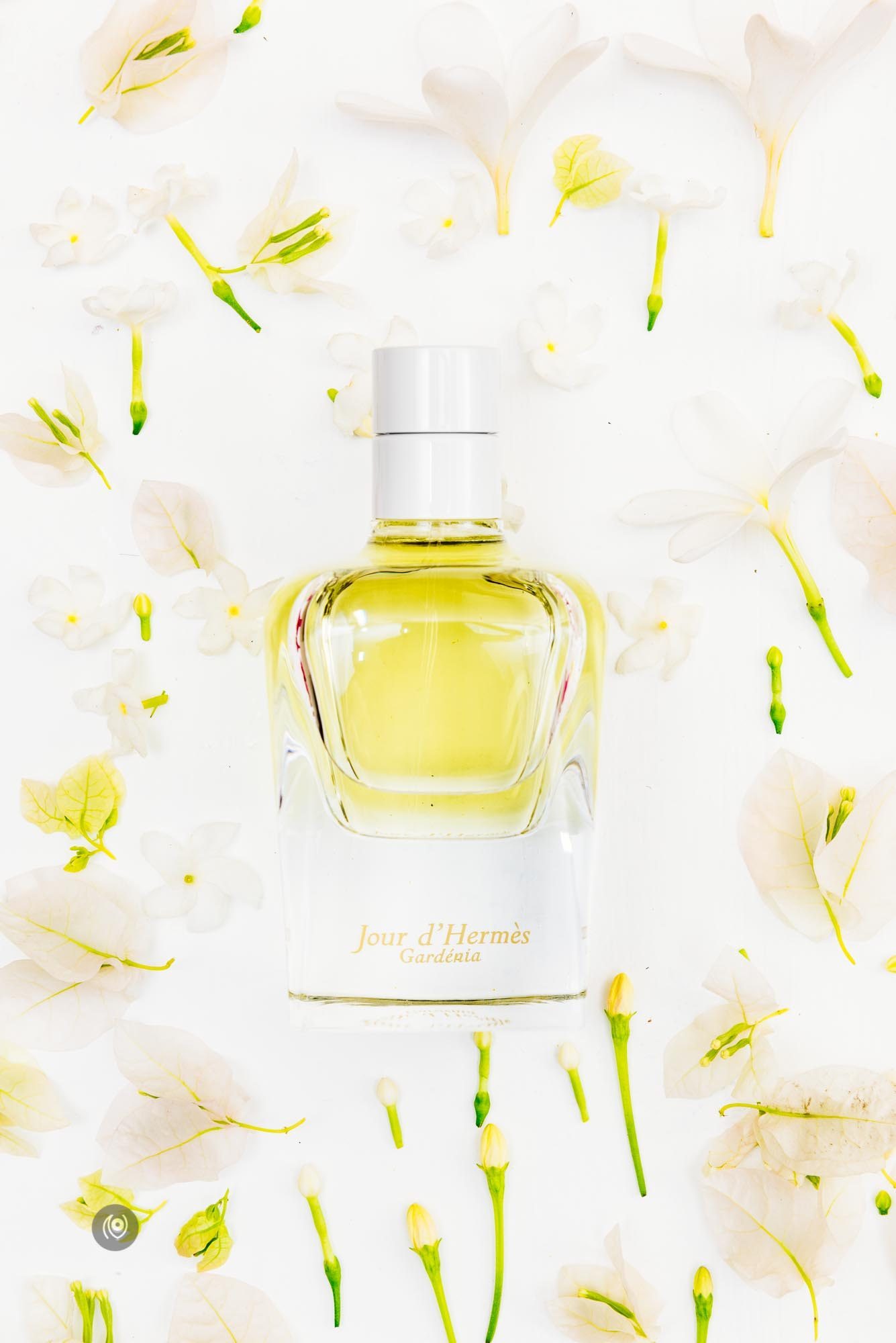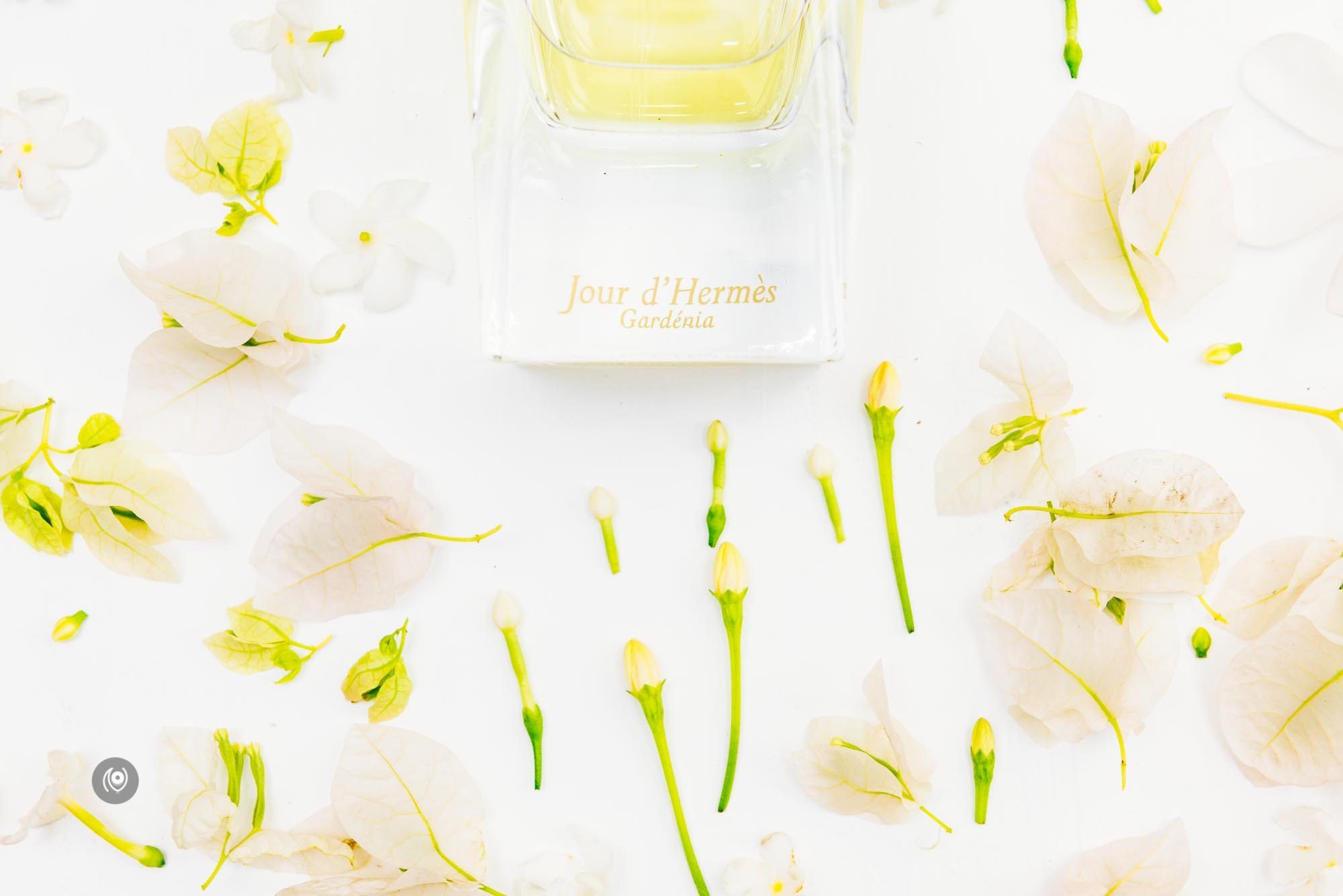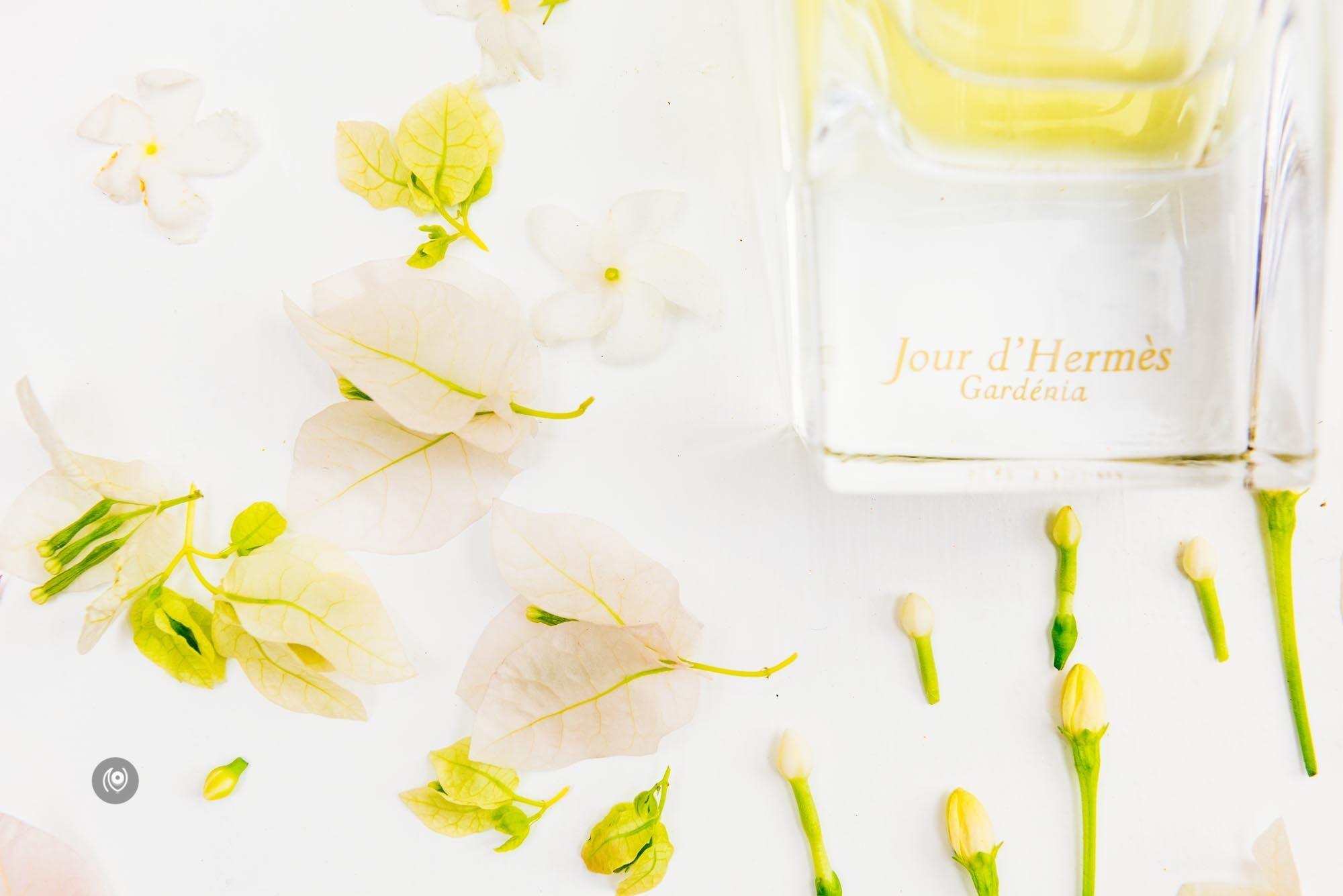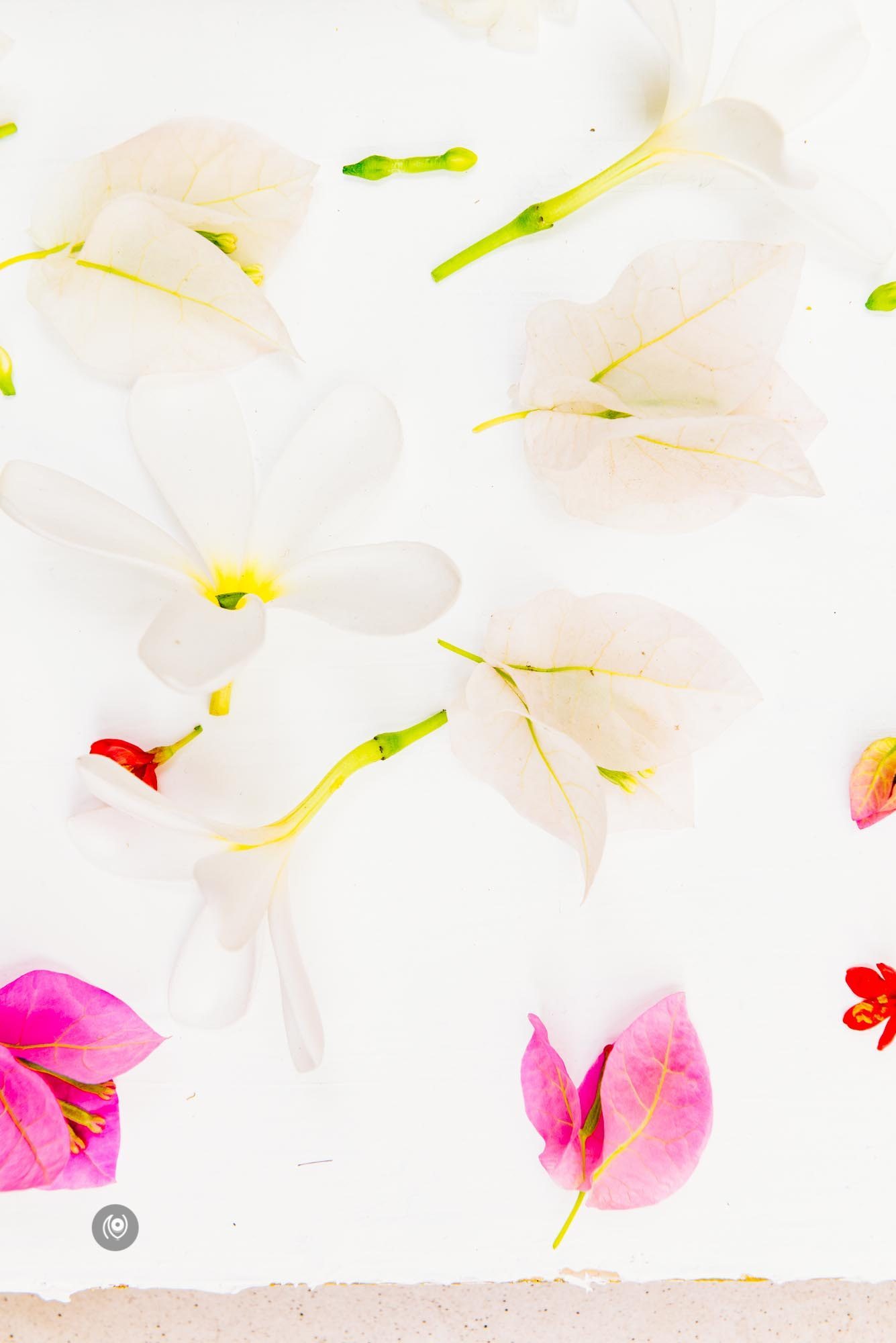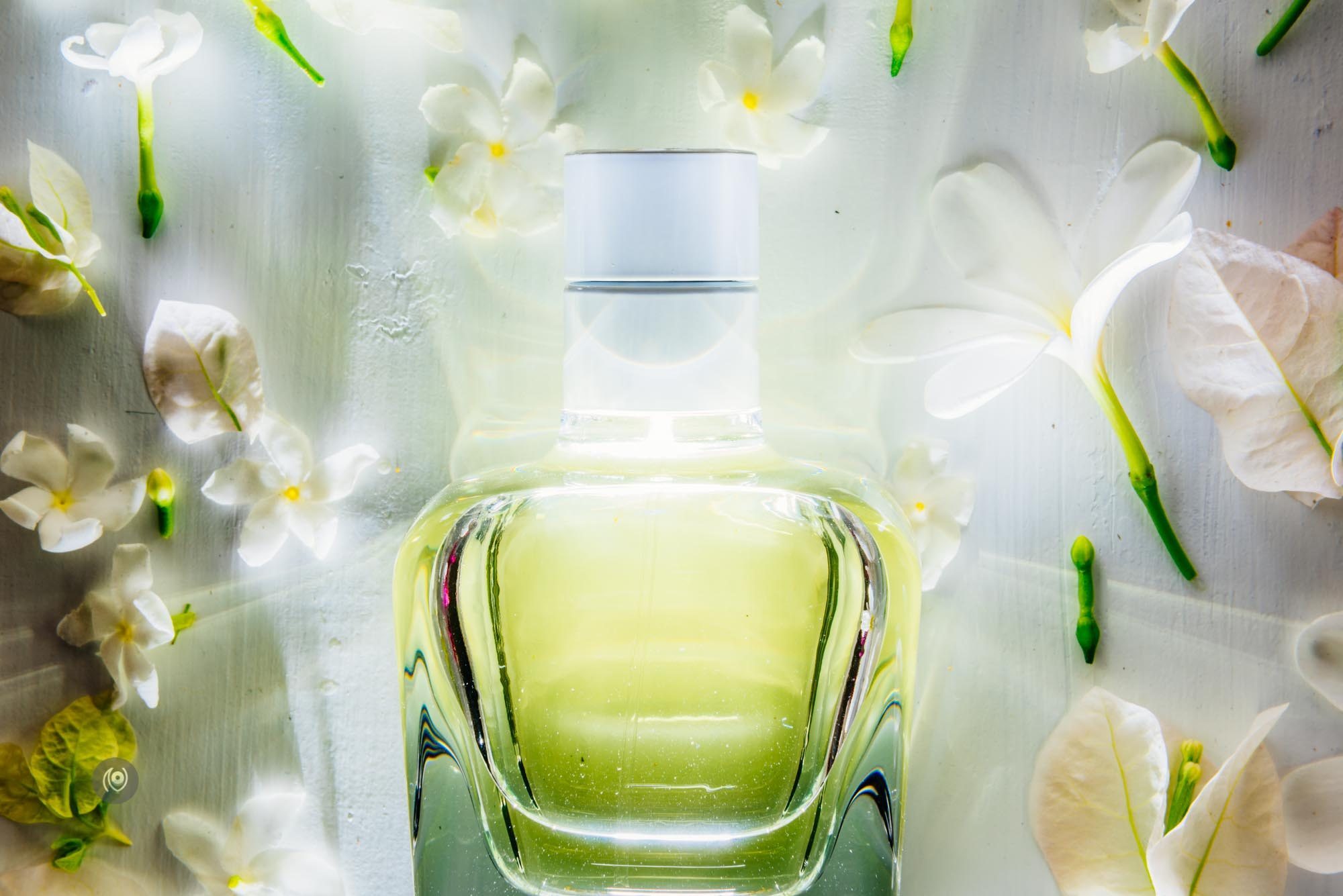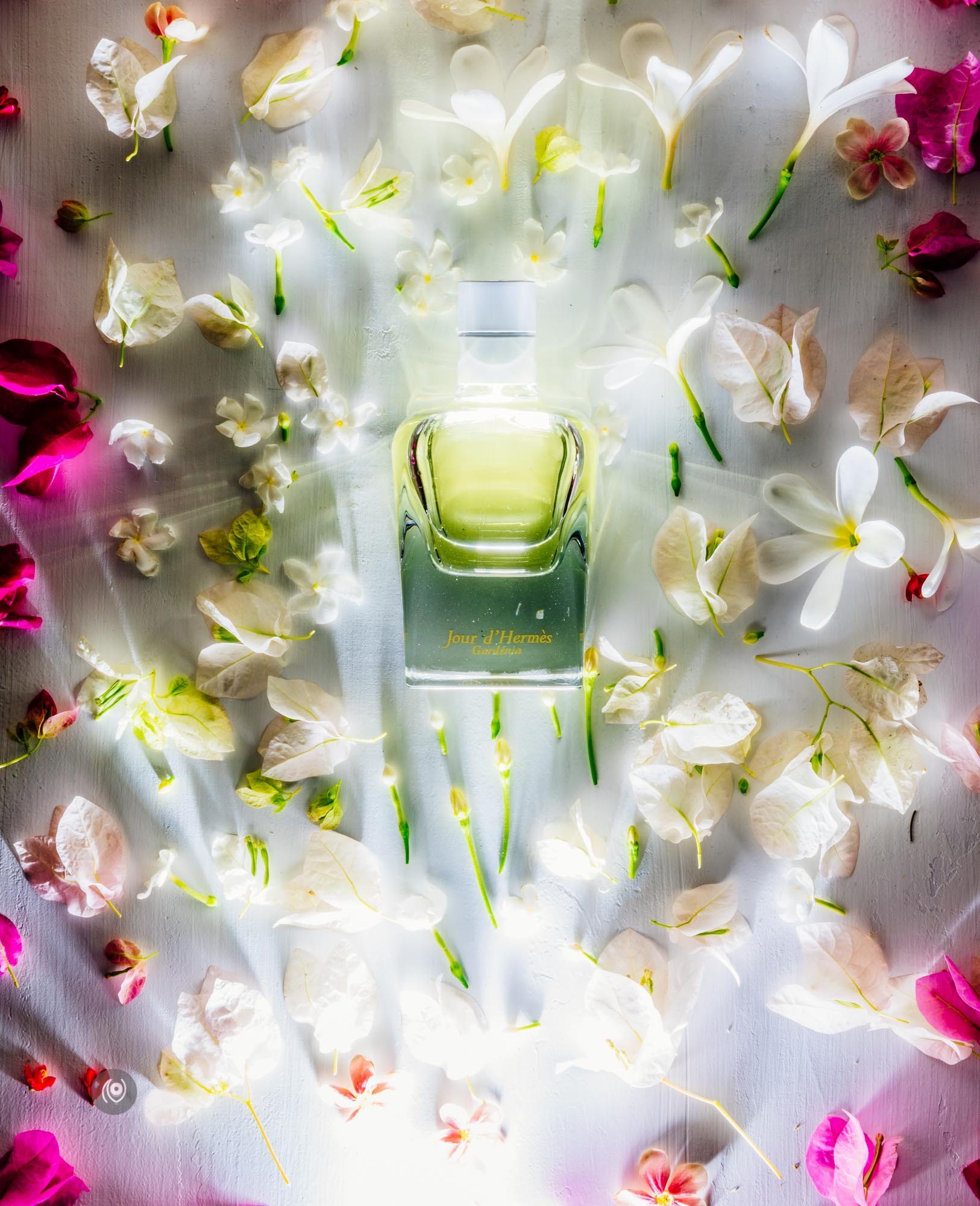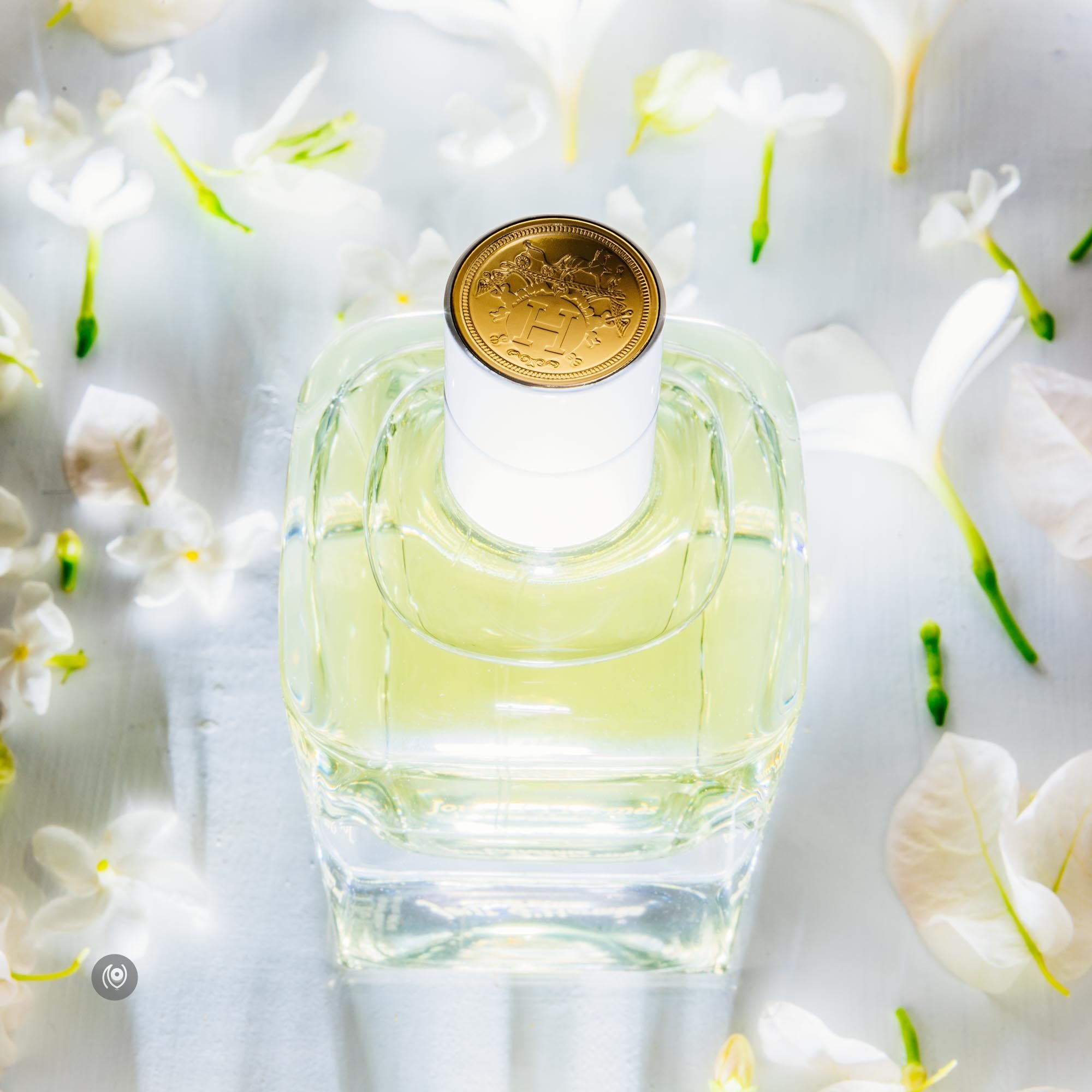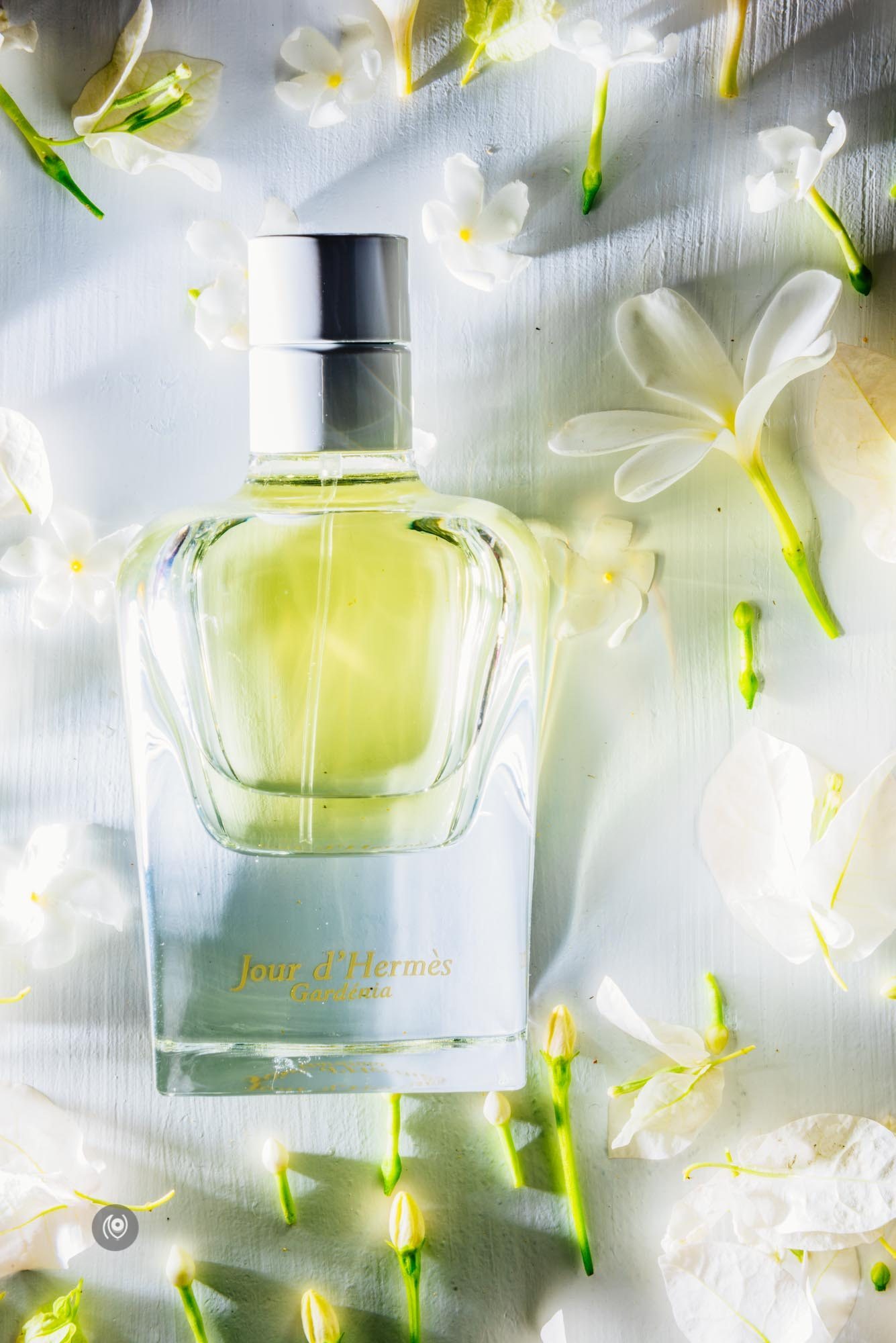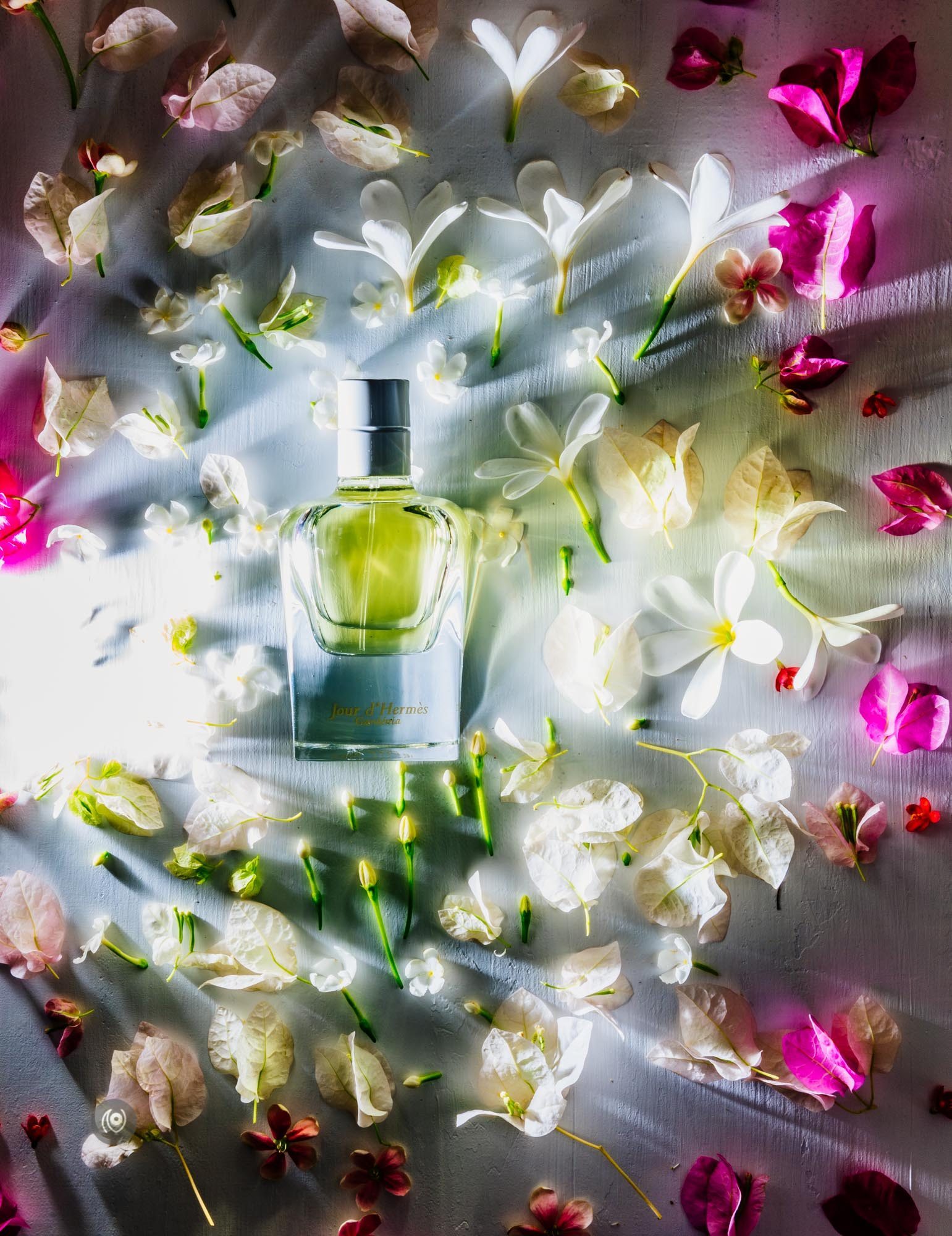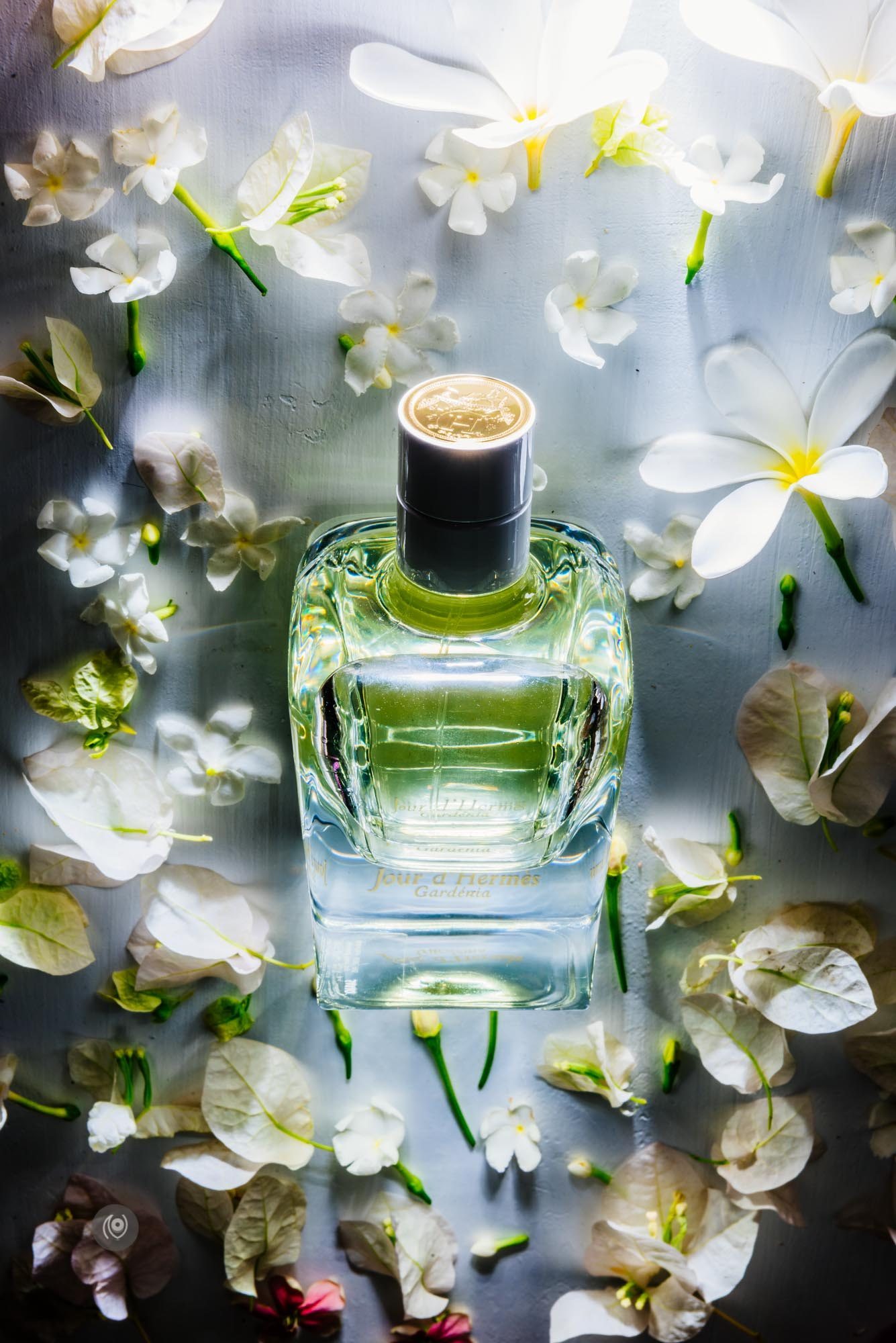 Sometimes I think I explore this column more because I love photographing these exquisite bottles than anything else. I love fragrances but a visual exploration of what they were meant to represent by the perfume's creator and what they represent to me personally, is quite something else. I enjoy thinking about how to present the fragrance visually. All the ingredients and props that I have in mind aren't always readily available – which is why you see Bougainvillea flowers in the above photographs even though this fragrance has nothing to do with that particular flower. Jean-Claude Ellena, the perfumier who created this fragrance Jour d'Hermès Gardenia, wanted this fragrance to convey femininity with nothing but flowers. I've juxtaposed strong magenta colours with pale green and whites to capture the strength and softness of what could, for some of us, be moments of being strong and being soft. I, personally, enjoy both aspects of being a woman. Hence also the very airy, light colours in the beginning and the dark contrasts toward the end.
Those are the visuals. Onto the fragrance now.
The fragrance is described by the brand as a bouquet of gardenias that convey scents of tuberose, rose and jasmine.
It is floral. Undoubtedly so and it hits my nose with a punch of jasmine to begin with. It is warm and deep but not heavy.  Thankfully that doesn't last long. I am not a fan of jasmine perfumes. It quickly – within 5-6 minutes settles into a mid-note, which is almost powdery but not yet. It turns a little drier than what it was at the start and I like this a lot more than the opening notes. Sadly, it doesn't linger. I wish it did – the mid-notes are subtle, beautiful, personal. Within a couple of hours, this fragrance is all gone from my wrists. It stays on garments for a while longer if you sprayed it on a body part that's in contact with a garment you're wearing. But that's it. I'm so sad about the longevity on this one. Just doesn't say – as opposed to the previous Jour d'Hermès Absolu that I'd featured on the blog – that one stays much longer.
Gardenia works wonderful for the Indian Summers – not very heavy and you can reapply as you like. I love layering Absolu with Gardenia. It is a beautiful confluence of two very different fragrances but they work well together. I've also heard that Gardenia is even more wonderful when worn during the rains – the Indian Monsoon isn't very far away and I can't wait to try it then.
If you're curious about this perfume, there's an Hermès store at DLF Emporio in New Delhi and there's one in Bombay at Horniman Circle, Fort and you can drop in to test the fragrance. Remember to try it on your wrists and not on the paper tester. Let it stay, walk around the store a bit and then sniff it. As I've shared above, let it sit for a few minutes and then sniff again – those mid notes are wonderful.
Sillage is great during the opening notes but it diminishes as the longevity diminishes.
The bottle design is wonderful – once the fragrance is spent, it would make a lovely paperweight for your study table or you could even customize it as a gift for someone else – if you can sand down the top and get the spray-nozzle removed, etc. I can't wait to try!
All #FragranceOfTheMonth Features.
( Previous stories about Hermès on Naina.co. )