Having photographed portraits of other fruits, a plum, a "bel", a peach/apricot, I now realize that I have a tendency to wait for something to rot. I then, gleefully, spend hours photographing said rotten piece of food. So far this has been limited to only fruits for some unfathomable reason. But since I'm now clear that there's a pattern, I'm going to keep my eyes peeled for other food-stuff that rots.
Macro-photography has always been something I've been curious about. I'm more curious about microscopic photography though. I don't own a microscope. Can't imagine I'd get anything else done if I did. To scratch the macro itch, I recently purchased cheap glass macro filters. Cheap because I wanted to make sure I would actually use them before I ended up investing in a set of filters that would gather dust at the back of the equipment drawer.
Expensive macro filters can cost about Rs. 20,000 for a set of four. I haven't figured out why anyone would want all four though – I'm only interested in the maximum macro, which is usually the +4 power piece of glass. Having never shot using an actual macro lens, I am unaware of what the advantages or disadvantages are. Considering I'm not yet ready to include a professional macro-photography lens in my equipment, the macro filters suit me just fine. Helps me add an additional frame or two in the sets of images I shoot at the home-office-studio setup.
So, here's some mold that I shot using the +4 macro filter on the 24-70mm f2.8 and 70-200mm f2.8 lenses on my Nikon D800. With two speedlights. These were all shot handheld. I would imagine that a good tripod would be immensely helpful in letting me change focus accurately in millimetres. So that's another piece of equipment I have not yet invested in. I have a very cheap, very light tripod that has never seen any serious action.
This is a Kinnow – like an Orange / Malta – but different. I posted a photo of this on my Instagram and Twitter and a couple of people commented that it almost looked like a planetary body. Obviously, I had to figure out a way to make at least a few photos like that. This box of Kinnows was grown in Abohar, Punjab. The produce has been quite sweet this season. We have family that is associated with Kinnow farmers, which is how we get a box or two each season. I'm high on Vitamin C in January-February of each year. Can't possibly complain. I usually ask for non-waxed fruit, which means it rots a lot quicker than the ones you'd get at a supermarket. Non-waxed because I can use the rind and add it to the green tea I sometimes drink a pot of. Give me oranges in anything – almost. Chocolates. Alcohol. On my face. In my shampoo. I have a thing for citrus flavours.
That's what the rotten kinnow looks like. This photograph is followed by others where I've attempted to make it look like an object in space – planetary stuff. All images are clickable to view high resolution versions.
Many also commented that the colours on the Kinnow – and the rot – are representative of the Indian flag ( down to the blue spot in the middle! ) and the state of the country in general. Would've been perfect to rile up some trolls had I posted this on Republic Day ( 26th of January ).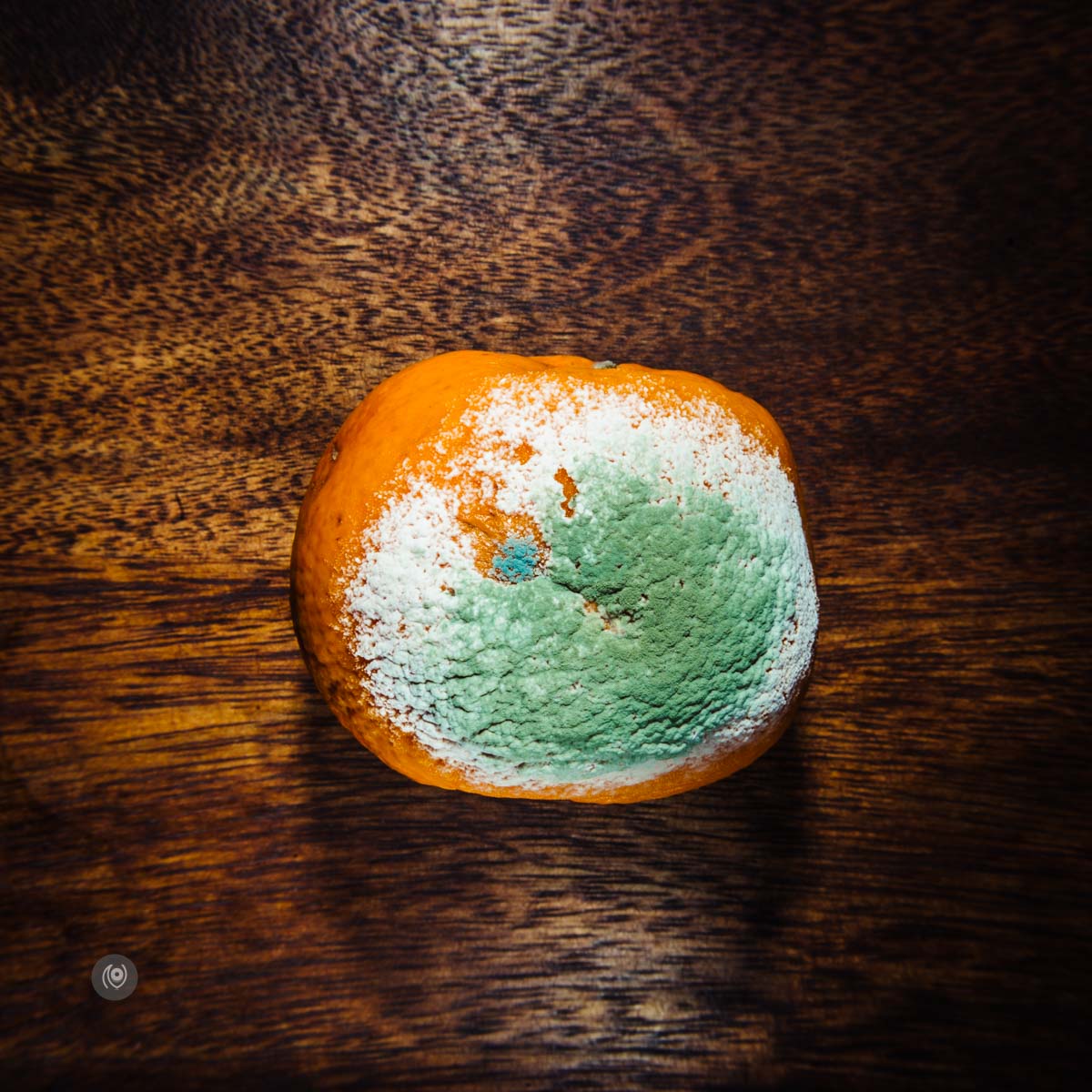 Thanks for looking at my experiments with rotten fruit. Like the previous series, any of the above images can be purchased as a pre-framed canvas print if you'd like to see a planetary object on your home or office walls and stump your visitors when you finally reveal that it's a rotting fruit!