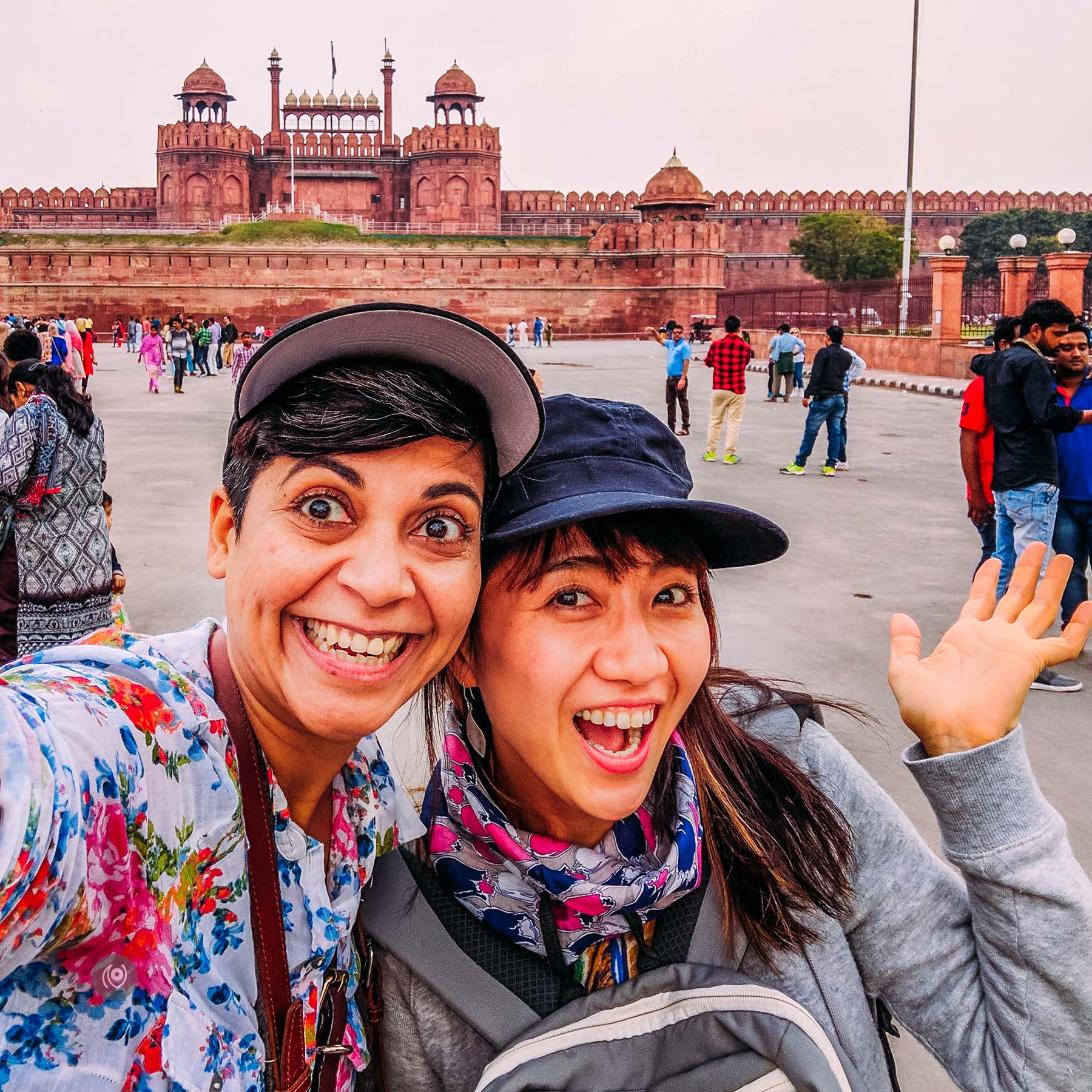 After checking out the Jama Masjid & getting lunch at Al Jawahar, Shiori and I took a cycle rickshaw, dodged some Holi water balloons and were dropped off at the Red Fort.
Photographs from start to finish as we walked around inside the Red Fort complex. Again, differential pricing on the entry tickets, for foreigners and Indians. The restroom facilities available outside the complex are chargeable as well – the person manning the table on this day took some pity on my "foreigner" friend and pointed her to the loo meant for disabled persons. I followed suit. Other visiting ladies – Indians in regional attire, I observed – were pointed to the multi-cubicle Indian toilet style toilets.
Once we were in, there was a small lane with people selling trinkets ( overpriced ), which then opened up into a museum on the left and straight ahead were the structures where Delhi's Mughal rulers used to sit and listen to the woes of citizens in a "durbar". Beyond that were sprawling green lawns where visitors lounged and slept and played games. A couple of spots stank of urine.
It was crowded, but not as crowded as Chandni Chowk.
The space that used to be the moat outside the Red Fort was bursting with beautiful green marijuana plants. It was a jungle – there's a photo for your reference.
The marble throne where the king used to sit, is not open to the public – it can be seen but it behind a thick glass enclosure. The throne is supposed to have been fitted with precious and semi-precious stones, which I'm guessing must have been stolen and then the enclosure must have been put up. Another reason could be that a lot of local India tourists tend to deface monument walls and objects with their initials and love declarations. I highly recommend to these people that they must continue to scribble their initials and love declarations, only, on their own bodies. Happy to help with the pointy objects too.
Another area was closed off to the public by a loosely strung rope, which some visitors jumped and were promptly shooed out by a security guard who wasn't previously visible. Other visitors proceeded to walk into what was clearly an empty fountain. They too were quickly shooed out by security.
Other areas that were closed to visitors were completely sealed. Closed door. There was a window, slightly higher than where my eyes are, but it had a jaali and I got a picture of what was inside. ( It was closed, didn't say anywhere that photos were not allowed. )
Shiori and I found a bench to sit on after a while and we talked. We talked till we realized that the Sun was about to set and we were hungry again. We wanted to go to Connaught Place and I specifically wanted to take her to United Coffee House for some clean but still local food. Obviously more expensive than Al Jawahar but much safer to eat.
See #EyesForDestinations for all travel-related features on Naina.co