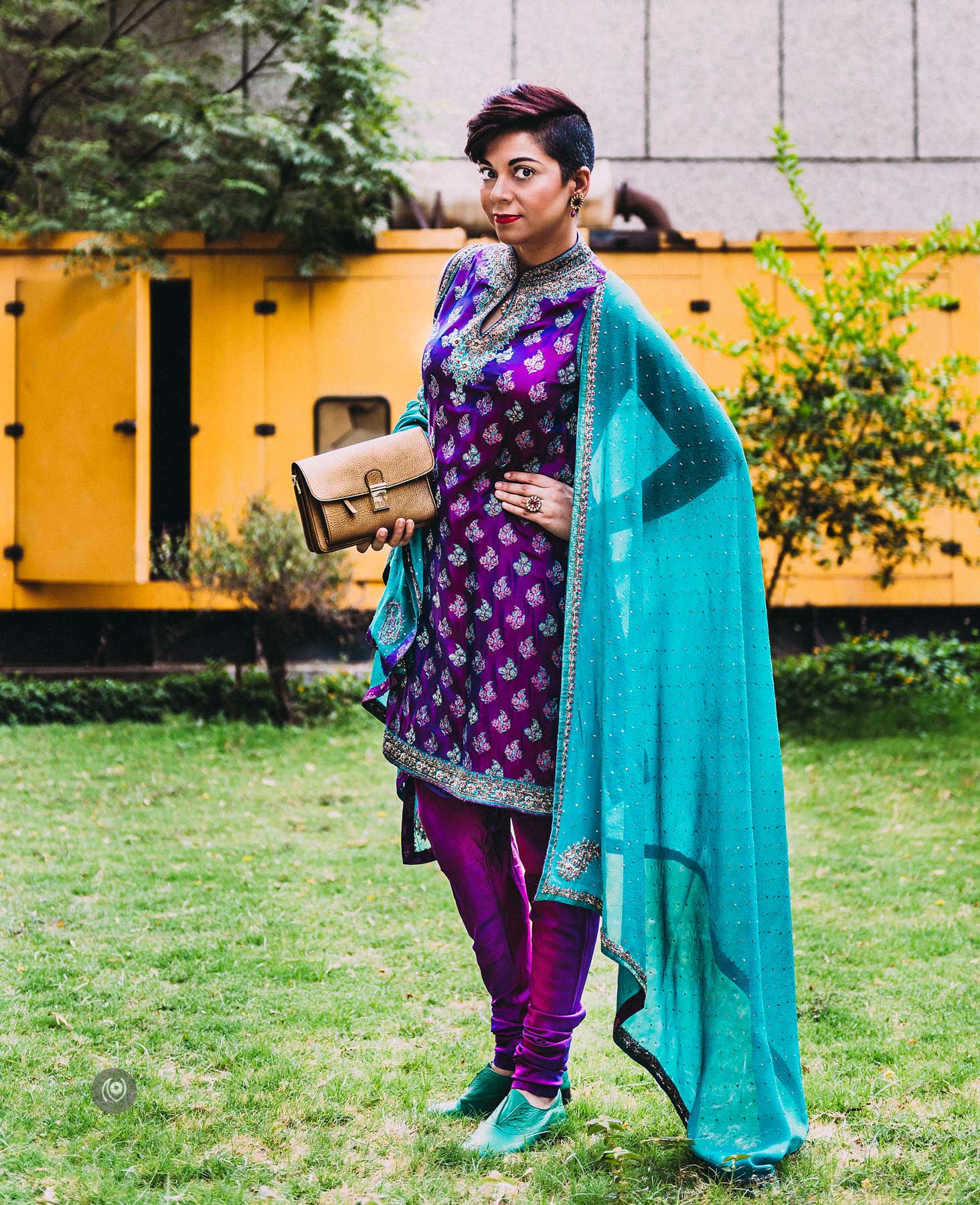 The first #CoverUp ever published on the blog was in December 2013! The series has come a LONG way!
After talking about wanting to do something special for the 100th edition of my personal style series, it's finally here! The *special* element is that I've never featured "traditional Indian wear" till this post!
I called it #CoverUp because we use clothes / makeup, etc. to hide. But it's no secret, so the "cover up" was a sort of humorous / ironical take on "fashion" without discounting its utility or importance.
( Except two items, everything is from my personal wardrobe. Credits at the end of the feature as always. )
Also featuring this month's #FragranceOfTheMonth – attempting a new format – fragrance with personal style! Asghar Ali by Ara sent me a bunch of stuff but I'm super partial toward this solid perfume that I also posted about on my Instagram a few weeks ago. As you can imagine, I've had the fragrance for such a long time but haven't been able to use it because had to get it photographed first! Already in my bag this week as I trudge around in Delhi's summers!
Chiaroscuro custom-made this bag for me for this special 100th edition of #CoverUp and on very short notice and I am on LOVE with the bronze gold version of the leather Quinn. It will work splendidly well with Western wear as well. A nice crisp white shirt and blue jeans and brogues and this bag – I've removed the strap for this shoot – was a more clutch kind of situation here. And pockets GALORE! Keep your eyes peeled for details and a short video of me going through the details of the bag on my Instagram soon.
The fragrance for June is called Attar Jamid Samia and is by Asghar Ali perfumes. I like solid perfumes because of the convenience of carrying them – not having to worry about glass bottles breaking or airport security asking you throw out a perfectly great fragrance. This one in particular is so pretty! That it smells great is obvious ( I don't recommend stuff I don't personally like – and this, I like. ) Nice, small, metal container with a refillable ( like a tealight ) disc and solid perfume in it. And there's a chain that you can attach to the insides of your purse for easy fishing out.
The fragrance doesn't really have a mid-note per se. Rub it on your pulse points ( I prefer my wrists and my neck ) and it stays for 3-4 hours, by when it has faded into a lovely warm and mild perfume. It is mild to begin with but I'm happy with longevity on this one. Sillage is limited because it's meant to be a personal fragrance.
When I nose it, I get a bit of water flavours at the back of my nose. There's also a touch of warm amber perhaps. Floral but woody. It is a very Middle-Eastern fragrance and a simple one at that. A hint of Oudh too maybe. Is nice and creamy to touch and apply. This quantity in the one photographed in this post is 5gms.
Churidar suit with silk and crepe and lots of embroidery: Ritu Kumar
Footwear : American Apparel
Bag : Bronze Quinn by Chiaroscuro Bags : Website | Shop | Twitter | Facebook | Instagram
Jewellery : custom-made in Jaipur.
Fragrance : Attar Jamid Samia by Asghar Ali, Bahrain – sent over by their official distributors in India ARA : Website | Instagram | Twitter | Facebook
Photographs by Akanksha Redhu
Edits, post-production and re-touching ( skin has been air-brushed to reduce blemishes and crater pores and lots of dodging and burning) done by me using the following : Adobe Lightroom, VSCO Film Presets in Lightroom, Adobe Photoshop and Wacom tablet. Makeup on my face is a mix of Kiko Milano ( foundation & dark countouring ), Avon ( red lipstick ), Dior ( brows ), MAC Cosmetics ( blush ), Chanel ( highlighter ), Benefit Cosmetics ( mascara ). My teeth seem to be whiter than usual because it would seem that the activated charcoal powder is WORKING!
Previous personal style features on Naina.co can be found under the #CoverUp category.