BnB Mag ( Brands & Bloggers Magazine ) has put me on the cover of their latest print edition. I want to say that that's reason enough for you to go get a copy but you know me, I'm more likely to say, "That's no reason you should get a copy of course."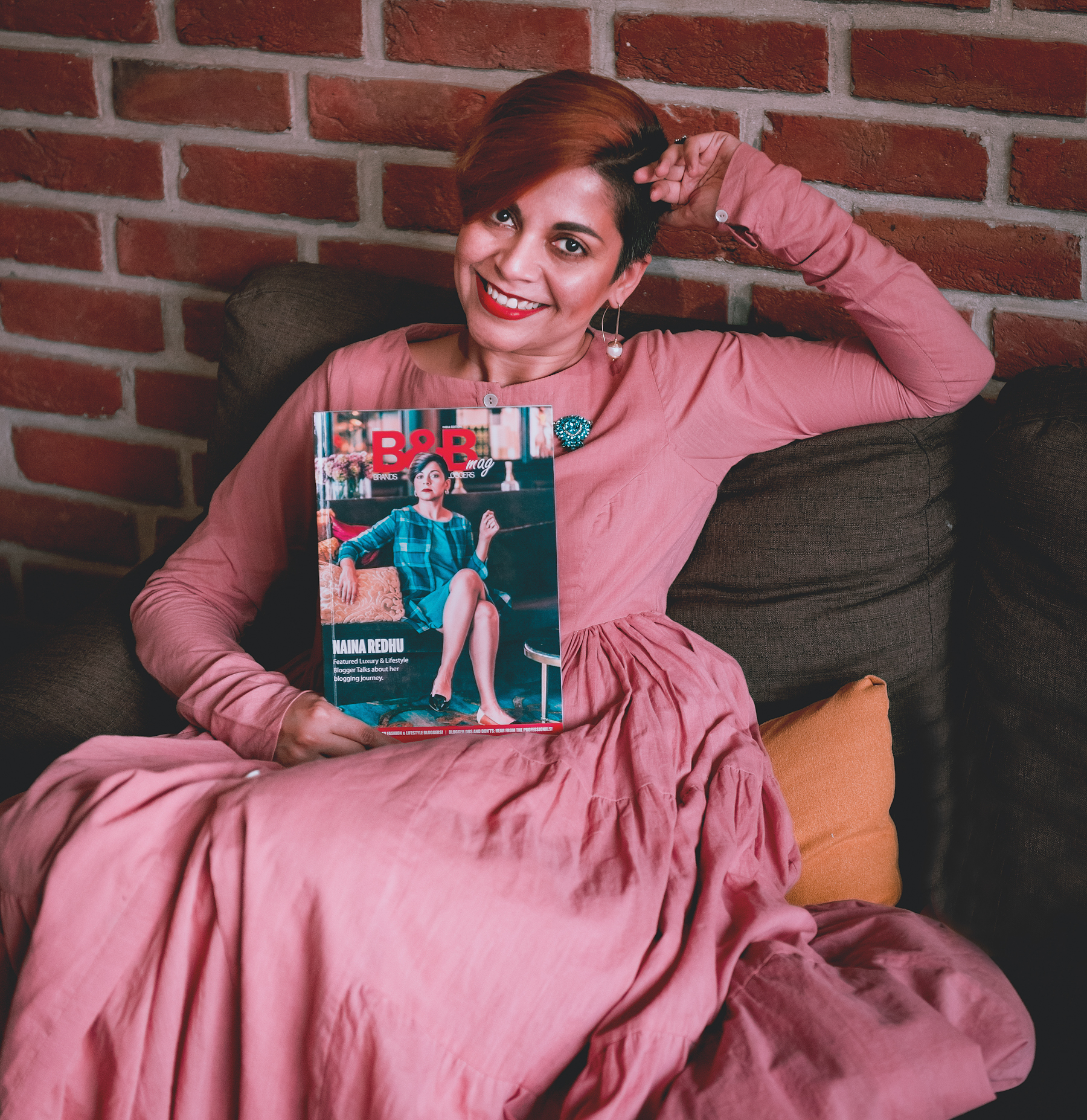 They wanted to capture my reaction on seeing a physical copy of the magazine and invited me for lunch to shoot a short video. Naturally I had to wear something nice and decided it was now or never for the beautiful rose colored cotton dress and skirt by Juanita.
Juanita is a #MadeInIndia label. It is not something I would typically wear because I'm boring but when Shubhda got in touch with me and offered to send me something from their lookbook, I thought why the fuck not. The photographs in their lookbook were beautiful and everything was lovely, long, cotton. It looked super comfortable ( I was thinking that it would save so much time when I didn't want to shave my arms and legs – I haven't shaved my arms in months anyway but my legs are another hirsute matter ) and that even though these garments were long and "yardy", they were airy and perfect for the Indian Summer.
This dusty-rose dress was one of my favourites – thank you SO much for sending this over Shubhda! And it has pockets! I had asked for a bit of a loose fit because I didn't want to feel constricted in these temperatures. I can see myself wearing this many times over. The next time, I plan to add some silver jewellery and different footwear. For this look, I wanted to keep it simple and showcase the garments front and center.
This edition of the BnB Mag, features some 50 leading bloggers in India and there's also a set of four case studies where they spoke with brands who had worked with a few bloggers and what the entire process look like. I don't know if anyone else is doing similar work connecting bloggers with brands and I'm super happy to have met Swati and I hope I'll get to partner with BnB soon – I'm very excited at the possibilities.
There's also an upcoming event on the 8th of June where this edition of the magazine will be launched and I'm going to be there. There will be more details shared on my Instagram stories and on BnbMag's Instagram feed, so if you're keen to catch up with me and meet the magazine's team, may I suggest that you keep tabs on our feeds.
Juanita : Facebook | Instagram
BnB Mag : Instagram | Facebook
You can purchase a print version of this edition of the magazine from this link.
The HTBrunch cover was my first and this is my second and this is also my first ever solo cover! It's super exciting to see how the blogging / influencer industry is moving forward.
Last photograph in this blog feature is a composite. Shoes Reebok ( sent by the brand ), brooch Swarovski ( my own ), ear rings Amrapali ( my own ). Photographs by Bharat.
Previous #NAINAxStyle features.