In January 2012, I had gone and stayed at The Leela Palace, Chanakyapuri for celebrating our wedding anniversary and it was one of the best holiday experiences we'd had without having to catch a flight. While I was there, a new Chef from a new yet-to-be-opened restaurant at the hotel, paid me a visit with a card laden with plates of sushi. I couldn't believe my luck! I asked them more about the restaurant and when it was to be opened. Since that day, I had been planning to go eat there – I love sushi – and finally, last week, after much planning-yet-not-materializing, I was able to make it.
Below: The customary visit to the washroom before beginning a meal – I didn't want to take a break and miss out on anything.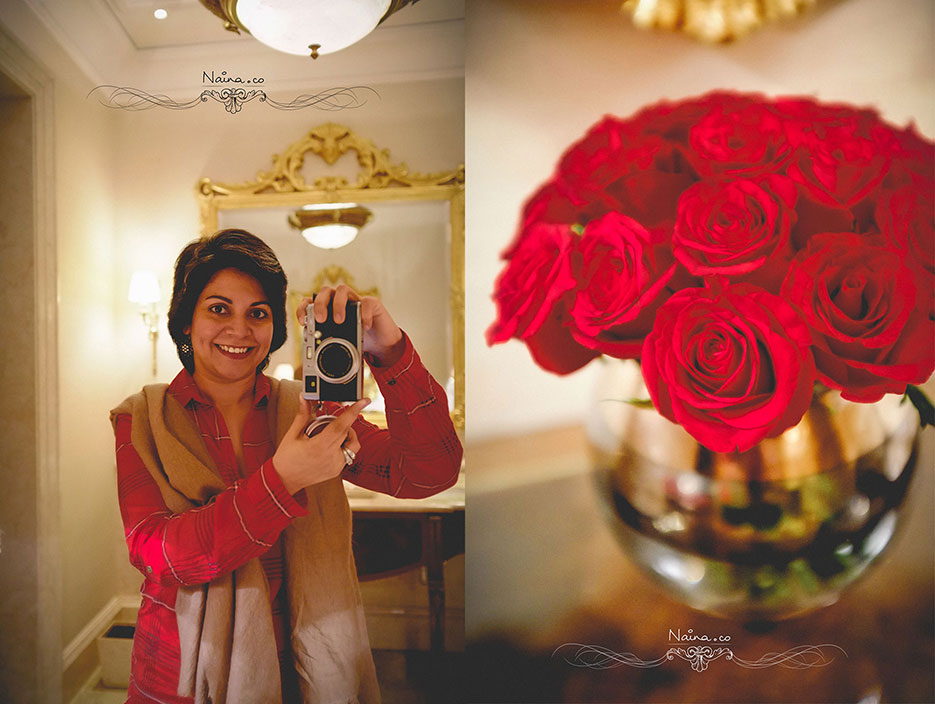 Below: The famous crystal Buddha statue inside one section of the restaurant. There are three main dining areas.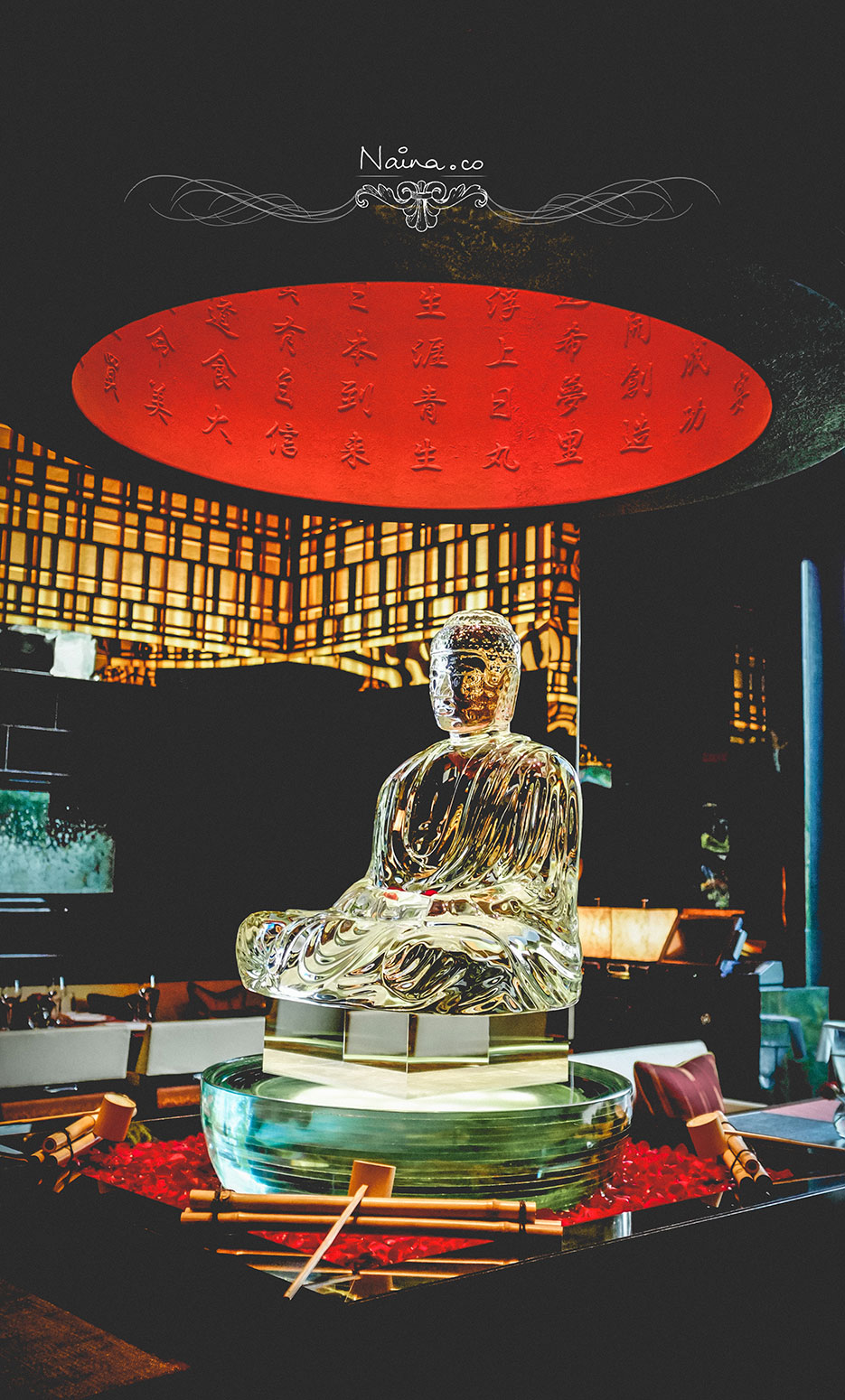 The belief is that pouring water on the Buddha statue has healing powers. Depending on what body part you pour on, the same one gets healed in your body. Well obviously I had to pour all over the Buddha.
Meal plates – apparently the original ones at the NYC restaurant are hand-painted. Even though I asked our server multiple times and he kindly answered, I'm still not sure whether these are hand-painted as well.
The bell is a life-size replica of the original bell at a Japanese temple.
The dining room for a private dinner at MEGU. The walls have been created from several hundred vintage Kimonos.
There's an origami wall in the third dining section of the restaurant. The same dining area also has smaller versions of the Japanese temple bell.
There is a seating area outdoors – for MEGU. It was windy and cold so we opted to sit indoors at the foot of the crystal Buddha.
Our first plate of food for the day. The handsome restaurant manager Rajat picked out the food for us after we told him about our preferences. This was probably the best part of the entire meal. It looked beautiful, it had to be completed destroyed – mashed – to be properly enjoyed and it was a little piece of Japanese heaven laden with sesame sauce.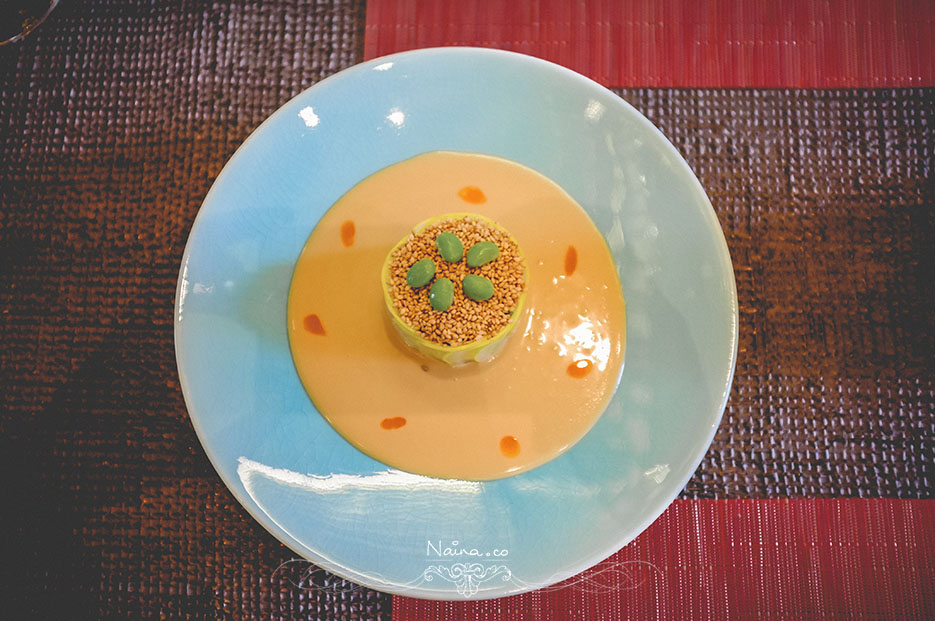 I've been eating a lot of Japanese food lately and I still don't know how to use chopsticks. But each time I am confronted with them, I make an attempt. So, I am getting better. Didn't touch the "helper" chopsticks. Yay!
Some form of crispy prawns. These were ordinary – nothing to rave about. The Wasabi oil too was almost bland. I could've slurped straight from the spoon. As was the wasabi sauce and the rest of the wasabi throughout the entire meal. I love my wasabi to be extremely pungent so this was a disappointment for me. Although I do understand that most people probably prefer a lighter, more staid version, which is probably why they serve this.
Rajat shaving out some fresh wasabi for us on a shark-skin shredder.
California Roll sushi. It was ok.
Tuna Sushi. This was very tasty. I wish I'd had another plate. With stronger wasabi though.
Cold Sake in a glass.
Warm sake in a clay / stone pot. I loved the texture of the pot and wanted to put it in my bag and bring it home. I wanted to adopt a clay pot. Yes. The warm sake was better than the cold one – on my tongue.
The salad was the best in terms of texture. Fresh, crunchy and so crisp. Very refreshing. Although I did ask them if the nuts were an Indian addition but apparently they are not.
The Cod. This is probably the best fish I have had all year. Yes. That good. And not only was it tasty, it had been prepared perfectly. This particular dish was sweet and while the fish was excellent, another serving of this would've been an overdose of sweetness. [ Each plate of food you see above was shared by two people – @akanksharedhu & I. ] The pink stick you see on the fish is ginger-root. I had a tough time deciding whether this was the best or the initial sesame starter.
Wasabi Cheesecake. Yes. Probably the most underwhelming piece in the entire meal. My main issue was that I couldn't taste the wasabi – it was just milky cheesecake with no character. Except the sesame cracker. That was nice.
Green tea to end the meal.
And we were off. Thank you Rajat for the lovely meal. I hope we can get sometime to go out for a coffee instead of always meeting when either I'm working or you are! Dining at MEGU is more about the experience than just the food. There are some real gems of food there and some lovely staff. I didn't see the menu or the bill so can't comment on whether it is pocket-friendly but I'd go there again for that starter above and for that piece of Cod from heaven. And to pour some more water on the crystal Buddha.
MEGU is on Twitter @MEGUNYC and on Facebook.