The Green Room, Autumn Winter 2013 Collection by The Collective.
There's a lot going on in that sentence above.
When they first told me about "The Green Room", I immediately thought about Wendell's book – since I've read it and reviewed it. But I was quickly corrected that while THIS The Green Room is about fashion, it isn't a book to be read but to be seen – a coffee-table book. I was intrigued mainly because I wanted to see the production quality of the book and also the photographs!
Shouldn't it be Autumn Winter 2014? Instead of 2013? I've only recently learned how seasons are titled, so I might be wrong. But Wills Lifestyle India Fashion Week Spring Summer 2014 closed last week and I'm guessing the next season showing will be Autumn Winter 2014… no? Unless the book was meant for a Jan/Feb 2013 launch, in which case the AW13 title is correct. See the cover below? I like it – black and white. Although "the green room" is a tad hard to read despite the foil printing.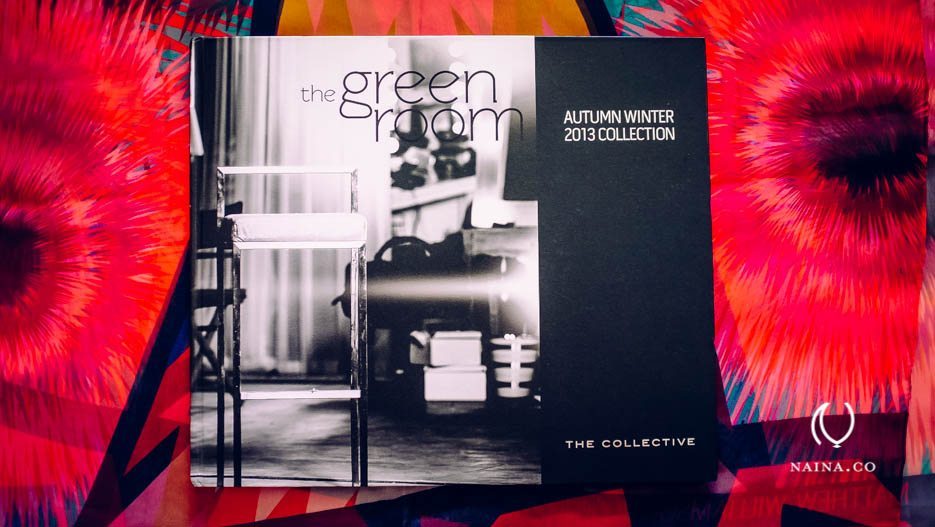 Nice large format too. And matte. I love matte. And the book smells like wheat. ( Yes I smell all books that land up in my hands. )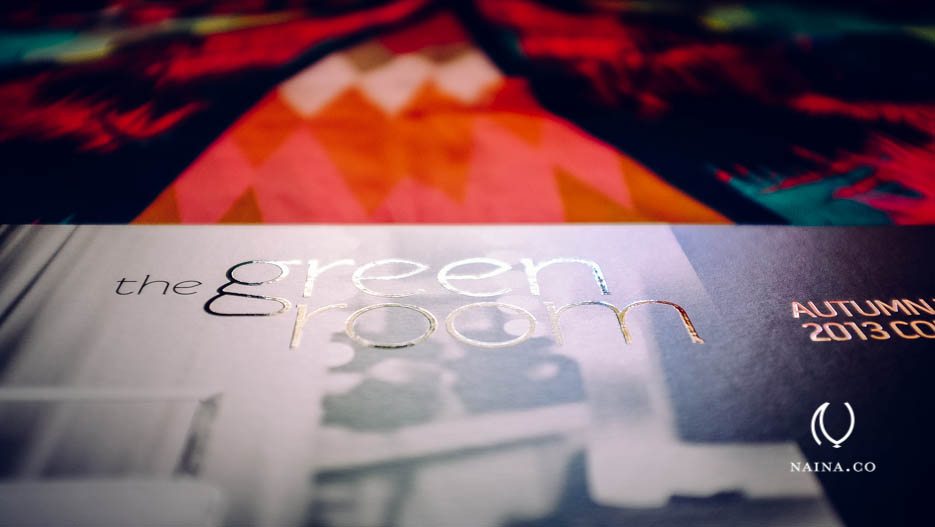 But what is "The Collective"? If you'd like to do your own research, you can visit their website's About page ( it explains the date in the title for one thing ), you can follow their Twitter handle @CollectiveIndia, you can follow their Facebook business page The Collective India and you can also read about the book launch on the Madura Fashion & Lifestyle press page.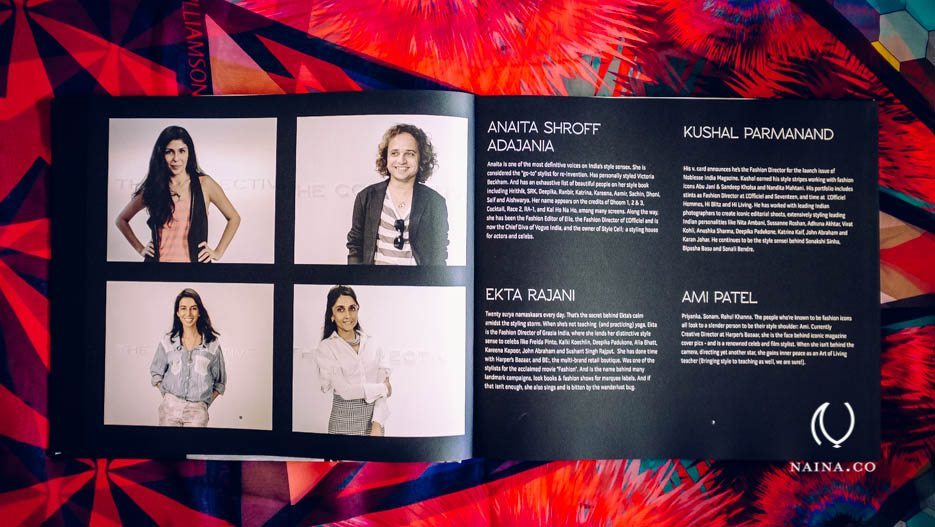 "The Collective, a part of Madura Fashion & Lifestyle, is a super-premium multi-brand retail concept and considered to be the mecca of luxury brands in India."
"The style coffee table book titled 'The Green Room' showcases The Collective Autumn/Winter 2013 merchandise in the stylist's own unique style. It revolves around how the art of styling can tell a thousand stories. It is broken up into four sections – Chaos, Drama, Debauchery and Narcissism – with each stylist interpreting a theme in their own unique style. The end product is an edgy, stylish book that tells the story of life behind the camera."
I find the claim of "India's first fashion art book" a bit dubious. I don't see art in the book – a couple of images / page would classify but the entire book? Nope. And none of the brands are Indian. Lagerfeld, Moschino, Scotch & Soda, Fred Perry, Michael Kors, Victorinox, Hackett, Armani Collezioni, Ted Baker, etc. are not Indian fashion brands.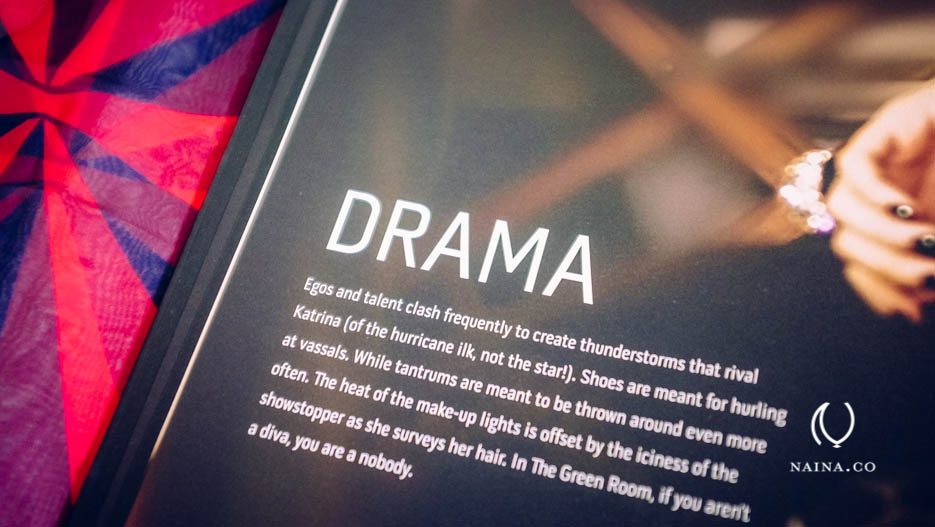 That said, I do think it's a fantastic move. For one, it encourages me to get started on my first Indian-Fashion book with Wendell Rodricks' Source Of Youth Collection! And apparently "print is dead"! Whatever. I've never believed that. Printed books will be collectibles – like art works ( ah! Maybe THAT is what they meant by "art"! ).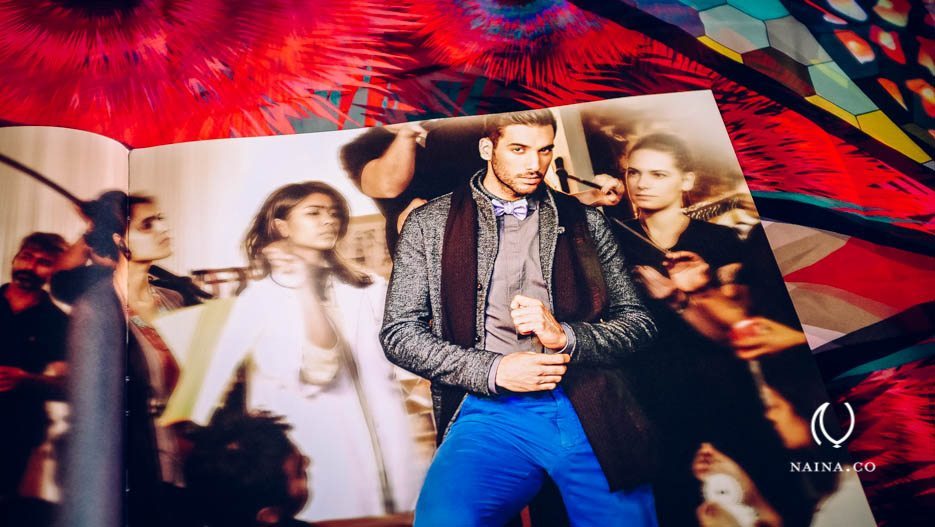 The imagery is by Saurabh Dua – must have been a lot of work Saurabh! Hope you got paid and not suckered into the "We'll give you exposure!" line *wink* Do check out Saurabh's portfolio – some really outstanding work in there.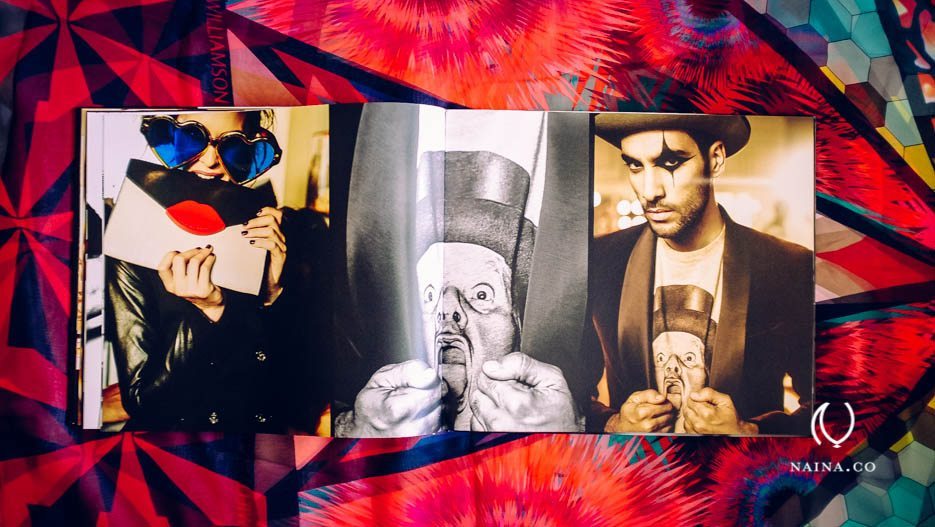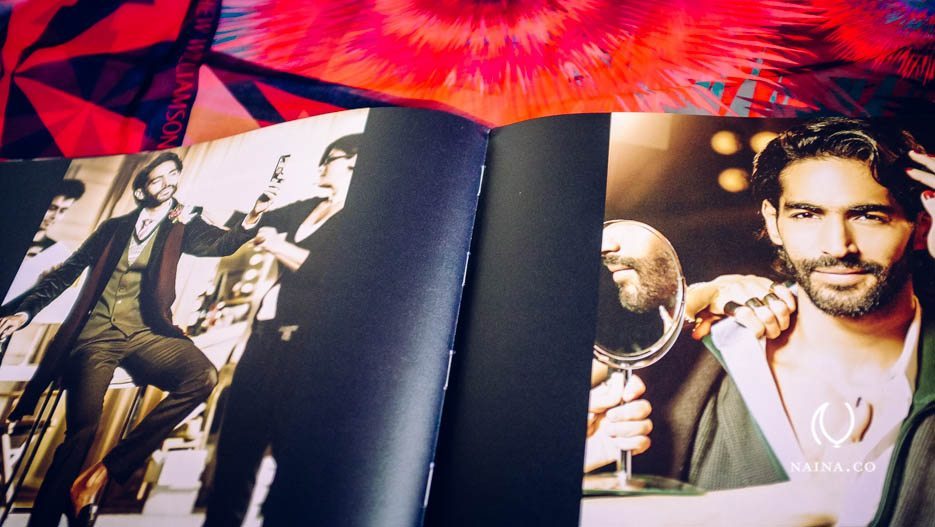 Ah look above! Pretty thread binding! Matte paper and textured thread – love it. But I think I said it too soon. See below? Already falling apart? The wheat glue didn't hold too long is my guess.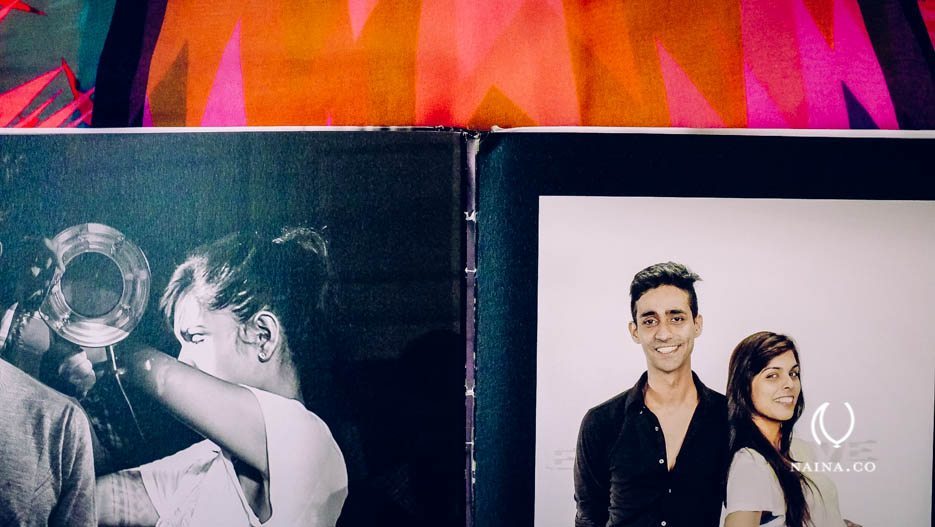 The styled / fashion photographs are fantastic but the photographs of the stylists and the team who put this thing together? Lackluster. Especially because you see both sets of images in the same book right next to each other. The contrast makes the team portraits look drab.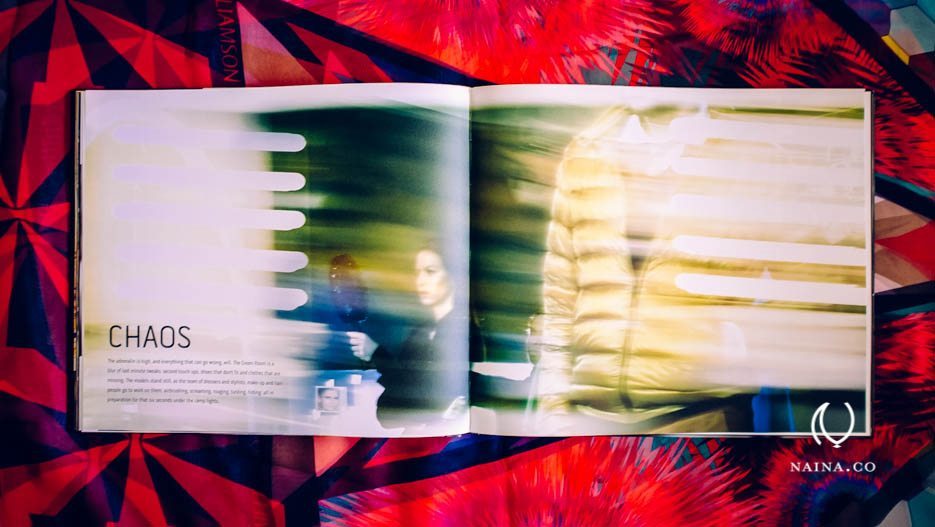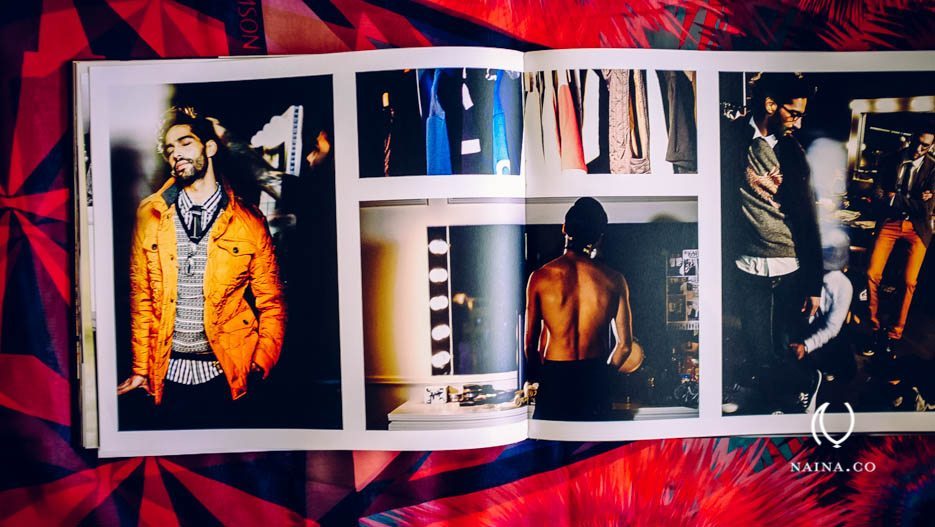 The "CHAOS" and "DEBAUCH'D" double-spread page photos are two of my favorites from this book. Nice work Saurabh!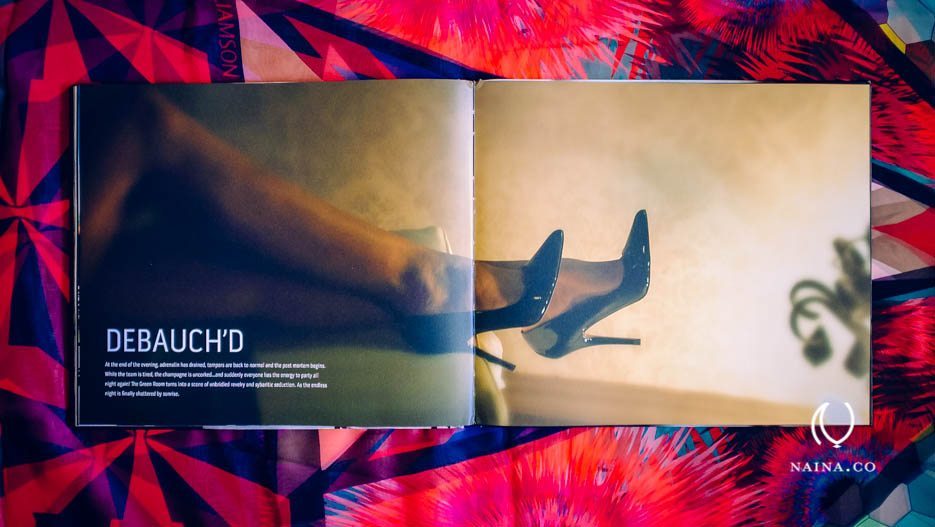 Of course there is a detailed listing of each item from each brand alongwith pricing at the end of the book. An expensive catalog? Well why not – most other books and catalogs I've seen produced in India are quite shitty – compared to all that I've seen, this The Green Room is probably one of the finest.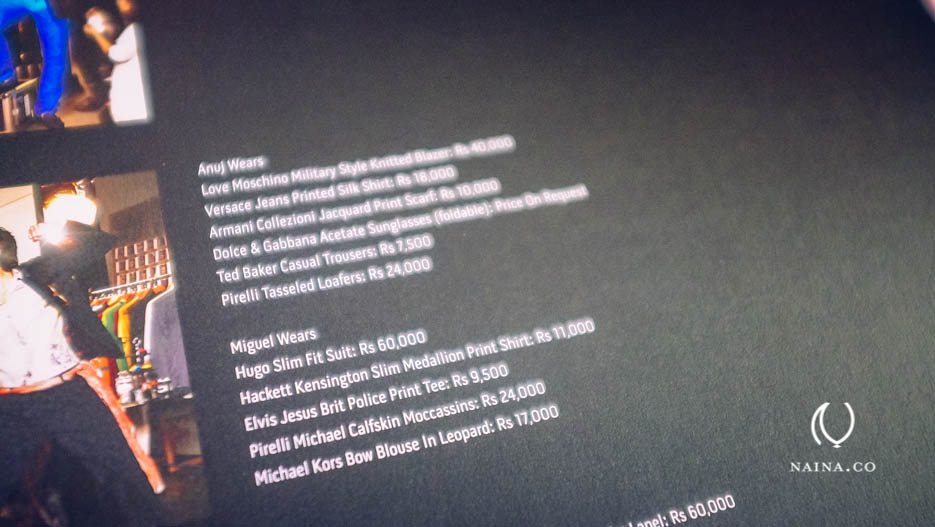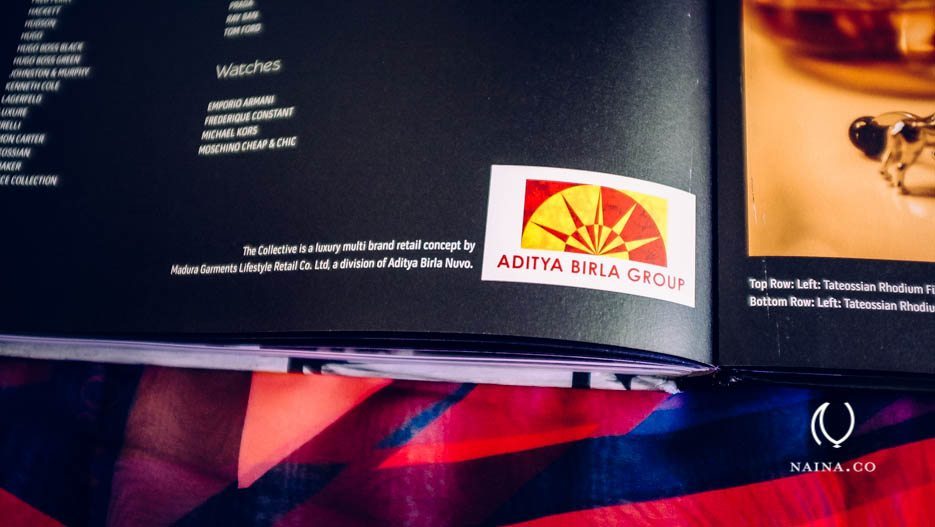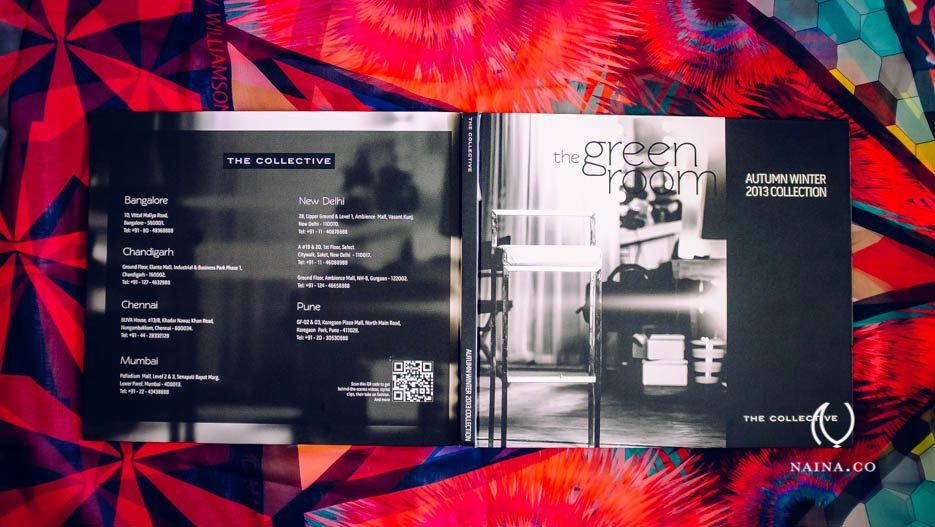 In 2010, this was The Collective as I knew it – at the launch of Armani Collezioni.
My verdict on this The Green Room? Fantastic first effort. Covers the brands in great detail, presents styling options, literally shows the prospective customer what to buy and how to possibly style it, there's a nice human element to the book because you can see some of the people who helped put it together – good exposure, publicity and advertising for them. All in all, the book works. I am not privy to the original client brief so can't say it fulfills those goals but from experience, if my guess is right, then the book works. Production could have been slightly better but then nothing is perfect and there's always room for improvement. I'm certain that the next production will be even better.
( Disclaimer : The book was provided to Naina.co at no cost by the client's PR agency. )