Onto Day 02 of our visit to the city of Jaipur courtesy Le Méridien hotels. ( The story from Day 01 is here. )
Both of us had slept really early the previous night and naturally, we woke up late. There was still some sunlight in the morning but it was COLD. Beautiful bougainvillea line the hotel's periphery. We headed for breakfast at Latest Recipe ( which is their 24 hour restaurant adjacent to the Lobby. ).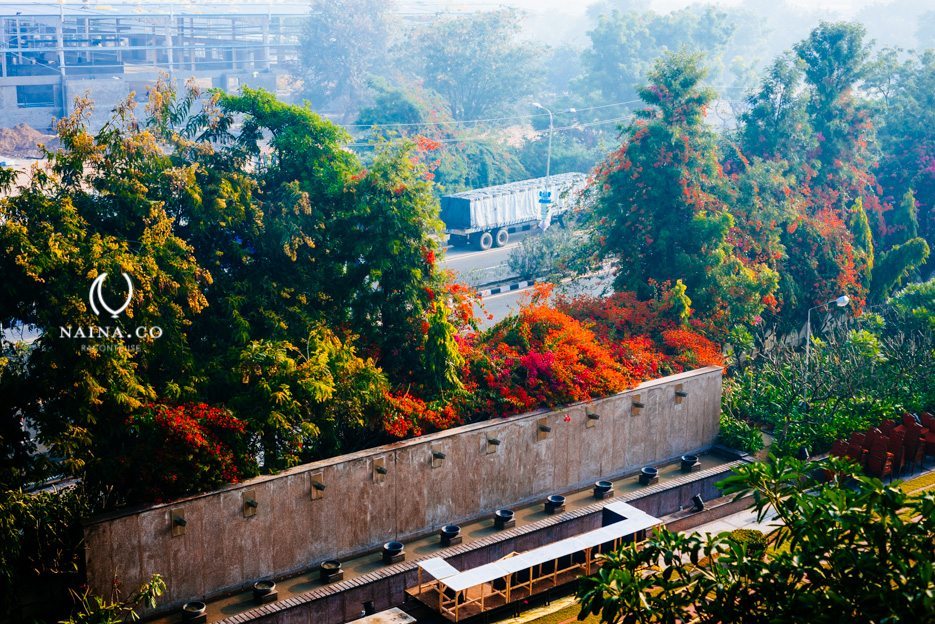 I know it's a crazy mixed plate with potato wedges, fresh melon, corn, olives and a chocolate muffin but it was a great start to the day. We also had a lot of green tea with each of our meals. Breakfast also included lovely fresh juices : kiwi + mint / orange / watermelon etc. We also met the lovely Anjali Mehra ( @AnjaliMehra4 ) who is the Area Director Marketing & Communications South Asia at Starwood Asia Pacific Hotels & Resorts. We had such a fantastic conversation with her – it gave us hope for professionalism in India and the blogging scene in general. The woman sure knows how to make it work for all her 9 brands. No kidding. And she's on her toes with social media and digital marketing with splendid international endeavors for the Starwood Group.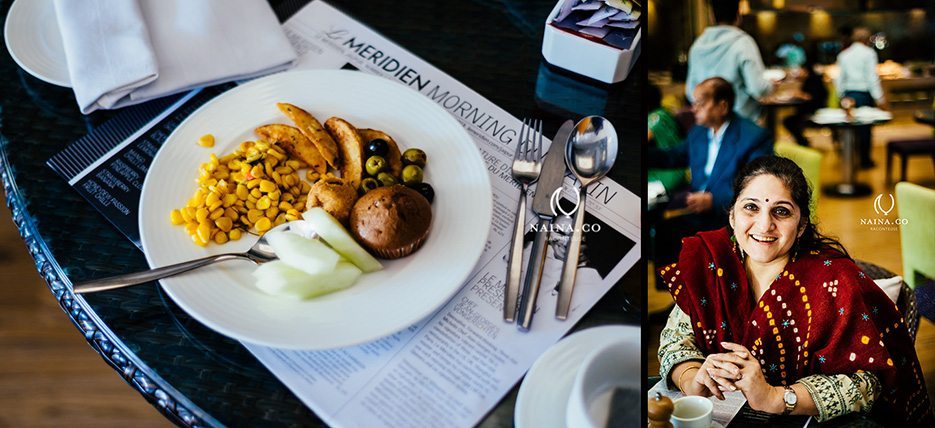 Akanksha & I then headed back to our room to get dressed and go visit the Jaipur Literature Festival – it was our very first time and while we were quite excited, we had been warned that the crowds were huge and not exactly well-mannered. And then there was the cold weather to contend with, so we had on a bunch of layers.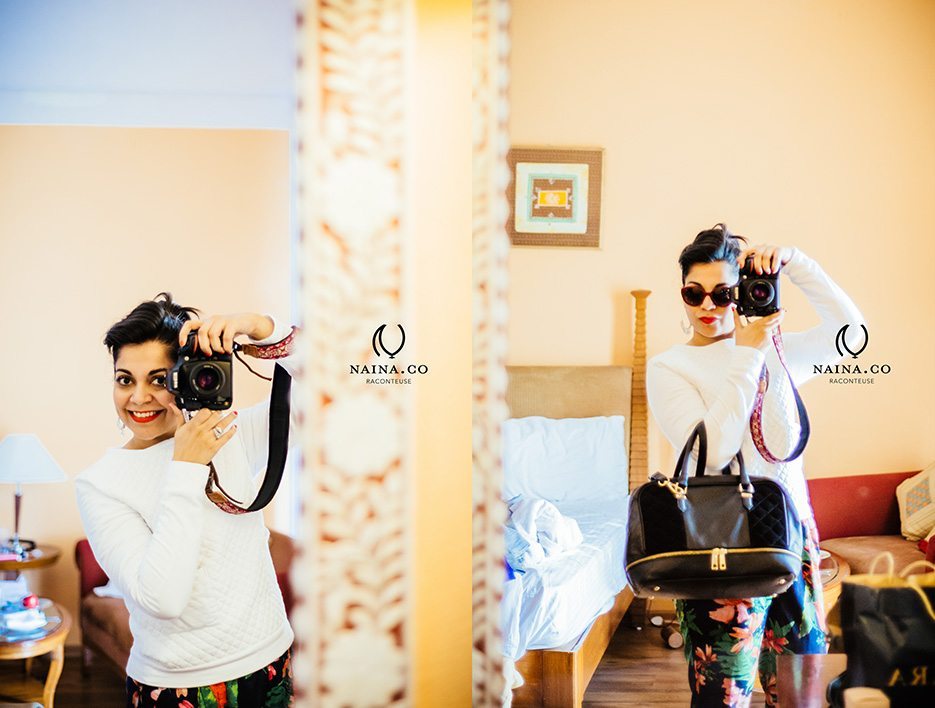 #CoverUp, story coming up later but I'm wearing Koovs and Forever21 with an ASOS bag. Glasses CHANEL, you've already seen previously. The trousers look flimsy and summery but these were the only ones I could wear warm layers under without looking like an inflated balloon. ( Still mastering mirror selfies. )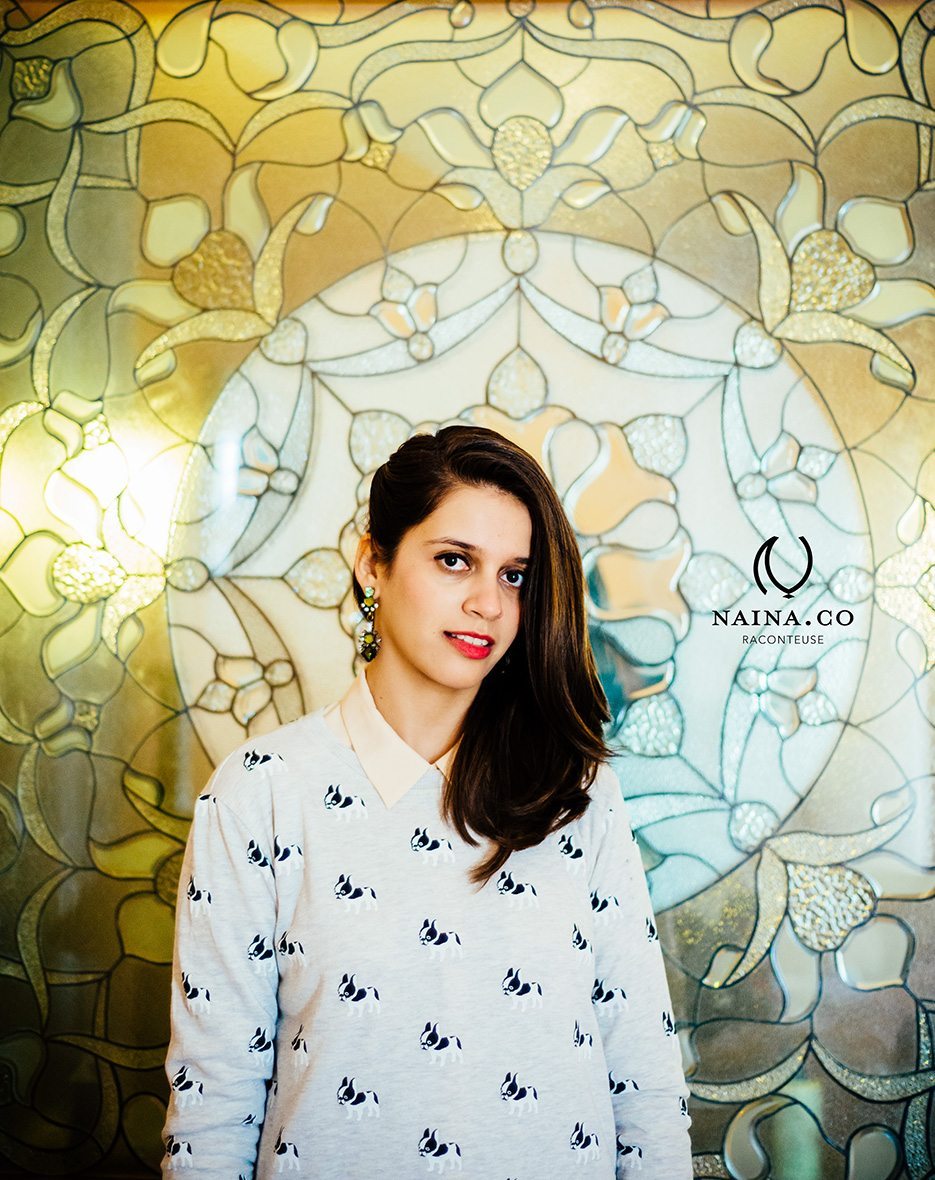 Akanksha above. Looking fabulous as usual. Her style quotient is effortless and you can give her rags and she'll look stunning in those as well. She inspires me to look smarter without stressing. Cute little French bulldog print on her jersey. Below, off we go, with a few street-views of Jaipur, captured on camera as we are driven to Diggi Palace for the LitFest.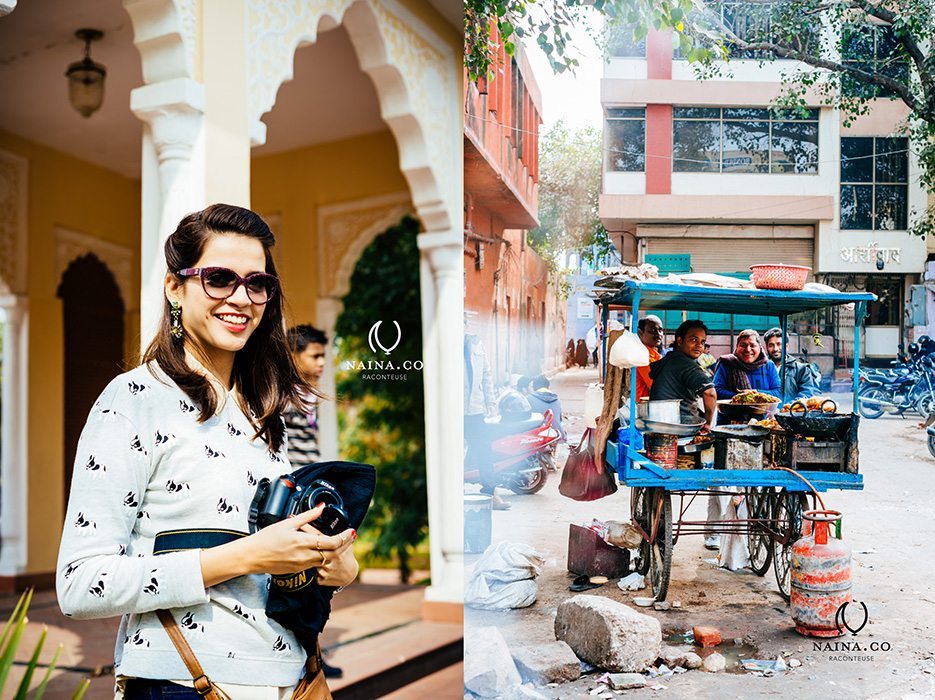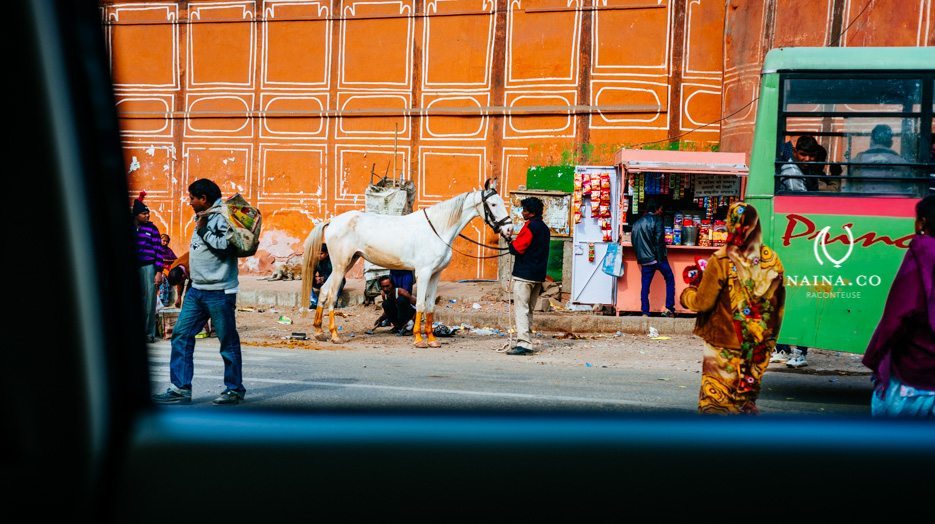 The Central Museum covered in thousands of pigeons. I dislike these birds. A lot. They remind of an infestation.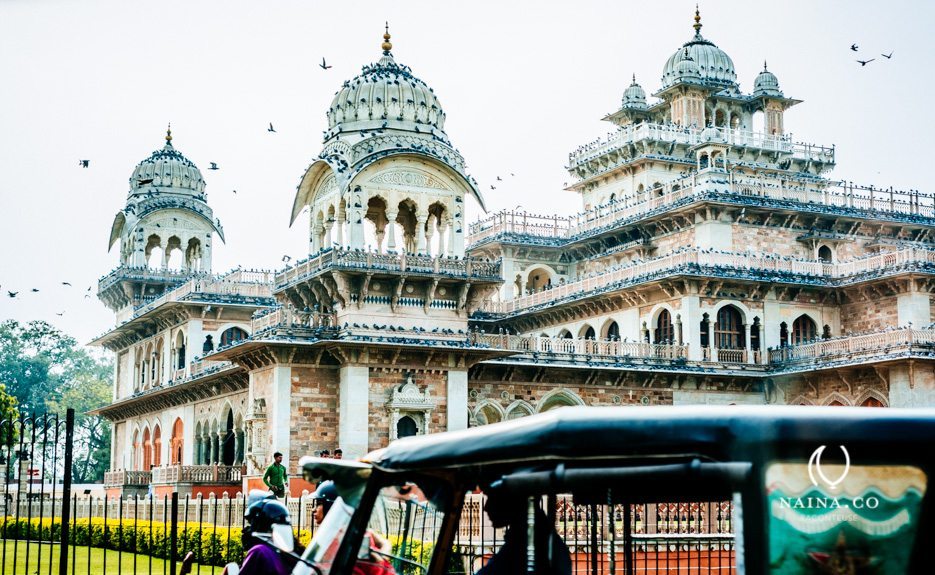 And we're finally at Diggi Palace and the first thing that hit me was the crowds! Such large numbers. The second thing that caught my eye were the colors – what a fabulous riot.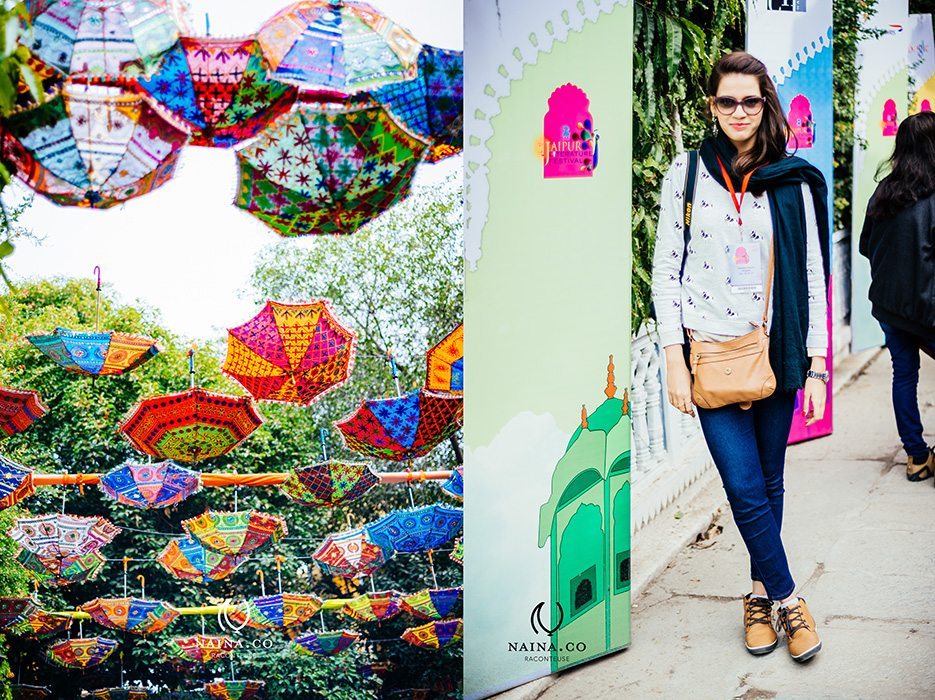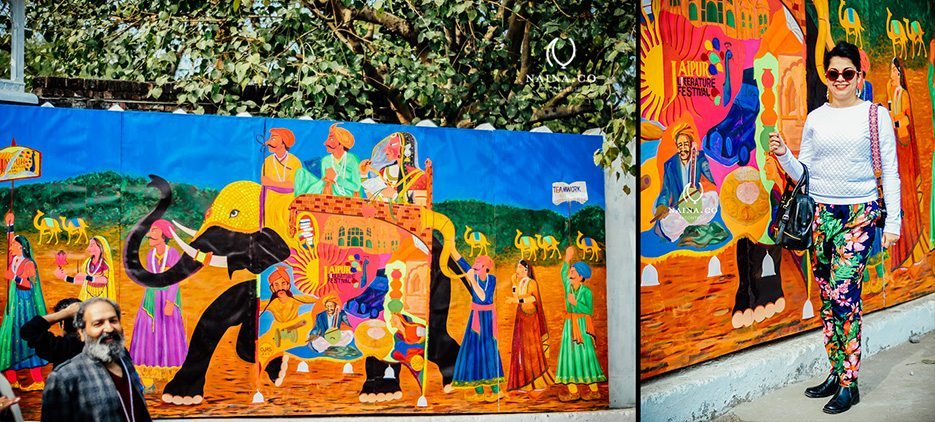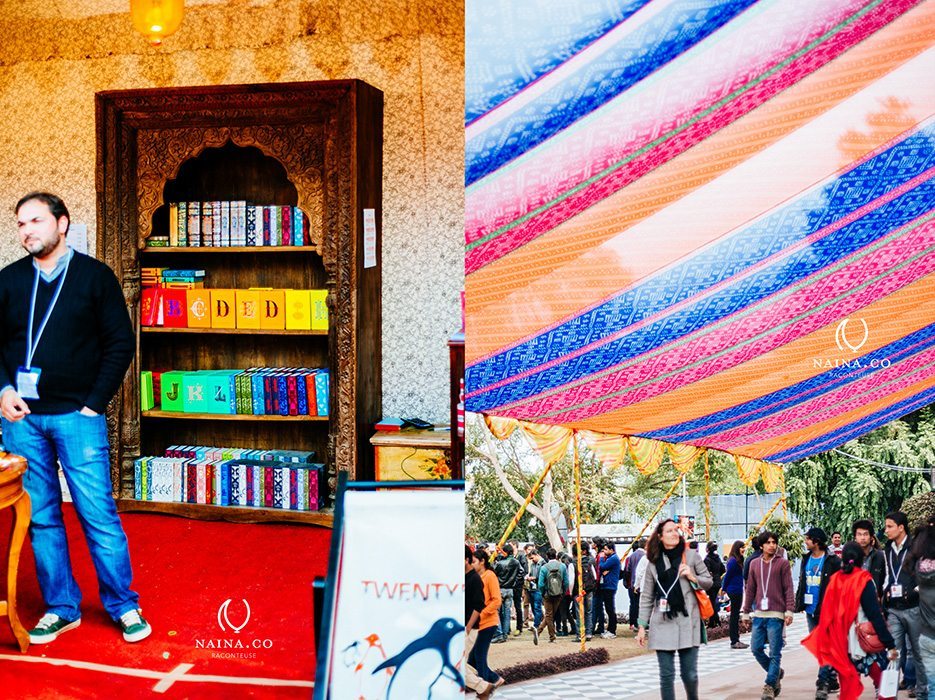 It was fascinating to see all kinds of people in the crowd. Some were seen soaking up the fast-fading sun. I like.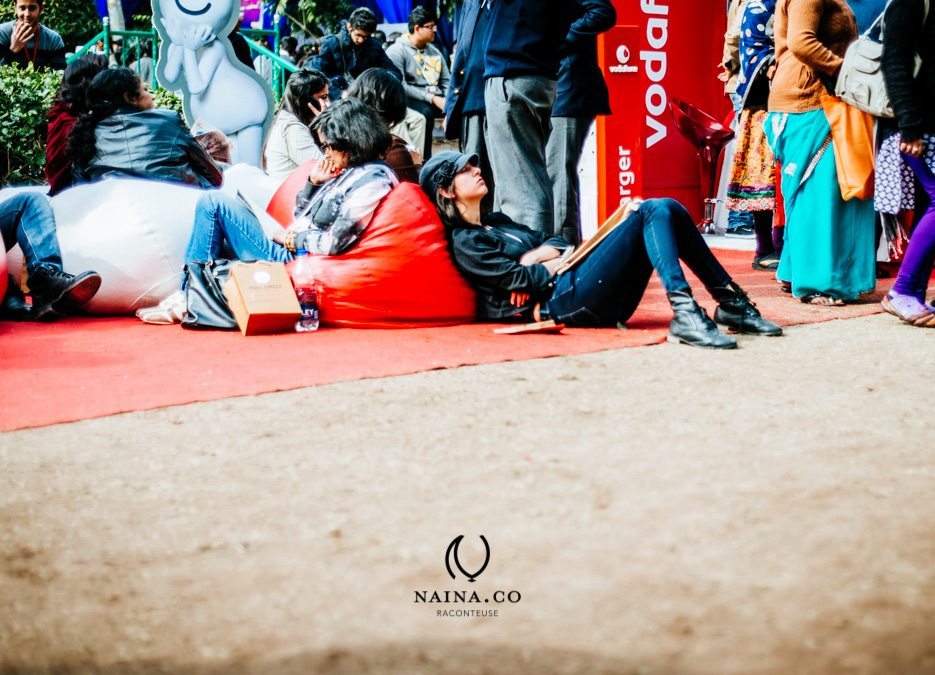 There were talks going on all around us and we couldn't decide where to plonk our butts, so we decided to first walk around the entire area and then pick a spot.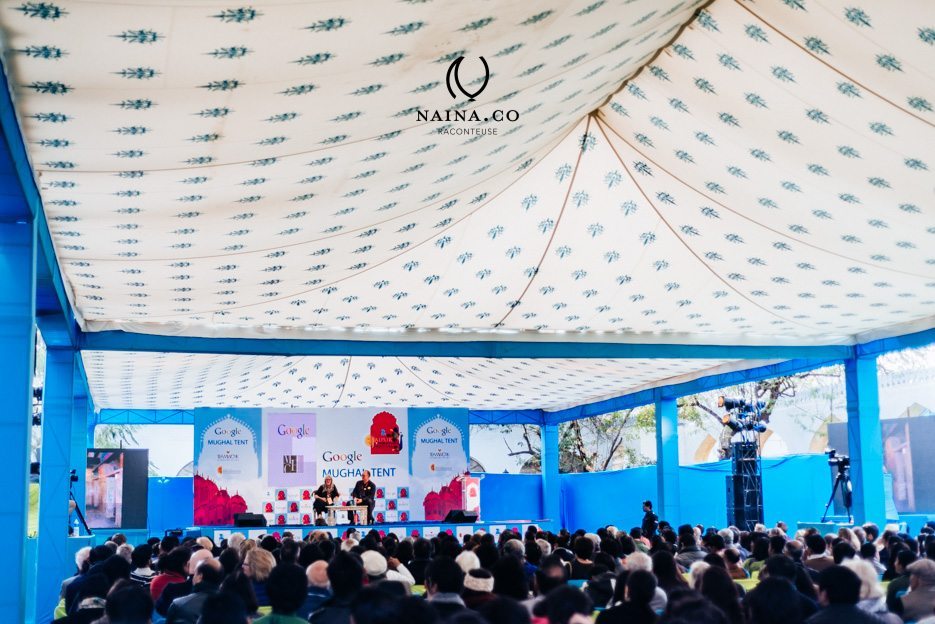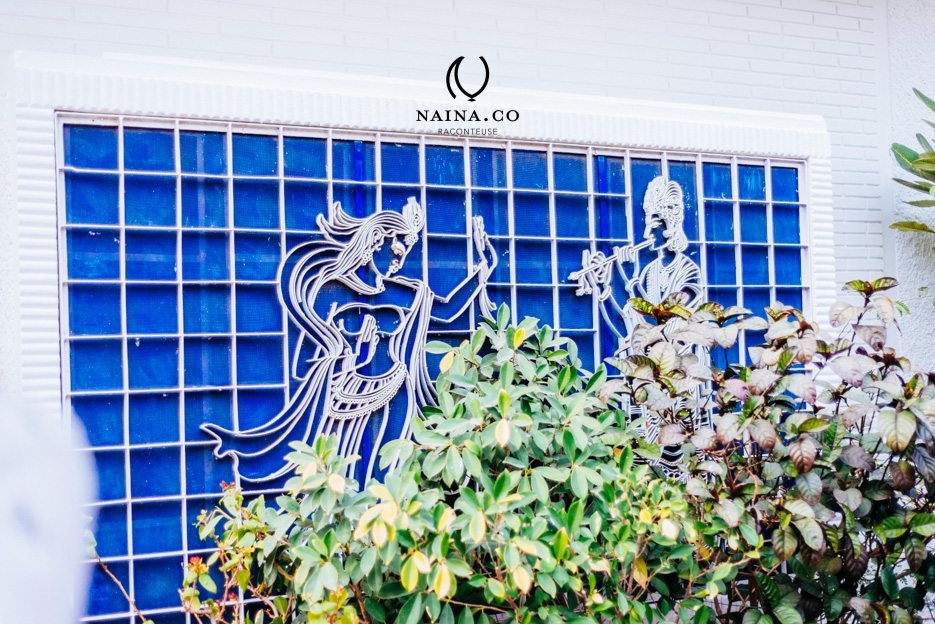 Since both Akanksha and I cover a bit of fashion and do our own outfit stories as well, we decided it would be a good opportunity to get that done at this beautiful location as well. Akanksha's posts you can see on her blog, mine will be coming up shortly.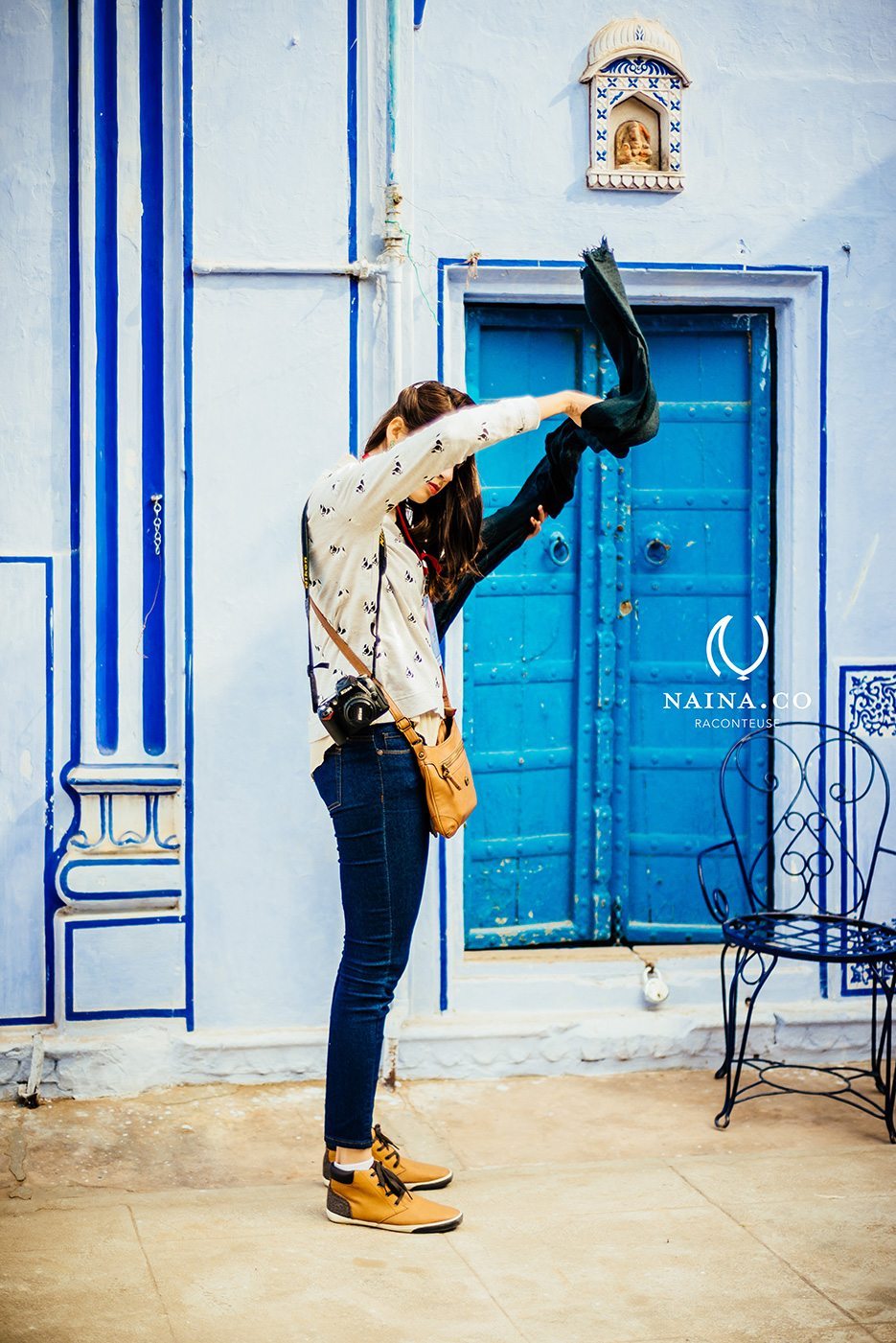 We even got followed by an elderly gentleman with a walking stick. He followed us even to the ladies room! Finally I couldn't contain my building irritation and he couldn't contain his curiosity and in broken English he asked us, "Where you live?" He thought we were foreigners or that we lived outside India. Akanksha, who is more level-headed than I am, responded in Hindi that we lived in Delhi and that we belonged to India. The old chap then proceeded to tell us how he had traveled all the way from Bangalore for the LitFest. We smiled at him politely and took his leave – from the ladies room – and thankfully, he was no longer following us.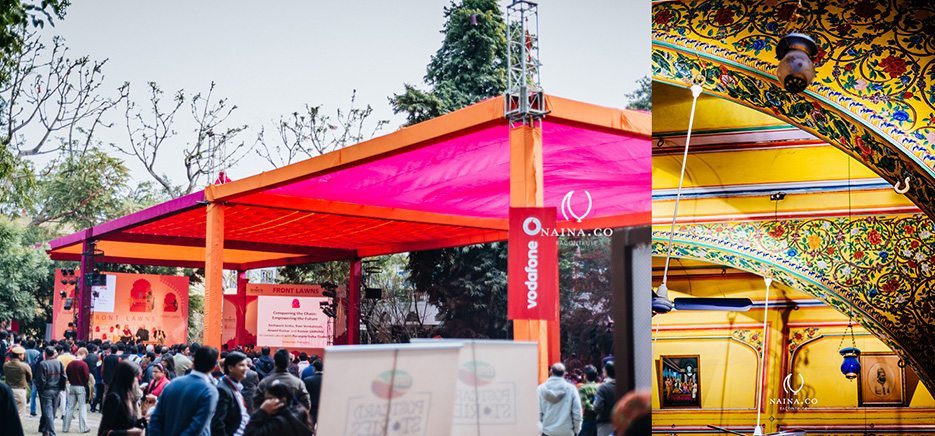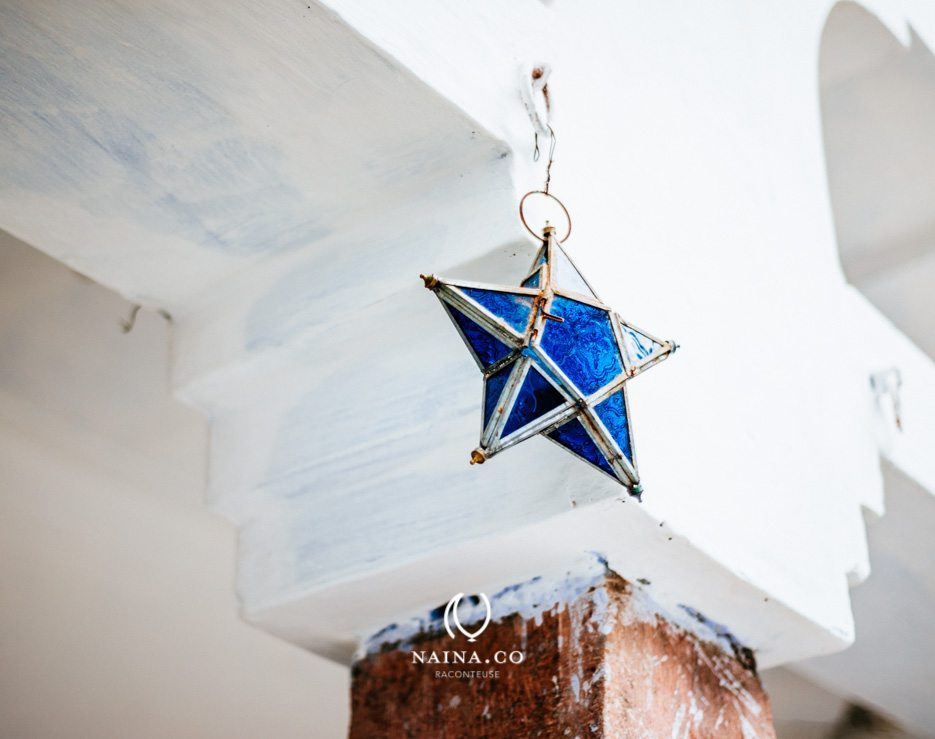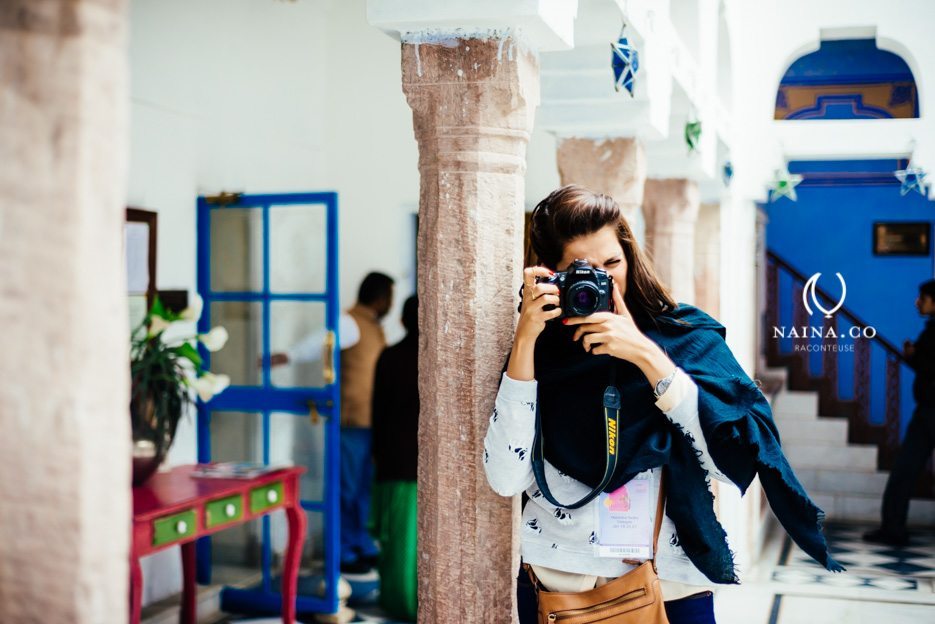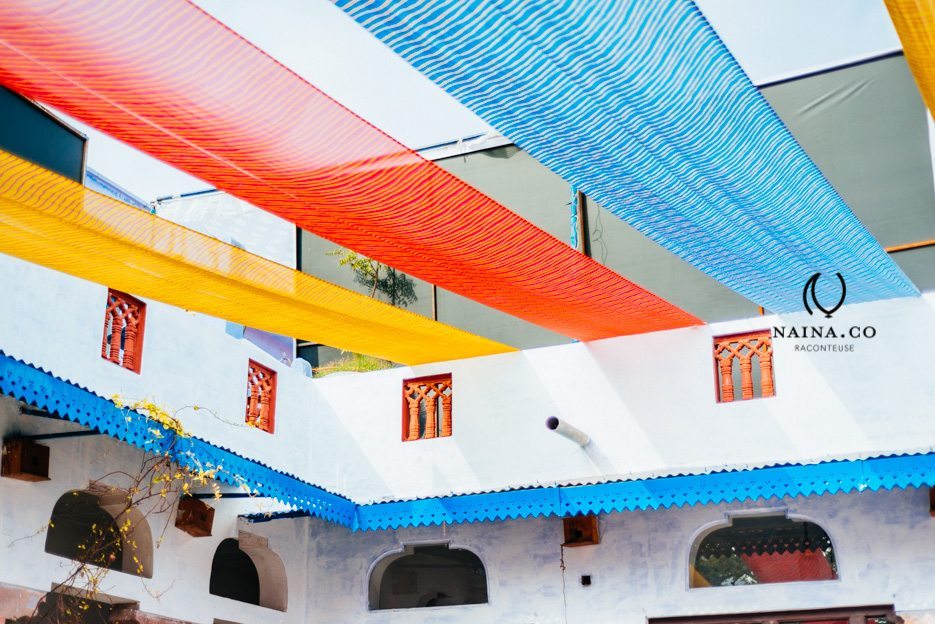 We soon found a sunny corner in the Delegates area and drank a lot of their water while we waited for the driver to get back to us.
As soon as we'd gotten in, a gentleman walked up to me. He wasn't old like the previous one who cornered us at the ladies room, he was probably in his 30's and suffered from mistaken identity syndrome. He walked up to me with full confidence, tapped me on my shoulder and proclaimed loudly, "Salma! I'm Salim! You remember? We met!" From behind my sunglasses, he couldn't see my glare but he must've seen my wry grin. Again, Akanksha to the rescue, again in Hindi, "She's not Salma. Sorry." Poor guy walked away with a barely audible "Sorry."
I was ready to head back to the hotel. Between the old gentleman and Salim and the many male photographers or "men with cameras" who were snapping up photographs of me and Akanksha, I wanted to tear my hair out. I don't mind being photographed but please ask – we'll pose and give you a proper shot instead of the sneaky ones you're creeping us out with.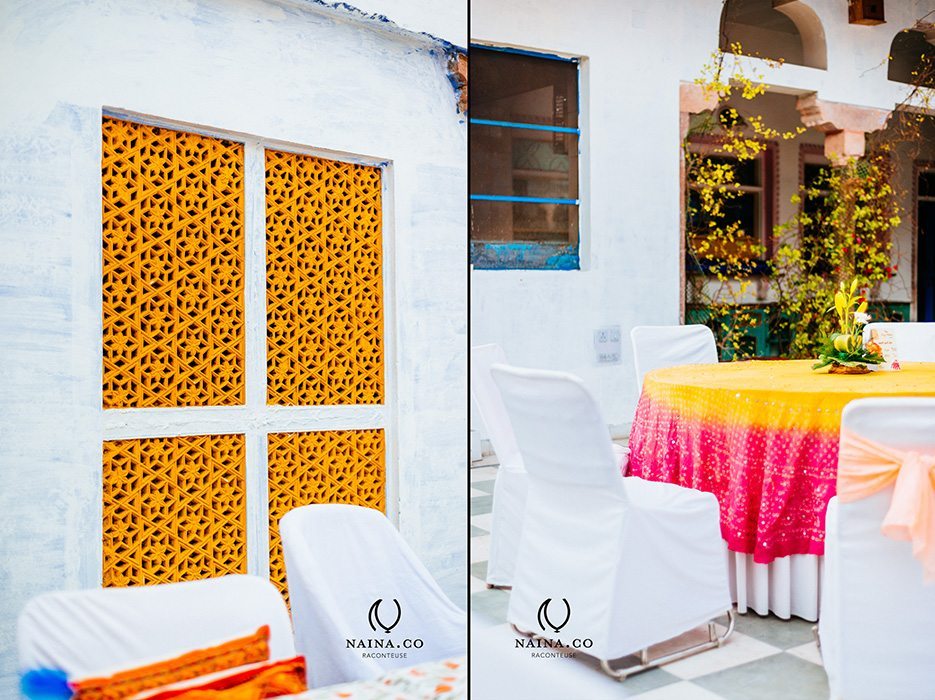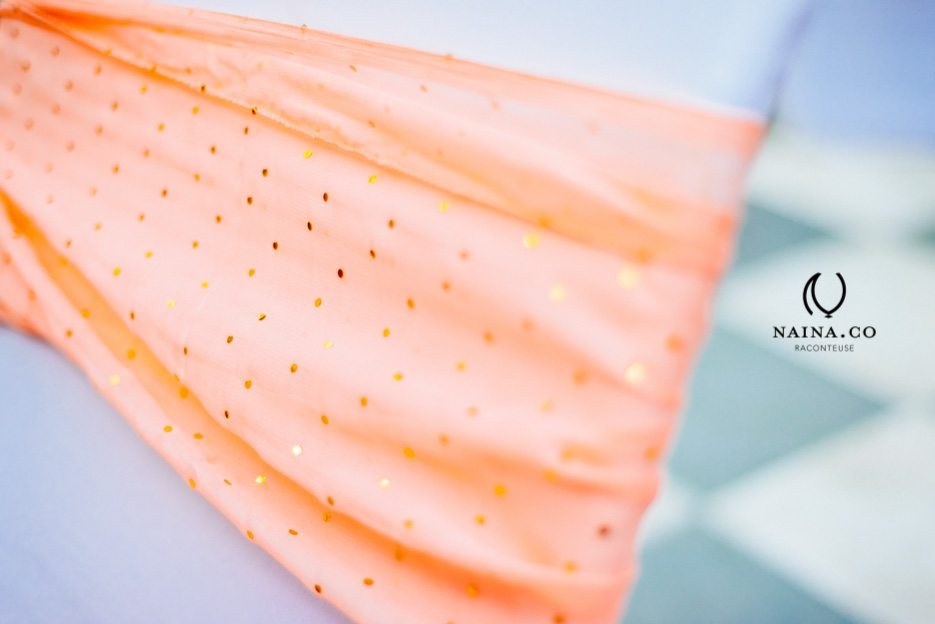 On our way out, we also met friends! What are the odds. One was here all the way from the UK and the other was over from Delhi.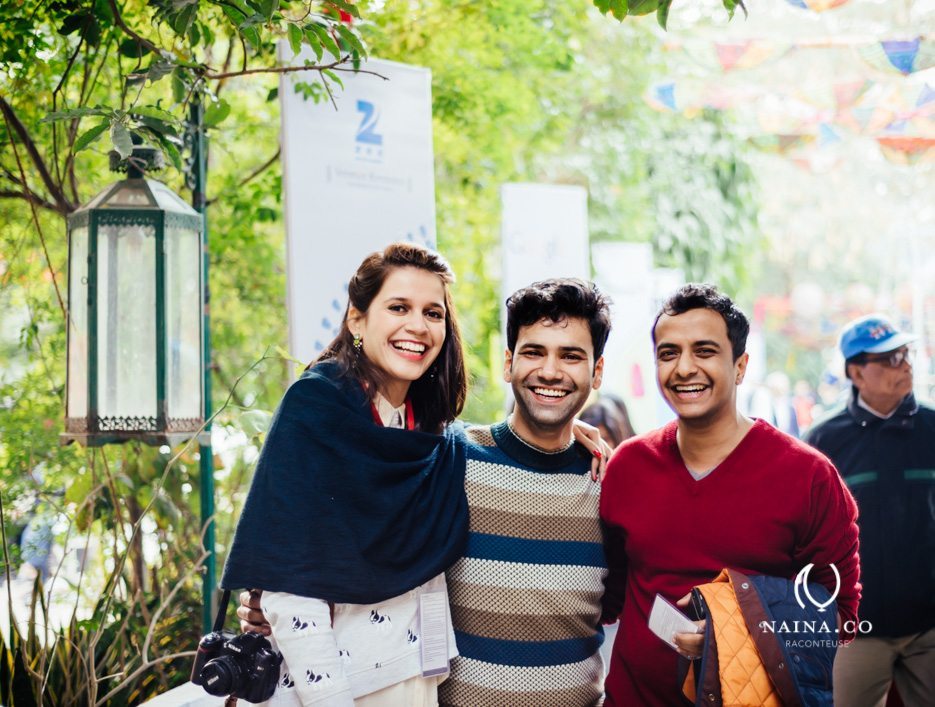 By the time we got back to the hotel, it was about 4pm and we'd lined up another late lunch by then. My cold was also acting up and I decided to ask for hot water + brandy + honey.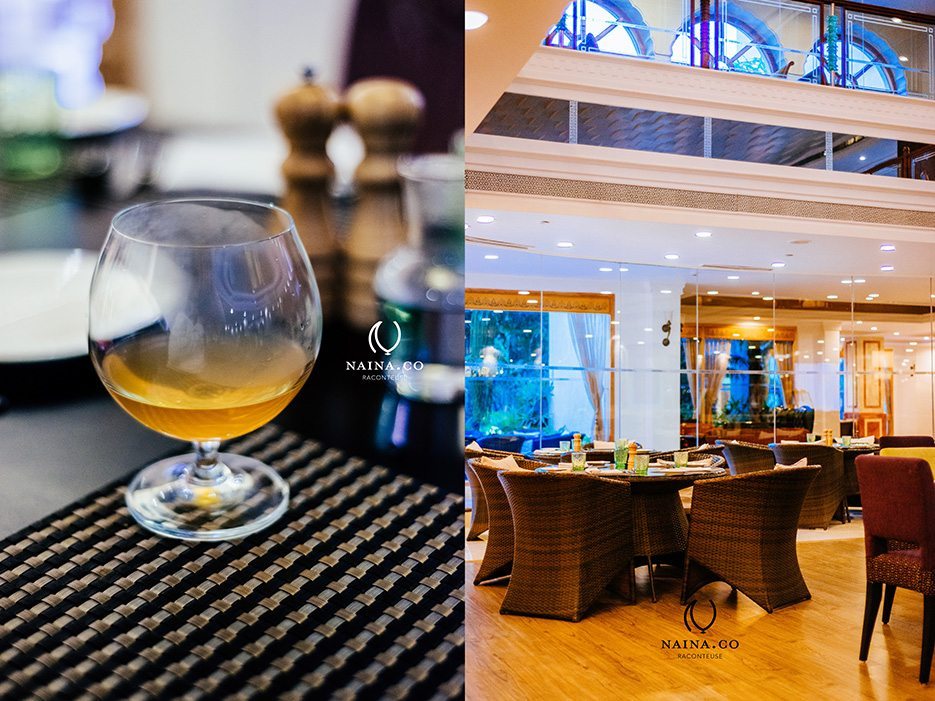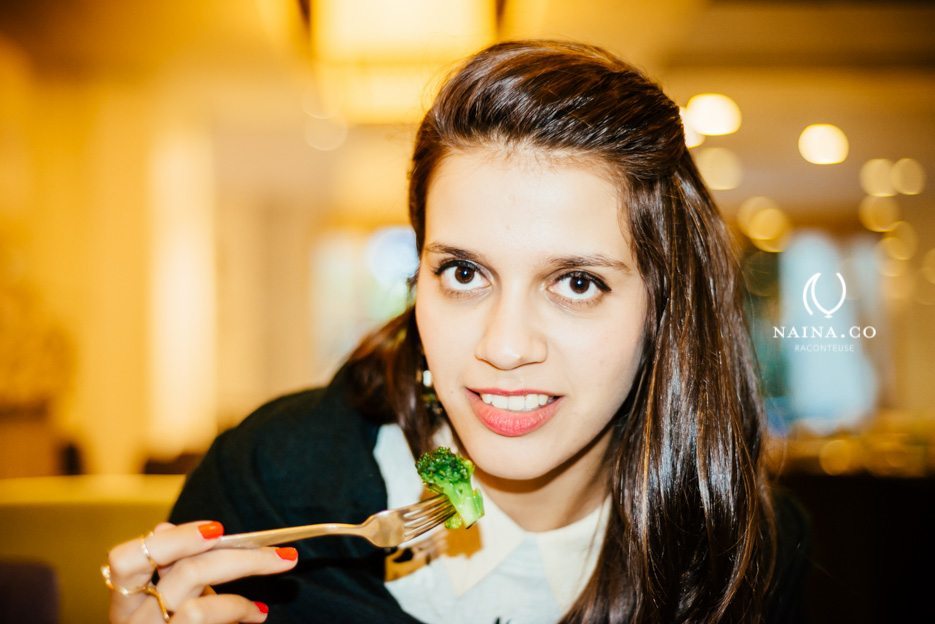 The prawns were juicy and quite large morsels although there was a bit of a funny smell to them – probably because Jaipur isn't a seaside city? I'm always wary of eating seafood in the interiors of India but who doesn't love juicy prawns! We polished off the plate with just a few bites.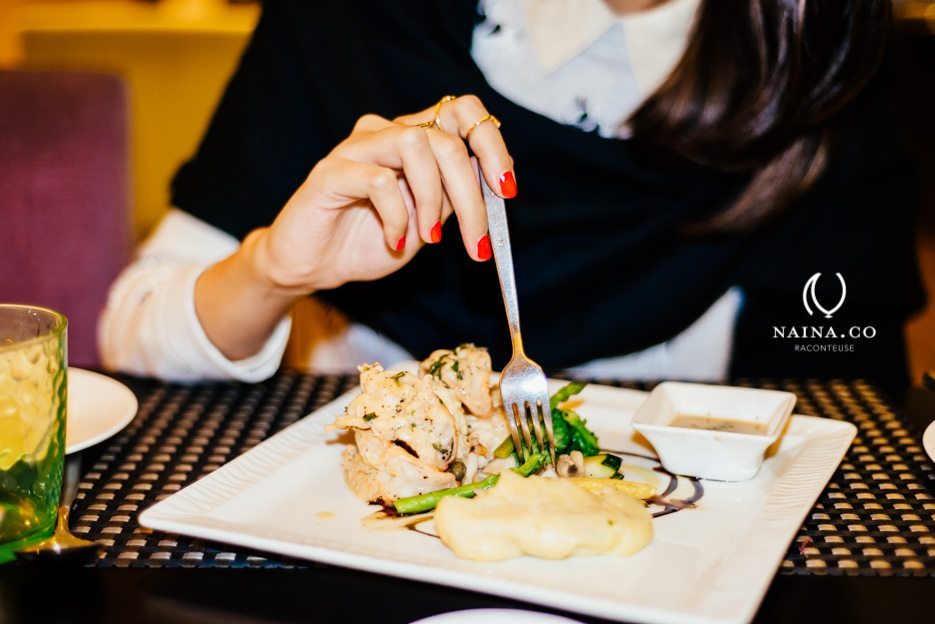 I ordered chicken dimsum and we got some chocolate mousse for dessert. You can safely skip the dimsums – sorry Chef – I know you spent a lot of time making them from scratch but they were not so good. The chocolate mousse was ok.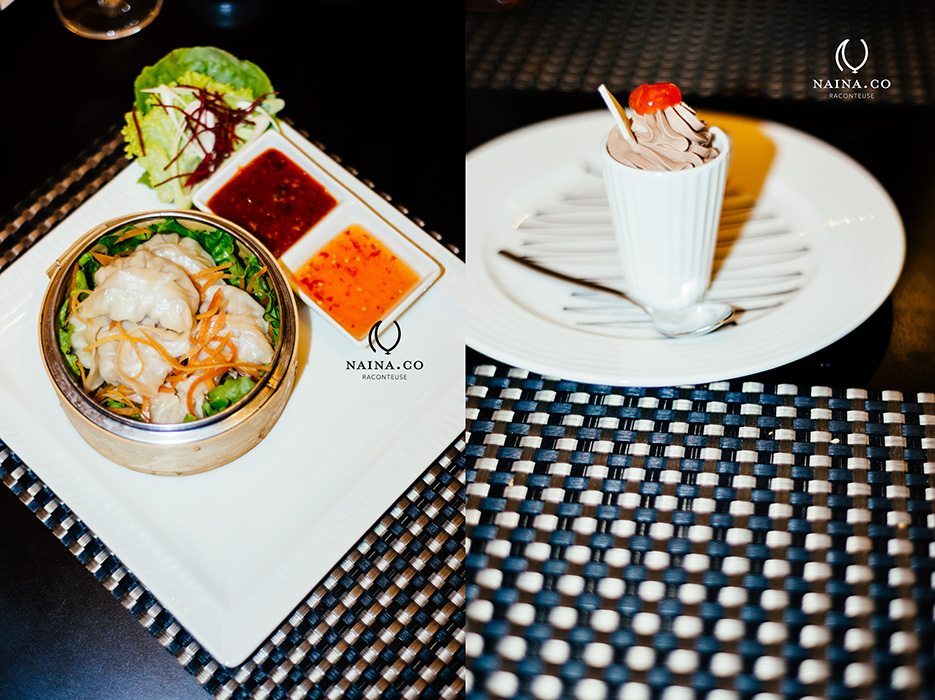 Tummies full and feeling slightly warmer than before, we headed to our room to warm up a little more before our spa appointment. We'd checked out their spa and they have a decent selection of massages. We headed to the spa at around 7:30pm and Akanksha got herself a hot stone massage and I opted for a Lomi Lomi, which is a deep tissue massage.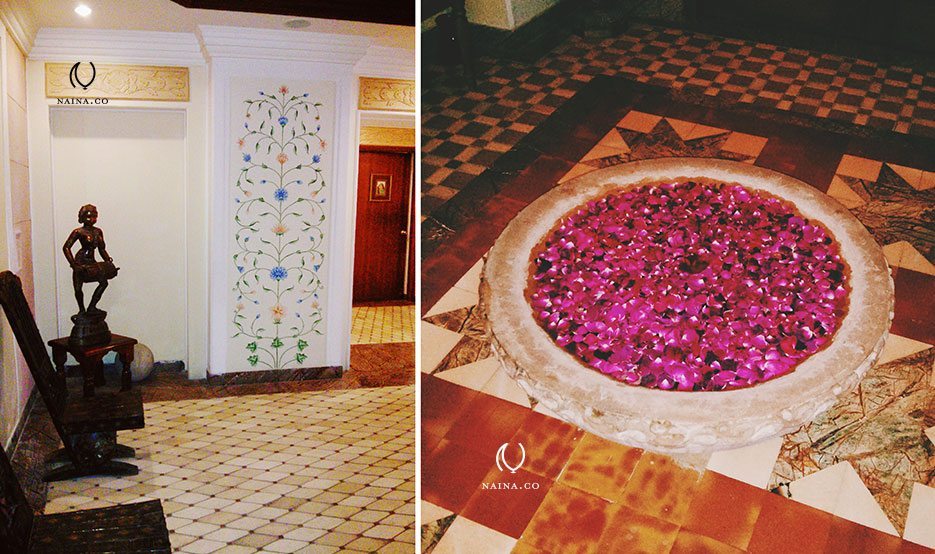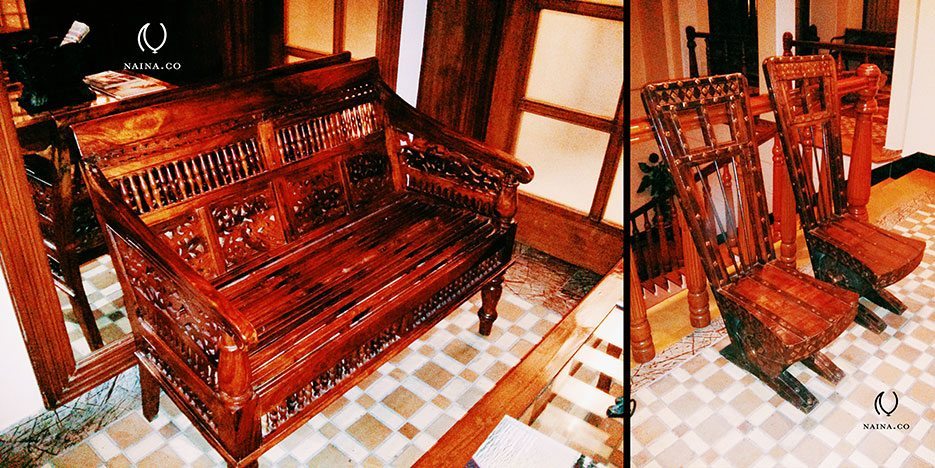 Only managed some before-the-massage-phone-photos. Was too sleepy and relaxed post the massage to make stern requests to my brain. It was a good hour long massage and I appreciate them staying open till they got done with us. The spa area closes at 8 pm and they kept it open for us till almost 8:30pm.
I soaked in the tub for another half hour or so back in our room and almost gave myself hyperthermia because of the all the heat generated in my body. The result of this was that for the next 2-3 days, I was constantly under-dressed for the winters and loving it.
Day 02 was great and now we were looking forward to Day 03 where we would get our taste of the Writer's Ball that would be held at the Le Méridien and we'd planned to get some fashion photos done during the day around the hotel's premises. See Day 01 here.
Le Méridien Hotels can also be found on Twitter | Instagram | Facebook
You can also keep up with Akanksha's updates on  Facebook | Twitter | Instagram | Pinterest
And then if you'd like, you can also keep up with my updates on Facebook | Twitter | Instagram | Pinterest