aphotoeditor.com is one of those websites that helped me in my photography career in my early days and continues to help me now – there's so many new things to learn almost every day!
The first time I chanced upon the website, I couldn't believe someone was publicly sharing real-life photography commission contracts and agreements to help other photographers in pricing their work and composing their contracts. Rob Haggart runs aphotoeditor.com and has recently taken to Instagram in a big way. Again, to help photographers around the world. He added a new section on his website called the "Insta-Promo" on the left sidebar, which streams photographs from his Instagram feed. On his Instagram feed, he shares promotional material and portfolios of photographers who mail their work to Rob. ( Rob's mailing address is easy to glean from the dozens of mail packages he shares photos of. I was also able to implicate my local courier delivery person for discrepancies in my package because of the photo Rob shared. I'd couriered a large white cardboard box stuffed with bubble wrap, in which the enveloped book was safely cocooned. What was delivered to Rob, however, was just the enveloped book – with no bubble wrap and no white cardboard box. )
Since Rob started the Insta-Promo about two years ago, I had been wanting to mail him my work too. There's so much I've done that has been guided by Rob's blog and in my head it would mean a lot to me see my portfolio book in his Inta-Promo section on the aphotoeditor blog as well as the Instagram Feed.
About 5-6 months ago, I finally held a copy of my printed portfolio book. Selected work from my commissioned and non-commissioned photography assignments before the start of 2015. And last month I was able to ship it to Rob's mailing address. ( I don't mail a lot of stuff too far from where I live and imagining how far the package would have had to travel to make the journey from my Noida, Uttar Pradesh, India address to Rob's Durango, Colorado, USA address, boggles my mind. )
As usual, I forgot to keep track of the delivery and did not know when the package was delivered at Rob's address till last night here in India when I received a notification that aphotoeditor had tagged me on Instagram and I KNEW Rob had finally seen some of my work in print! I was in the middle of a movie theatre intermission when I saw the update blink on my mobile phone's screen but couldn't get a look at all the updates immediately because network connectivity was dodgy inside the theatre.
As soon as I got out of the film, I took screenshots of Rob's Insta-Promo shares from his feed and promptly reposted ALL THE NINE PHOTOS he'd shared! Scarcely believing my eyes, my brain continued to reassure me that the portfolio book had indeed made it into Rob's hands and onto his wood desk and into his phone camera and then onto not only aphotoeditor's Instagram Feed but also onto aphotoeditor's website! That Rob had actually seen the photos and my work with his own eyes!
Not only that, Rob had also sprinkled words like "Great" in the caption for the photos of of my portfolio book he'd shared. And, to save the best for last, Rob had also said, "Promo from @naina.co landscape/travel. You have quite the range. Thanks for sharing." I was one happy photographer squealing her way to the parking lot at the shopping mall where I'd gone to catch the movie.
I didn't stop squealing till the time we reached home and I'd taken screenshots of Rob's share on my work machine and now here I am, still squealing, sharing the screenshots on the blog now! ( Crazy how things can go many "full circles". aphotoeditor.com gave me guidance and hope when real photographers in India didn't, I shipped off my portfolio to Rob as a token "Thanks!", Rob shared photos of my portfolio book and now I'm sharing screenshots of HIS shares! I love the Internet and the people who make it a welcoming, habitable place of learning for nOObs like me from a decade ago. )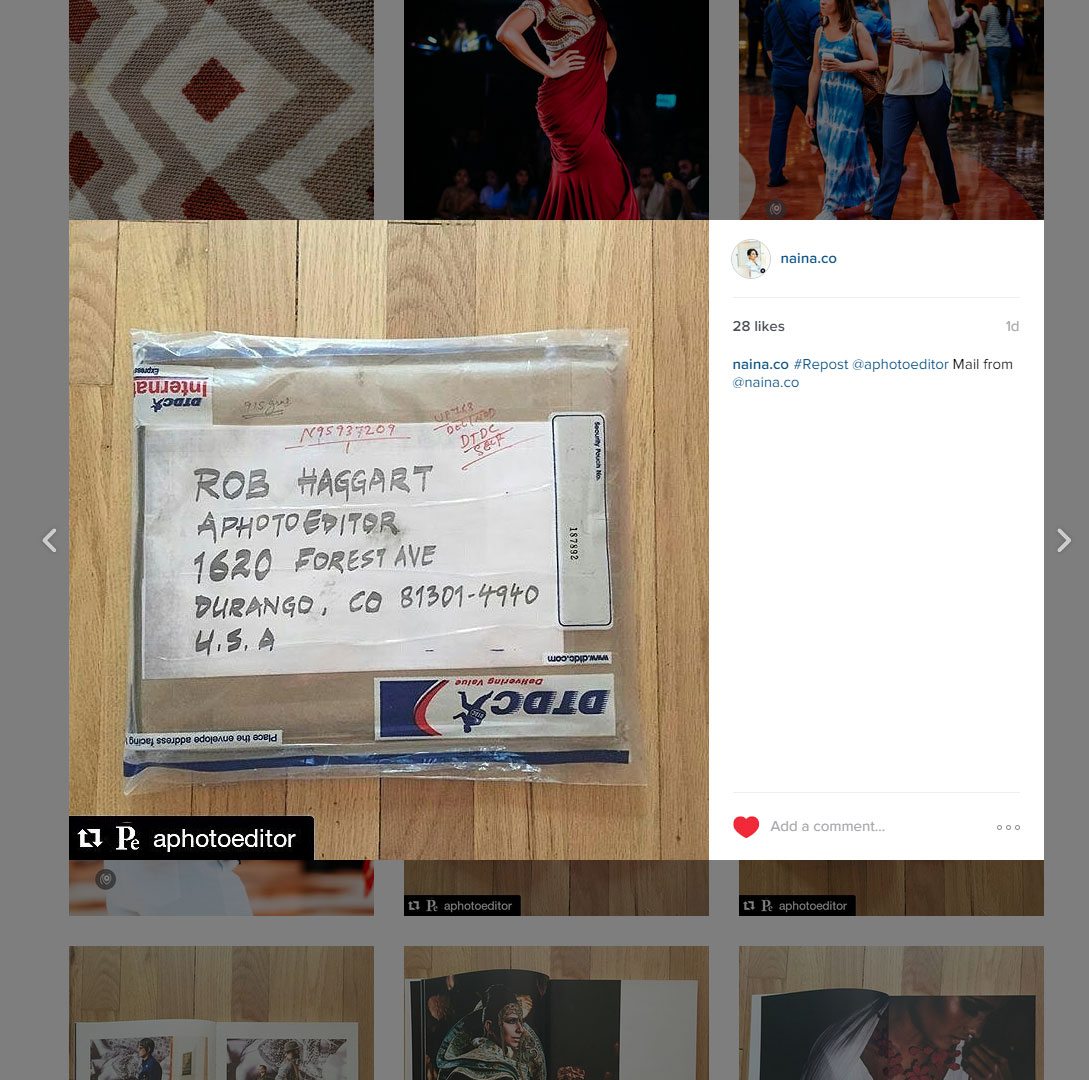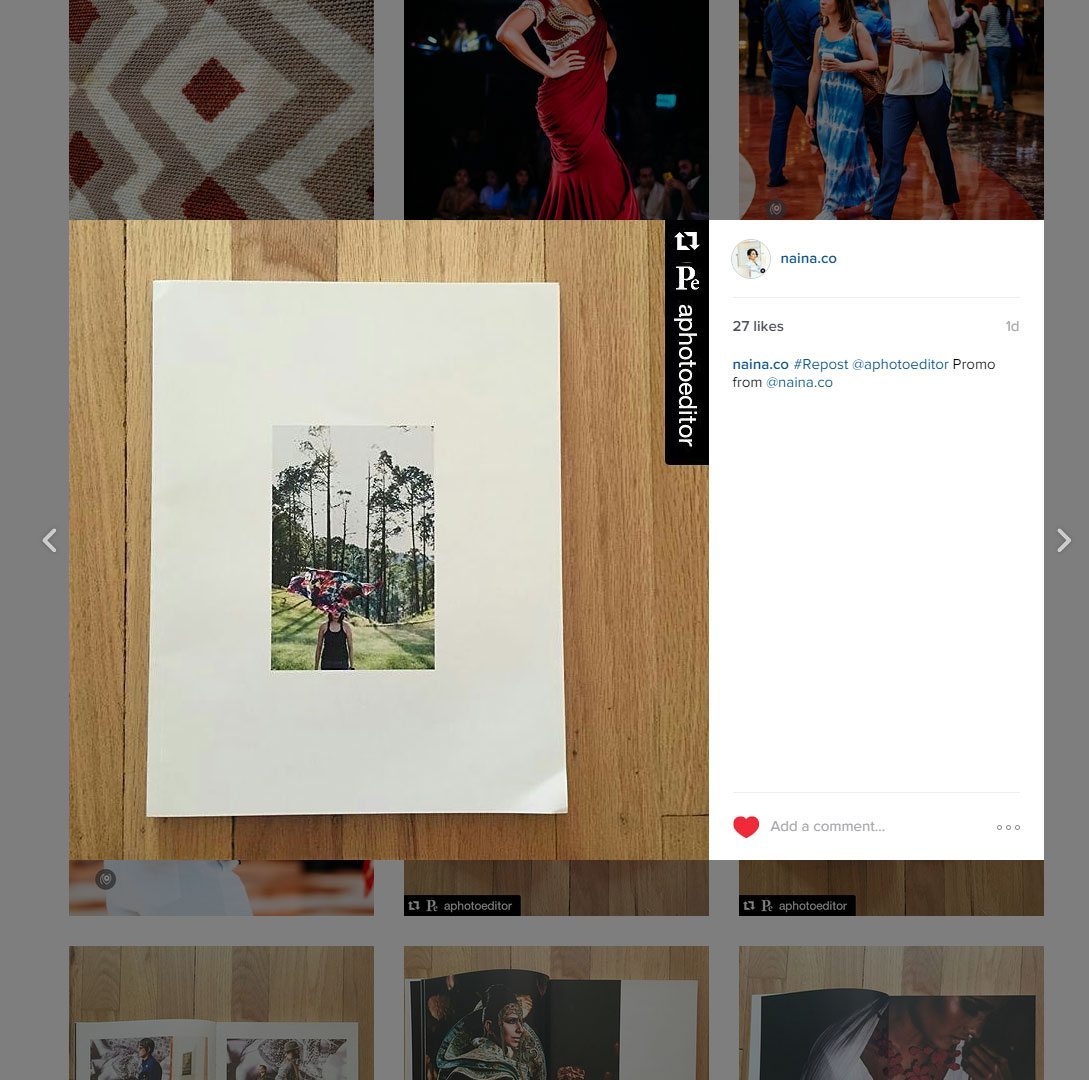 Above : Akanksha Redhu on the cover of my portfolio book. From the Cirare photo shoot at Ranikhet.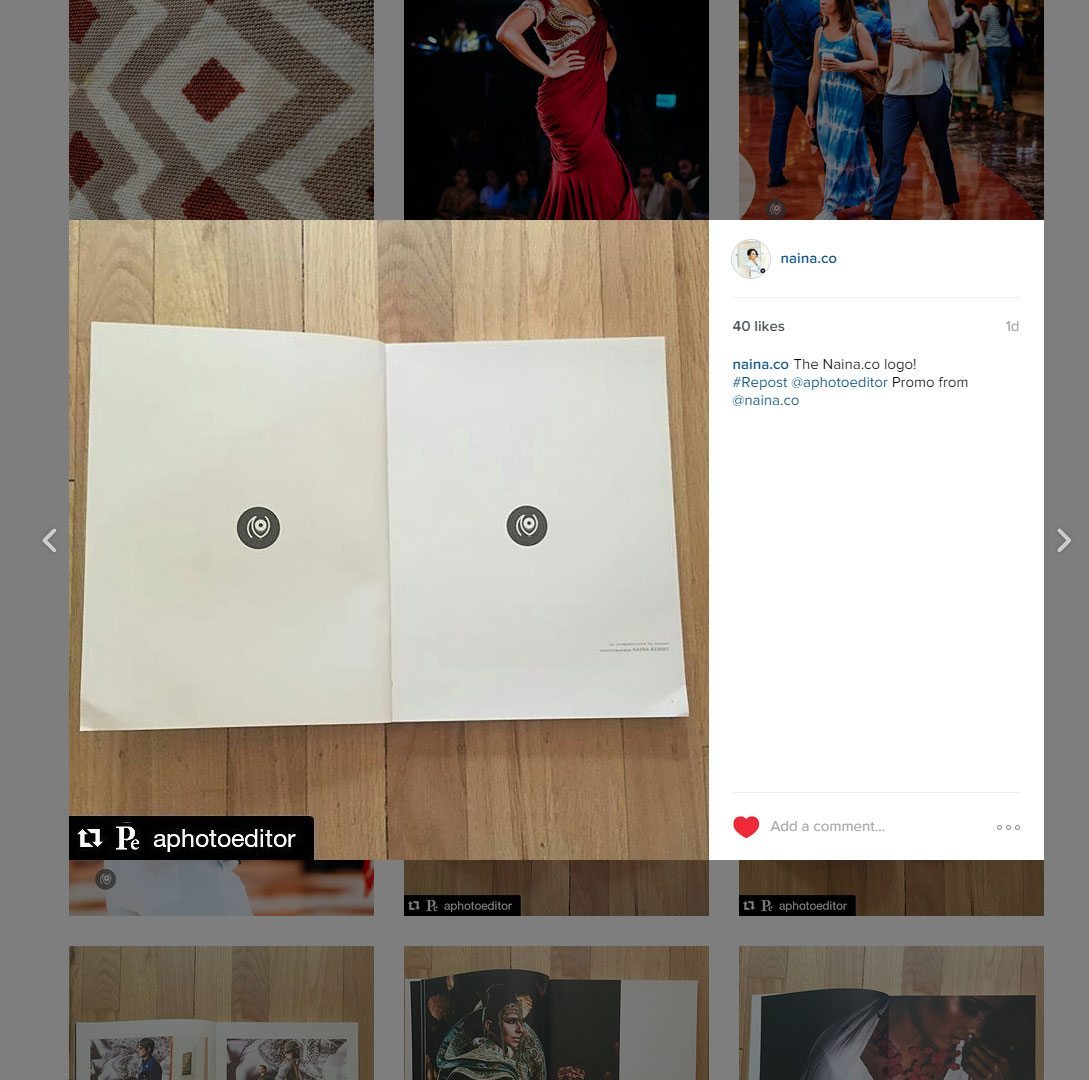 Above : the Naina.co logos! YAY!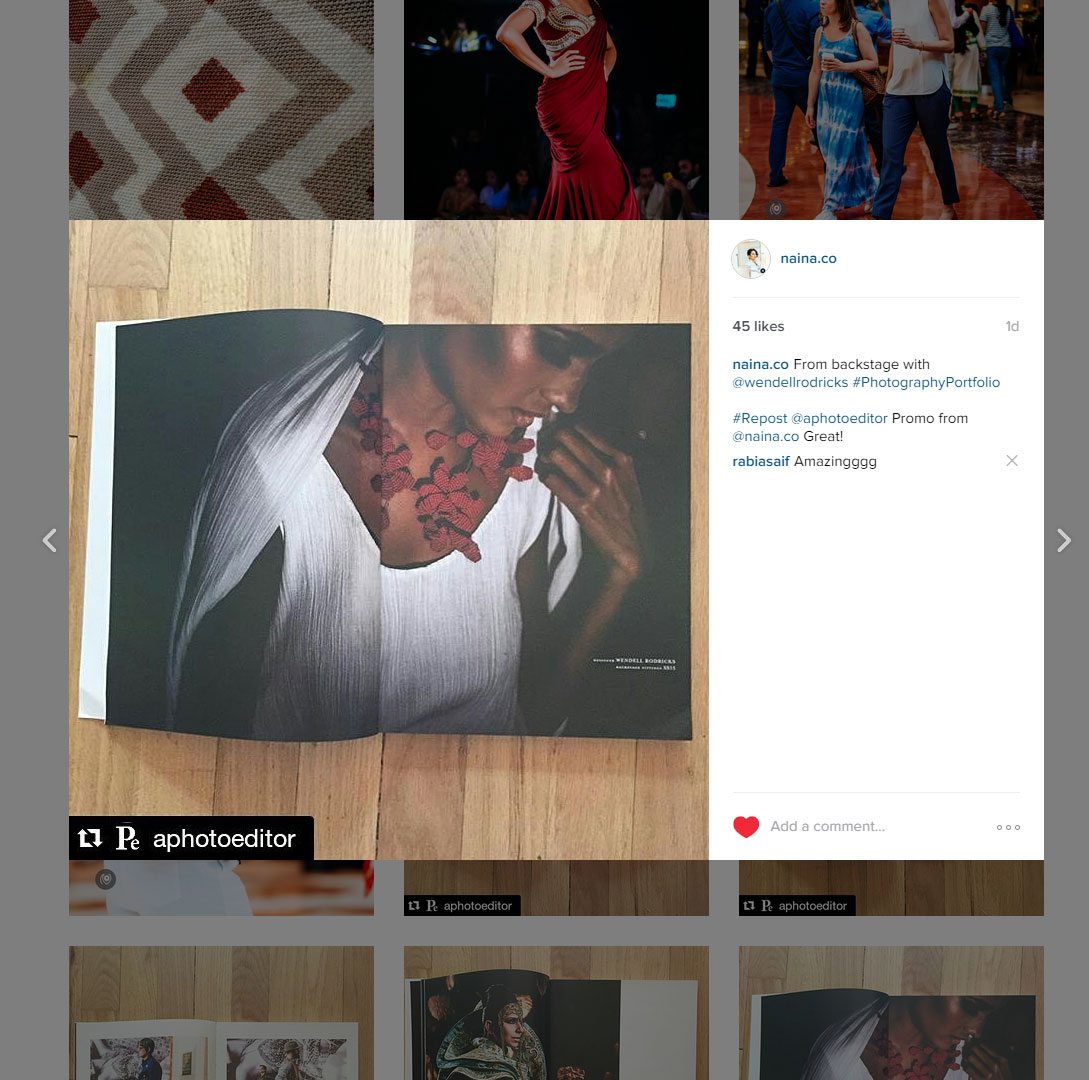 Above : Model Rikee Chatterjee backstage at Wendell Rodricks' Wills India Fashion Week Spring/Summer 2014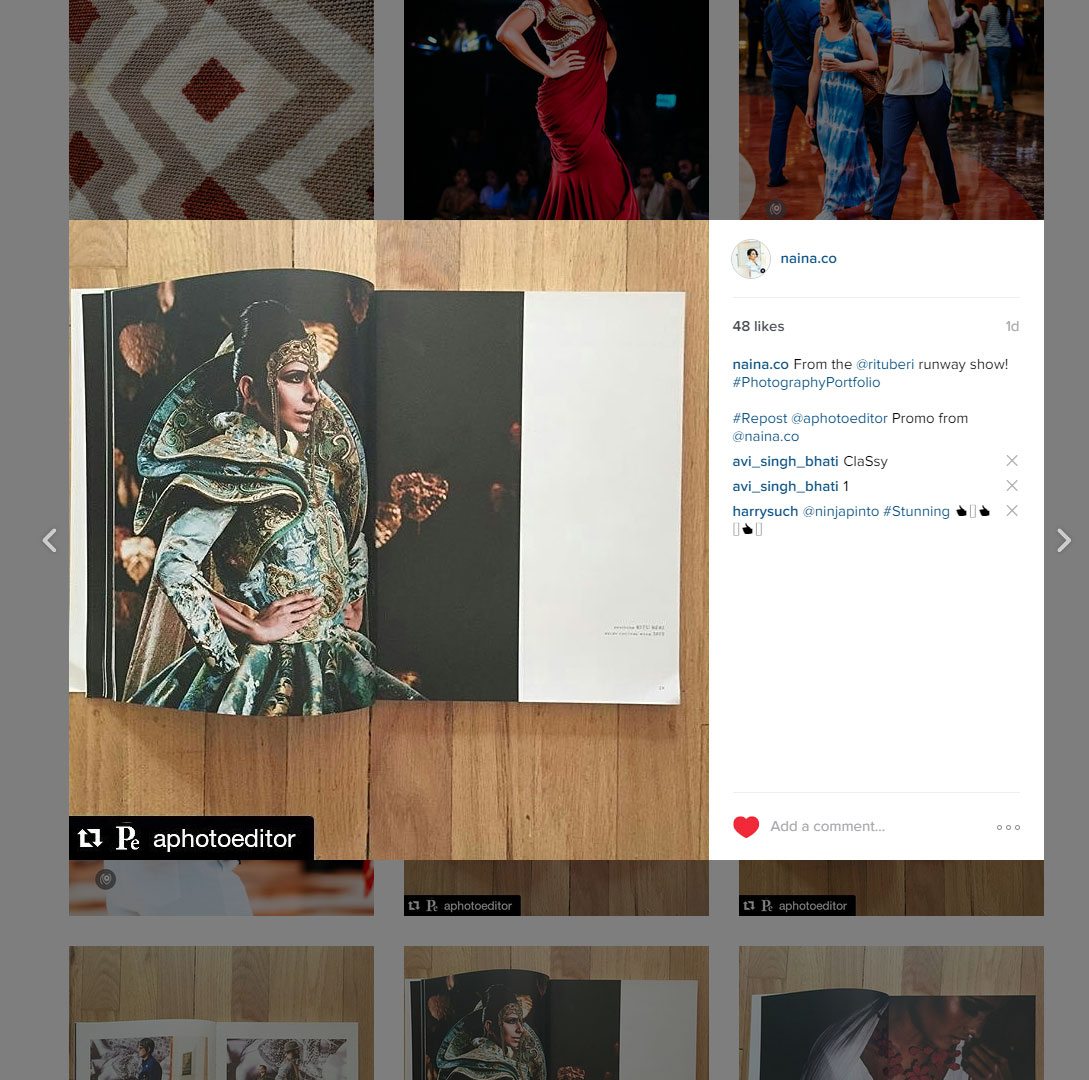 Above : model Candice Pinto on the runway for Ritu Beri at the PCJ Couture Week in 2013.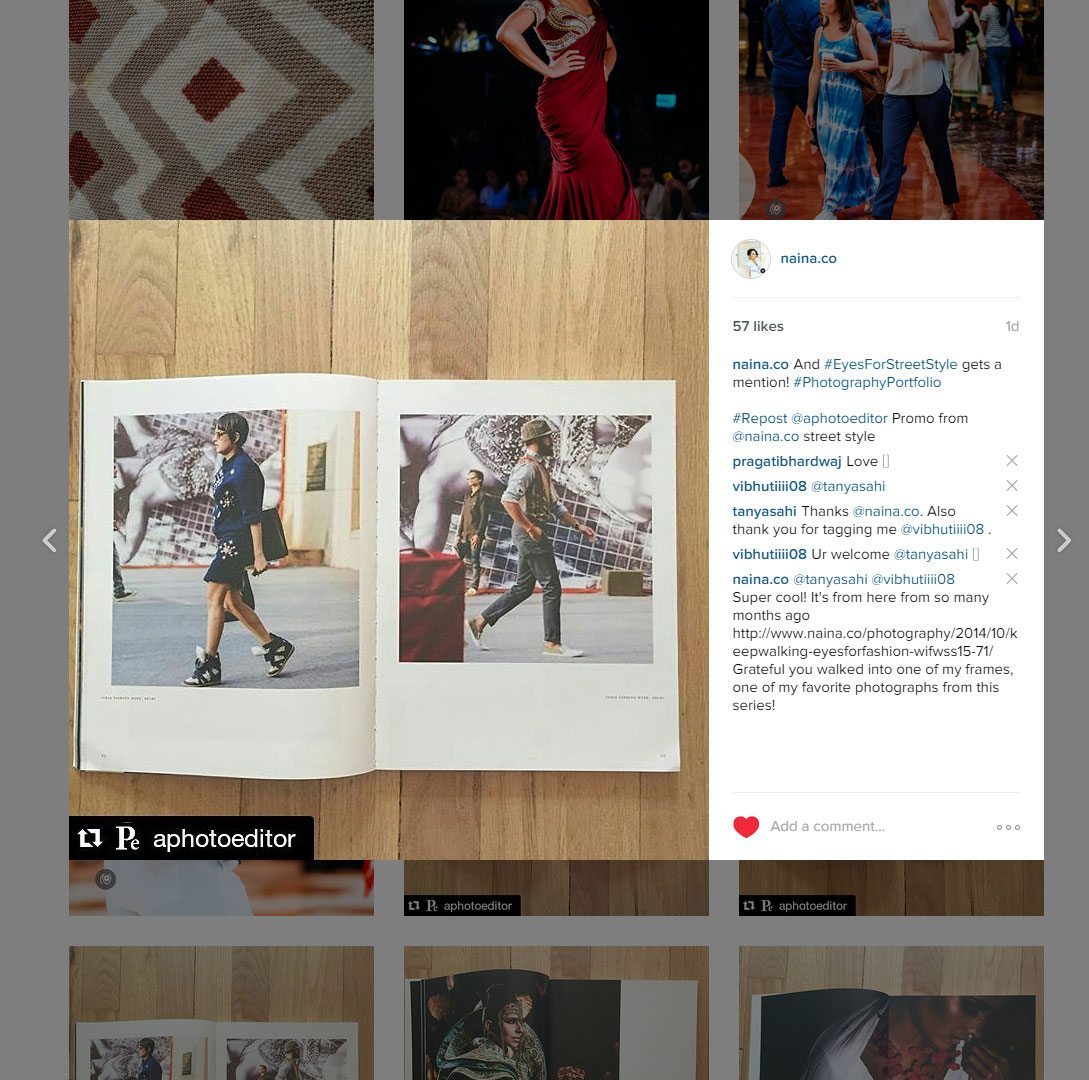 Above : from my #EyesForStreetStyle section! Couple of photographs from the early days!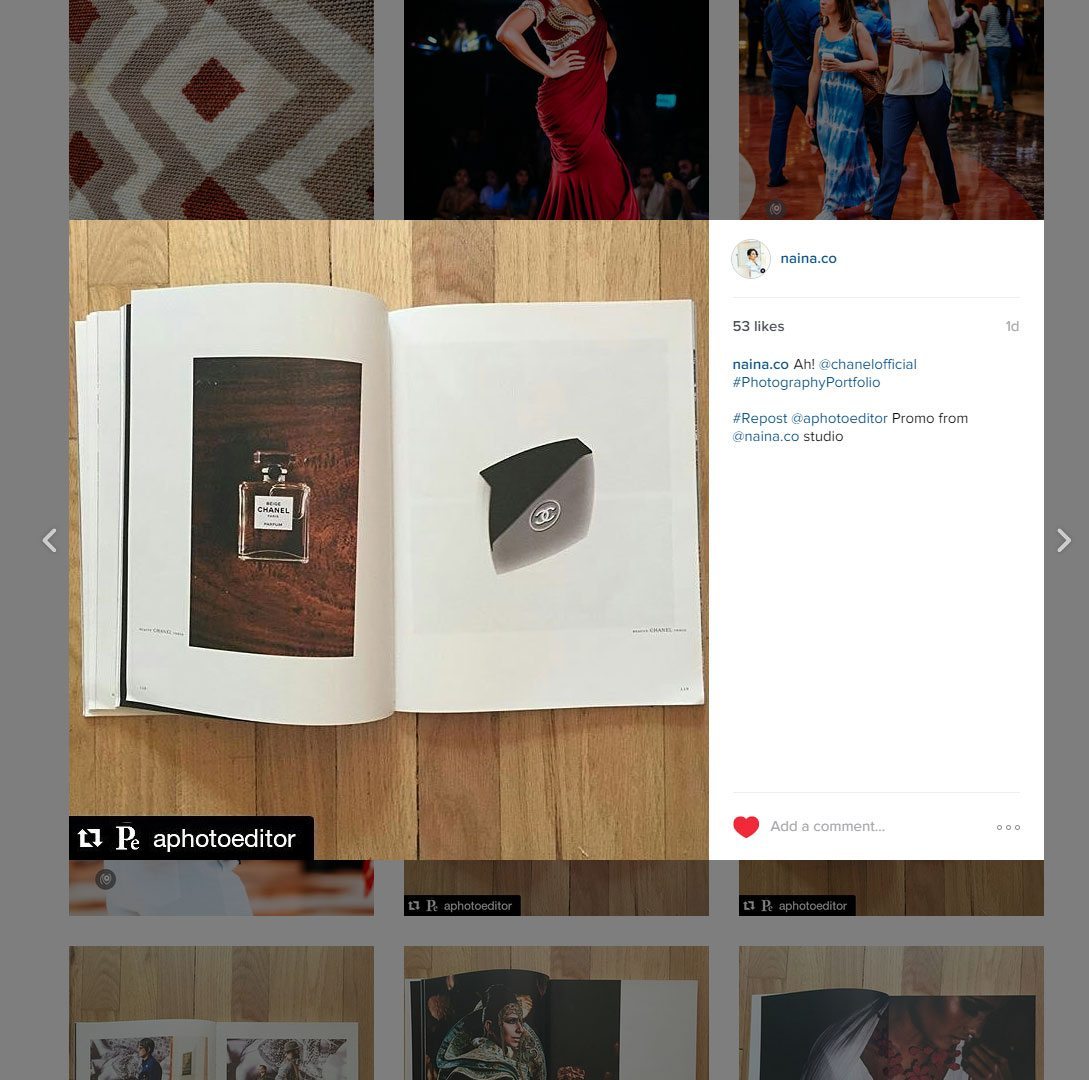 Above : photographs of CHANEL products.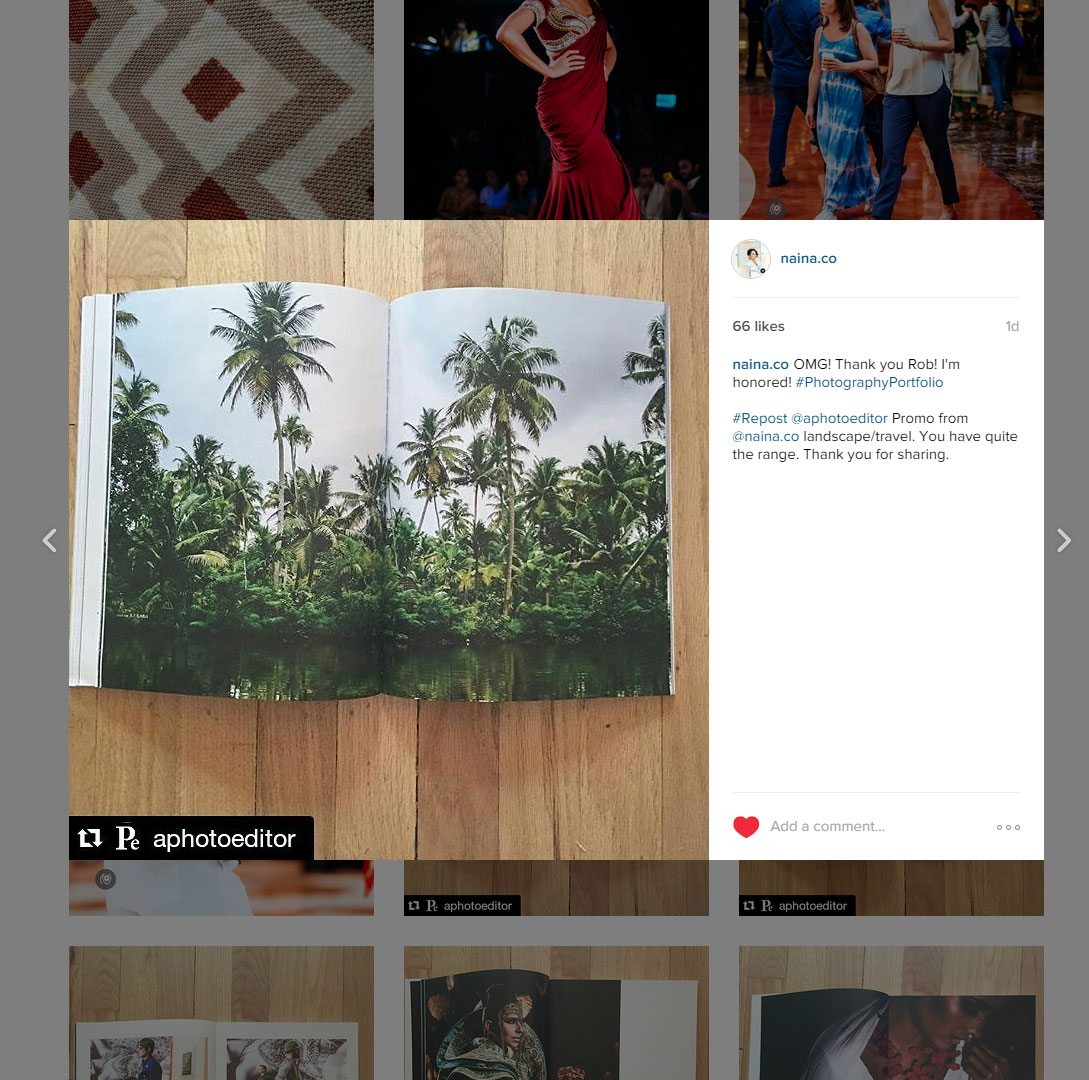 Above : landscape / travel photo from Kerala backwaters as seen in my photography portfolio book. Edition One, Volume One.
A screenshot of the Insta-Promo section with photos of my portfolio book as seen on the aphotoeditor.com website below.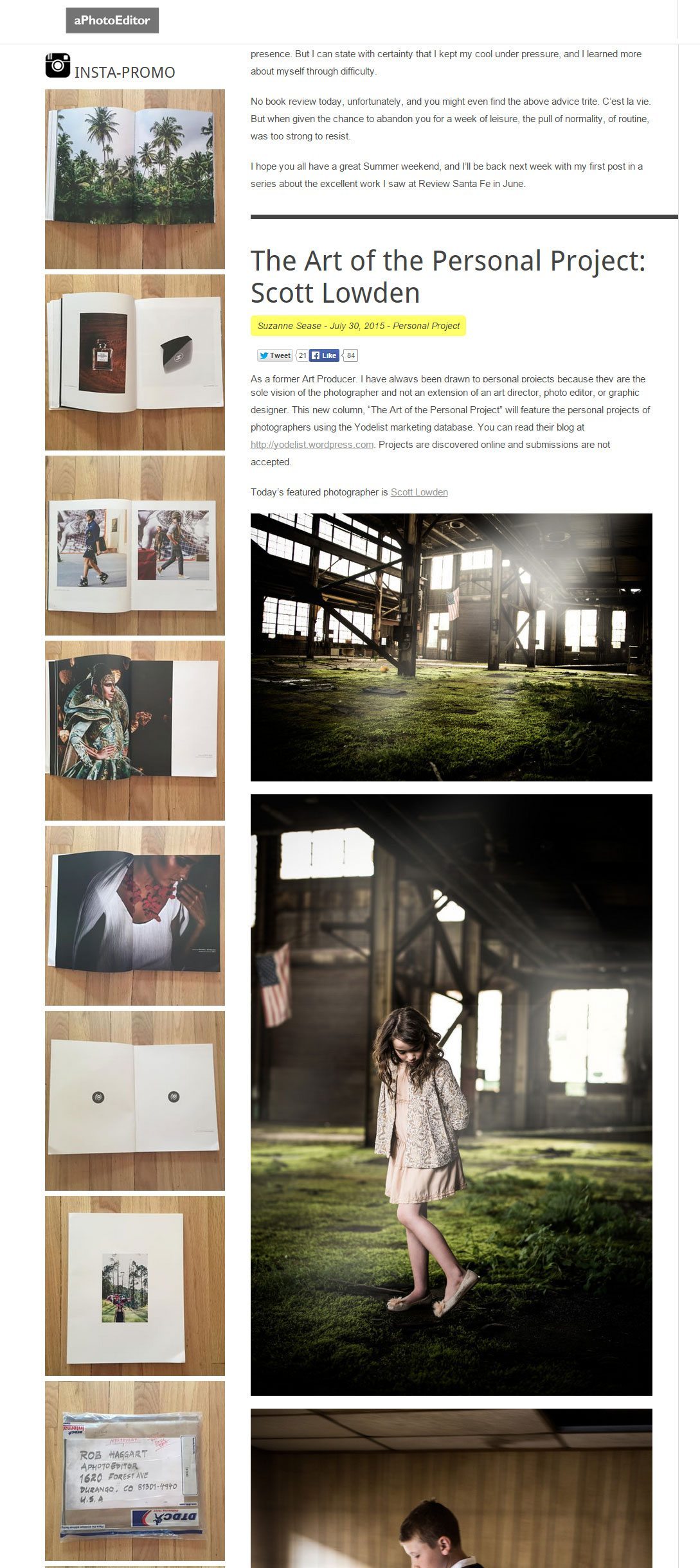 Thank you Rob! Thank you aphotoeditor.com
If you'd like to purchase the book – although I cannot possibly imagine why you'd want to do that! – it is available for order here on Blurb. ( You can preview the entire book before purchasing it. )
"A Photo Editor (APE) is edited by Rob Haggart, the former Director of Photography for Men's Journal and Outside Magazine. Contributors include fine art photographer Jonathan Blaustein (@jblauphoto), Creative Director Heidi Volpe, photography consultant Suzanne Sease and Production Director Jess Dudley of Wonderful Machine."