Ok so I'm really excited about this one. And not just because the device lived up to its promise but but but this is the first time I've created a video thingie for a brand from scratch! OMG I'm so excited that the brand – Motorola India – and the agency – both trusted me enough to hire me for this and then let me do pretty much exactly what I did. That they were patient with me even when I made a boo-boo ( in the first "talking head video", I kept repeating "E4" instead of the correct "E4 Plus" and had to re-shoot a part of the video – OUCH! ). I blame the last minute mad mad MAD deadlines. But it was oh so much fun. I want to do more of this.
Having always been extremely averse to videos, I first started on the medium with my #TheNainaRedhuExperience podcast, where the videos are simple "talking head" videos. Initially I was recording on this one's selfie mode – there wasn't even a separate microphone. Then I started using the selfie mode on this one and now, for the last handful of episodes, I have been recording video on the Nikon D800 DSLR and using the Blue Snowball microphone. I've even started paying attention to my wardrobe, makeup and the background for the video. And the lighting setup is way more elaborate than I'd ever considered. ( It's still quite basic but for someone like me who's always trying to make it work with the bare minimum, it seems like overkill! )
So I'm going to give you a bit of a lowdown of this particular gig. I took it on because the device was already known to live up to its promise of the 5,000 mAH battery not requiring charging for upto 48 hours – I wouldn't have taken it up otherwise. So the basics were set. Now, I had to shoot a teaser video introducing the device and then I had to actually shoot as I used the device over 48 hours to show what all I was using and how the battery had outlasted my expectations.
The following still is from the first teaser video – the first half of the video posted above. Dress is Midnight Silk courtesy Age Of Reason Studios, London. Had featured it here previously. Artwork in the background is my own, produced for the EyesForGurgaon Exhibition, these are remixes of some popular Gurgaon skyline views and landmarks.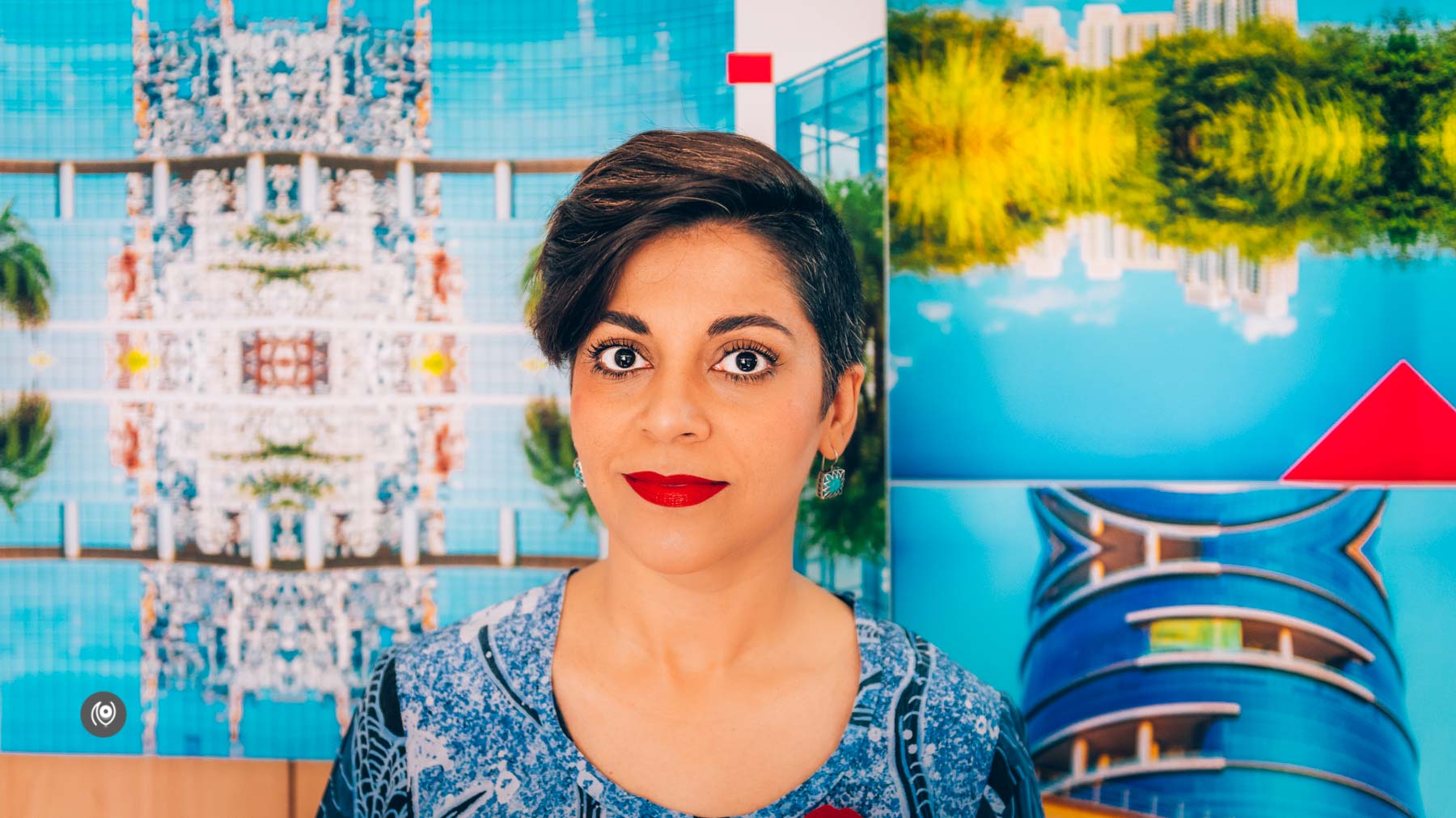 The second video was not something I could shoot on my own, so I pulled in Akanksha over the Sunday ( sorry cutie – but bloody hell thanks for shooting! ) and made a short list of what still and short video clips I wanted. She threw in a handful of suggestions as well and we shot this over an hour. I downloaded all the apps I currently use on two mobile devices ( I currently have this, which is my primary device – I LOVE the camera and hate the memory space and considering my usage I charge it twice a day – I use the secondary device to download and store all my podcasts and audio books and videos and I hook it up to my JBL Bluetooth speakers and then listen to this content throughout the day. I carry both devices with me at all times – and about 3-4 power banks – because if I can't find a plug point, all hell breaks loose. )
The make-up refresh is such a typical thing for a blogger to do at least once or twice a day – if I'm out and about, in this muggy weather, have to refresh the lipstick and blot the oil from my face for sure. All these things / tasks can be done on these apps on any device of course. My goal with the video was to show the mad rush that my day usually looks like, which is why I need to charge my phone whenever I get a chance. ( I know the girls will want to know what lipstick that is : AVON Red Supreme. )
In the video, I've used the following apps : FindShip, which I use to check up on the sailor boy's ship's position if I haven't heard from him in a couple of days; FitBit for keeping track of my steps and weight and number of floors climbed; Water to keep track of how much water intake I'm getting daily – I'm really bad at hydrating myself; Google Maps – each time I am in the driver's seat in my car, I use this app – regardless of how far I have to go – it's a life saver in the mad traffic situation that is NCR, especially during the Monsoon season; Podcast Addict to subscribe to my favourite podcasts – favourite podcast is The Joe Rogan Experience – where do you think I got the inspiration for naming my own podcast huh?; etc.
Shoes are the Nina Flats courtesy OceeDee, sunglasses courtesy Ray Ban, dress is a hand-me-down from Akanksha, jewellery is personal purchase from Lai Designs, bag is the Bronze Quinn courtesy Chiaroscuro, scarf is courtesy Nicobar. All photographs shot by Akanksha Redhu, edits by me.
The photographs and video have been shot on the Nikon D800 with the 24-70mm f2.8 lens. Video edited in Adobe Premiere Pro. Still edited in Adobe Lightroom. Sound recorded and edited in Adobe Audition. Background music purchased from MelodyLoops.com.
Of course, one could have done so much more with the video – ideas, concepts, execution were all flitting around in my head 0 but on paper, we had very VERY little time and my laptop being three years old wasn't helping the gig at all. ( I've ordered a new laptop in the meanwhile! So that I'm ready for the next video production and starring-role gig that comes my way! )
The launch event for the Moto E4 Plus took place today during the day and the device will be available for purchase at midnight tonight – for INR 9,999 – only on Flipkart.
You can read reviews about the rest of the features on the device here : NDTV, Indian Express, India Today. What stood out to me was the dual SIM, extendable memory and of course the battery! As my secondary device, I'm pretty sure this would last me 7-10 days without a single charge – maybe more. And I'm going to put that to the test too – not part of the brand's mandate but I'm really curious now and totally sold.
Special thanks to Subesh who delivered the device to me and to Irfan who handled everything really well. At the client's end – Motorola India – the team must have been great too because I got away with having my way! Didn't interact with them directly but look forward to that sometime soon! Very grateful that the brand and the agency took a chance with me on this. This was FUN!