This tunic and these pants are THE most summery thing in my wardrobe currently. Apart from the #MadeInIndia tag on the Raiman label ( scroll down for credits and links ), the garments are well-stitched with not a hem out of place ( my OCD was very satisfied with the spacing of the stitched pleats on the front top part of the tunic ). The textile is so airy and breezy and light and the tunic has two side pockets ( although because the fabric is so light, I would suggest only very light items to be placed in the pockets – I tried putting my mobile phone in it and I was worried I'd smash it into a wall while walking past – would be more suitable for things like a handkerchief or a folded paper etc. ) The tunic can be worn separately as a dress ( as you will see from the composite image I built – scroll toward the end of this feature ). The pants are fitting with an elastic band on the back half of the waist AND a side zipper.
Sunglasses are of course my first PRADA pair courtesy GEM Opticians – a little bit of gold on the otherwise large size makes it a versatile pair to wear on traditional Indian wear as well as a more modern ensemble. I went through dozens of pieces before I decided to keep this one!
The brooch is paper. Yes, I'm not kidding. The quilling is done by hand by Shilpa and while the brooches were my special request, she also makes jewelry and framed art you can hang on your home / office walls!
Credits
Simona Tunic & Pants by Raiman Sethi from their The Storyteller collection ( Raiman Website | Instagram | Facebook ) | Sunglasses PRADA courtesy GEM Opticians ( Website | Instagram | Facebook ) | Call Me Scarlet Mattelicious lip crayon by Nykaa ( one of the most non-drying, super long staying matte lip colors in my drawer so far ) ( Website | Instagram | Facebook ) ( hat-tip to @sandygrains and @kavitharao for this discovery! ) | Footwear is Nappa Dori | Brooch is paper quilled and varnished by the talented Shilpa who runs Paperikaa ( Facebook | Twitter | Instagram )
Now onto the composite image I built. The image is followed by the three photos I used in the composite. Need a larger white wall to play around more with the background and the placement of ME. Of course, I also, very conveniently, forgot to turn off Auto-WhiteBalance and had to tinker around a LOT more in post-production. The other variations in exposure for example, couldn't be avoided because of how close I was to the door and wall and the shadows that I created. Some mini #NotesToSelf for the next time I attempt something similar – hopefully with a little more interest in the background.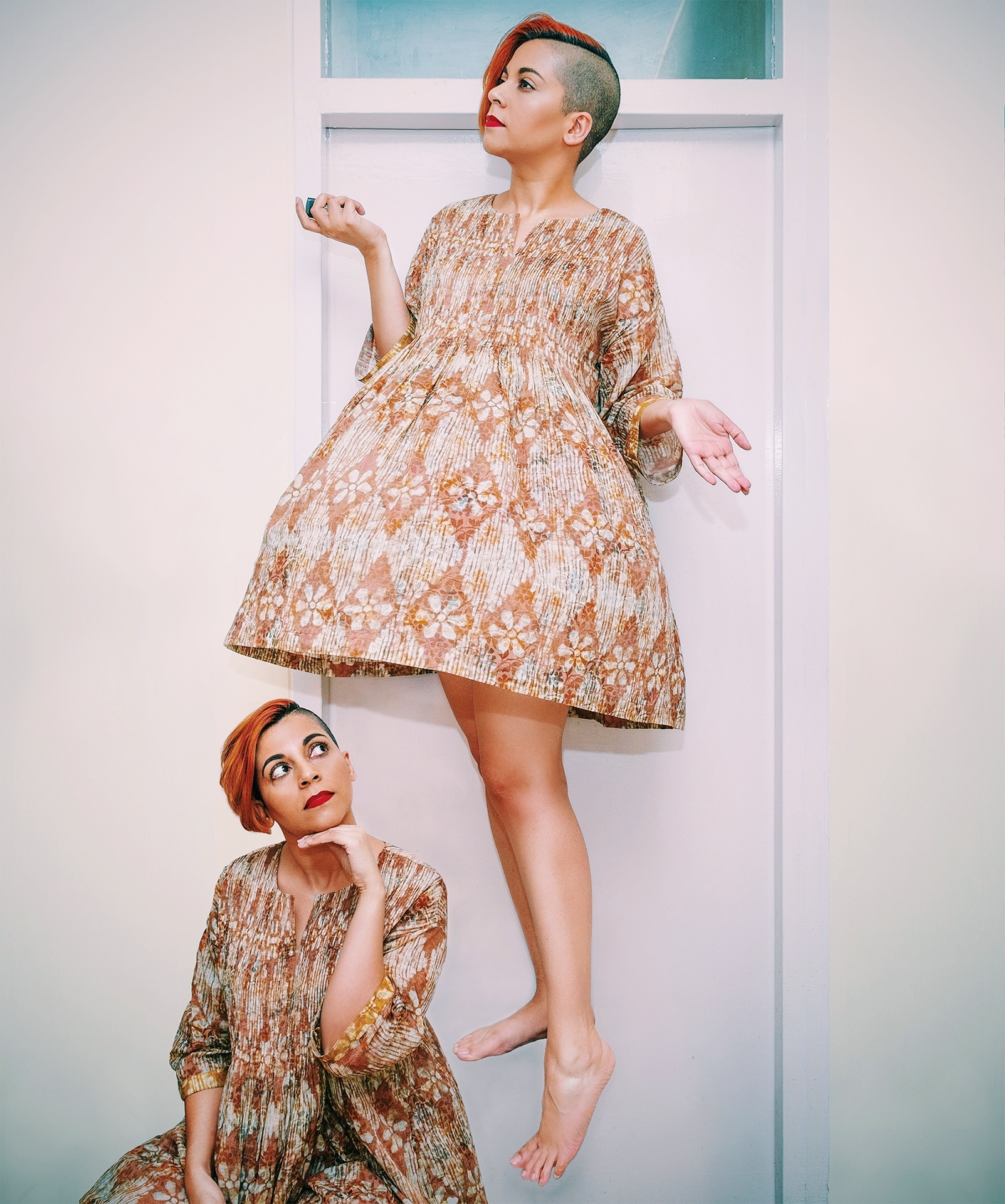 More from my personal style photo series can be seen under the #NAINAxStyle tag on this blog. I don't do a lot of personal style, even so, I've racked up a hundred and eight features in this category – over fourteen years of blogging though.