Have you seen the latest, hottest, most-talked about advert in India? It's an ad for Durex and it stars a leading Bollywood actor ( Ranveer Singh ). If not, see below!
You've already seen the sneak peek of the behind-the-scenes photographs prior to the release of the #DoTheRex ad by Durex India. This is the complete story of my experience behind-the-scenes.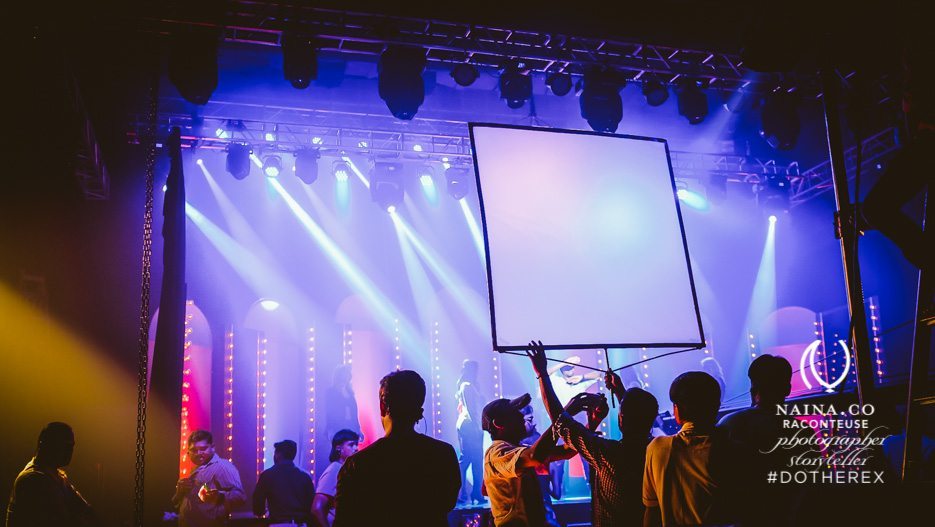 Now I've never officially photographed behind-the-scenes for a video being produced / shot and I've definitely not done any photography or storytelling work that has anything to do with Bollywood. Because of this, I wasn't sure what to expect in terms of how things work. I did know I had to spend all day on set, keeping my camera at the ready to capture anything story-worthy.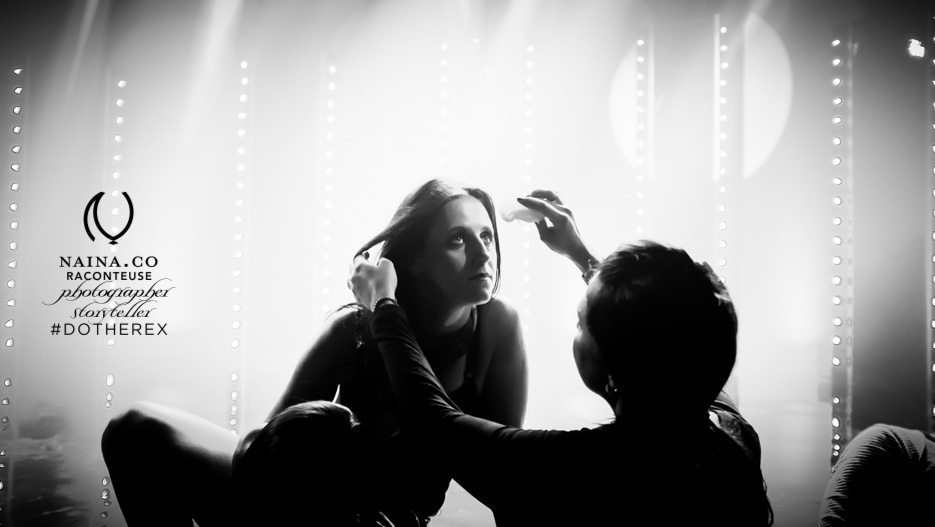 By the time I was done with breakfast and actually got to the set, things were well under way. The lead actor was present on the scene and there was lots of activity with everyone rushing around doing their thing. There were so many people, organizations and entities that came together to execute this amazing concept that it still boggles my mind. And each person made their work look effortless.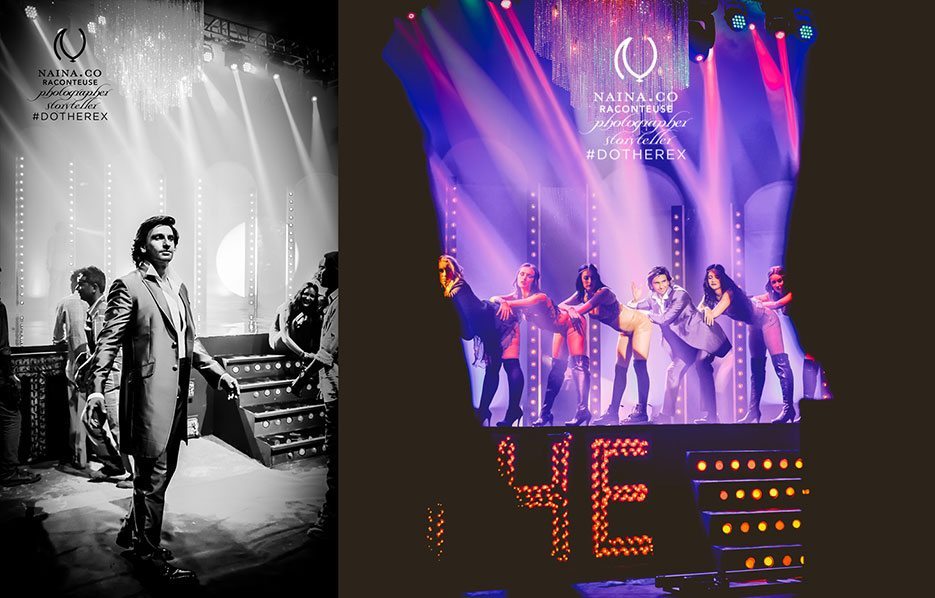 To my very pleasant surprise, the entire gig was handled very professionally. That's one thing a lot of Delhi folks could learn from Bombay. Minor delays are perhaps inevitable because there are so many parties involved. But for the most part, people turned up when they said they would, things were synchronized and everyone's goal was to produce exactly what had been decided in the available time-frame. And they got it DONE.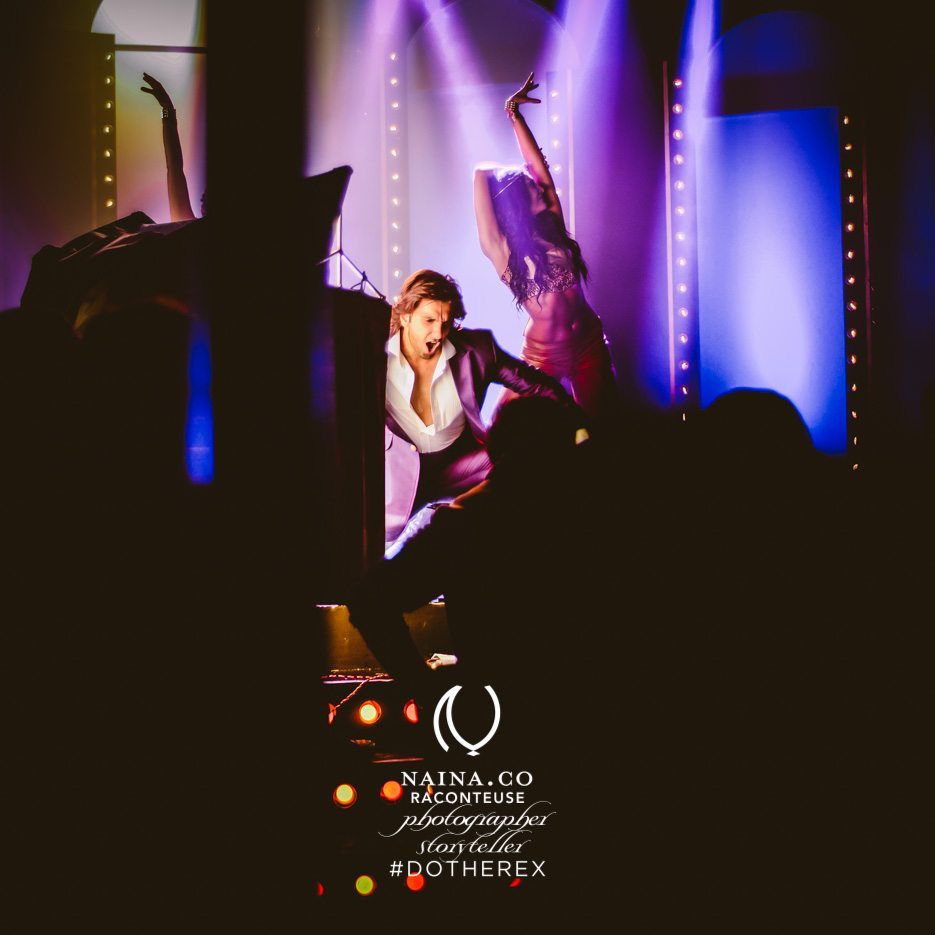 The one thing that I took away from this assignment, the one thing that absolutely overshadowed all else, in my experience, was the boundless energy that Ranveer brought to the sets. Even now, I am unable to wrap my head around it. The shoot was over two days ( most Bollywood shoots last a whole lot longer when it comes to films ), and Ranveer's energy only seemed to spike further as the shoot drew to a close. I know I'm mentioning the closing of the shoot when the photographs are that of the early  stages but how can I not? Ranveer's energy was infectious and it definitely kept me on my toes. 48 hours flew by. I had expected it to be an energy-draining assignment and it turned out to be the exact opposite. I couldn't understand that. Still don't.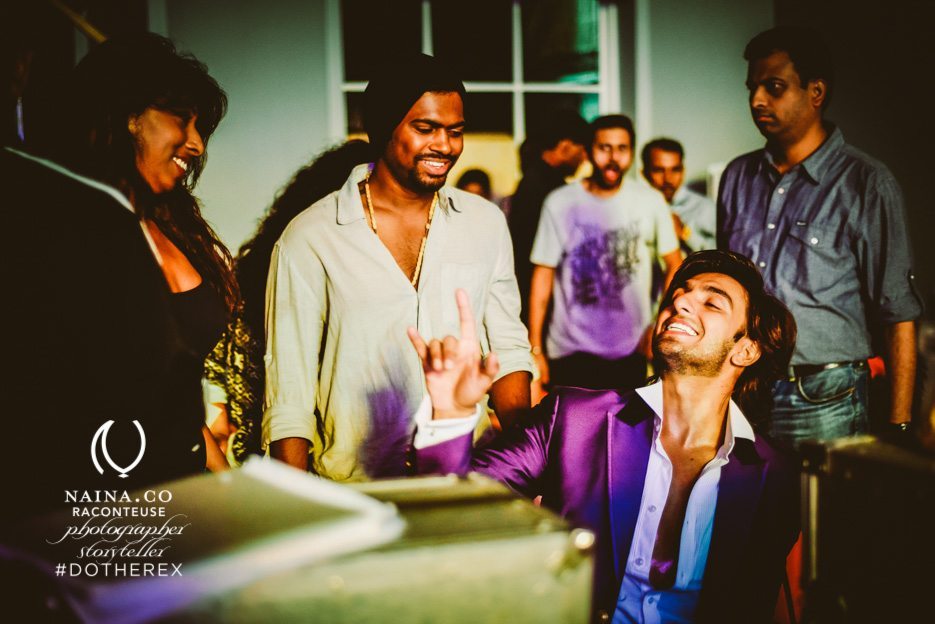 After almost each scene / take, the crew would huddle around the monitors to see what had happened and whether something needed to be tweaked. There was constant banter and it seemed crystal clear that everyone was here to get this thing done right.
The storyboard for the entire shoot and concept above. There was more than one video that was going to be produced. This was primarily a digital activation. I would later learn that some pretty awesome ideas were to be executed. I recall the moment I walked in on set, saw the glowing LEDs at the bottom of the stage that read "DO THE REX" and it instantly clicked. It made complete sense without anyone having to explain anything to me. Beautiful. Suddenly I was very excited to be part of this! ( Usually, I'm apprehensive about projects that have anything to do with Bollywood. I'm happy to report that my fears, in this case at least, were unfounded. )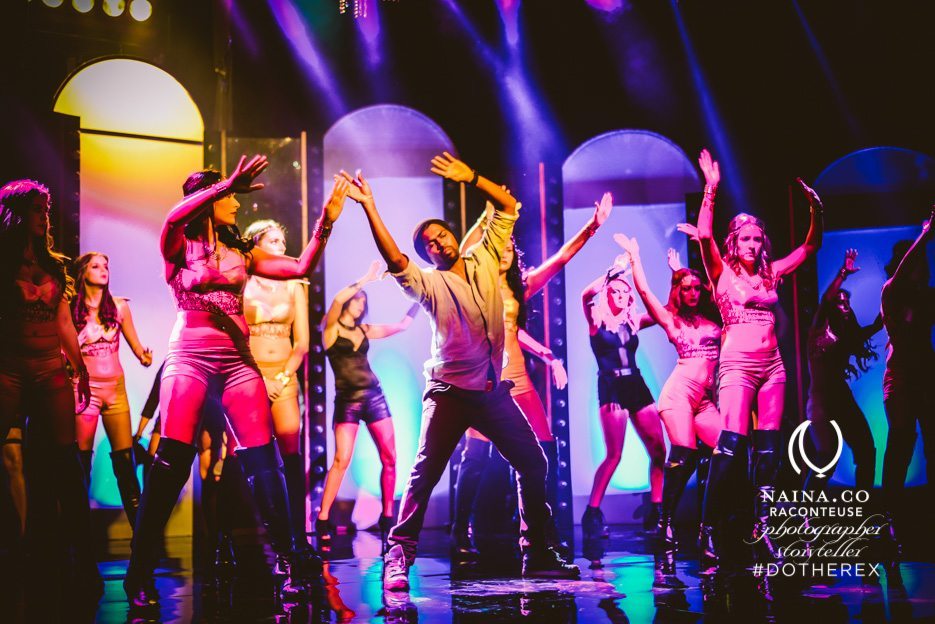 Above, one of the dance instructors / choreographers Auggy Pereira. ( From Bosco & Caesar's team ).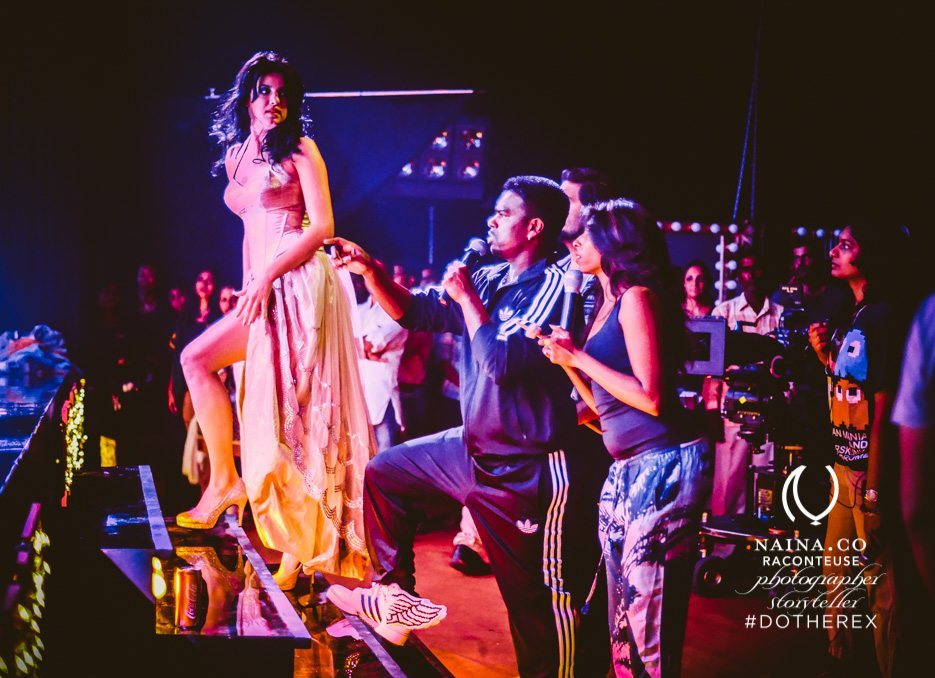 Above, the lady who would be sharing the stage with Ranveer. On the extreme right is one of the choreographers / dance instructors, Teena Paradkar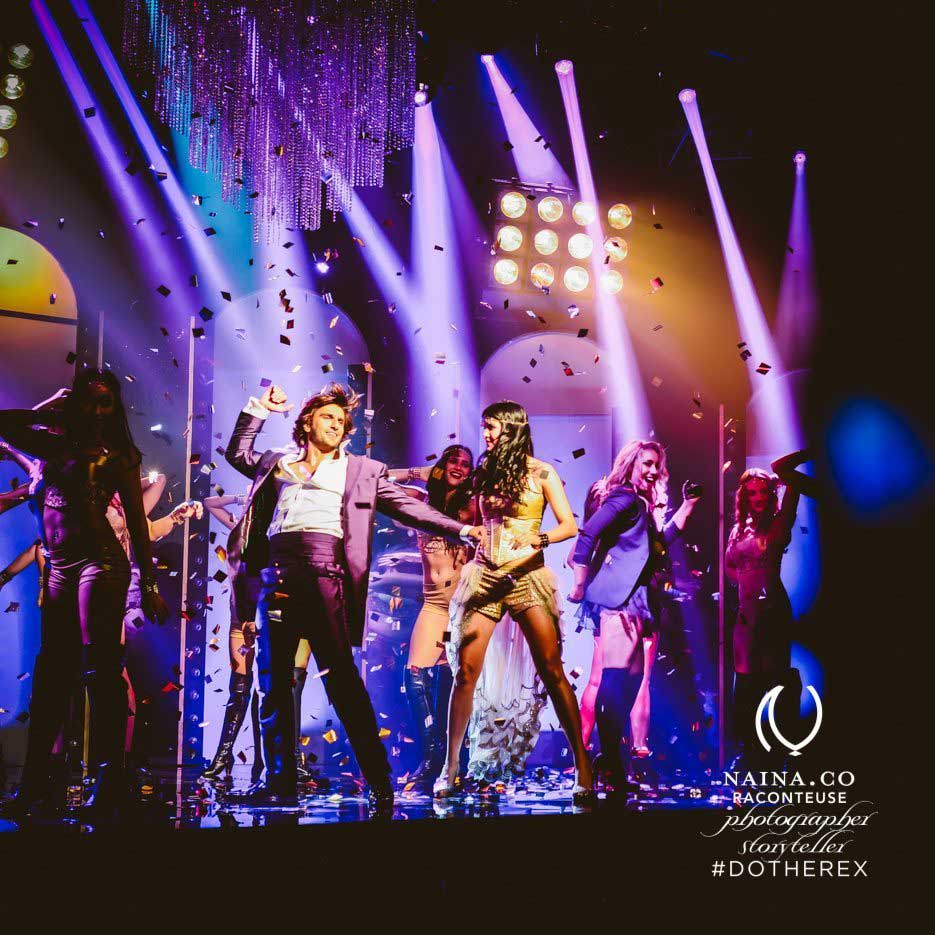 In the behind-the-scenes video, Ranveer says working on this campaign was "amaze balls" and the above photos prove it. This isn't an act, he's genuinely happy and totally into it.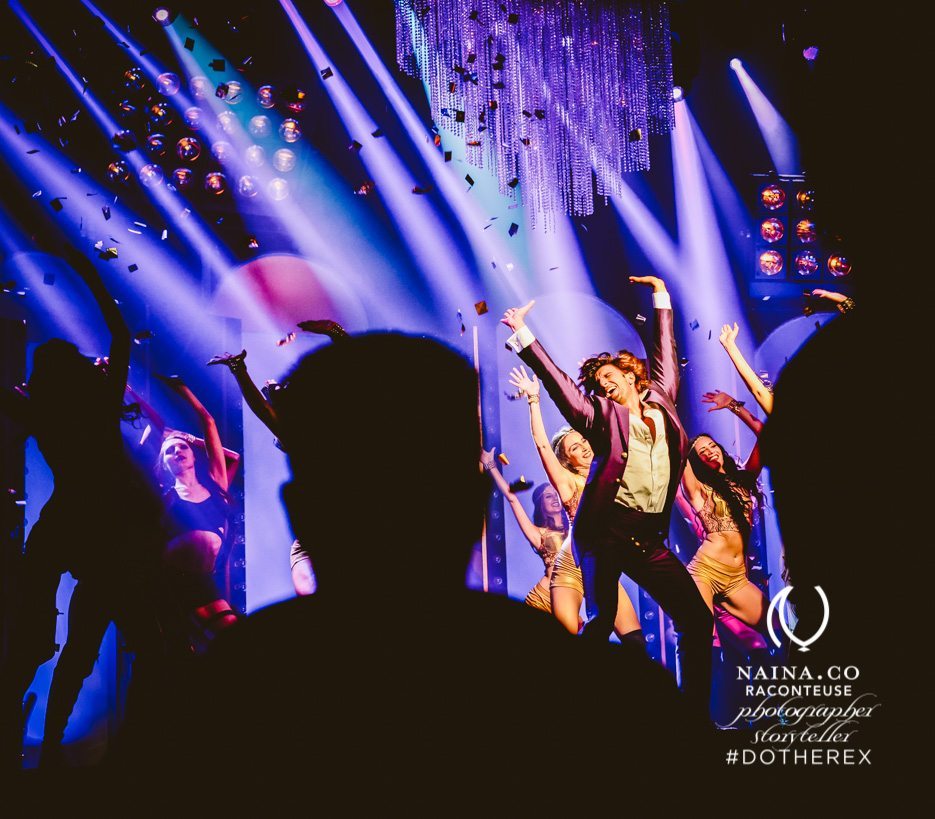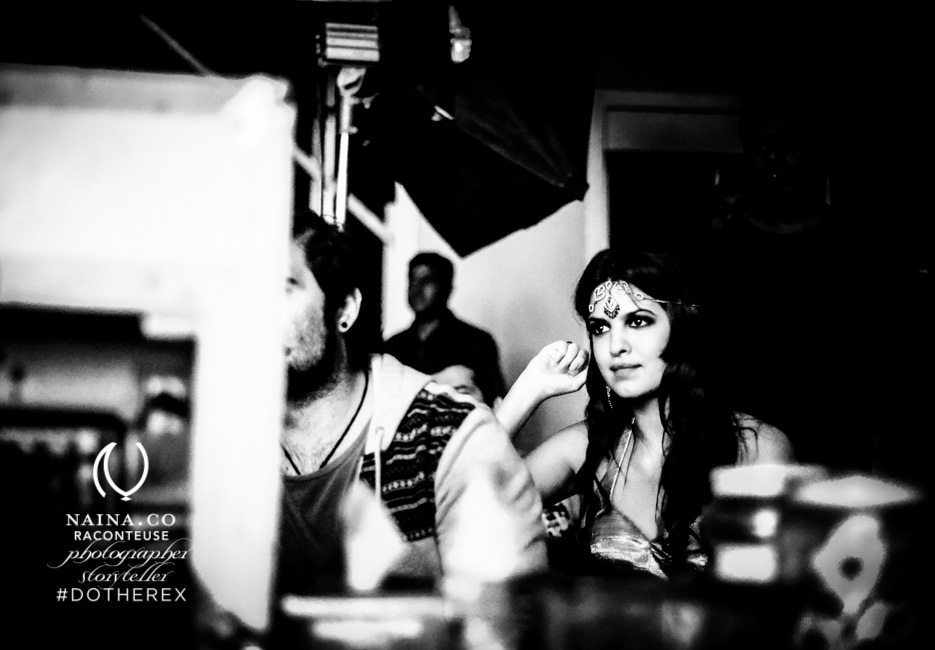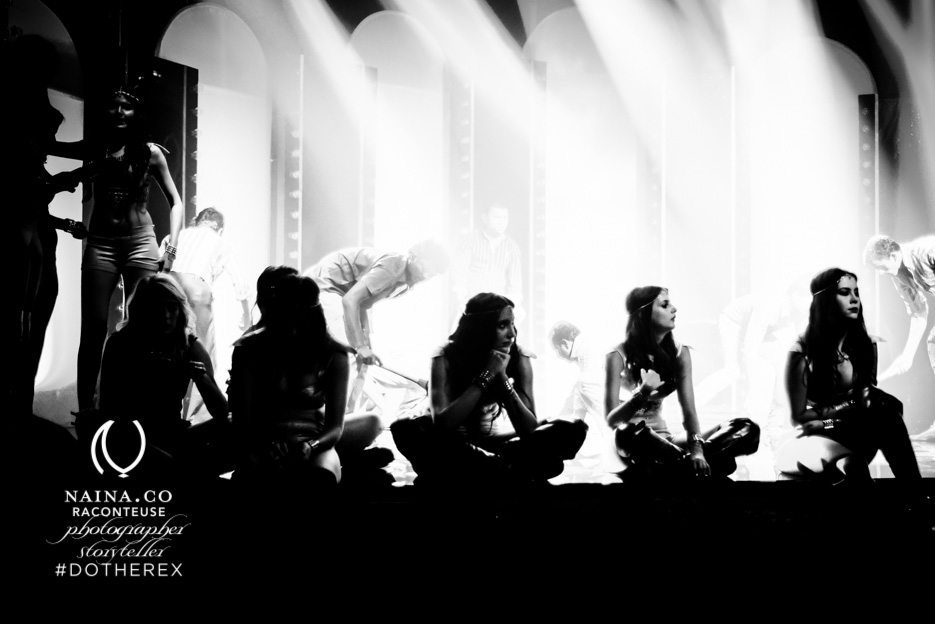 Above, the background dancers wait between takes as the stage is cleaned behind them. The stage surface comprised of some sort of glossy material that got dirty quick – required a lot of cleaning.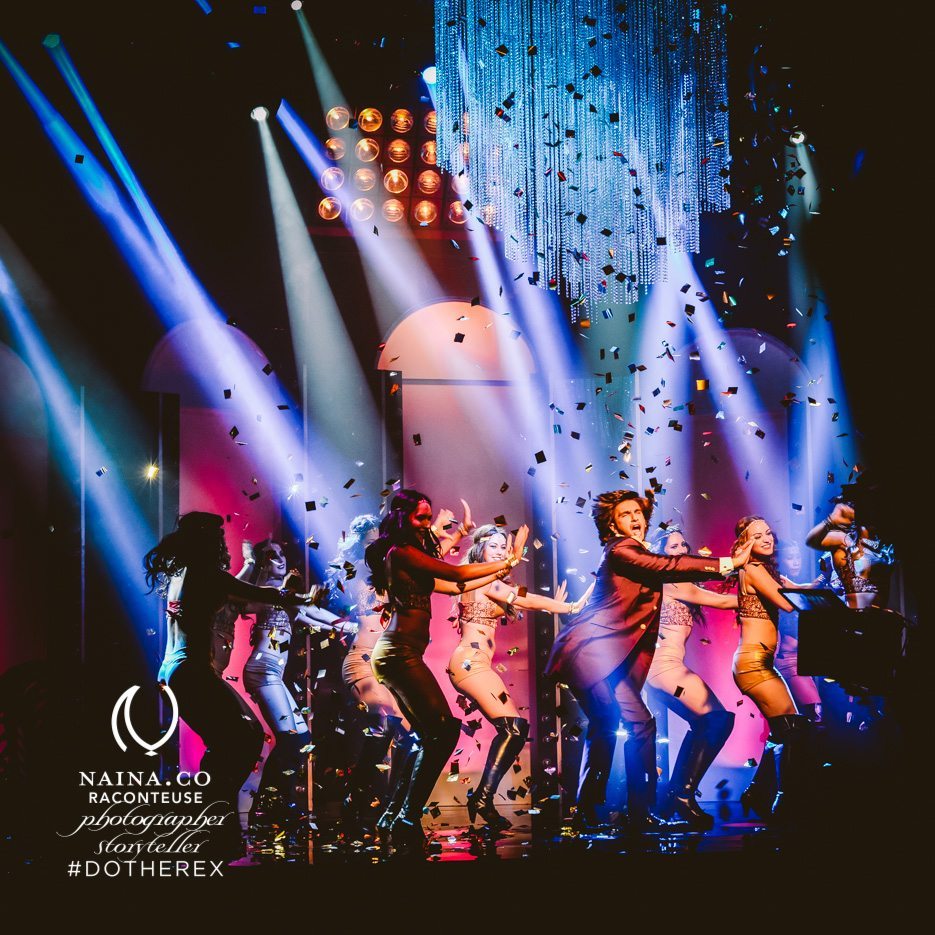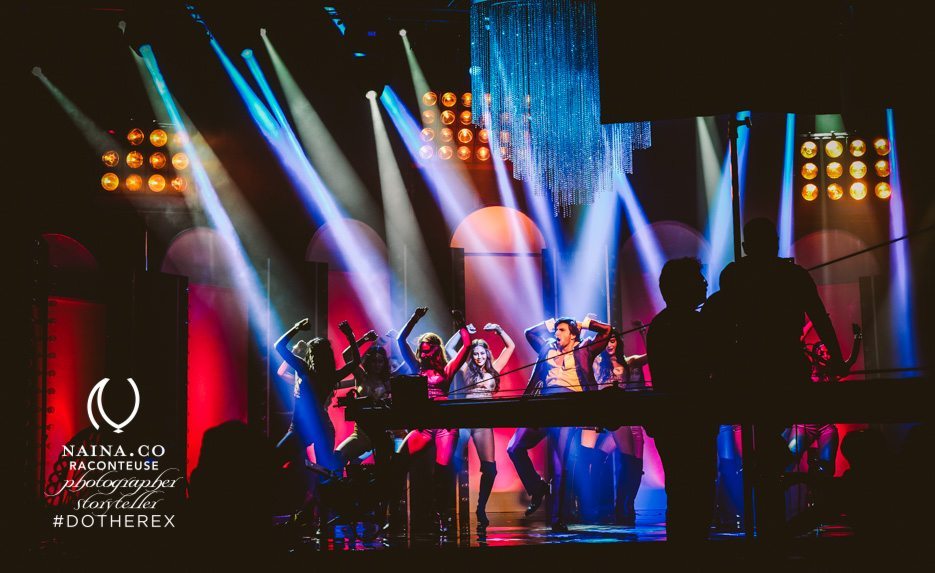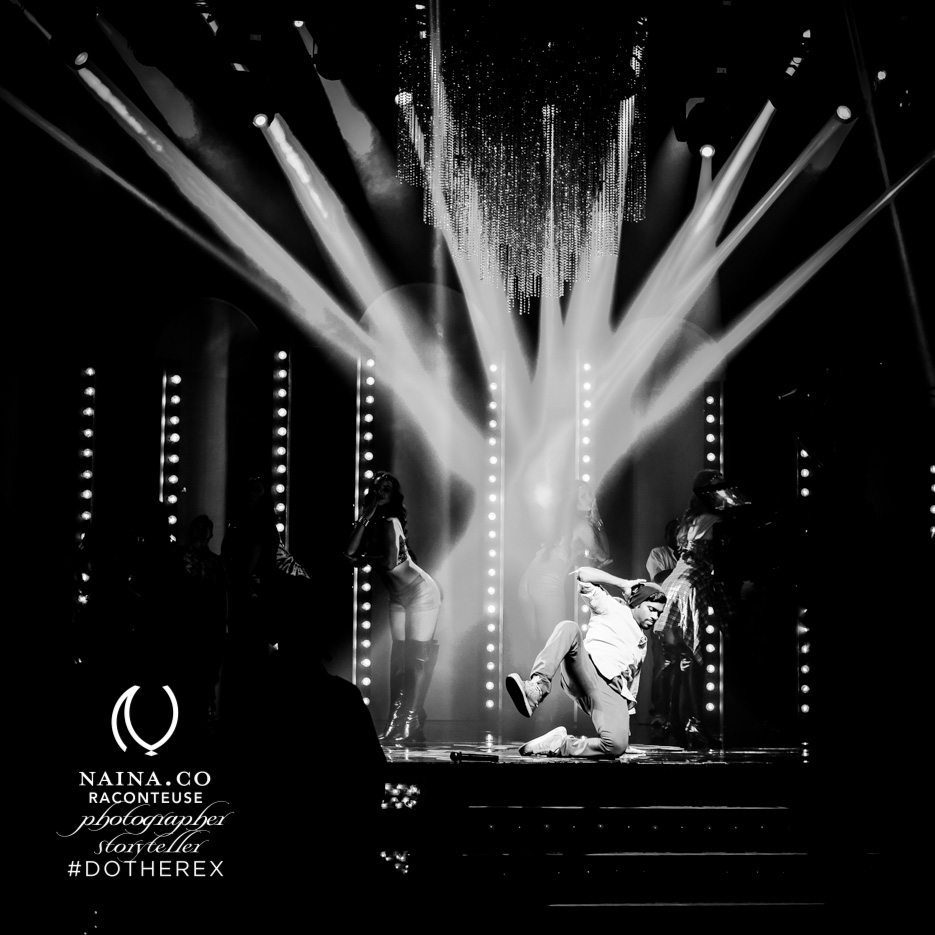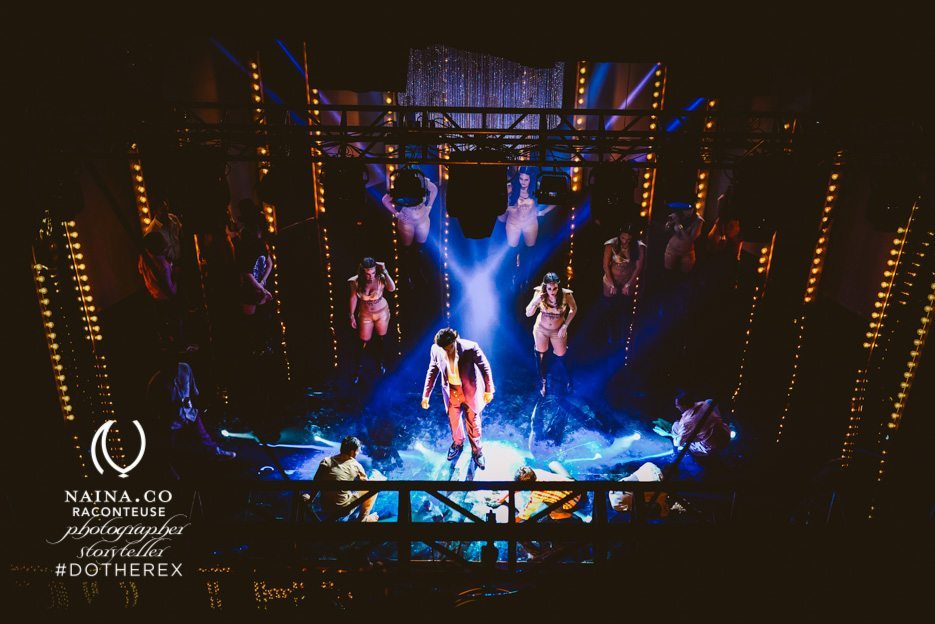 I also went up into the rafters to try a different perspective. I was up there long enough for the Durex brand team to get worried – they even walked up the super-rickety ladders and stairwells to come look for me. That was really sweet 😀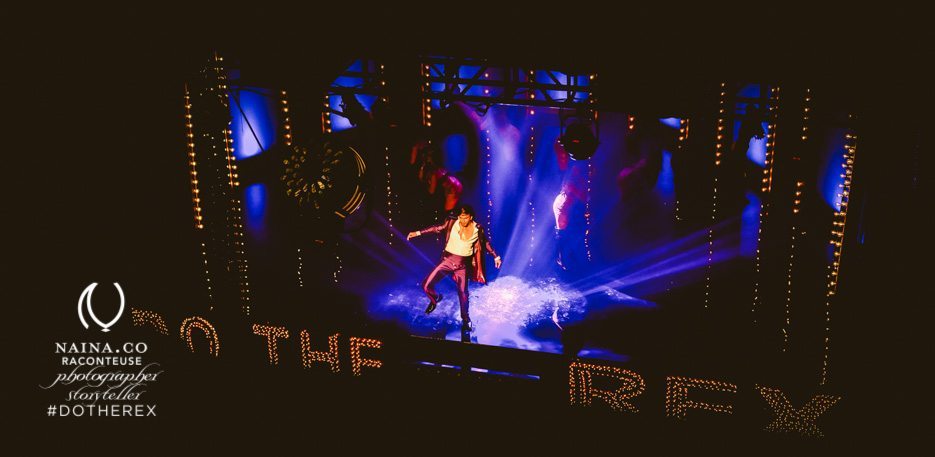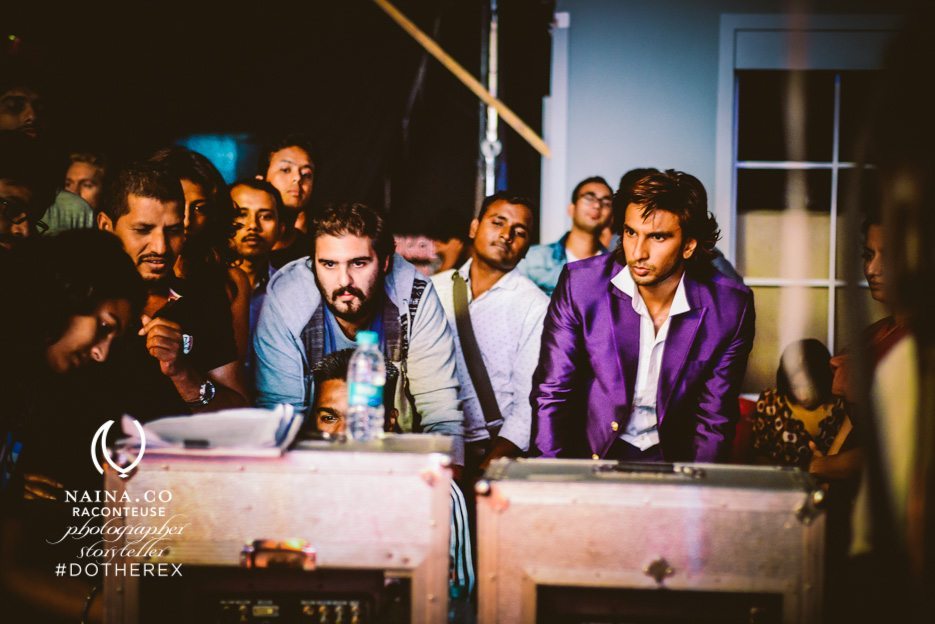 Above, the director Karan Kapadia and Ranveer check out the latest take.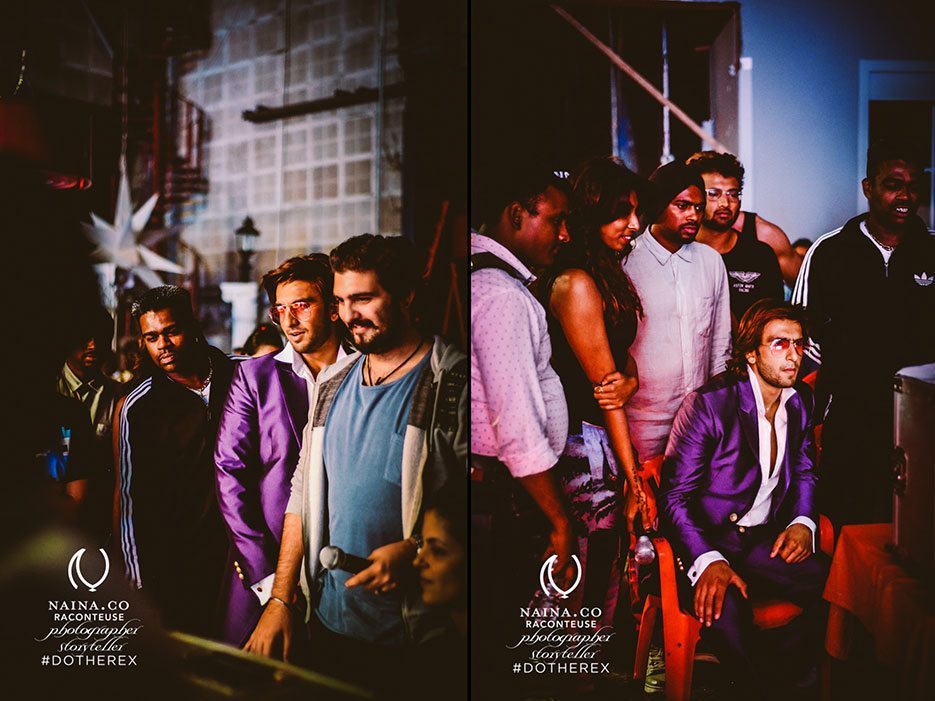 More setups were readied – apart from the stage – for other sequences in the video. Amazing attention to detail.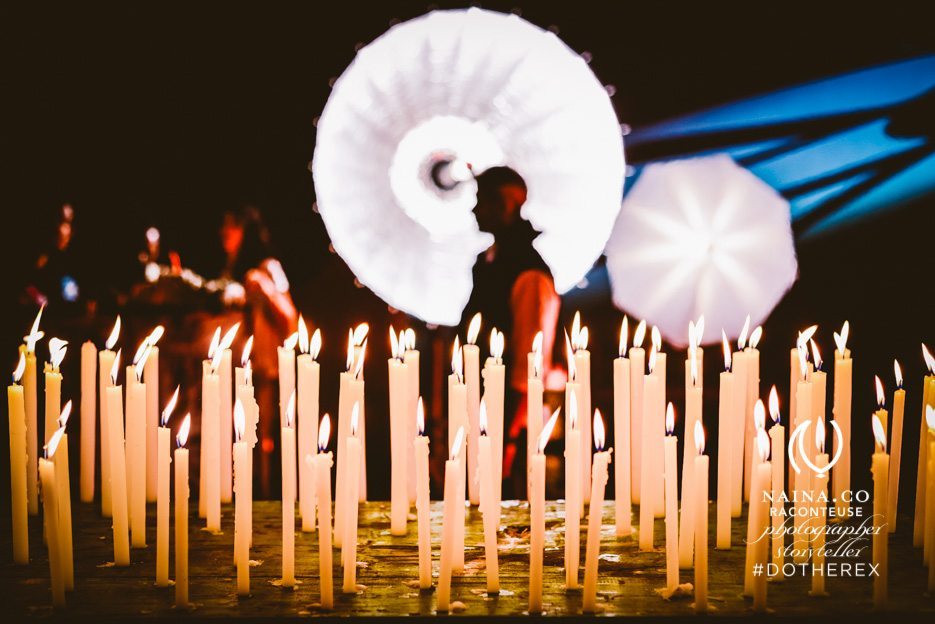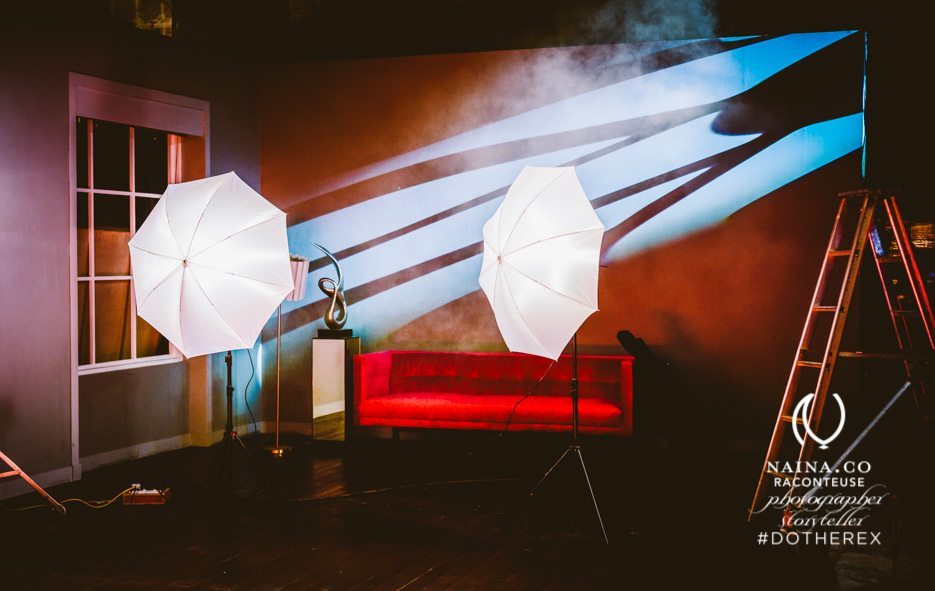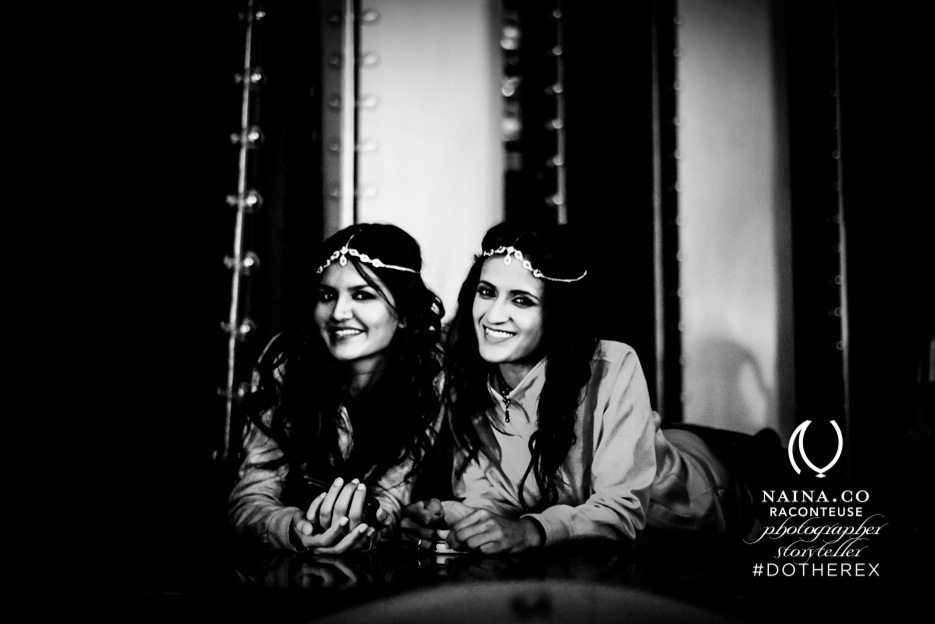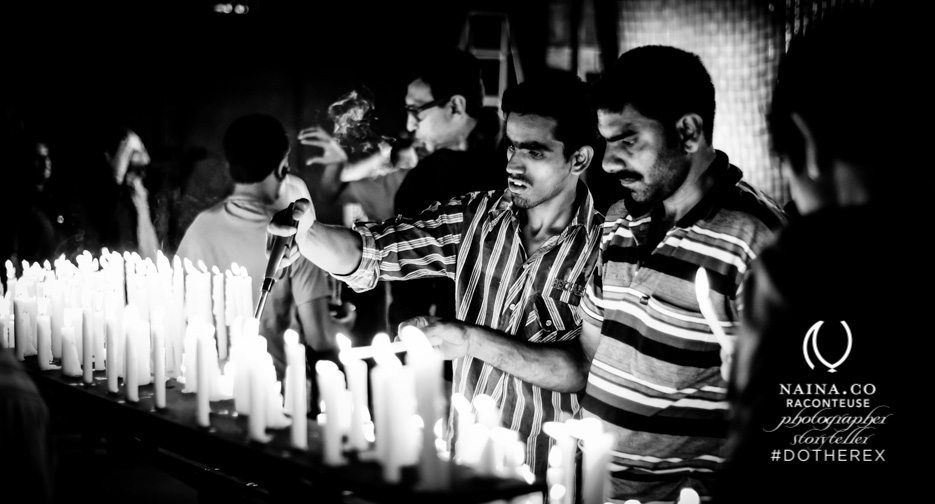 At one point, these candles were blown out as the setup was taking a while. Out of the blue there appeared a bunch of people, homing in on the candles, blowing their lungs out. As soon as the production team declared the shot ready, another bunch of people descended to re-light the candles.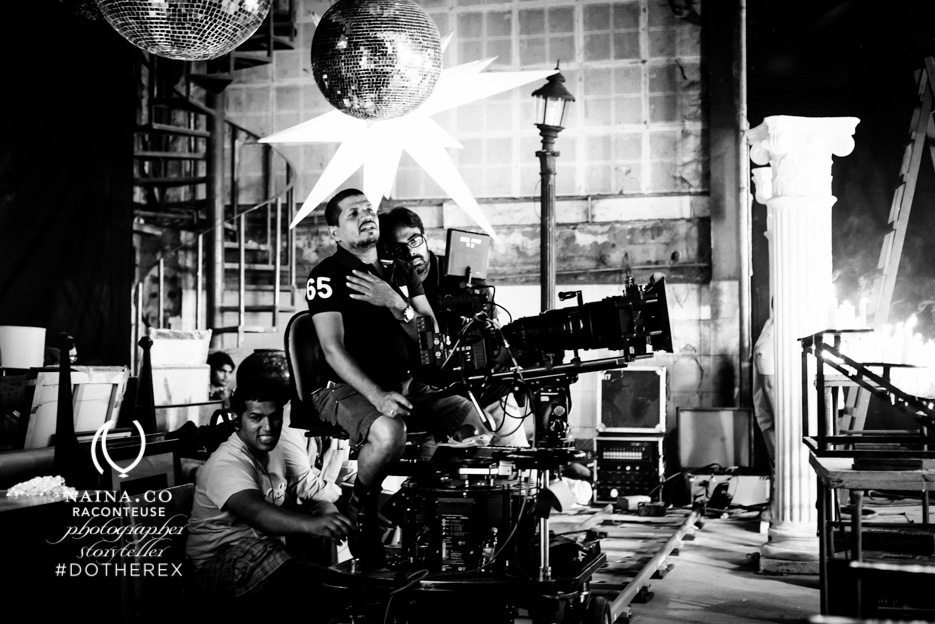 Pictured above as he's getting ready, Ravi Varman, whose cinematography brings out the awesomesauce.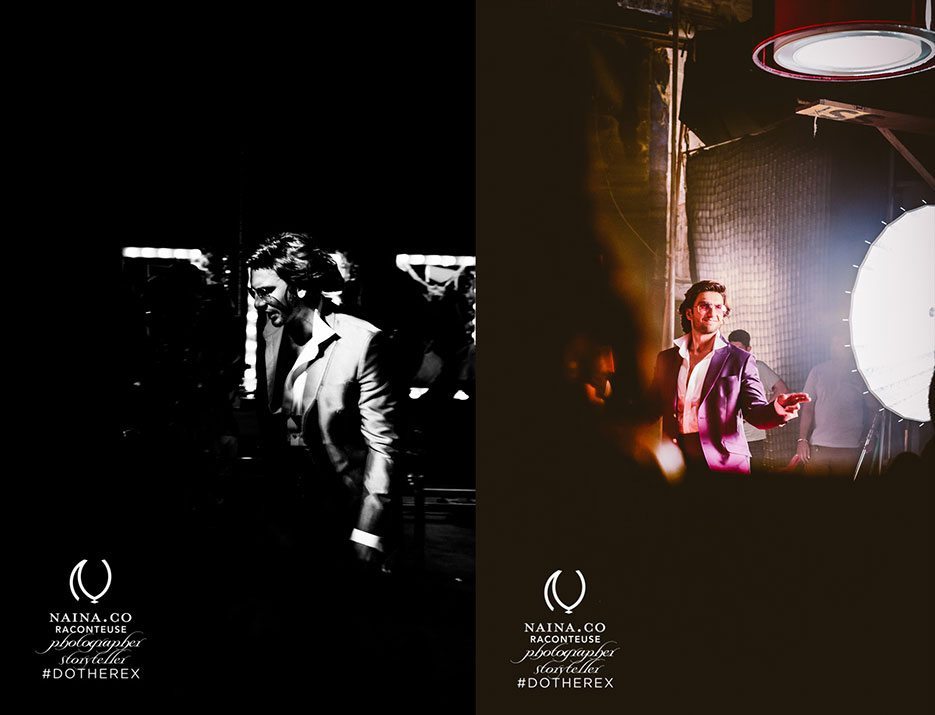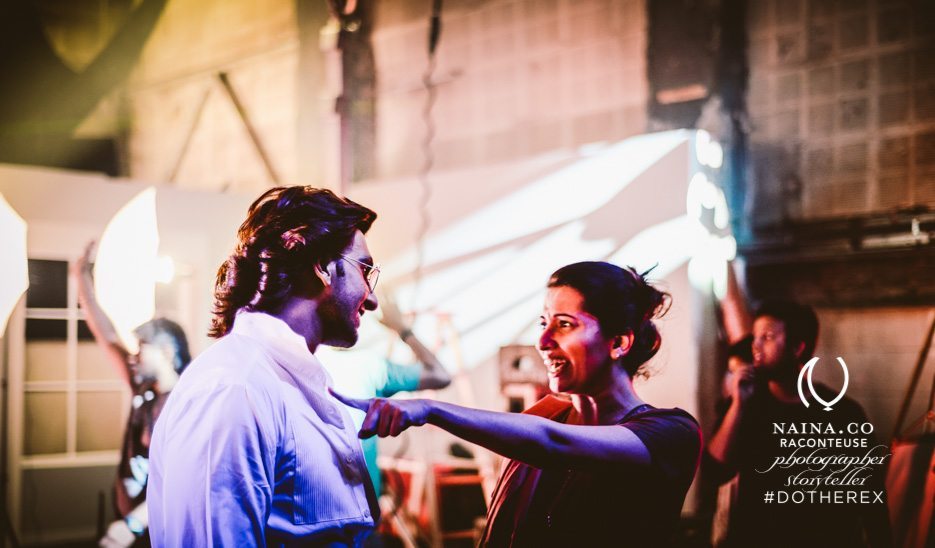 Above, Ranveer with the lady from Yash Raj Films's talent team ( sorry, unable to recall her name :/ ).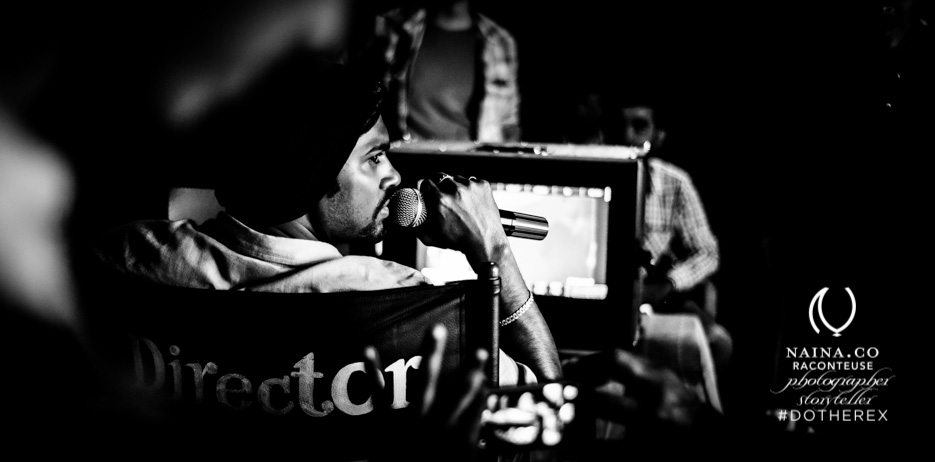 Above, Auggy seated in the "extra-who-would-be-playing-director" chair. Shenanigans.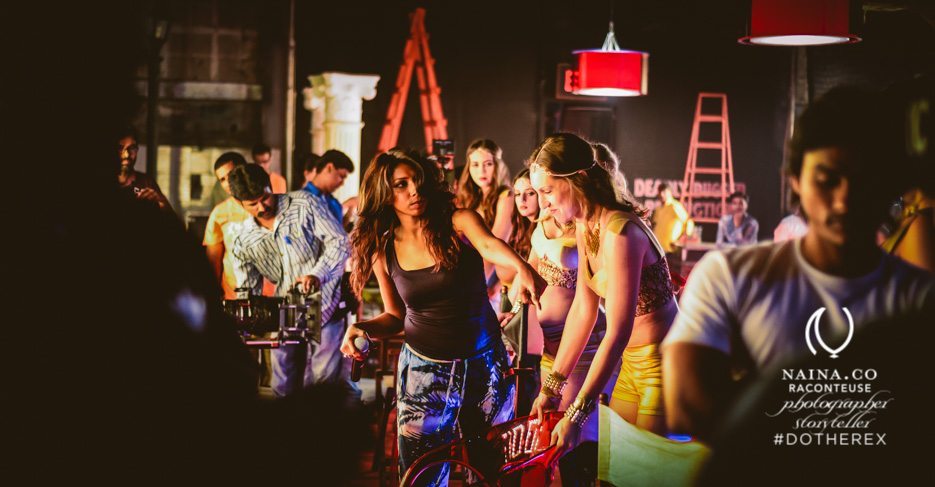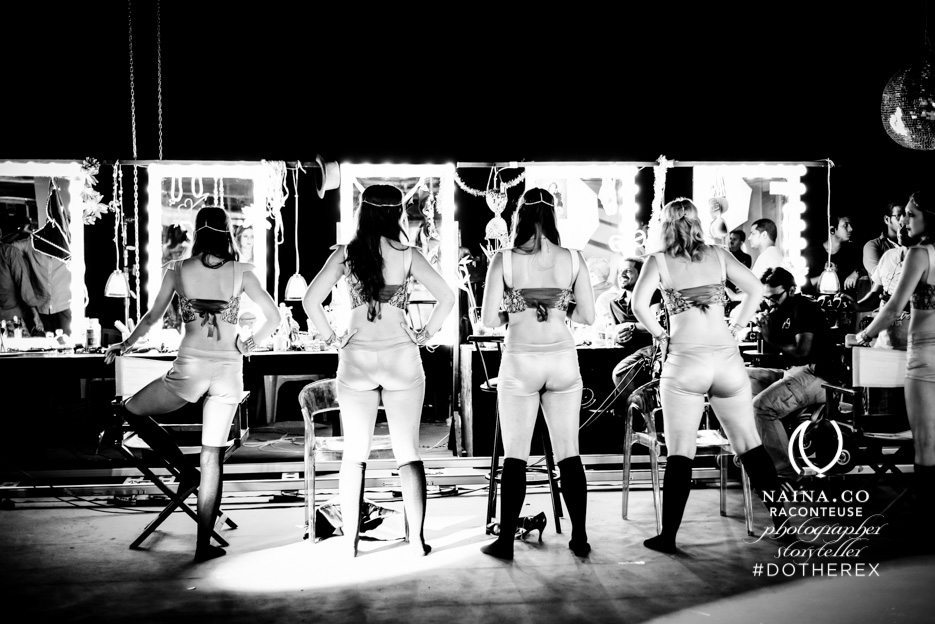 The extras wait for the next take.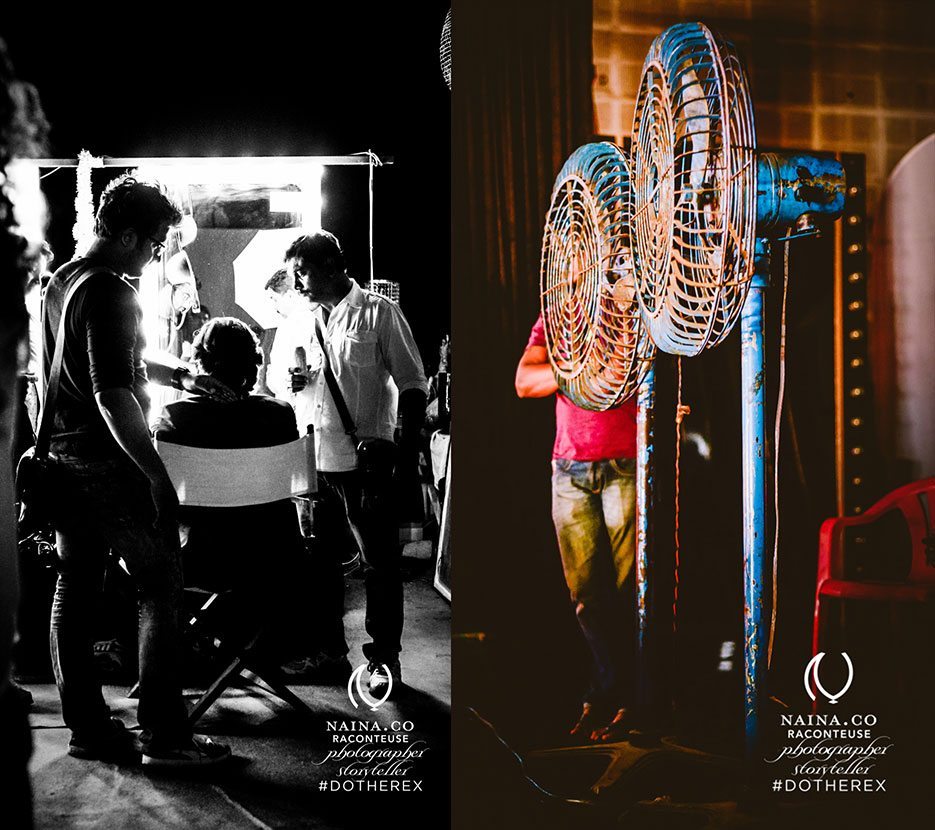 Ranveer's hair ( Darshan Yewalekar ) and make-up attend to him as he takes a break while waiting for the next shot.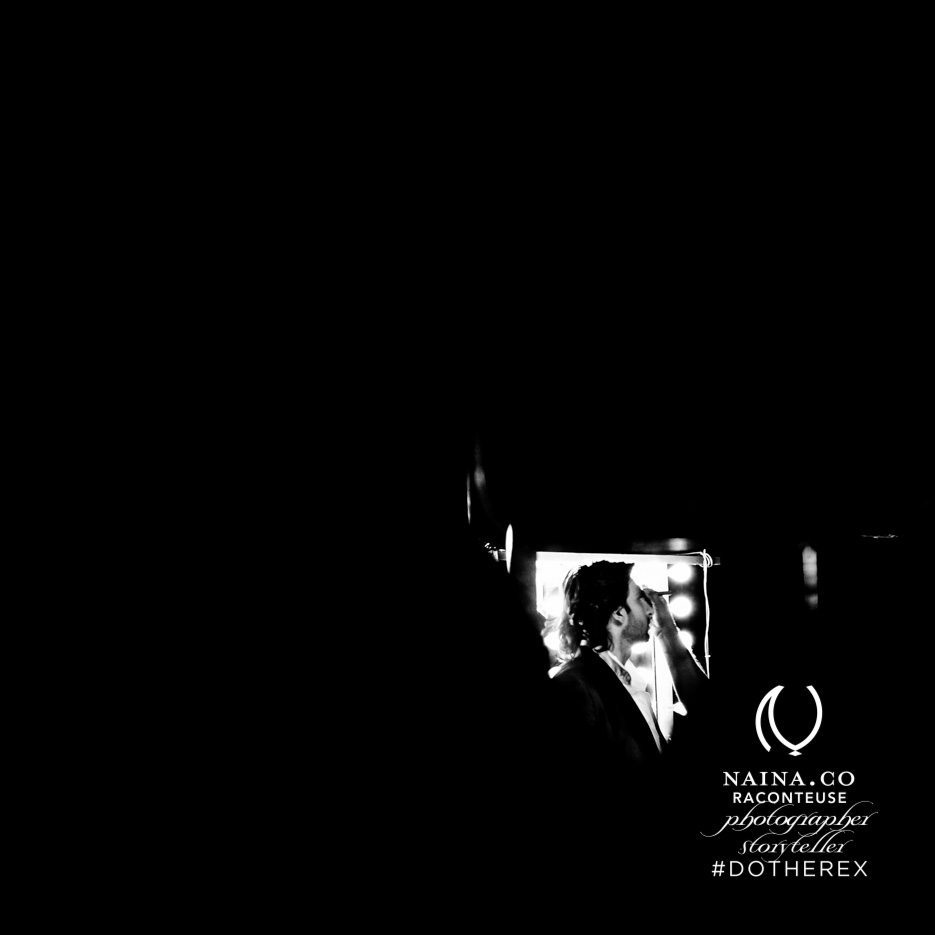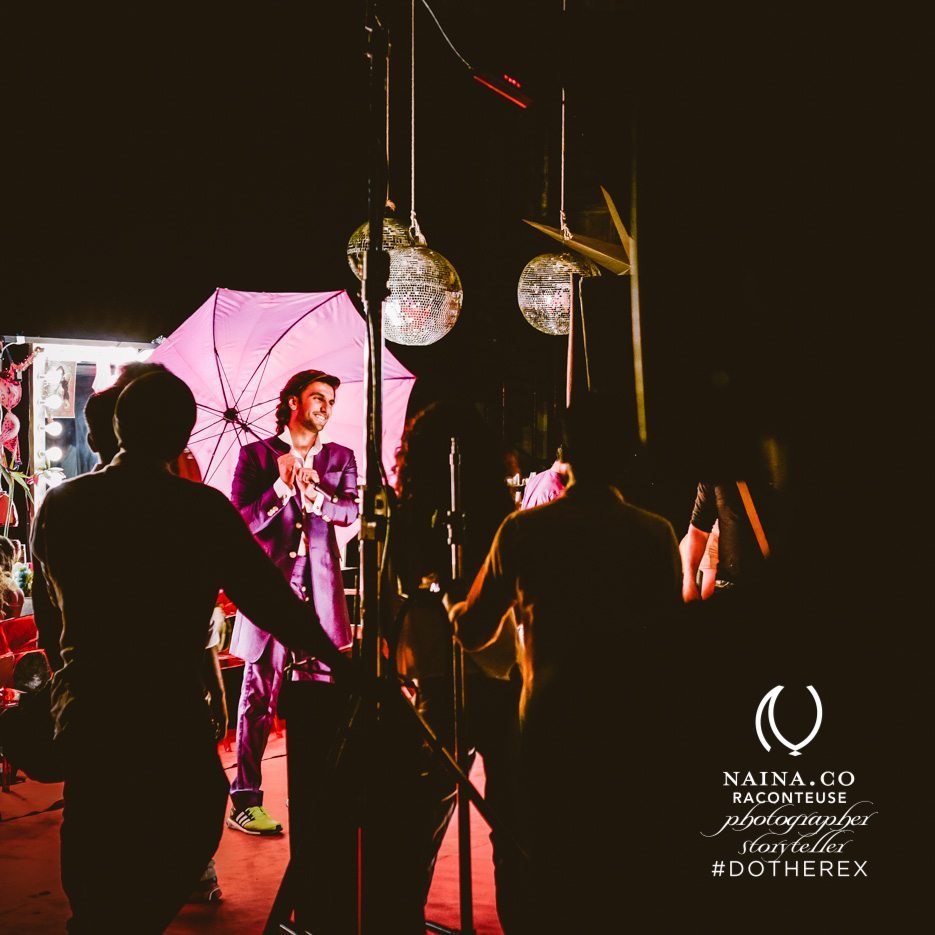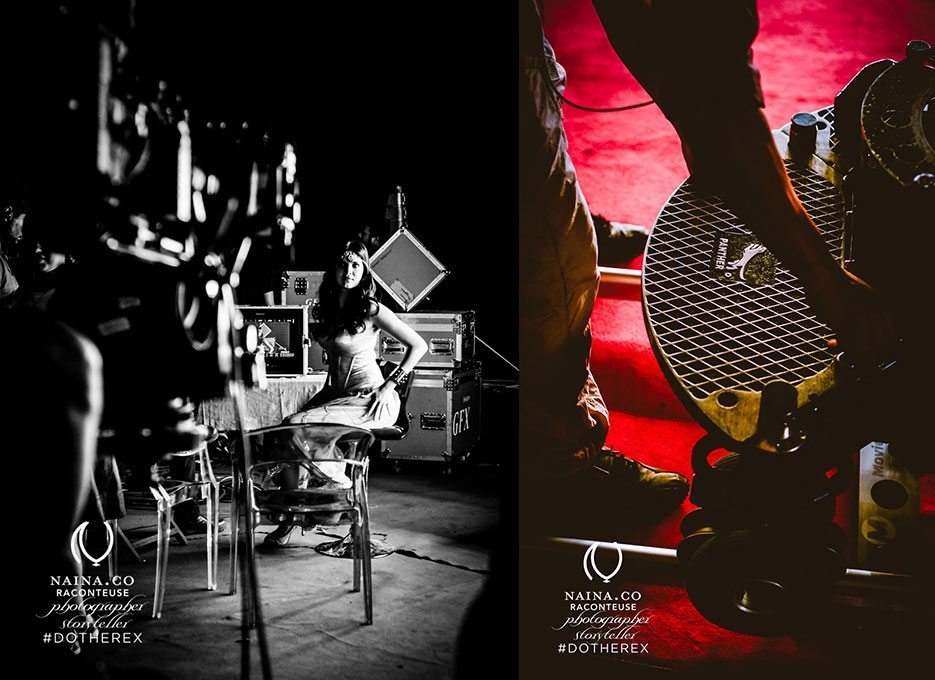 Above right, "Panther" on rails 😉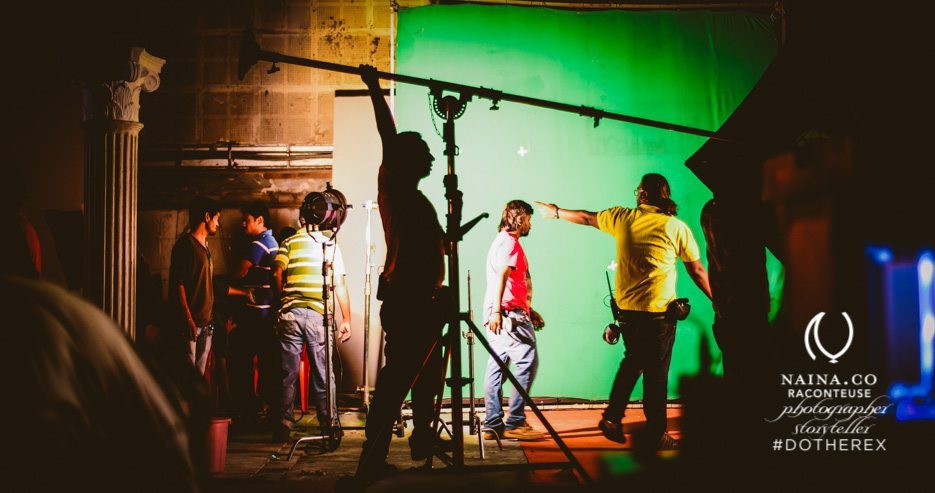 New setup for a scene that involved a bed. I'd been told that no cameras – except the director's of course – would be allowed behind the partition because the actors might get uncomfortable during their shot if they noticed my (unexpected) camera being aimed at them. Fair enough, the shot for the director is obviously more important than that of the behind-the-scenes photographer. I got some time to cool my heels and harangue Devender for a beer instead of the water / coffee / juice and other beverages he was serving. I bothered the chap on both days – I'm sure he was happy to be rid of me once they wrapped up 😛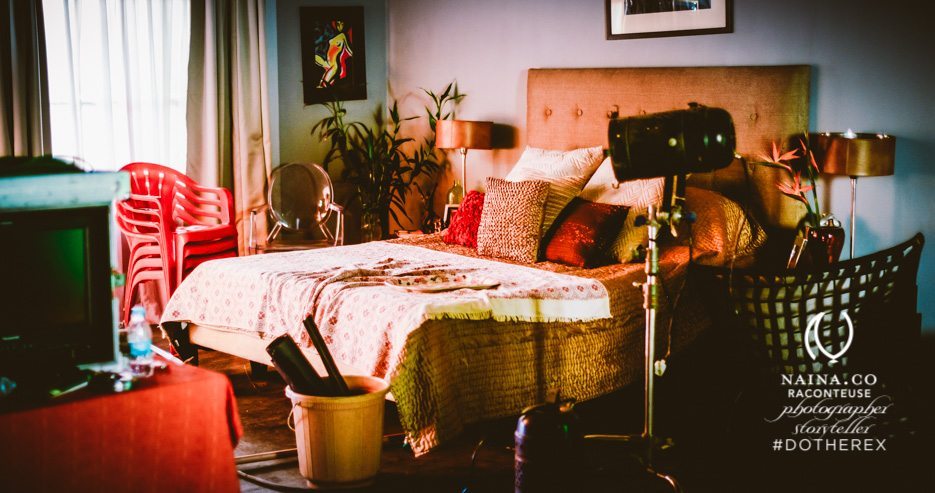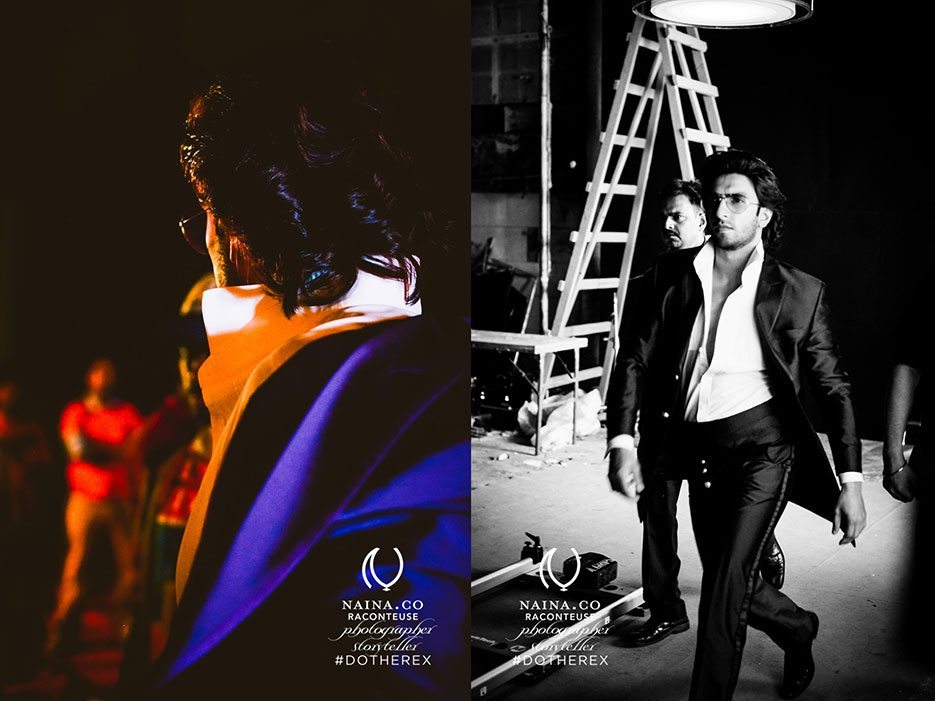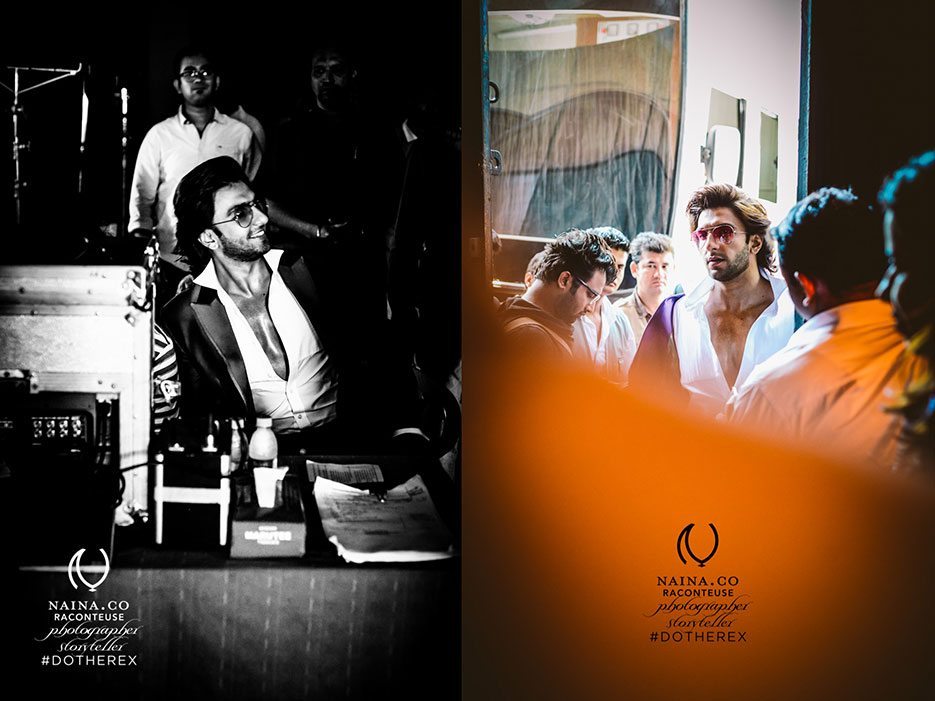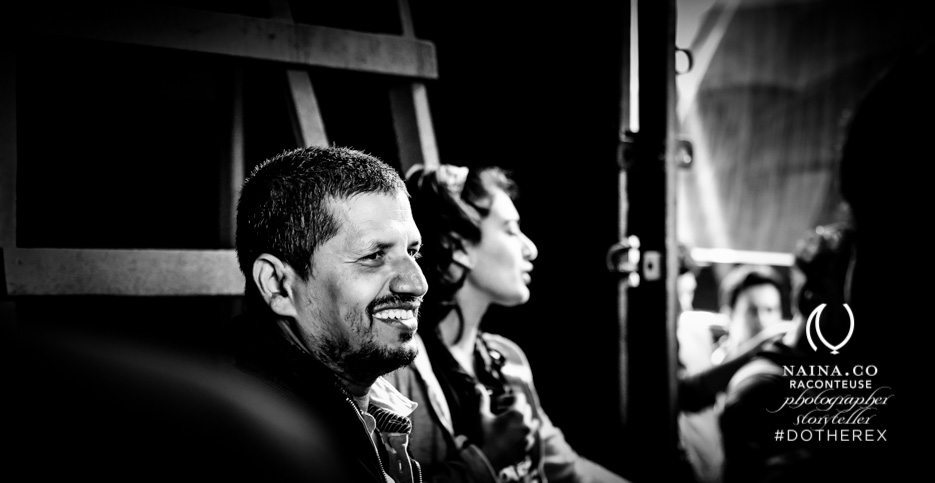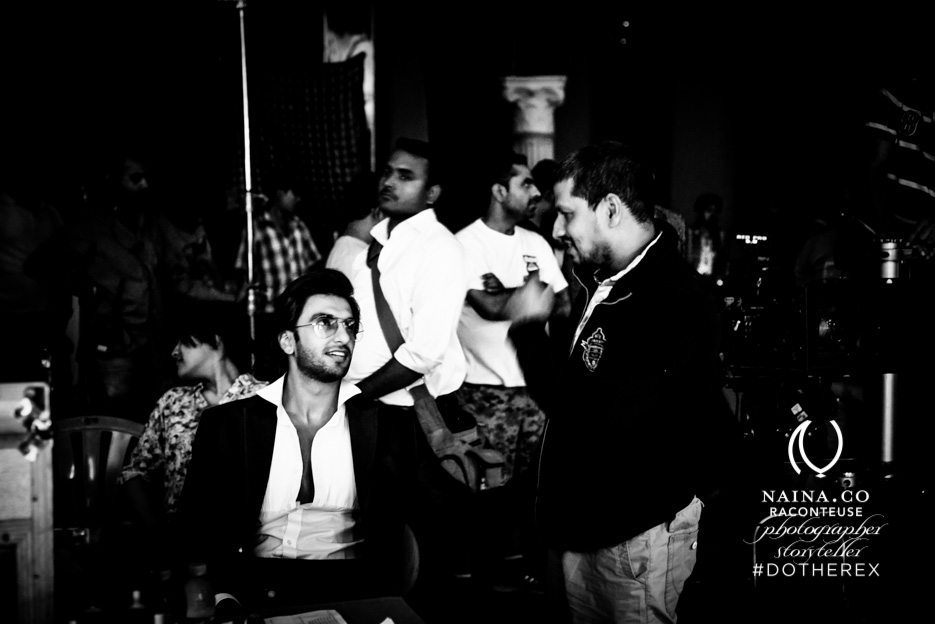 Above, Ranveer in conversation with Ravi Varman.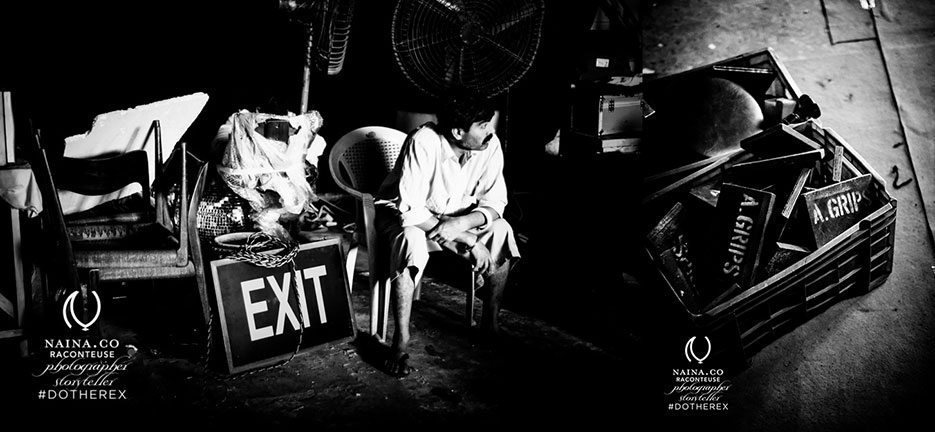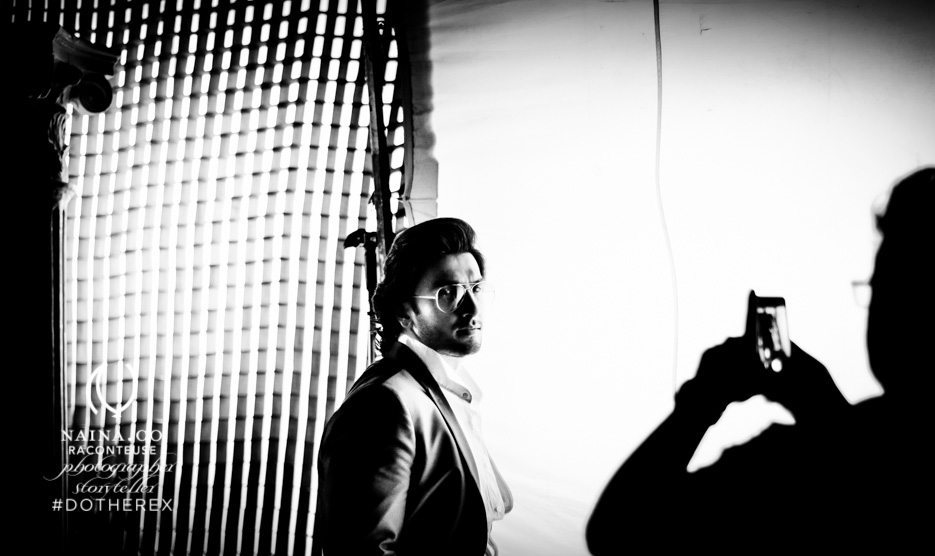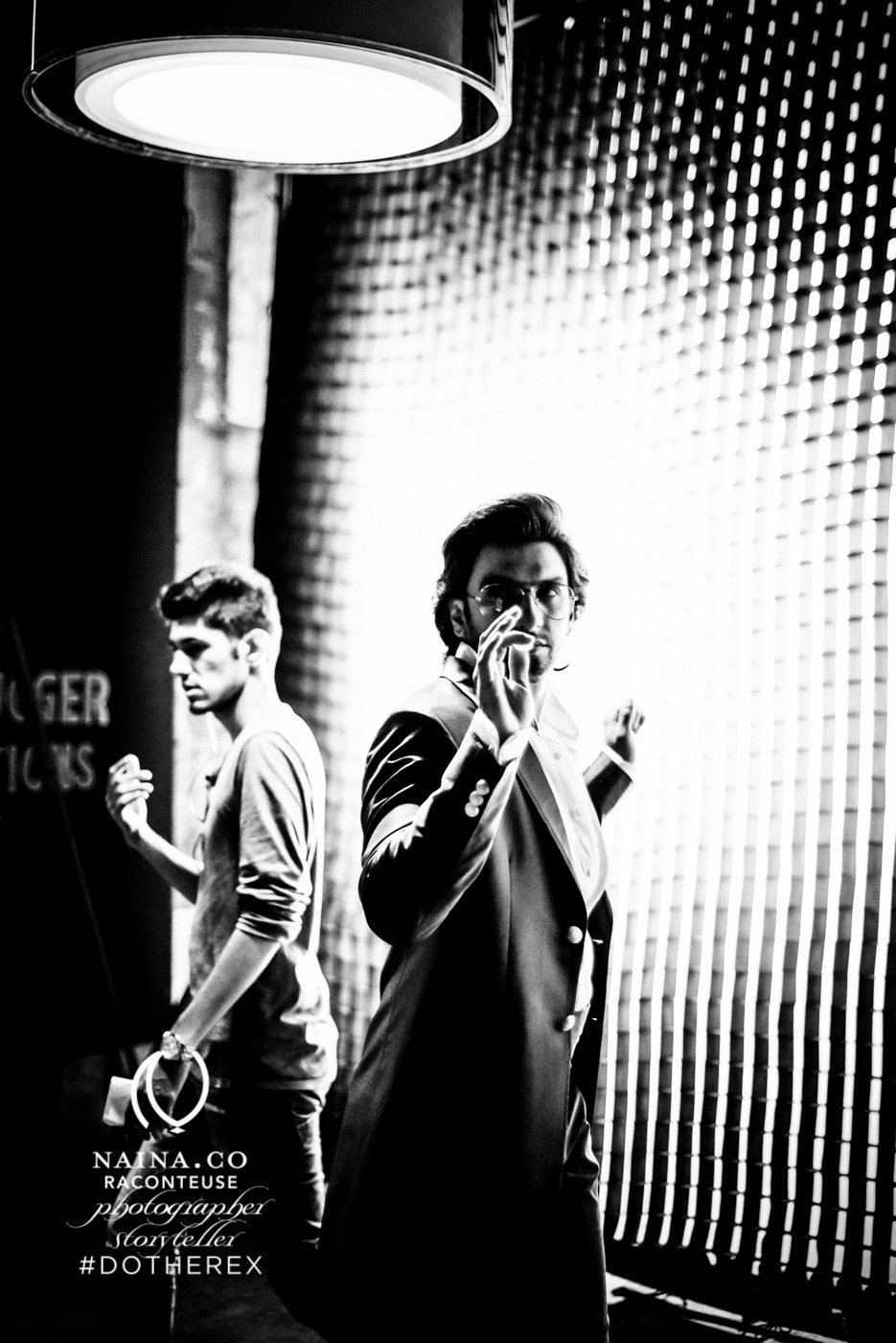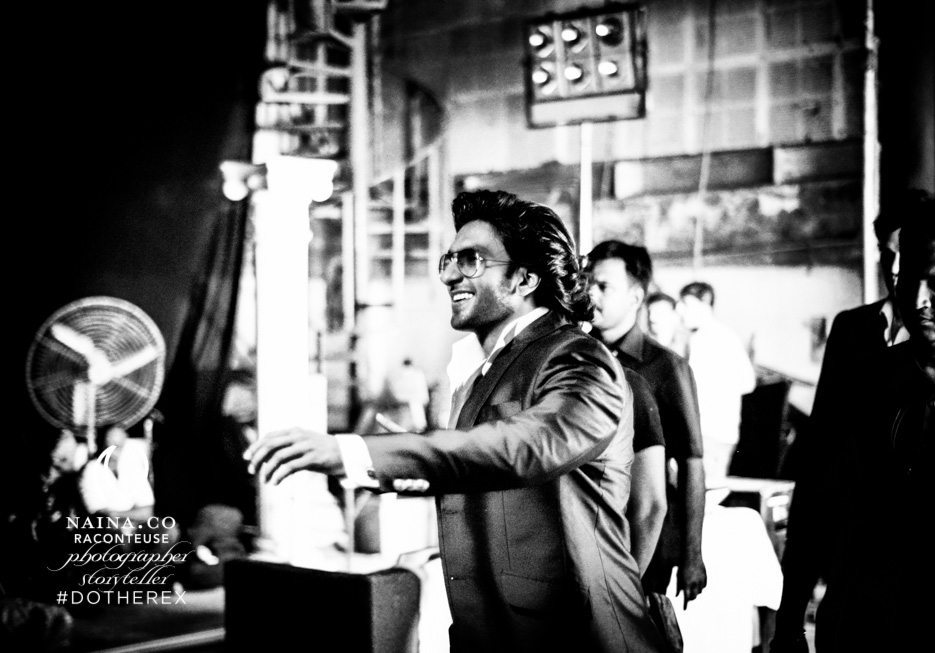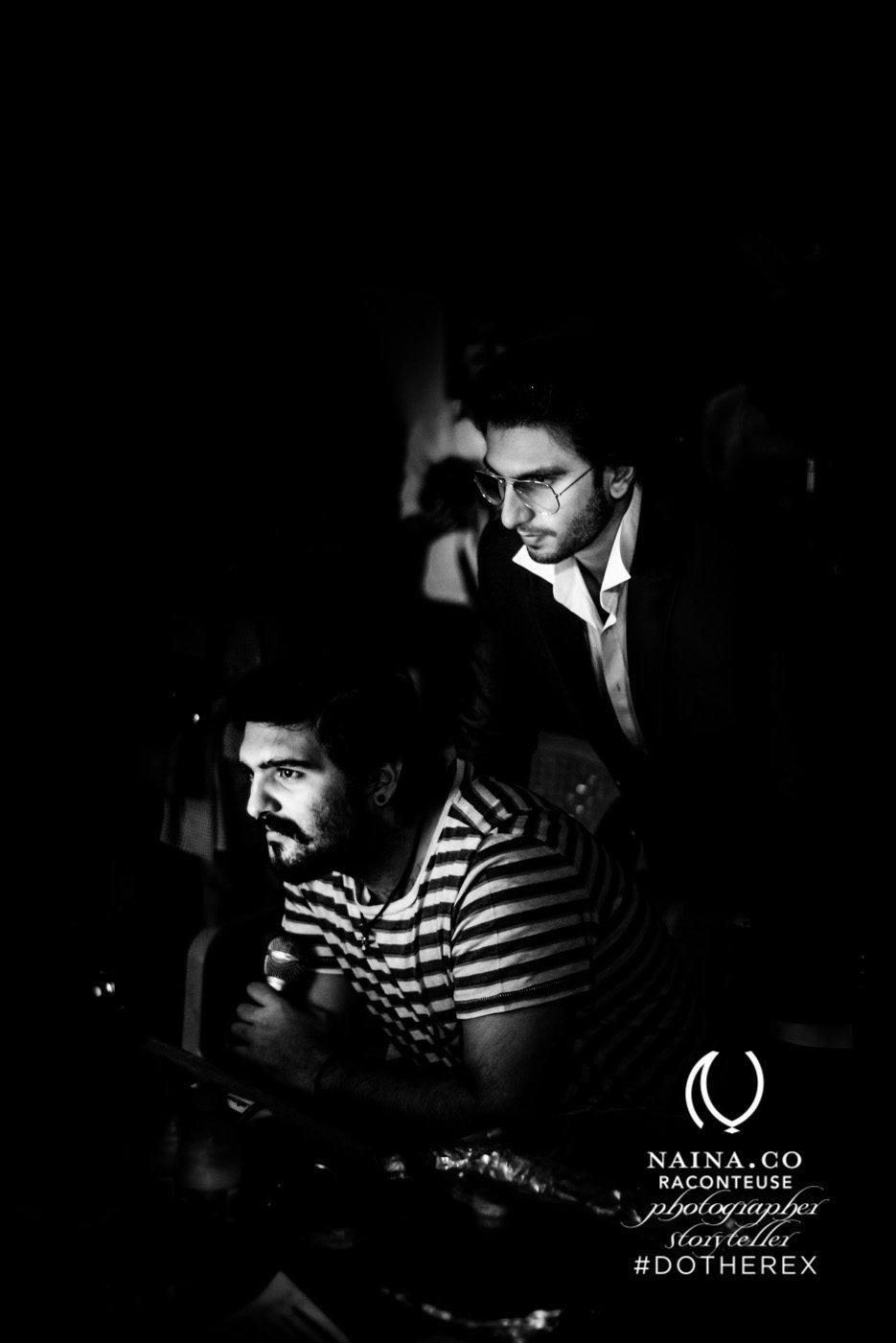 Above, director Karan Kapadia and Ranveer check out the latest take as the light from the screen illuminates their faces in an otherwise very dimly lit studio No. 9 ( or no. 69 as it had been turned into for this particular shoot! )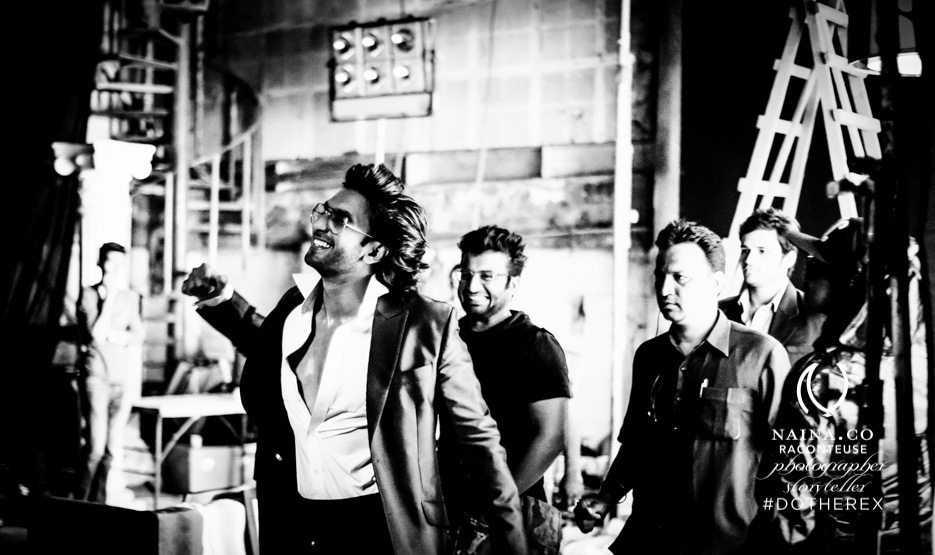 It's easy to see by looking at his face and hair just how much energy he brings to the set. Insane.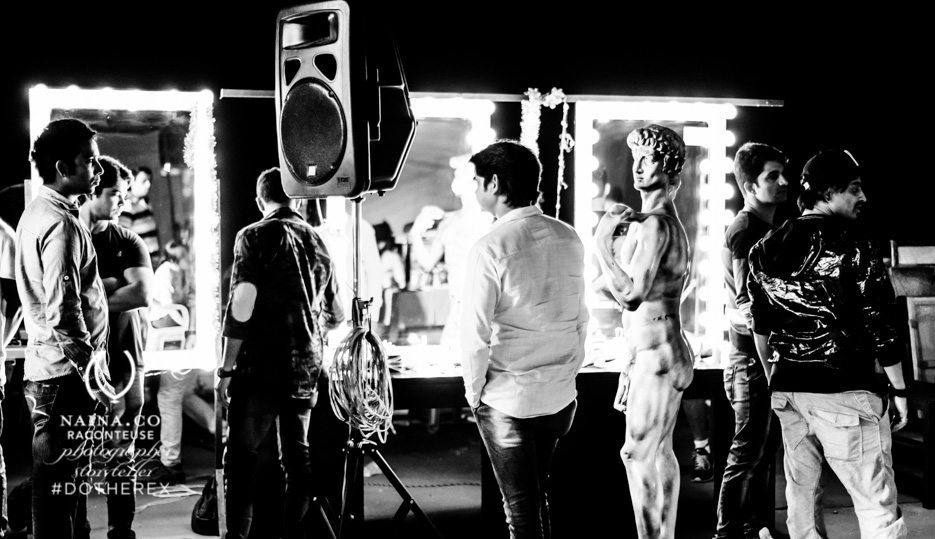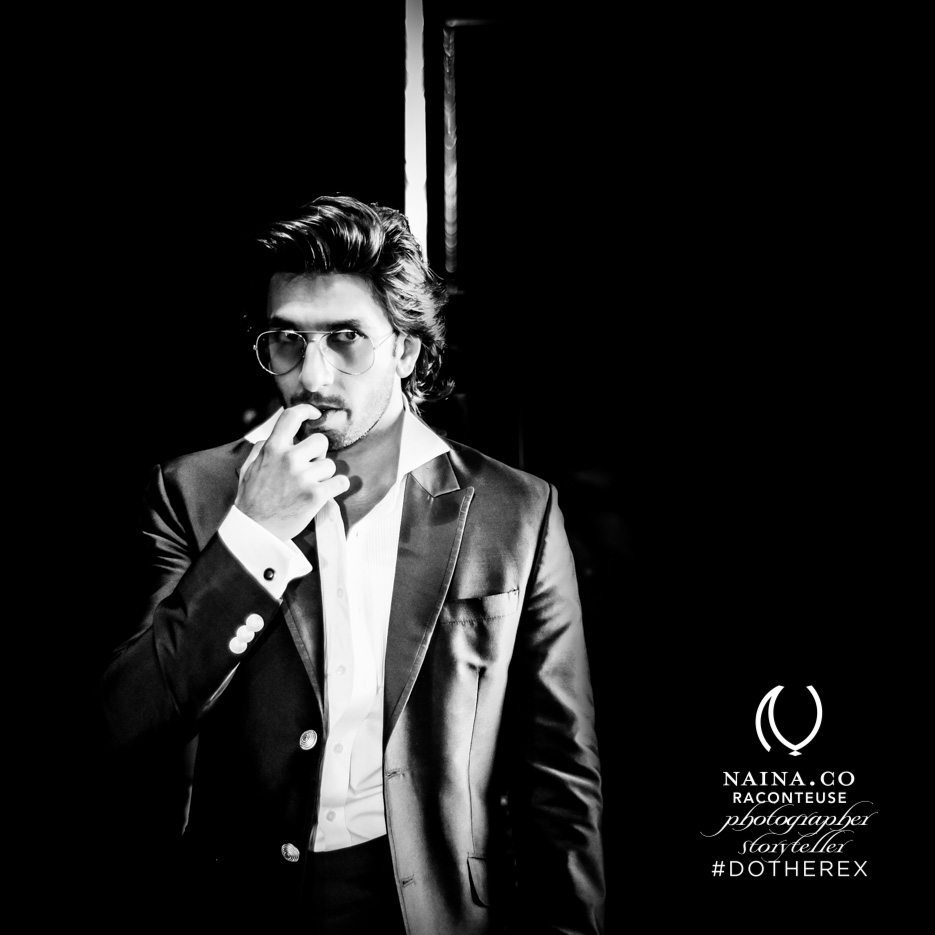 While I was standing in the wings trying to get a picture without disturbing the actor by being in his line of sight, I was asked if I would like to move in to the left by one step and be part of the scene. I didn't see why not. ( I would get a chance to be in Ranveer's line of sight without being shouted at 😛 and I'd get a chance to get a few close-up photos as well!) And just like that, I was part of one of the takes in the video. I wasn't sure they'd keep the shot of course, I am aware videos go through multiple rounds of editing, etc. There are many parties involved and hundreds of scenarios to be analyzed. ( They did end up keeping the shot and I got my two seconds of fame! Yay! ) The two photographs above and below are the ones I got while I was supposed to be "acting". I didn't have to do much, both Ranveer and Karan knew exactly what to do to elicit a very precise reaction.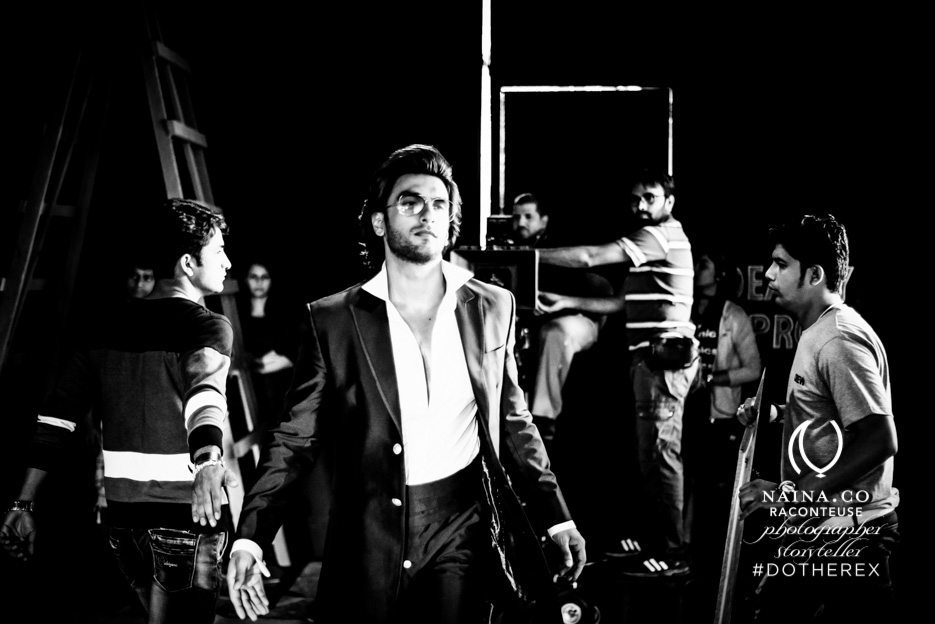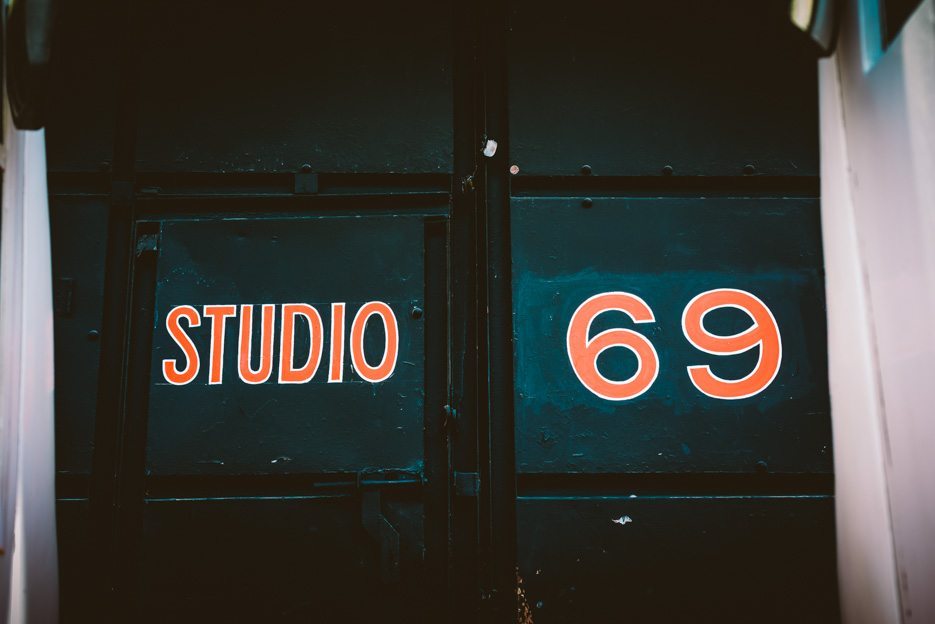 Had to get a picture of Studio No. 69!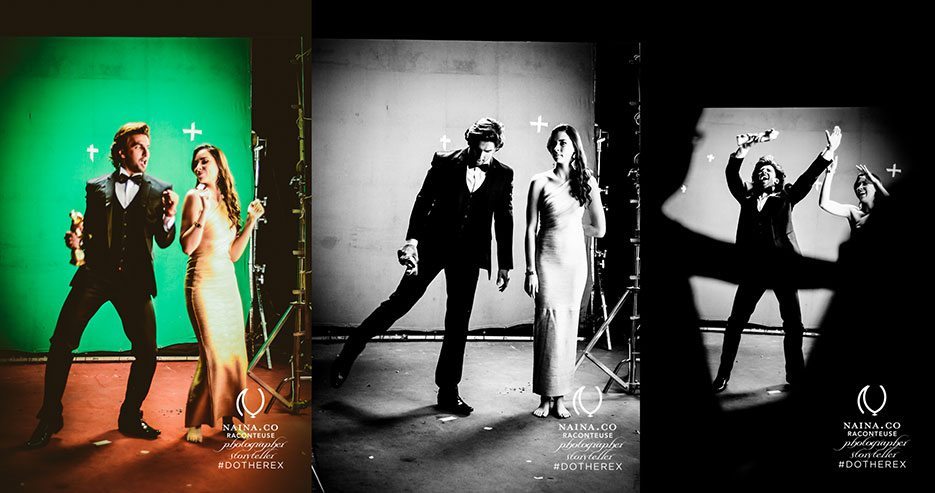 Above, Ranveer with Dayane Rodrigues in front of the green screen.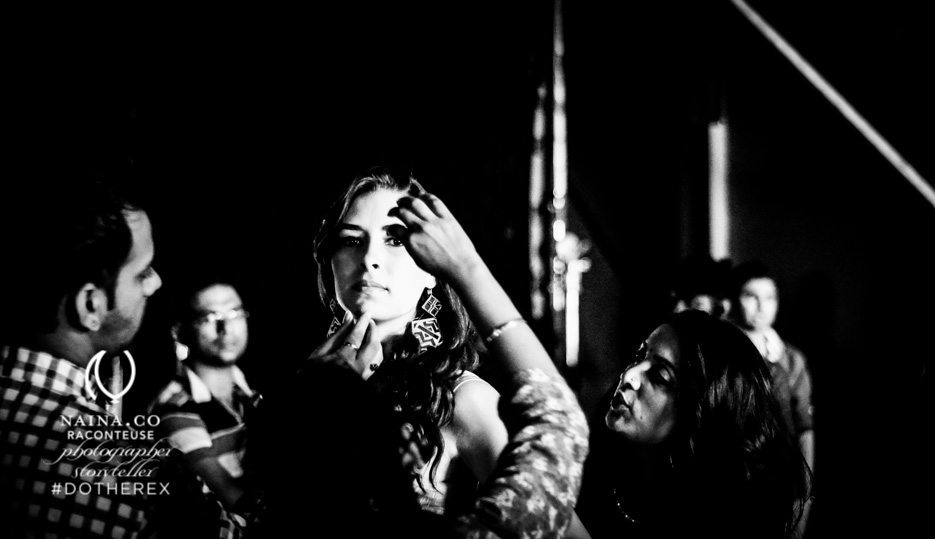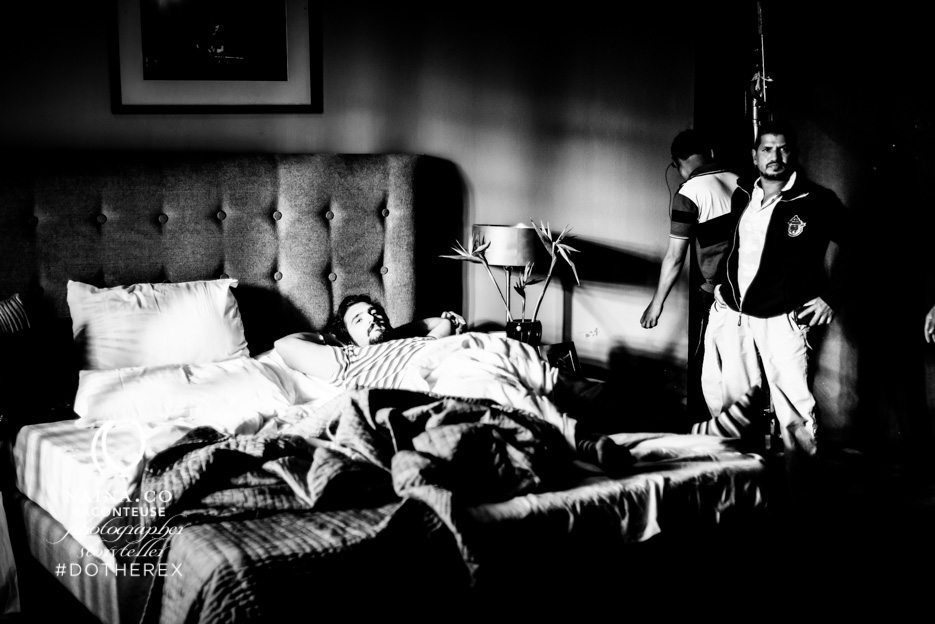 Above, Karan and Ravi figuring out the scene that would be filmed behind the partitions.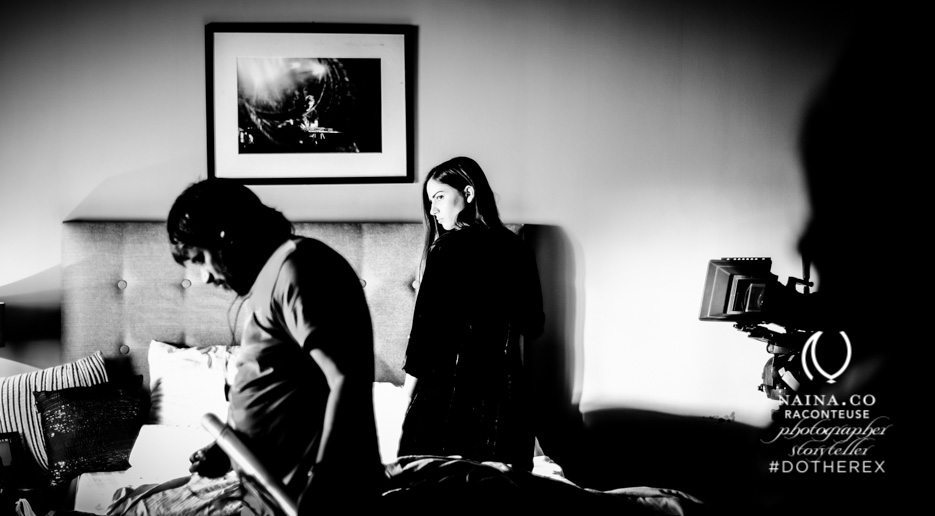 Above, the female actor who would be behind the partition waits for other production team members to leave before she could rehearse. This was my cue to get out as the partitions were brought together below.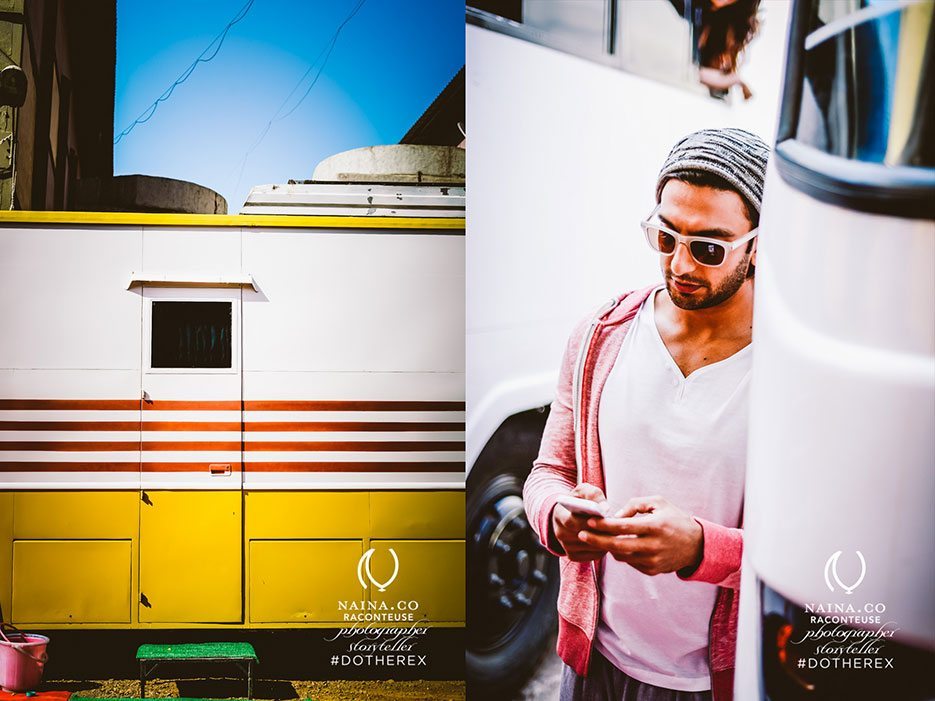 Above left, Ranveer's vanity van and on the right, him texting while the camera is being readied for the next shot. I really wanted to get a few candid / close-up photographs of Ranveer while he was in his vanity  van – unfortunately such an opportunity did not present itself. Next time perhaps. It's nice to get a personal / casual angle of an actor in between shots – a purely professional perspective I have as a photographer. It would help deliver a more comprehensive story for my client. In any case, I'm glad everyone was so kind to me during the shoot. Since this was my first time working on such a project, I probably broke some rules and offended some people in my ignorance.
For example, I learned that most actors are uncomfortable with a photographer directly in their line of sight WHILE a shot is being filmed – I made that mistake initially and was quickly advised to correct it – which is why a lot of photographs of Ranveer while he is giving a take are from behind shoulders, chairs, heads and whatever else I could hide behind.
( How I was corrected also makes for an interesting anecdote. During my initial minutes of being on the set, I was photographing Ranveer on stage while he was giving the shot. There was also a moment where his attire wasn't "appropriate" for a photograph (he was cooling down in between shots). While I was not photographing him during this, my camera was in my hands – it always is when I'm on assignment. Someone from Ranveer's team immediately walked up and told me I couldn't photograph him anymore. I surmised he hadn't been informed about what I was doing and why I was there. Sure enough the Durex team clarified my situation and before I knew it, there he was in front of me, with both his hands on my shoulders, telling me I could photograph as long as I stayed out of his line of sight "…because you're too pretty and hence distracting. And no photos of me with my hands down my pants!" he said wagging his finger. I told him he had nothing to worry about because if I did get or share any inappropriate photos, I doubt anyone in the industry would want to work with me. As for responding to the "too pretty" remark, before I could think of something witty, he was already on stage giving his next take. Next time Ranveer! )
Also using a speedlight / flash is a big no no as it is very distracting for the actor and director alike. ( Thankfully I didn't do this – I dislike photographing with a speedlight unless I'm in a studio or need posed photographs. )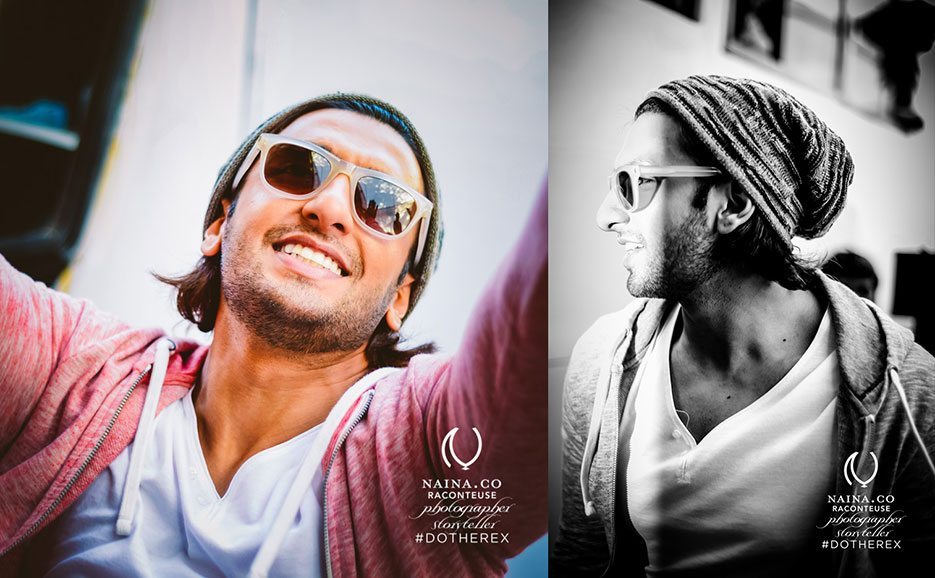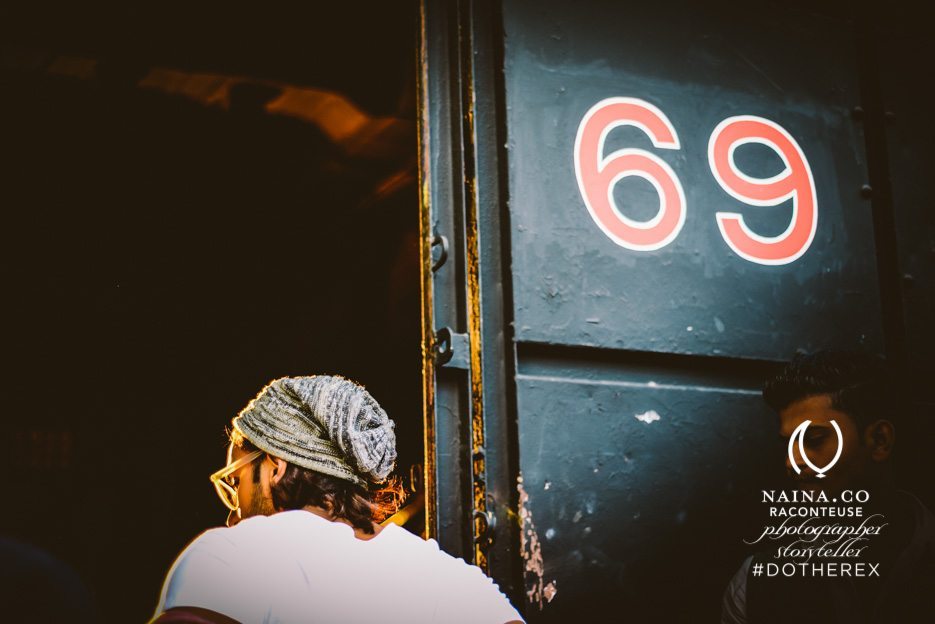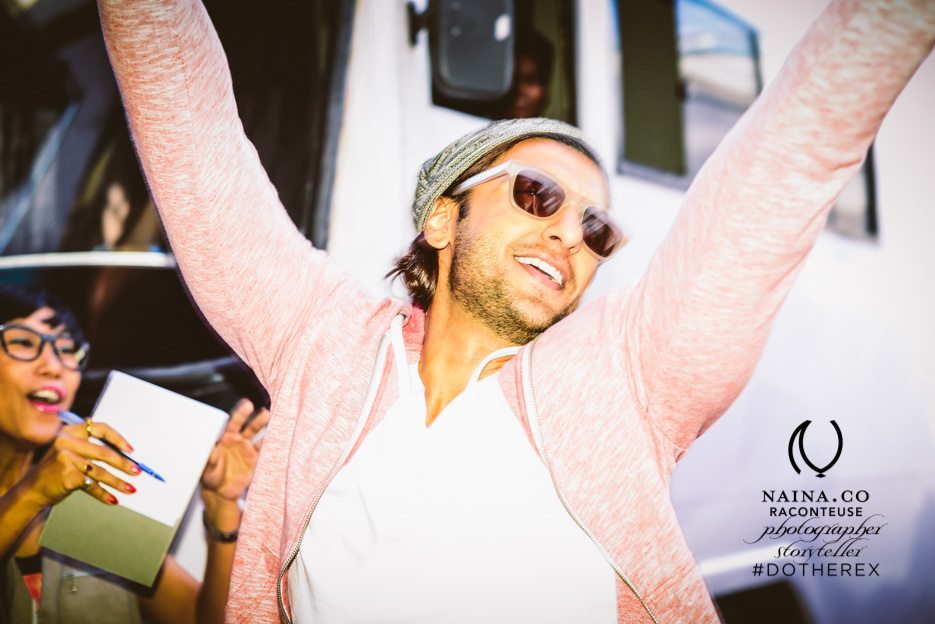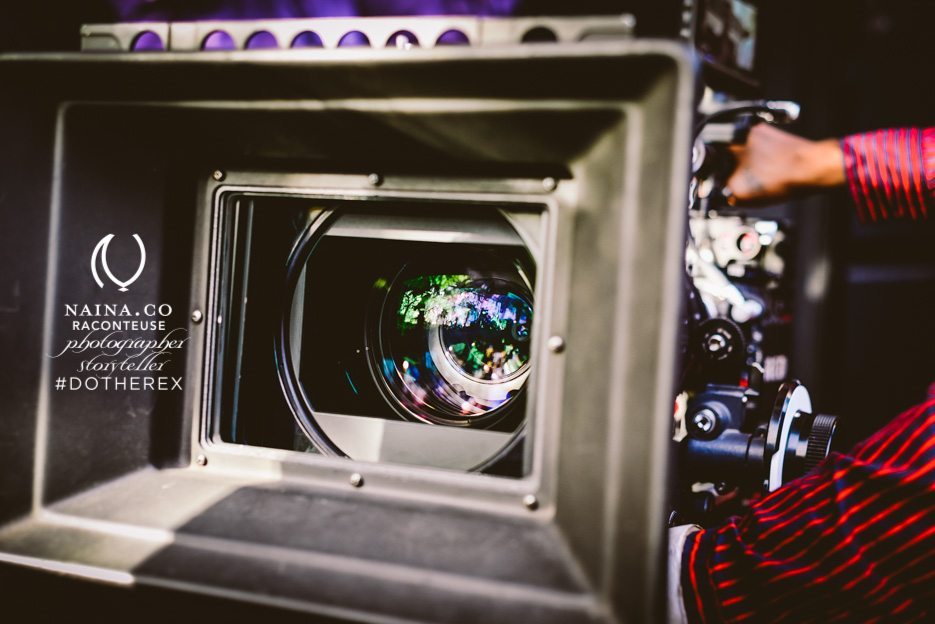 There was an outdoor scene as well. Right between two vanity vans. Ranveer would jump out from an open-top car and move toward the camera.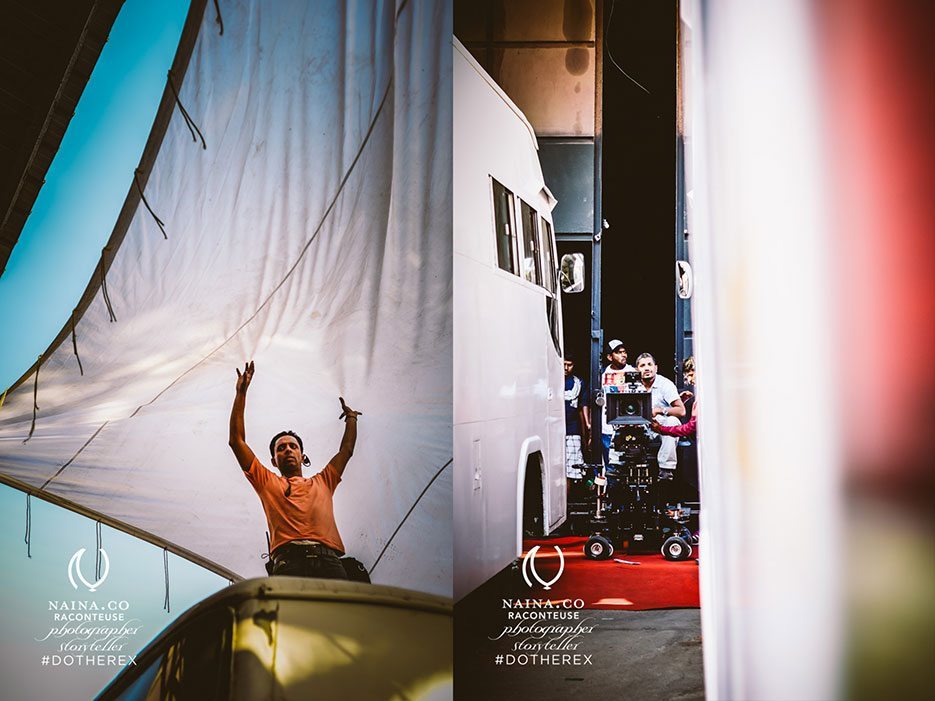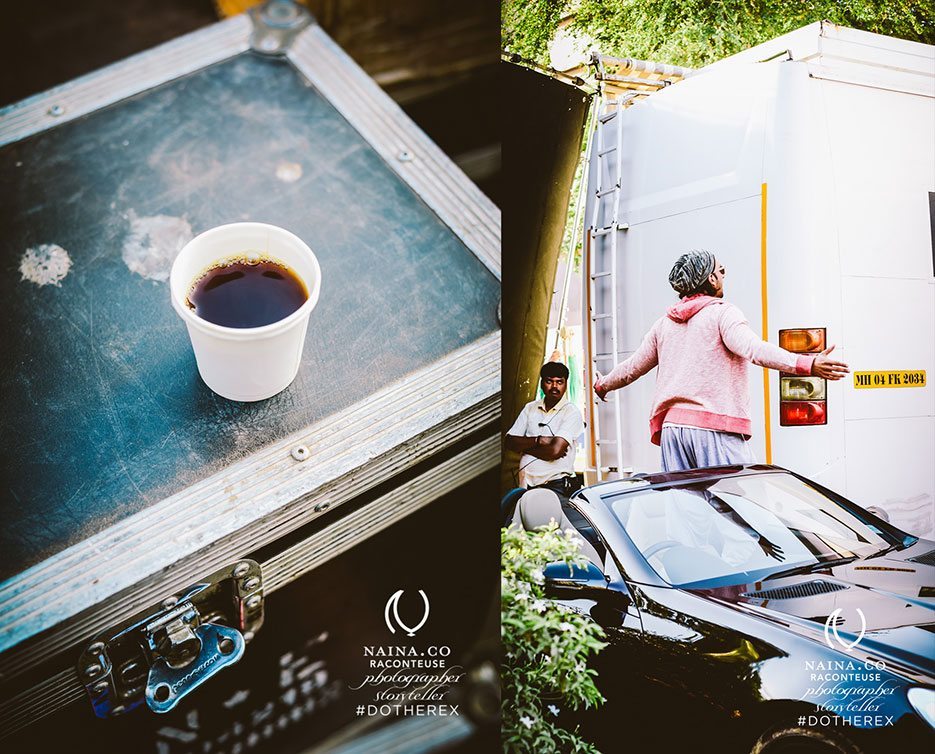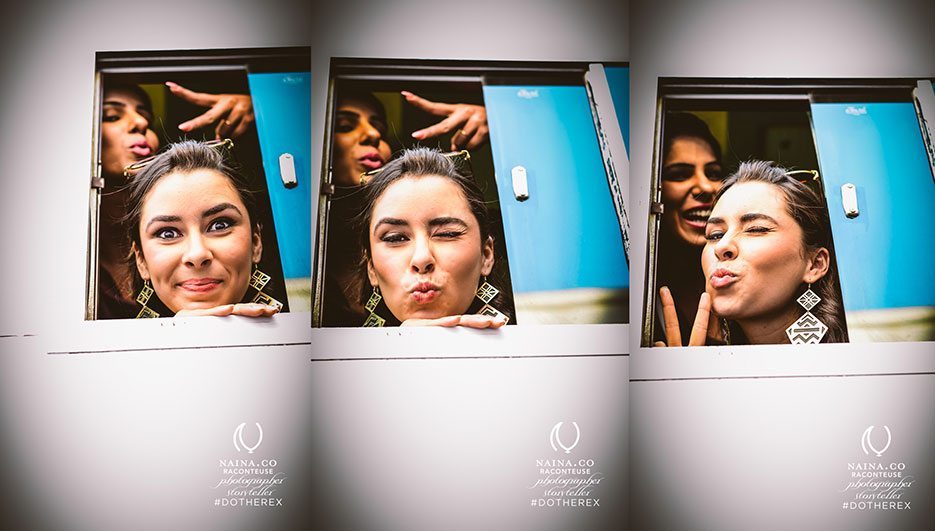 Above Dayane Rodrigues in her vanity van, peeking out at the scene being shot.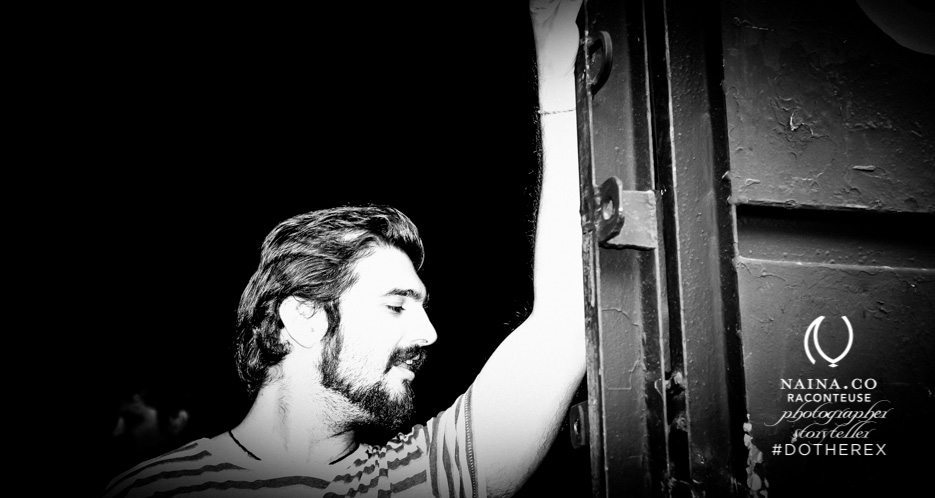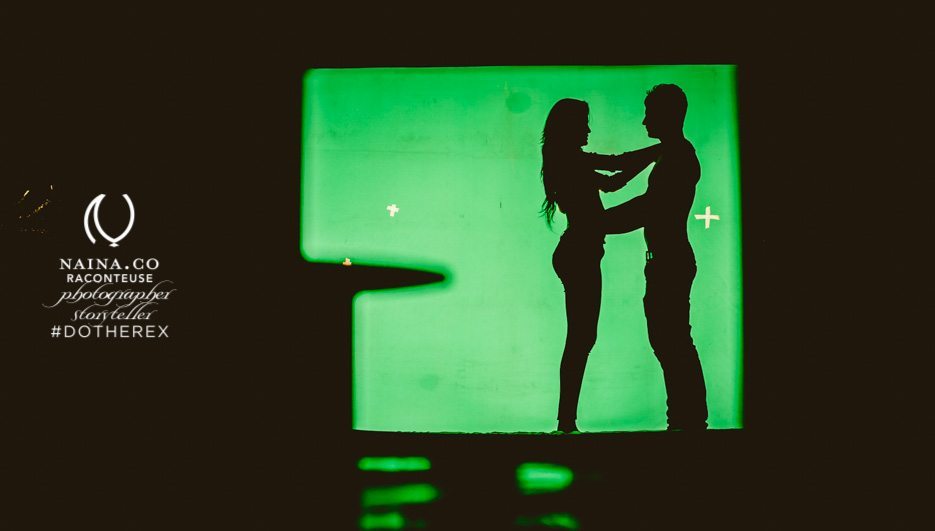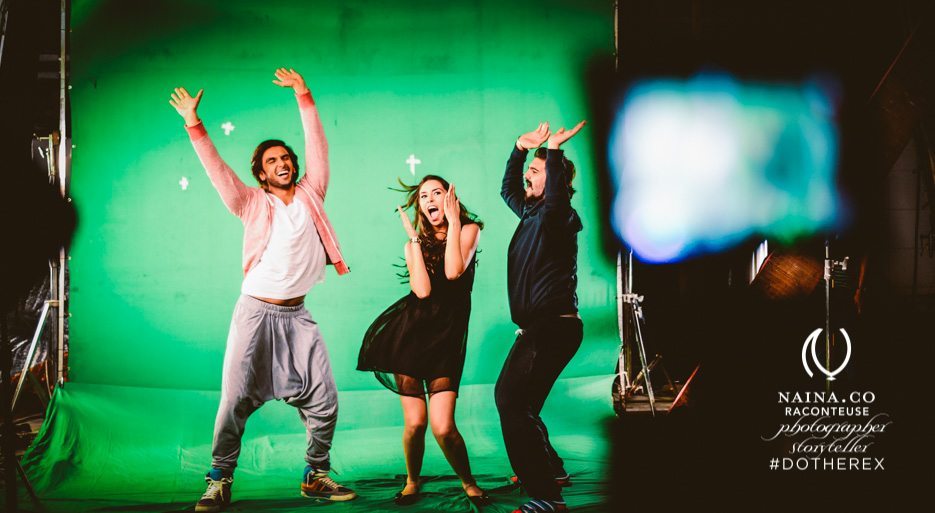 Karan fooling around in between takes. Like I've said earlier, it was a boatload of fun.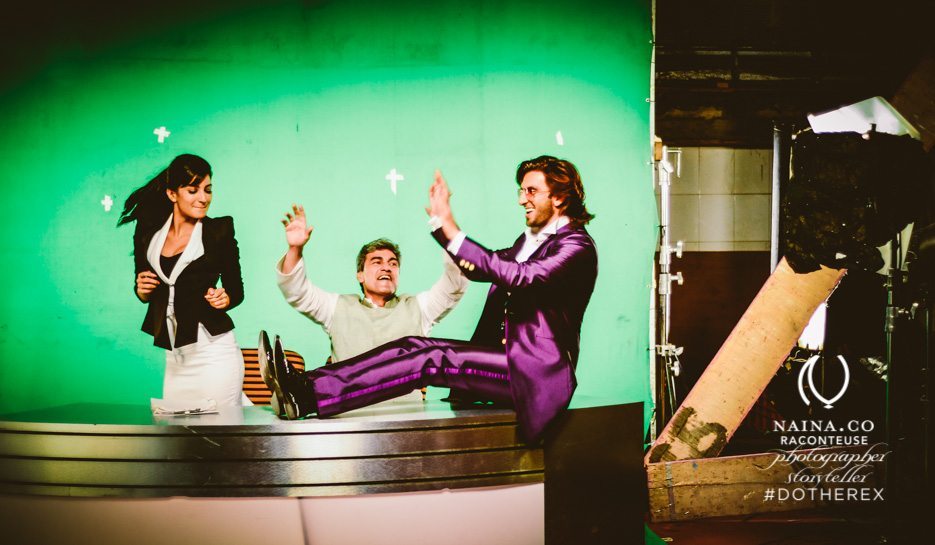 This is apparently the first time a mainstream Bollywood actor has endorsed a "condom" brand in India. Considering how shy Indians are when it comes to talking about sex – even though they have so much of it- it's a bold move on Ranveer's part. And from whatever I've seen so far, the audience is loving it. Most Indian advertising about products or brands related to sexual well-being is mushy or romantic. This ad however is fun, energetic, cool and hits the right spot in terms of concepts as well. The tune is so catchy! I had a hard time getting it out of my head when I was on set and for weeks after. I asked around if someone was willing to share the mp3 with me too – but since it was all hush hush prior to the launch, I had no luck 😉 As soon as the video released, however, and the video and mp3 were both made available for download on the DoTheRex website, the song was quickly added to my "Driving in Delhi" playlist and I've been listening to it ever since.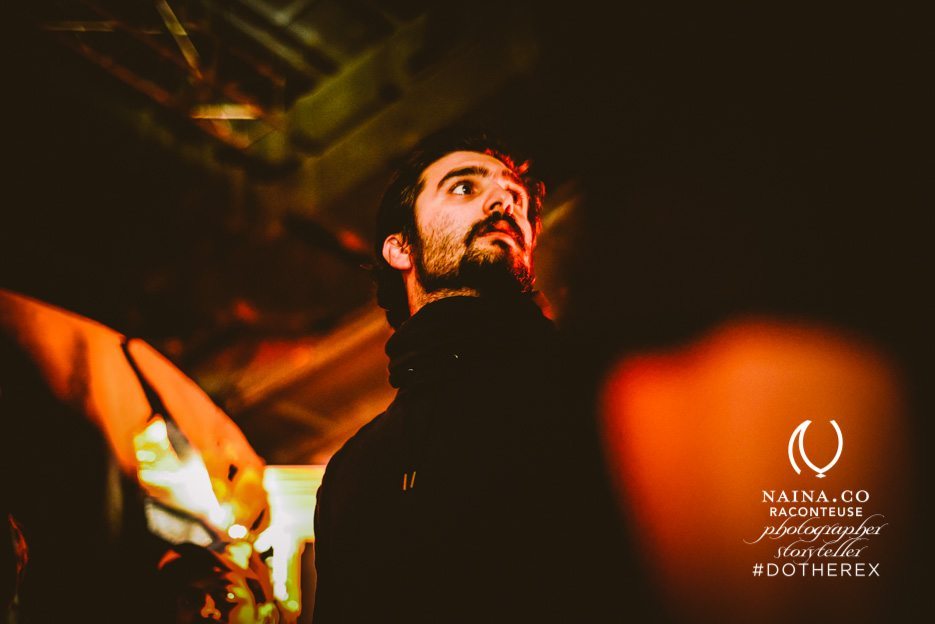 Above, Karan Kapadia. This was his directorial debut and his parents visited on set as well. He was a pleasure to be around.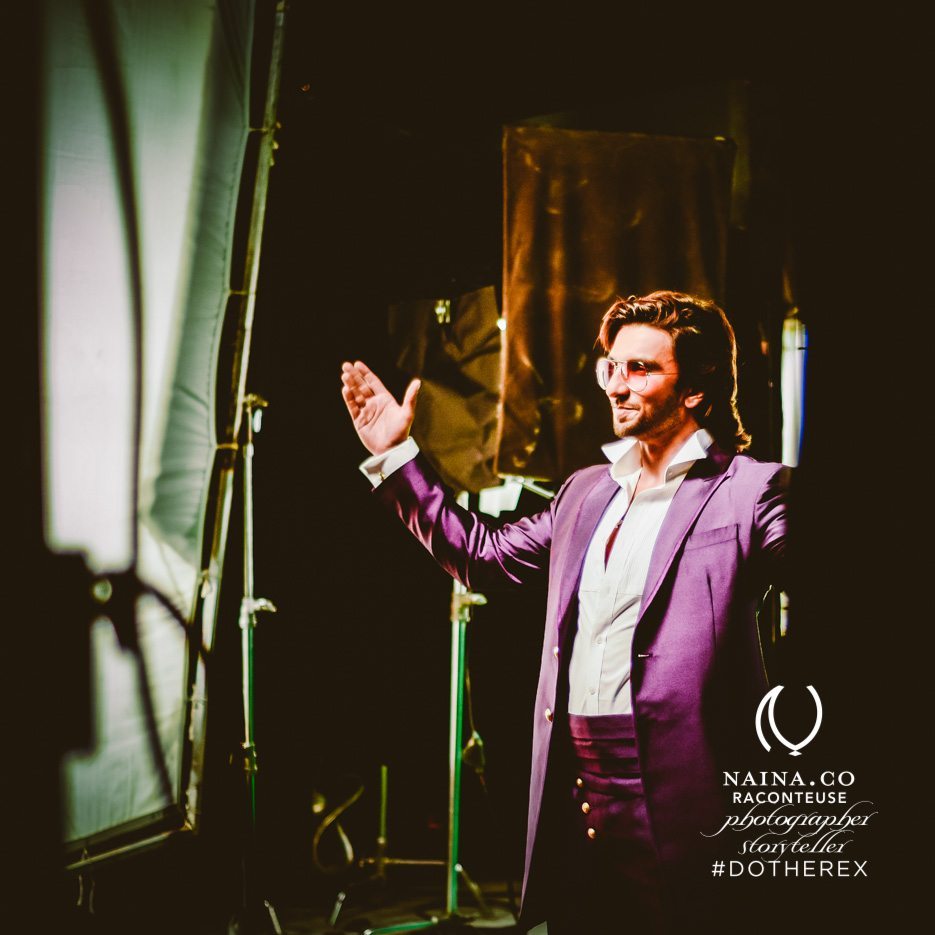 There were various shorts that needed to be recorded and while a brief script was shared with Ranveer ( I'd read / seen the scripts ), it was fascinating to see how he improvised and gave one-take shots with perfect dialogue delivery. The Durex Team could not stop discussing how insanely talented he is!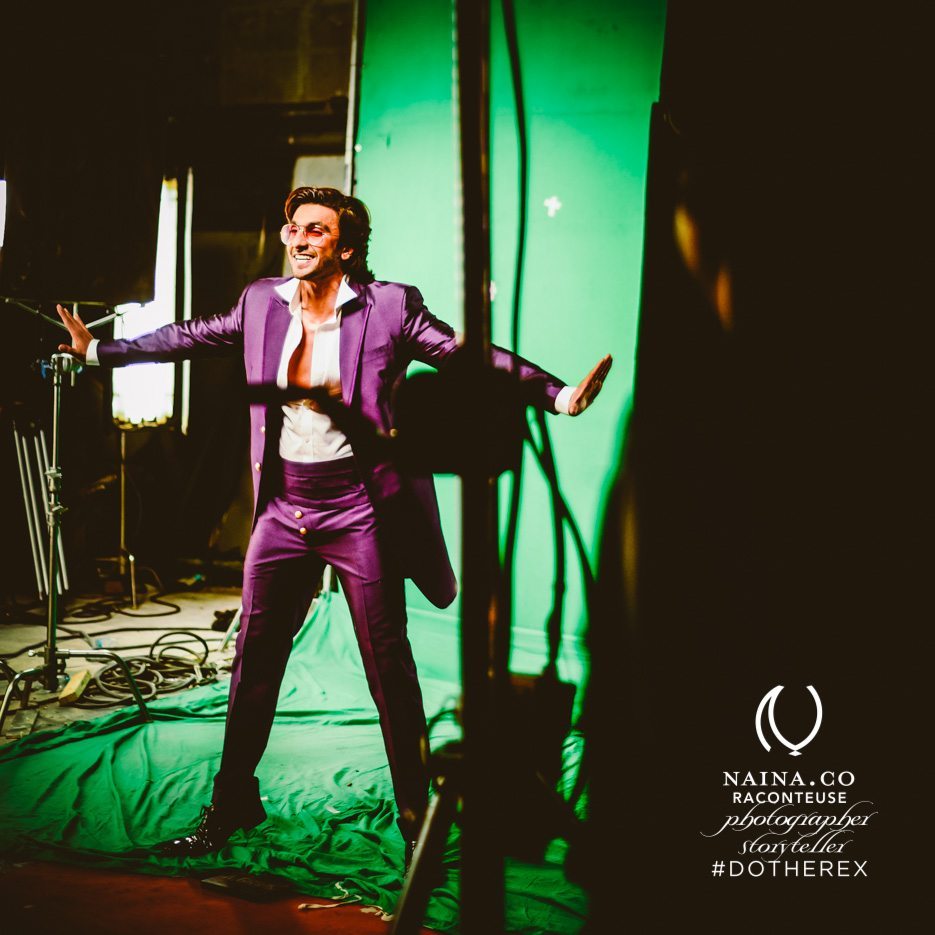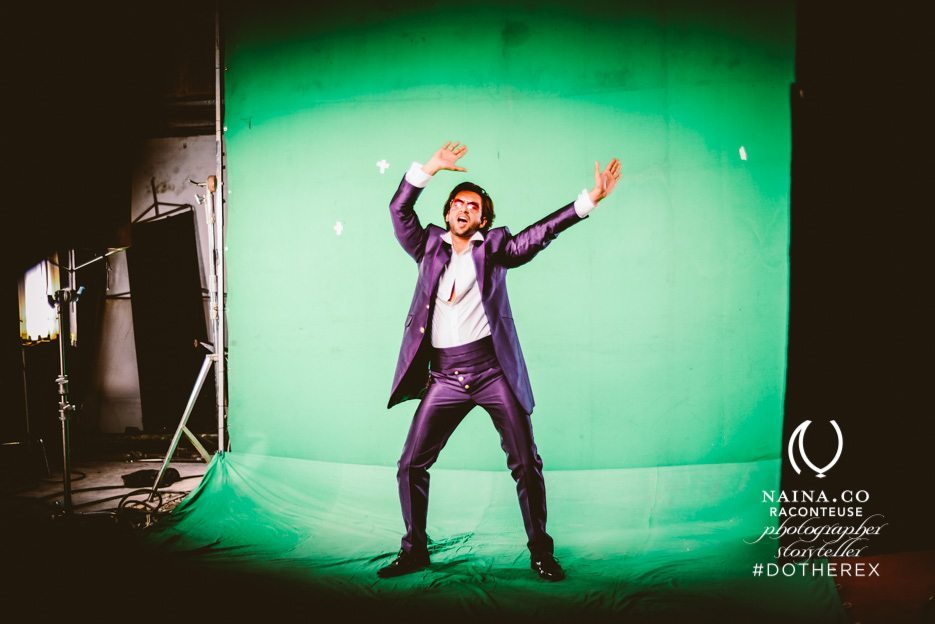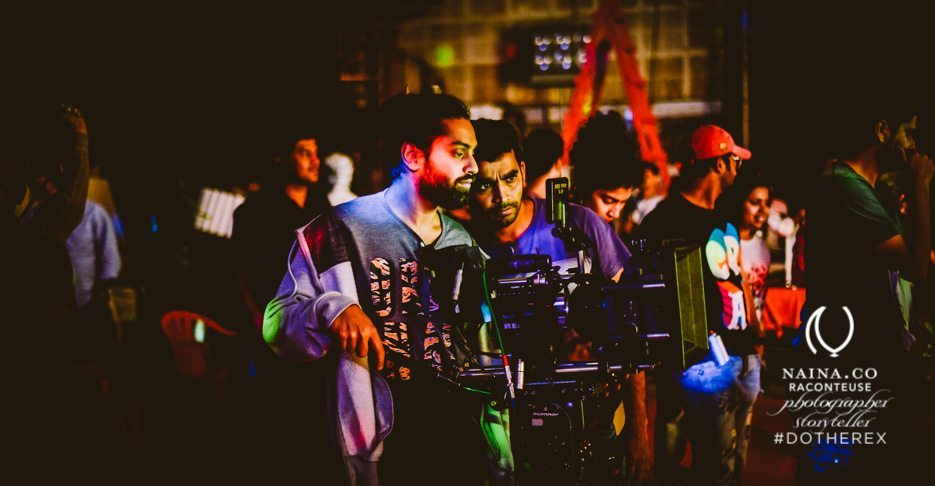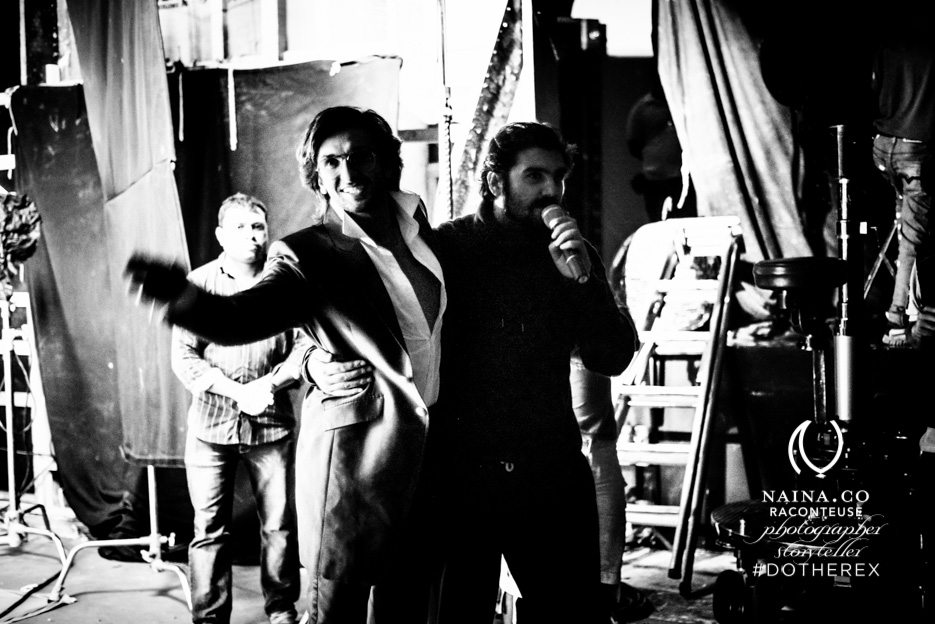 And that's a wrap! Karan and Ranveer got hold of the microphone to thank all present and proceeded to Do The Rex with the Durex team and other team members before we all left the set.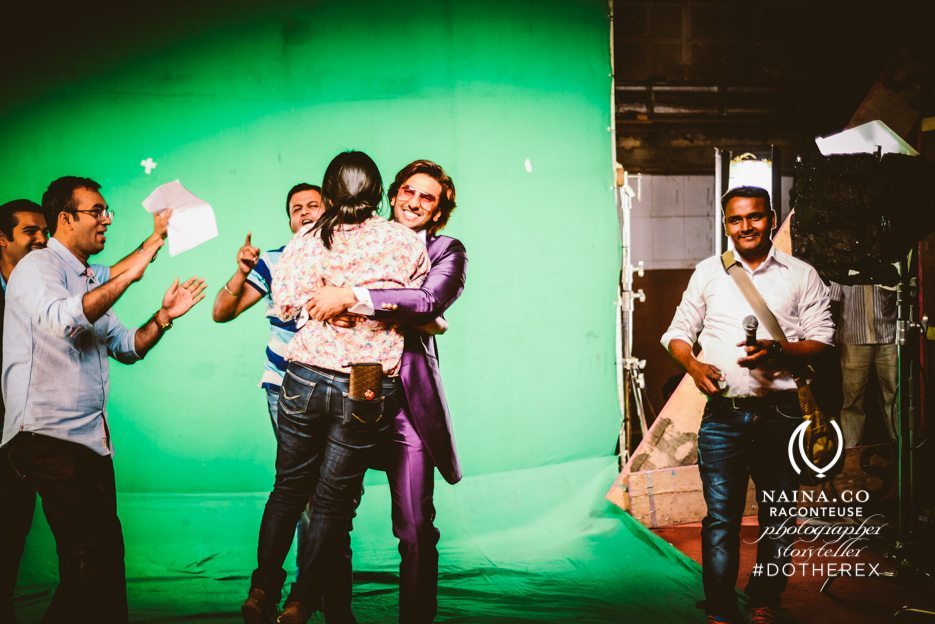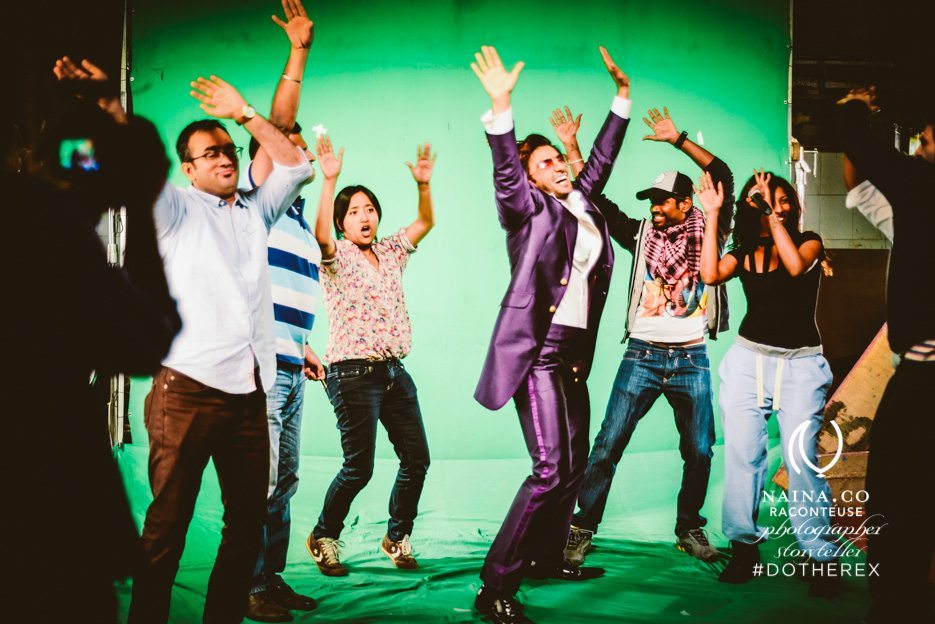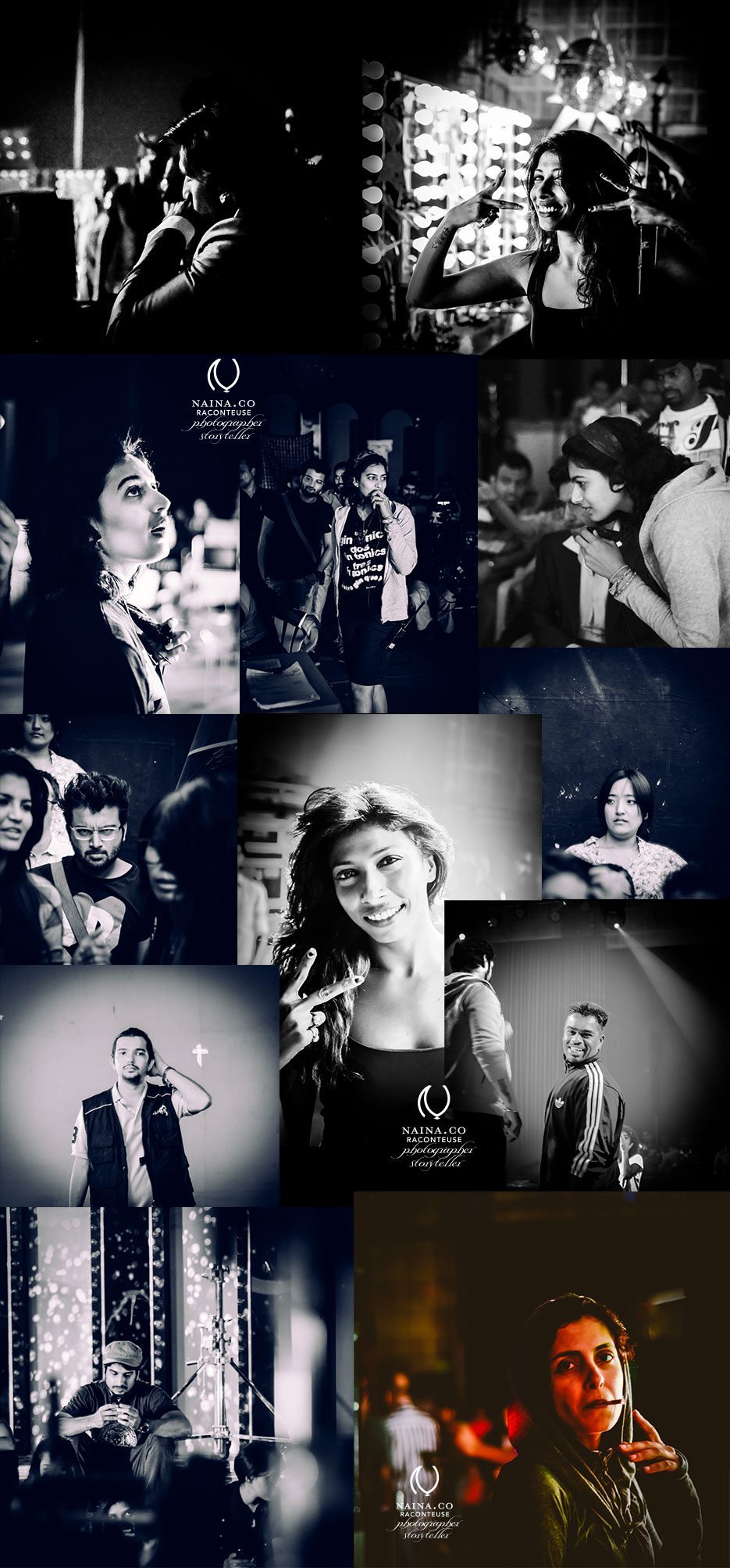 Also check out the behind-the-scenes video created by ColorBlindProduction.
This was one experience that personifies Bombay to me as "Maximum City". The city that never sleeps. The city with molten rivers of light at night. Glitz and glamour and a grade of professionalism that is hard to find in most other metropolitan cities in India.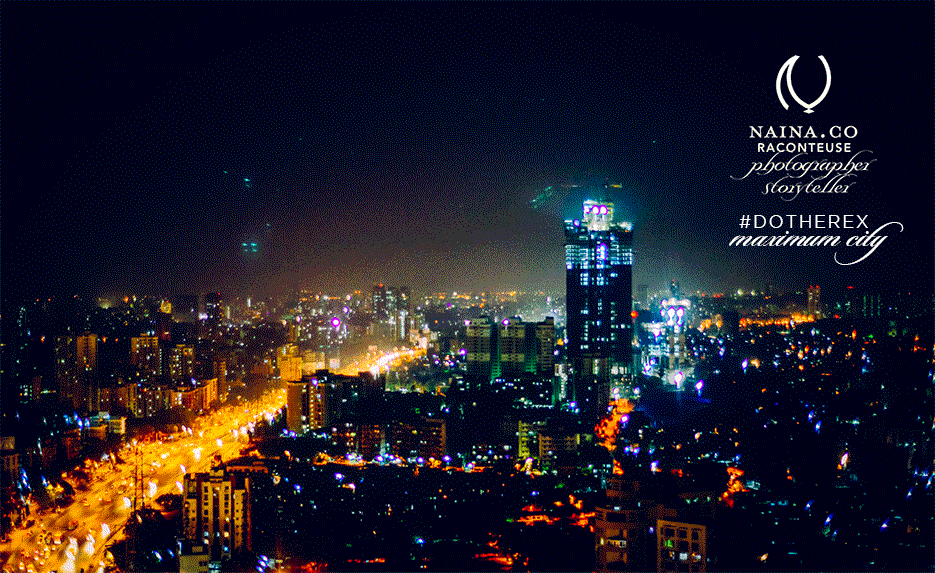 The DoTheRex website for this specific campaign.
Ranveer Singh on Twitter and Instagram
Durex India on their Website | Facebook | Twitter | Youtube
Naina on Facebook | Twitter | Instagram | Pinterest
Complete Credits as copied from the director, Karan Kapadia's Facebook page:
Produced by NP Prakash & Karan Kapadia
Executive Producers – Cornelia D'Costa and Darius Kapadia
Directed by – Karan Kapadia
Cinematography – Ravi Varman
Additional Magic – Tanay Satam
Production Designer – Fali Unwala
Art Farty – Tiya Tejpal
Music by Mikey McCleary
Masters of Choreography – Bosco & Cesar
Costume Designer – Isha Ahluwallia
Creative lover – Nitya Mehra
Creative inspiration -Navzar Eranee
First Assistant Director – Ananya Rane
Casting Director – Avni Parekh
Editor – Jayant Tiwari
Online Editor – Shashank Jha
Post Production Boss – Manish Yadav
Post Production Big Boss – Jayant Hadke
Post Production house – Famous house of Animation.
The very talented and exceptional making-of team – Colorblind Productions
Our fabulous Agency – Digitas
And our phenomenal Client – Rajneesh, Tenzing & Ankur ( Team Durex )
Ranveer's team
Badass Costume – The lovely Nitasha Gaurav
Hair Genius – Darshan Yewalekar
Make up – Mahadev Naik
Spot boy and Savior – Sudama
Ranveer's manger – Susan Rodrigues
The YRF Juggernaut and Backbone – Ashish Patel, Rachel Pillai, Rashmi Jain, Jayesh Kishanchandani.
( Disclosure : Durex India is a client. )