The process of quitting sugar was not as difficult as it sounds. I haven't quit it 100% forever. More like 100% but for five days a week. And there's always a substitute that means you're quitting processed sugar but not "sweets". My daily intake of sweet is the two tablespoons of honey I add to my black coffee. ( That is about 120 calories – coffee and water have no calories. ) Most brands of honey available on supermarket shelves is suspect. I have read too many news stories about supermarket brands adding antibiotics and processed sugar to their jars of honey. Which is why I've always got my eyes peeled and my ears perked up whenever someone mentions "Organic Honey".
Most times, even if I do hear "Organic Honey", it is not available to order online. The first online retailer that I shopped organic honey from was iSayOrganic. Unfortunately their supply is inconsistent and even after ordering eight jars and waiting for them to re-stock, I was not in luck. The honey available on iSayOrganic was also inconsistent in taste while the label on the jar continued to be the same – I wasn't sure if they were blending various flavours or where they were sourcing the honey from. Some jars were delightfully delicious and some had no character.
When I had only two more jars left, I started scouring the Internet to see if any other new brands had sprung up. I found two. One is SOSorganics.com ( I found them via Twitter after seeing a tweet from Sanjay ) – I have not been able to order from them as their online payment system has given me errors on all three of my attempts. I left my phone number with them and requested a call back, which I received and had a pleasant conversation with Amrita. They said they would send me an email with a list of their products and then I could order via email and they would accommodate the request. Unfortunately, I believe there might have been an issue with my MediaTemple hosting server and the email hasn't come through yet. I do plan to order from them to test the products. ( They have soaps and candles and other organic food stuffs as well. )
The other brand I found that produces honey exclusively, is called Under The Mango Tree. They source honey directly from bee keepers and have eight types of honey ( as on this date ). They don't currently sell via their website but one of their retailers sells via Amazon and I ordered seven 200gram jars. the ones I ordered were Sweet Clover, Jamun, Eucalyptus, Desert Bloom, Himalayan Flora, Wild Forest and Litchi honey. I received the delivery much before the promised delivery date. I've only tasted the honeys once today and my favourite has emerged to be the Jamun Honey!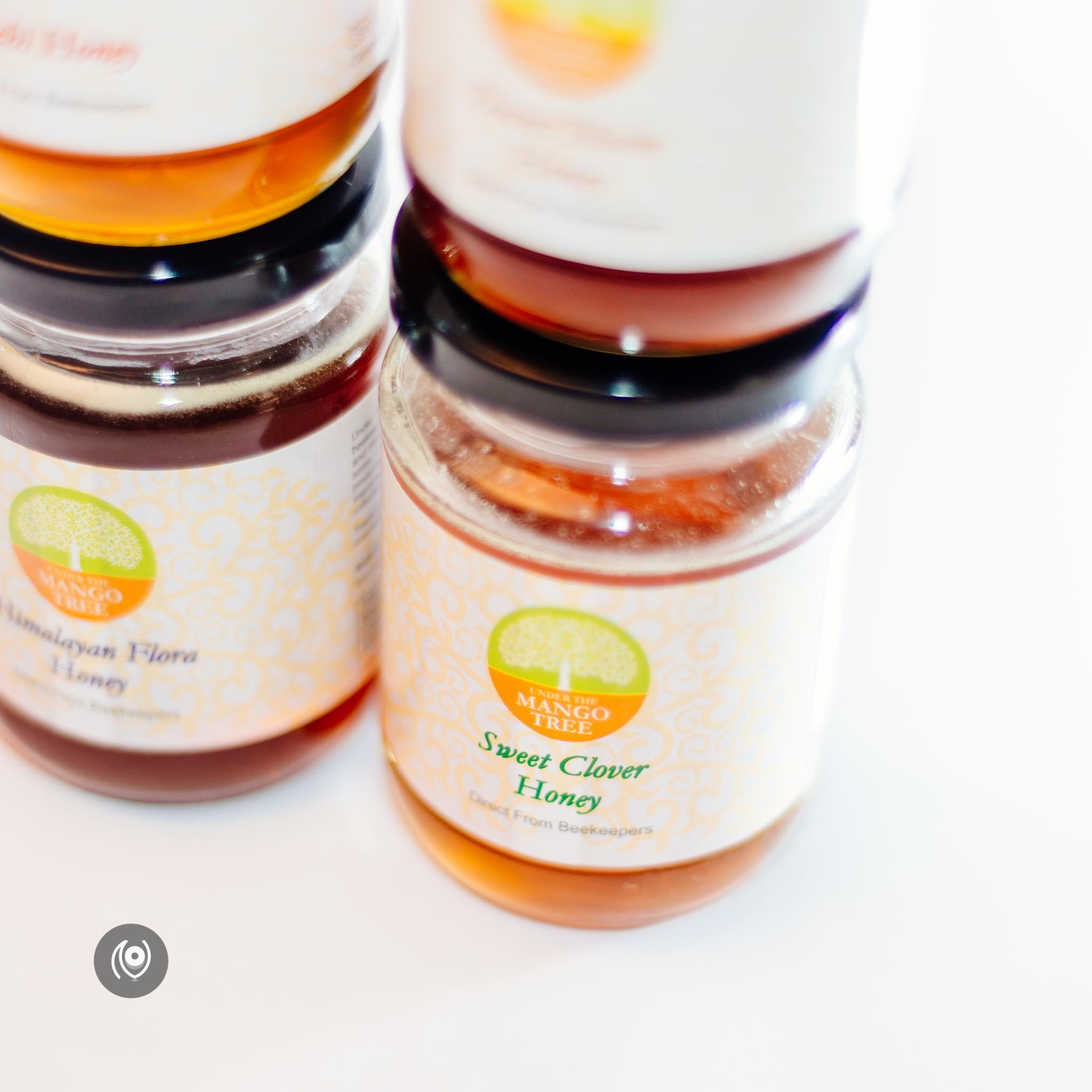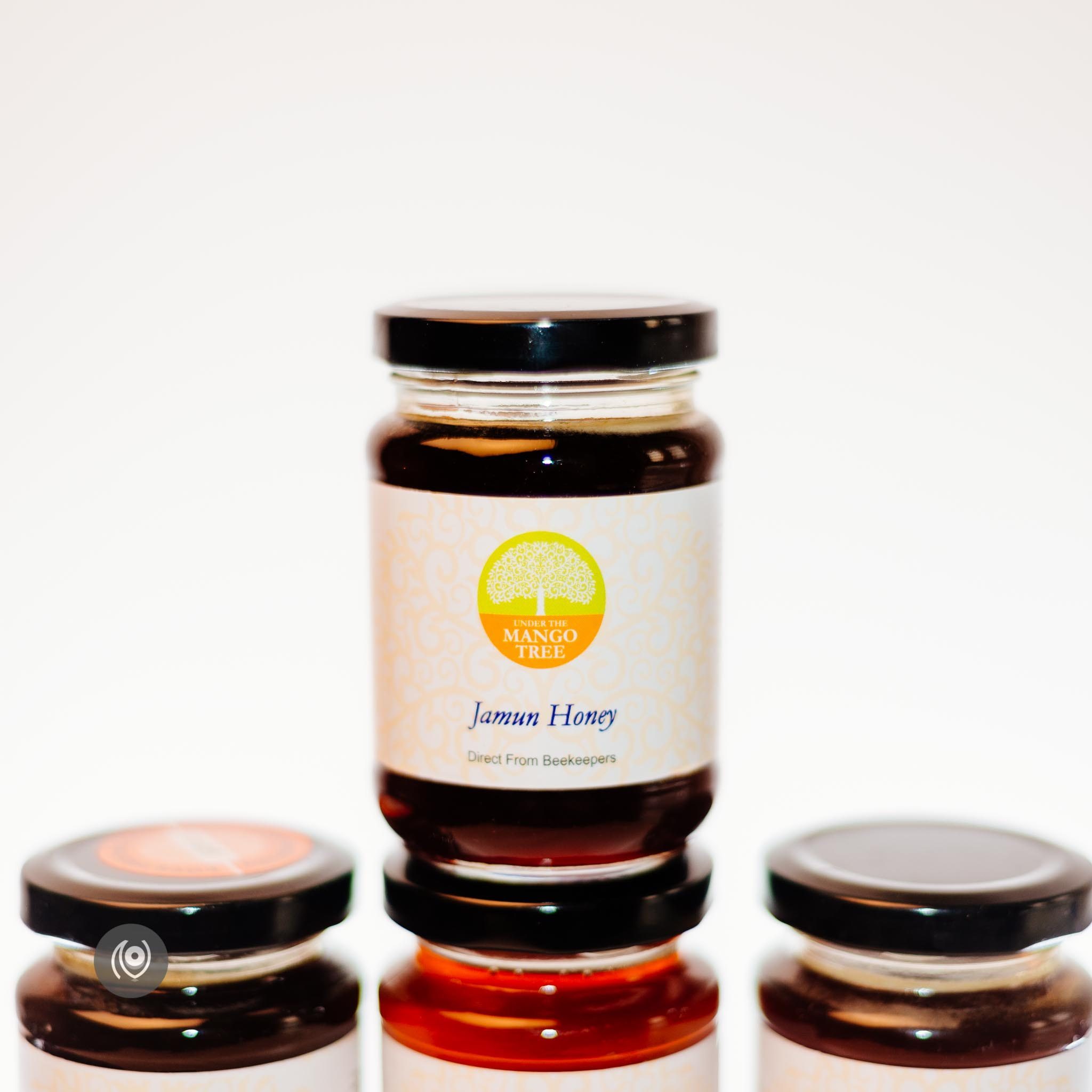 If you're looking for a honey that does not add or distort the flavour of whatever you add it to, I highly recommend the Sweet Clover honey. It does not have a strong flavour and is light in colour.
If you're looking for a honey with a strong flavour and personality, I recommend the Jamun Honey. It has a deep flavour and reminds me of childhood when the cantonment families got together to get fresh honey off a wild hive and it was divided equally and I would rush to dip my whole fist into the big "patila". The two other honeys that have a distinct strong flavour are Desert Bloom and Wild Forest and to some extent Himalayan Flora.
Below, for comparison in colour density – most articles and research on the Internet suggest that darker honey "seems" to have more anti-oxidants and nutrients. I wouldn't recommend on relying purely on honey for your anti-oxidant or nutrition needs. It is a form of sugar after all. Anything consumed in excess is bad regardless of how great one or two tablespoons are. I've only photographed the below section because I wanted to see what the result would look like if I put the jar of honey on top of the speedlight and photographed it. Internet articles also suggest that most darker honeys have a stronger flavour and that is something I can vouch for in this selection because I've tasted all of them and the darker they get, the stronger the flavour!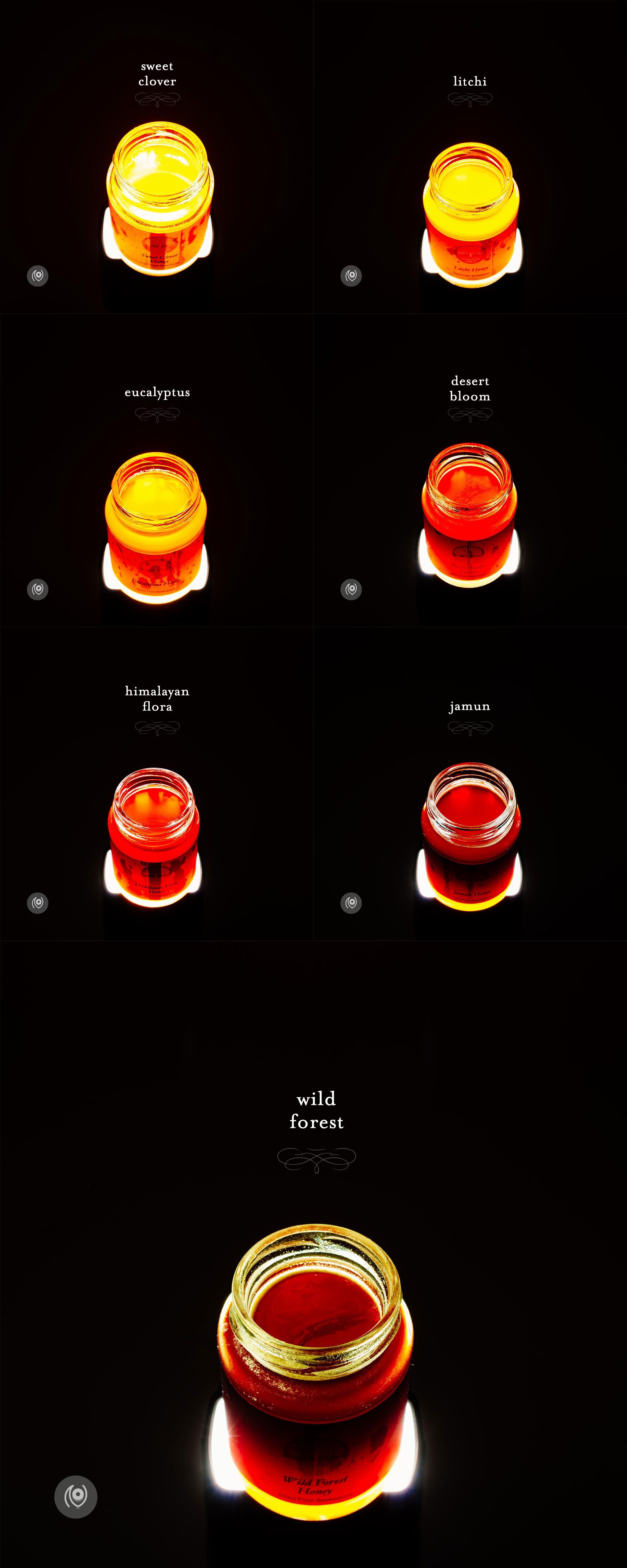 I've shared links to the product pages on Amazon India above – for further information on Under The Mango Tree, links below.