Written by Bharat Joshi
Photographs by Naina Redhu
Much like the city of Delhi, Le Cirque has a storied history. And a certain reputation. Of the many adjectives that gastronomes and food critics use to describe Le Cirque, the one that pops up rather frequently is "expensive". Though it is fair to say nothing in the luxury space is ever cheap, the term "expensive" carries with it an air of "unfairness" which could easily discourage a potential customer. More so for a price sensitive market like India.
The restaurant business is a cut throat one. At the end of the day, reputation counts for little if you can't get people seated at the table. The battle for the customer's attention is real and is waged on many fronts. Fine dining establishments have a particularly vexing challenge before them. How does one make the idea of luxury dining more "accessible" without eroding the brand value of an establishment?
Enter the concept of the "Bite Size Menu". Though not exactly "new" in the strictest sense, the idea is a novel one in the Indian market. Eight mini courses, taken from the restaurant's a la carte menu and served at the bar. A way to sample the cuisine in one of the nation's finest establishments. No need for company or fancy threads. No need to risk a date. All that without breaking the bank. The Bite Size Menu is priced at 1800 INR (plus taxes). Naina and I have been going to Le Cirque (New Delhi) since it opened in 2011 and we were delighted when they invited us to sample the Bite Size Menu last week. What follows is a review of the menu and each of its eight courses.
Before diving into the courses proper, let's talk about the breads. There are three different kinds, freshly baked as expected and served with two types of French butter (plain and mustard). The focaccia pairs well with the plain one. The tomato-mozzarella bun is great as is, I would avoid using butter at all with this one. It actually serves as a little snack by itself. The English multi-grain was a surprise, with a texture that was more biscuit-like. It paired very well with the mustard butter which brought a touch of sweetness to the palette.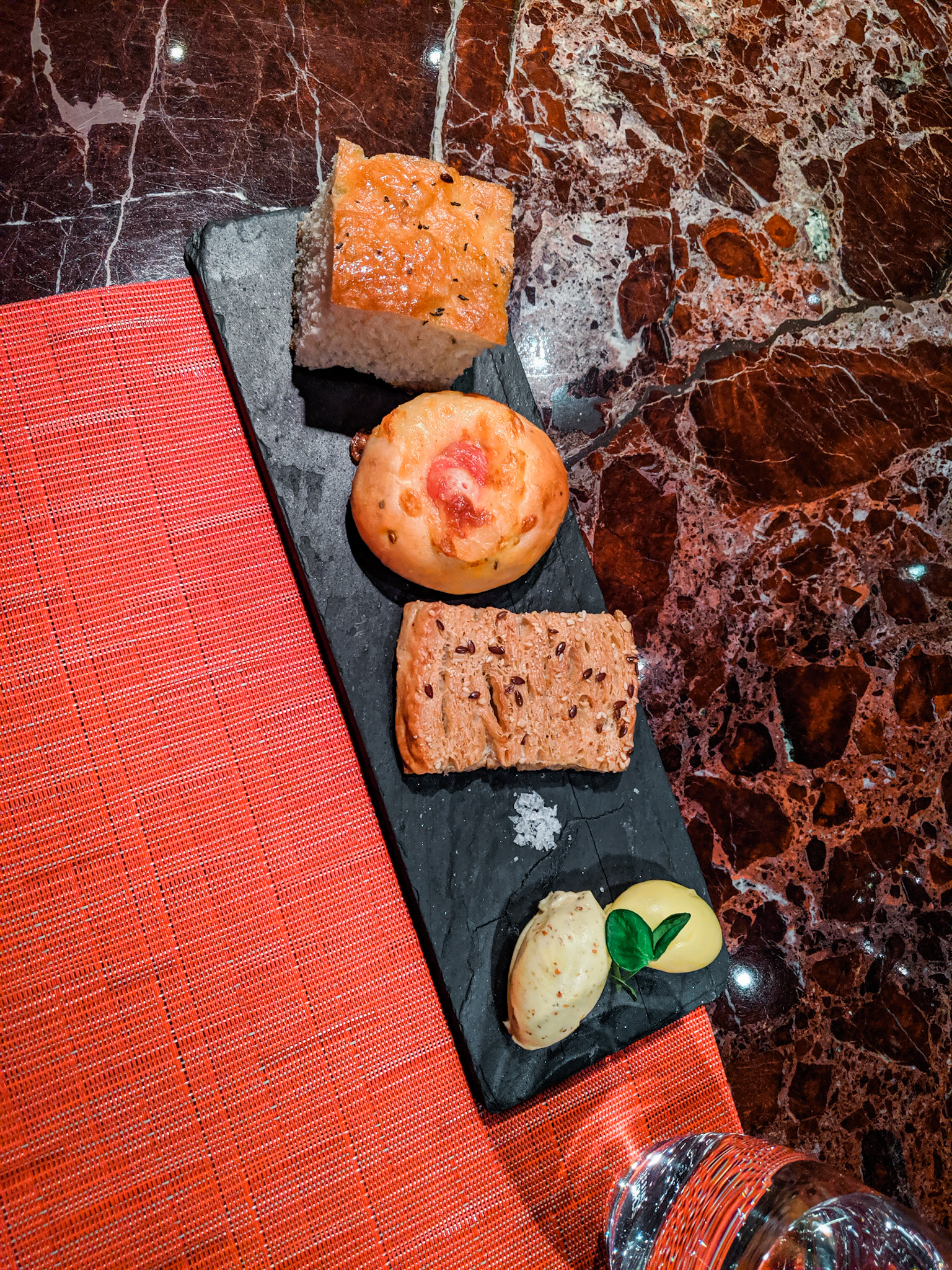 The first course was "Nonna's Chicken liver pate with black truffle and Cognac". The recipe is a slight tweak to one handed down to chef Matteo by his grandma, hence the name. The pate is light and creamy and feels more like cream cheese than traditional pate'. It pairs well with the accompanying mini brioche buns but I preferred to spread it over the focaccia. The pate also comes with four home made jams. The pumpkin-coconut one was particularly adventurous but the humble tomato won out for me.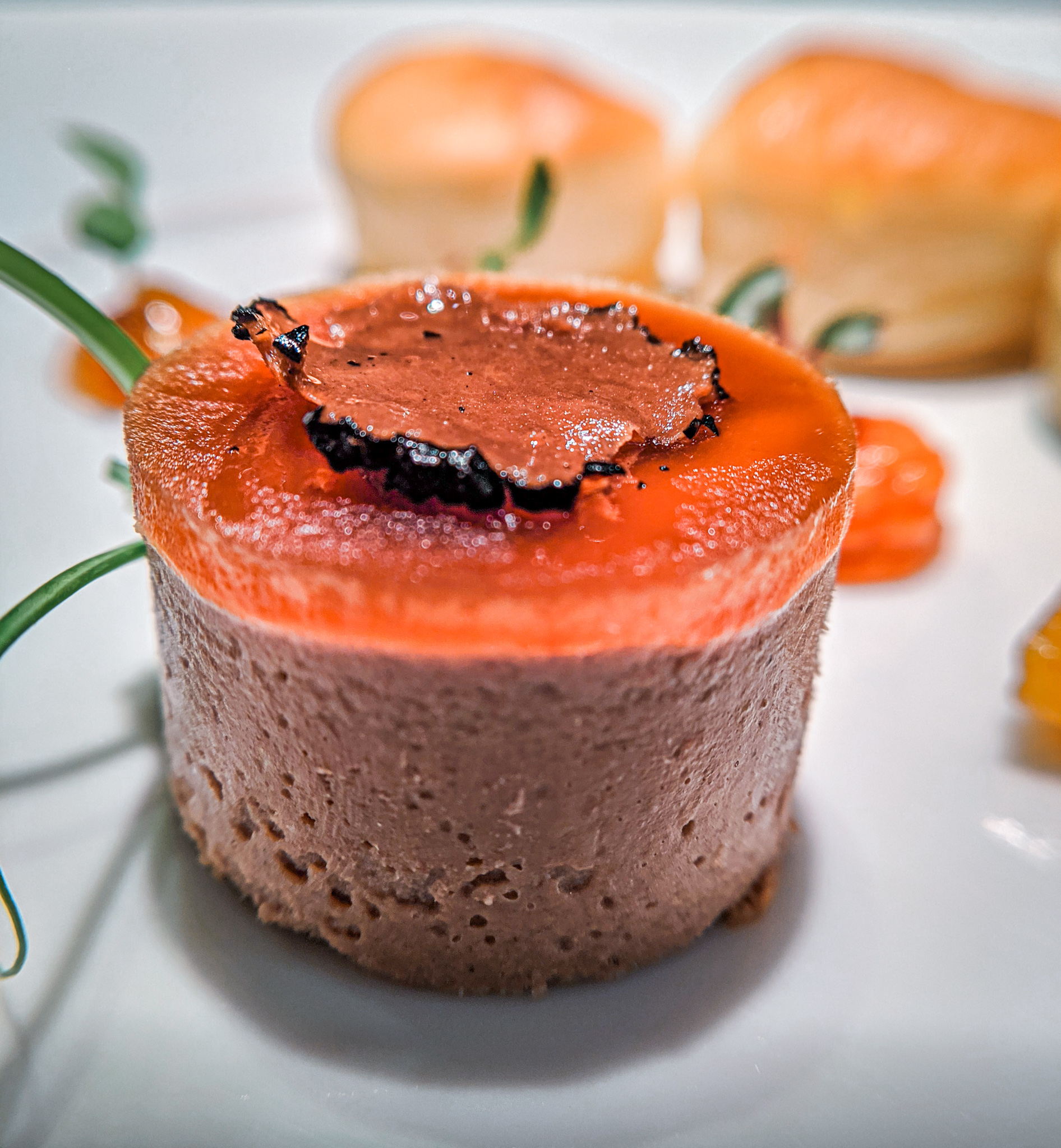 Course two was a serving of "Pan Seared Wild Scallops with Puy Lentils Cassoulet". This one had me a little concerned as I don't like scallops at all. I find them to be bland at the best of times. I needn't have worried though. This is one of the best scallop preparations I've ever had. Crowned with a thin slice of ham, the dish rests on a bed of lentils slow cooked in the traditional Italian style, served with a touch of thick truffle goat cheese and beetroot caviar. An utterly delectable combination and one that I heartily recommend.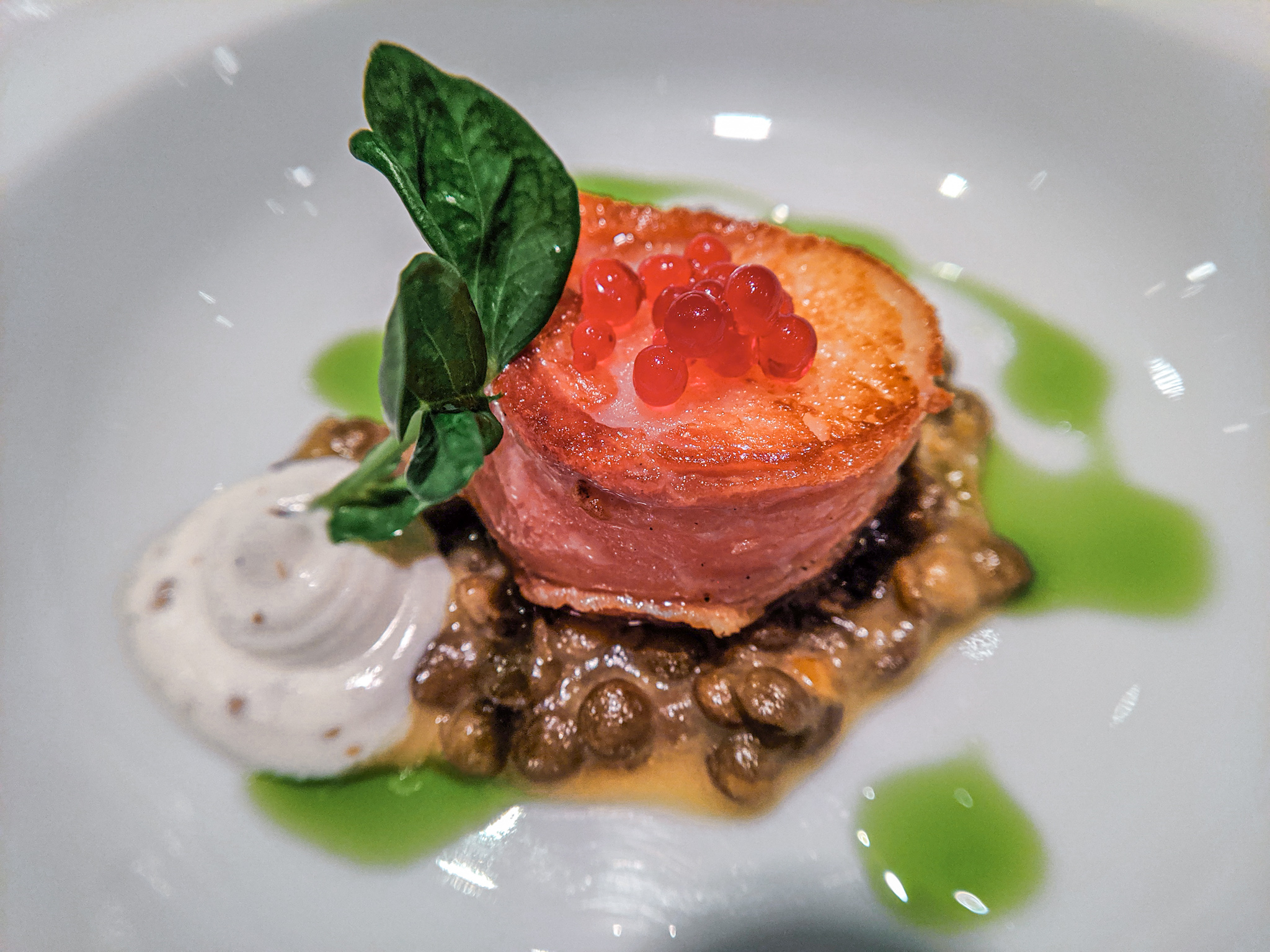 "Chilled Heirloom Tomato Consomme with Tomato Salsa Crostini" made up course three. Another win for fellow tomato lovers, this is a cold refreshing little treat. Be sure to take a good sniff of the crostini before sipping the consomme. It brings out all the complementary flavors that one would otherwise miss.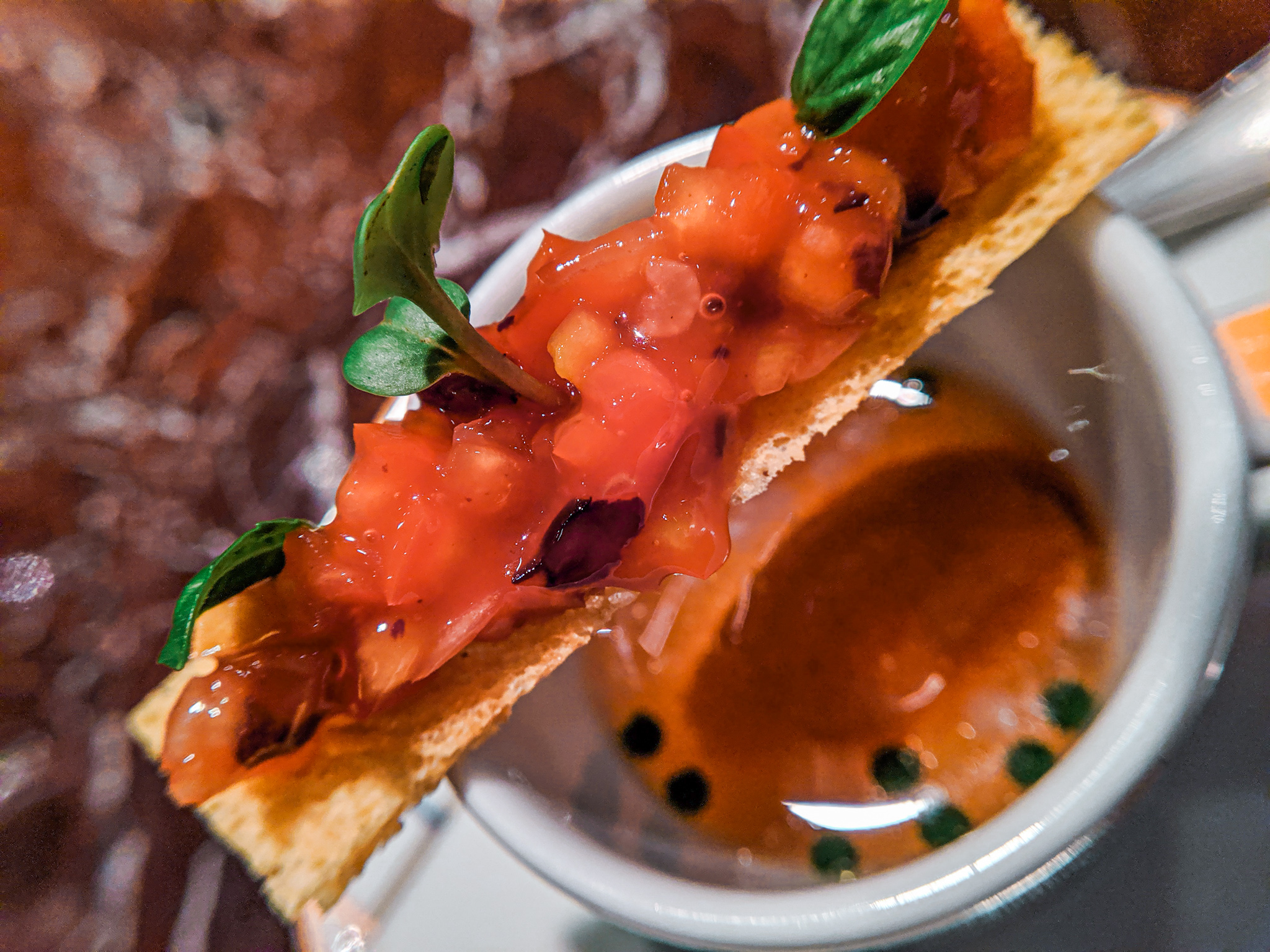 "Ravioli Stuffed with Barolo Braised Duck Leg" for the next course. A staple of Italian cuisine and always a "safe" option at any establishment worth going to. Though it is not often that one has a duck filled variant. Purists like me might be on the fence about eschewing beef for duck but this is one of Le Cirque's signature dishes. Excellent texture and great sauce, (a pumpkin veloute and rosemary morel mushroom). And the leeks "spaghetti" was a nice touch. I did feel the sodium content could be cut down a little. That said, seeing as how this is one of the most popular items on the menu, I might be in the minority here.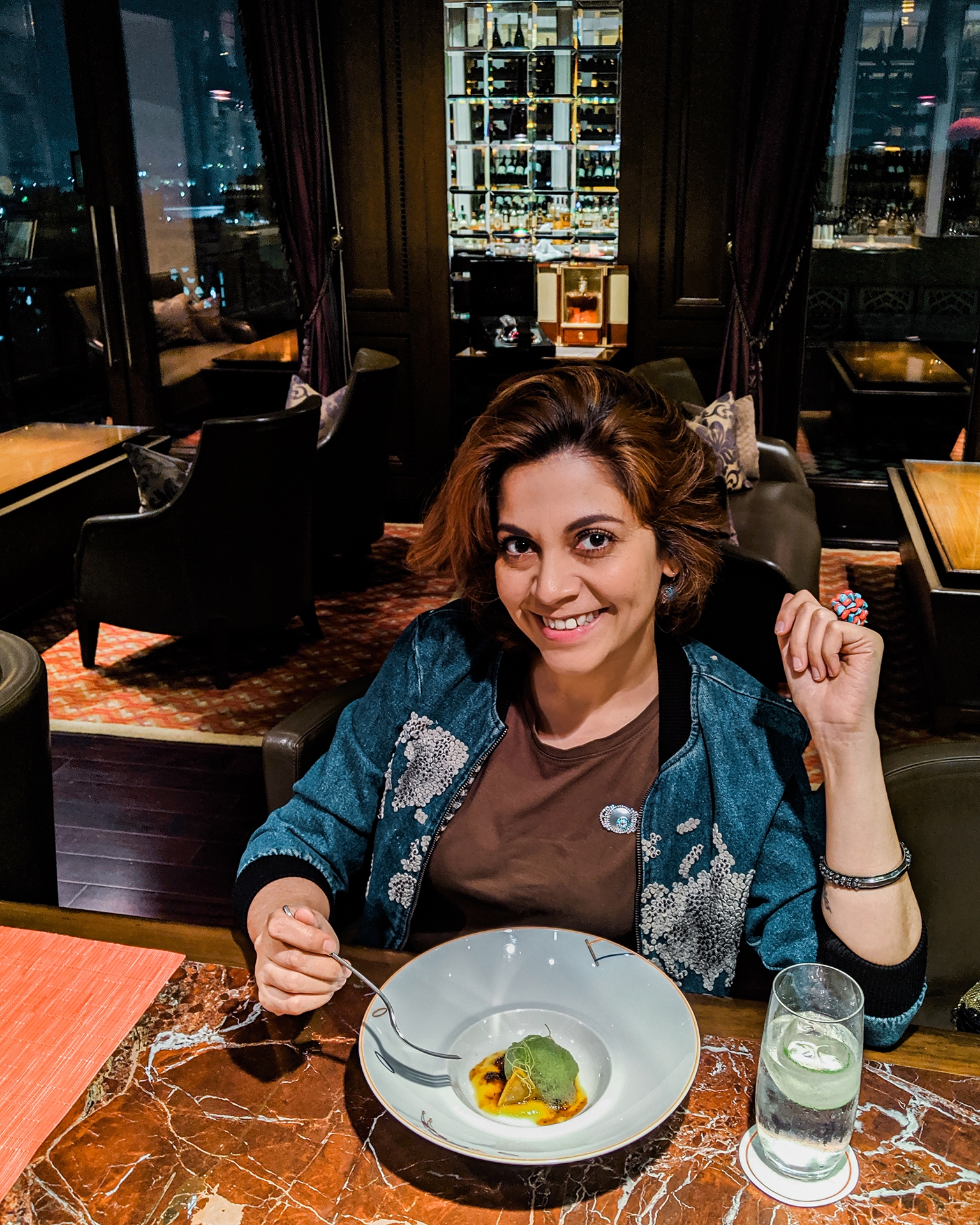 The fifth course was a pleasant surprise. "Green Asparagus and Basil Pesto Barley Risotto". A barley based risotto? Color me intrigued. No, that red powder isn't chilli or paprika. It is dried tomato powder and complements the otherwise neutral flavors perfectly. Chef hit it out of the park with this one. This is risotto like you've never had before. Robust, hearty and surprisingly filling, it is comforting in its richness. It is also the only vegetarian item on the menu, for now.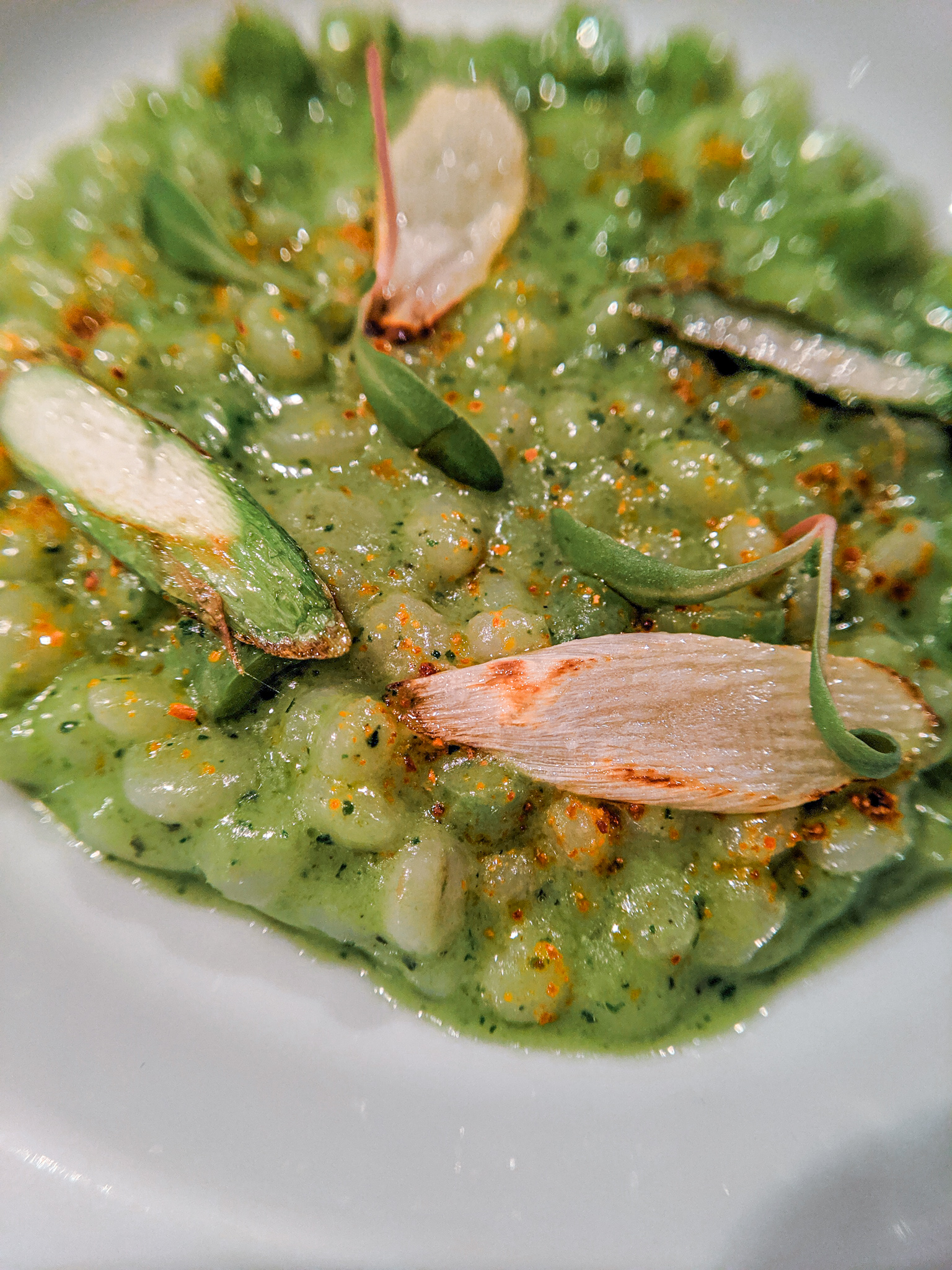 The main course is another Le Cirque signature dish. "Paupiette of Chilean Sea Bass with creamed leeks, crispy potatoes and Barolo sauce". This is a masterclass on flavor balance and texture. Apart from the wine reduction, the fish is paired with a cool, refreshing carrot gel. Made of pickled carrots (among other ingredients), it brings a hint of sharpness to the proceedings and really activates the taste buds.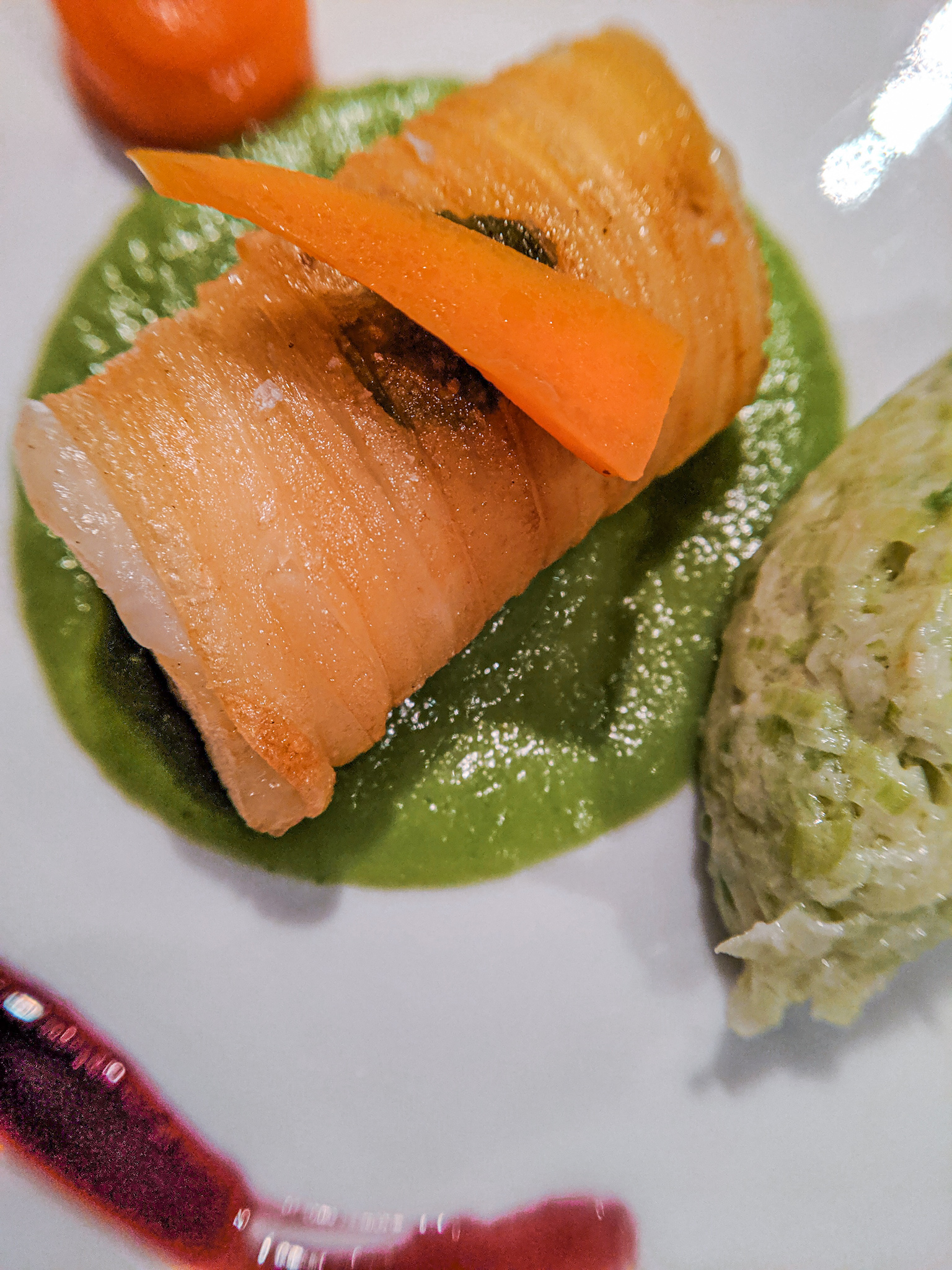 If you think it would be hard to top the bass, wait till course seven shows up. The slow cooked "Sous-Vided Pork Belly with balsamic jus" will take things up a notch. Just how "slow" is "slow cooked" you ask? Try twenty one hours. Yes, twenty one hours at 75 degrees. The effort that goes into this will be evident from the first bite. It is heavy on the fat, as it should be, with a buttery smooth feel. Paired with red cabbage and green apple puree and the obligatory potato mash, this was my favorite dish and a great way to finish with the mains. Carnivore heaven.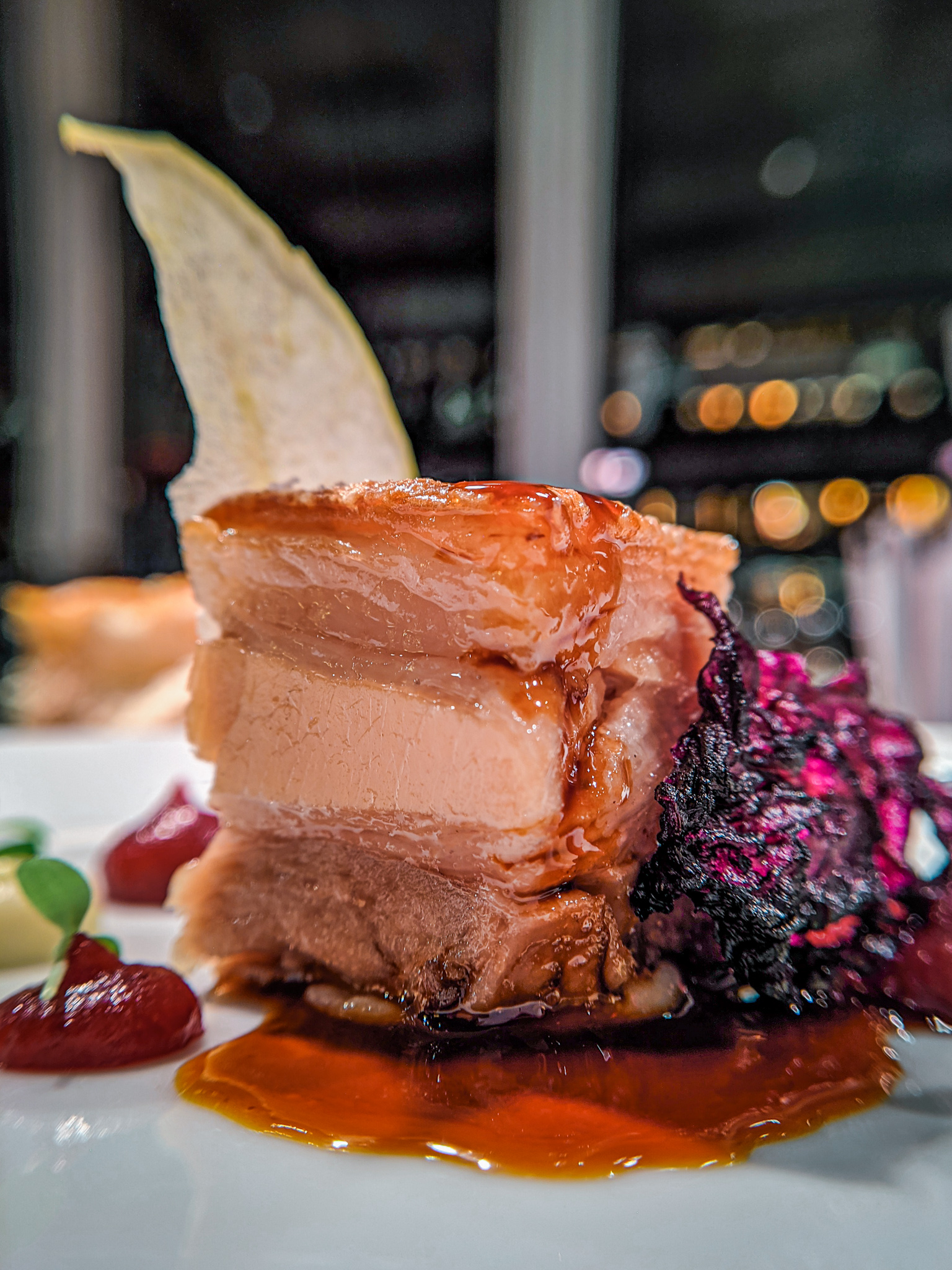 For dessert, there is the "Chef's Signature Tiramisu in a Chocolate Sphere". The almond custard and strawberry dust are the highlights here, which break away from the traditional tiramisu flavor. The way the dish is titled might be a tad misleading. It would be more accurate to call this a chocolate ball with light tiramisu filling. It needs a lot more filling for it to qualify as a proper serving of tiramisu. My guess is that this criticism might be limited to the "mini" version. The standard serving size has a lot more filling in a bigger ball. That said, I'm not a dessert person, so I could be off.
So there you have it. Eight delicious courses in one of the best restaurants in the country. In an atmosphere that is relaxed and does not necessitate a dinner jacket.
As of now, the restaurant does not have a purely vegetarian option in the Bite Size Menu, though this could change. Also, even though alcohol is not really part of the experience, the restaurant has one of the best wine collections you could ask for. The staff at Le Cirque will be more than happy to suggest a suitable wine pairing with the courses. A crisp Chilean white wine would pair well with the sea bass for instance. There's also a lovely Italian Aperol Spritz. I mentioned earlier that the meal is served at the bar only, not the main dining area. Since the bar can only seat five people, best make a reservation. The Bite Size Menu is only available on Thursdays and Fridays.
Even if you don't consider yourself to be the typical "fine dining" type, you owe it to yourself to check it out. You will likely walk out a believer.
Le Cirque New Delhi : Instagram | Website
The Leela Palace : Website | Instagram
To get an idea of their regular meal, see this photo story on the Naina.co blog.
The hotel hosted us for dinner.
Previous EyesForDining features on this blog.
Previous EyesForLuxury features on this blog.
If you're interested in similar features for your product or service, please write to us at [email protected] and we will get back to you with a proposal.