The nightmare of sharing your work on social media! As a creator, I find it tedious to have to post updates on so many social networks. And as a prolific photographer, I shoot a LOT of images on a monthly basis. Each of my client assignments is almost never less than 20 – 30 images, which are also published on my blog and need to "showed-off" to my audience on all my social media pages. I think I would completely get off of social media if I had to it manually. To keep my sanity in check, this is how I manage my social media updates using CoSchedule :
( Assuming I've photographed an assignment for a client and edited and delivered the final images to them, I then proceed to the following. )
01. Blog post on WordPress : A bunch of images and a bunch of text to give context to the viewers / readers. What was the assignment about? Who was the client? Hopefully, I have a set of images that can be presented together in a sequential story. As an example, I'll have about 20 images and about 500-700 words in the blog post, along with links to the client's website and social media pages. Just publishing this on the blog, however, is not enough. In order to reach out to a wider audience and create more awareness about my photography portfolio, I also need to publish most of these images on my social media. ( Some of you might think that's a bit excessive – and that just one update to direct interested readers to the blog post is enough. But, in my experience, it is not. Not anymore. Most of the people who follow my on social media, rarely get to see my work the first time I post about it. I get traffic to the blog consistently, as long as I'm posting updates – obviously these are spaced-out well and I am not spamming. )
02. The CoSchedule WordPress Plugin : At the bottom of each blog post composition window, very conveniently, the CoSchedule plugin window shows up, ready to roll. Like so :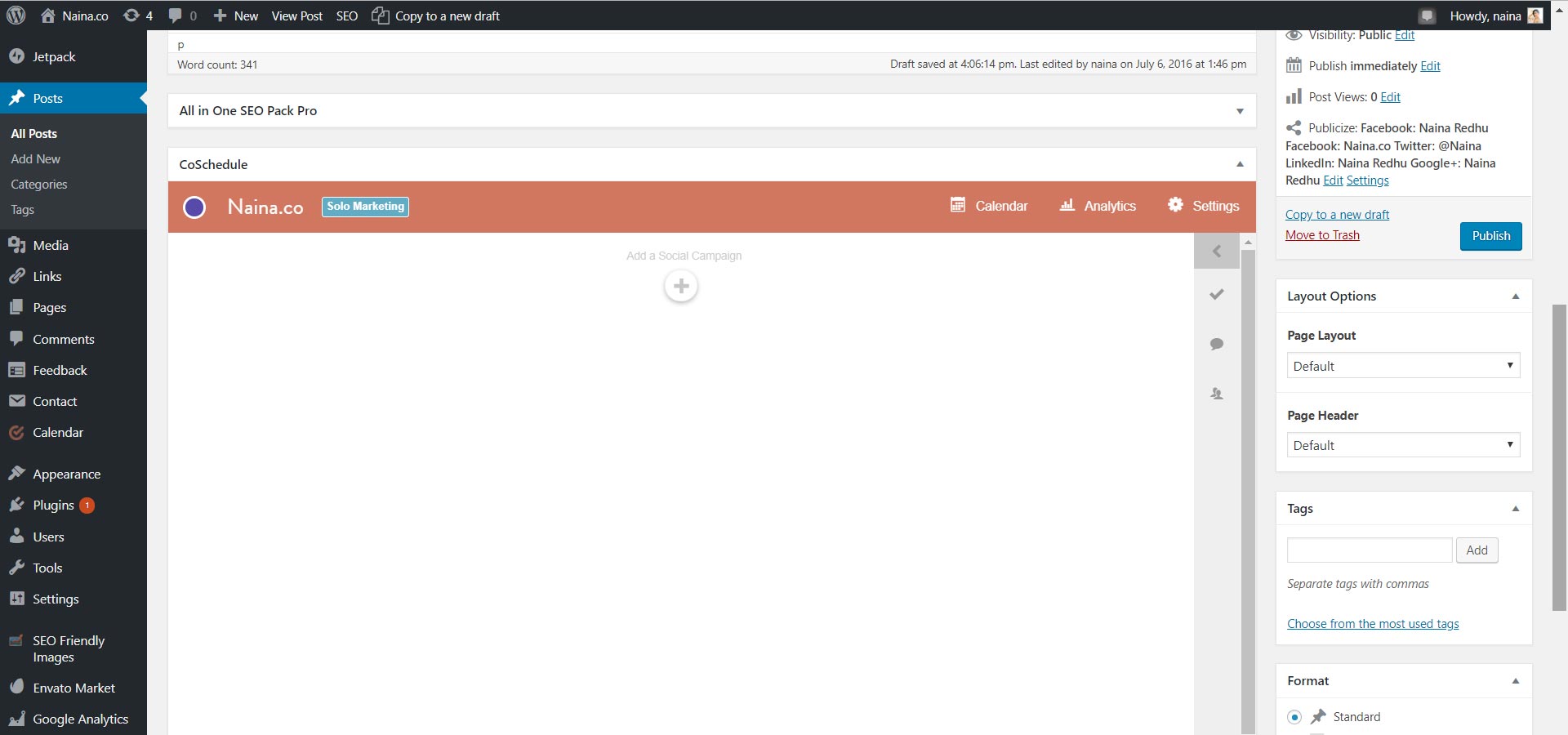 All I have to do is, click on "Add a Social Campaign" and then figure out all the variables from there on. Here's a screenshot of the templates I've created over the last two years that fulfill my basic requirements.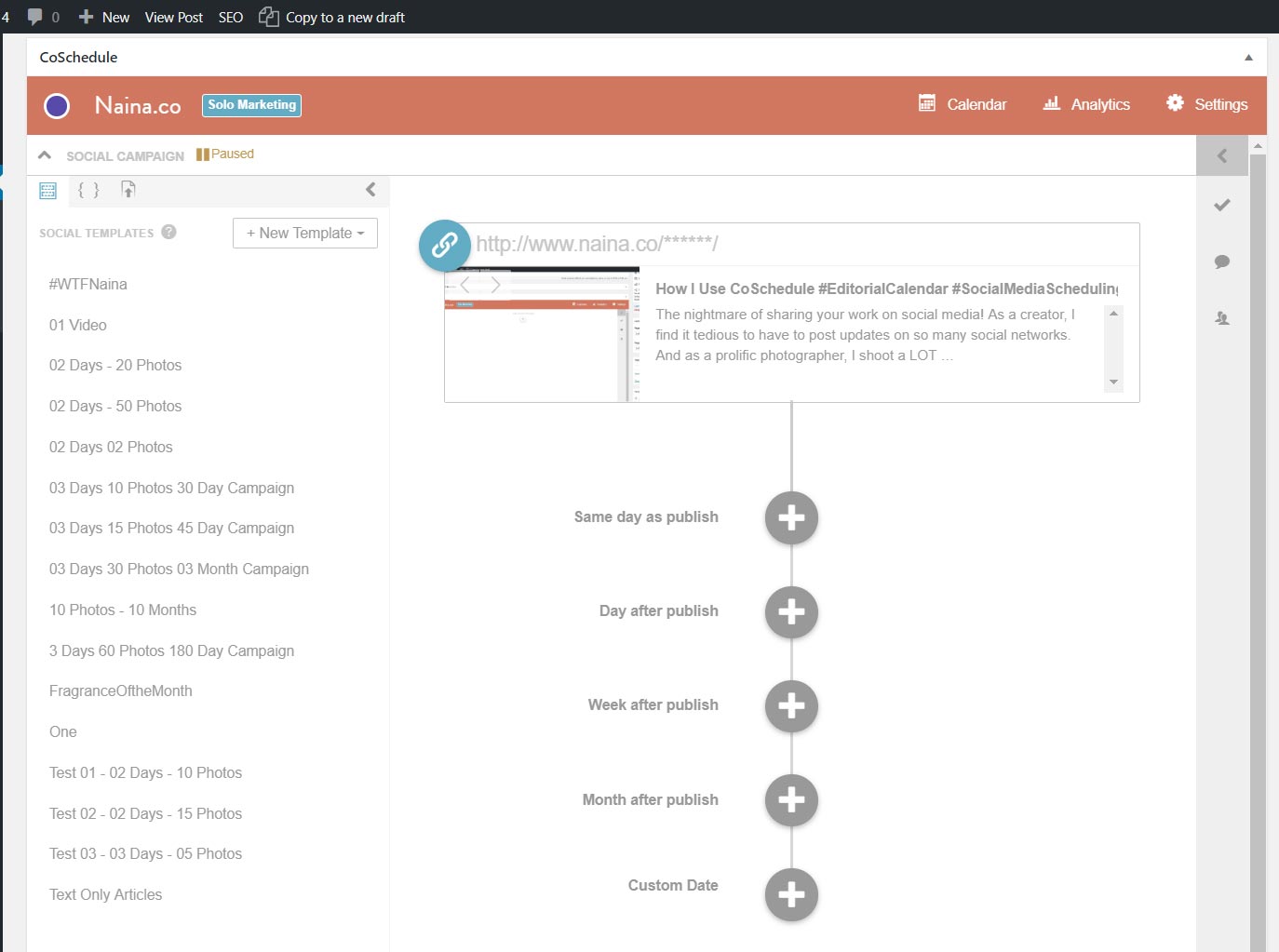 Generally, I tend to post like so : if there are 20 images and I feel that posting one images every 2 days works best, that will make it a 40-day campaign – and I have made a template for that. Once this template is made, I can simply "Apply" it to my current / new blog post and it automatically creates social media updates to be sent out to my Twitter, Pinterest ( I can choose which board – I can create separate templates for different Pinterest boards, if required ), Facebook Personal Profile, Facebook Business Page and LinkedIn. ( CoSchedule also has a separate Instagram app, which brings up the scheduled update on your mobile phone so you can hit "publish" manually. ) For example, this is what my 05 photos, one photo every 03 days template looks like :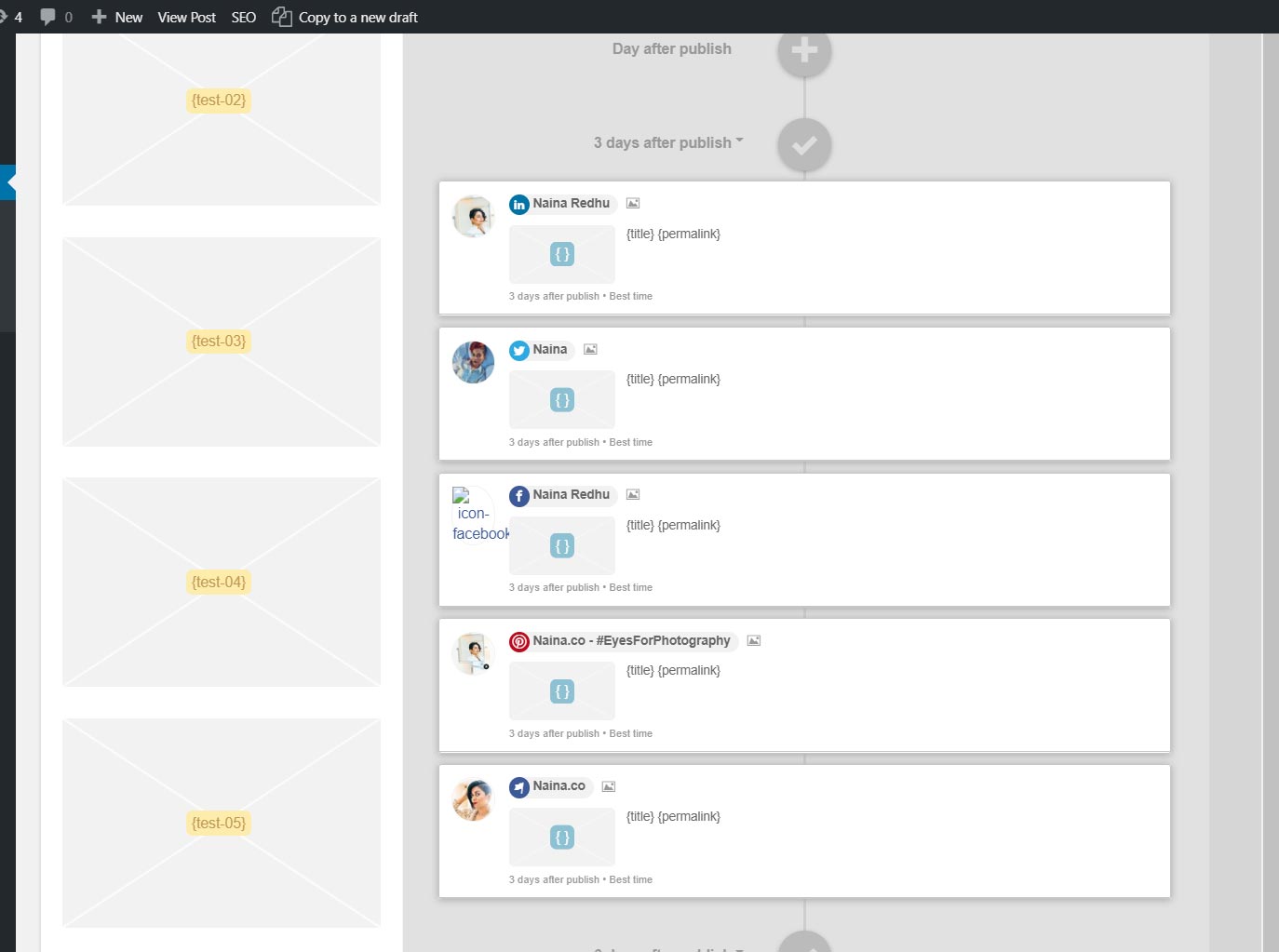 3 days after publish. 6 days after publish. 9 days after publish and so on. CoSchedule allows me to pick exact specific date and / or time as well, if I want to do that. I don't. I just pick the "Best time to publish" that CoSchedule's algorithms have worked out for it's customers and I let it do its thing.
Once the images from the blog post have all been published one by one, I have then scheduled updates ( in the templates ), that publish additional updates much later in time. For example, 3 months after the blog post was first published, one update goes out on all social media networks, with the featured image. Then there's one more after 6 months, 9 months, a year and then two years later. I could work in additional updates of course. It's a nice way of bringing up older client work that the audience might have forgotten about. Not unlike the Facebook feature that shows you photos from 9-10 years ago, except this is you in control of your own work and scheduled updates.
You can select in what order you want the images published. They have "Text Helpers" that are space-holders for copy/text and "Image Helpers" are blank images you create that you "fill in" with images from a particular blog post, for example. I primarily use only the "Image Helpers" and decide what sequence I want the images showing up on my social media.
03. The CoSchedule Calendar : I haven't made much use of the calendar capabilities because I don't really have a well-formulated editorial calendar for my blog. But, it helps to be able to see what all the scheduled updates look like – you can see that on the CoSchedule web app, like so :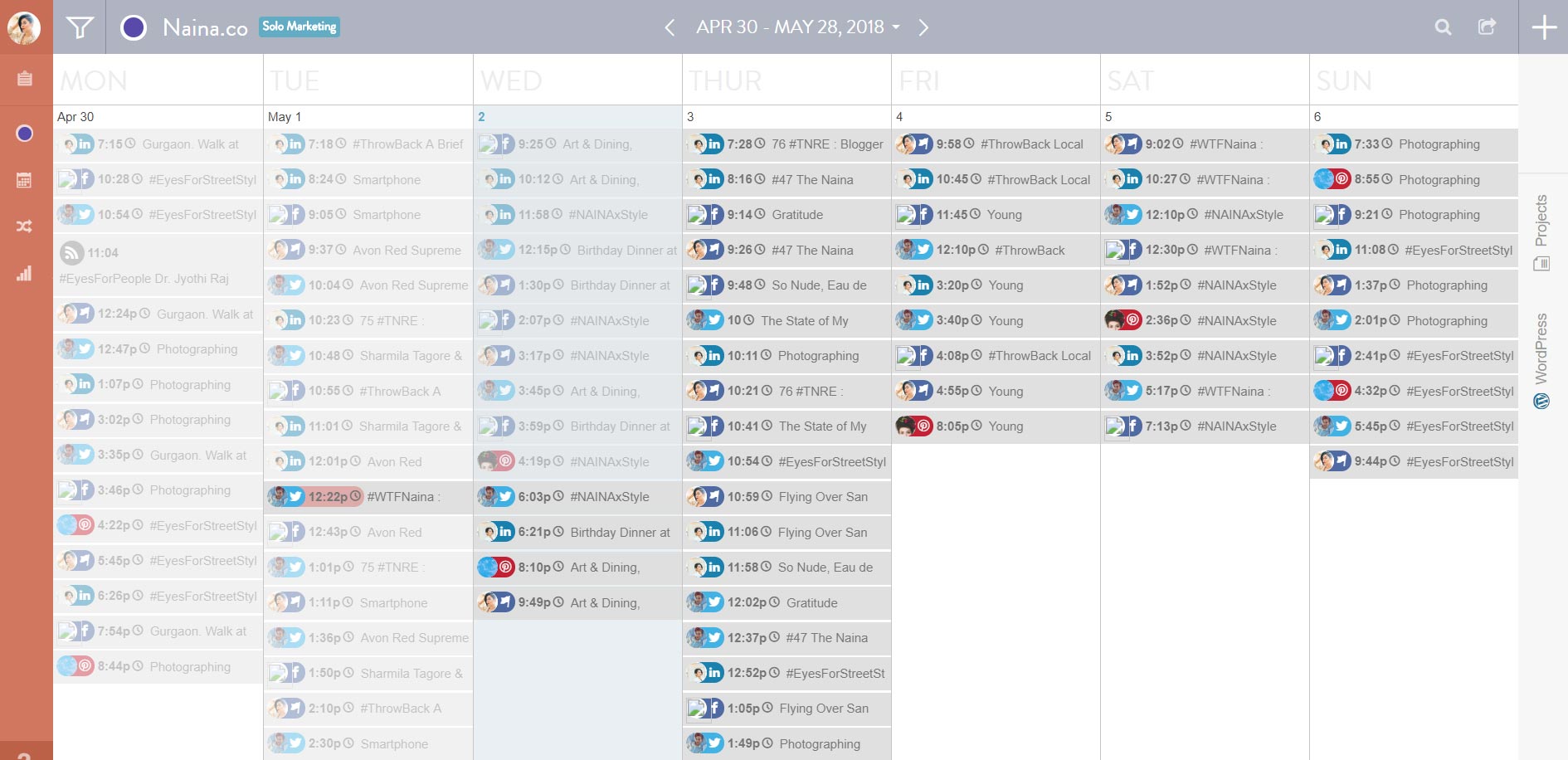 04. CoSchedule Analytics : I haven't really looked into these but they're there. That's what the main screen looks like ( see screenshot below ) and you can then click on each of these and select specific time ranges and it'll tell you things like what is the best time to post on that particular network, what type of media gets the most response, etc.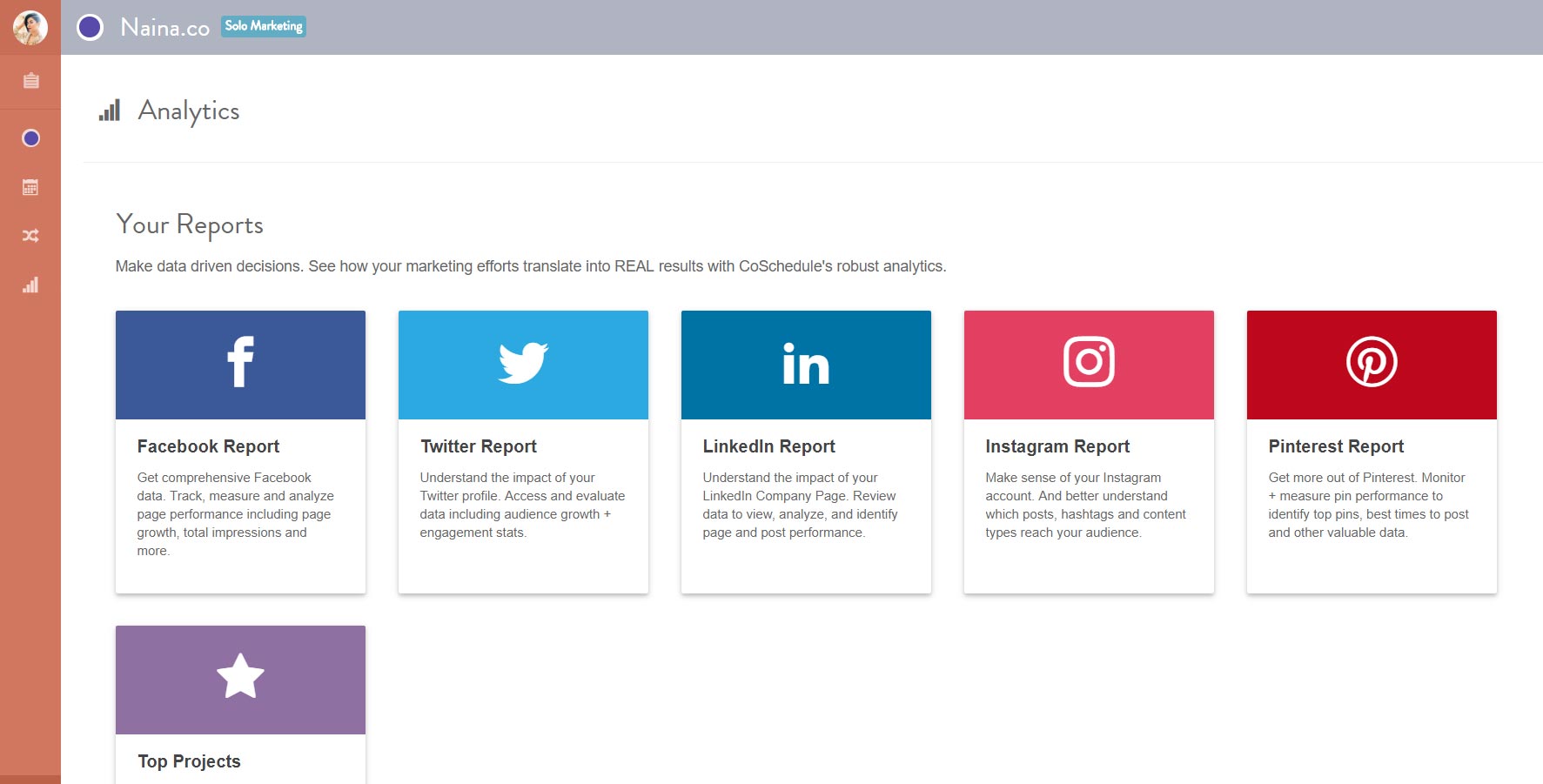 Honestly, the templating of these schedules is THE main reason why I pay for CoSchedule. There are other options for social media scheduling – like HootSuite, Buffer ( I used to subscribe to both these in the very early days ) and even Zoho has something similar. But, as far as I know, none of them have the ability to create templates.
As a solo entrepreneur, I find the pricing of my Solo Marketing plan a bit more than I can justify as a business expense, yet, 2018 will be my third year of paying for just that. I'm currently paying USD 360 annually ( which turns out to be roughly INR 24,000 per year or INR 2,000 per month ). I have been asking around online for alternatives and whatever responses I have received have not been fruitful. And then CoSchedule upped their game by introducing referral codes, which if a new customer uses to sign up, shaves off a bit of the price from my subscription. And you can also write a review of CoSchedule on your blog, submit it and if it gets approved, you get a cool 50% discount on your subscription for that year. Which is why this blog post! ( Apart from the fact that I actually started composing this blog post in 2016 and have only now finally re-looked at it, made a ton of change because CoSchedule has evolved SO much since then. )
They also sent out a link to subscribe to the CoSchedule Academy for free for a year ( otherwise costs USD 250 for the year ). So I guess I'm staying for now. I'm really very used to CoSchedule also now. Can't justify the learning curve for a new platform. It'll be cheaper for me to stay on and figure out how to get more out of CoSchedule for sure.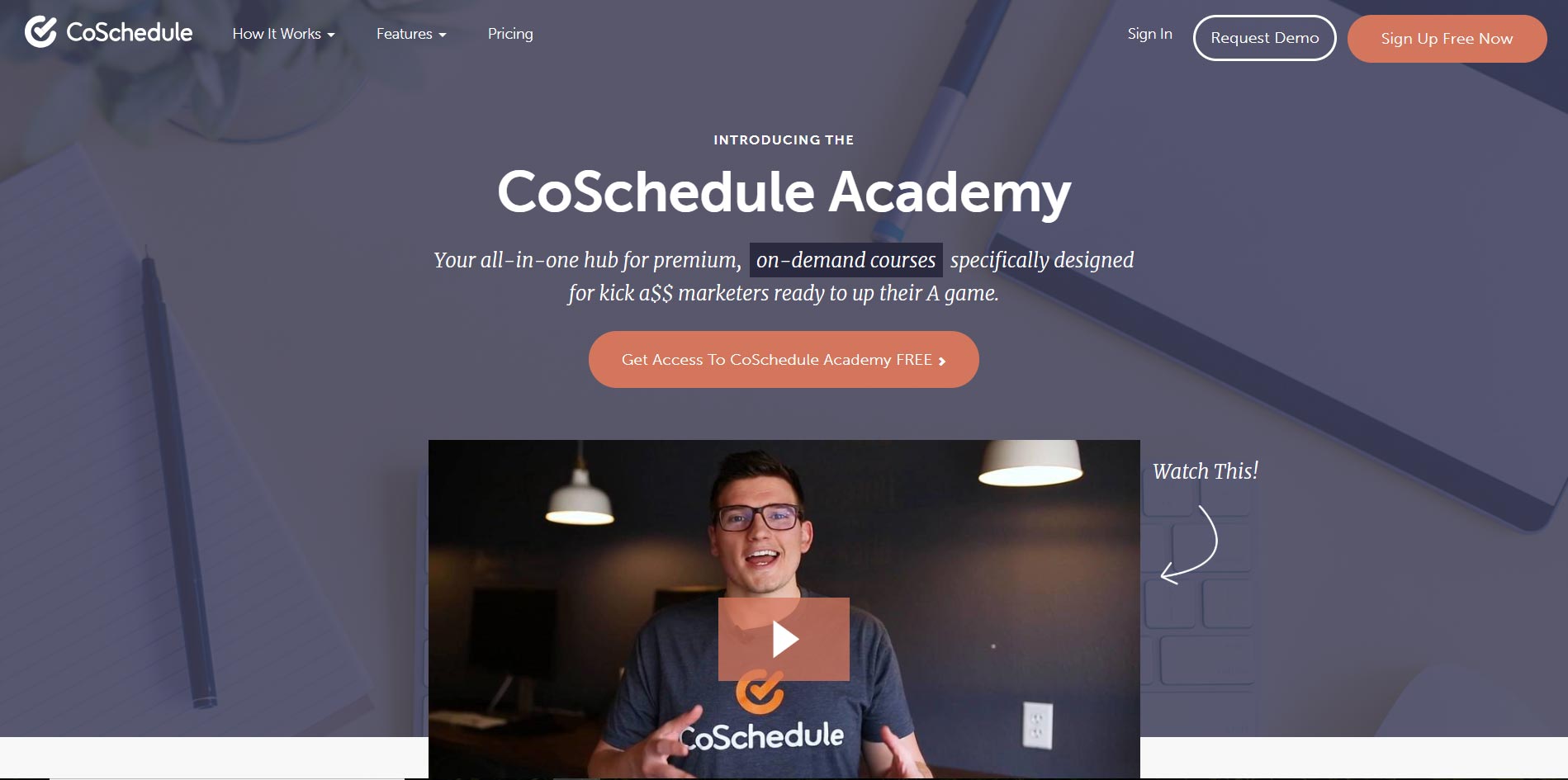 These are CoSchedule's current Individual Pricing plans : ( I'm on one of their older plans called Solo Marketing )
More pricing details on the CoSchedule website.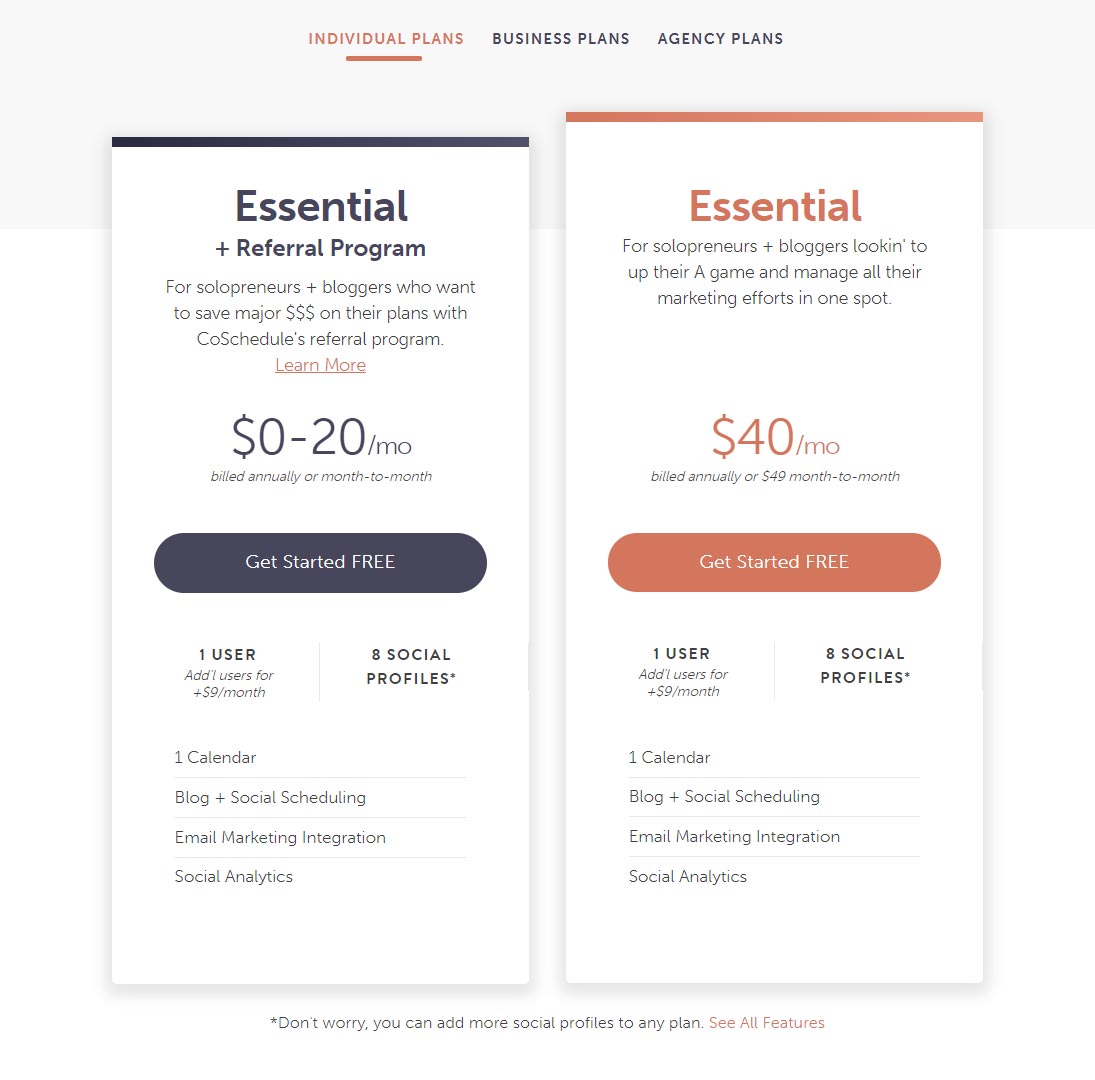 This is my CoSchedule Referral Link in case you'd like to see more and eventually subscribe.
The learning curve can be a bit steep, so you might want to do a LOT of research on CoSchedule's really amazing blog. They put out SO much amazing content that I find it very hard to keep up. If you're a marketing person or a social media strategist, you could basically learn almost everything there is to know, just by spending time on the CoSchedule blog.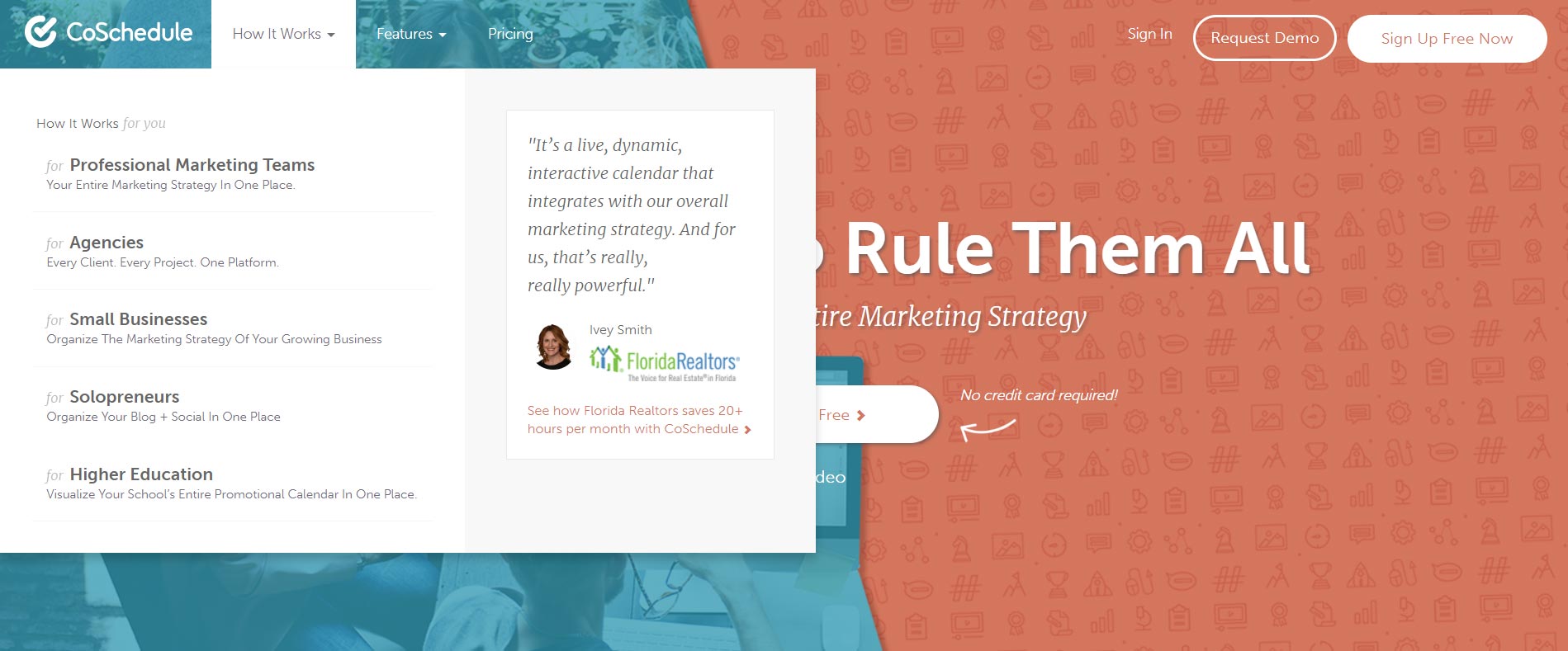 Needless to say, customer support is pretty epic now – they had some issues in the middle – I'm guessing because they were making so many upgrades in the back-end, their timelines to respond to queries increased. Now in fact, if I ever send in a query, I tend to get such a detailed response that I read it and bookmark it and leave it in my inbox so that next time have the same question ( which I often do – hello terrible memory! ). I first check my inbox and then if I need to know more, I write to them. CoSchedule, obviously, has very detailed documentation on how it works – but you really need to put in the time to learn / practice. And once you do, don't tell me I didn't warn you that you wouldn't want to switch to anything else.
If you have been using CoSchedule, let me know what I'm missing! And if you do sign up with them, let me know how it's going!
CoSchedule : Website | Instagram | Twitter | Facebook