Vadehra Art Gallery is at D-40 (the Modern Gallery space) and D-53 (the contemporary Gallery space) at Defence Colony in New Delhi. Each has a separate ongoing group show : Time of the Line at D-40 from 2nd May up until 12th June and On Purpose at D-53 from 27th May up until 28th June. The galleries are open to all – please visit. I enjoyed spending time at both.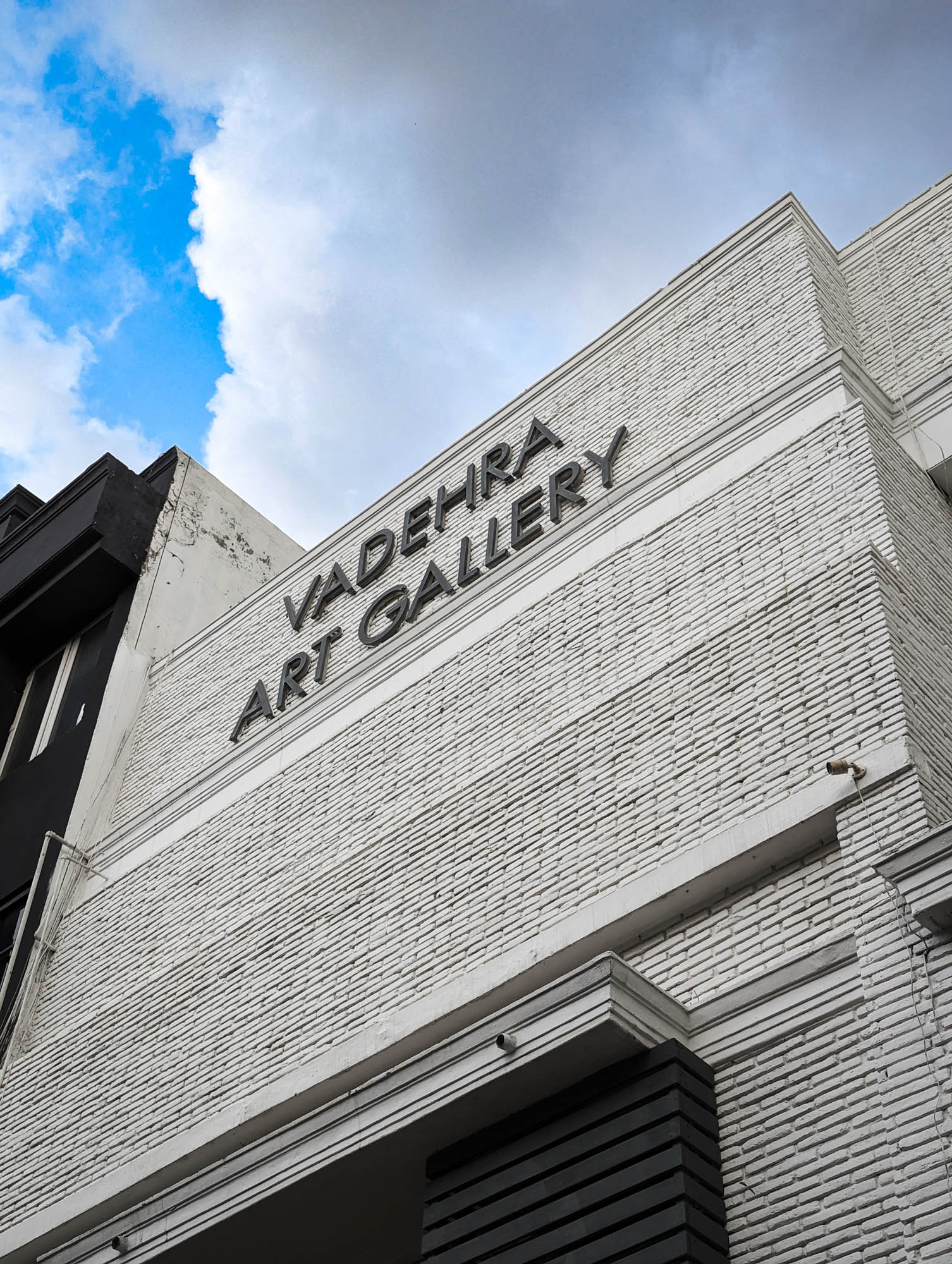 The line drawings from M. F. Husain, Ram Kumar, Manjit Bawa, J. Swaminathan, A. Ramachandran and Paramjit Singh are intriguing. Not because there's anything special about line-drawings as such but because, even though I'm an artist myself, I grew up idolizing the likes of Husain and for some reason, my brain did not visualize someone like Husain drawing sketches to practice for his paintings.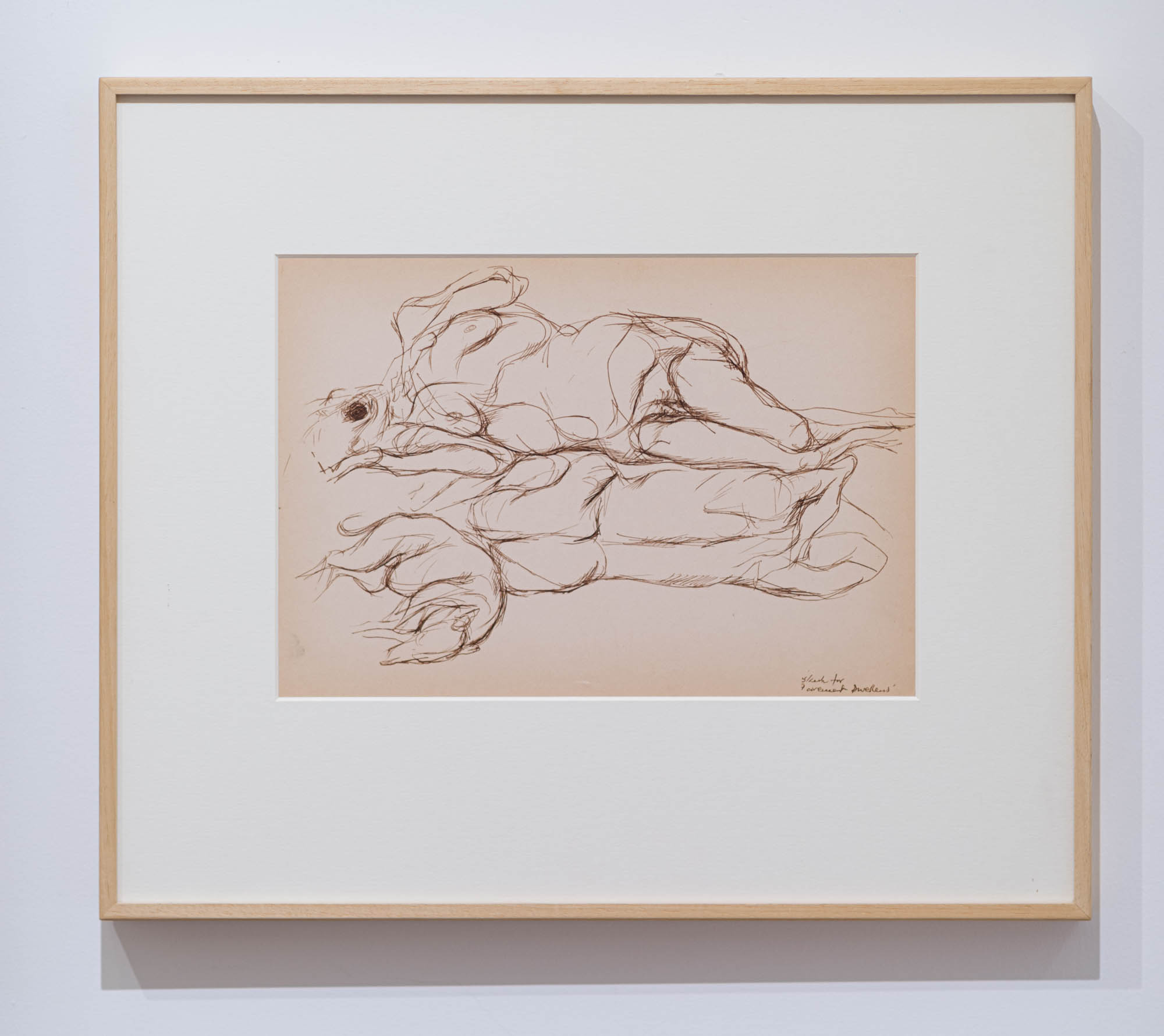 I could close my eyes and imagine all these artists sketching in large, long pencil strokes on art paper laying around in their studio. Sipping on a coffee perhaps? The beautiful aroma of art paper surrounding them. Also the evaporating chemicals from their paint supplies. Sunlight filtering in from large glass-paned windows. Obviously, I'm not sure what each artist's studio actually looked like but looking at the line-drawings hanging in the art gallery, wrinkled paper edges, fingerprint smudges, a stray pencil mark here and there, I was delighted to be transported into a possibly not-so-imaginary world. How cute is the goat!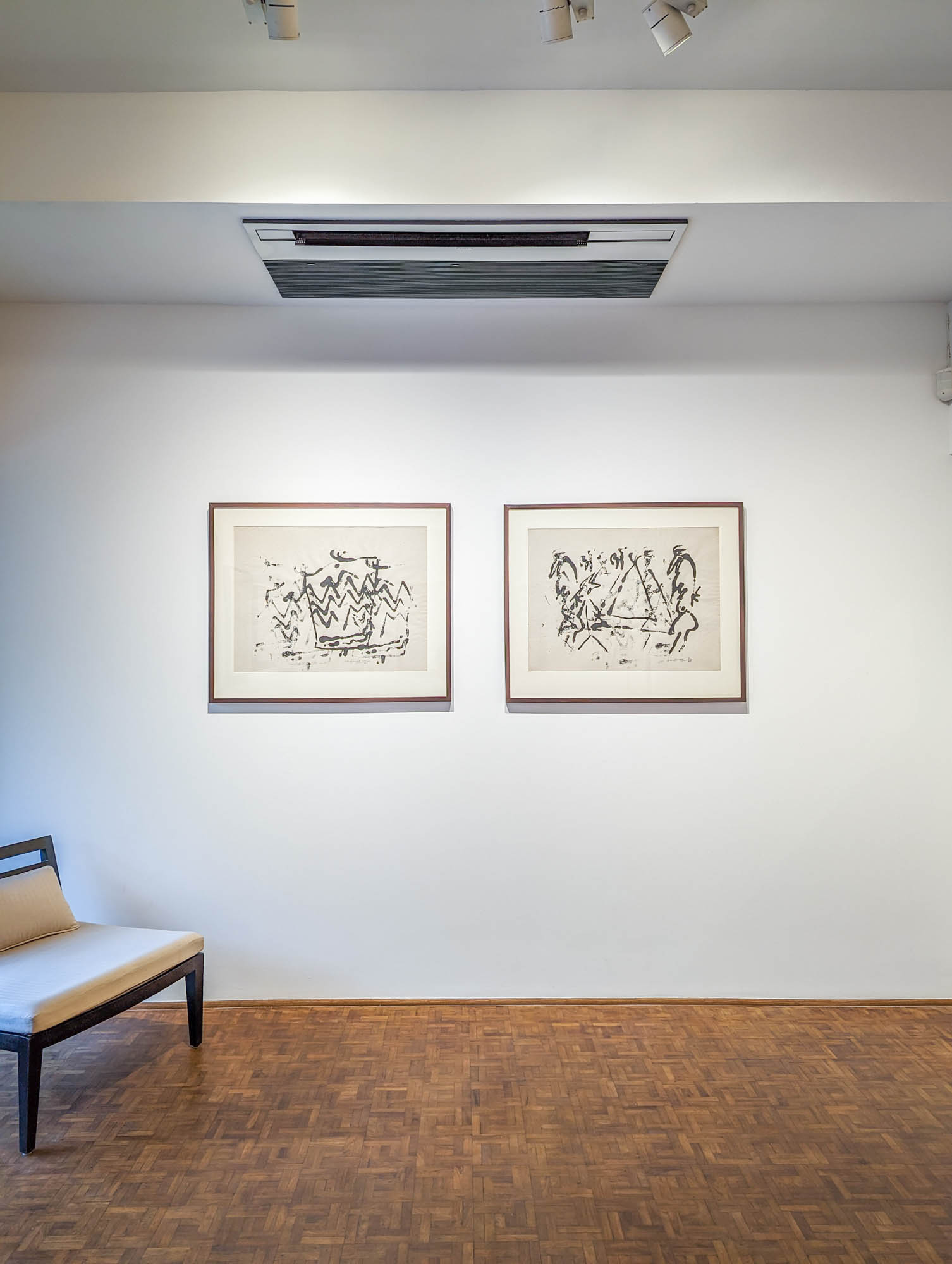 One cannot be sure how much the artists valued these line-drawings. Maybe, when they weren't so successful, they could have day-dreamed about their line-drawings being so valuable that they would find a spot on a wall in a well-known art gallery. And maybe they thought they were being delusional but still kept the line-drawings, filed away on some obscure shelf.
And here we are!
While I have more fascination for the art of stalwarts like Husain, I derive far more joy from the work of contemporary artists like Anju Dodiya, Ashim Purkayastha, Atul Bhalla Gigi Scaria, Jagannath Panda, K.M. Madhusudhanan Nalini Malani, Praneet Soi, Ranbir Kaleka Shrimanti Saha, Sudhir Patwardhan and Sunil Gupta. Onto D-53 then.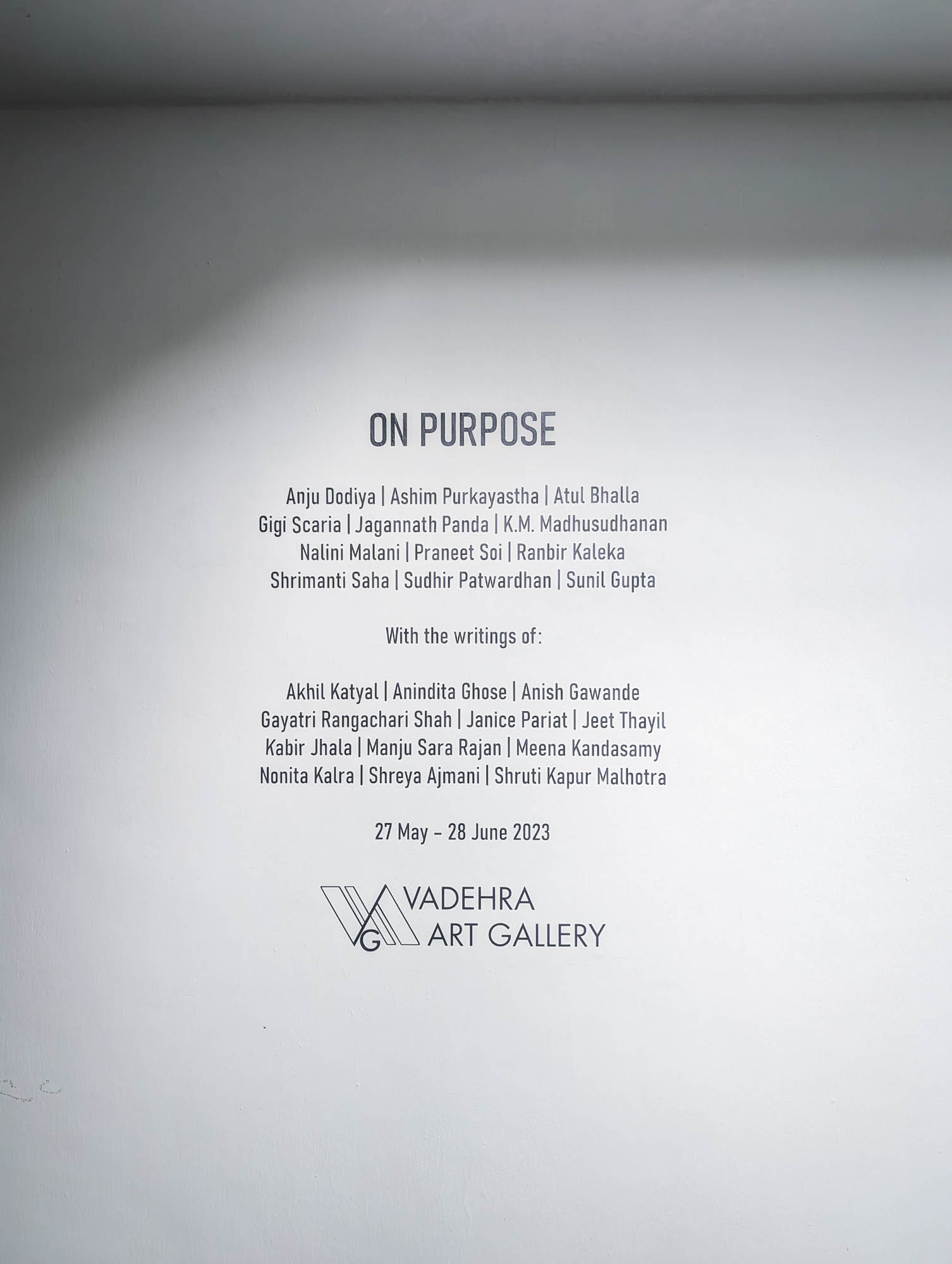 The paintings / artworks are accompanied by descriptive writing, poems and stories by Akhil Katyal, Anindita Ghose, Anish Gawande Gayatri Rangachari Shah, Janice Pariat, Jeet Thayil Kabir Jhala, Manju Sara Rajan, Meena Kandasamy Nonita Kalra, Shreya Ajmani and Shruti Kapur Malhotra.
Above, painting by Jagannath Panda. I had to zoom out and stare at it for a while to SEE the seahorses! And then I had to walk up close to enjoy all the details.
Below : painting by Shrimanti Saha. What a delight! Totally my kind of art. So many details and meaning and the colours and just everything! It wasn't immediately my favourite because it looks like nothing from afar. But I've spent time editing photos on my phone and on my laptop and OMG I cannot stop staring. Such a beautiful piece! One could easily spend hours exploring this painting.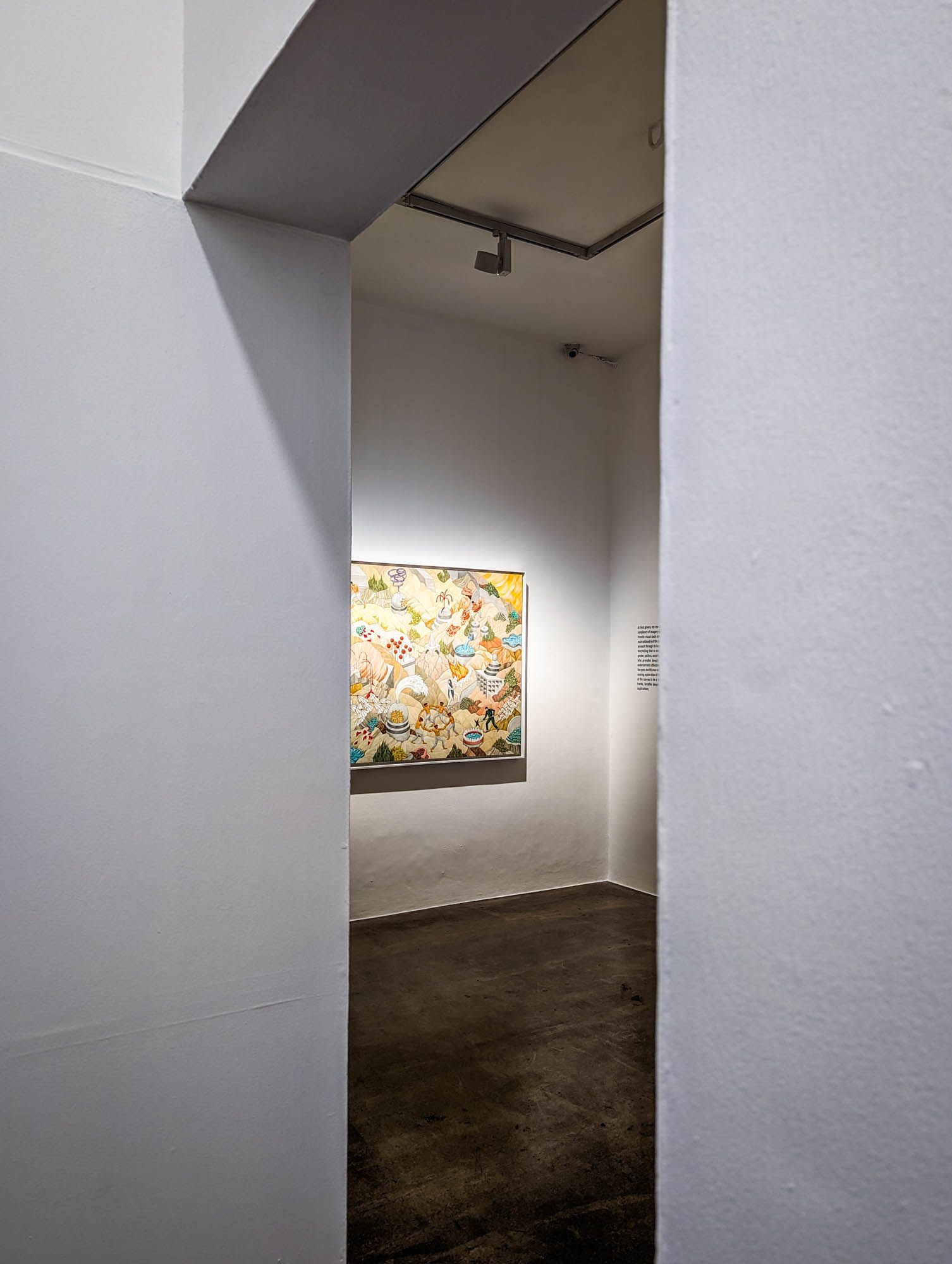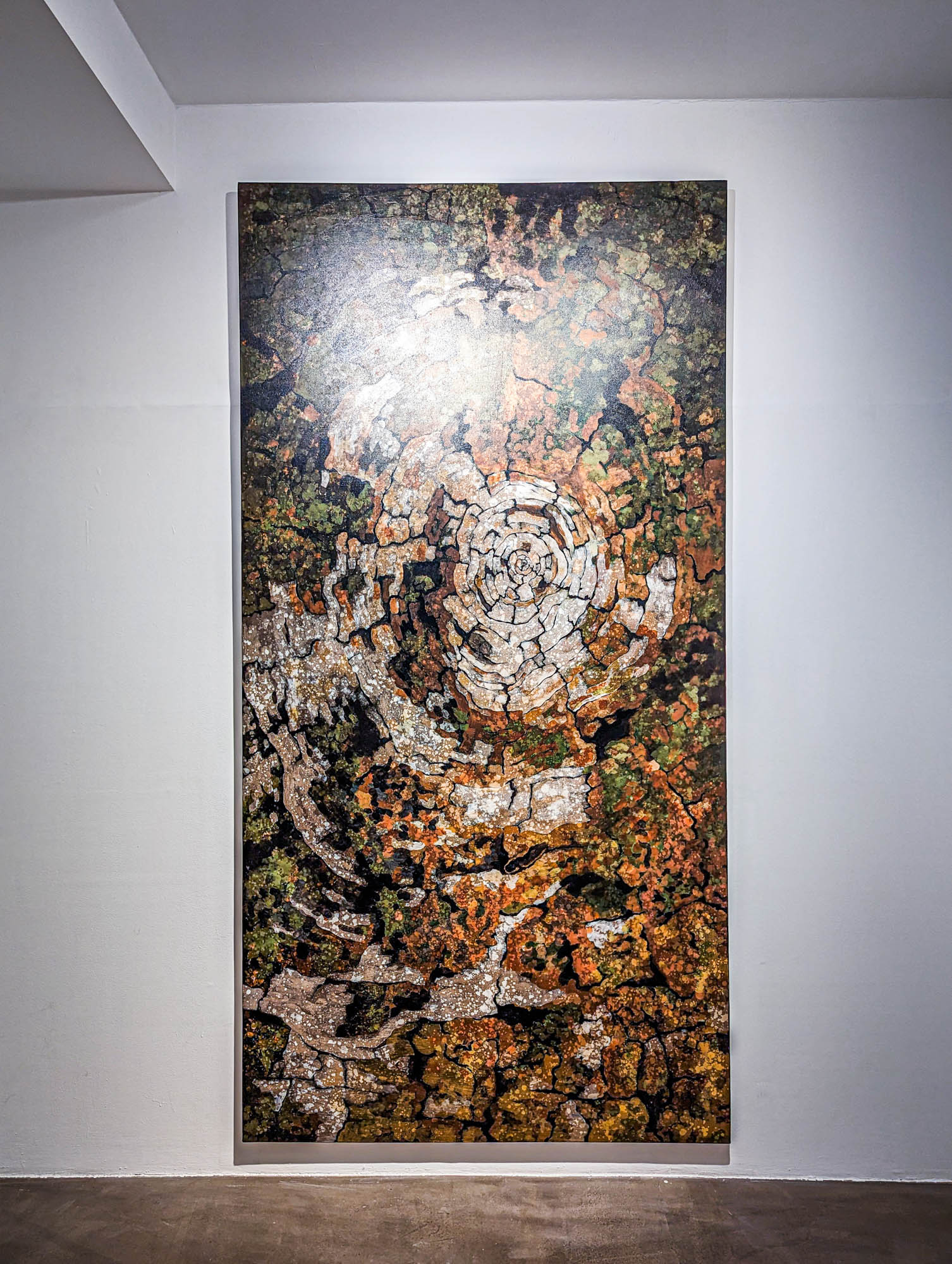 And finally, below : a photograph. By artist Sunil Gupta. The words by Kabir Jhala breathe story into this piece.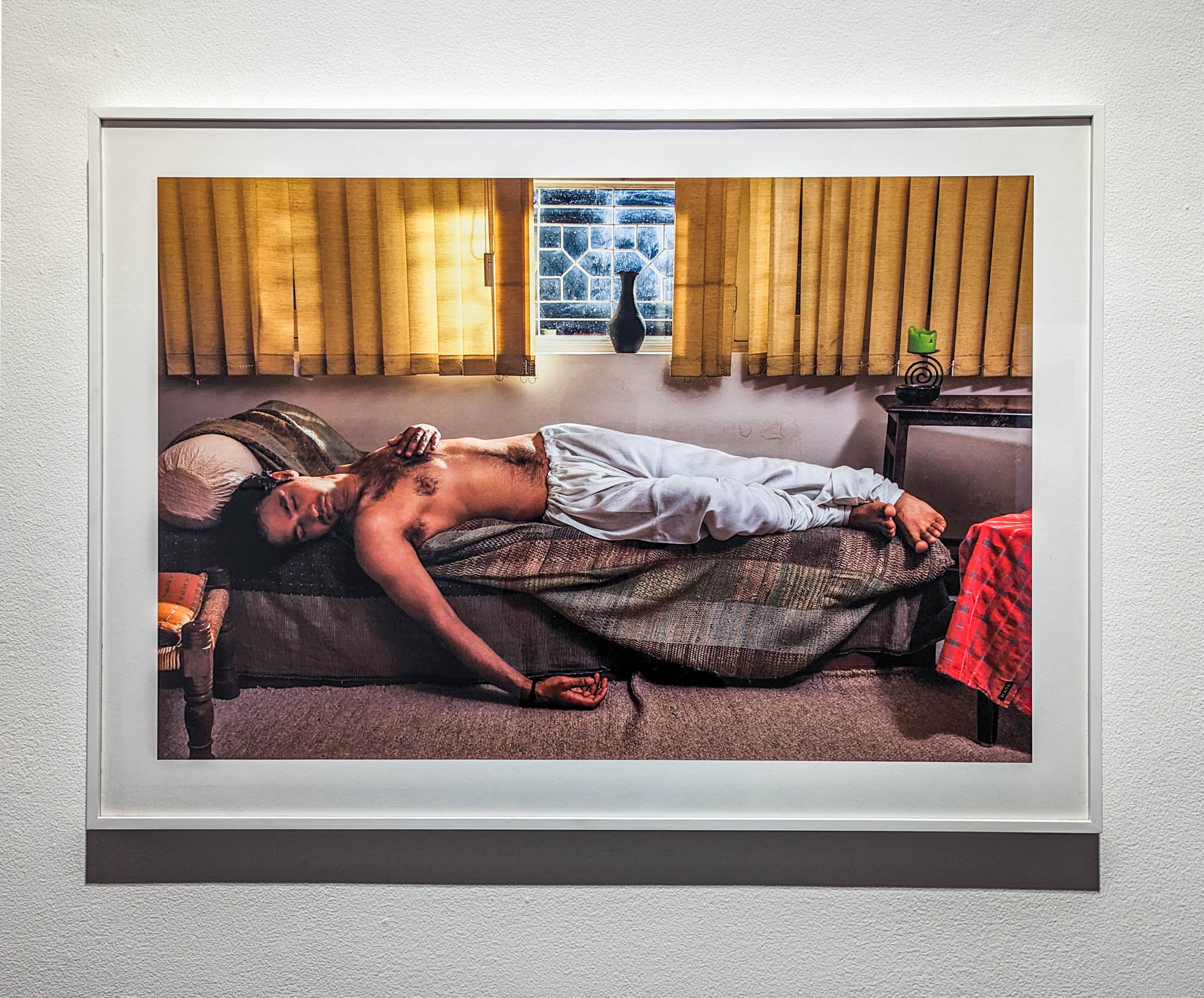 Vada the omi, so deeply she dreams, Cinderella Brought us back at just-past-midnight, From Karma, where the air is thick with the scent of Rush*,
Through which he cut with a twisting torso, and shoulders at suggestive tilt.
He sleeps a bit twisted too-right arm hanging at lacuna angle
A joke of him being "naturally bent" passes by fleetingly.
I could have left two minutes after the last "harder!",
But then he took my hand in sand gripped harder still,
At first I thought mine would snap in two-then I hoped ours might fuse into one.
So I've stayed to listen to:
The night rain gurgle through his building's rusted bowels;
Droplets baptising the bougainvillaea;
A bright duet chirping from our phones (Grindr trill, Instagram ding);
My percussive heartbeat;
A chamber orchestra of crickets, who play more tenderly on this side of town,
All tuned by our maestro, exquisitely timed to his breath-
Heavy, feverish, full of hunger, he whispers, "Babe, babe, baba!"
I fear I will stay so long in this music I am reborn in it.
*"Look at this man" in Polari (a historic slang adopted by homosexuals in the early 20th century).
**A leading brand of poppers, an inhalant drug popular among the gay community
Written by Kabir Jhala
I visited an art gallery after nearly two years! For previous art gallery photo stories, see #EyesForArt