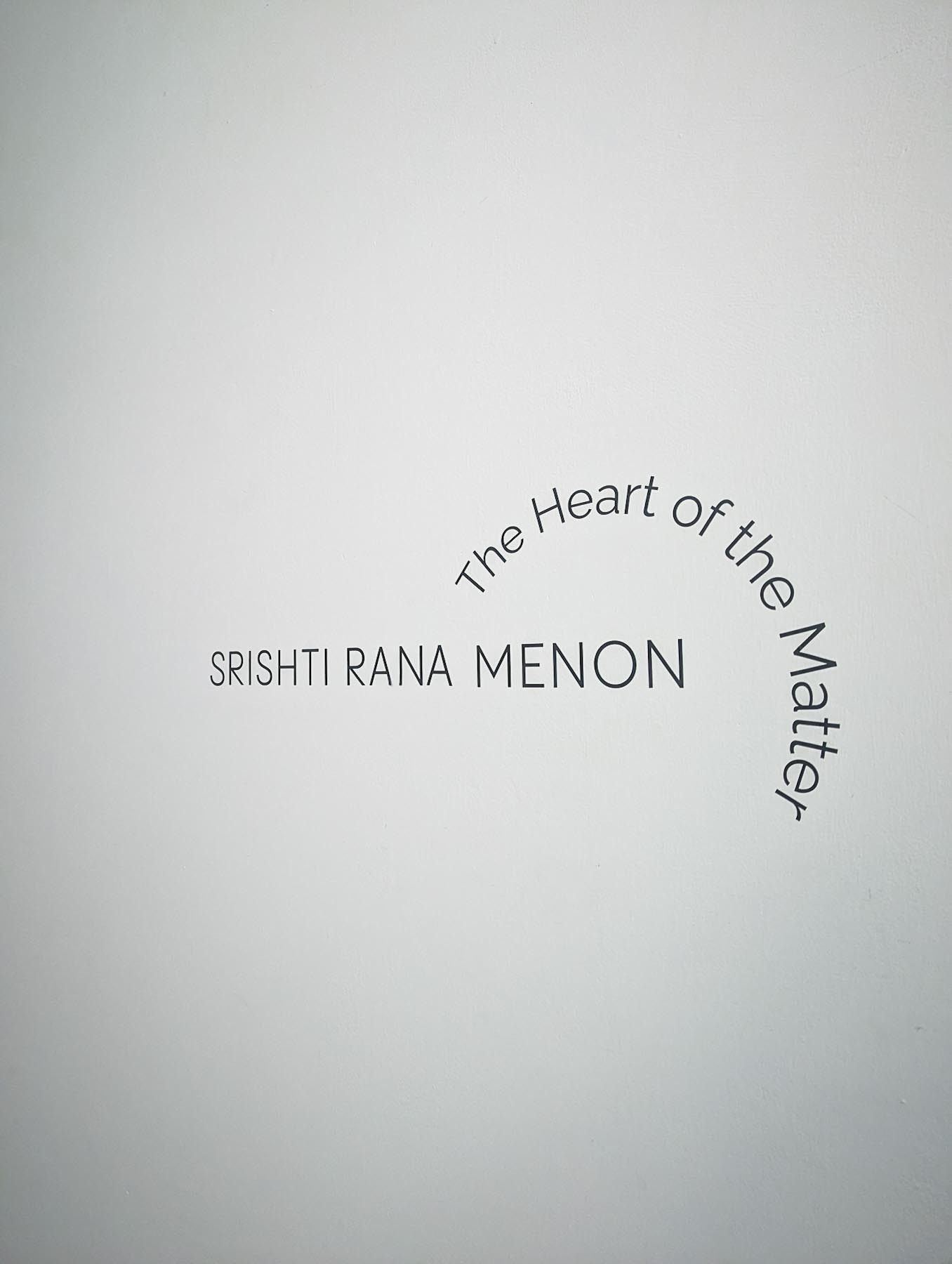 My friend Aditi of PureGhee Designs invited me to join her for a conversation between David Abraham and Srishti Rana Menon at Nature Morte last week. ( At Nature Morte at Vasant Vihar. ) The conversation was moderated by Peter Nagy who is the owner of the art gallery.
I've known Srishti's work because of having seen it at the Delhi Contemporary Art Week several times previously. Srishti also happens to be my school mate although I don't believe we knew each other when we were there together. It was a LARGE school!
The Heart of The Matter, Srishti's new show at Nature Morte is on till tomorrow, the 9th of September. While I would encourage you to go and visit, I'm not sure how many of you will actually make the trip considering all the traffic restrictions for the G20 summit. I wanted to write about the conversation and Srishti's art the moment I exited from the gallery but life transpired and I am only getting a chance to do so now.
While most of the conversation was around Srishti's time at NID and some of the common teachers and others that David and Srishti knew from NID, there were also other interesting subjects like how textile design has informed and influenced Srishti's work as well as the artist's process.
Below is how I have seen most of Srishti's work till now. Large scale canvases with what she calls the "pools". These are acrylics on canvas and they take a long time to dry, especially during the hot and humid months, which were quite a few during this monsoon season. I strongly identified with this situation because it's the same one I've been whingeing about for the past 3-4 months. I too work with acrylic and everything takes exponentially longer to dry – brooches and canvases.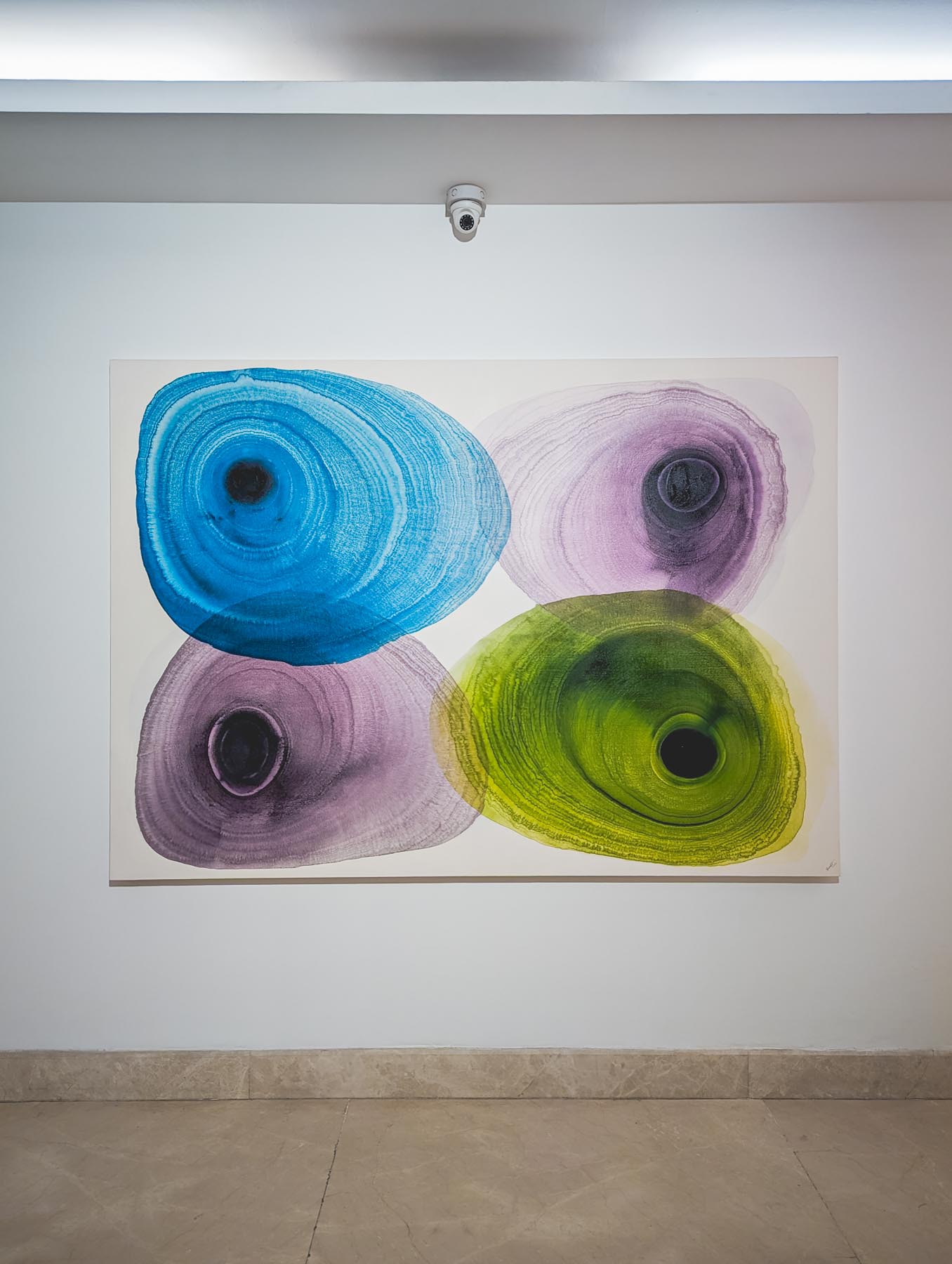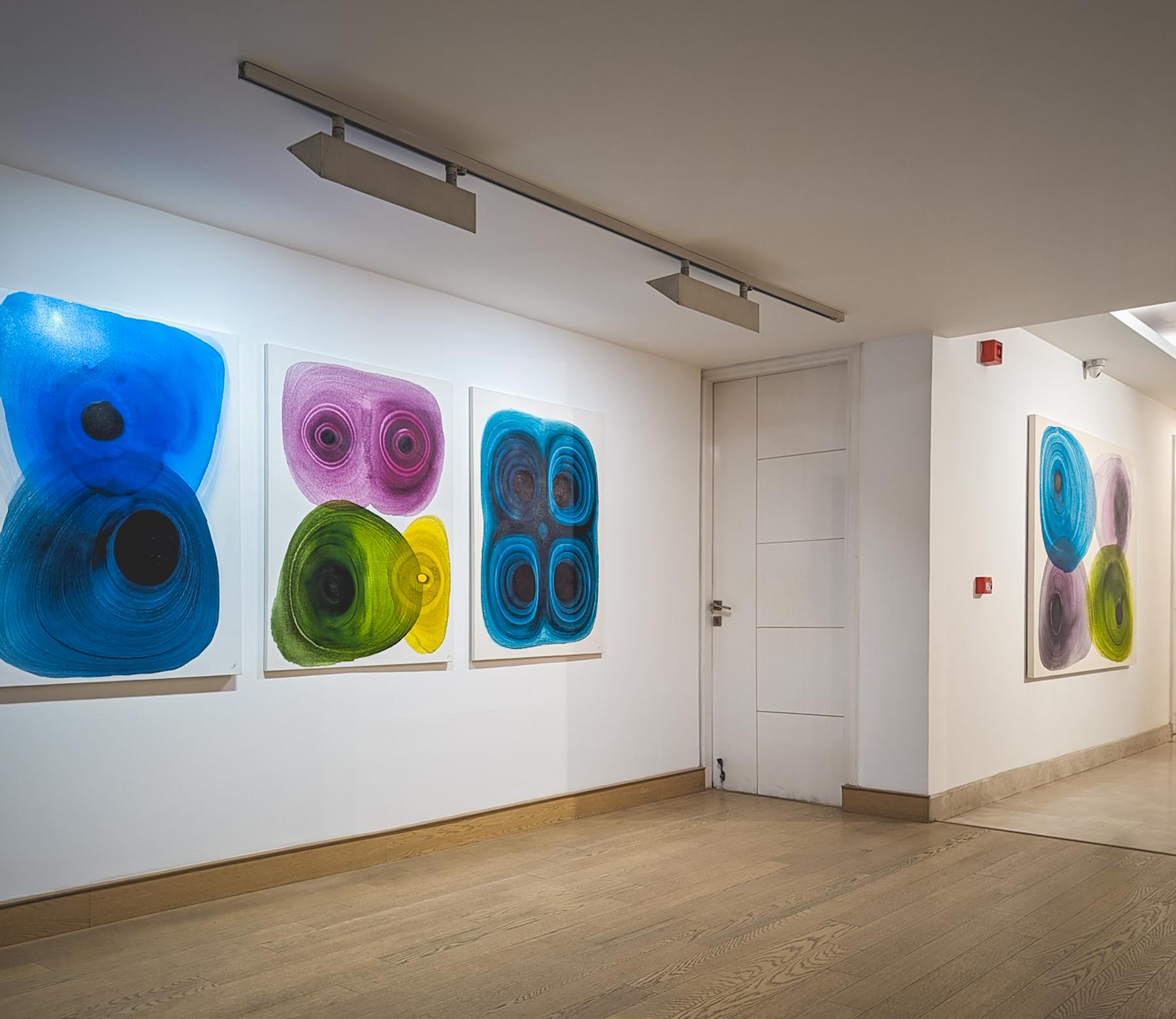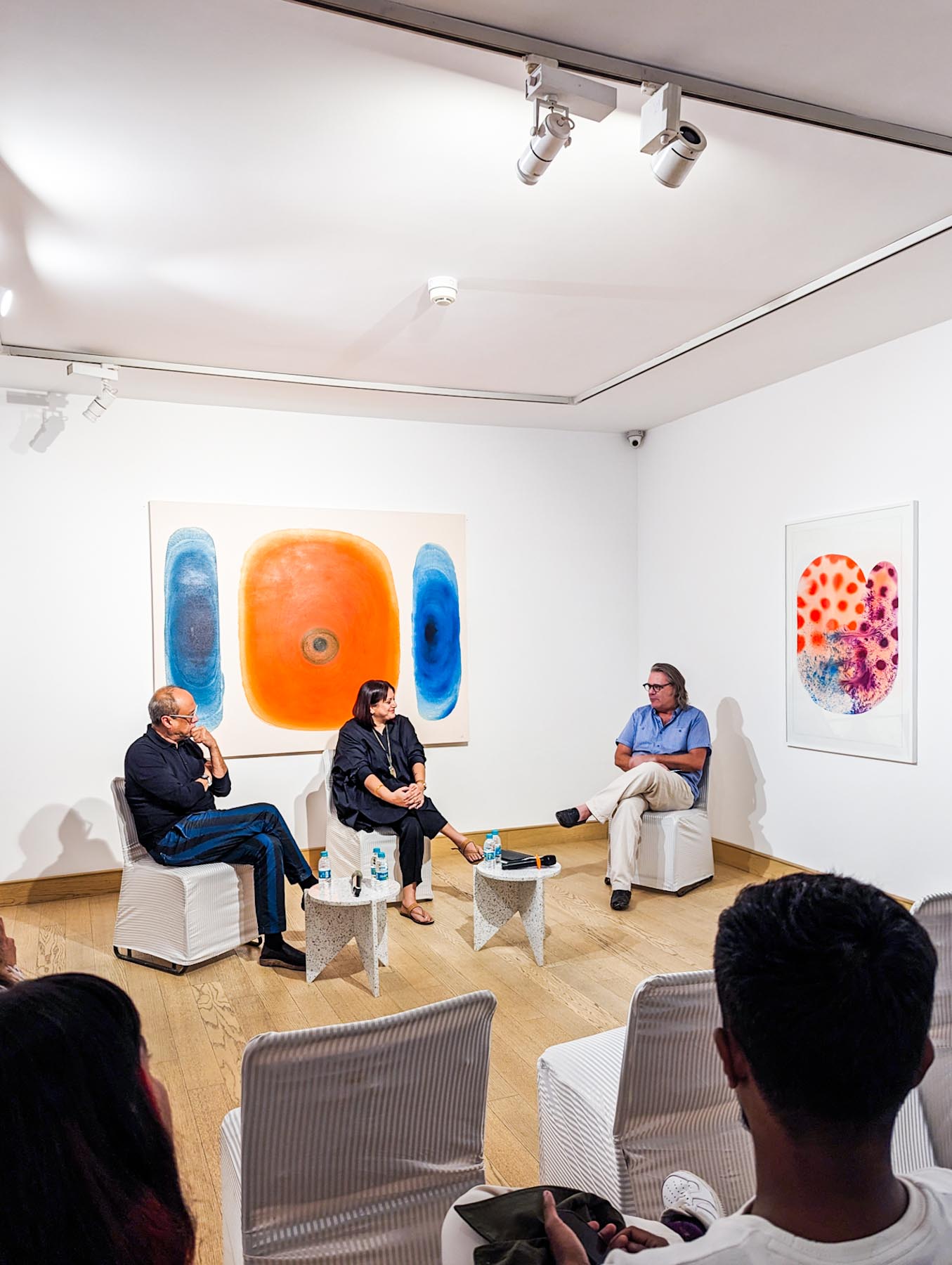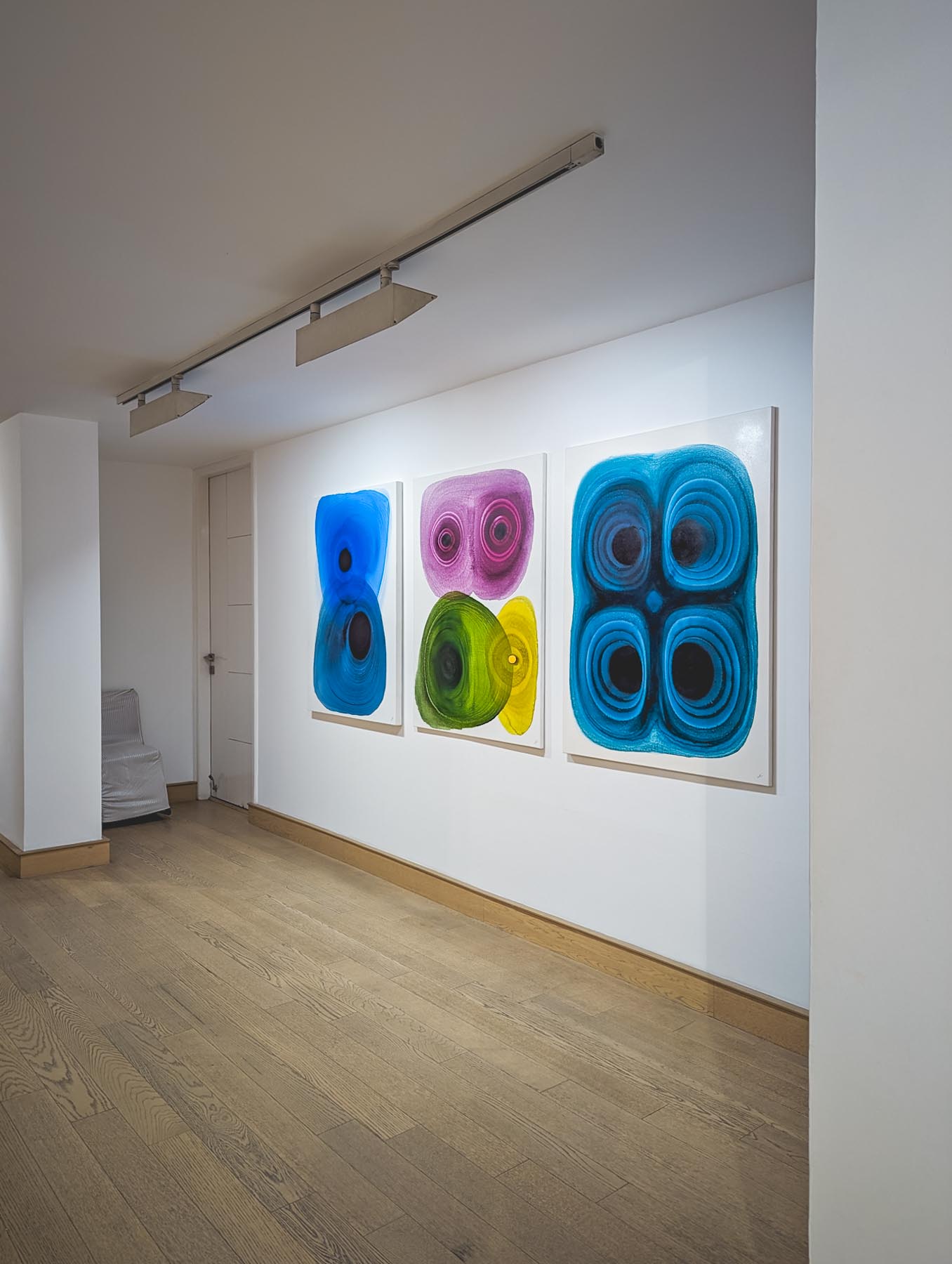 For this show, Srishti also had a ton of new pieces, on paper. Large format as well as medium and small format. She has worked on paper with a mixture of varying media. Pigments, acrylics, etc. They seemed more influenced by her textile design education and lot more colorful and chaotic, exactly how I love art! She calls these hearts and I was delighted to see such wonderful work being brought into the gallery space.
I love the explosion of colours. Working on paper is very different from working on canvas. While the canvas and the acrylics give Srishti a lot more control over drying times, especially when she wants things to dry slower, paper is not so patient.
Srishti is already considering a larger studio space because the demand for her larger format acrylics is skyrocketing.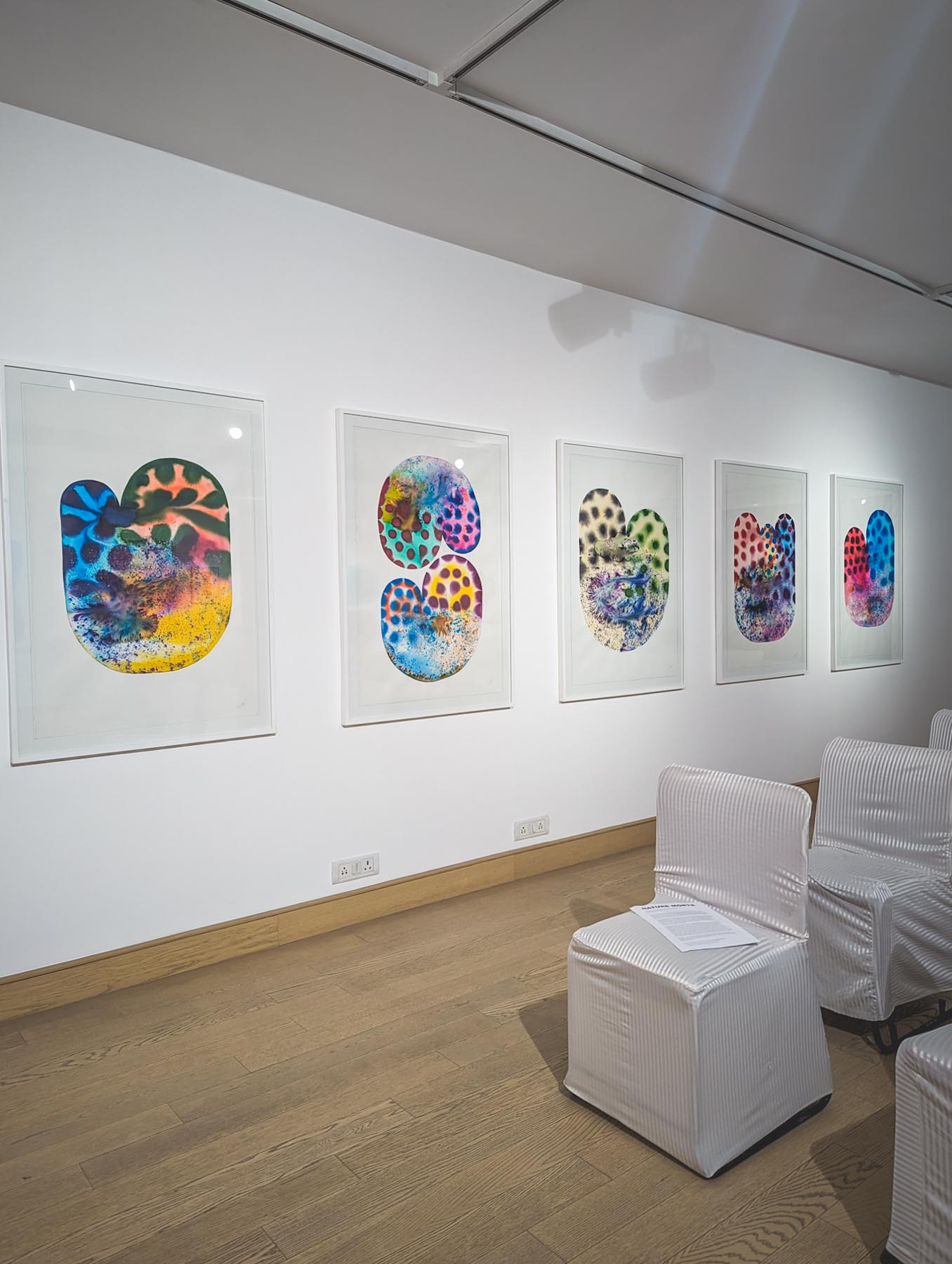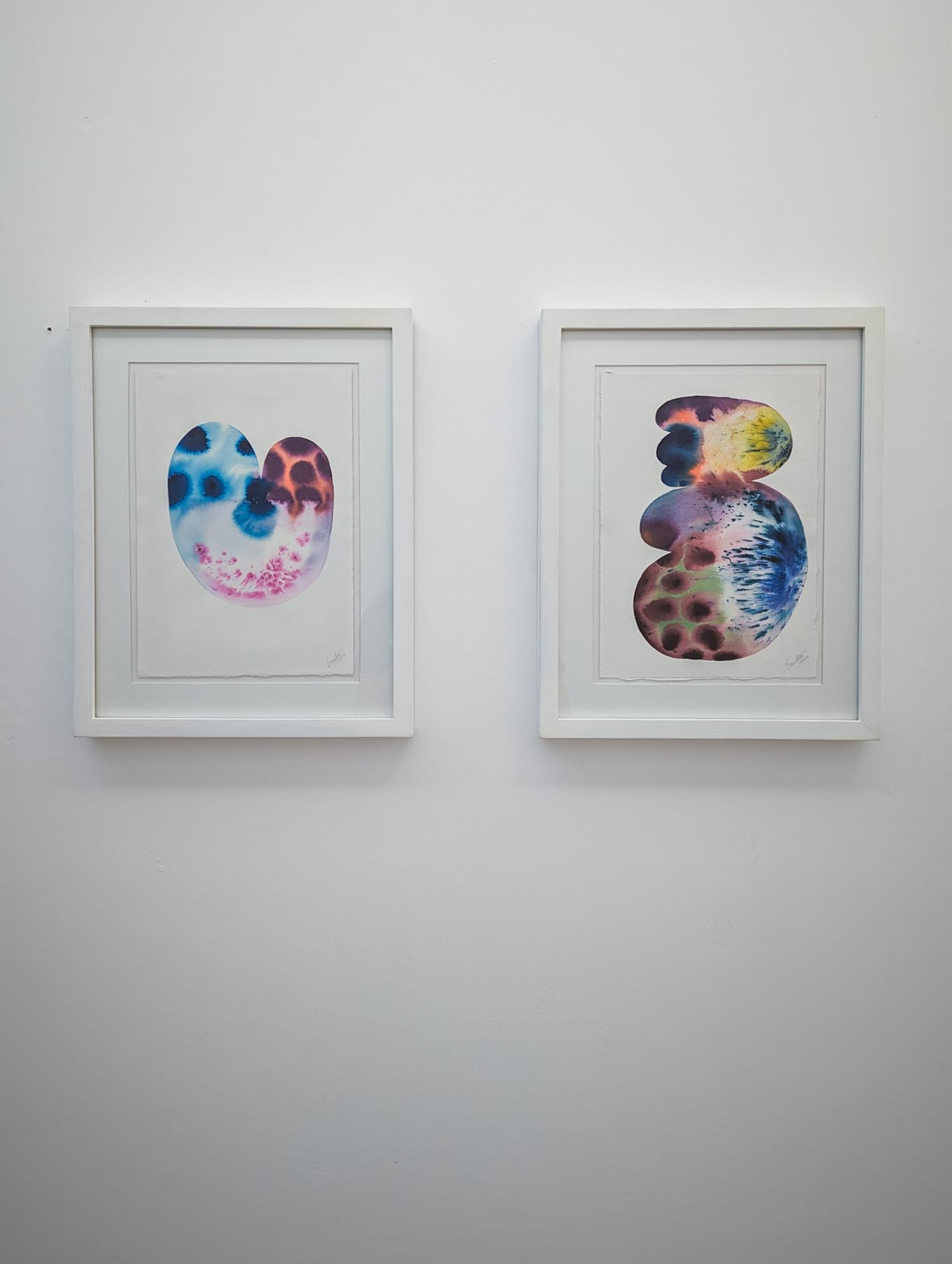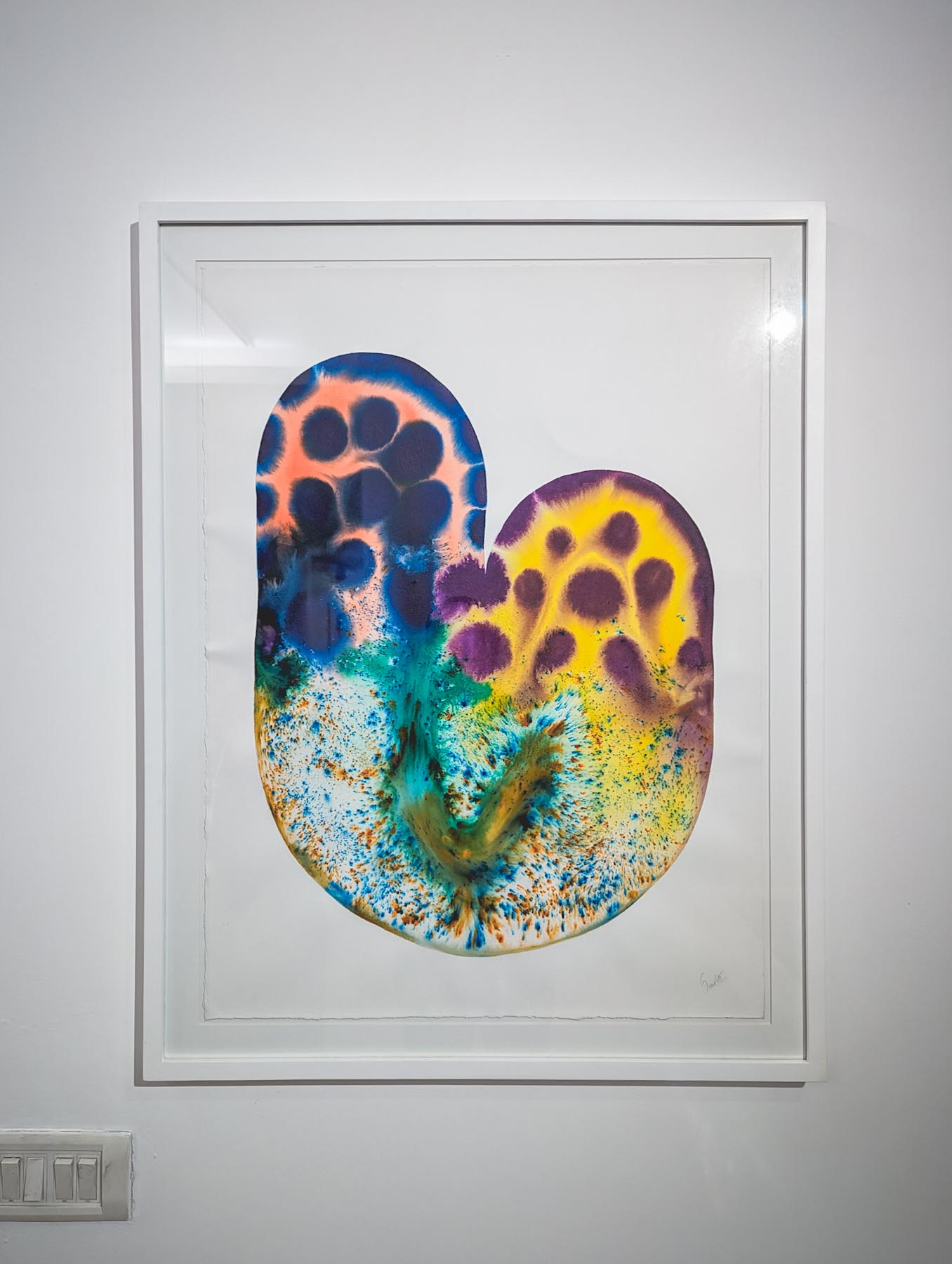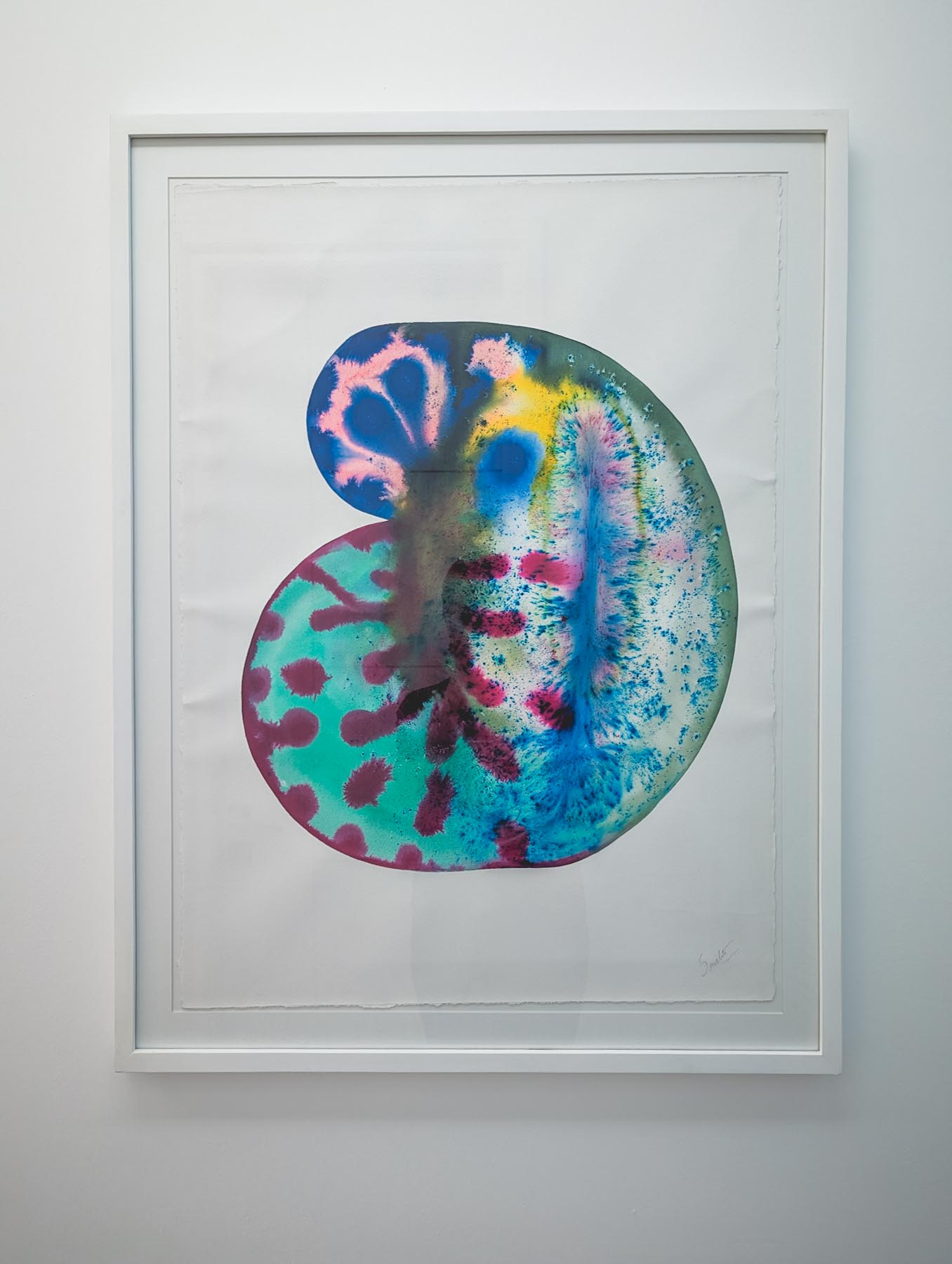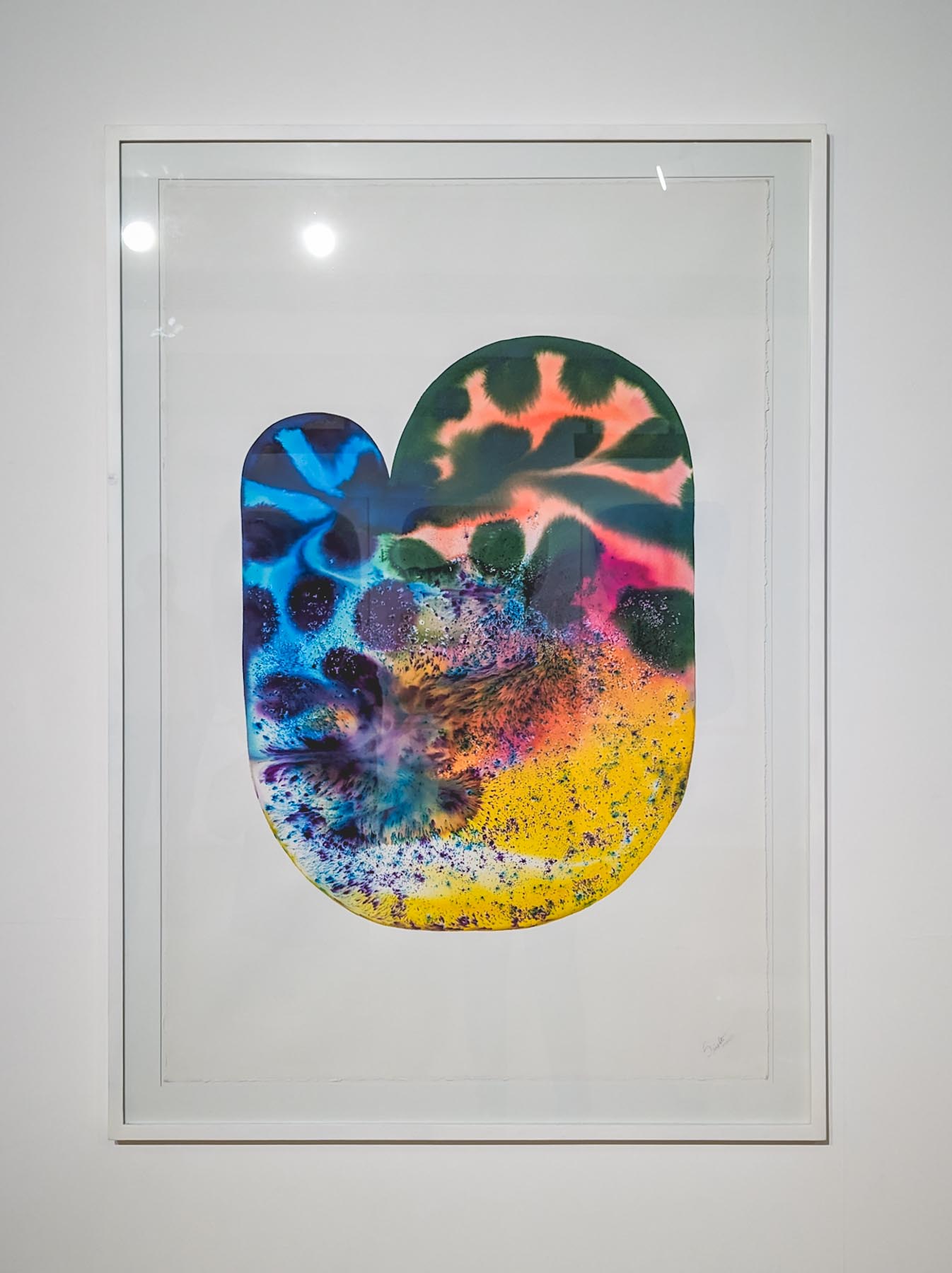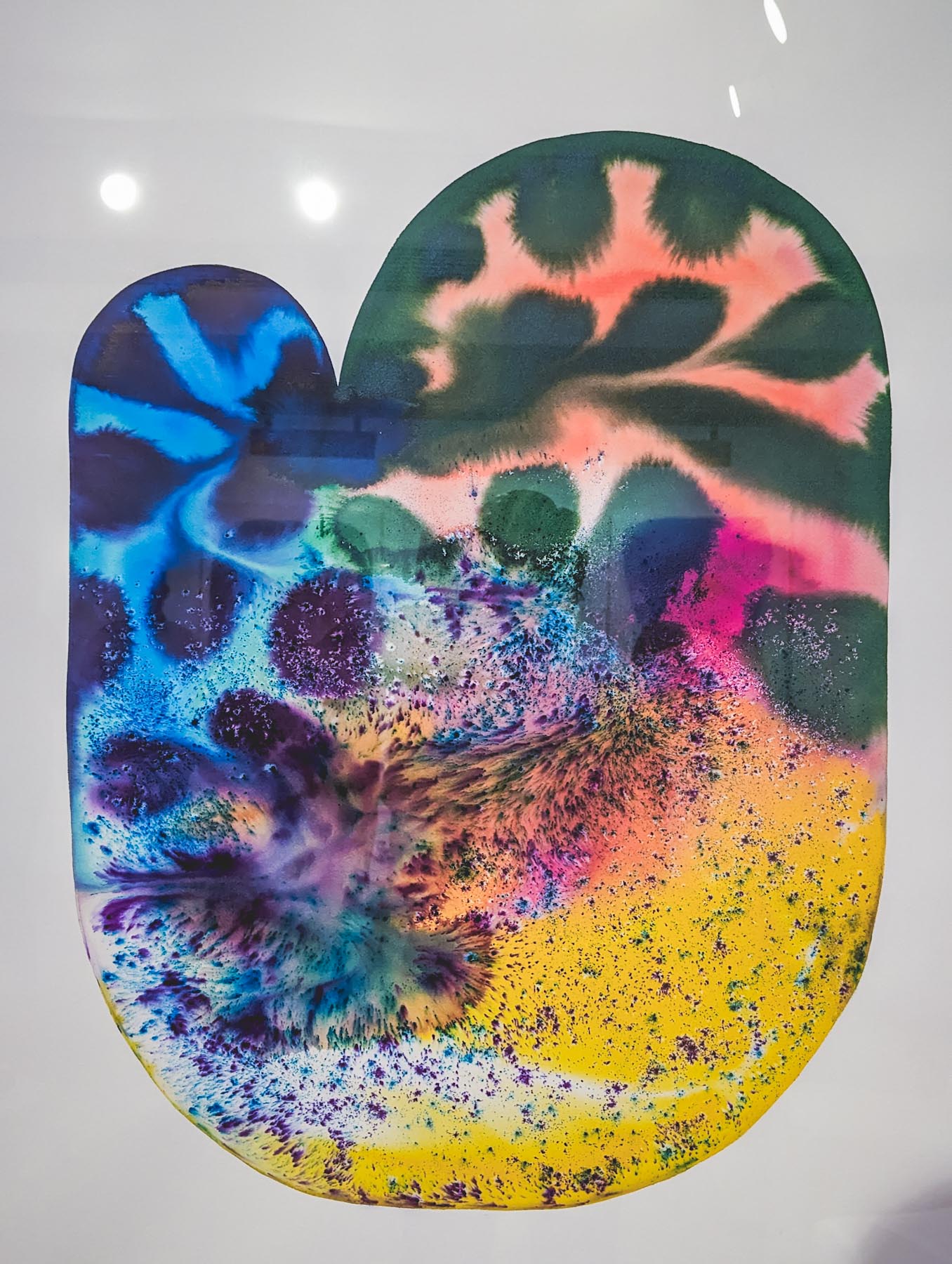 Below, left to right, Srishti Rana Menon, Aditi Prakash and me.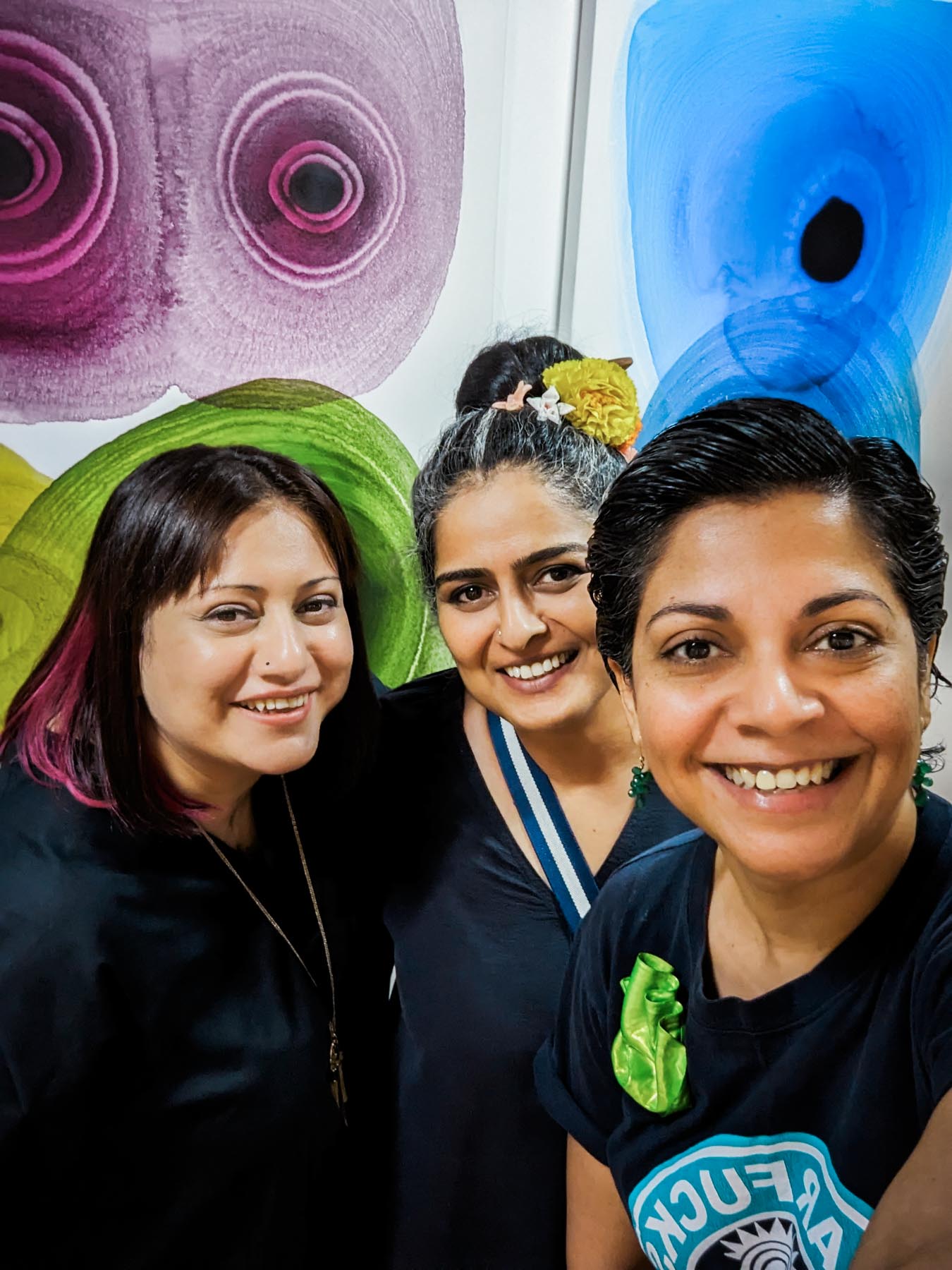 There were several questions that came up for after attending this conversation.
One, why does no one talk about electricity bills when one is an artist?! Mine are insane! Air conditioners and ceiling fans running non-stop all summer and during the monsoon season and room heaters and ceiling fans running all winter season. And even those have to be regulated carefully, depending on the type of paint and paint application. If not regulated, the paint can crack or dry "wrong".
Two, what does it look like, in daily life, to be a professional artist? Someone like Srishti for example. How does one even "become" a professional artist? The barrier to entry is a lot higher than say being a photographer. One could be making art for years before one sees any form of "success", which leads me to, "What does a successful artist look like?" Is it commercial success? Is it inner peace? It is probably a combination of several factors but I imagine that commercial success would play a large role.
I also came to realize that every artist's work is informed by their education, they experiences and their entire life prior to them making that piece of art. In Srishti's case, it is Rothko and Textile Design. In my case, I'm not so sure. And I have been thinking about that. Maybe I will figure it out eventually.
Thank you for reading. Now please go support that artist whose work you love. If you are able to buy their art, do that. If not, art galleries are open to the public, go take a selfie with their art and post on your social media. ( After checking with the gallery or the artist that it is ok to do so. Some artists and galleries do not want any photographs to be taken. )