A holiday in the hills is an antidote for city life for a lot of us. I'm not a huge fan of the meandering and mostly broken hill roads – despite BRO's best efforts. But, if I am able to keep driving time to less than six hours per day without driving on any two consecutive days, then I'll try the hills.
I complain about hill driving a lot, and yet, I travel to the hills quite often.
When I announced on the blog that I will be embarking on a hill-journey with Banjara Experiences, I had absolutely no clue about any of the locations or properties, except the little bit that I'd read on their website.
Most of Banjara's customers, a lot of them loyal ones for the last 30 years, tend to book their holidays as part of a "circuit". Which is what we did as well. Delhi to Thanedar, Thanedar to Sangla, Sangla to Kaza, Kaza to Chicham, Chicham to Sangla, Sangla to Sojha and back from Sojha to Delhi.
We drove our own car, a diesel Ertiga. Driving was mostly split equally between me and my partner, which I believe is absolutely necessary if you want to drive safely in the hills. I would not have undertaken this endeavour without a driving partner!
Most of the road from Gurgaon to Thanedar is fine. Great even. It's only once we crossed Narkanda that the road basically disappeared. There's some pipe-laying work going on, which meant that the road has been dug up. And it rains off an on – we got sleet on our way!
As bad as the road was, the view was stunning – the entire valley and hillsides are covered with orchards that have been covered with nets to protect the fragile flowers and fruit from being destroyed by hail stones. Most of the nets are colored white but you'll sometimes spot a purple or a black one, which makes things look even more interesting.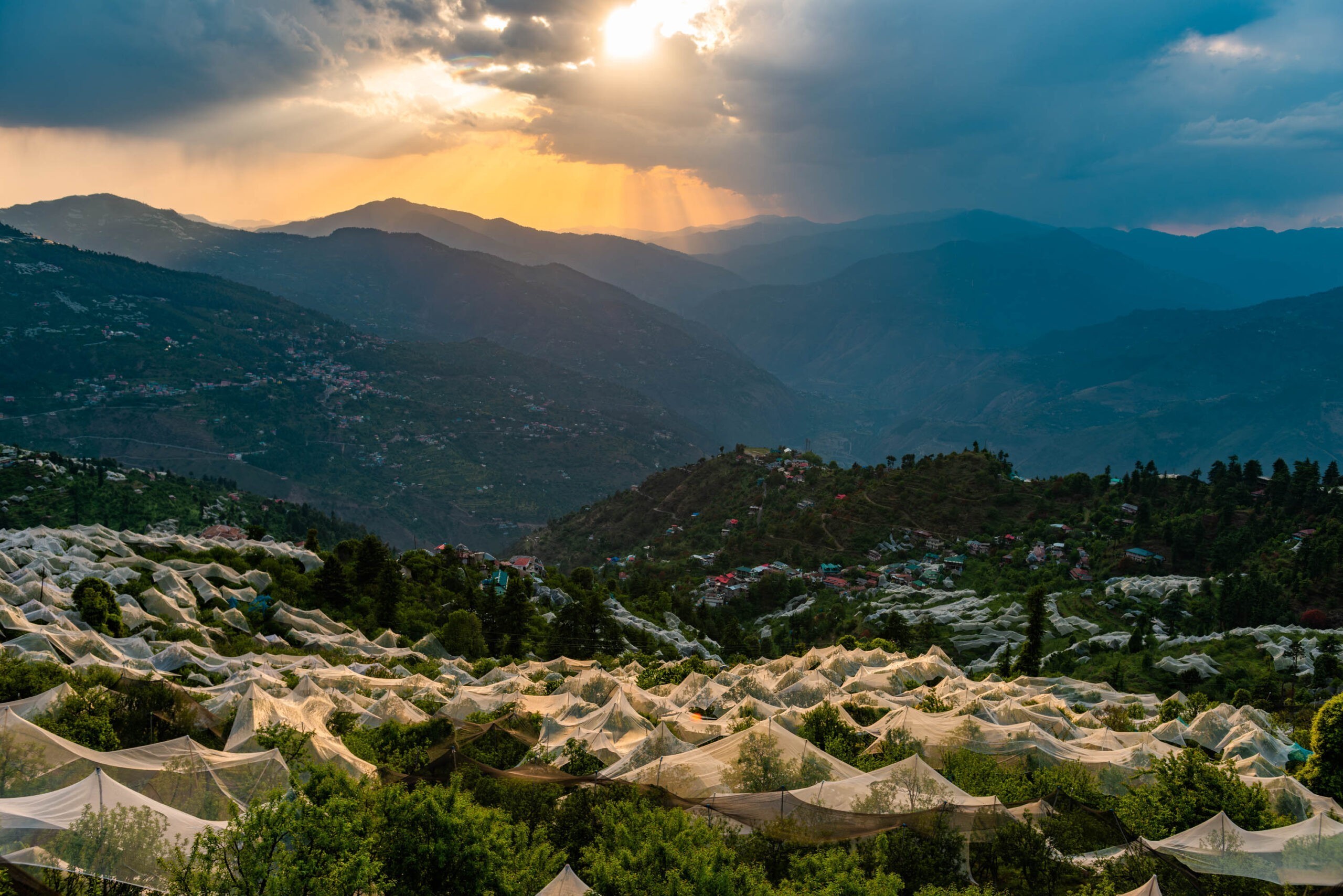 We reached the Banjara Orchard Retreat much before sunset. Covered parking is conveniently right there & the staff picked up some of our luggage and we traversed down about 70 steps into the property. It's SO beautiful. I was not expecting to see such a well-maintained property! Mr. Prakash Thakur looks after his property as impeccably as he looks after himself. A thorough gentleman.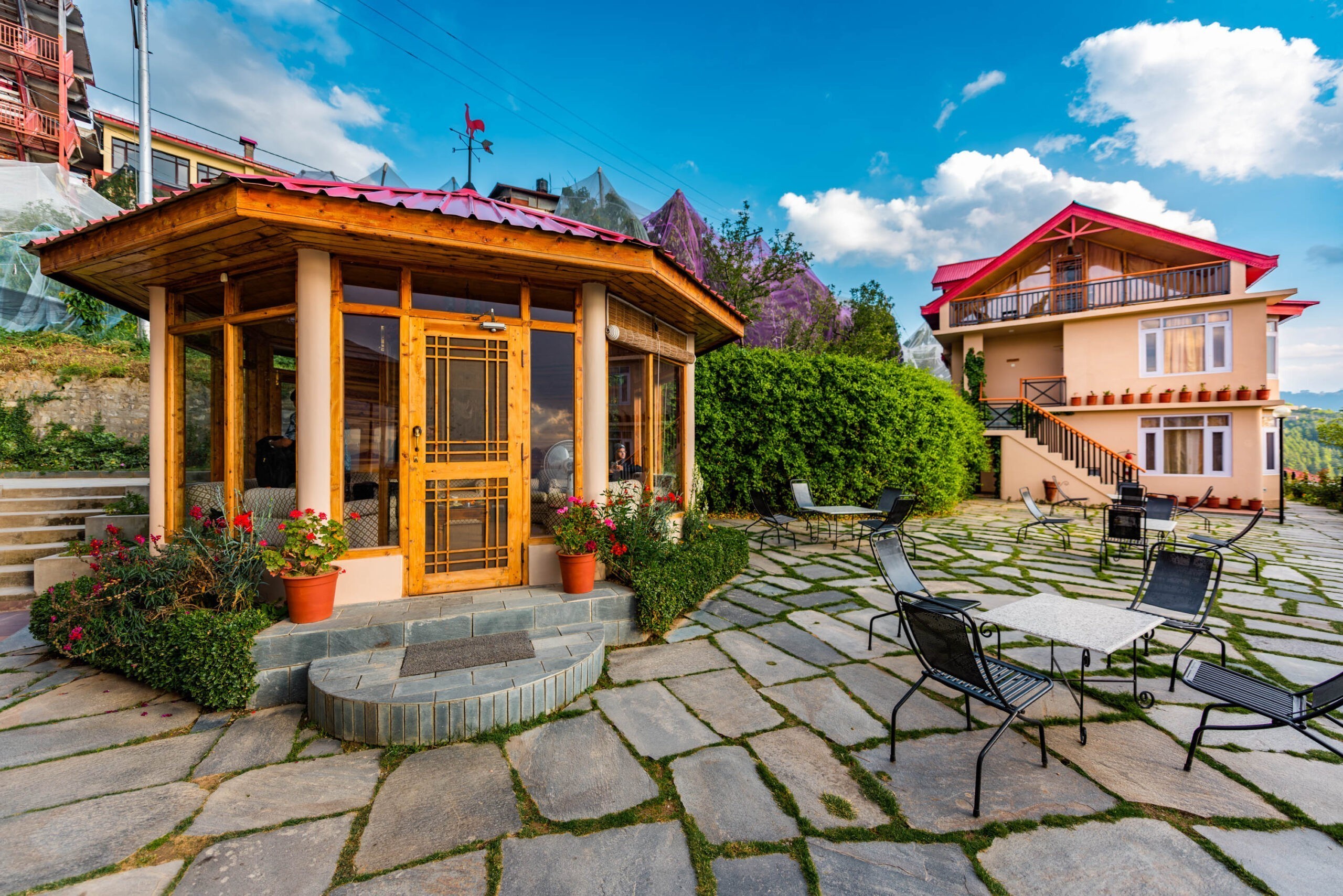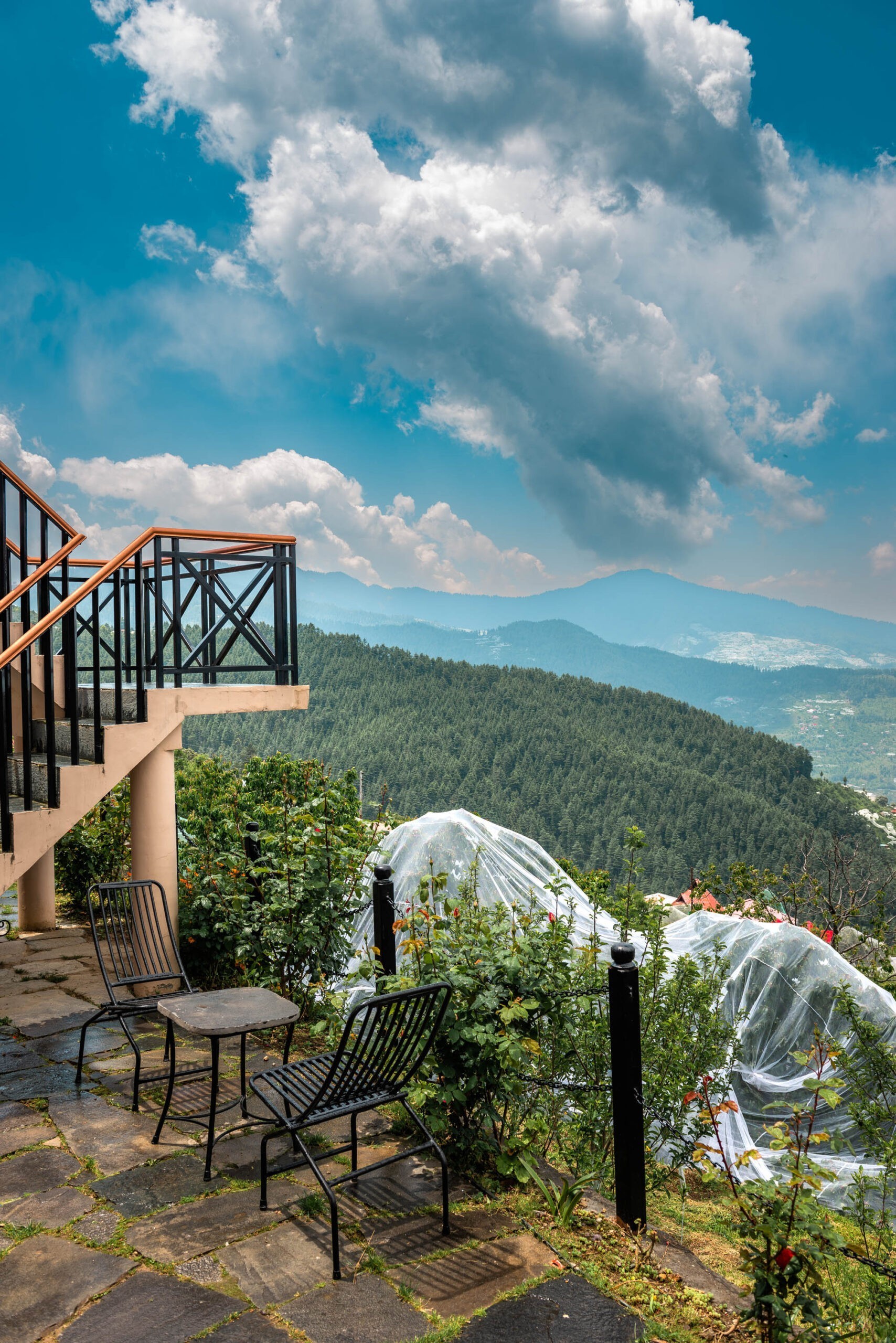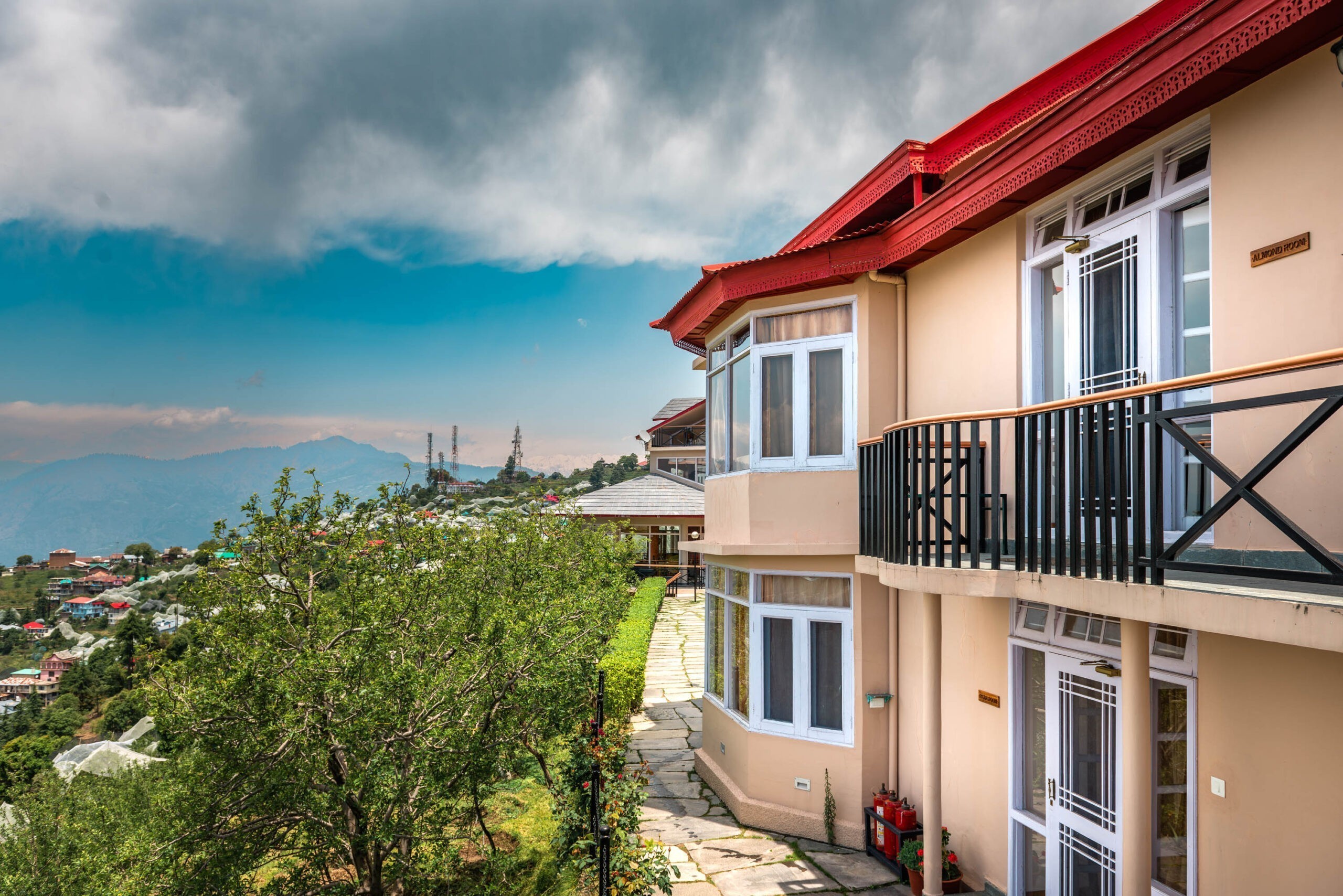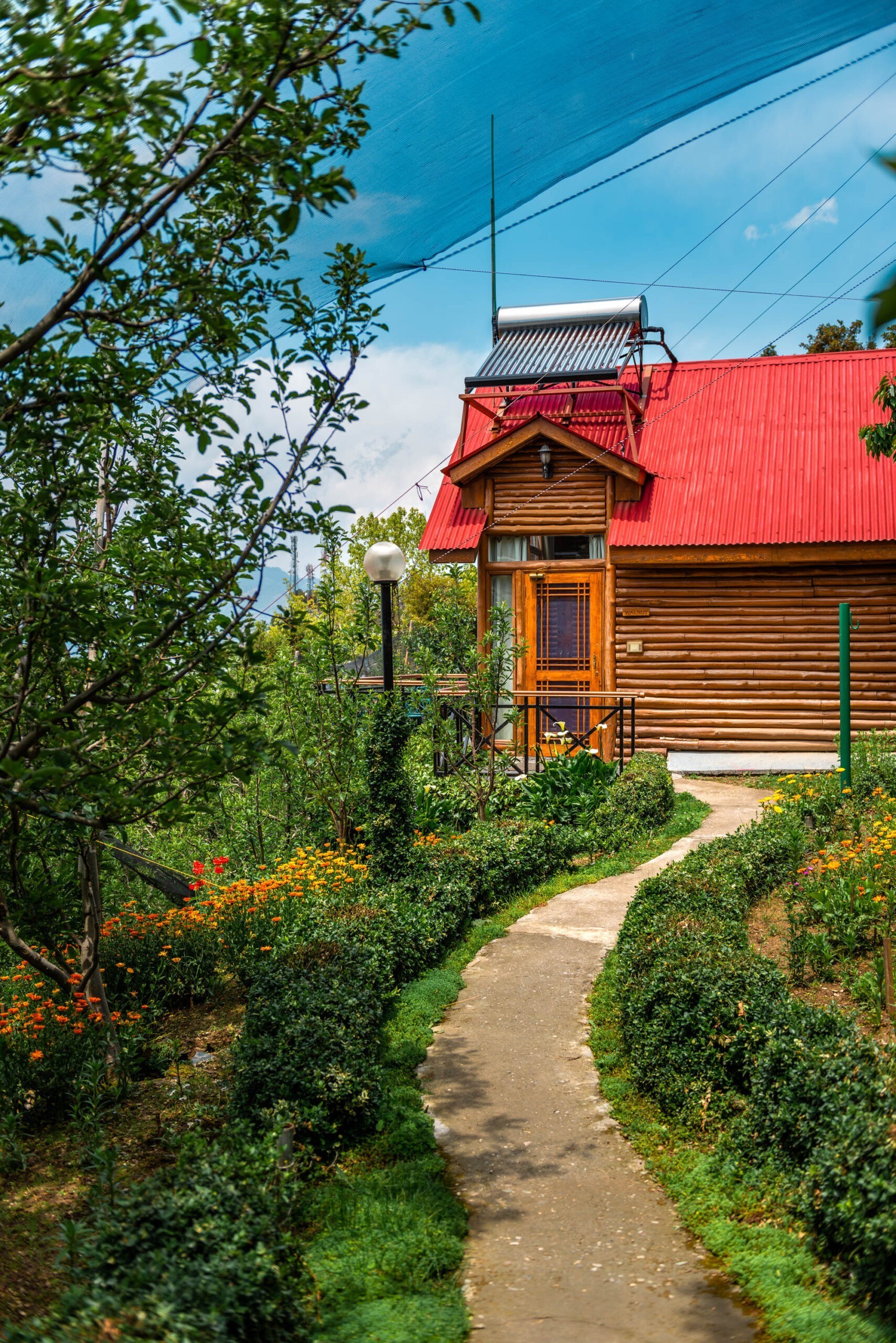 Banjara Orchard Retreat has 10 rooms for guest accommodations. Dining is in a common dining room, or you can even request for snacks in the open courtyard or the beautiful glass-walled gazebo. At a level lower than the dining hall, is a game room with books, carrom board, a dart board etc.
The more Banjara properties we stayed at, the more we realized how some of the delightful basics were a common theme across all the properties. The coat / clothes / hat rack being one of my favourites.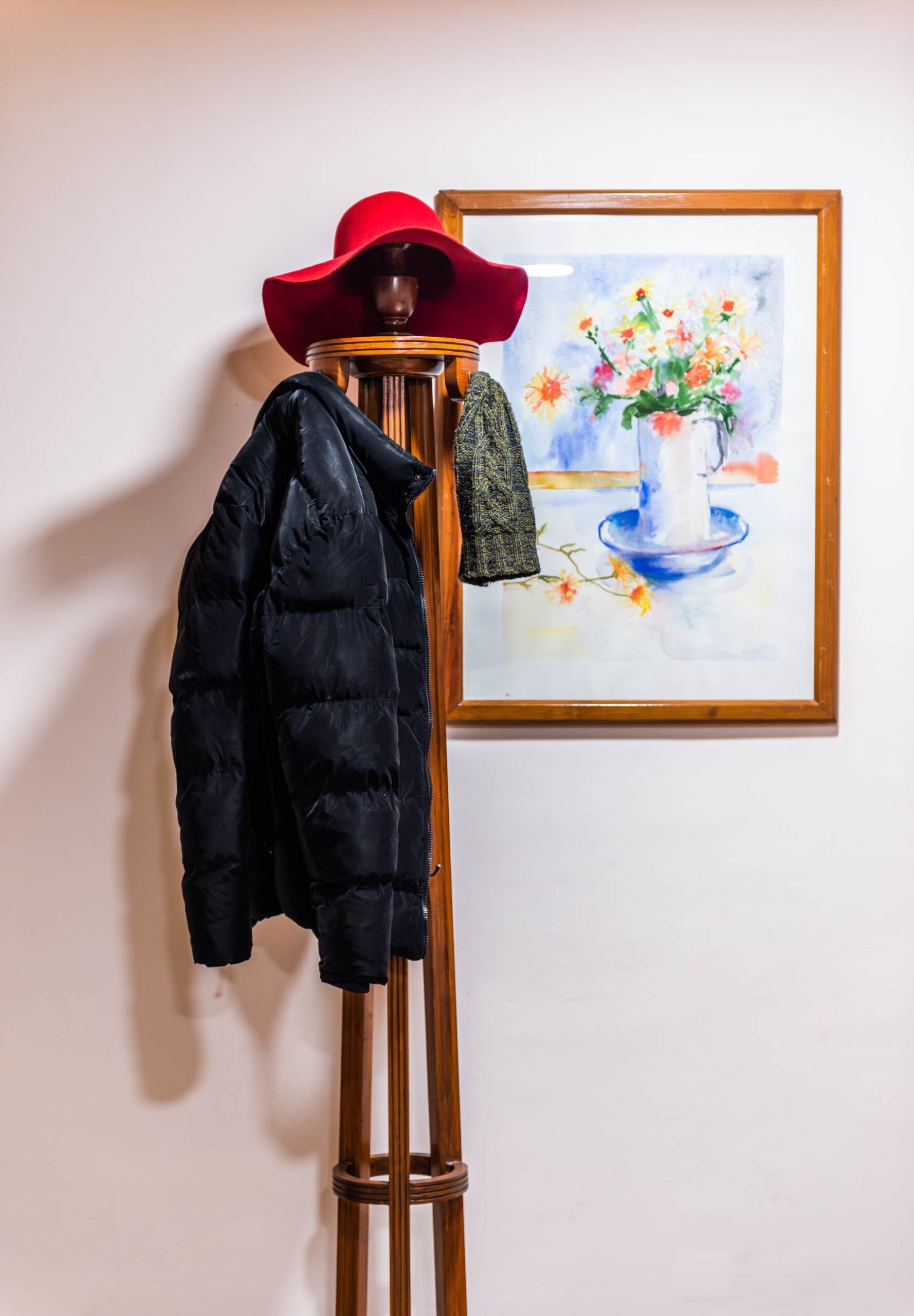 We were well-prepared for freezing temperatures but at least in the rooms, we should not have worried so much. Electric blankets, room heaters, readily available hot water in the spacious bathroom, it was all taken care of.
The property is aptly named because it is surrounded by orchards – mostly apples and cherries. When we were there in the early part of May, the flowers had all been shed and the trees were already laden with tiny fruit, which was a delight to see! If you're an early morning person, unlike me, you will find a multitude of birds perching on these trees. Singing their delightful songs and showing their colours.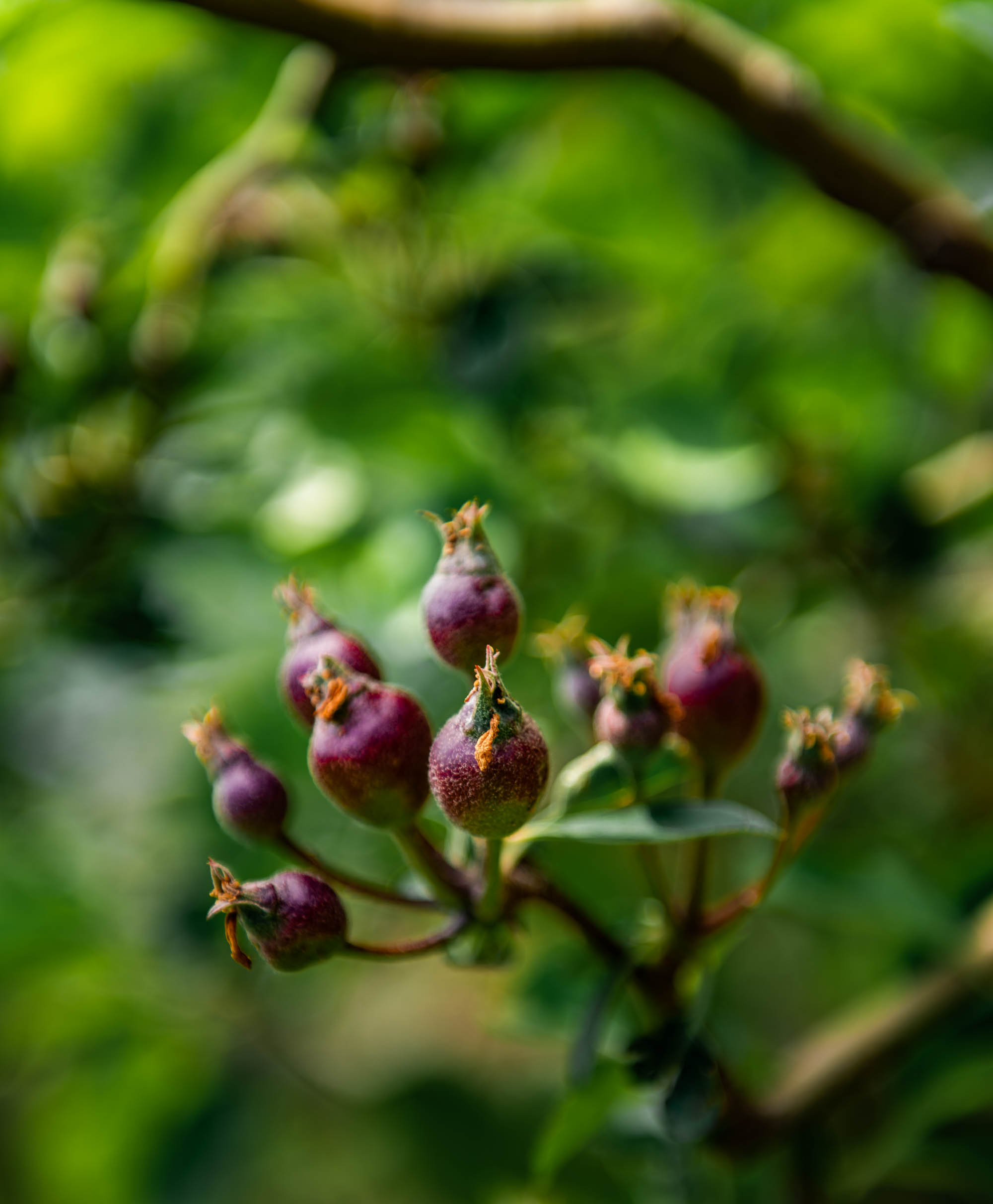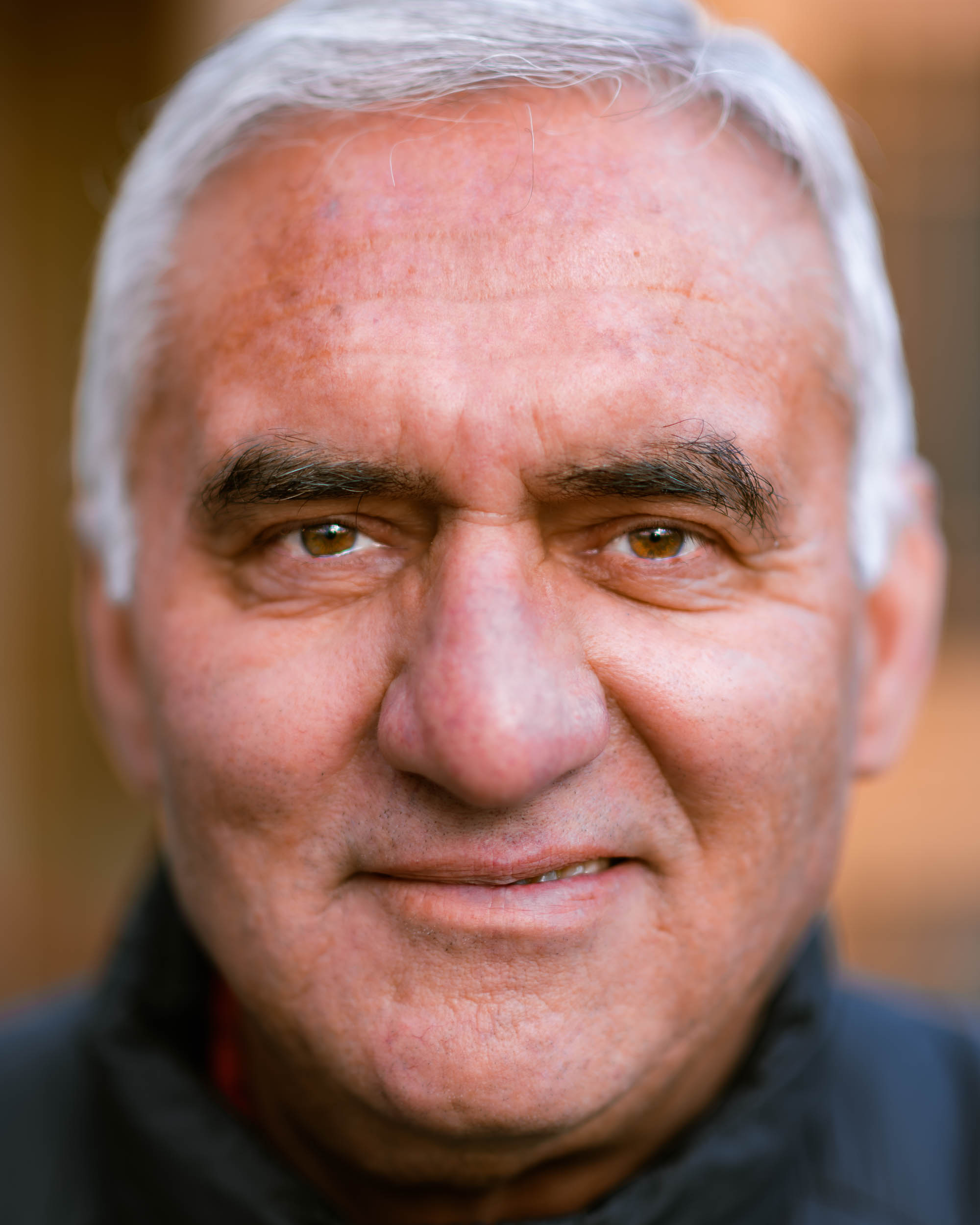 Above, on the left, Mr. Prakash Thakur and on the right, Ms. Katherine, who is currently working as a volunteer at the property.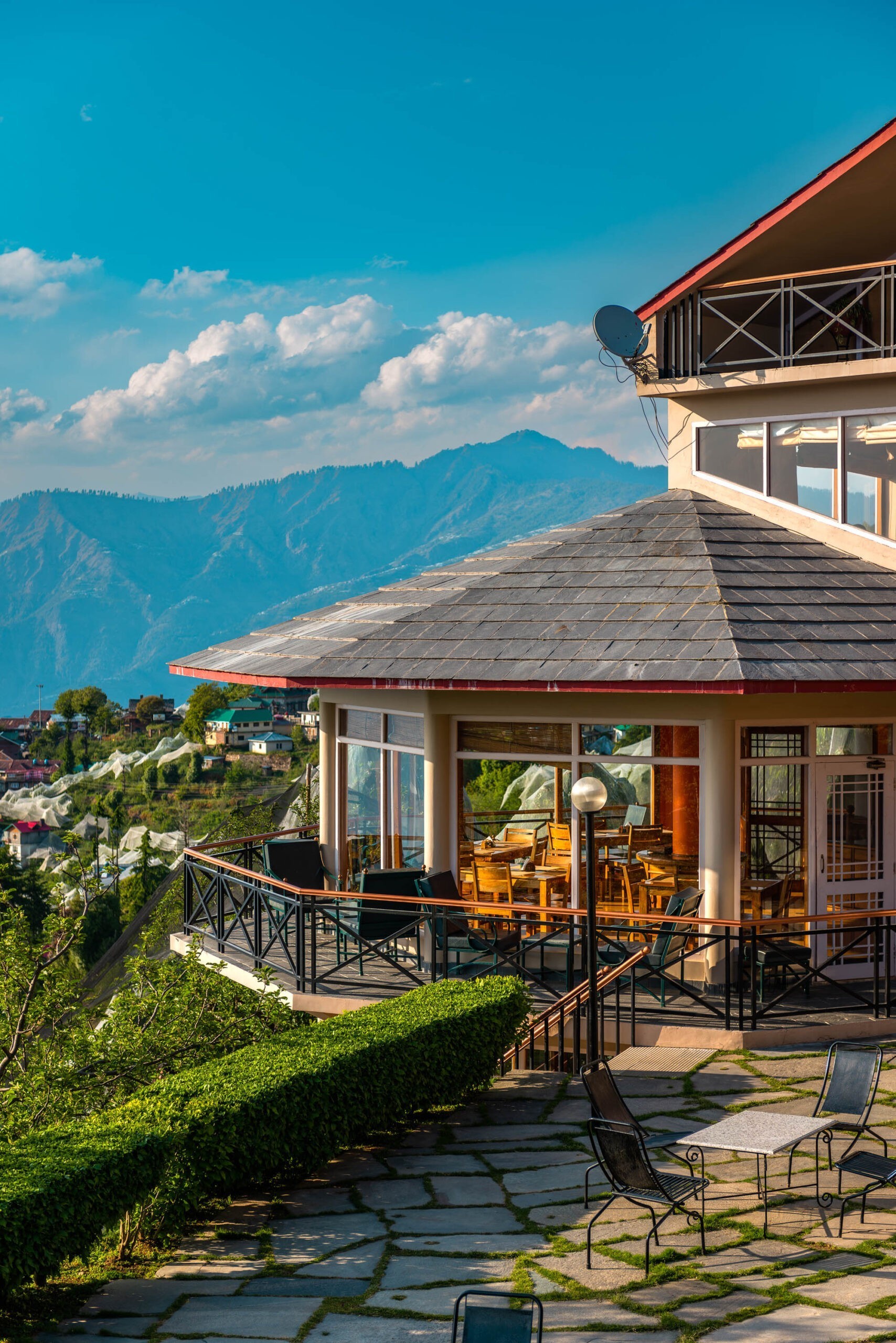 You don't necessarily have to be outdoors to enjoy the view. You can be protected from the cold and wind and you can sit in the dining hall and enjoy a meal and the view. And what a view it is! The food it simple with a home-cooked feel. Lots of apple chutney and apple sauce and if you're there in the apple harvesting season then lots of fresh apples too.
Did I tell you that I loved their menu? From the food options point-of-view but also from the production point-of-view. Very classy and well-done. Paper choice, typeface, the works.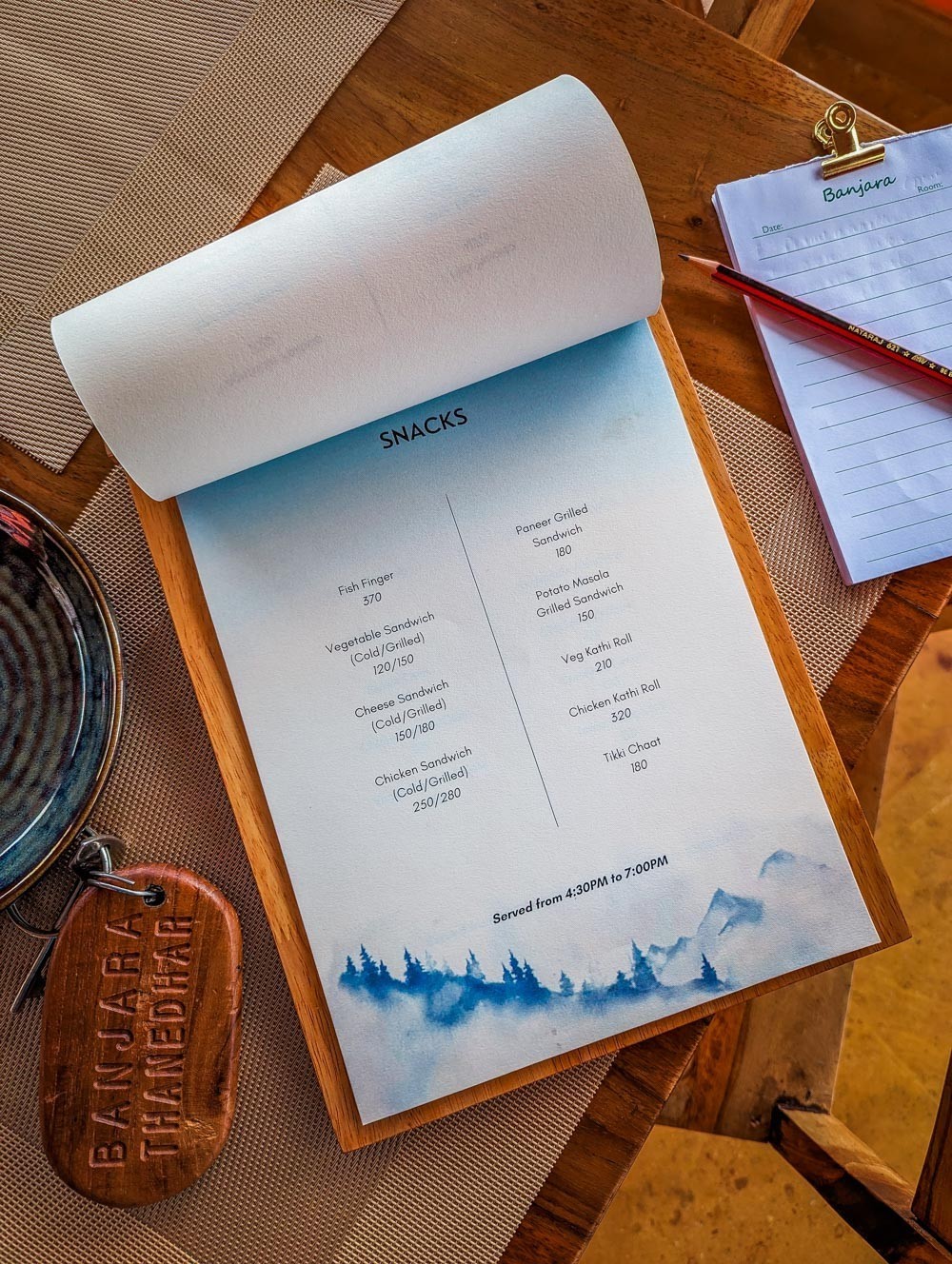 My other favourite space in Banjara Orchard Retreat was the gazebo. It is generally used as an space where guests are welcome on arrival, but you can also laze there and enjoy the warmth of the Sun or the room heaters.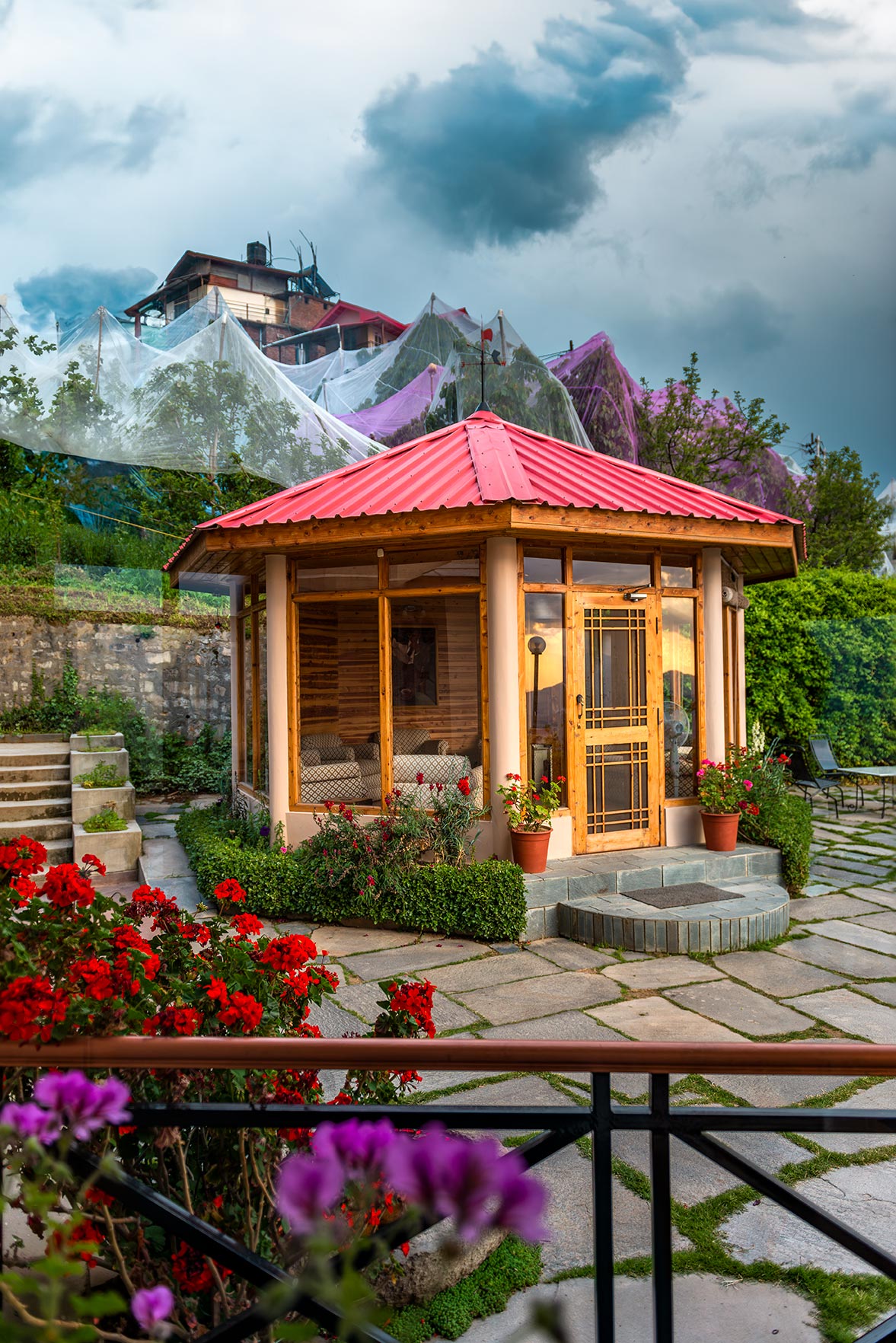 Holidays for me are when I don't do a thing except catch up on my sleep, my writing and my reading. I do not, usually, like the word "explore". And I definitely do not like the word "hike". Which makes me an atypical Banjara Experiences guest. But what to do, guests come in all shapes and sizes!
However, if you're unlike me and you WANT to go for a walk or a hike ( shudder ), fear not, there are options! Tani Jubbar lake – tiny but well kept and surrounded by green. There's a centuries old Church in town. There's the original home of Satyanand Stokes, who is mistakenly believed to be the guy who brought apples to India and made Himachal Pradesh the apple capital of the country. Mr. Stokes revolutionized commercial apple farming and introduced the Delicious Apple type to the region. But otherwise I'm sure you've seen the tiny, rock-hard local apples in Himachal that have been around far longer than Mr. Stokes.
Anyway, going back to their private residence – it's closed but it was the first spot where a Delicious Apple tree was planted. So, if you're into apples, go ham!
There's also a bunch of hikes and walks that you can do – Mr. Prakash Thakur and Ms. Katherine will be delighted to assist you with all your queries. And if Ms. Katherine is available, she might even accompany you on the hike.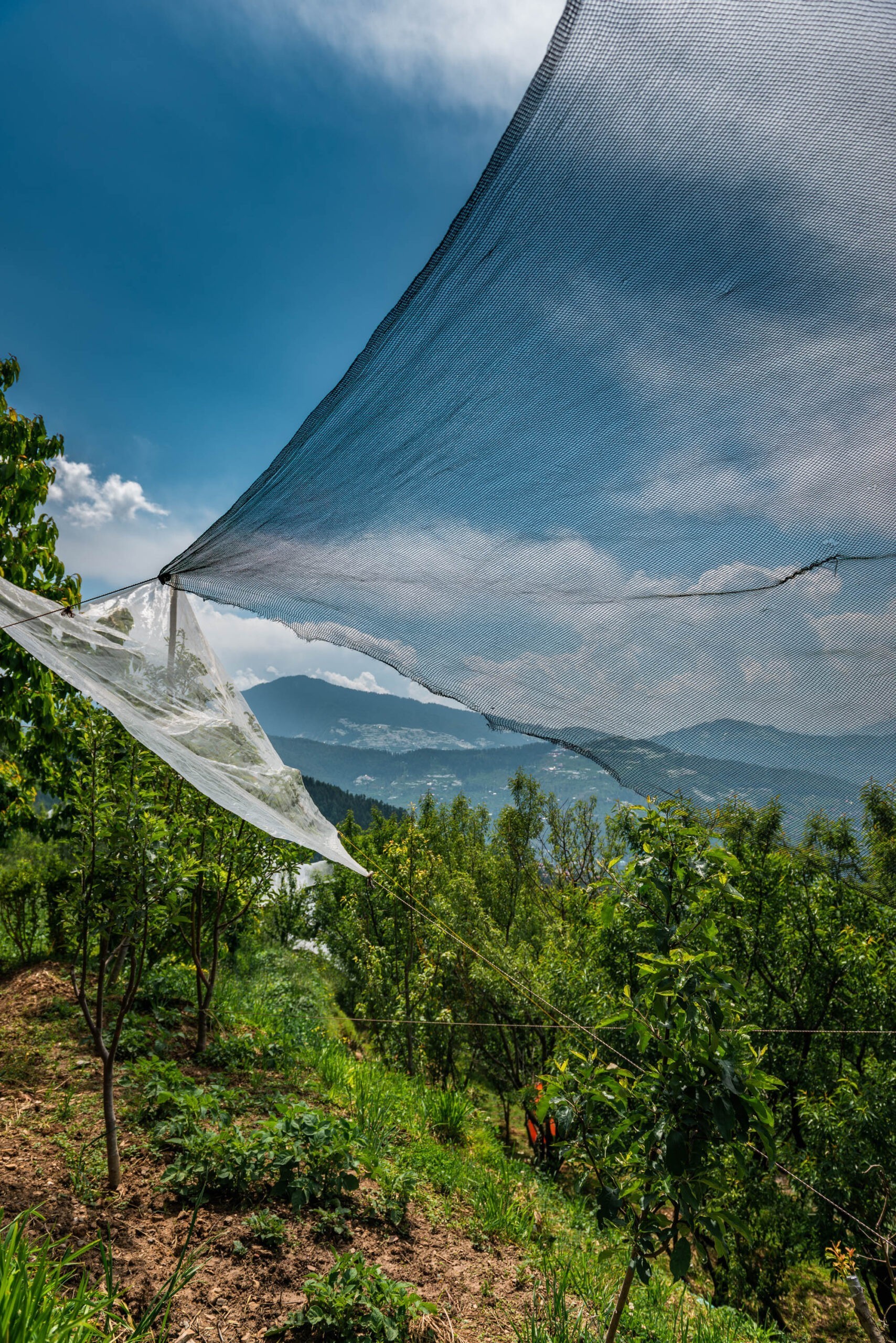 Goes without saying but there's a TON of spots where you can have yourself photographed, which is usually in my top three priorities whenever I'm traveling. The longer you stay, the higher your chances of catching a truly spectacular sunset. We were lucky we caught a sunset which looked like no other sunset I'd ever seen previously. Which is no mean feat because I've photographed a LOT of sunsets and seen even more.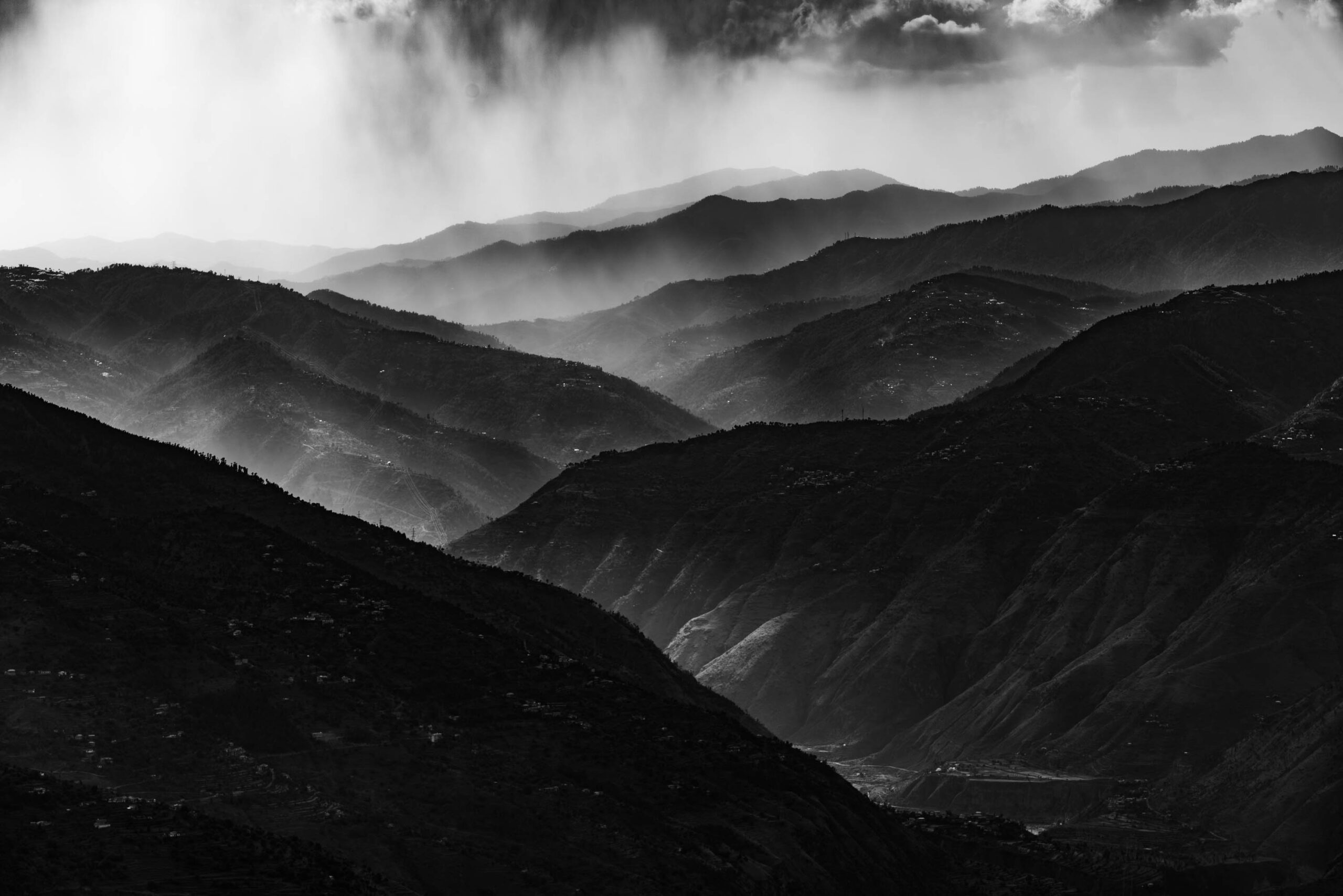 We had a lovely time at Banjara Orchard Retreat and hopefully, we will be back during apple harvesting season because that is something that I have never photographed or seen in-person.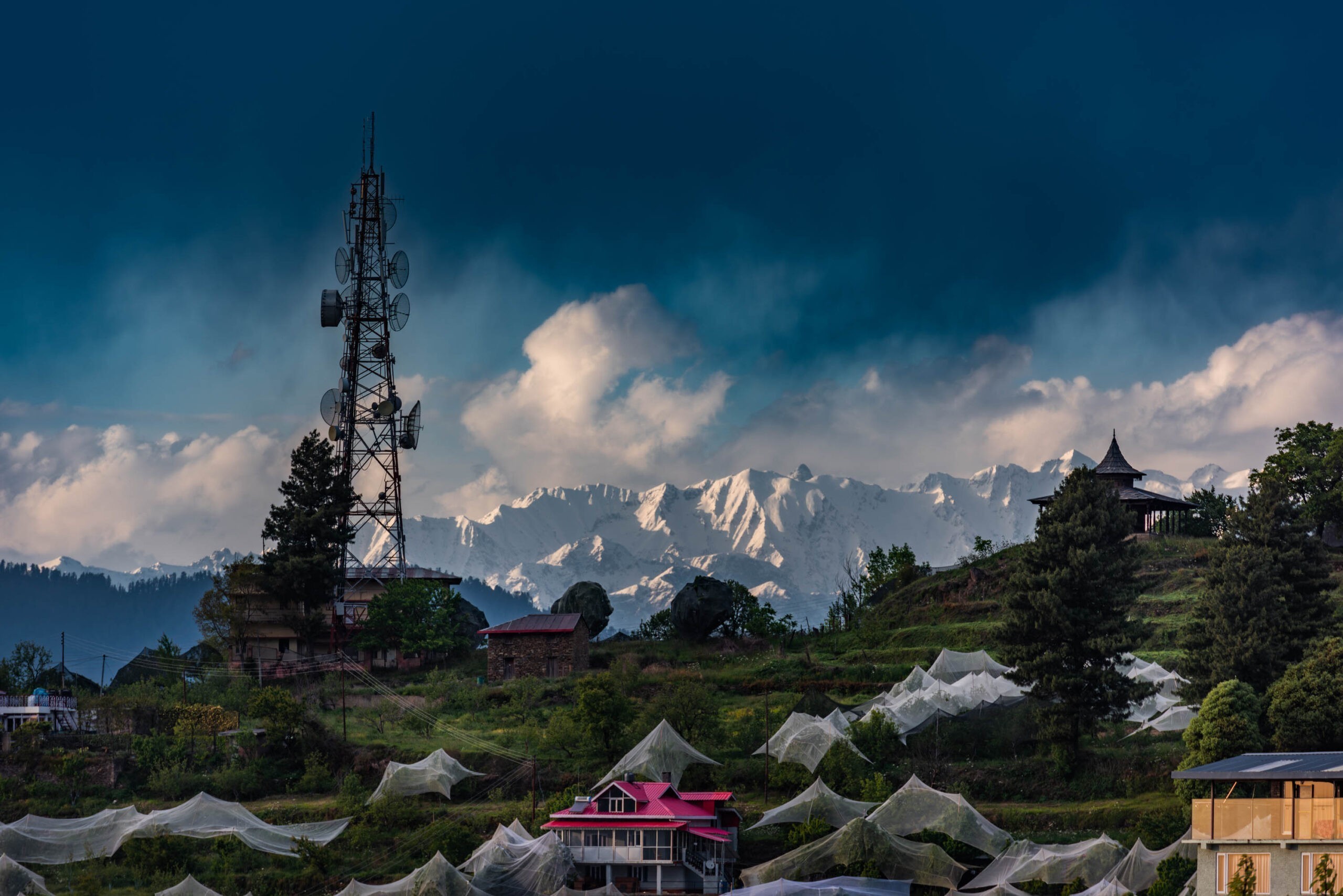 Mr. Prakash Thakur has also just opened up new accommodation for guests in an apartment format. More suitable for those who want to stay a month. Unobstructed views, a kitchenette, a space to host friends, balcony with a view – of course – chef's kiss.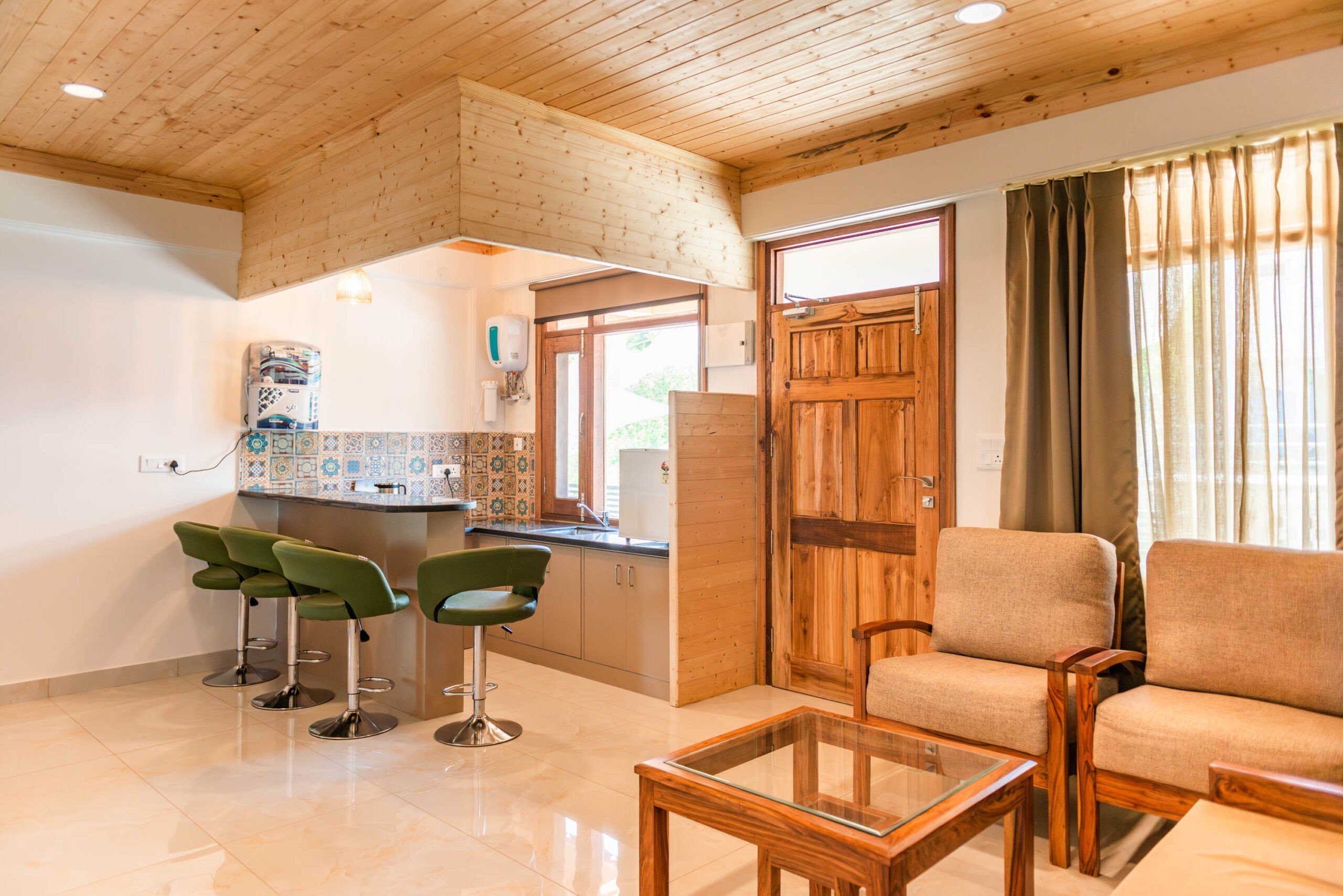 We bid adieu late morning and headed to Sangla. With heavy hearts and a promise to come back. Always. I love going back to places. I'm not the one-and-done kind of traveler. Nostalgia is a big deal for me and it's evident in the kid of places I'm attracted to. All Banjara properties seem to fit that bill. Which is why it's so lovely working with them. It doesn't even feel like work. The BEST kind of work.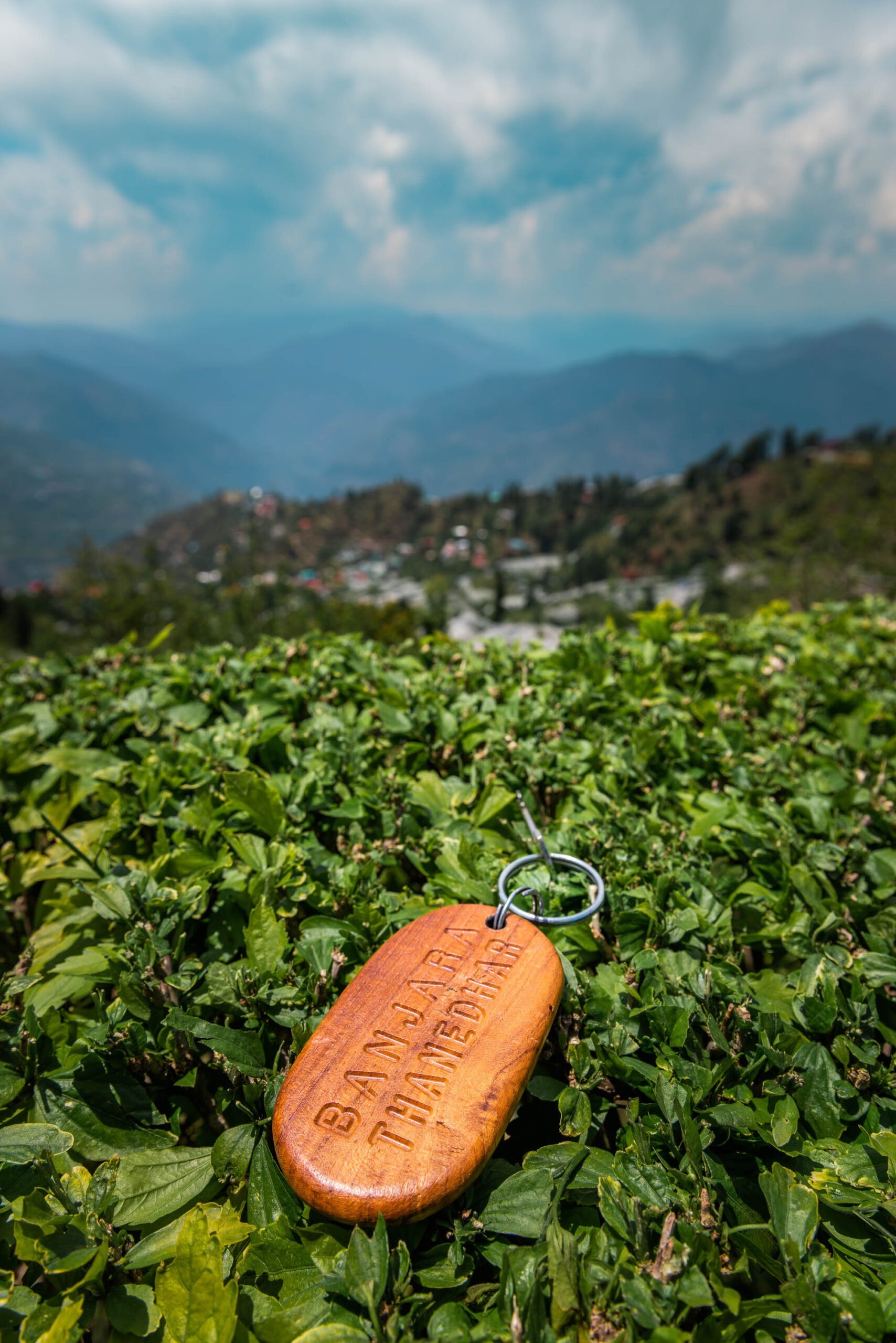 If you've been following my page on Instagram, you might have seen the reels I posted from each Banjara property while we were still there. And the fine-art photo prints that I'm going to be releasing will also be first revealed there. Like this one below, which I've christened "Thanedar Apple". This one is available to acquire from my Naina.co Shop.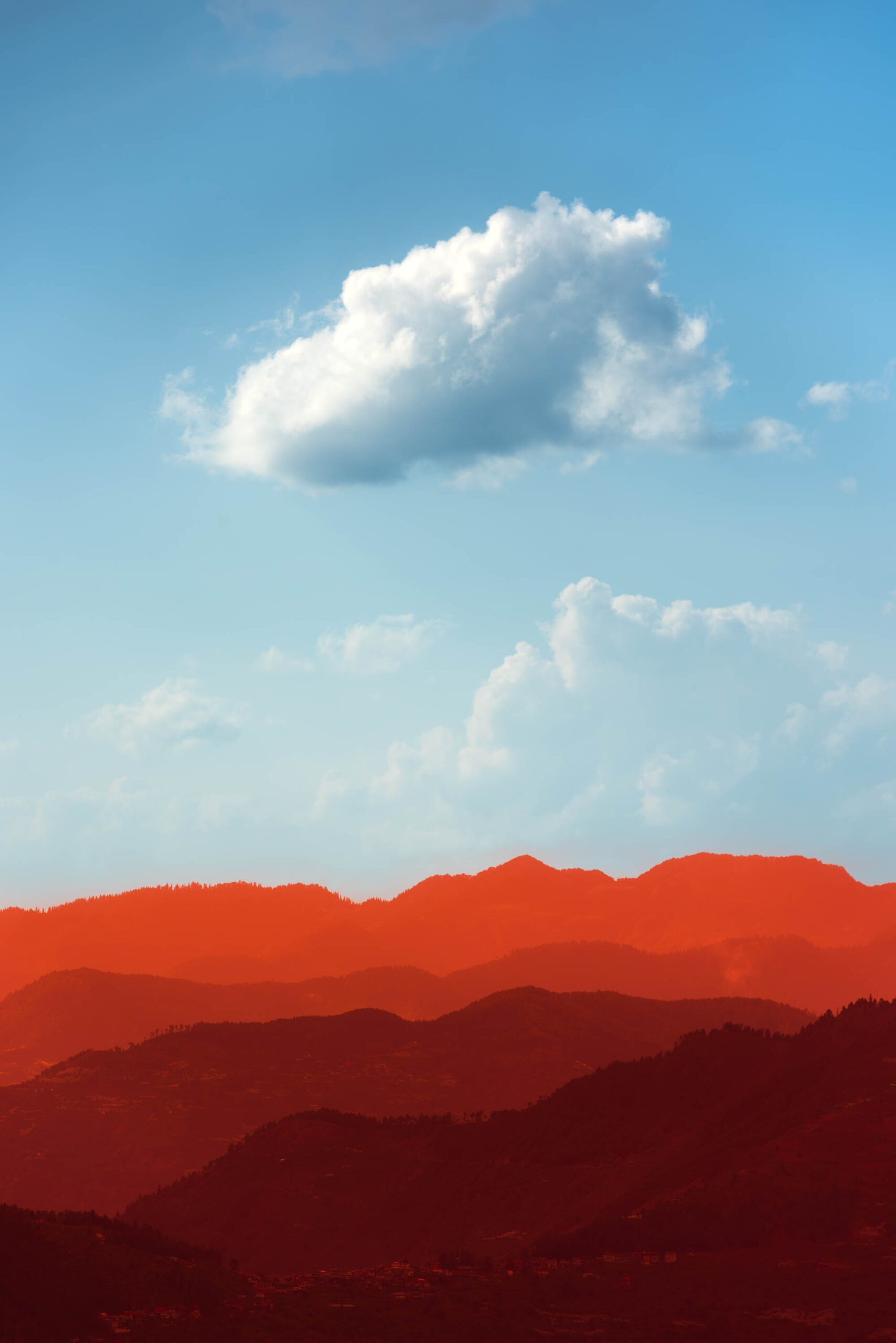 Meanwhile, you can follow the Banjara Experiences Instagram page to keep track of the pro-grade hikes and treks that they are cooking up. Or the actual food places they're cooking up. They are the people behind Cafe Lota FYI. How cool is that!
You can also, specifically, keep track of the latest at the Banjara Orchard Retreat at Thanedar on their Instagram page as well.
The featured image on the header has been modified to remove section of a roof from the top left corner, using Generative AI via Adobe Firefly and Photoshop Beta. All photographs of me, above, photographed by Sachin Singh.