Oh boy Delhi! You're HOT! I was meeting with a prospective client at Select City Walk and decided to take the opportunity to photograph for another edition of #CoverUp as well. Photographing at 1400 hours on concrete isn't the best idea – definitely not when the temperature's touching 46 degrees Celsius! Add a bit of searing hot wind that brings dust with it and you have what Akanksha captured on camera at the end of this feature. It was fun but only in retrospect.
On the other hand, I have never been accosted so many time by other girls – strangers – asking me where I'd bought the jacket and trousers I'm wearing! Of course the hair were always commented on as well but this trouser and jacket combination seems to be quite popular. Here's how I came to it : Akanksha got it from StalkBuyLove.com but there was a bit of a sizing issue so I gave it a try and it fit! The trousers especially. The jacket so-so in terms of the fit but the trousers are PERFECT. I don't have a pair of palazzos so this was awesome. The jacket is light enough to be worn during summers because the fabric is such and the lining inside the jacket only goes down till half my back, not till the end of the seam of the jacket!
I also got to keep a wonderful pair of espadrilles from Hemant & Nandita's brand Rococo Sand that only retails in the US. The shoes are limited edition too! If you come by a pair, try one size bigger than your regular foot size and wear the shoes with a pair of socks – the insides are lined with a thin rubber and if you wear a loose size, you're likely to get easy blisters if you plan to walk a lot in these shoes. I like my espadrilles to be light and airy and a little floppy so I got myself a size 40. Thanks Nandita!
The beautiful clutch is by The Meraki Project that they'd sent over in their press kit. I like Sonali's work. The branding and the quality of the clothes and accessories she creates are consistent and cohesive. And Ikat is just fabulous on anything. Thanks Sonali!
The jewellery was purchased from the very talented Puja who does custom jewellery via her label Lai Designs. This is a silver and turquoise set with finger ring, ear rings and necklace although I'm not wearing the latter.
The whole look came together rather well because of the basic v-neck white t-shirt – simple, light summer wear for a formal business meeting – especially when you're considered to be working in a "creative" industry, there's purple hair color one can get away with! Hair colour is a temporary, powder spray-on by UK's label.m that a friend of mine got for me from London. I have a set of four colours : Red, Pink, Purple and Blue. I'm wearing the purple here. Not the best idea in Indian summers though, as I learned the hard way. By the end of the day, the colour had bled onto my forehead as it mixed with sweat. I also got a bit of it on the jacket collar as it probably dusted down and mixed with sweat. SO MUCH SWEAT! Luckily it's a wash-away colour so no item of clothing was damaged. If you do use this particular one though, remember to wash your hair away from your face and body otherwise you are likely to look like you just played Holi and showered. The colour turns pink when it comes into contact with water / sweat and if not washed immediately, tends to stay for a couple of days – I have a dab of it on my forehead two days after I washed it.
For links to all brands and product, see credits at the end.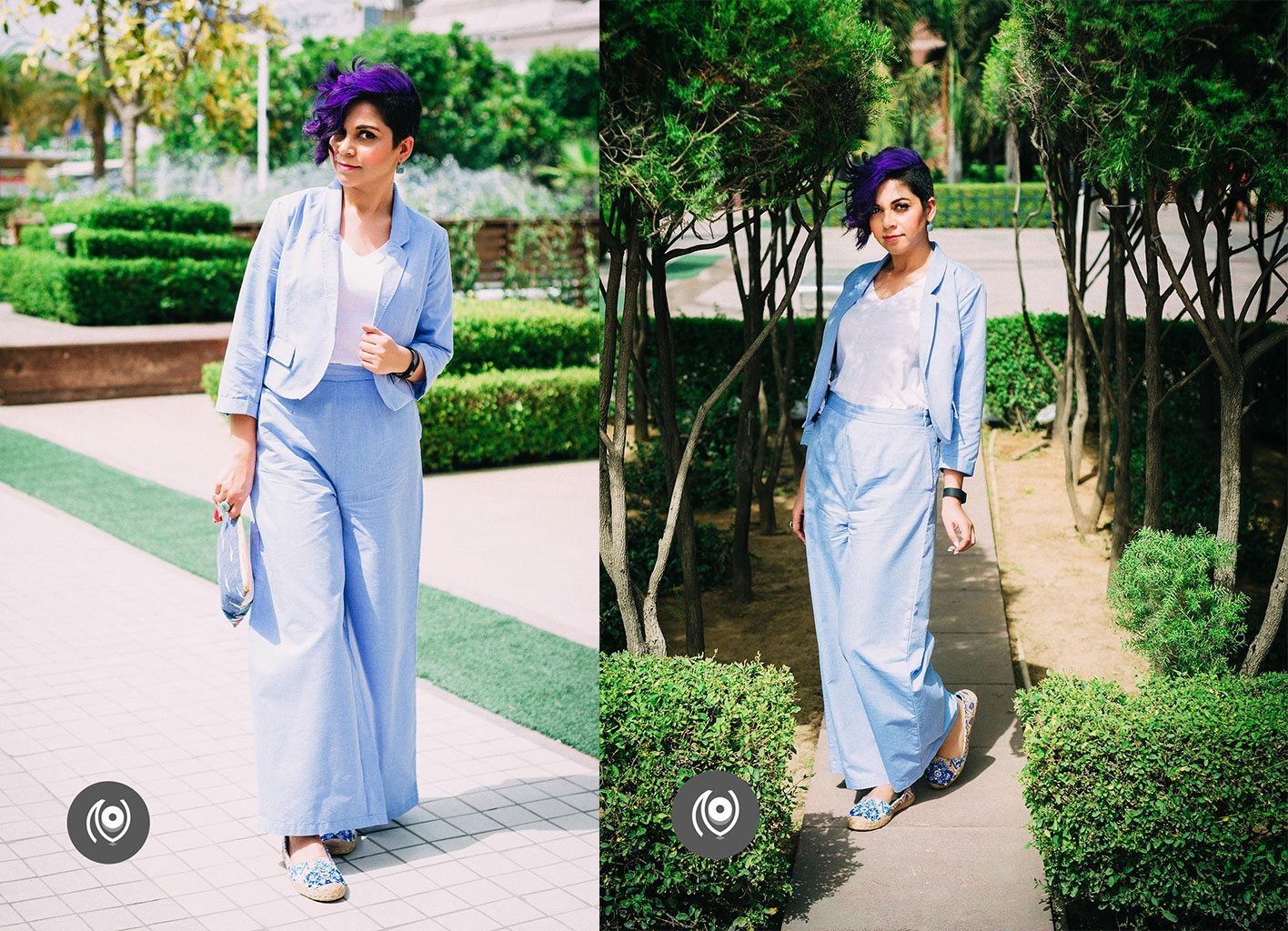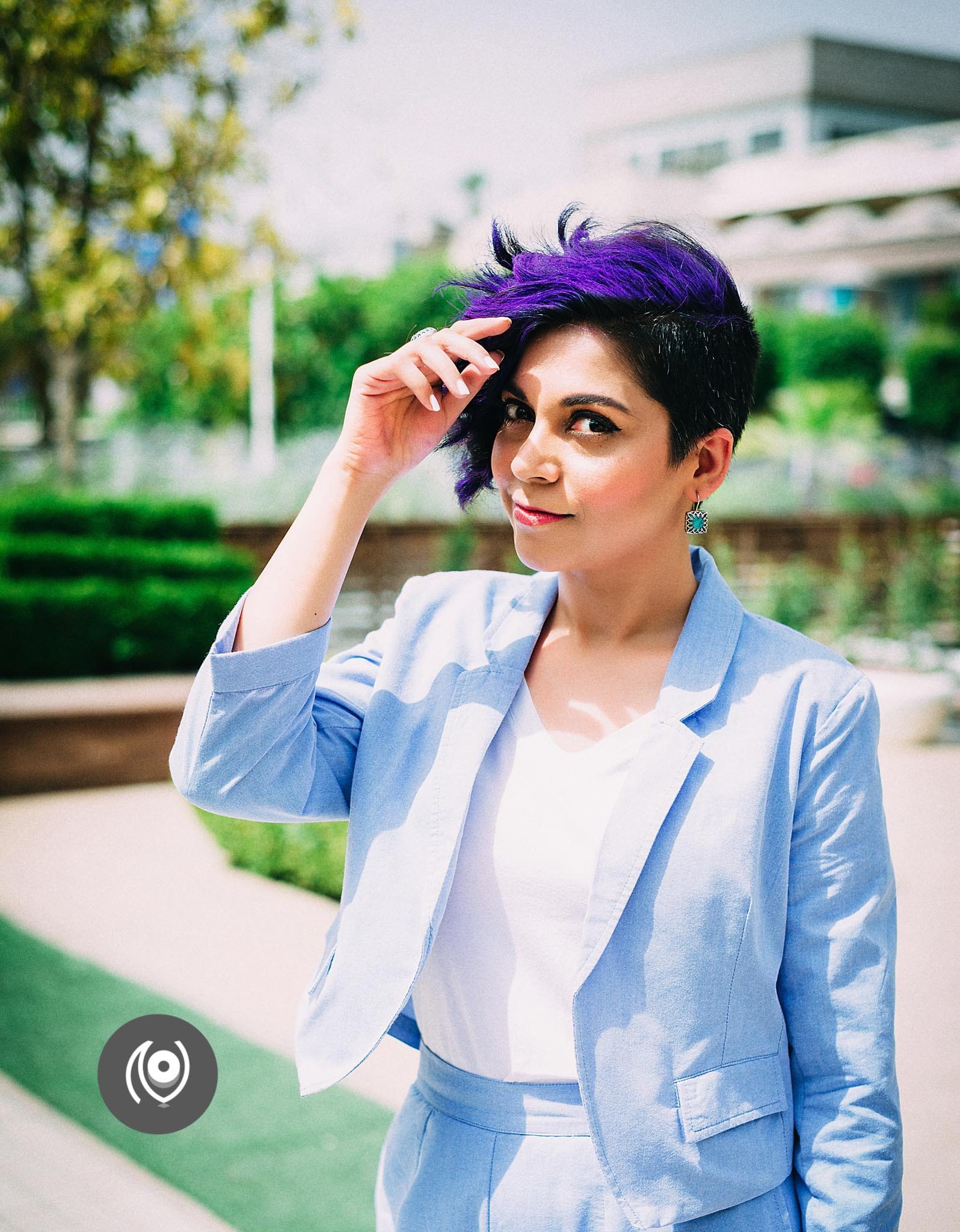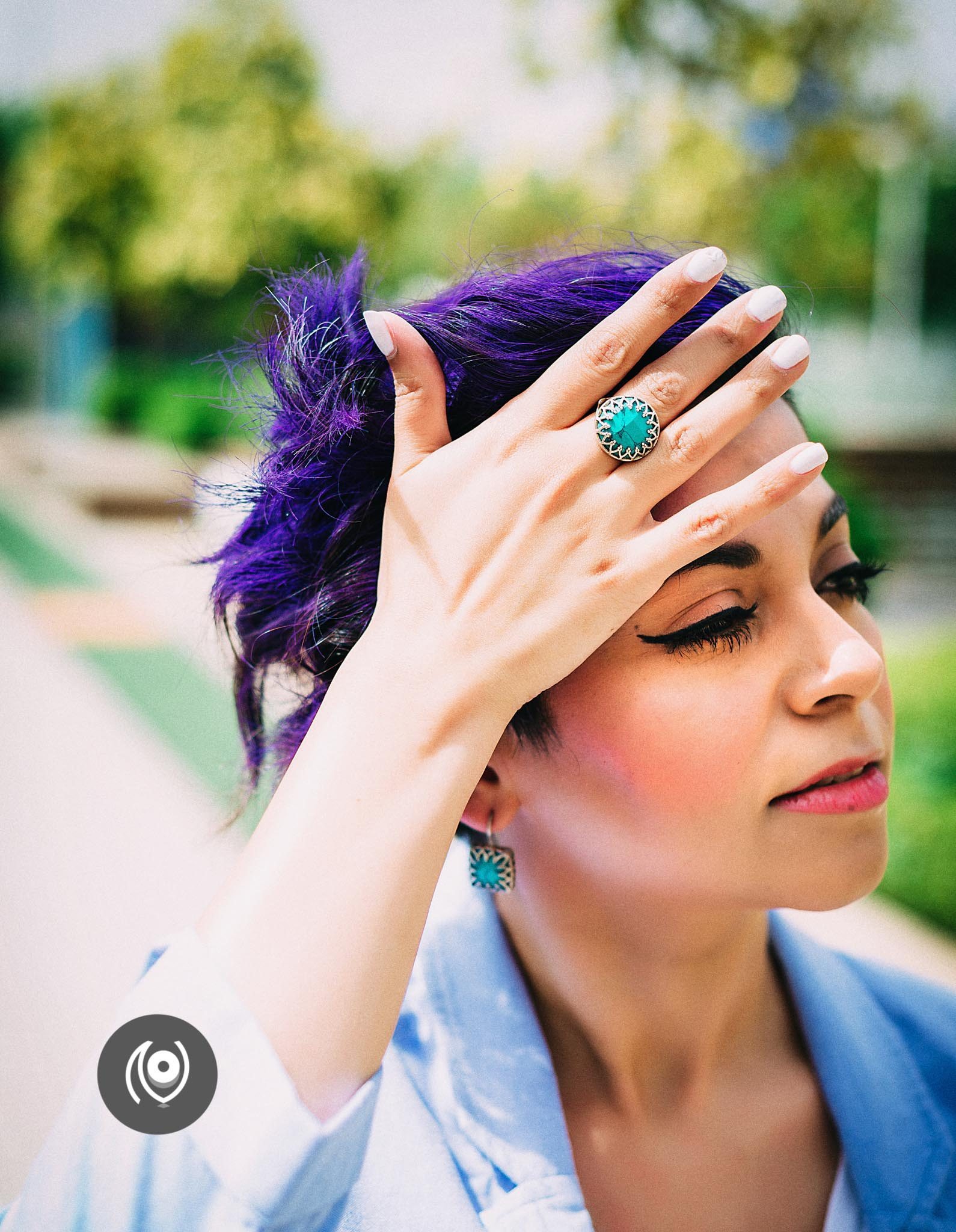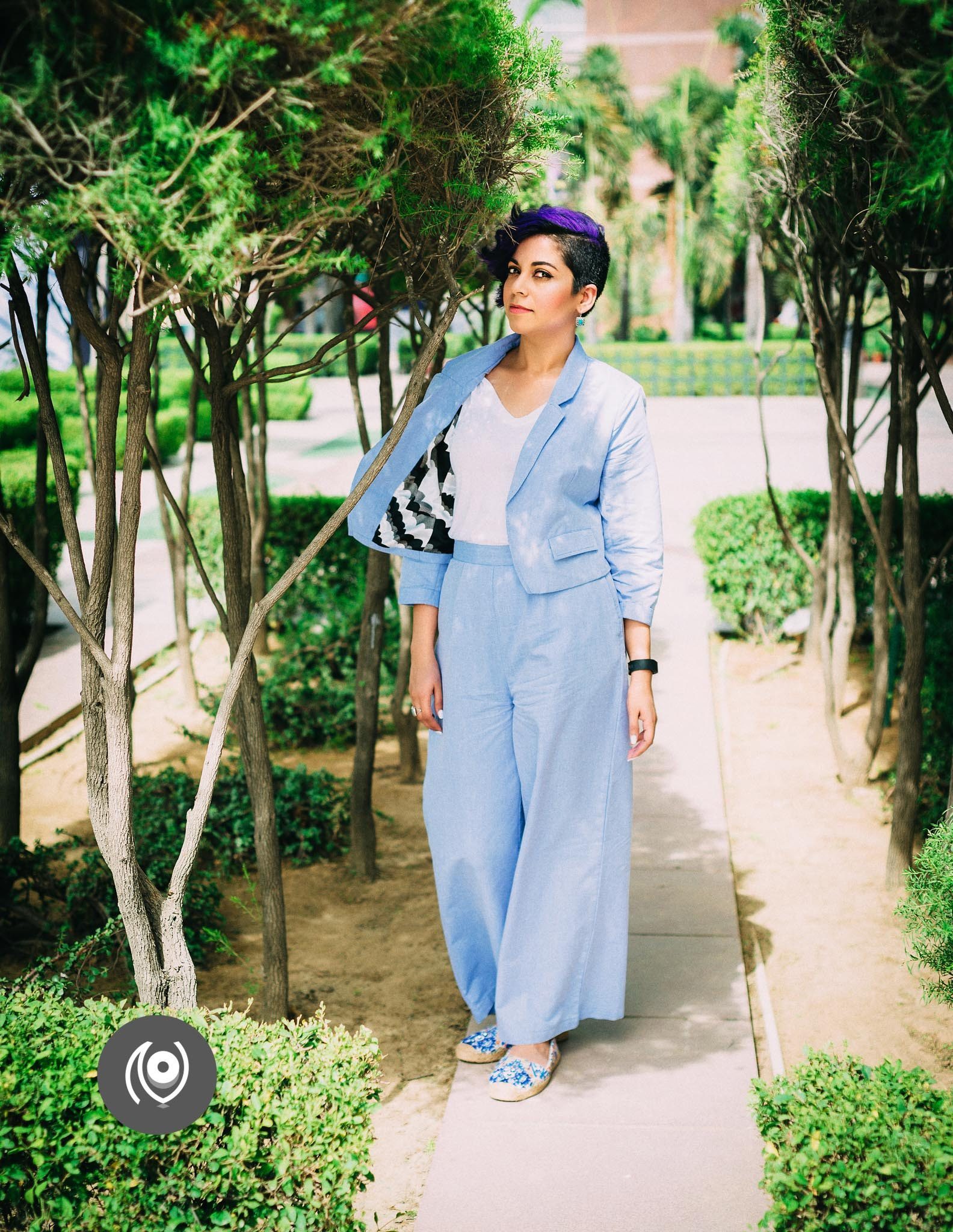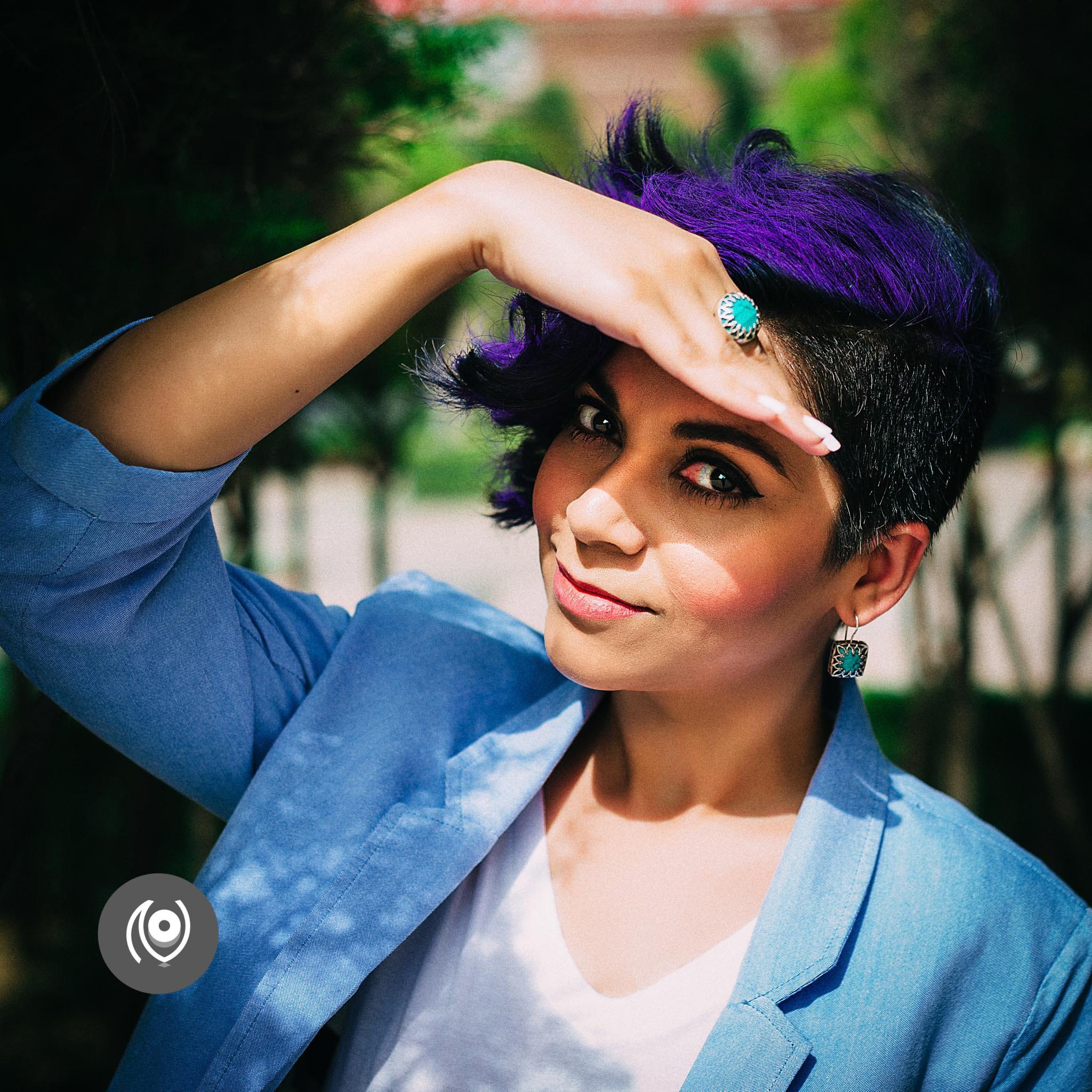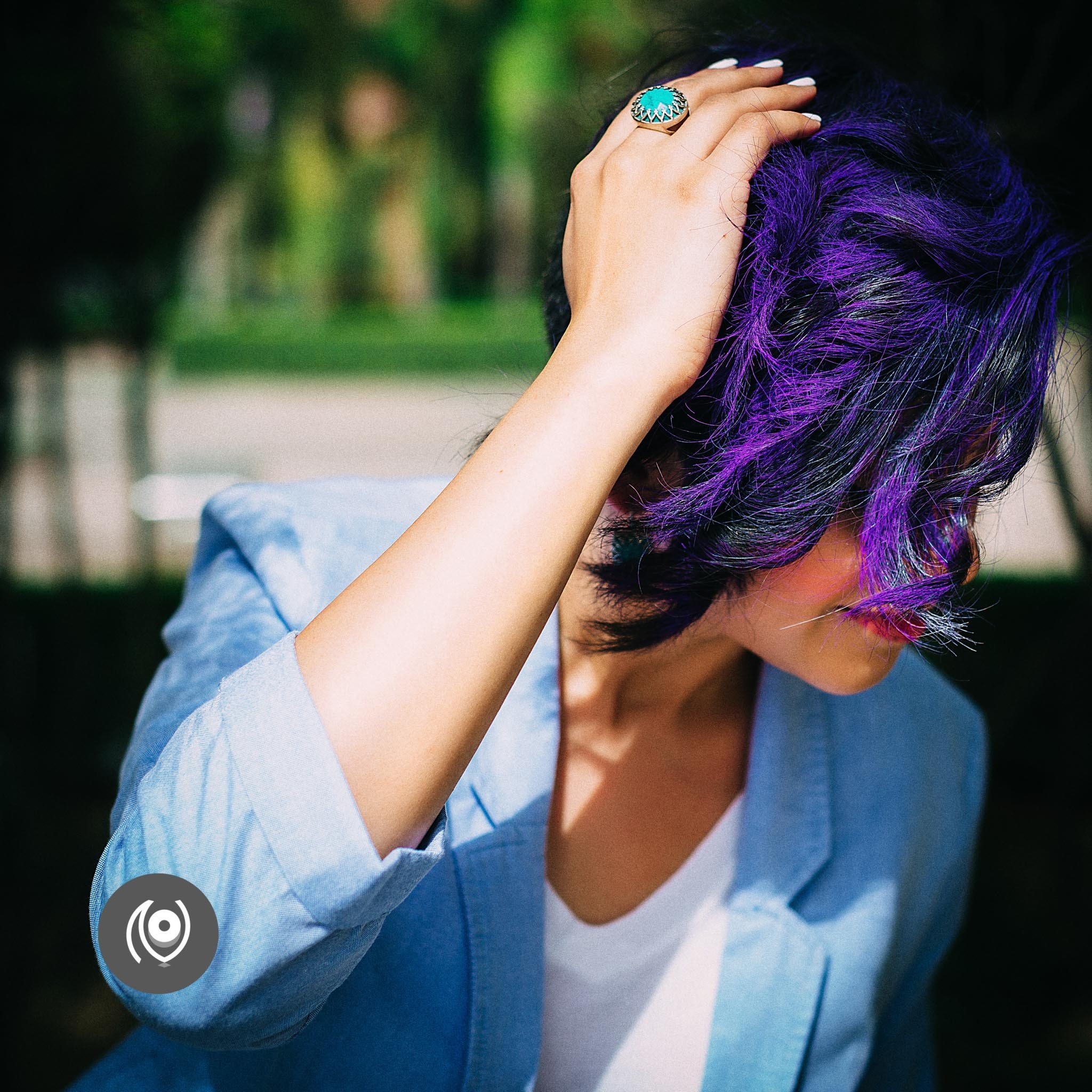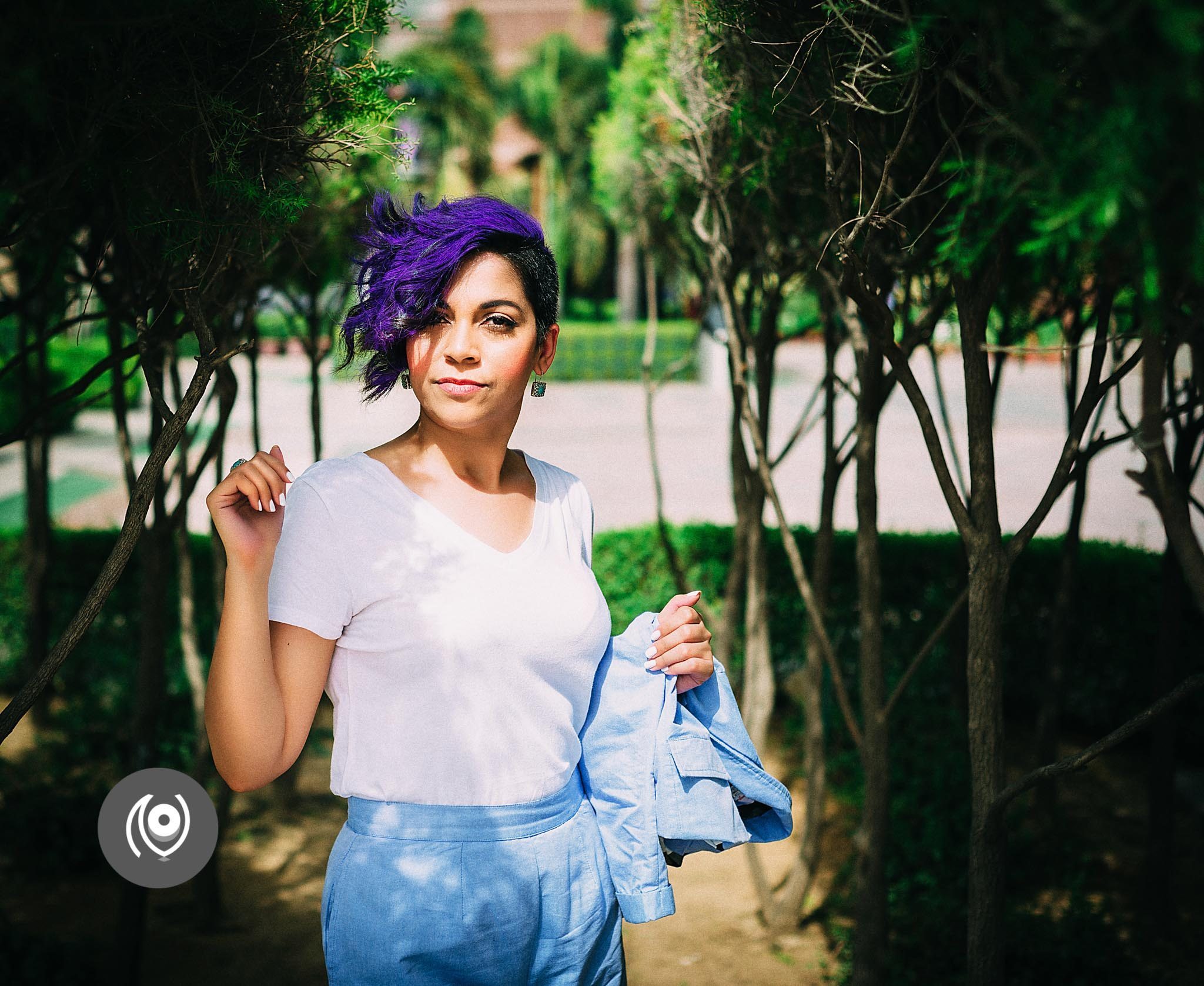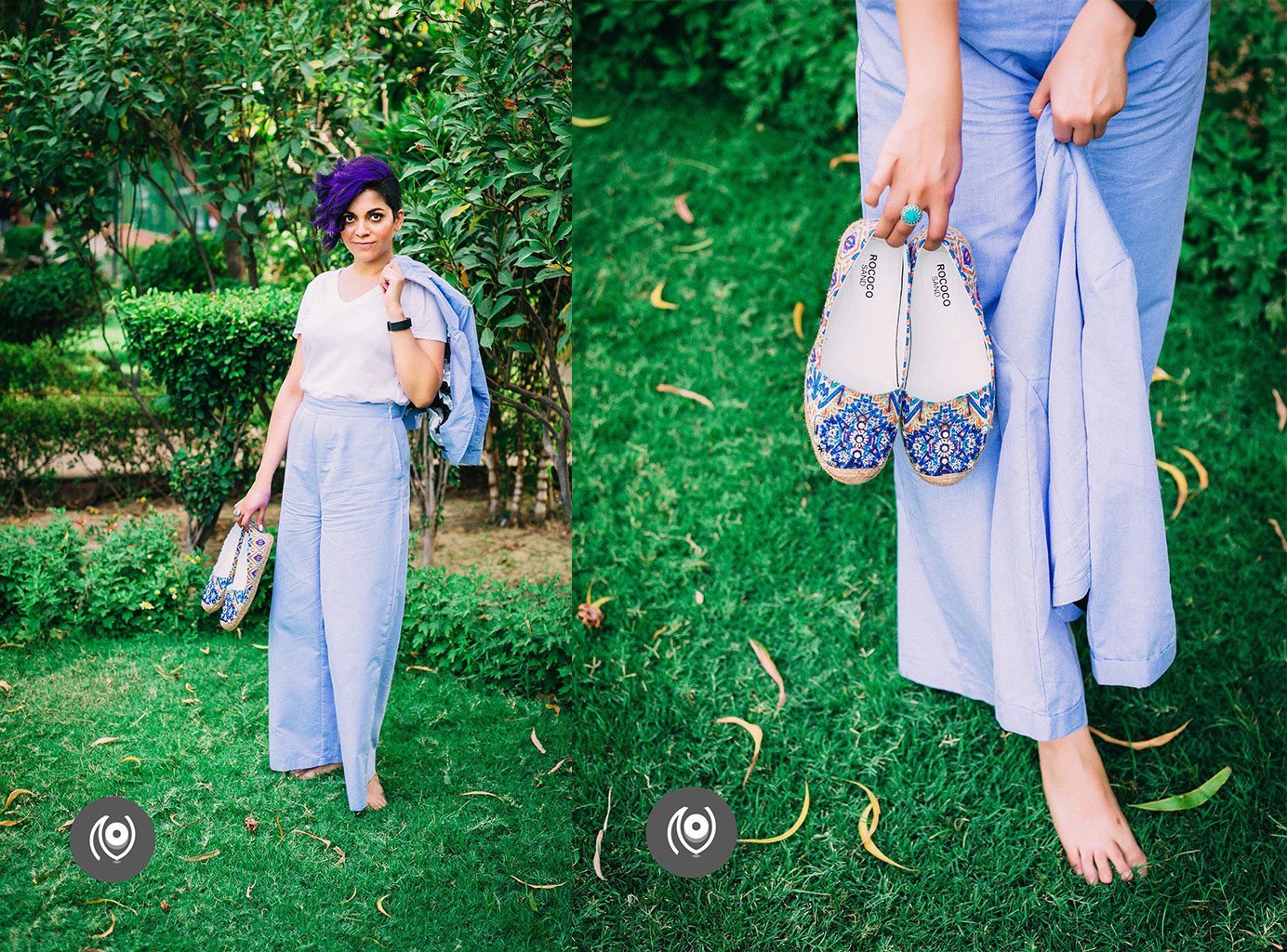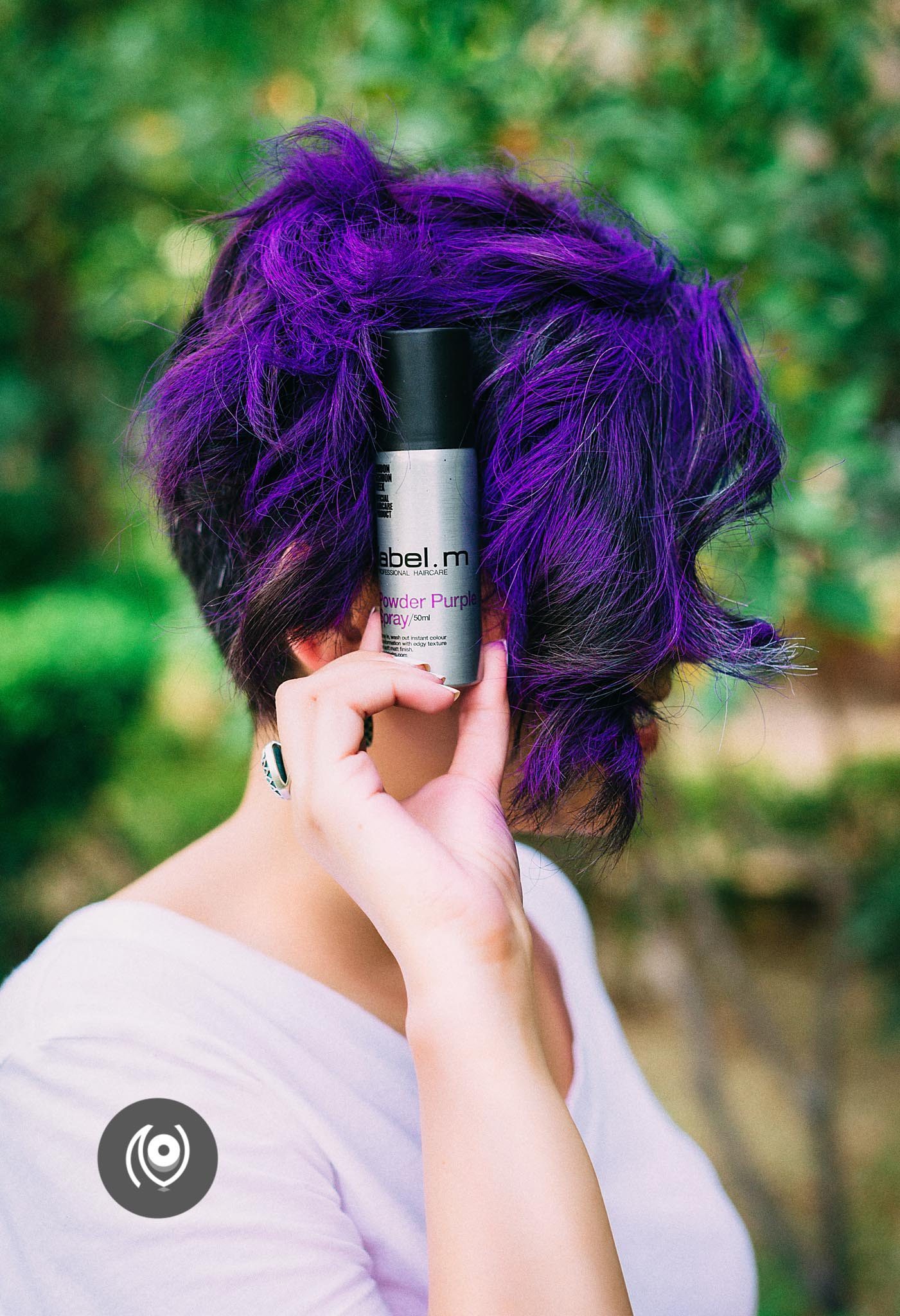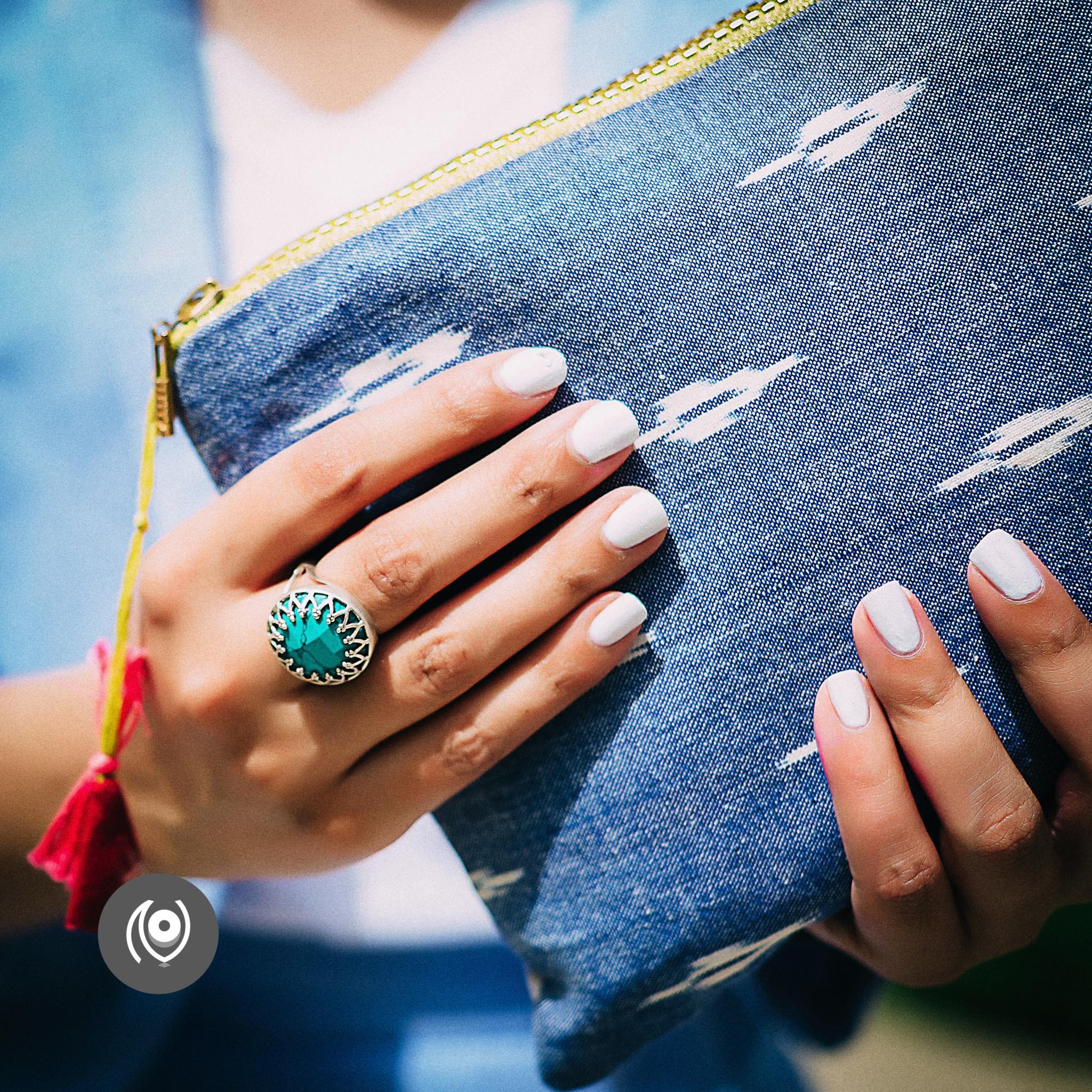 And here's me going WTF Delhi! Ate some dust too!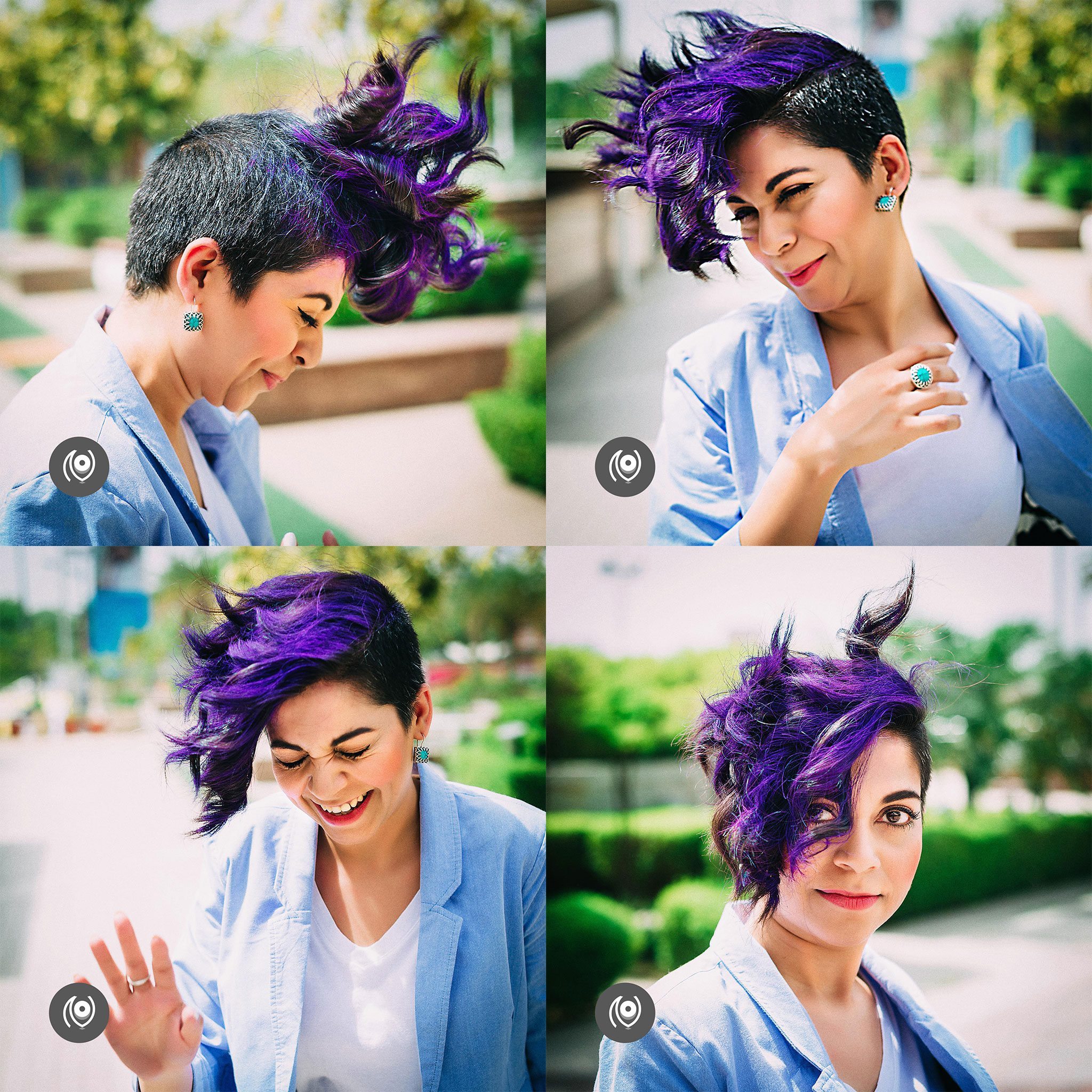 Hair colour : label.m
Jewellery : Samarkand Collection by Lai Designs
MakeUp : Eyes are They're Real Push-Up liner, They're Real Mascara, Gimme Brow by Benefit cosmetics. Lips have a dab of Ambika Pillai's Red Hot ( just a dab because the hair are too loud anyway and wearing my usual bright red in full opacity isn't the best idea ) and lip balm CeraLip by La Roche Posay ( available in India on VioletBag.com ). Cheeks and foundation are all CHANEL : No. 22 blush stick from Les Beiges, Perfection Lumiere Velvet Foundation in Beige 40, Camélia de Plumes highlighter. Nail paint is also CHANEL Eastern Light 613.
Jacket & Trousers : StalkBuyLove.com
T-Shirt : any basic brand
Clutch : The Meraki Project
Shoes : espadrilles by Rococo Sand by Hemant & Nandita ( You can find the label listed on a couple of online retailers like Revolve Clothing )
Location Courtesy : Select City Walk, New Delhi
Photographs by : Akanksha Redhu & Bharat Joshi
All edits & re-touching : by me.