What does one do when Emirates reaches out to you and offers & recommends a 4 nights 5 days holiday to Dubai? Well you jump on it of course! Akanksha and I had a wild ride in Dubai just last week.
I've already shared the itinerary that Emirates planned for us earlier. This blog post will take you through it all.
It was peak summers when we visited and I won't be surprised if Dubai builds a giant air-conditioned dome over the entire city and some part of the ocean soon enough. The tourism dollars are rolling in and how! Visiting Dubai and indulging in pretty much anything is a luxurious experience. The major advantage of better, cooler weather would be longer enjoyment of the beaches and the various parks and marina walks, that are otherwise too hot to walk around on.
Our holiday started with the Emirates Lounge at the Delhi Airport followed by one of the most comfortable flights we've ever taken. It was Business Class too!
We landed at Dubai Airport and were whisked away straight to Atlantis, The Palm, which was going to be the first hotel we would be staying at.
Akanksha and I had been booked into two separate suites on the 13th floor with some stunning views of the Arabian Sea on one side and The Palm view and the Dubai skyline on the other.
We also got a tour of a suite were celebrities like Kim Kardashian and Priyanka Chopra have spent some of their vacation time at.
The Lost Chambers aquarium was a huge attraction point for me. Hundreds of fish, including conservation efforts – we even spotted pregnant fish that were in the conservation program where the juniors fish are then released into the ocean. Atlantis is also well-known for the Aquaventure Water Park with a bunch of crazy slides if you're an adrenaline junkie or you could just lounge around in the vast expanse of its waterways. The beach is of course accessible as well.
Definitely try the pork belly at Yuan at The Atlantis. Their desserts were also excellent.
The next day we took a short ride on the monorail that connects the palm to Dubai city. Got some stunning views of Atlantis.
Time for a Visit At The Top, Burj Khalifa, which continues to stake its claim of being the tallest building in the world. I will probably do a series of photographs of Dubai that I photographed from the 148th Floor of the Burj Khalifa as a separate blog post.
Above, the Palace Downtown where Ana Lisa took good care of us – their poolside cabanas are air-conditioned!
St. Regis Dubai below where Caitriona gave us company while we sipped our Golden Mary!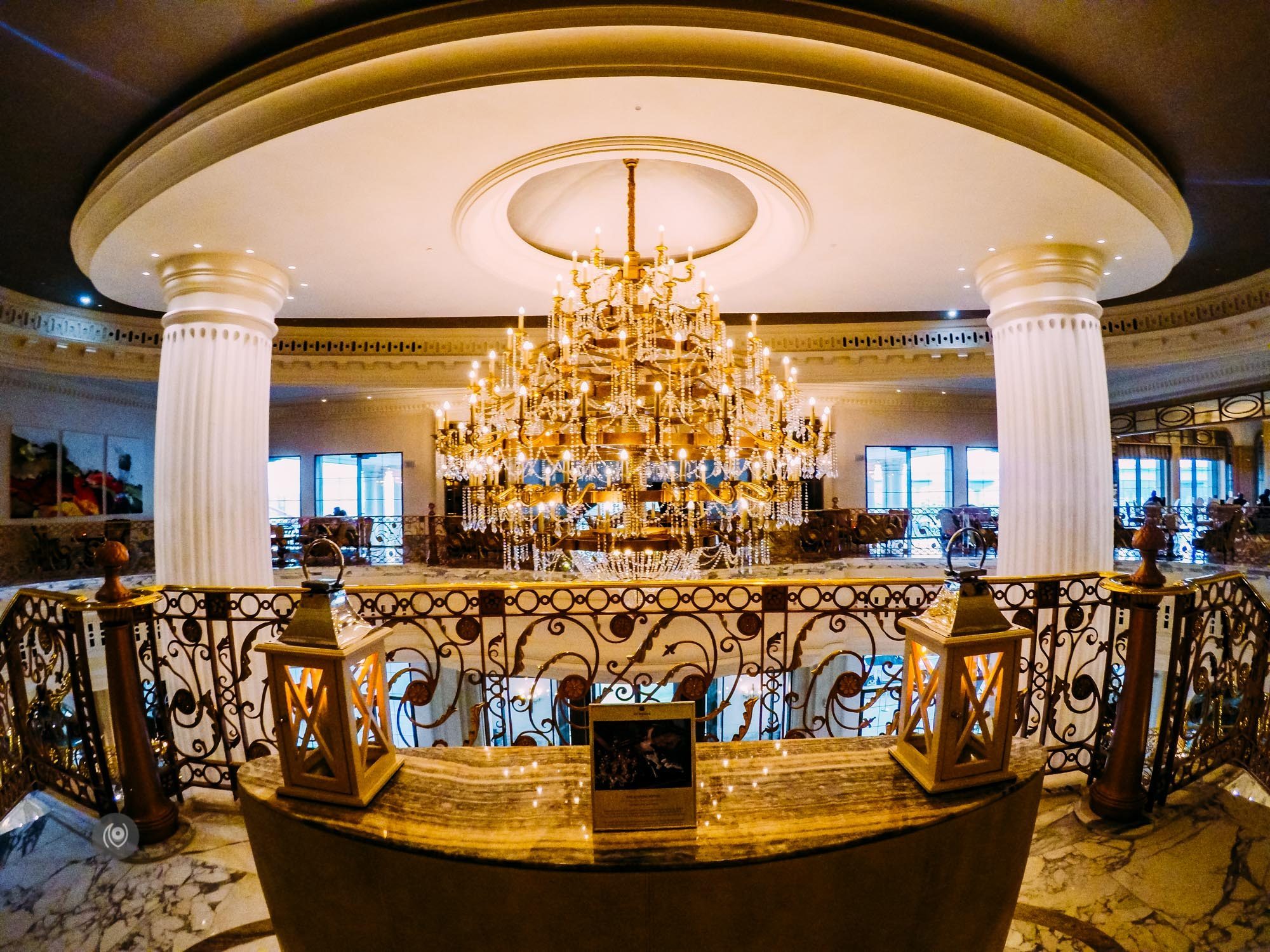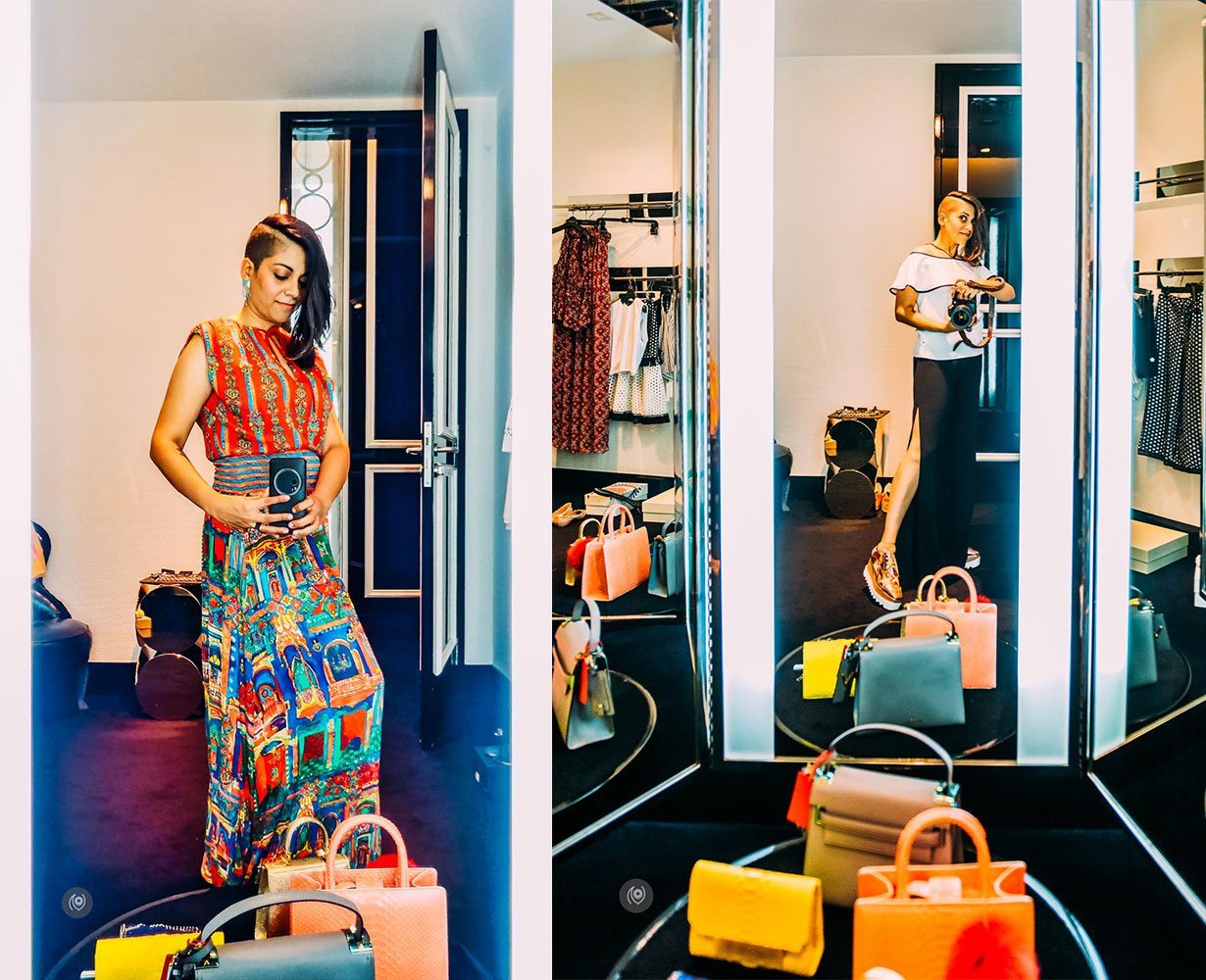 We played dress-up for a bit at Bloomingdale's. Heartfelt thank to Aida and Naveen! I discovered a stunning red lispstick too ( Military Red by Burberry ).
Above, personalized cupcake thanks to the Magnolia bakery at Bloomingdale's.
Below, we even took a boat cruise with Bateaux Dubai and the boat was air conditioned! It was a lovely dinner while afloat and the Chef visited each table individually to check our feedback about the food. It was delicious.
The next day, lunch at Burj Al Arab where Nina Badri took excellent care of us. After our very educational conversation, I realized, she's one of those rare people in Marketing and Communications who truly *gets* the digital platform and makes it work exceptionally well for Burj Al Arab. It was a pleasure spending time with her. The hotel is as decadent as they come – I wish I'd had more time to visit the rest of it but I was feeling slightly under the weather and the paramedic who checked me out told me I was coming down with fever. Did not bode well for our last day in Dubai. ( The flu bug is floating around here in Delhi as well – so I'm not sure where I caught it from – I'm still recovering after having returned from Dubai a whole week ago. )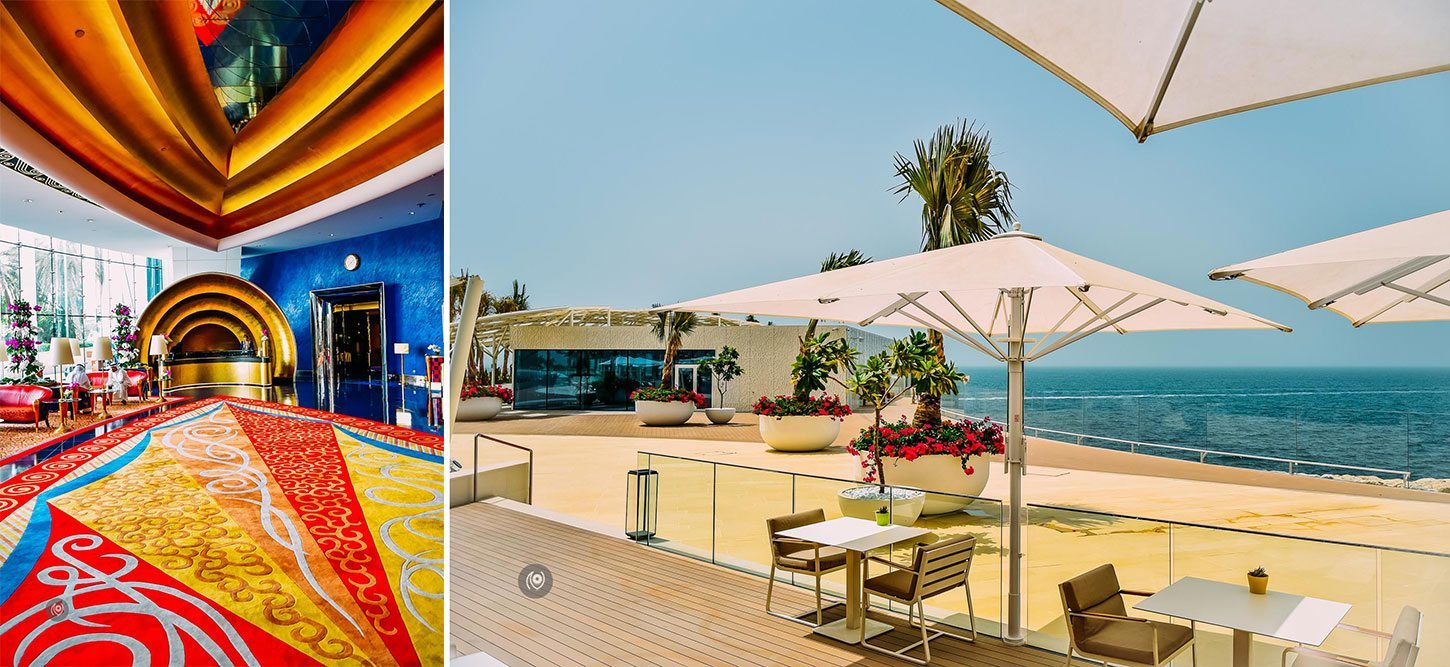 Next we checked into Taj Dubai and immediately gravitated toward the windows because hello 34th floor and stunning view of the Burj Khalifa and Dubai Fountain! ( I photographed s timelapse or two and will be editing and publishing those in the coming weeks as well – keep an eye out if you're into that sort of thing! )
Taj Dubai and Emirates Holidays took really really good care of me as I fell sick and started on the road to recovery. I am grateful for their care and attention. The ginseng oolong tea, the hot non-alcoholic toddy and the doctor and nurse are massively appreciated.
Next was a lunch trip to Palazzo Versace, which is also as decadent as they come! Stunning decor. I have to say that the 5 Star hotels in Dubai feel more like 7 star hotels.
Helicopter ride with Heli Dubai, which is a must-do. You can carry a lens less than 400mm and go crazy with the camera if you're keen to do some aerial photography. They will share their rules and regulations beforehand – images may not be used commercially.
One travel tip : get your travel insurance to cover your medical insurance as well – or get separate medical insurance. Doctor consults are expensive in Dubai and one visit with a prescription and a couple of injections could set you back an easy INR 1,00,000. Related travel tip is that if you're traveling to Dubai for the first time, there is a high probability that you will fall ill – either a tummy bug or a flu bug. The continual back and forth between air-conditioning and Dubai's summer heat weaken your immune system and catching a bug is super easy.
Apart from that, if you're looking to experience luxury, Dubai is it. If you're into shopping, there's multitudes of options for that. If you're into luxurious hotels, there's tons of options there as well – I've never heard of such crazy high hotel occupancy rates even though the density of hotels is so high in the city and they're still building more!
Dubai felt like home – I felt comfortable. No one stared at me – even though I have a different hair style or that I wore a short dress at one point. There are all kinds of people from all over the world in Dubai. I met someone from the Phillipines, someone from Iran who is now from Sweden, someone from Ireland, lots of Indians, Pakistanis, British, American, etc. Everyone. It's a melting pot. I felt more like an alien on my return to India. More because I was returning from Dubai.
There is literally so much to do in Dubai that you could live there for a year as a tourist and still not do everything. You can even ski in Dubai – in snow.
After this amazing but short holiday, I'm going to see if there's a way I can tie in Dubai Fashion Week that I've heard so much about into another working holiday and find an awesome excuse to go back to the city.
Special thanks to Arabian Adventures for making our holiday so comfortable and well-organized. Everything worked like clockwork. And Partha was nothing short of awesome. Professional, polite, knowledgeable, just an overall super nice guy proactive with empathy.
Memories of a lifetime – in 4 nights 5 days. Who woulda thunk!
#EmiratesHolidays #EyesForDubai
Emirates : Website | Twitter | Facebook | Instagram | YouTube | Google Plus