We've dined at Le Cirque a couple of times previously – I always think it isn't possible to better my previous experience with them but they seem to pull it off effortlessly. This time, it was two targets with one arrow for us. B and I were celebrating our fourth wedding anniversary and Le Cirque at the Leela Palace had a new Winter 2013-2014 menu to review.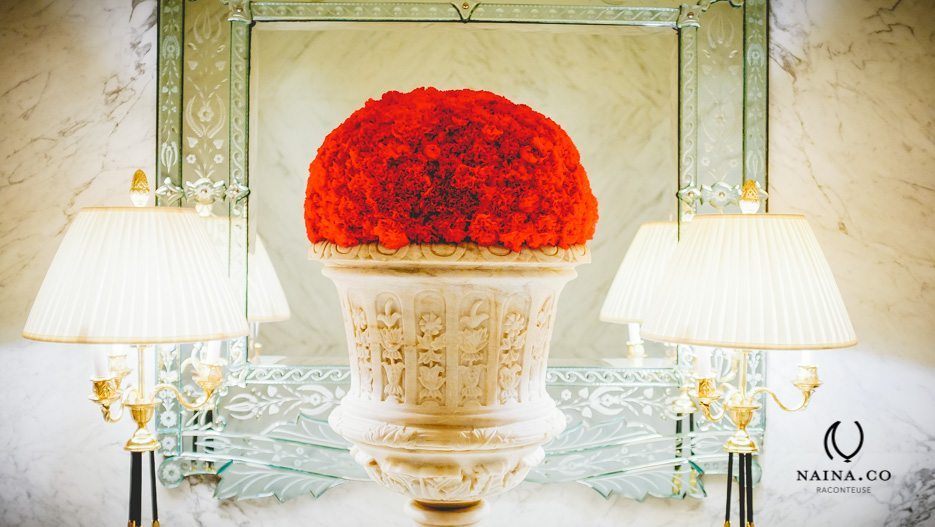 Always so delightful to enter The Leela properties – such lush flowers everywhere. We were surprisingly on time for our 7:30pm reservation ( the restaurant only serves dinner – although I dislike calling it a restaurant – it's so much more ).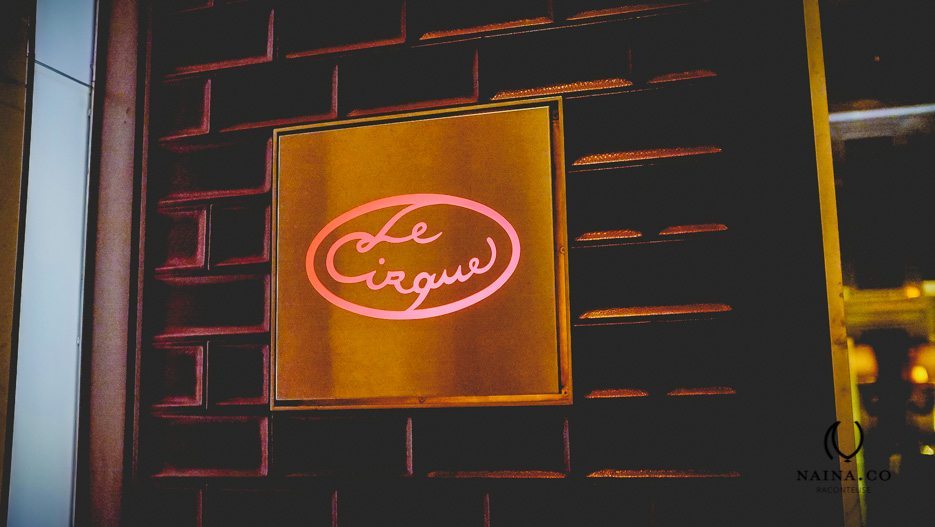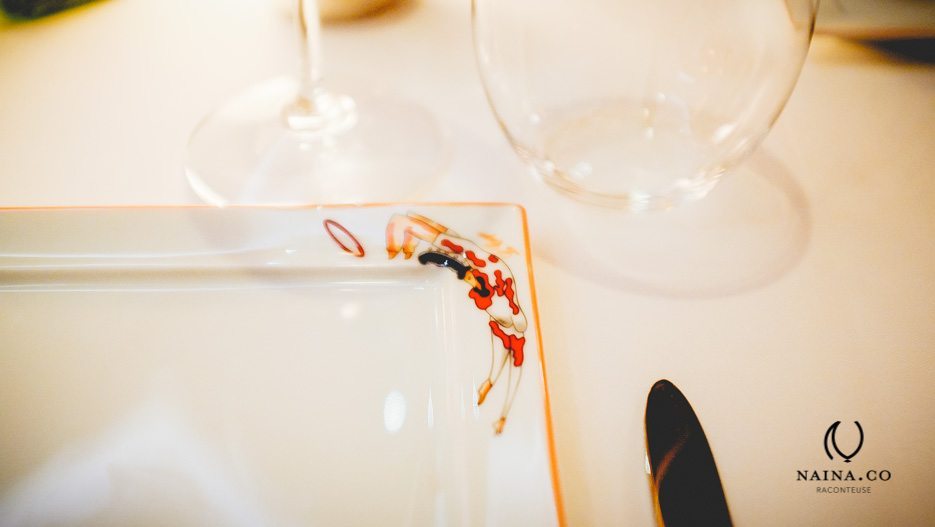 Custom dinnerware with the Le Cirque "the circus" theme – playful and elegant.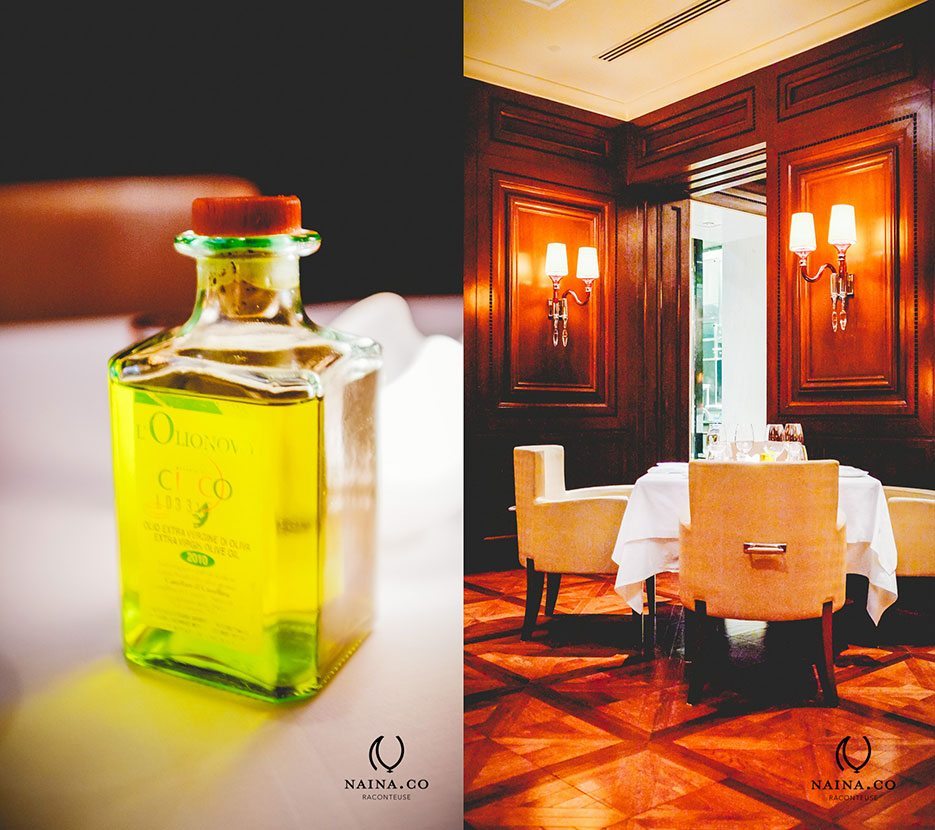 We were ushered into the private dining area. I had specifically requested for this because I was aware of the dim lighting and I knew I would end up using the flash on the camera – did not want to disturb the others.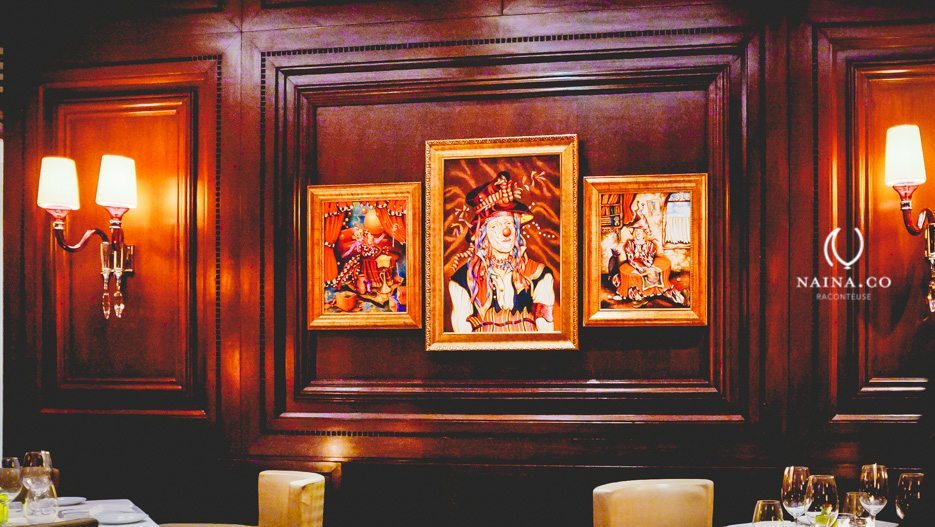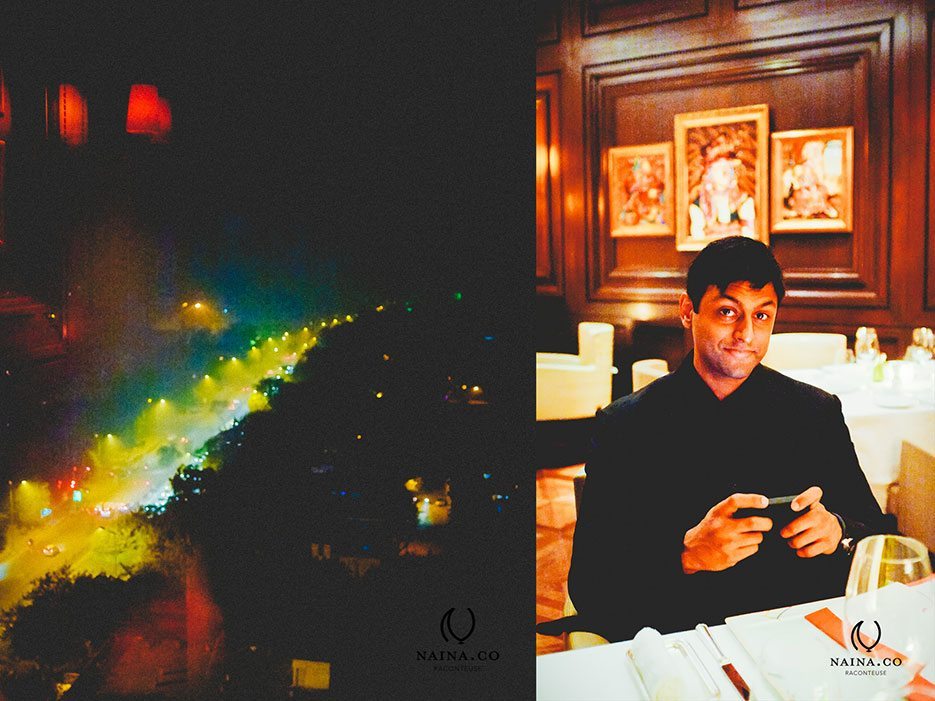 Fog was building up and the city looked ghostly and glowed with streetlights. And we were just getting started.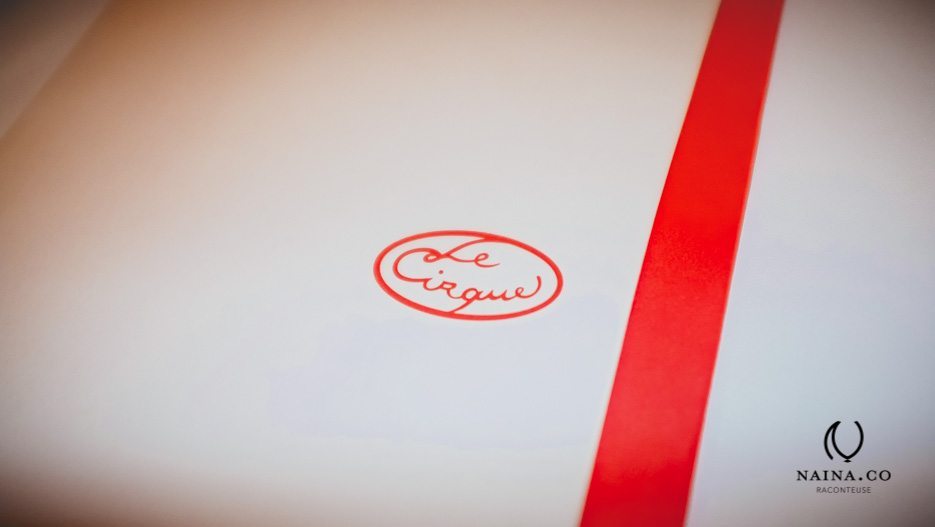 The menus were handed over to us and Chef Mickey Bhoite checked in on us and said hello. I am not a fan of poring over a menu and analysing it and thankfully Mickey offered to take up the task for us. I was delighted to hand over responsibility. We gave him an idea of what we normally eat and he curated an excellent selection for us.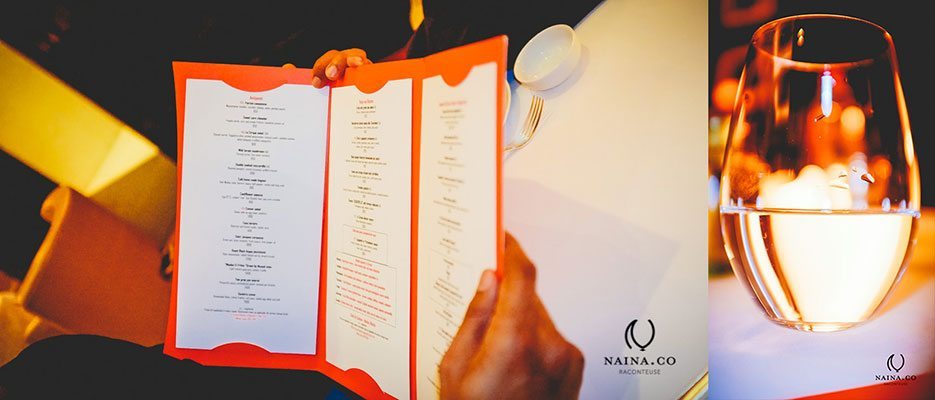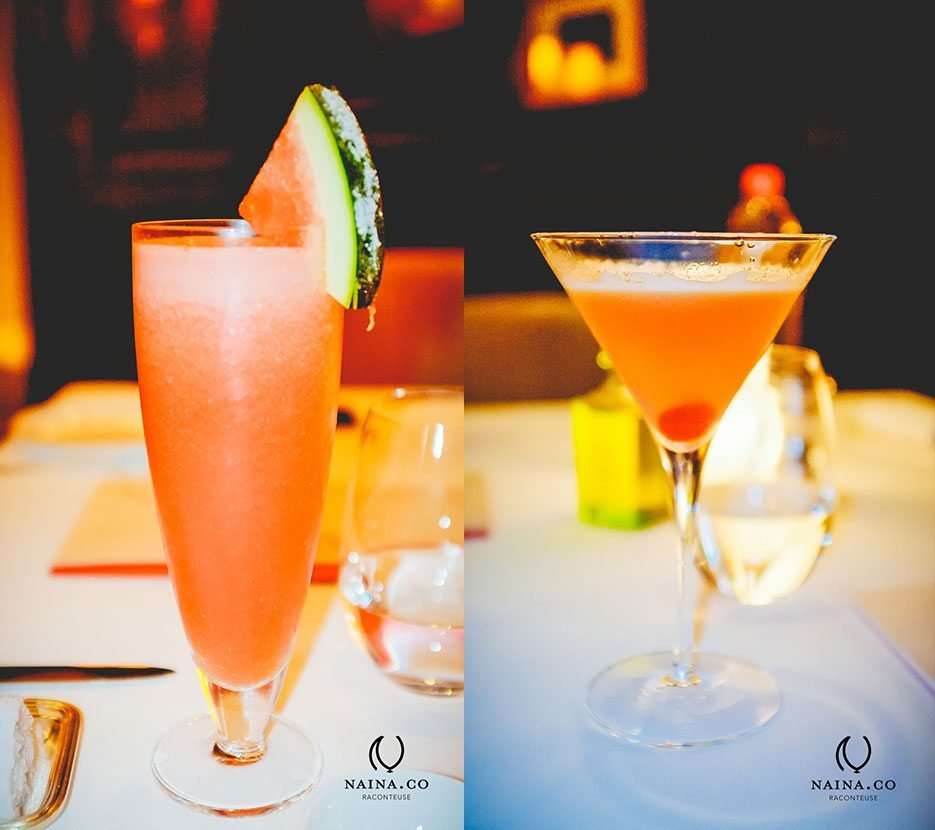 We started with a delightful watermelon and ginger mocktail and a passion fruit martini. Both were absolutely fantastic.
Below : the breads were warm and delicious and I almost told him not to come back and tempt us with seconds!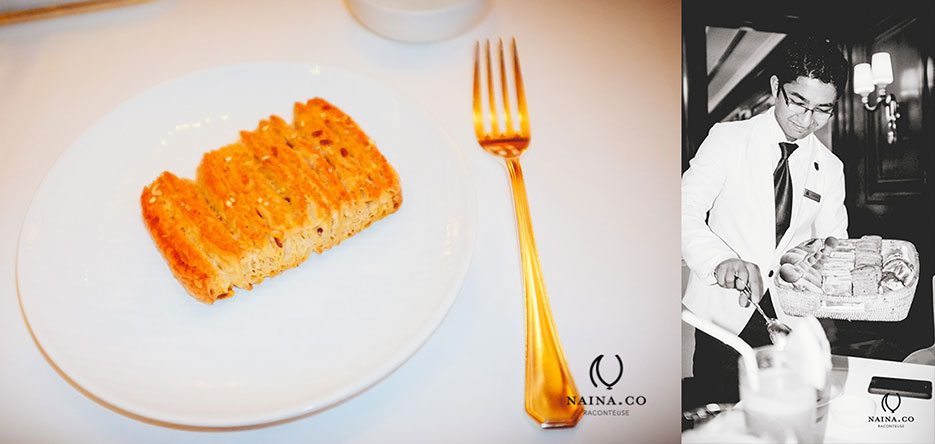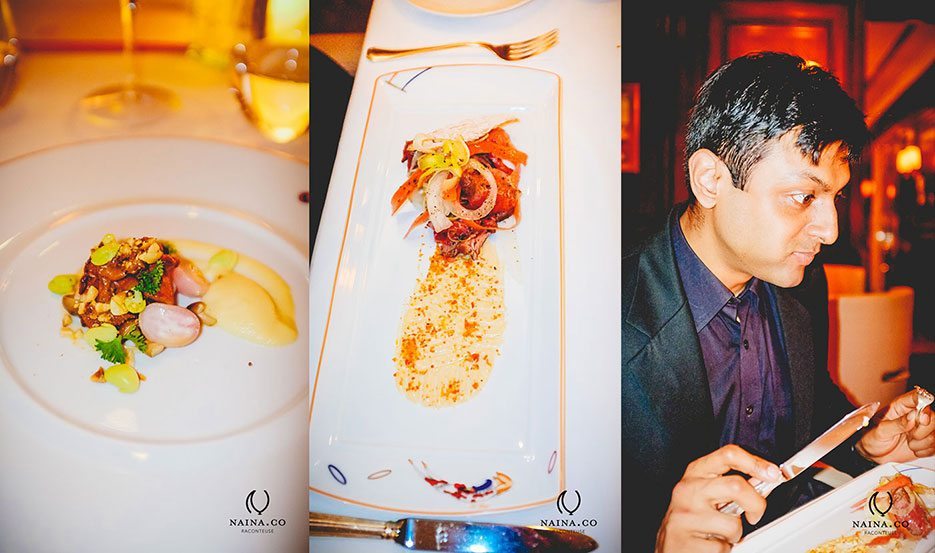 The antipasti. We started with Wild Forest Mushrooms with parsnip puree, fava beans and hazelnut for both of us. The second antipasti served was Roast Black Angus pinzimonia ( dijon mayonnaise, radish fennel carrot, bread crystal ) for B and Cauliflower Espuma ( a perfect egg, San Daniele Ham, pop corn crumble ) for me. The look B had on his face when he tasted the beef was cute. So I asked him to re-enact with another bite so I could take a picture. *giggle* He said it was some of the best beef he'd ever had. Considering he's lost count of how many times he's been around the world, I believe him!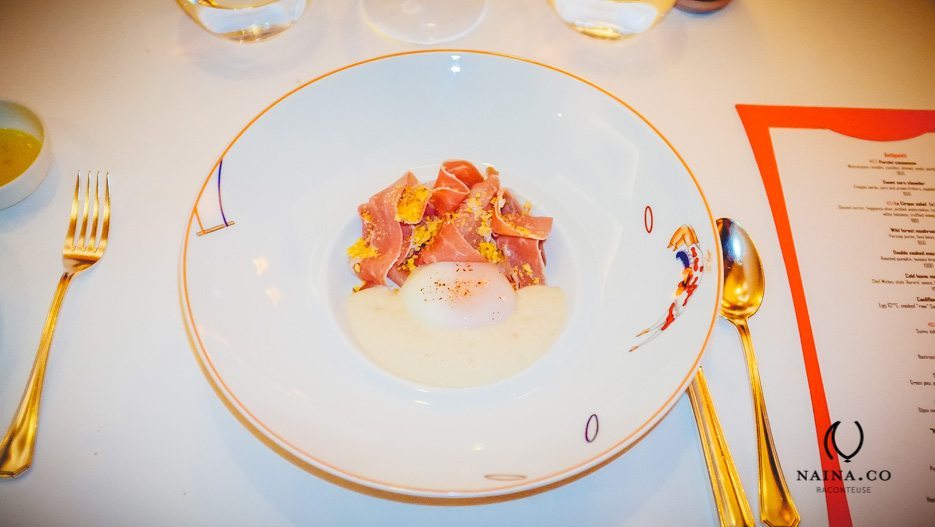 The egg really was perfect in my cauliflower espuma.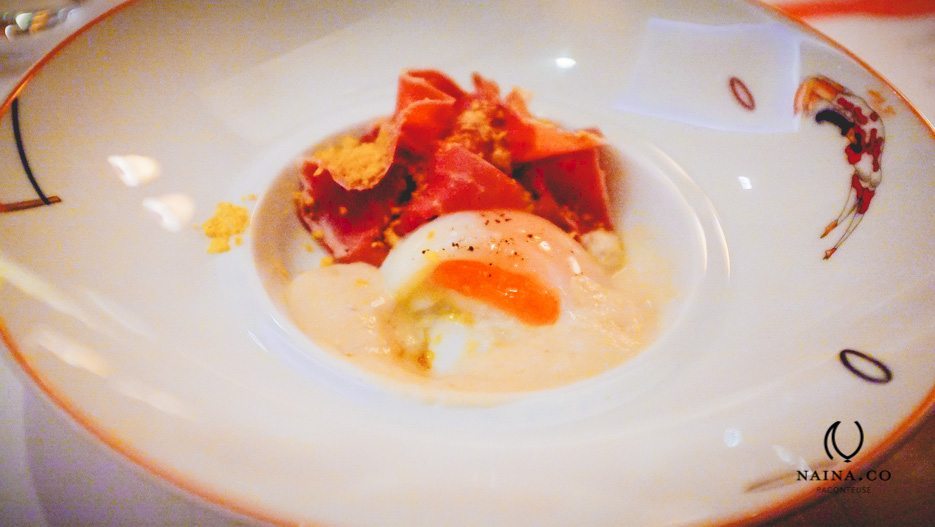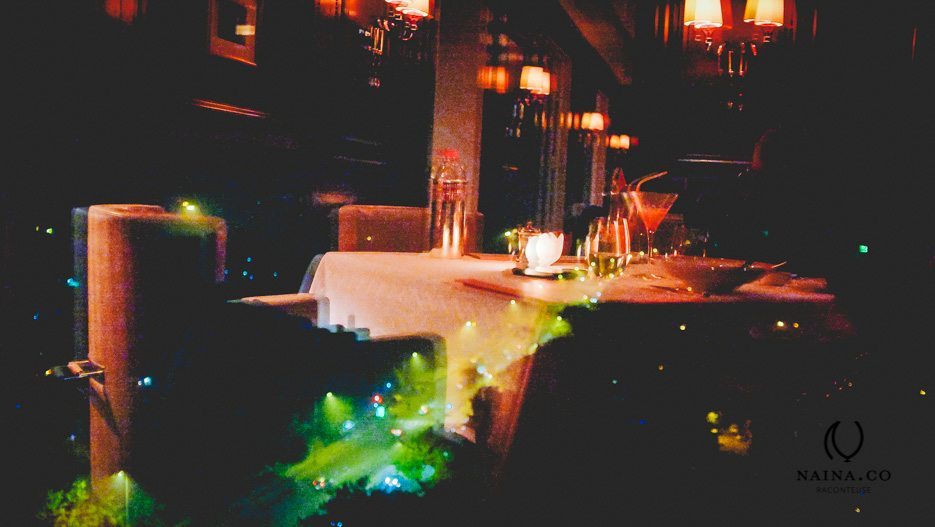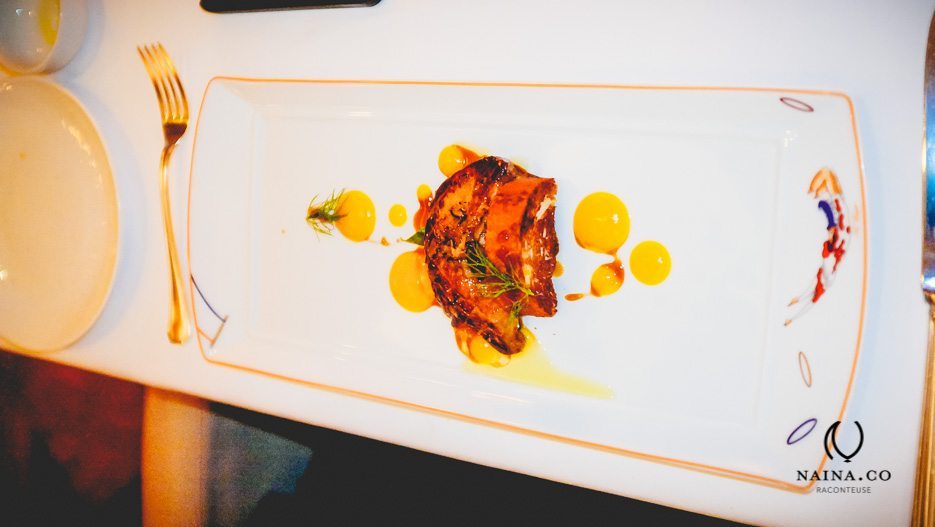 There was a third antipasti, Foie gras pan seared ( perigordin sauce, caramelized peach, toasted pan brioche ) for B and Double Cooked Mozzarella ( roasted pumpkin, tomato brunoise, grilled crouton ) for me. B is not a fan of foie gras and I am – so I had half of his antipasti and swooned with pleasure. The crouton was a little over-grilled and I think I prefer a full tomato slice with my mozzarella – the brunoise had no "tomato" flavor. The mozzarella on the other hand was divine! Some of the best I've ever tasted.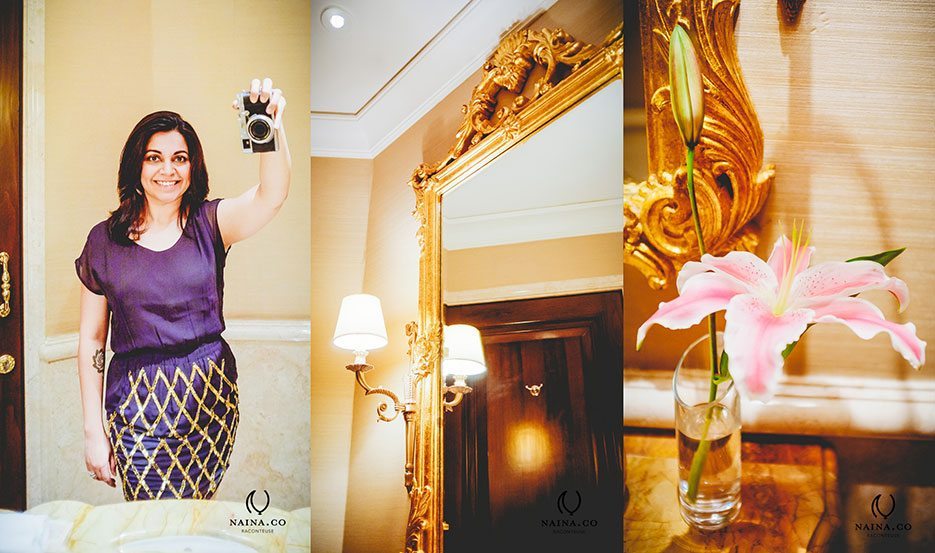 A photo op in the middle.

And then Chef Mickey hit us with this. Risotto. But not just any risotto! As Mohit mentioned, it's called the "Rolls Royce" of risottos. Risotto ACQUERELLO with Verona radicchio ( parmigiano coulis, walnut cracker ). It was delicious. While it looked like a tiny bit of food, it basically did it for us. Whatever we ate after this was out of pure greed for the good stuff. And "rice" knocks B out cold anyway.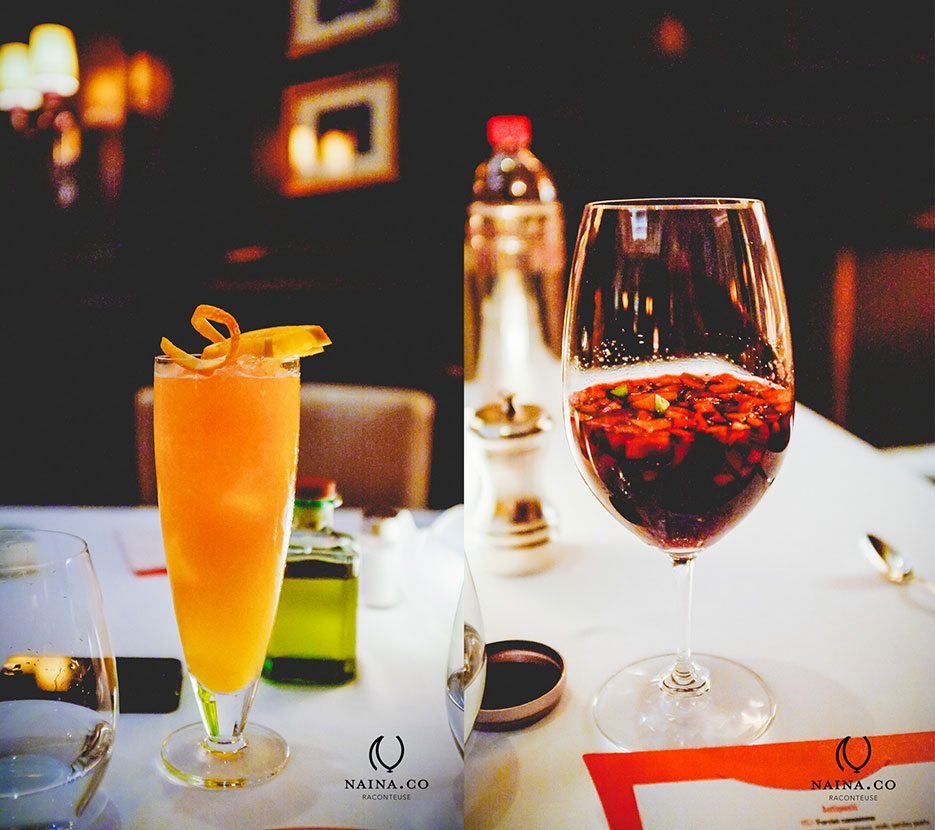 Another round of drinks. The mocktail was peach based and it was fantastic. The red wine sangria on the other hand ( while I'm feeling quite special that the staff remembered I'm a sucker for a good sangria ), it tasted funny. Too sweet. I asked for a replacement – another martini perhaps – unfortunately the replacement too was off a bit – I think too much Cointreau. So I asked for another replacement and went back to the original martini I had and it was perfect again!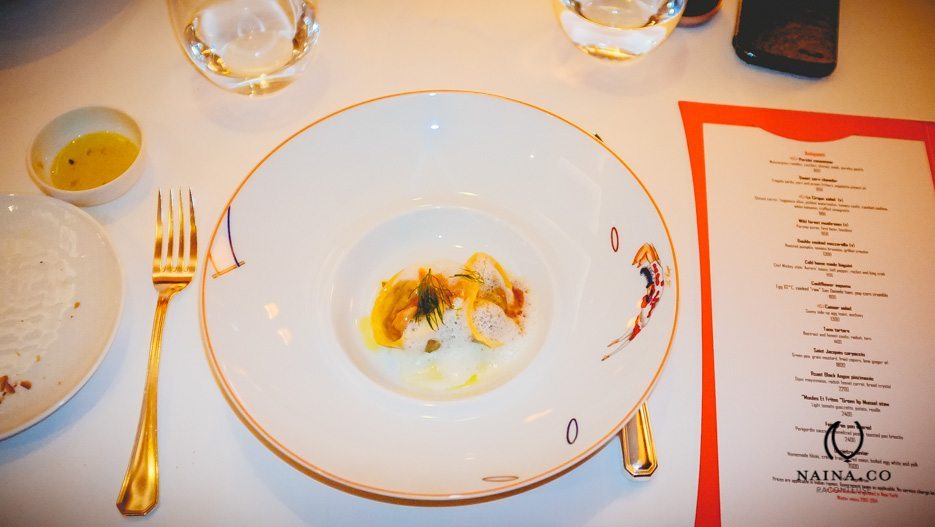 This right here knocked it out of the park for Le Cirque. Both B and I had this on our plates. Little pieces of food-heaven. Honey and orange infused Duck Tortelloni ( Thyme smoked foie gras, soubise coulis, confit spring onion ). It was magnificent. B isn't a fan of citrus mixed with his food but it was done SO well in this! I couldn't believe it when he didn't complain about the "orange". It was just perfect. It was a "Ding ding ding ding! Ladies and gentleman! Let us hear some applause for the Duck Tortelloni!"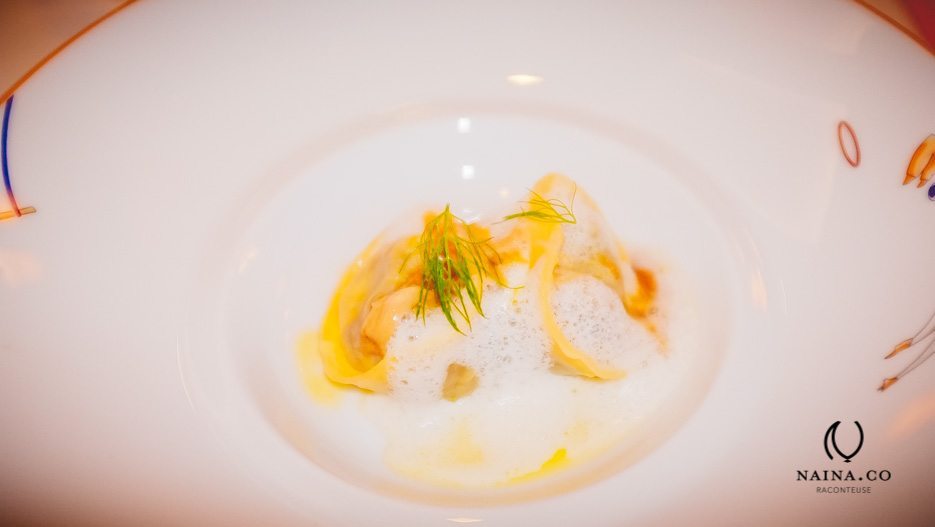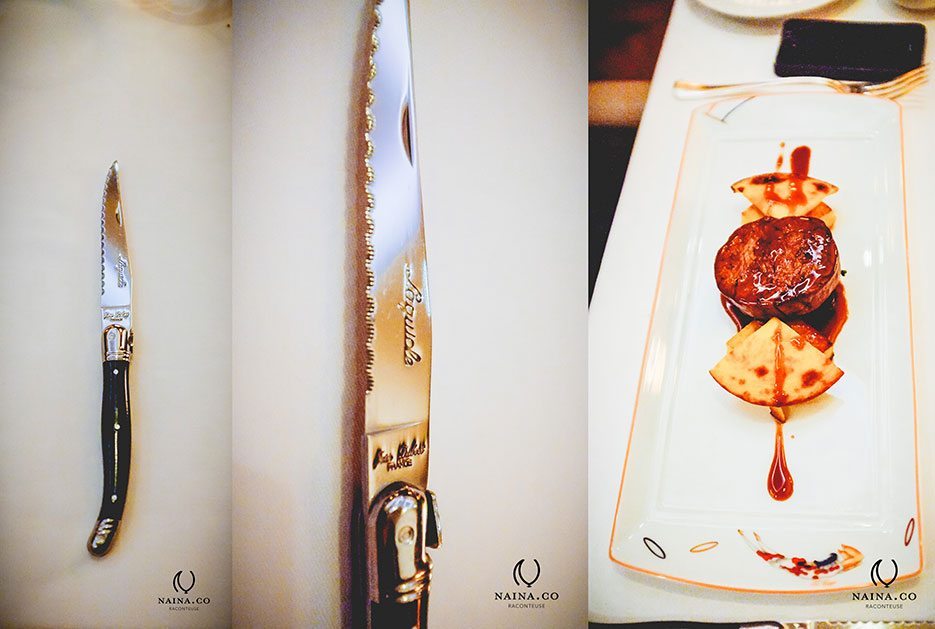 We were full and when we saw the steak knives, we exchanged a glance – there was no way we were going to be able to eat some more. But I guess we really did not want to disappoint Mickey! Lamb saddle "Noisette" ( celeriac, root vegetables, parsely pistu ) on my plate and Prime tournedos ( compressed potato, sauteed spinach, black pepper jus ) on B's plate. The lamb and the beef were exquisite. The flavours were stunning and the meats had been done SO WELL! Juicy bits of heaven.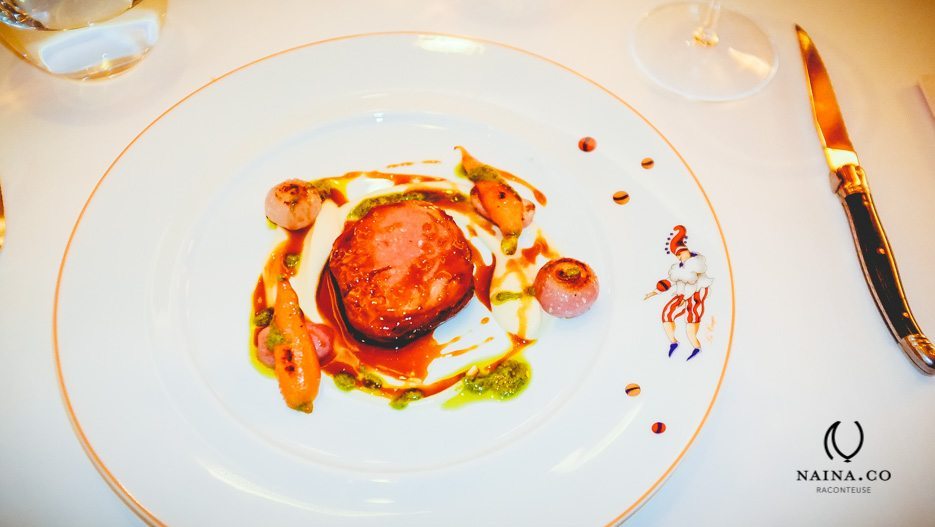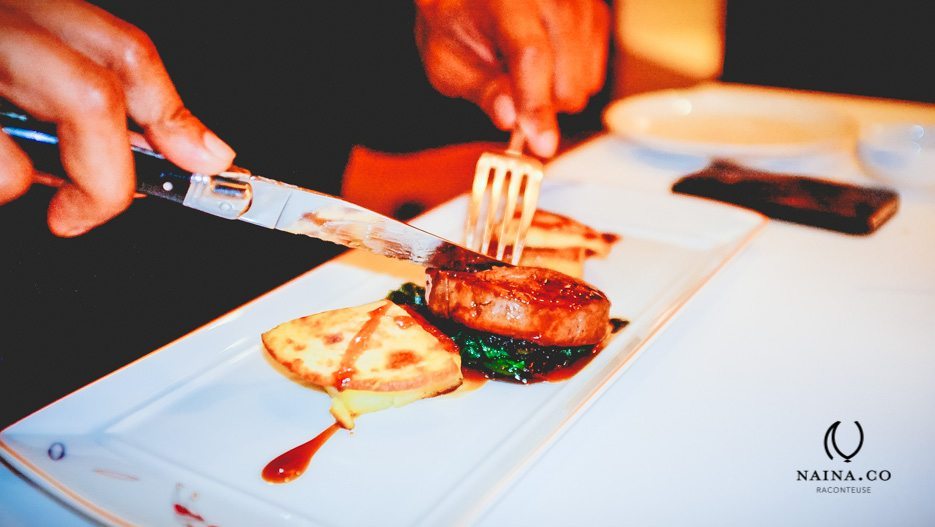 We were patting ourselves on our backs thinking "Ah! We made it! Without exploding too!" and then they rolled this in! An anniversary cake!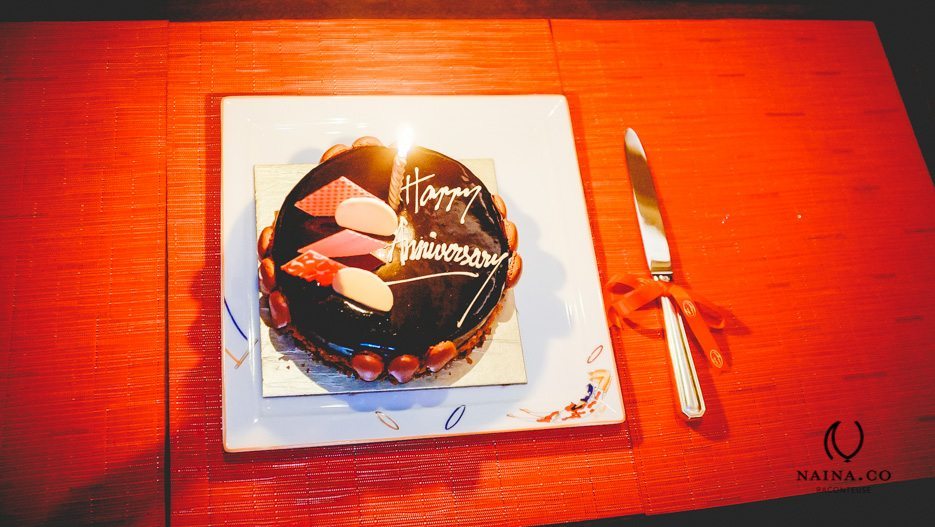 Mohit took a photograph of us as well. Thank you for offering Mohit! I'm usually too shy to ask on my own.
Of course, they weren't done with desserts yet! Who told them that I have a sweet tooth?!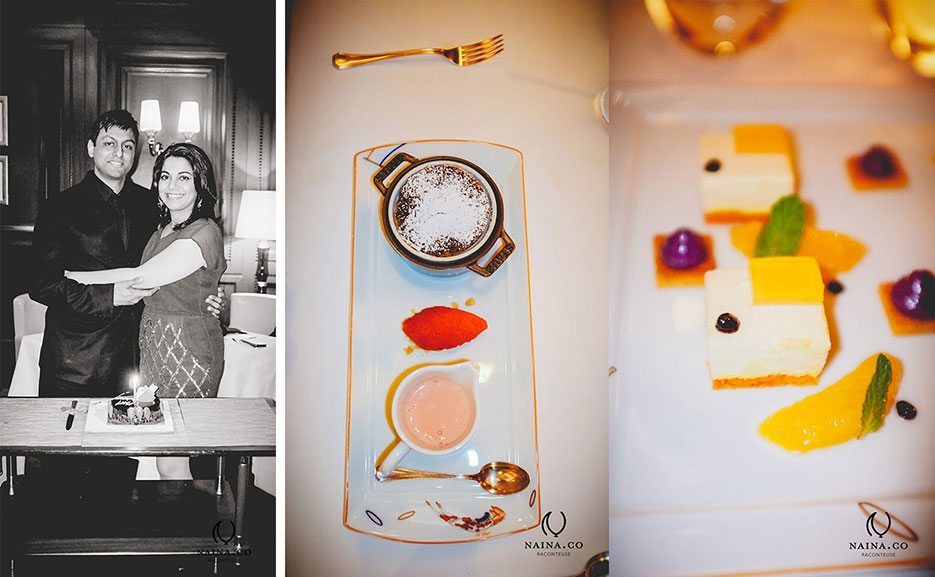 Chocolate souffle and orange cheesecake with their respective sorbets.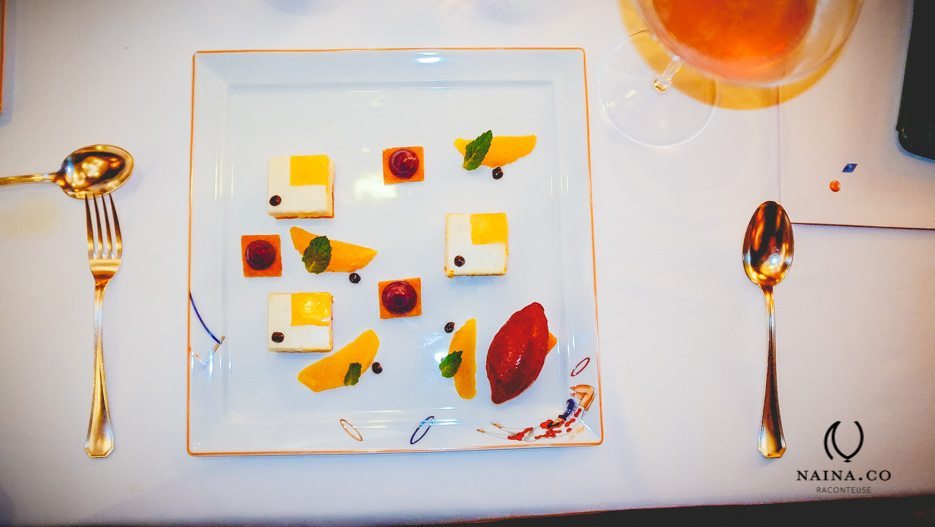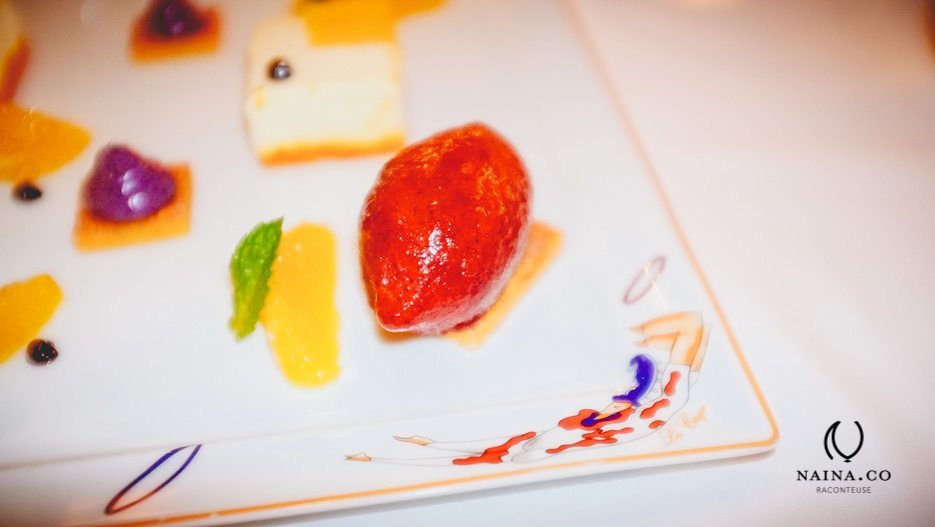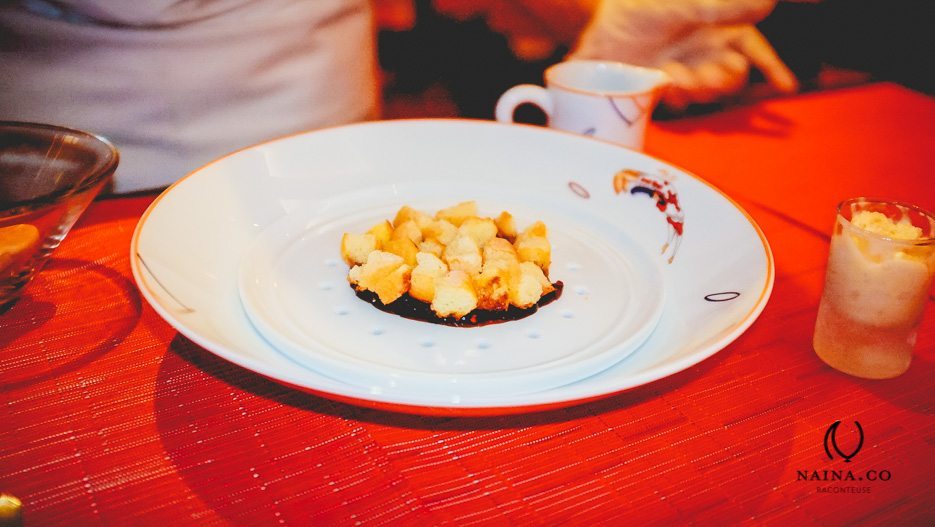 And then Shikha rolled in with the exquisite we-make-it-in-front-of-you Tiramisu! Neat presentation as well.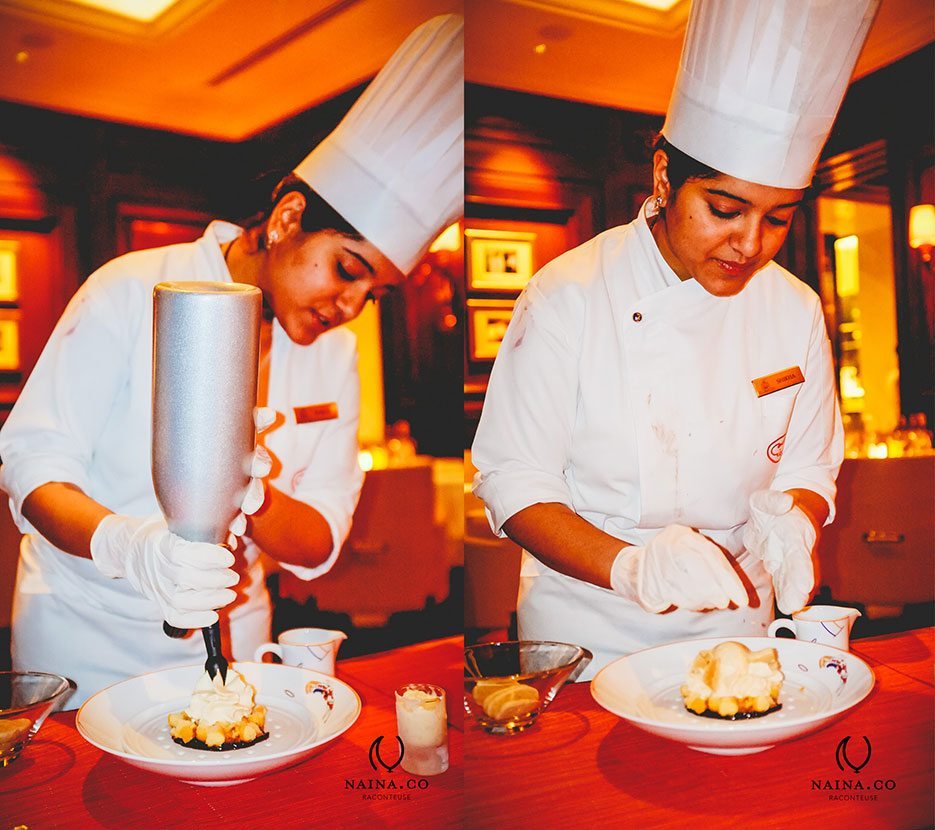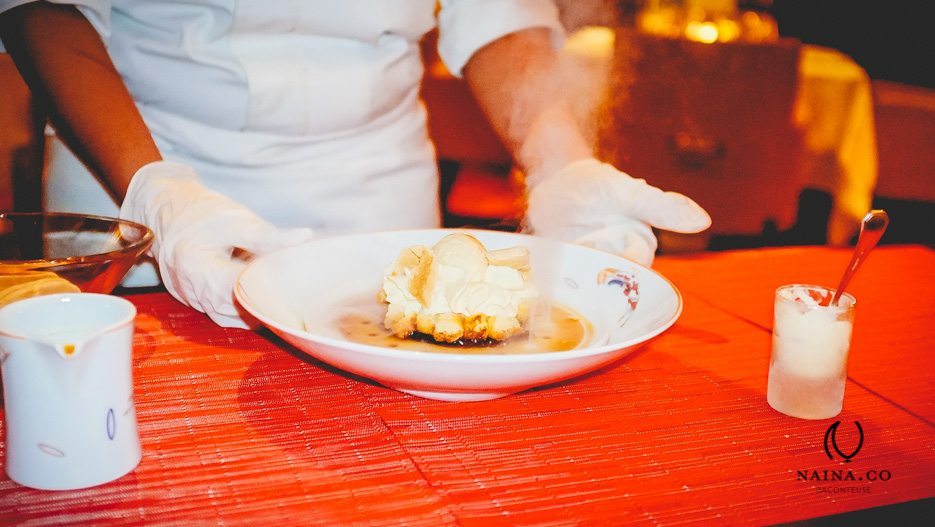 I couldn't polish off the cheesecake on my own and since B isn't a fan of the "citrus", he wasn't going to touch it as long as he had his chocolate souffle and the tiramisu. He polished off the tiramisu like there was going to be no tomorrow! What a satisfying evening. We most certainly over ate.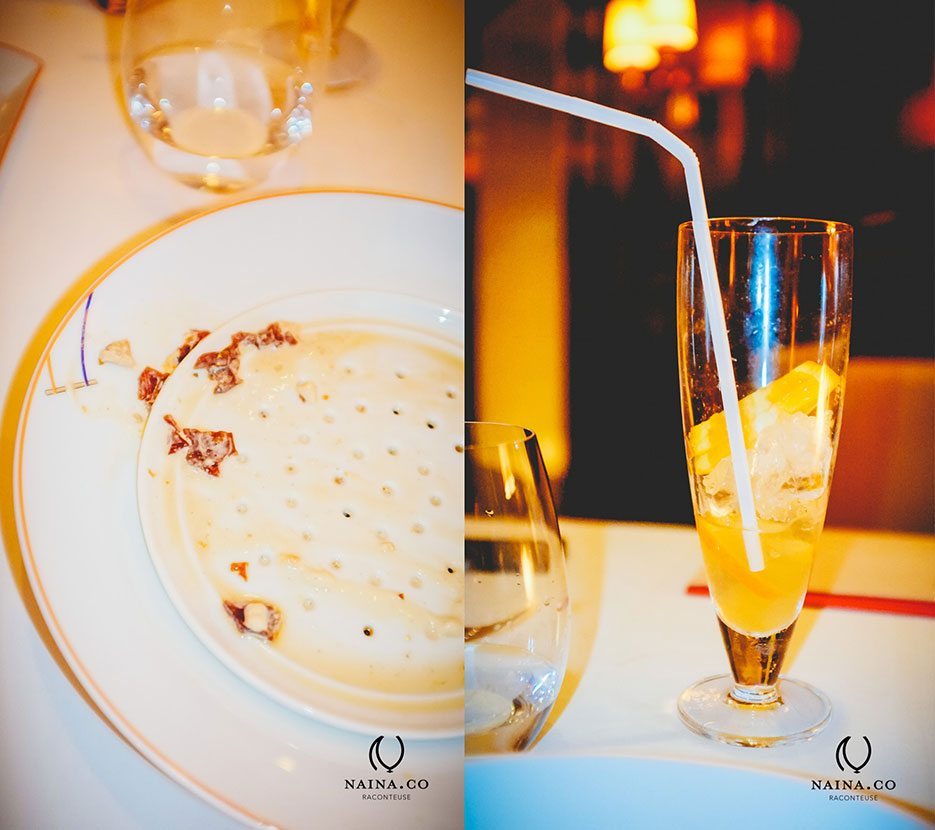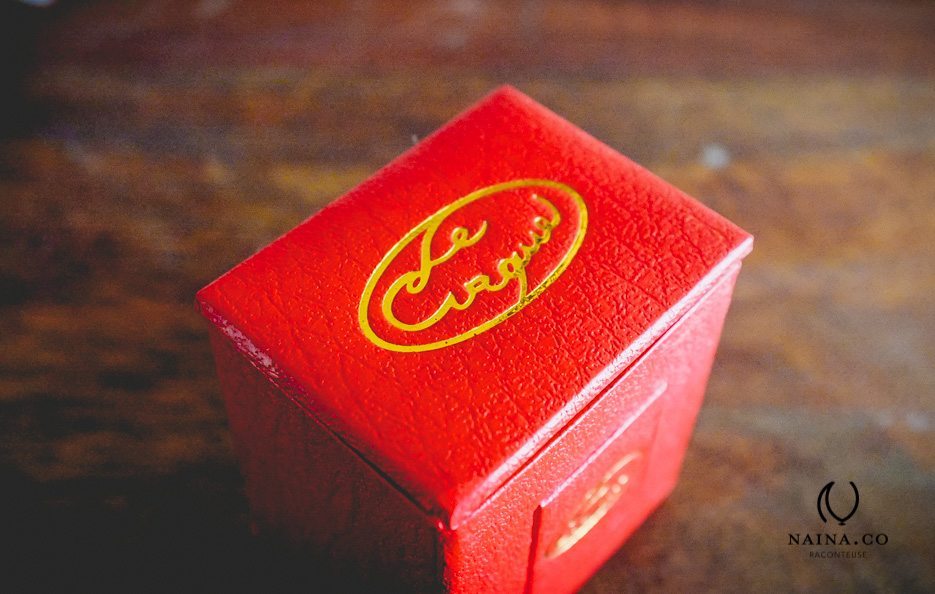 Our parting "gift" included the anniversary cake that they had packed for us and this cute Le Cirque branded box. It looks like a jewelry box and has two drawers with chocolates in them! Adorable. Maybe I will use it for my small jewelry items like studs and rings.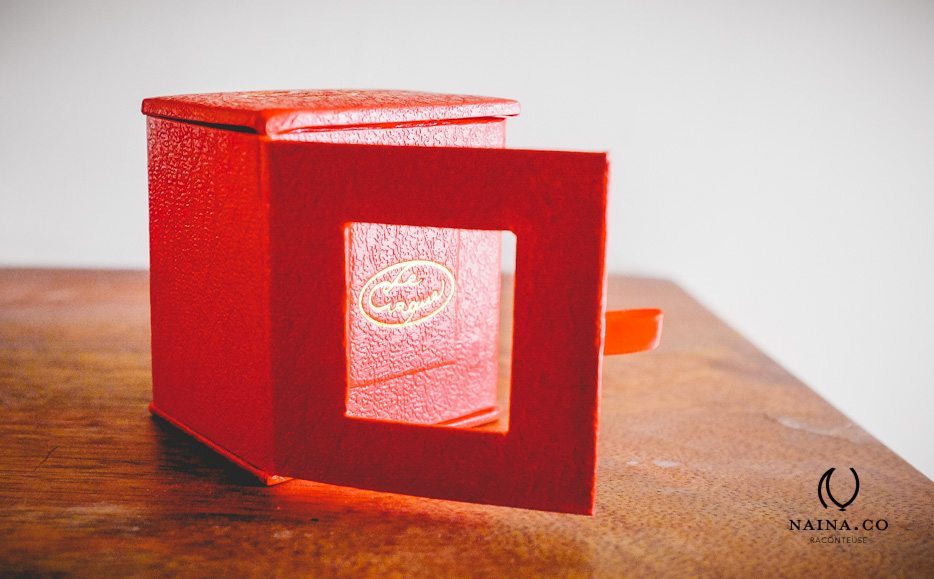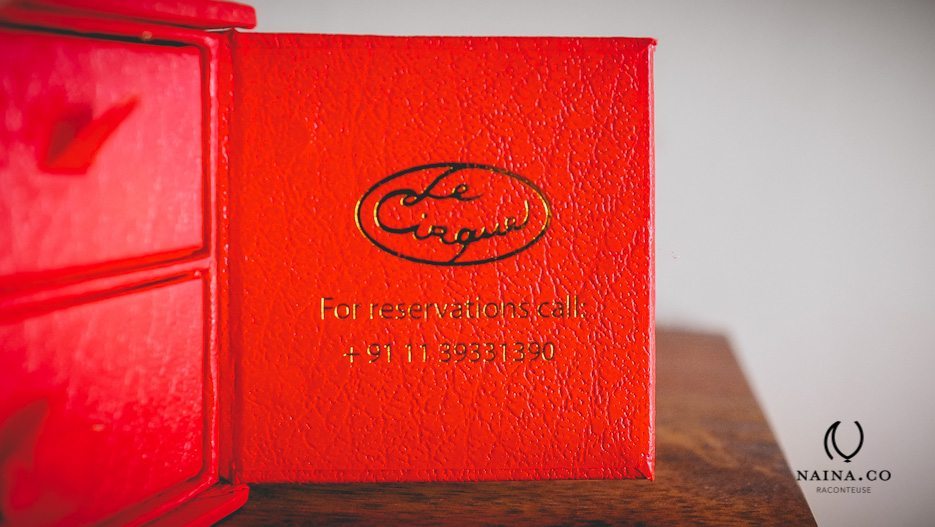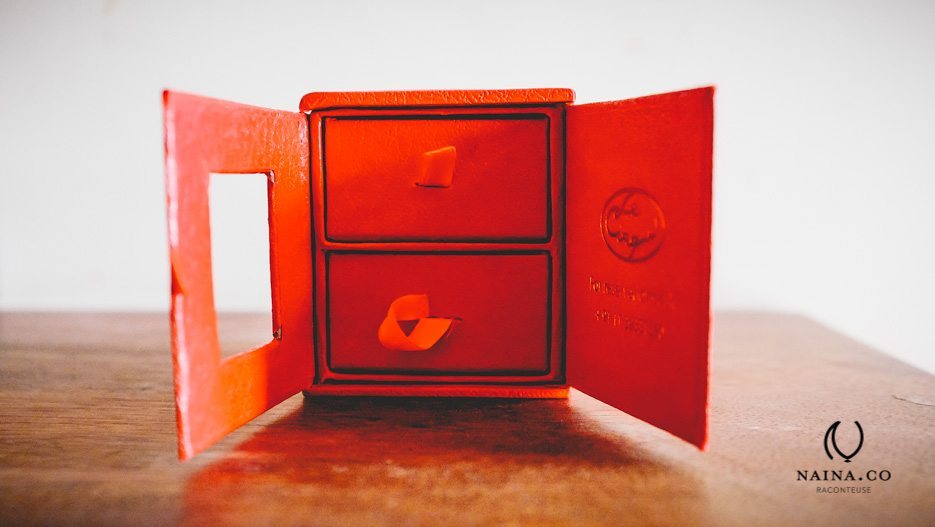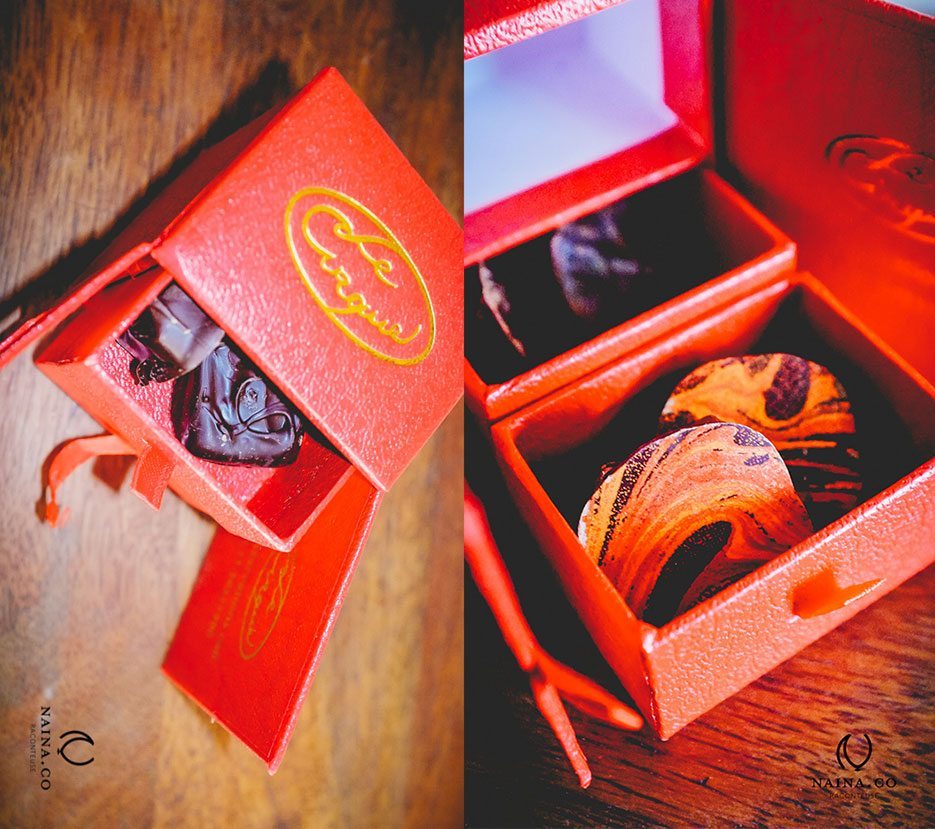 Le Cirque, for me, is one of those places we go to when there's a special thing to celebrate. It's so high up and far away from the city streets, it makes me feel like I'm in a cocoon – a warm, taken-care-of, lavish cocoon.
We wouldn't normally order so many items from the menu – it would probably be a couple of antipasti plus one main and one dessert along with a couple of drinks per person. If you plan to eat as much as they served us ( minus the alcohol ), you're looking at a bill of about Rs. 30,000 plus taxes. I believe this much food was GOOD for three people.
I love the whole experience of stepping into Le Cirque and going for a ride in food wonderland and then stepping out with it all seeming like a wonderful dream. We were there for three hours and neither of us has any idea where all that time went.
They really did pull out all the stops and I'd like to thank The Leela Group, Deepti, Trisha, Chef Mickey, Mohit, Shikha and Bharat for making the evening so special. We loved everything about it. Always such a joy to visit The Leela Palace, Chanakyapuri in New Delhi. Although, I'm sure if we visited the Udaipur and Goa properties, we'd love those equally, if not more *wink*
You can find The Leela Group of Hotels on Twitter as @TheLeelaHotels, on Instagram as @TheLeela, on Facebook as @TheLeela and they are present on Tumblr as well.