I'm having a VERY orange June as this blog feature demonstrates 😛 So. Much. Awesome.
When I received the lovely orange boxes, my brain immediately wanted a nice, chilled orange lolly. Since sugar is not part of the diet currently, I decided to pick up all my favourite orange coloured items and share them on the blog. So here they are. ( I missed a basic tee that is also orange but apart from that, everything I possess that is orange, is on these photographs below. All these pretty orange babies have been introduced to you earlier on the blog – well most of them anyway. Orange is one of my favourite happy colours – when done right, it can set the tone for a fresh day. Orange juice is also my absolute favourite cool drink in the summer. Now that the Monsoons are upon us, orange also adds the lovely colour to dull grey days!
There's cosmetics, printed things, music and fragrances and the Lenovo Yoga Pro 3 ultrabook that you have seen earlier as part of Naina.co's participation in the #YouInspired campaign ( although that's a silver one ).
The Hermes fragrance in the orange rectangular box at bottom right in the above photo is one of my favourites. It is called Eau d'Orange and it is a concentrated citrus / orange fragrance. One spritz of this on the wrist and I'm set for a few hours of feeling like a fresh orange. I love citrus fragrances in general but it is difficult to find a pure citrus concentrate, which is why I was thrilled to find this one.
The orange flat wire running to the right edge of the image above is the spectacular set of ear phones by SudioSweden called KLANG. I've written about them earlier. In terms of sound they are fabulous – I'm hearing new sounds on the songs on my phone. Talking-on-the-phone quality isn't that good though, everyone I've psoken with on the phone wile using these has told me I sound like I'm speaking from the bottom of a well.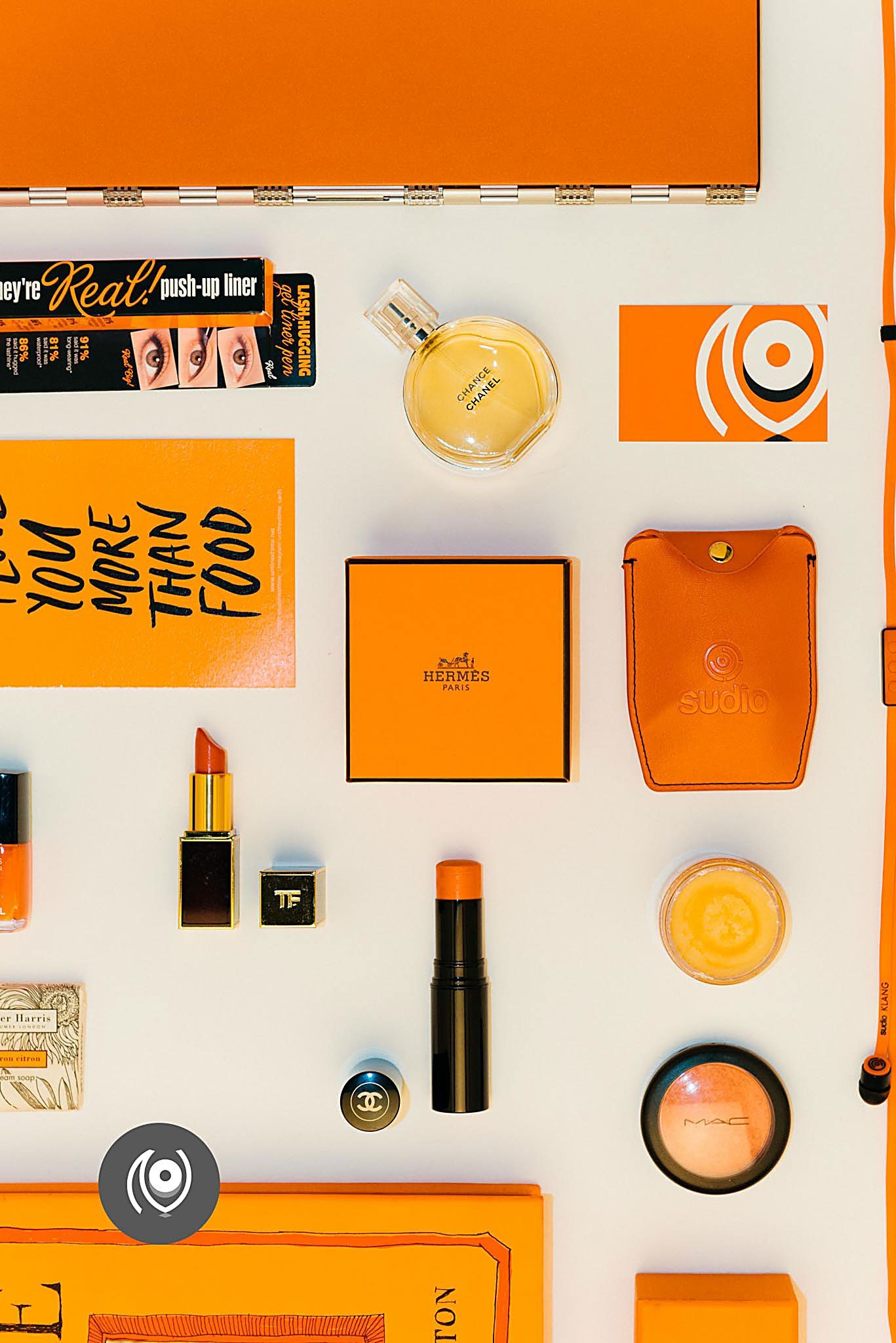 The orange, square Hermes box you've seen earlier on the Luxurious Poolside Summer Colours #CoverUp. It contained the beautiful gold-plated enamelled wrist cuff.
The CHANEL cream blush in stick form is the No. 22 Healthy Glow Sheer Colour Stick that I have written about earlier in this #EyesForBeauty section. I LOVE it and am worried I'm going to run out of it sooner than I want to. I've also developed a delayed fondness for the Multi-Stripe face powder from the Les Beiges collection that was part of the Summer 2014 Limited Edition set. It is not shown here but I am mentioning it because it works so well – highlighter, skin colour, rouge colour all in one round box and the flat semi-circular brush allows me to apply all three at the same time. It works really well for my Indian skin tone too – orangey glow.
The blush powder shown above is an orange slightly shimmery one by MAC that I tend to use for slightly stronger evening makeup to layer onto the blush. The orange works for Indian skin and the slight shimmer adds to a bit of glamour for evening skin.
Right above the MAC blush powder is a jar of PaintBoxSoapWorks afternoons + eiderdowns sorbetto. One of my favourite bath and body brands, PaintBoxSoapWorks makes these emulsifying sugar scrub type bathing salts that I LOVE. Hayley Croom, who hand makes all her products in the United States, is the Queen of fragrances. Such enchanting fragrances in all her products, whether it's body lotions or solid scent balms or soaps.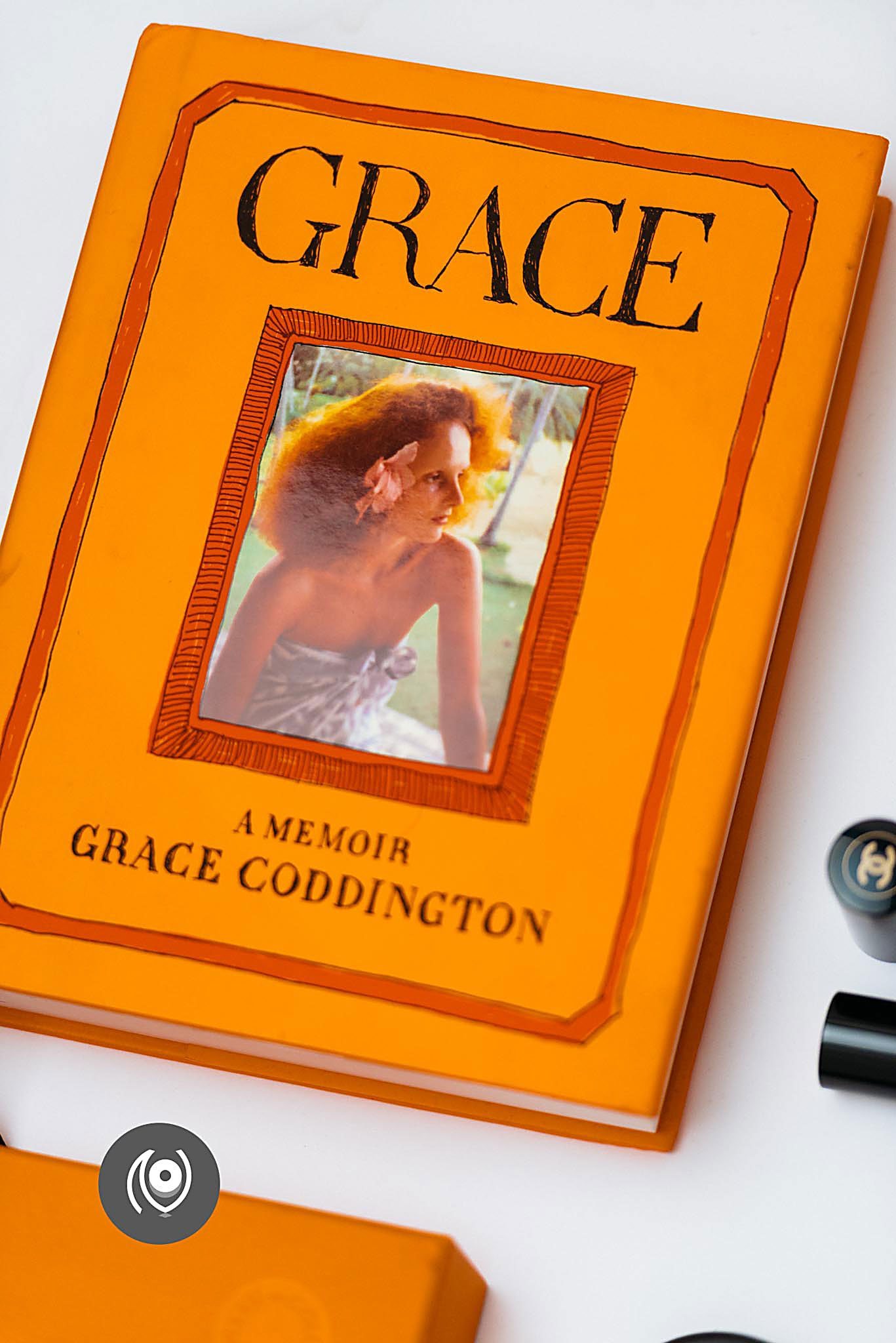 Grace Coddington's Memoir had been on the reading list for so long. I love the feel of the book and the lovely orange pop that reminds me of Grace's wild orange hair! The book is littered with illustrations by Grace and recounts her life from her childhood to where she is now. I am hugely interested in Anna Wintour and while there isn't much about Ms. Wintour, Grace's memoirs were interesting in providing a little more insight into what Grace is like and a little bit about her interaction with Anna. It's a fat book but I read it cover to cover in a matter of three days. It is a book with a loose narrative about Grace, by Grace. The fascinating life of the orange-hair-crowned icon in the fashion industry. Delightful. My affiliate link if you'd like to buy the book from Flipkart.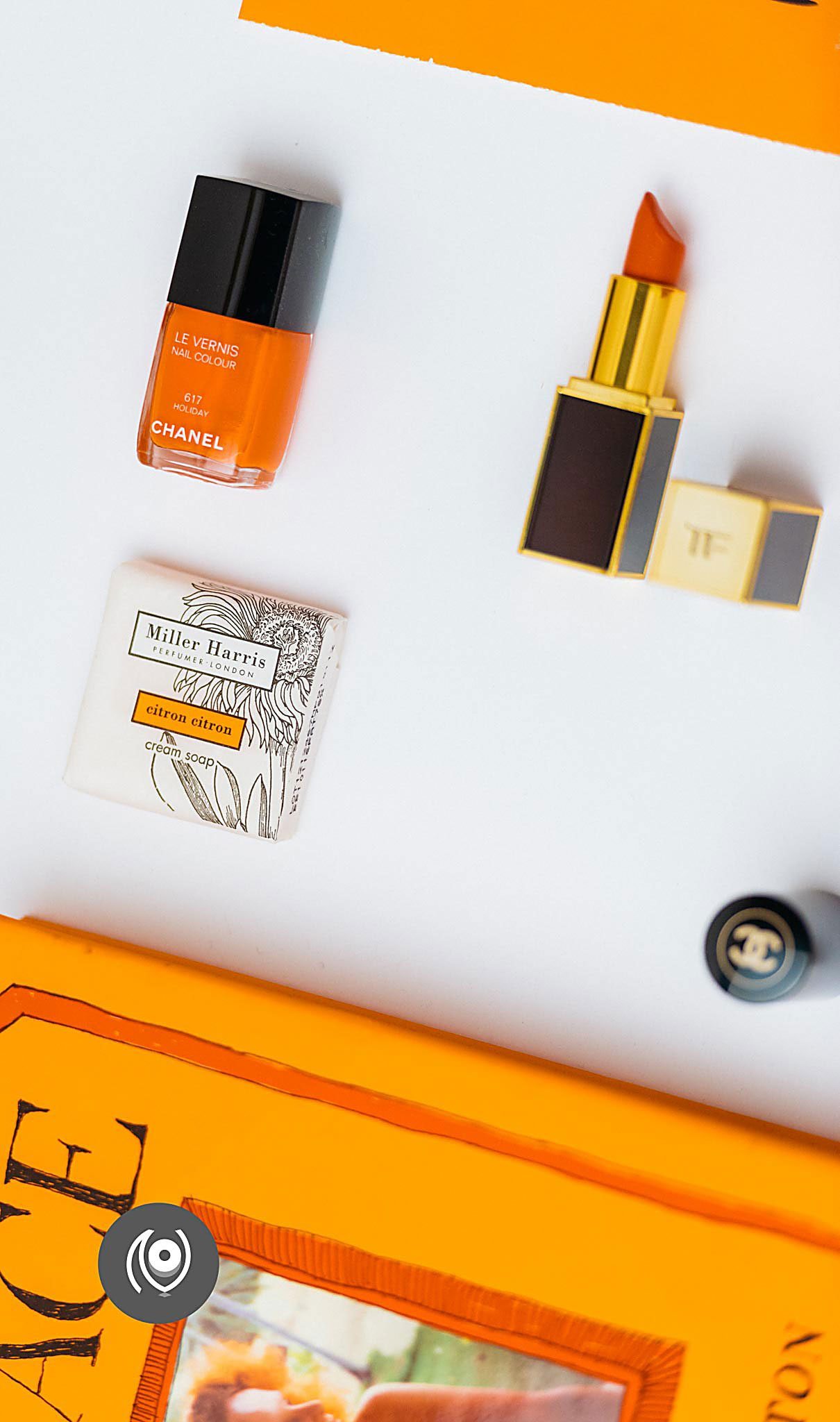 The Miller Harris Citron Citron soap I'd picked up from a hotel – don't recall which one. I still haven't used it yet because I can't imagine parting with the sliver of beautiful fragrance! Miller Harris are one of London's leading perfumers. They do fragrances, bath products and candles. Citrus fragrances and one of my favourite family of fragrances. I love the zing and pulse of energy with just one whiff.
The CHANEL nail paint is something I picked up from their store at Select City Walk. Chanel's PR had been sending some lovely shades but those were too light and demure for me. I needed a hot, bright colour and fell in love with 617 Holiday instantly. I use it quite frequently. It goes well with all kinds of colours in my wardrobe. I even used it in the Luxurious Poolside Summer Colours story with Hermes here.
This Tom Ford lipstick I have shared earlier as well. I usually mix the orange with the red. Bright orange makes my teeth look yellow and just plain TF Red doesn't feel like the correct colour. But mix Scarlet Rouge – the red – and Wild ginger – the orange, and it is perfect.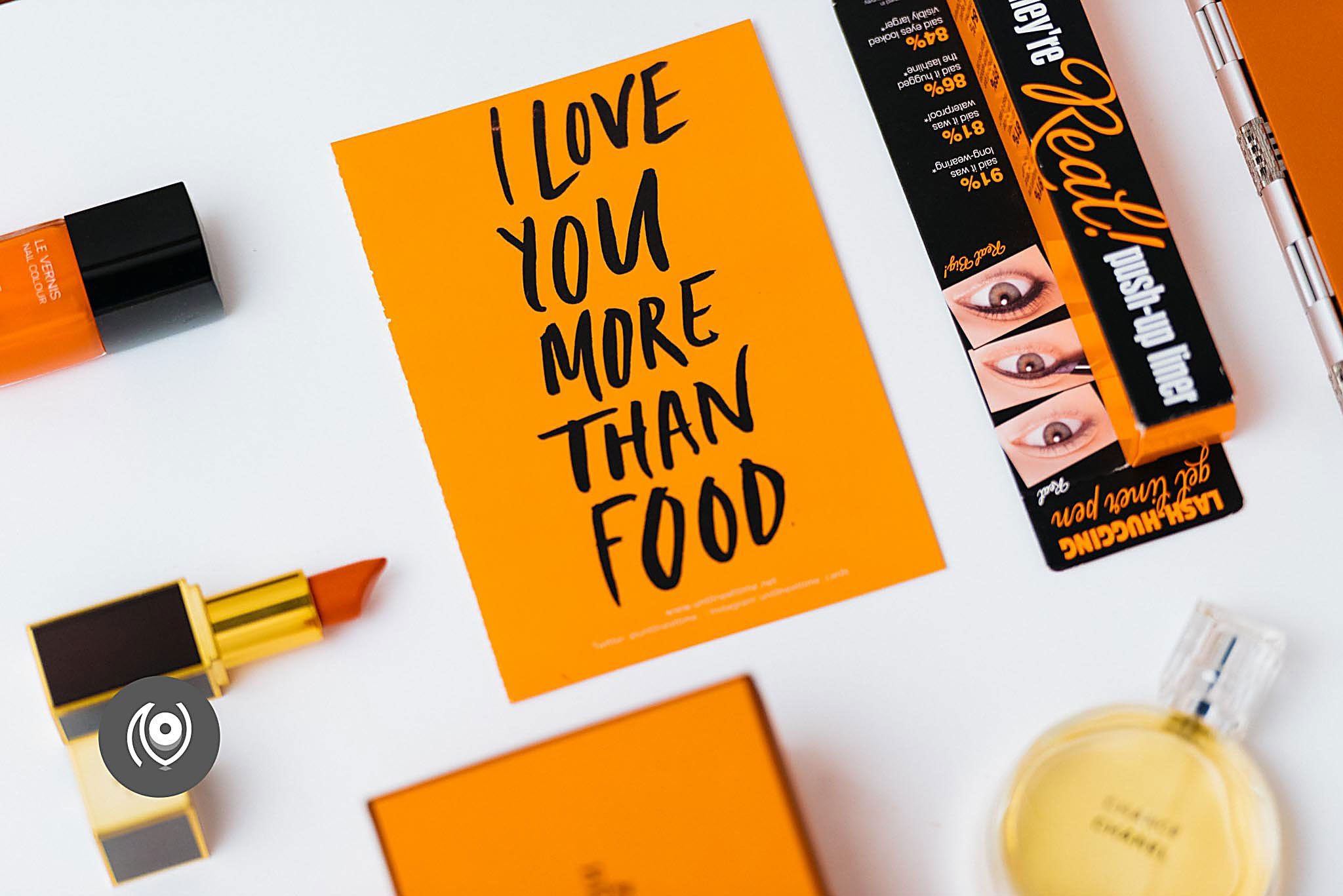 The "I Love You More Than Food" is from Pranita Kocharekar's Until Next Time, which is a book of postcards that you can give to people. Pranita does some lovely illustration work and other visual projects. I am happy to have discovered her work when trawling the Internet for barter deals with talented individuals so I may create a blog feature for them. There is SO much talent in the world and I am thrilled that I am able to provide a small platform by way of Naina.co and share their work. The "I Love You More Than Food" card I gave to the boy, with a long list of scribbles on the back as well. It was, I might add, very well received!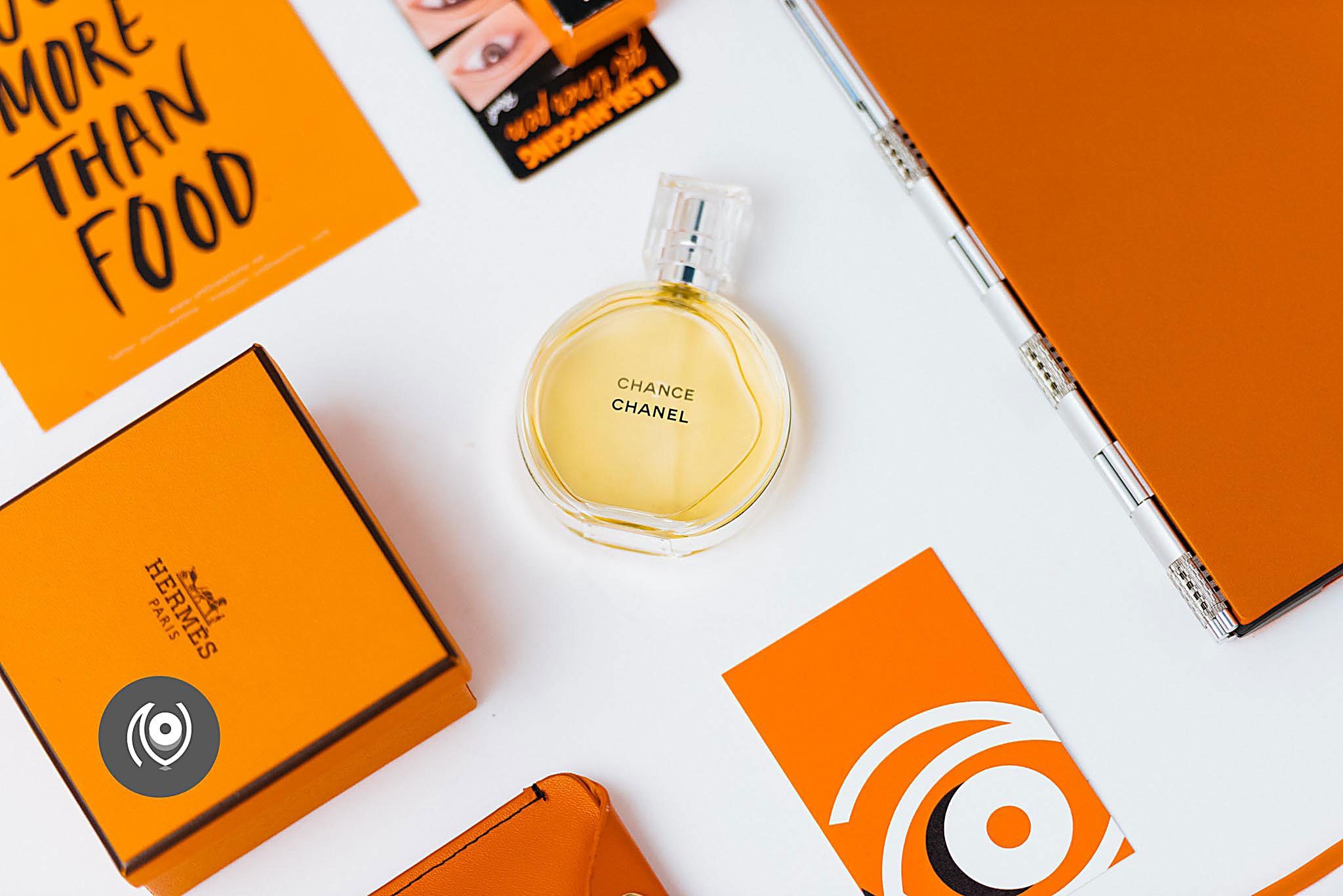 CHANCE by CHANEL is another of those lovely fragrances that I'm worried I'm going to finish before I've completely understood the meaning. Each time I've used it, it makes me smile and think, "Wow!" and swoon a bit. It is a lovely little travel-size bottle and I even did a cinemagraph with it as part of one of my #CoverUp editions.
The orange card type thing you see below? The one that's the centre of attention in the photograph below? That's one of my business cards! And the graphic on the card is the Naina.co logo. I had ordered these from Moo.com in a riot of colours and of course one of the predominant colours I ordered was orange. I've run out of most of the orange ones because those tend to be the ones I hand out the most! I've written about the Moo LUXE category earlier and love the quality of their paper and printing.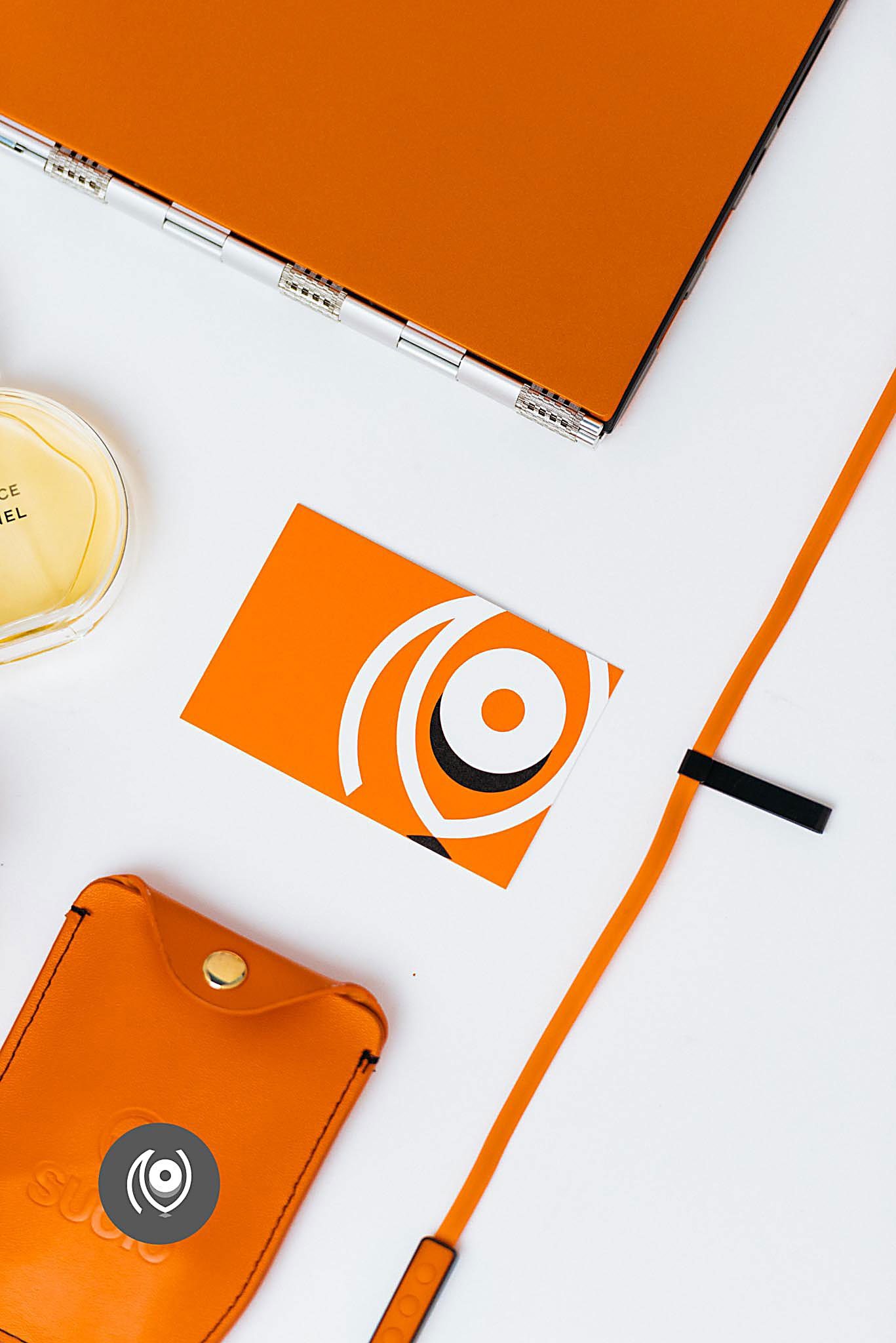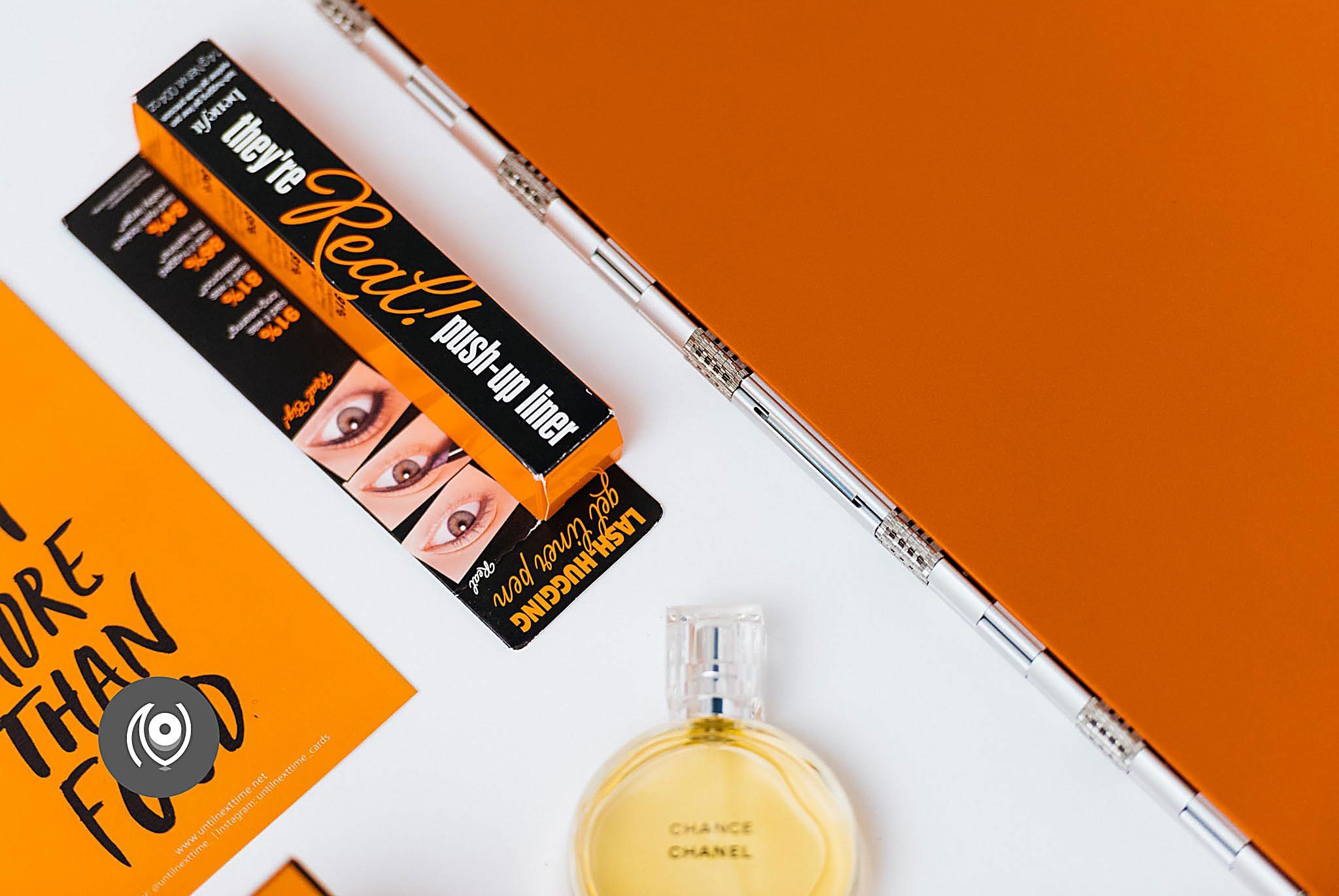 One of those products that I'm obsessed with above : the Benefit Cosmetics They're Real Push-Up liner. I've written about it earlier where I explained how it was so lovely but so frustrating to use. I'm thinking of spending at least a while week where I wear nothing else on my eyes but this product. Should be a life-saver during the Monsoon season in India – no runny eye-liners for me. Has to be accompanied by it's remover too though – nearly impossible to get it off your skin otherwise. Benefit is launching this product in four new colours on the 26th of June this year and I cannot wait to get my hands on all of them!
I use the Lenovo Yoga Pro 3 when I'm hopping cities for a couple of days and don't need processing power for the Nikon D810's RAW files ( it can handle those too but I'm unable to wait patiently while it does that. ). I love that it's a tablet and I can flip it around to watch my favourite YouTube videos or touch-Pin on Pinterest! The latter is my most favourite part of using this machine. ( In the above photo, note the beautifully engineered wrist-watch hinge! )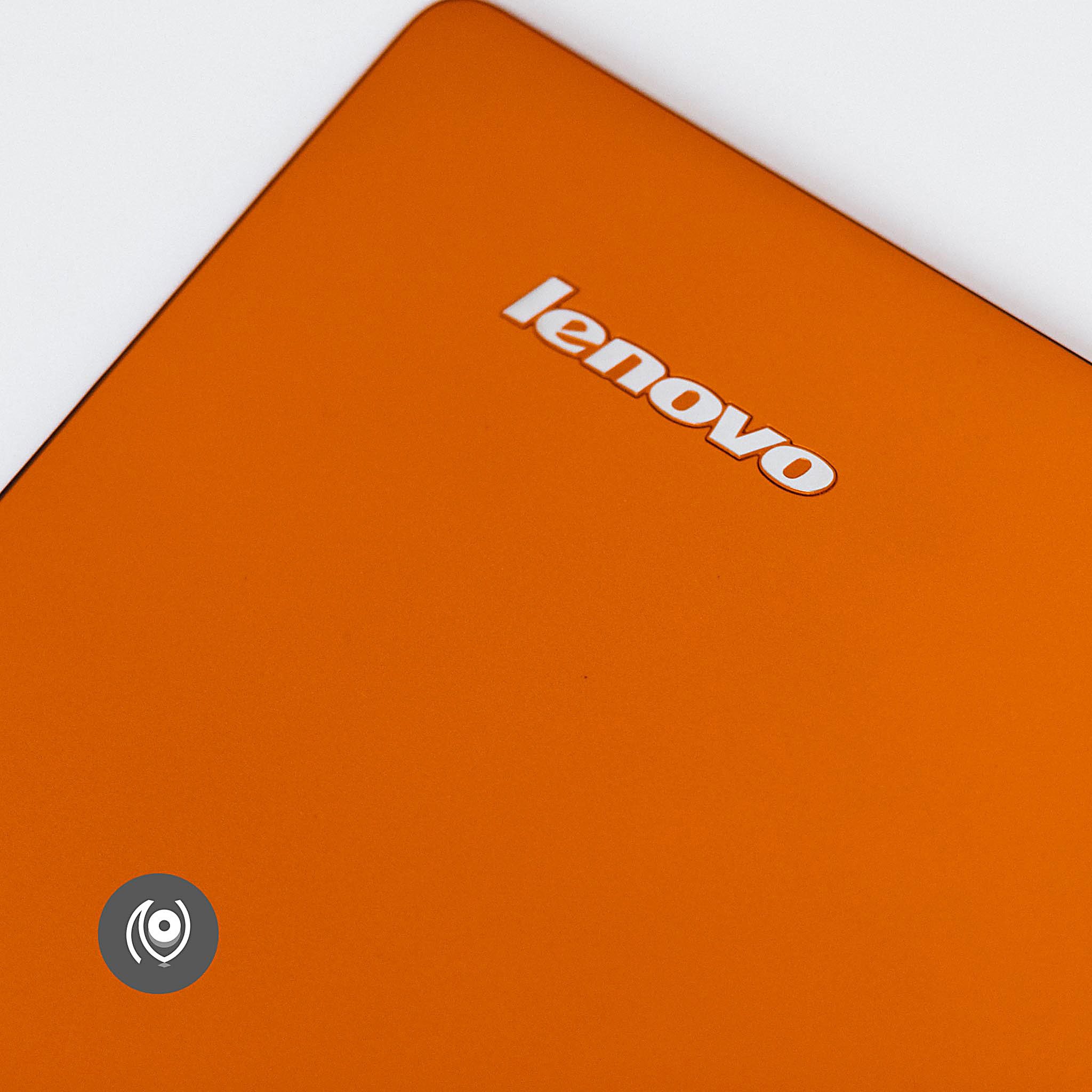 The number of times I thought about changing the title of this blog post to "Orange is the new black", is not funny. Eventually it got decided for me because I had forgotten that I'd scheduled the blog post to be published for today and WordPress auto-published accordingly. Now it is ORANGE JUNE and I think that's a great title. One of my favourite months and one of my favourite colours with a bunch of my favourite things! Happy Orange June to you too!