Just a week after #EyesForArunachal, another trip sounded like too much and I really just wanted to stay home and in bed. But then it isn't everyday that your ( much younger ) sibling asks if you would like to accompany her and her girlfriends to *anywhere*. So, there I was, on an airplane, on an all-girls trip over the weekend to Rishikesh. Apparently, I had also signed up for a long list of adventure sports ( I didn't want to be seen as the "old" person of the group, so, even though I was absolutely not-interested in these activities, there I was. )
The family and all the boys in the family in particular were aghast that we'd decided to fly to Dehradun's Jolly Grant ( Jauligrant ) airport instead of being driven to Rishikesh.  "Why would you fly?! It would take less time to drive!" None of our previous, "We are driving to X on our own." had met with approving nods and now because we'd found a way to travel without them boys and didn't need to be driven… Anyway, the plans were made and we were off! The Indigo flight to Jolly Grant spends barely 35 minutes in the air. I was told on both flights that there is no food / drink service and only drinking water would be served on request. On both flights I saw coffee and tea being served to more than a few passengers but my requests for NISSIN's chicken noodles were squarely turned down. Very hungry, we landed at Jolly Grant, which is closer to Rishikesh than to Dehradun.
Cabs can be availed ranging from Rs. 650 to Rs. 900 from the Airport to Lakshman Jhula. Air conditioned. It was almost as hot as Delhi. On our way back, when we had to be driven from Lakshman Jhula to the airport, we only got quotes of Rs. 1,000 and Rs. 1,150. Tourists. Luckily we got a ride for free.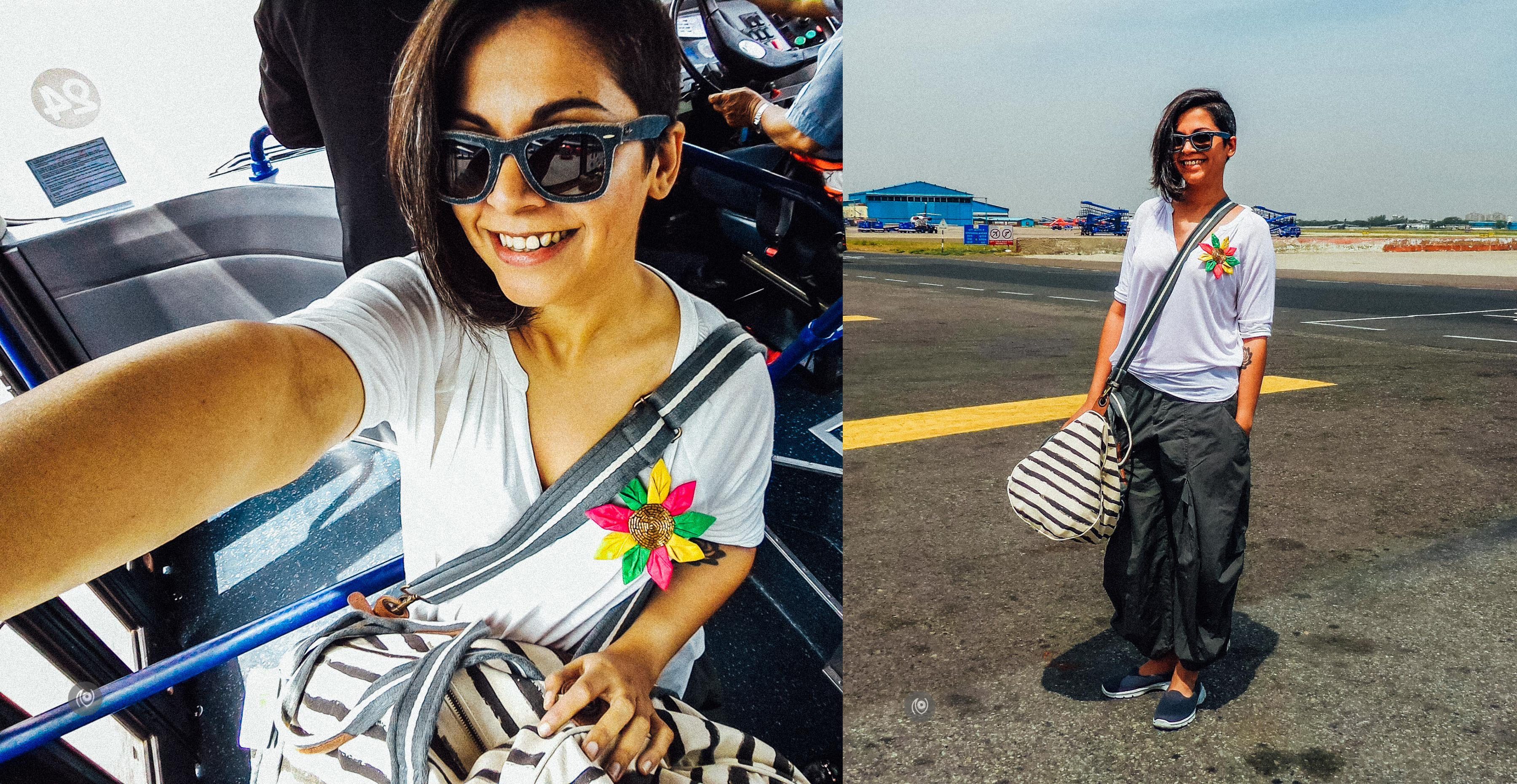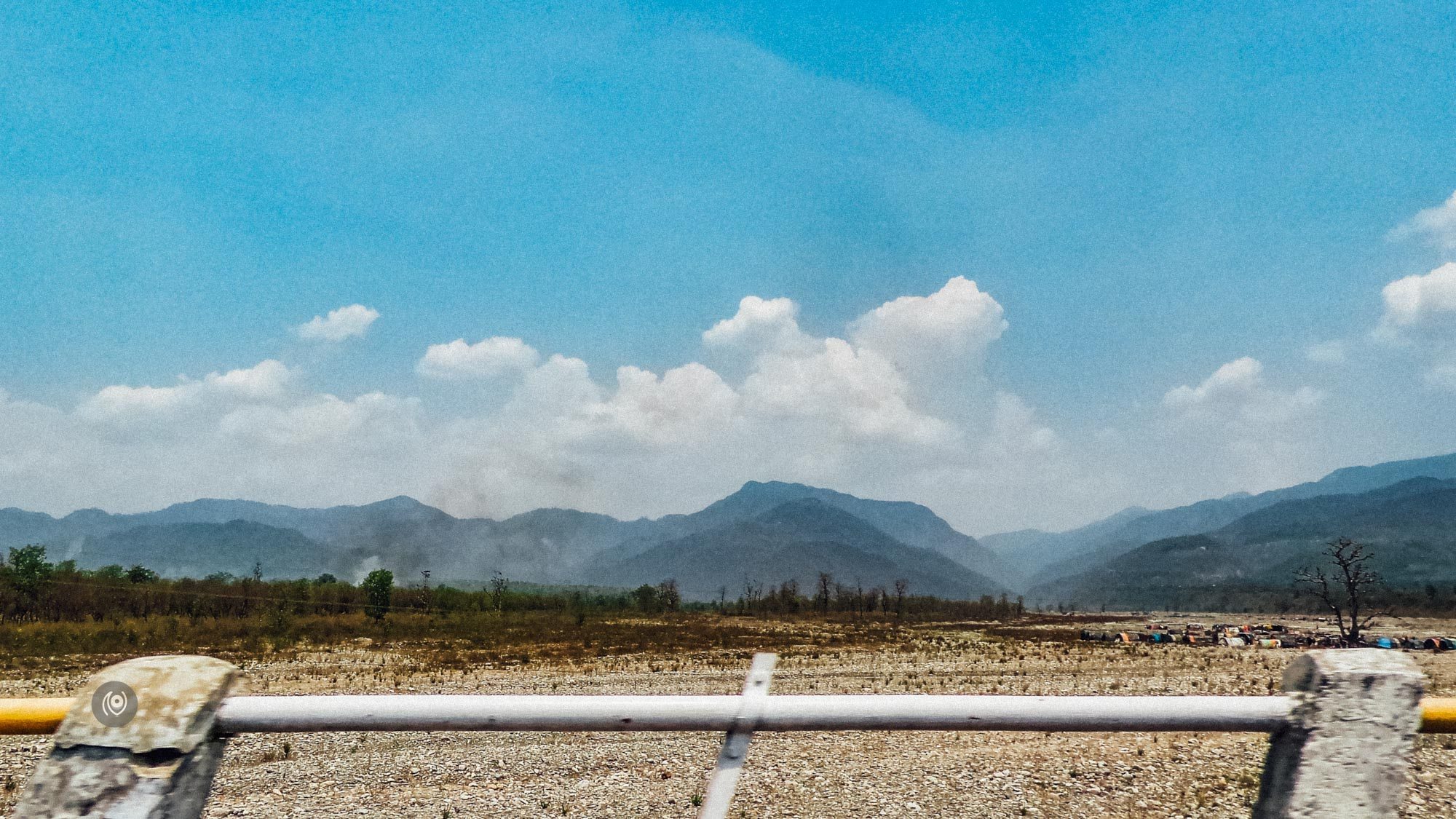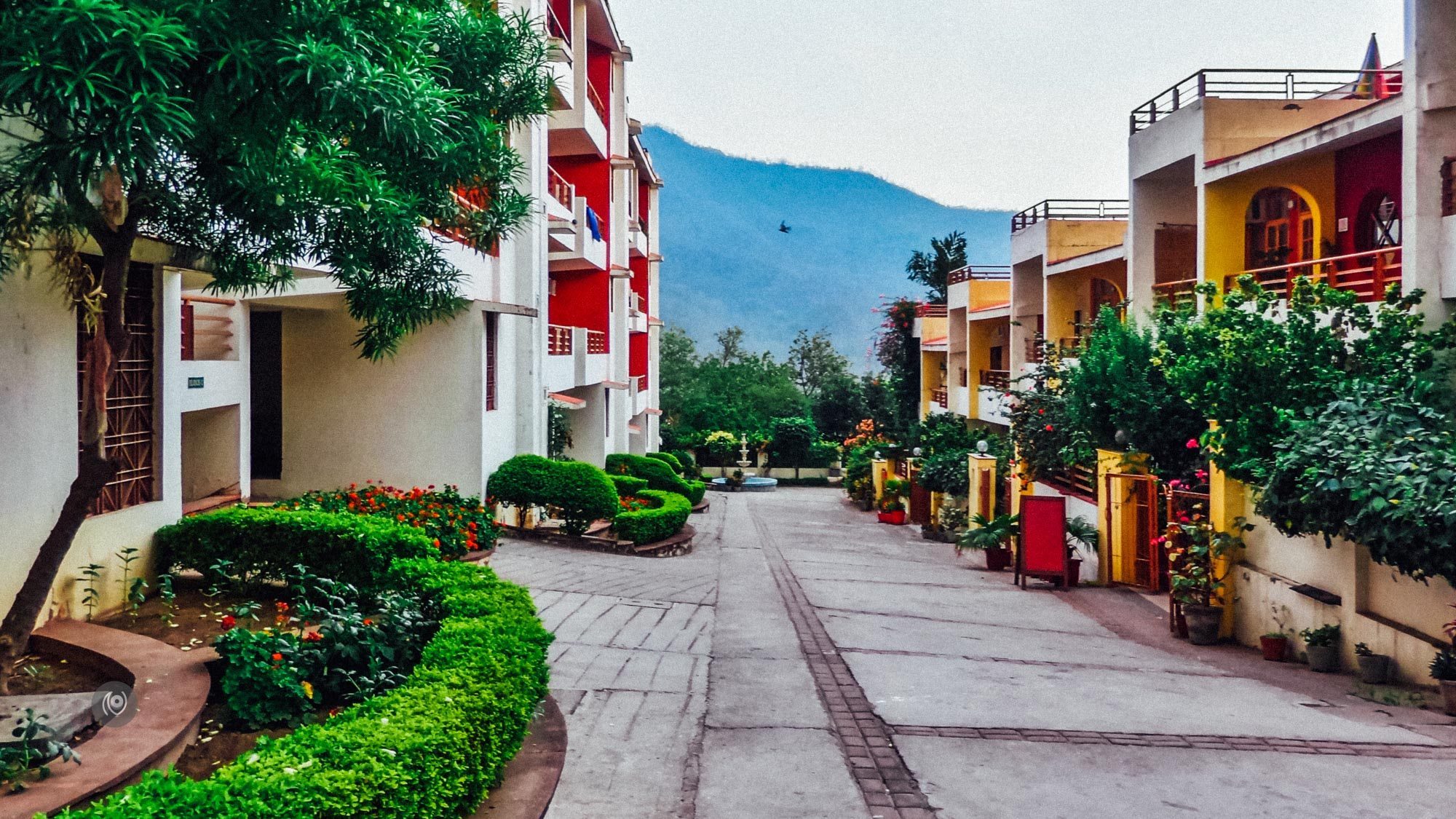 We had booked our rooms via Airbnb and landed up at the Ganga Vatika II, which is run by disciples of some spiritual guru. No alcohol, no non-vegetarian food are permitted in Rishikesh and these apartments were no different. But the apartment was lovely, as were the ladies managing it. We got three rooms with two bathrooms at Rs. 2,200 per person per night ( after my return to Delhi, some of my acquaintances who frequent Rishikesh have told me that resorts at the outskirts of Rishikesh are about the same rate and also serve non-vegetarian food and alcohol ). The location of these apartments is right next to Ram Jhula but away from the noise and pollution of the main road or the bypass road. It was peaceful, air-conditioned and if you are desperate, there's even food the ladies provide at extra cost. It is simple vegetarian fare but only if you're desperate and can't manage the 7 minute walk to the Ram Jhula market.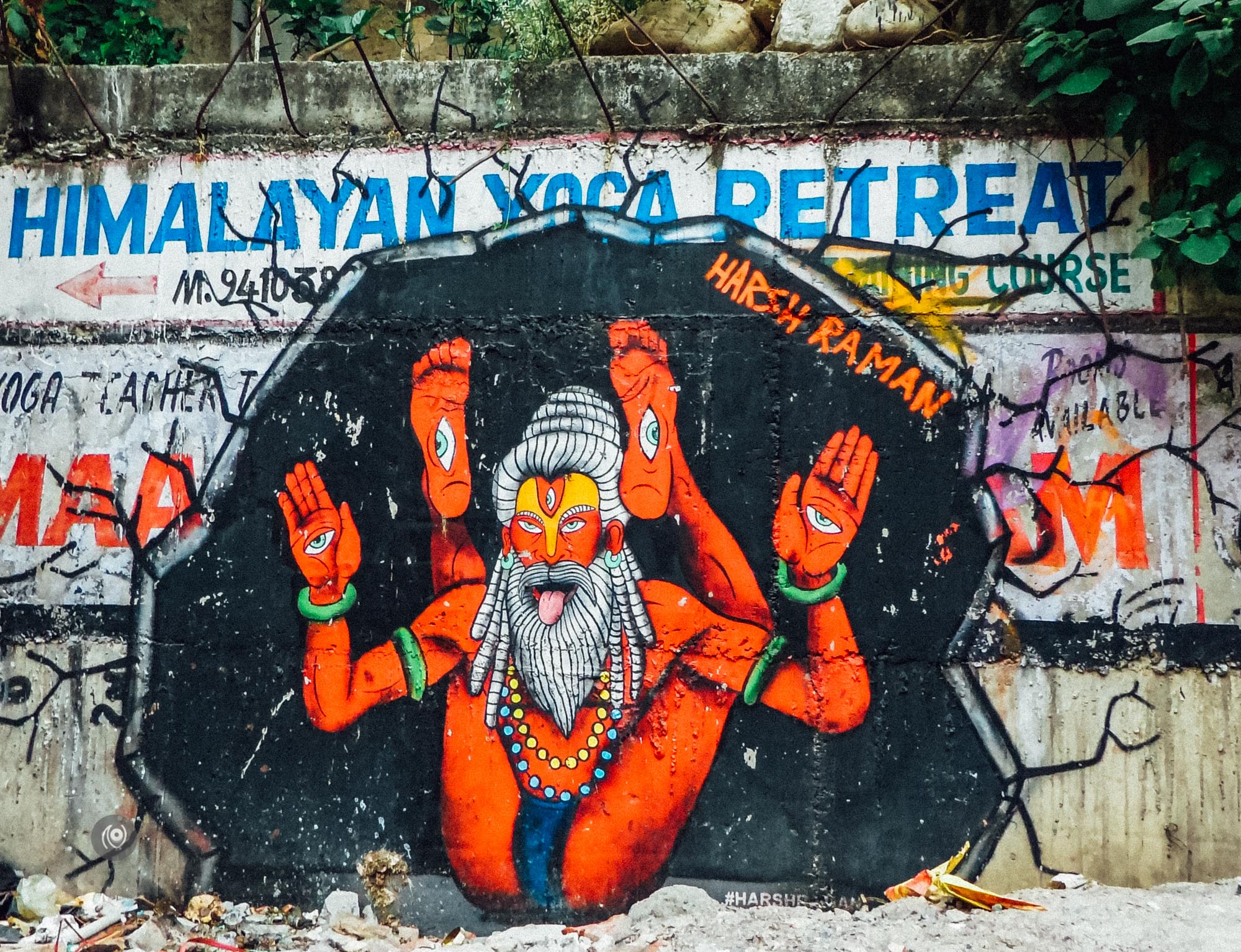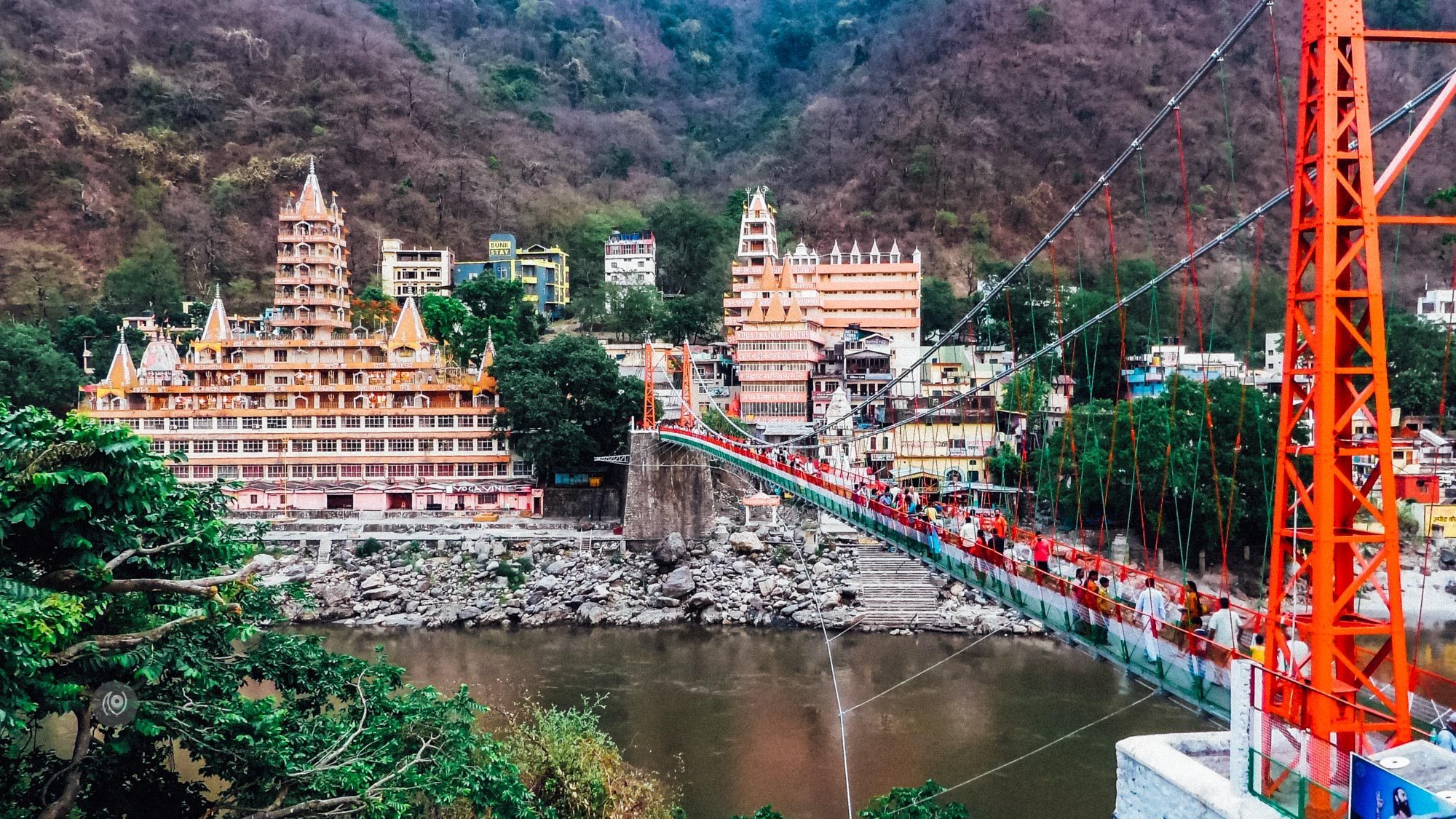 After checking-in to the Airbnb apartment, we ordered food in-room ( which wasn't such a good decision in retrospect ) but we were starving. After a late lunch, we ran off to explore. Walked down to the main road and tried to charter a six-seater. We had been told by our Ganga Vatika hosts that the charges for a shared six-seater were Rs. 5 per person during day light hours and Rs. 10 per person after sunset. The first six-seater we encountered asked us for Rs. 100 total and the vehicle would be ours only – no sharing with other locals / tourists. We thought that was too much, so we walked some more. Within a few minutes I realized the following:
01. Wearing ear plugs while walking on the main road is not a bad idea. I was nearly deaf by the end of the three days in Rishikesh. Everyone blows their vehicle's horn like there's no tomorrow and the world will end if the non-existent obstacle on the road ( animate or inanimate ) does not move out of their way. The horns are shrill and LOUD.
02. Rishikesh's men ( local and Indian tourists ) reminded me of Delhi. We were all dressed in trousers and shirts and yet the stares and lascivious looks we were given were horrifying. So much for being the Yoga Capital of The World, Rishikesh is like mini-Delhi and reminded me of PaharGunj. Go figure.
03. It was HOT and humid. Not good to walk around in the afternoon sun.
So we hired a six-seater for Rs. 100, which then dropped us to the by-lane that leads to Lakshman Jhula. We ate an evening snack at Devraj's Cafe also known as German Cafe. The food was ok – the sandwich is totally avoidable. Try the pizza and the brownie. The view is quite nice but the place closes at 9 p.m. – there's no air-conditioning. Say hello to Manish who served us while we were there.
We crossed the Lakshman Jhula ( it is used by two-wheeler drivers, so more horns blaring, people and cows and monkeys ). We walked down to the river bank using one of the many narrow lanes besides shops and homes and sat soaking in the sunset. Soon there were insects and mosquitoes and saffron-clad sadhus smoking pipes and large bats skimmed the surface of the water for their dinner.
For our dinner, we landed up at Little Buddha. If you go early, you can get a table with a view. Service is nice but food is ok. The Chinese noodles were ok, but the manchurian and the gnocchi were barely passable. The vibe of this place reminded me of Curlies at Goa. Customers at many tables had lit up joints. On our walk back to the main road, we picked up several bottles of drinking water ( The water purifier at the apartment was broken and we weren't sure it would be fixed by the time we turned in ). We also bought a few bars of chocolate for breakfast.
Walking back from the restaurant to the main road, we were followed by two boys in a black Maruti Swift. They had smoked-up while at the same restaurant as us, then they had sat on the pavement outside playing music on their boombox and then, well… Little Buddha closes at 11 pm but we had left at around 10 pm. During our walk to the main road, we were joined by a group of four foreigners. When the boys in the car saw this, they drove away. A cab-driver approached us saying he would drop us to our destination and would charge Rs. 200 only. We turned him down and continued to walk and from behind us he screamed, "Haan haan jaao, aapko hee chalna padega." As if girls can't walk. WTF. Really, Rishikesh is mini-Delhi.
We reached the main road and immediately found a six-seater who drove us to our destination for Rs. 200. We had walked too much and had been harassed too much and another six-seater had asked for Rs. 250.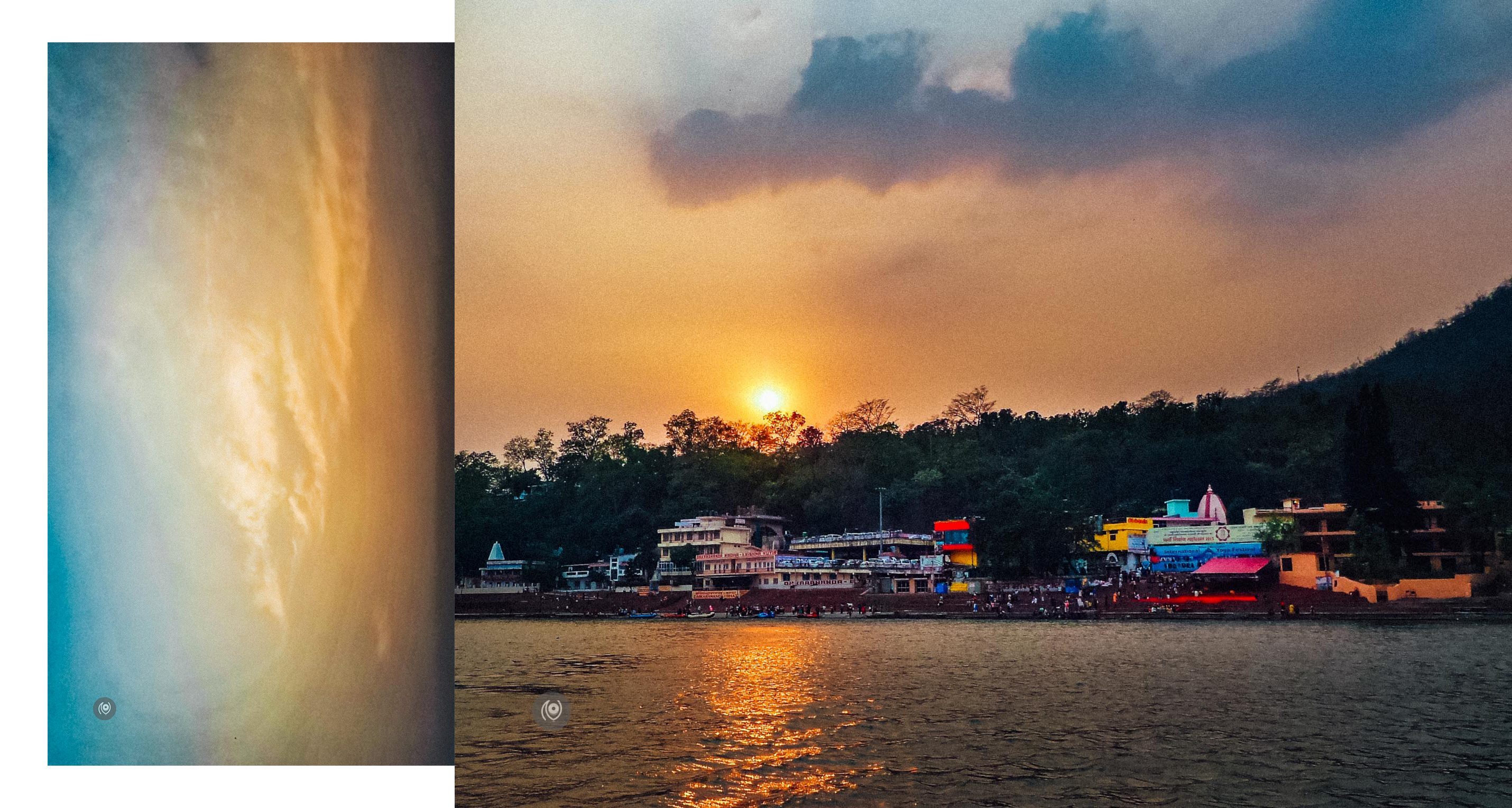 Day two was the start of our adventure sports. With bungee jumping at "Jumpin' Heights". I wasn't interested but went along. It's a bit of a drive away from Rishikesh, the road is terrible in patches but a new one is being laid. We hired a cab that drove us to and from the location and cost Rs. 2,400. It looked like it was going to be a HOT day.
We were the first people to arrive at Jumpin' Heights. A bit of preferential treatment too as one of the girls with us knew the owners. We didn't have to get in line. We signed disclaimer forms and sat down to watch a video about the bungee jump and other sports offered. ( Unlike my skydiving experience in Canada, where the video was instructional and introduced a newbie to how it's done and what happens and answers questions one might have, the Jumpin' Heights' video was a PR exercise. It was an advertisement with no instructions and no questions were answered. ) Their representative told us that we would get two chances, after which we could return to the office on failing to jump and no refunds would be provided. Which is fair enough. They can't stand around all day waiting for a scared kitty to jump.
We walked to the bungee point and were introduced to Matt and three other people on the team who would be conducting jumps. I don't know how but I was jumper no. 1 of the day. They put a harness around my body, I was told the bungee cord would be tied to my ankles and that in their 50,000 jumps, they had not had a single casualty. I could feel they were trying to talk me into jumping, trying to make me comfortable but it felt so rushed that it made me very uncomfortable. I found myself standing at the edge, clutching one of the metal bars on the side and to my horror, I realized there were TWO people trying to pry my fingers off that goddamn bar. Some way to convince a n00b to jump! I also had someone's hand on my back and it felt like they were going to push me. I was told I asked too many questions. That I should just go with the flow, not look down and jump. I had been at the edge for more than 30 seconds and said I couldn't do it. With all the gear on, they made me sit on a metal stool two feet from the edge and tried to sweet-talk me for about another 60 seconds after which I stood up again and felt the hand on my back and my fingers being pried off from the metal bar, at which point I had tears in my eyes and I told them I was NOT going to do it like this.
I was summarily moved away from the edge, walked back to the main seating, which was about ten feet inwards, the gear was taken off and that was it. I'm not sure whether I was more upset at being treated like something to be put into a vending machine and ejected, like a thousand other jumpers that pass through the vending machine of Jumpin' Heights or at not having been able to jump. I have sky-dived in tandem ( with an instructor strapped to my back ) and was quite sure I'd be able to do a bungee jump but then the sky-dive was four years ago and I felt I had personalized attention, all my questions about safety were answered, etc.
The other three girls in the group after me, jumped successfully! I was worried they might look at me and be even more terrified. Two of the girls ( including Akanksha ) were first time jumpers. I was thrilled they jumped successfully. Once they were all done, I walked back to the office while they trekked back up the hill. This was followed by a round of Flying Fox and then we headed back to our rooms. No photography or videography is allowed at the location of either of the sports at Jumpin' Heights but you can purchase videos and photos separately after taking a look at the footage.
I am not comfortable recommending Jumpin' Heights' bungee jump. I do recommend the Flying Fox – the team handling it that day was wonderful.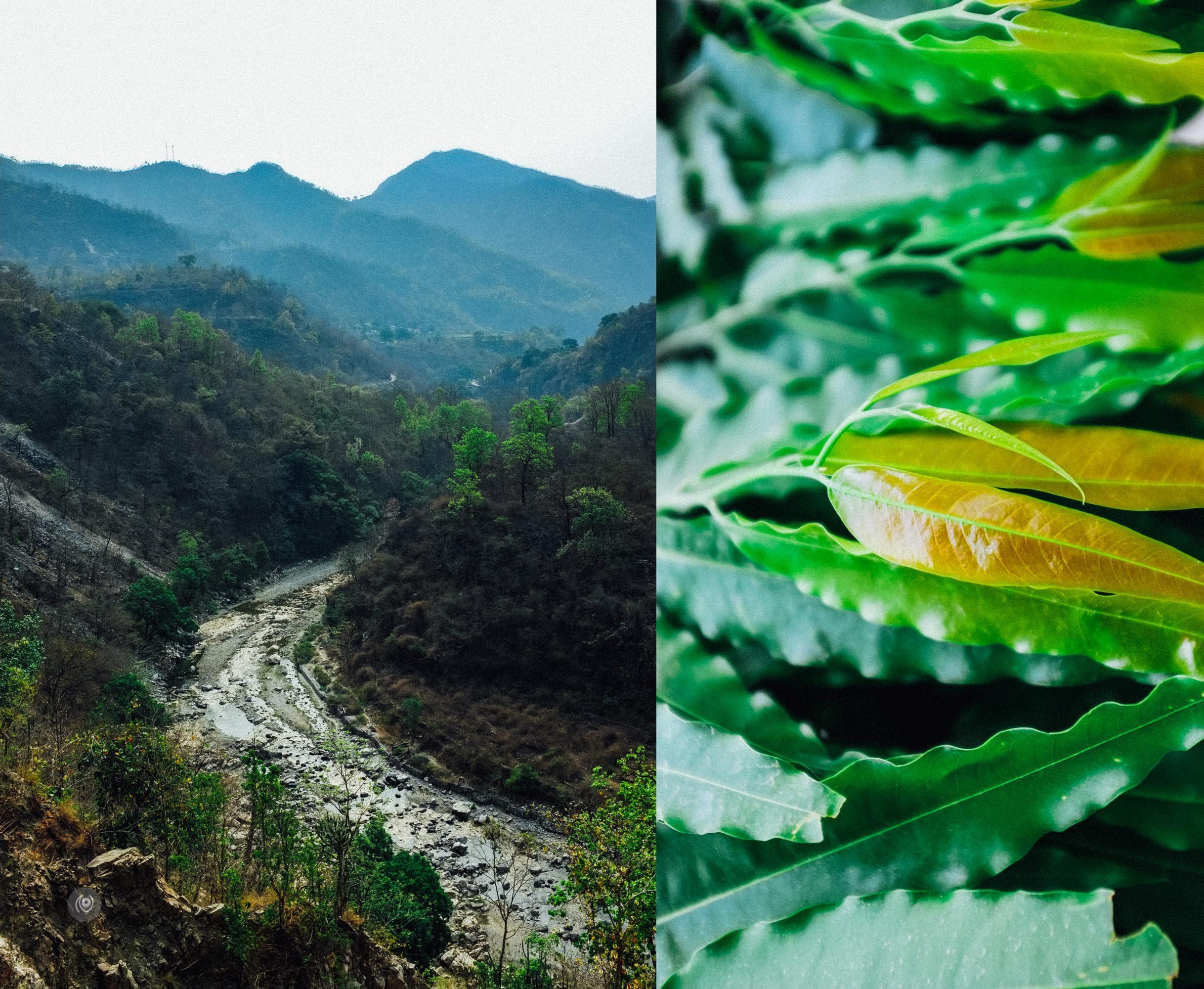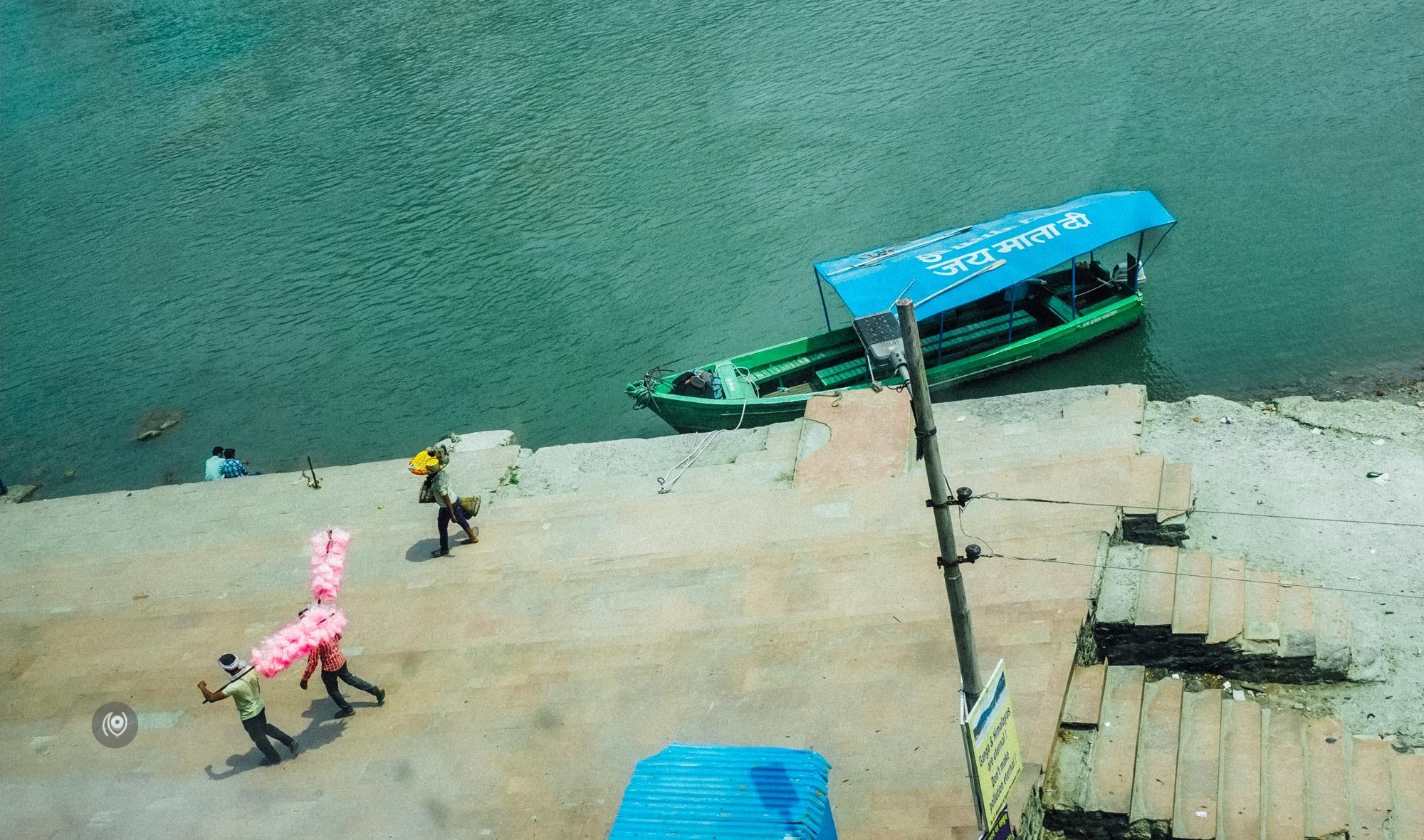 We came back from our adventurous afternoon, starving. Again. The closest place to eat that we'd heard a lot about was Chotiwala. I do not recommend this restaurant at all. Service was good but the place smelled overpoweringly of stale food and the rasmalai I ordered turned out to be a flat rasgulla soaked in watered sweet-milk. But, we were hungry and this was air-conditioned! The above photograph is a view of the river bank while being seated at Chotiwala. I saw a paani-puri / gol-gappa vendor walk into the river with two empty buckets, fill up the buckets, walk back to his stall and proceed to sell his food using this water from the river he had just walked into. Boatloads of rafters disembark at the very location and most of them are hungry after two to three hours of rafting and they eat this street food. Ganga in your gut yo!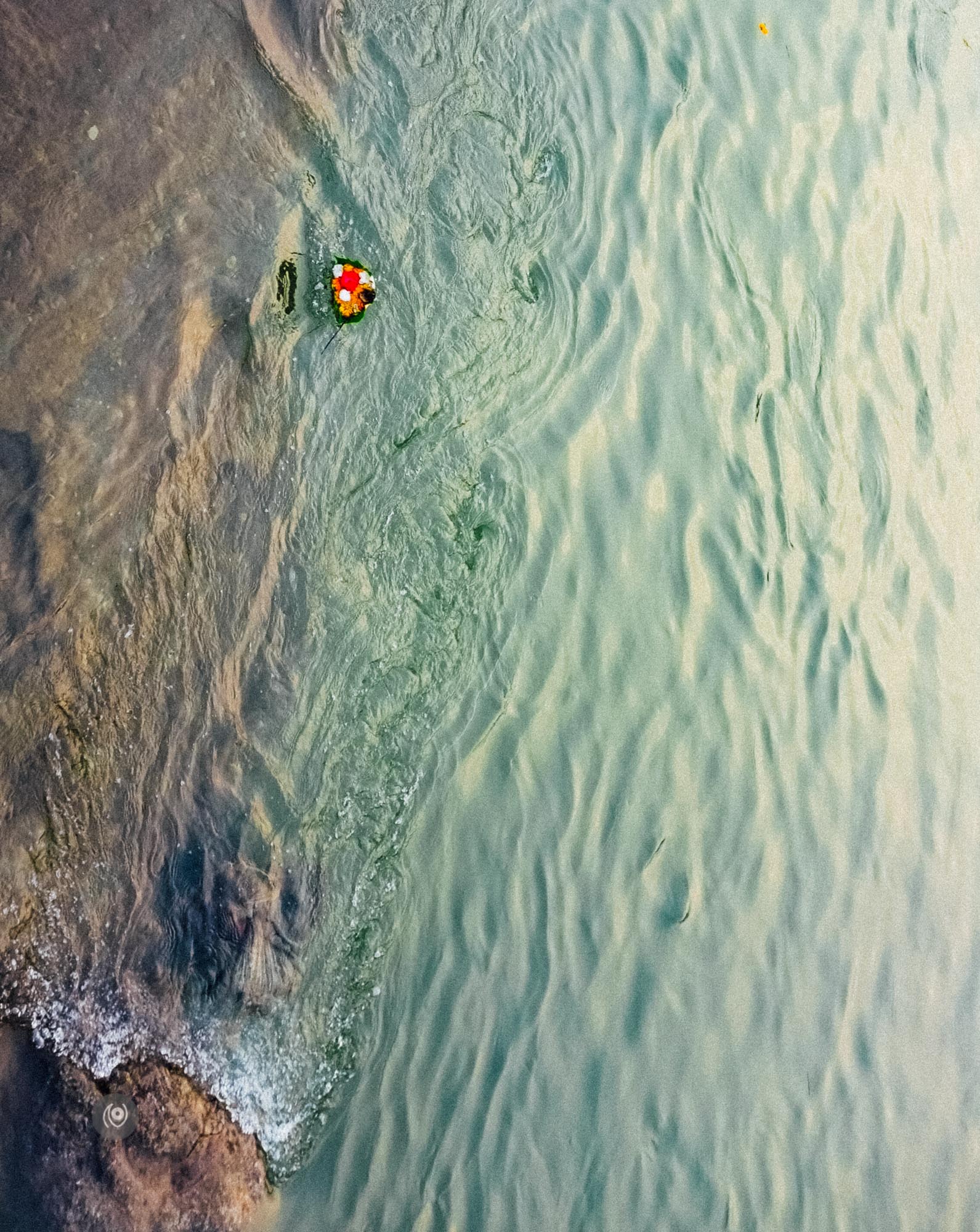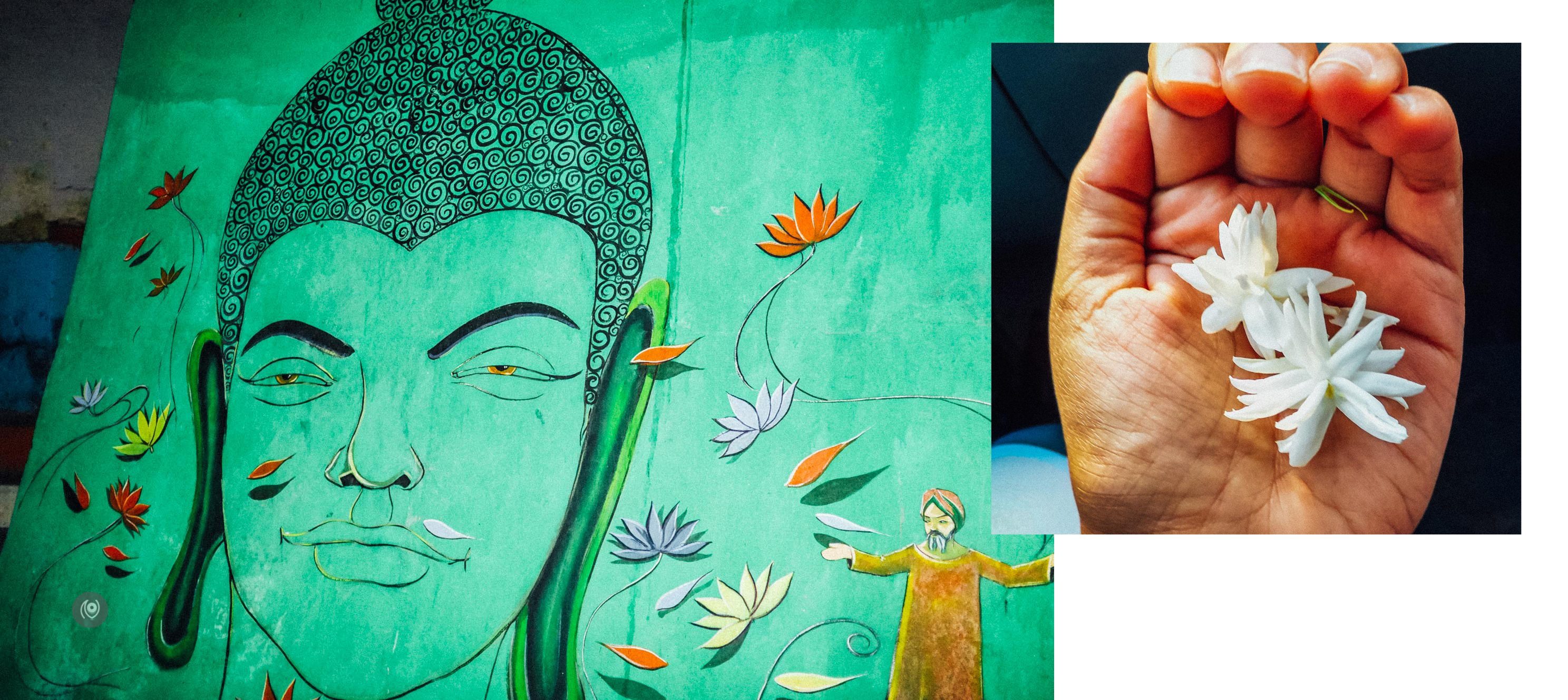 After a 2-3 hour nap back at our rooms, we set out to plan our evening meal. We'd heard about Cafe da Goa and The 60's Cafe also known as Delmar's Cafe also known as Beatles Cafe. We also wanted to see the "aarti / puja" by the river banks because we'd been told it looks really beautiful. I was sure I would get bored of the aarti within a few minutes, so I carried my colouring book. ( Bagh-e-Bahar by GoodEarth ). I'm glad I did. Not only because I put it to use but also because it fit so well with the colours of Rishikesh. The green of the river, the sunset's blue and pink, the saffron of the holy-men, the variety of flowers and fruits.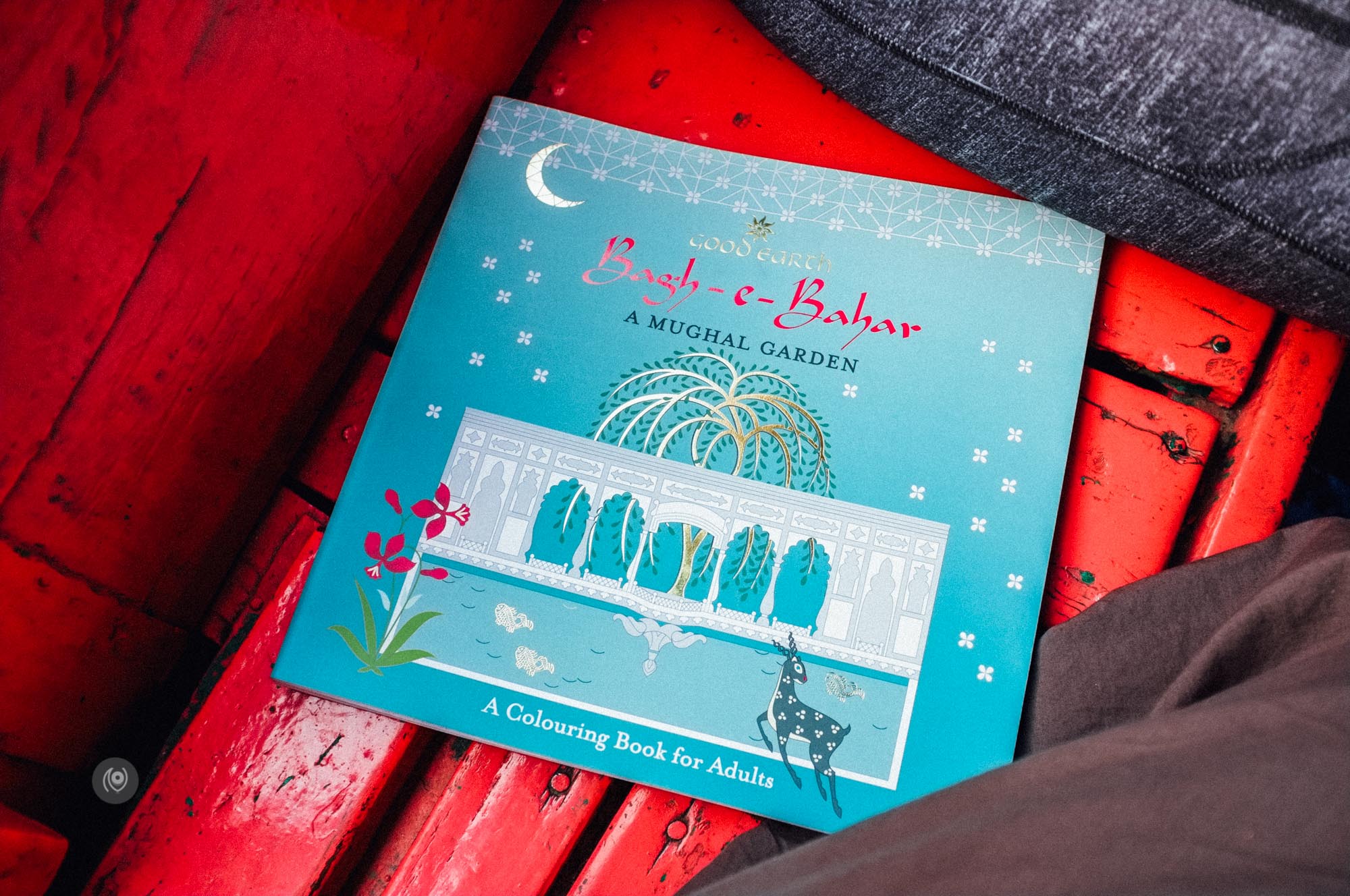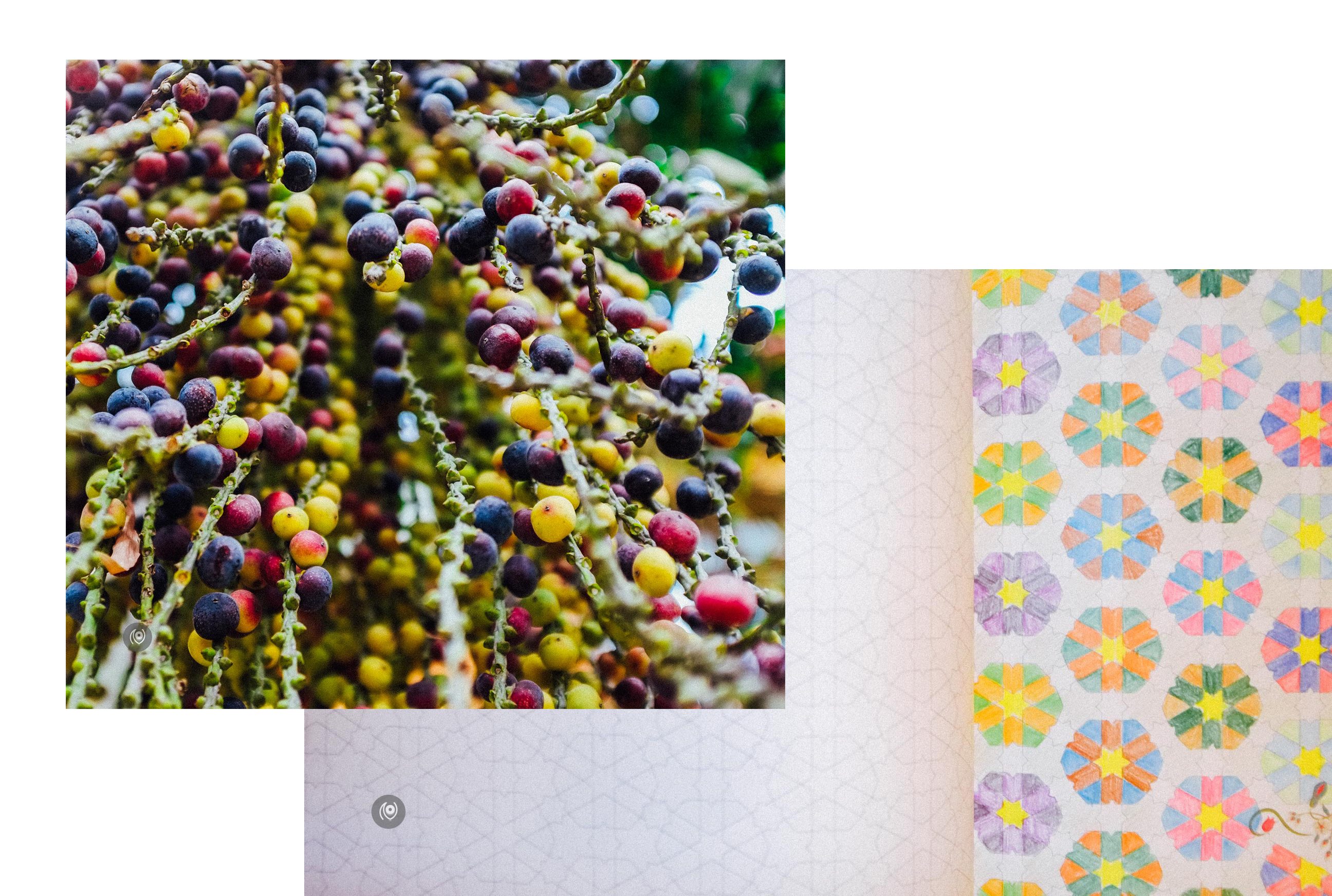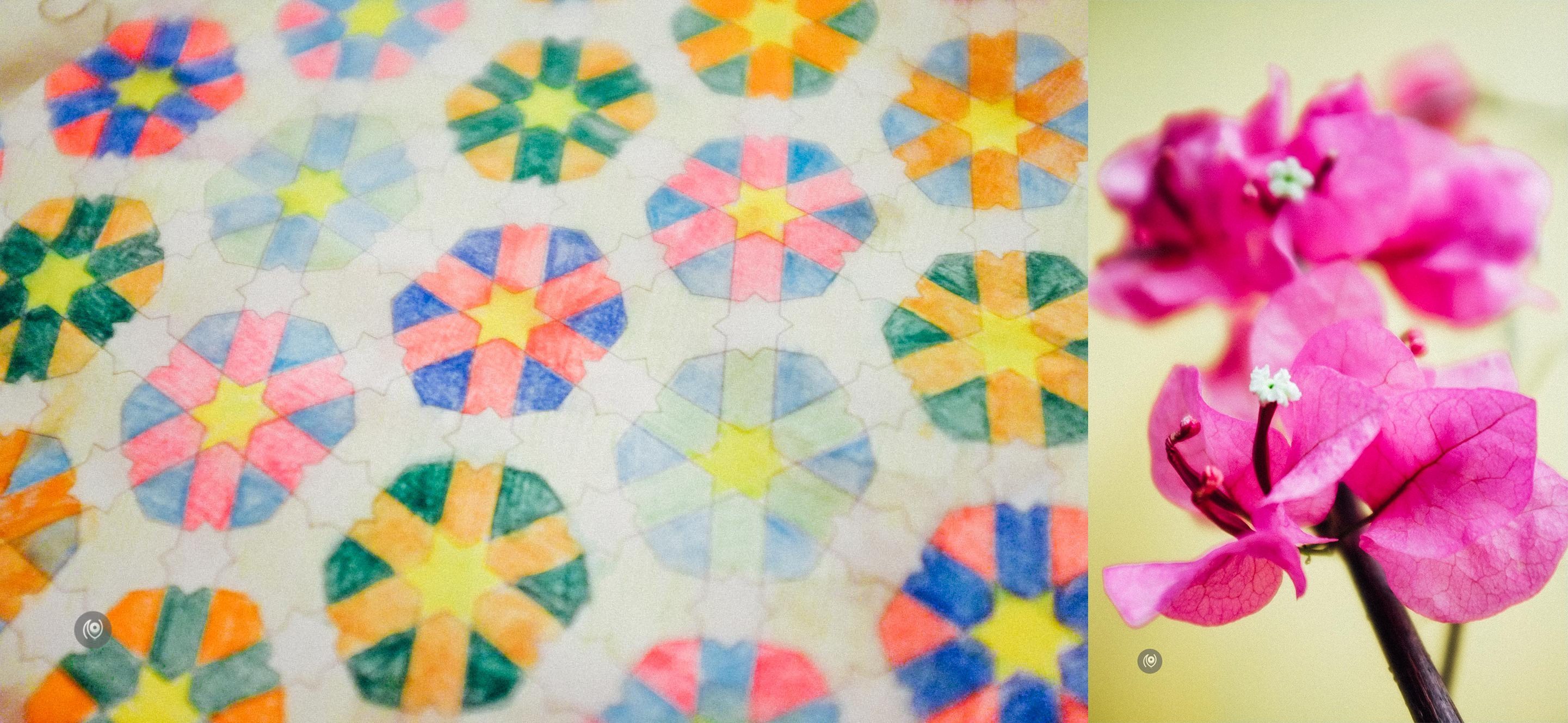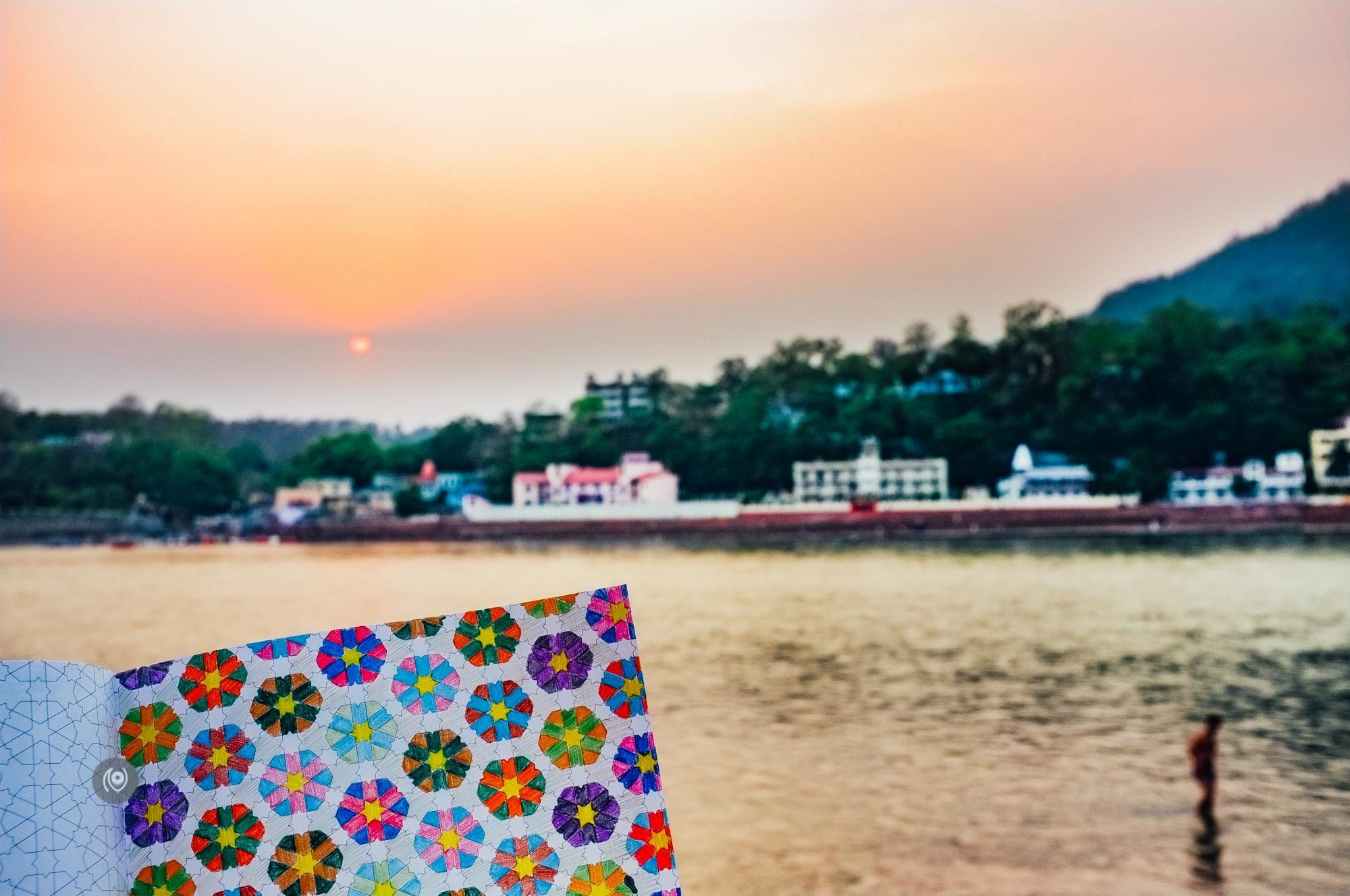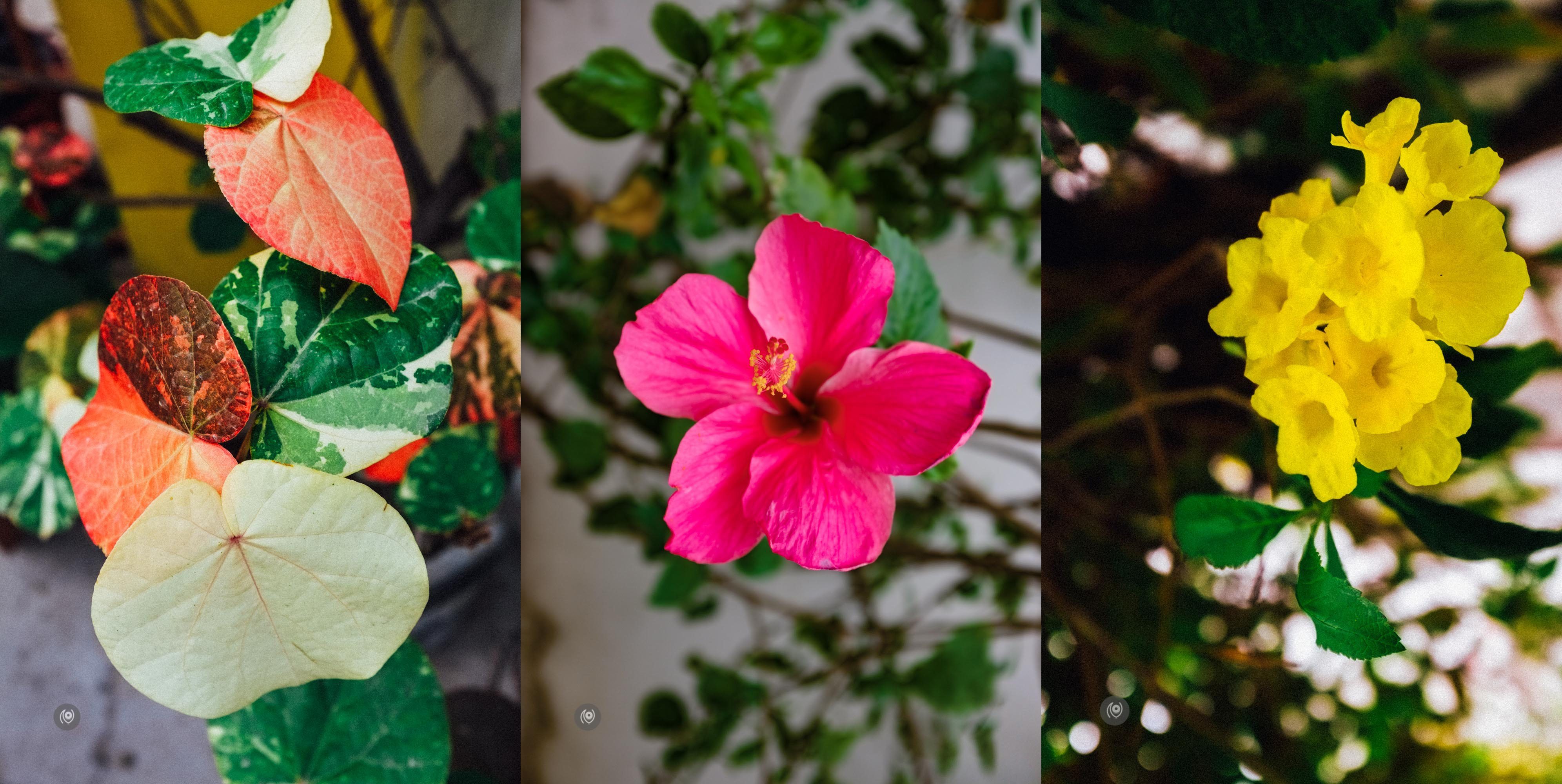 We took a boat across the river at Ram Jhula and then walked to Parmarth to witness one of the many evening pujas that take place at the river bank. We weren't sure where to find the largest puja so we tried to ask a couple of fruit vendors manning their carts along the way. They were unhelpful but an old Indian man overheard us and said he'd walk us to where we could get a boat and where we could see one of the largest pujas. He wore a simple linen kurta in blue and cotton pyjamas and carried a jhola slung across his shoulder – crossbody. We thanked him and proceeded to follow him. While walking, I asked him what he was doing in Rishikesh. His first question to me, in response to my question was, "Where are you from? Are you from India?" I told him I was. From Rohtak, Haryana and he couldn't believe it. He then told me that he was here on holiday. That his daughter and son were both married and that he no longer had any more responsibilities. His daughter graduated after studying textiles from a polytechnic college, as did his son. Both work in the garment industry as managers. I congratulated him and soon enough we were at the spot where we could purchase tickets for a boat ride. It was Rs. 10 per ticket for everyone – Govt. controlled so no fleecing the tourists.
The puja venue was even more crowded and the heat of the lamps somehow made it even hotter. We skulked around for almost an hour but it turned out to be quite the damp-squib. But I could visualize how much more beautiful and spectacular ( and crowded ) it would be when this same puja would be carried out around a large Hindu festival.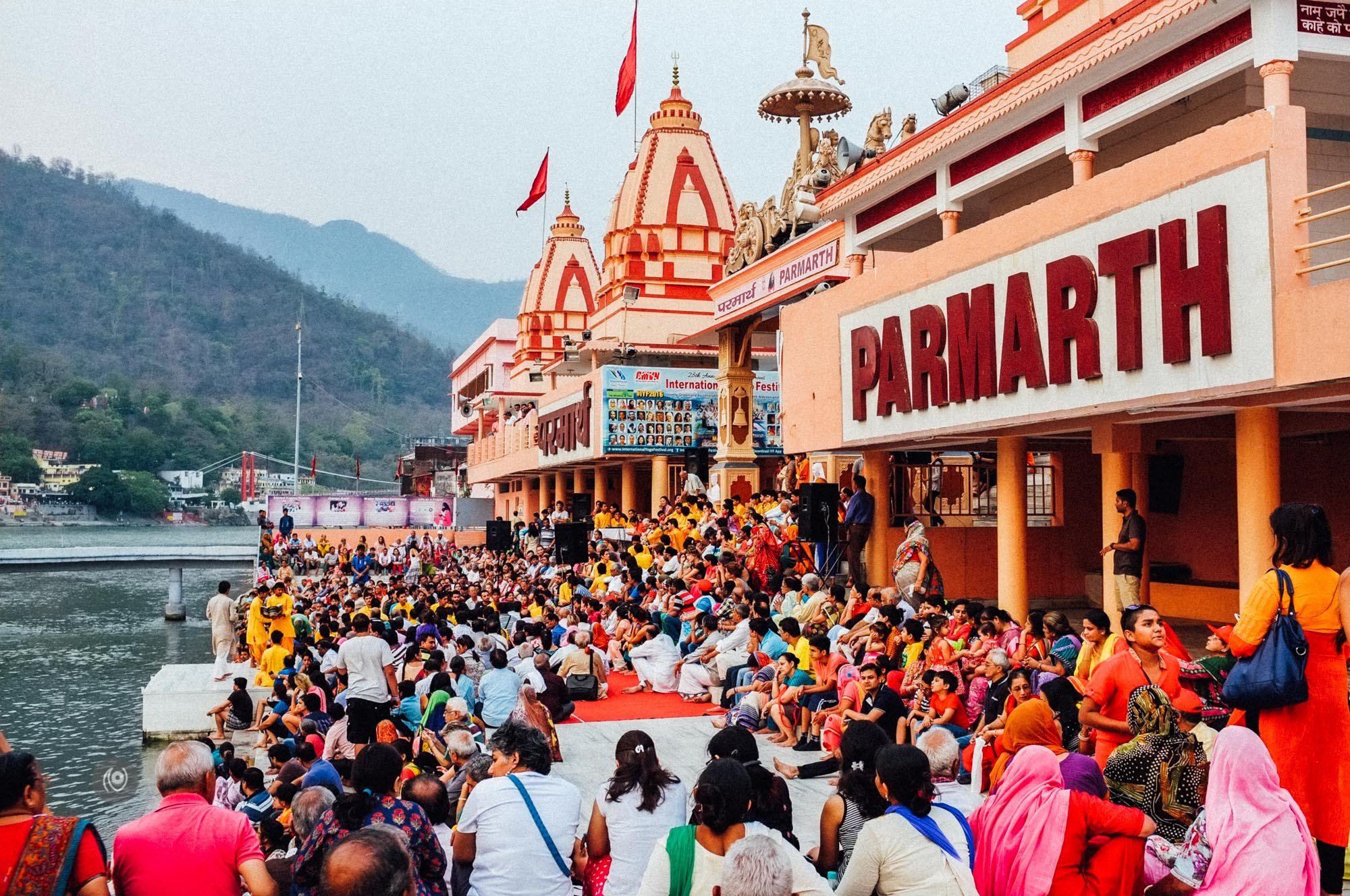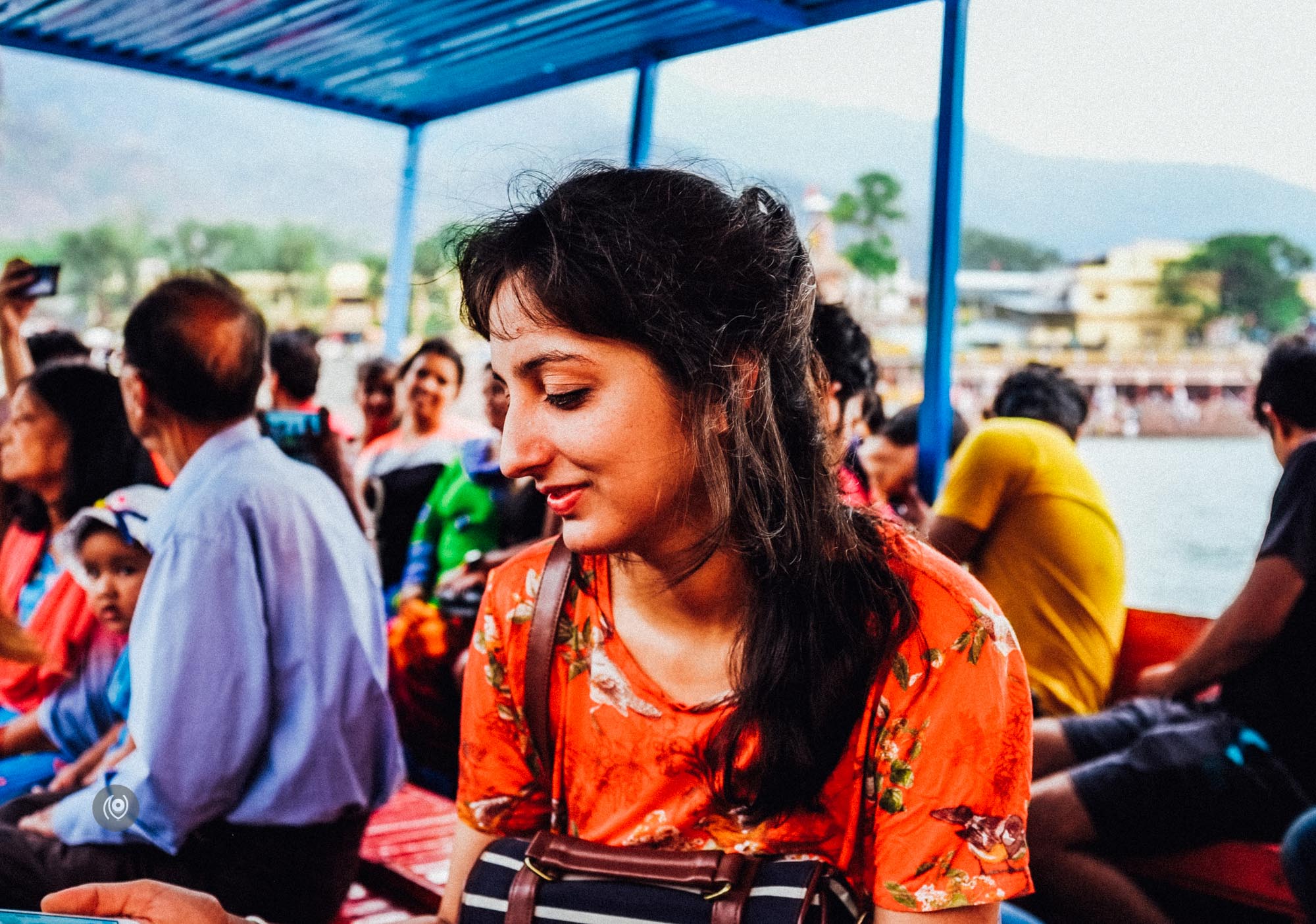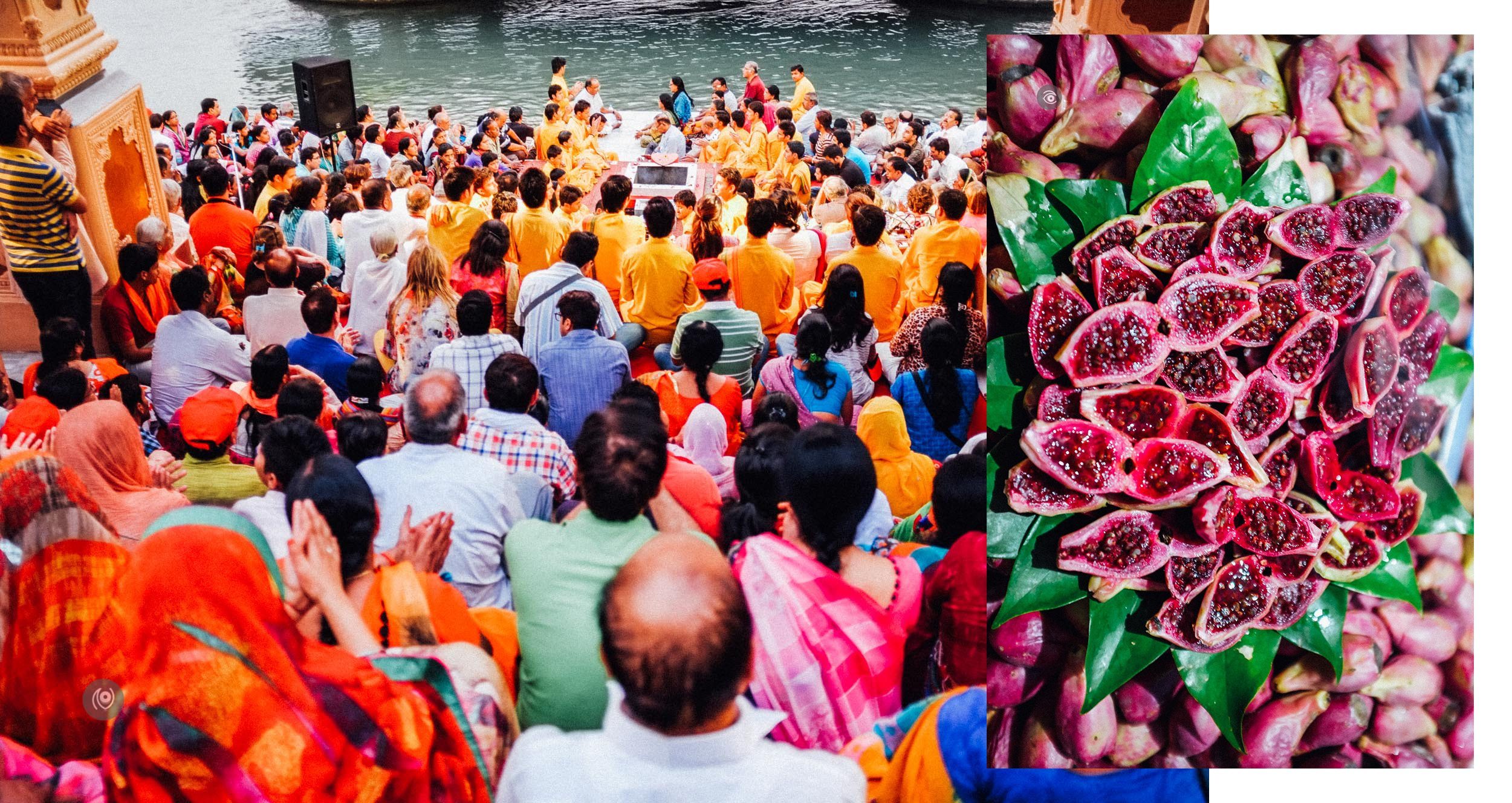 Above, on the right, we were told by the fruit-vendor, is a fruit called "Ram Phal". Literally "Lord Ram's Fruit". Of course, it is actually similar to the Prickly Pear, which is a fruit of a cactus plant. LOL. In any case, I'd never eaten it earlier so I bought a plate and nibbled. It was sour and sweet in places and they'd sprinkled salt on it while serving, The seeds are quite hard but you're supposed to gulp them down with the flesh. Loved it.
Before heading for dinner, we got some more time to sit at the river bank where I photographed some long exposures. The bridge in the photograph below is Lakshman Jhula, which is the older of the two bridges at Rishikesh. It has been washed away by floods numerous times and each time we build it back using stronger material. I started out as a rope bridge, then rope and wood, then metal suspension, now solid steel through and through. It's maintained it's width though. Narrow.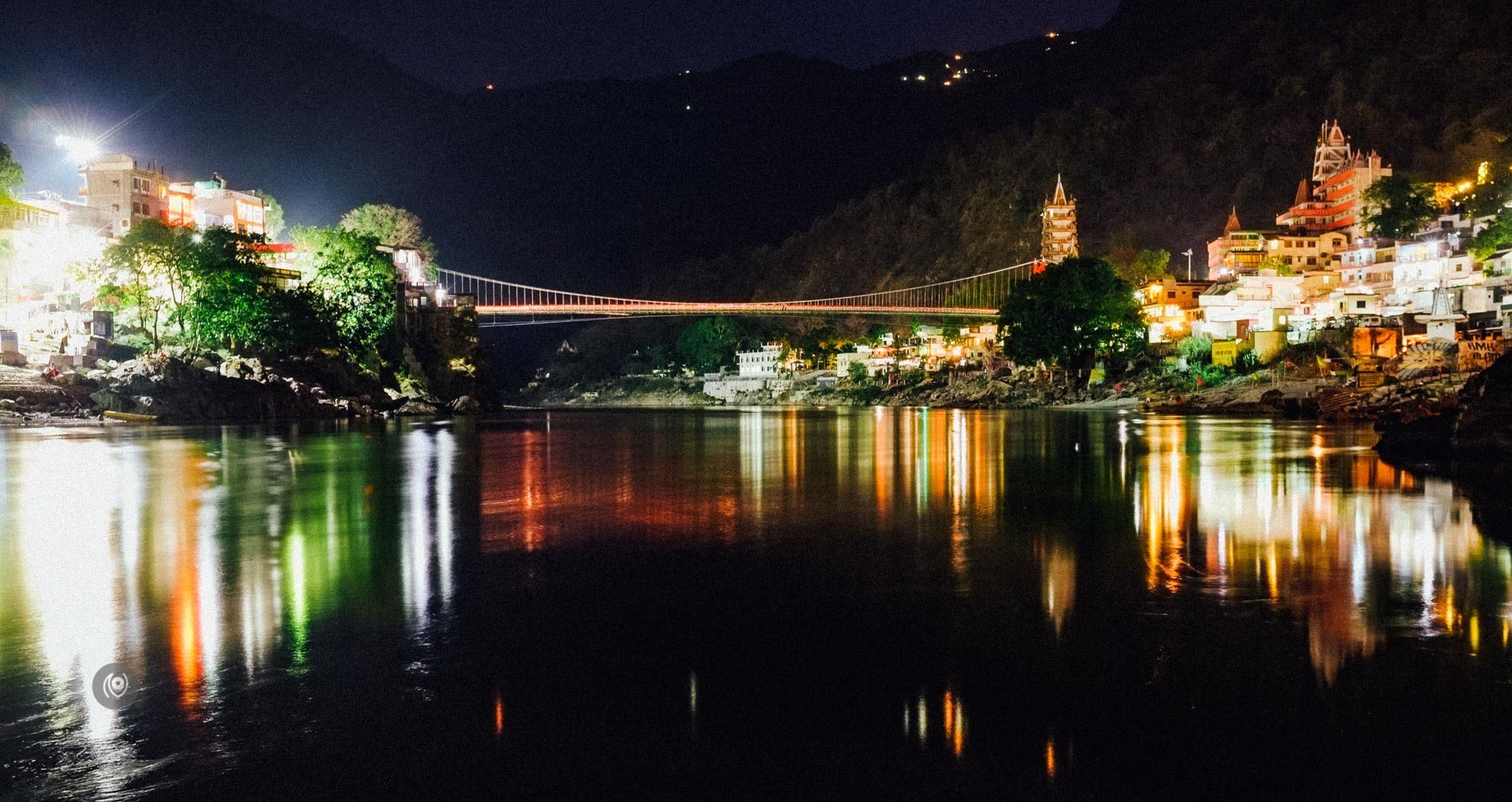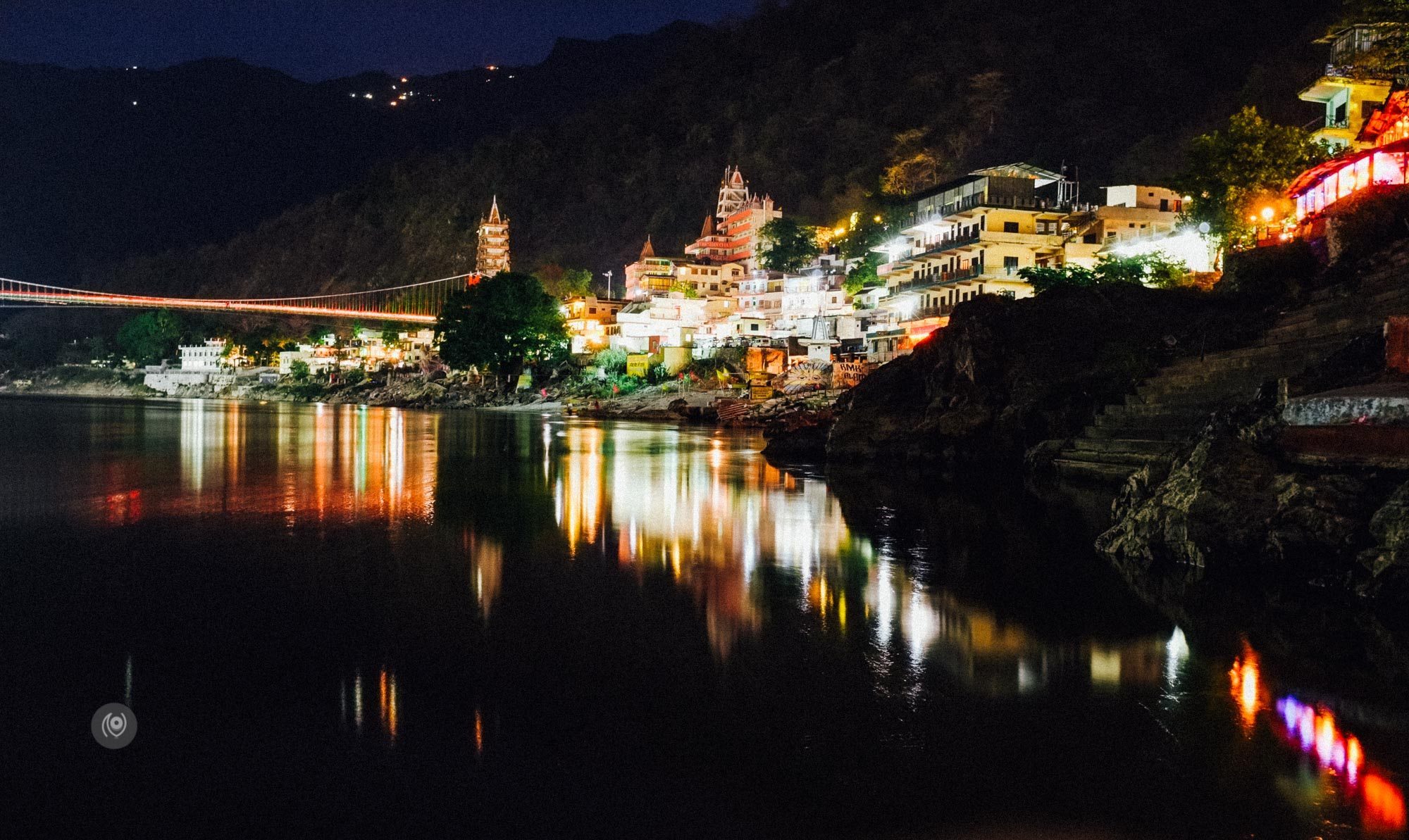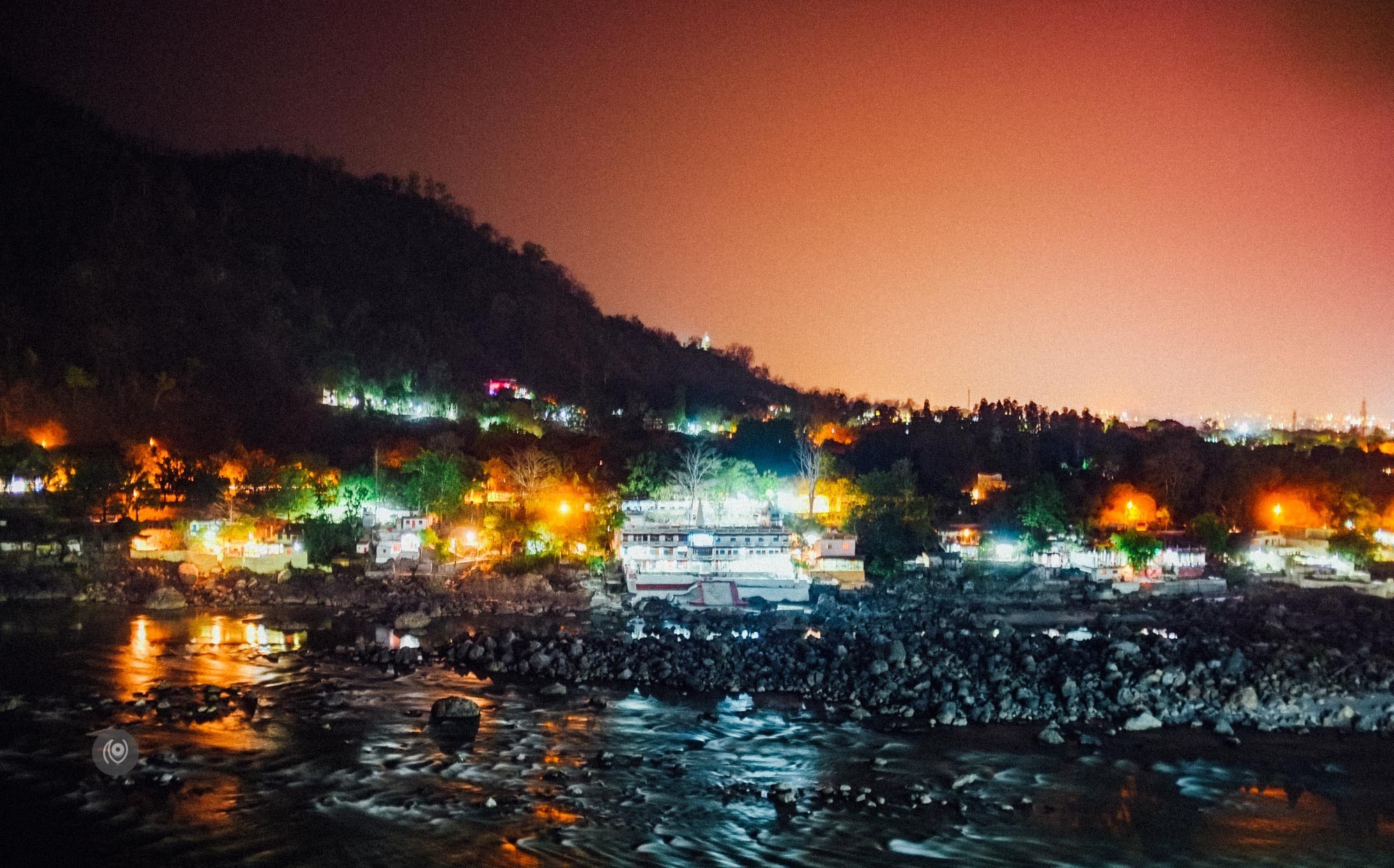 We decided to have dinner at Delmar's / 60's / Beatles Cafe. Above and below, views from their standing area. The space is very poorly utilized – they could easily accommodate more customers but their seating space is bare with only half a dozen tables. Service is ok ( I was told I'd get the next table that got free but people who came in after me occupied it and the service staff told me they'd said no such thing. I was too hot and bothered to get into an argument so I just huffed to myself and ordered a lemon-soda. ) The food here was the best we ate in all of Rishikesh. The cold-coffee is a must-try. The caramelized onion sandwich goes really well with the chutney that's served with the oats and onion pancakes / chila. The other drinks were great too. We over-ate because we were so excited to have found a decent food-place in Rishikesh! They don't have much of a desserts section so we didn't bother to experiment.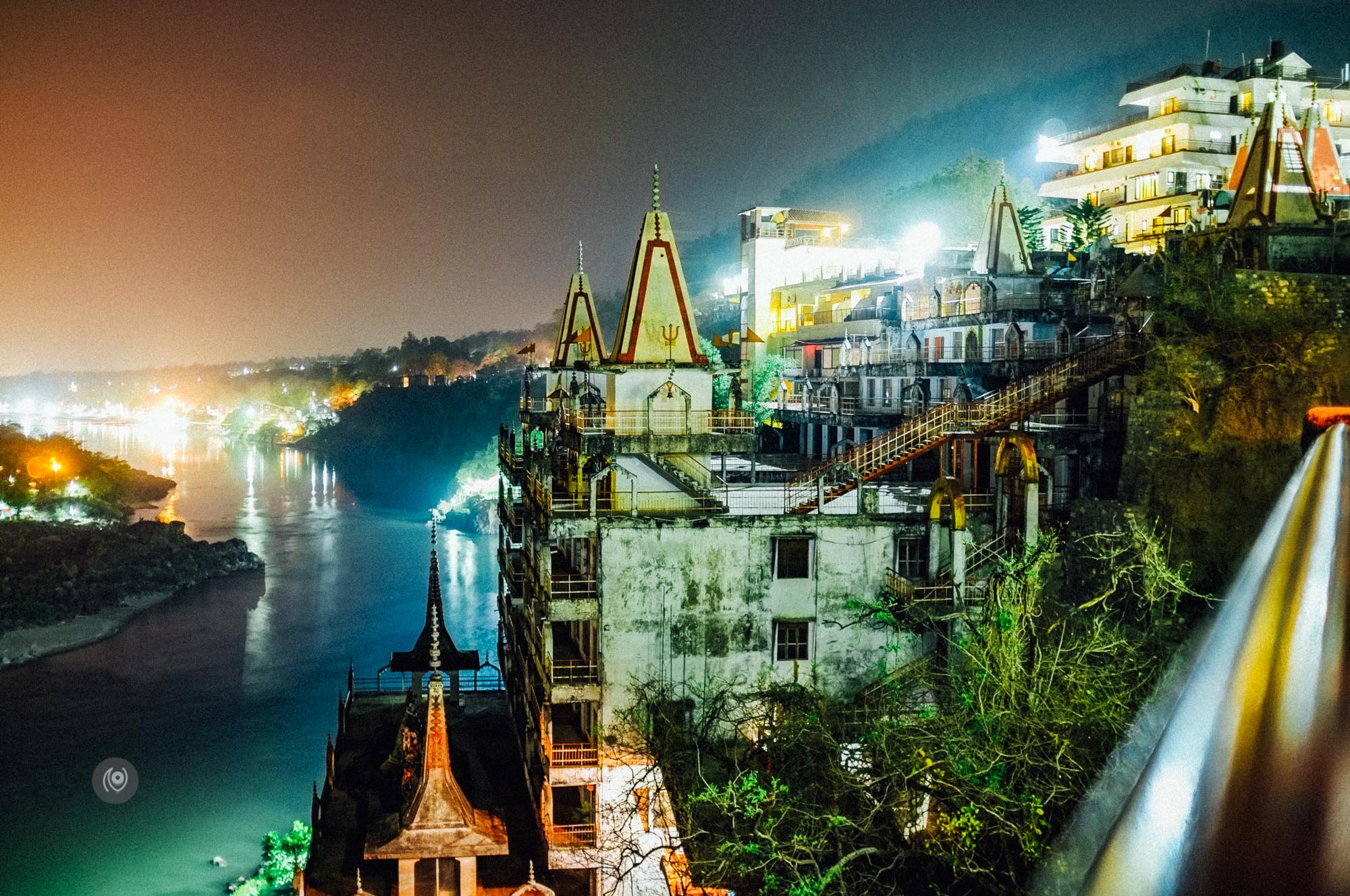 Before I forget, while you're walking to Little Buddha from Lakshman Jhula, you will find Raju's movable shop / cart to your right. He sells fresh, hot butter cookies, which are absolutely delicious. We brought back two boxes and I'm nibbling on one as I type this. Really good and crunchy. He offers a taste before you commit to making a purchase. If you're crossing his cart, you'll know because of the heat the mini baking furnace generates. I was almost two feet away and yelped in surprise, which is why I even looked up and found Raju!
We walked from the 60's cafe to the main road similar to the previous day. We weren't harassed but a six-seater driver offered to drive us for "only Rs. 250". We continued to walk and came across a foreigner haggling with a gaggle of six-seater drivers for a ride to Haridwar. They were screaming "only Rs. 400 sir". In passing, I mentioned to him that it might be a good idea to walk up to the  main road to get a cheaper rate. He smiled and exclaimed that would be a good idea and started walking behind us. Seeing this, the same six-seater driver who'd offered to drive us for Rs. 250 screamed at the foreigner saying he'd drive him for Rs. 300. To Haridwar. LEL. They then drove up to us as we were walking and the driver said he'd drive us – in this shared vehicle – for Rs. 150. We sat down and tried to chat with the foreigner during the noisy drive. It turned out he is from Long Island, New York and had been at Rishikesh for the last month. It was his first time in India and he was flying to Delhi the next day and hoped to visit Rishikesh again.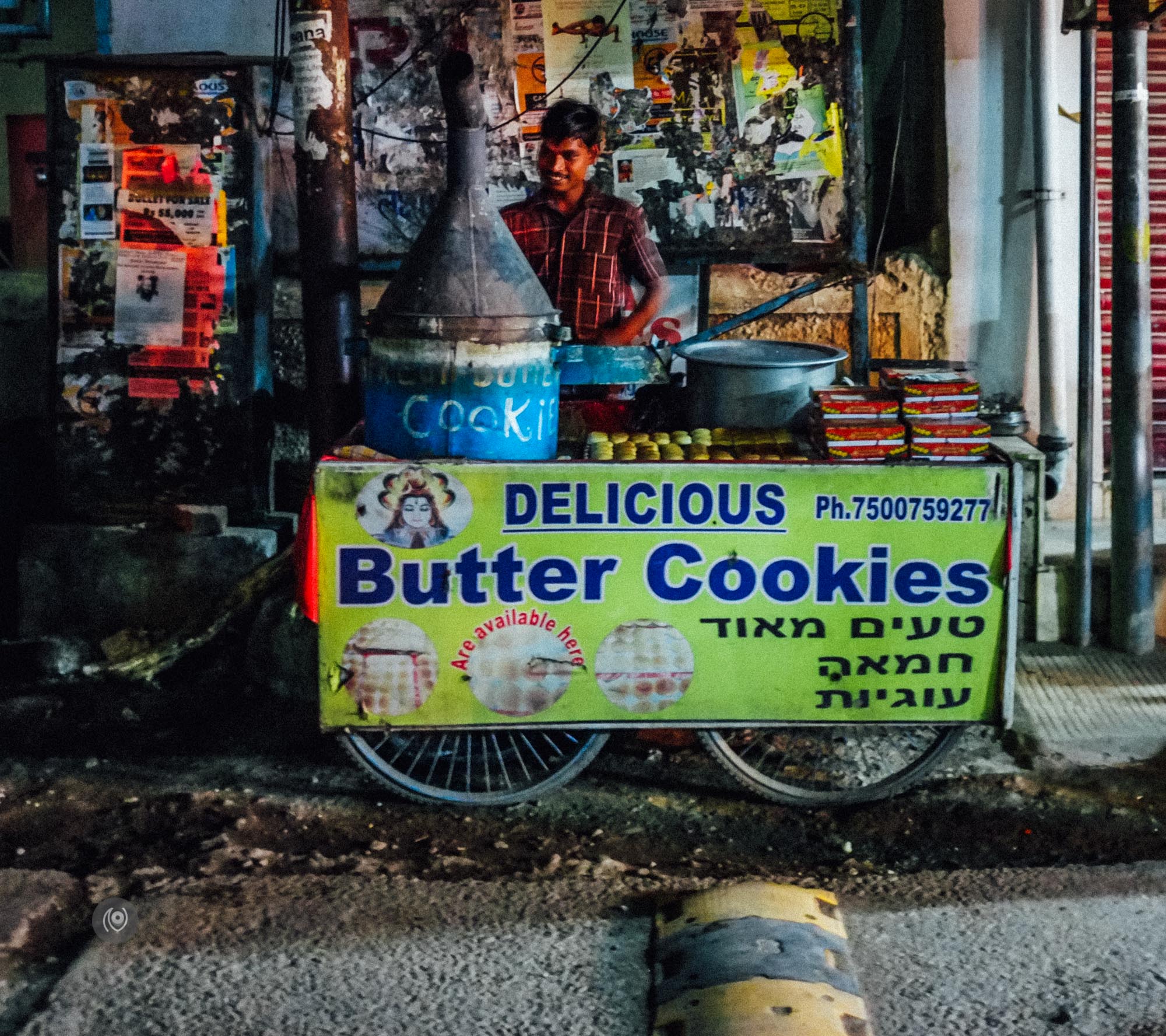 Day three was an early start. We had booked our spots for rafting down the Ganges with Paddle India and they arrived to pick us up at 0730. We were driven to their office, where we signed a rather detailed release ( I was impressed ), we deposited our purses and other non-essential valuables in their locker and then we were driven 26kms upstream. We disembarked at an unmarked location, we were fitted into helmets and life jackets and handed oars and asked to walk down to the river bank from the road. ( We had arrived in the same vehicle that had picked us up – the raft and one kayak had been tied to the roof of the vehicle – you will see many such vehicles dodging traffic and cows all over Rishikesh. )
Once we were all geared up and at the river bank next to our raft, Darshan from Paddle India proceeded to give us a full 10-12 minute introduction. He told us about safety procedures, what to do in case one of us fell in to the water, what to do if we lost the oar in the water, how to properly fall into the water, what commands he would and could give and how we had to respond to each, etc. He answered all our questions in detail and with patience. All MY questions actually. Clearly he was the expert but he didn't make me feel like an idiot. It was a good session. I felt safe and comfortable getting onto the raft and even volunteered to sit right up front.
Darshan introduced us to 21 year old Rohit who is a champion kayaker. He would be our rescue and support for the day and would kayak in front of us all the way. The 26 km journey that we had covered by road to get here, would take approximately two hours to cover via the river and could take longer if we rowed slow and feeble. Our raft had us four girls and another party of three with two girls and one guy and Darshan steered.
We went forward and back and down into the raft whenever Darshan commanded us to. He did instruct us to stop screaming because that would hamper his command-giving. We were much louder than he was. I screamed a lot throughout. Mostly in glee. It was a LOT of fun and what a ride. Rohit's kayak was up ahead all the time and he and Darshan exchanged hand signals when Rohit gave him a report of the situation down-river. Darshan was informed in advance and was able to ensure our safety as much as the unpredictable river would allow.
We went over at least ten rapids. Three Blind Mice, Roller Coaster, Tee Off, Club House, etc. Not in that order – I don't recall the other names. A few were a joy ride but most looked and felt scary. At one point our raft almost capsized too – but I didn't notice that, I was too busy shrieking and rowing like my life depended on it. It was exhilarating and we were drenched almost from the beginning. The water was cold but it felt pleasant. We were lucky we were doing this on a cloudy day, otherwise we would have been burnt to a crisp. We did get tanned though, which I have no issues with – had applied sunscreen before starting and had carried a tube too. ( Darshan has a water proof bag with him that can hold your phone or camera if you want to carry those for pictures. You can also hire a local photo / video company to take your photos as your raft goes over rapids. This is not included in the fee you pay to Paddle India. )
Since it was a Sunday, we met many other rafters in calmer water where proximity was not an issue. In the double dozens and more. Not one of those rafts were accompanied by a kayaker, many wore helmets that did not cover their ears and side of the head and some rafts even had sections in the middle – if you were sitting there, that's pretty much all you did during the entire ride.
Thrice during the rafting down the river, we were in calm waters and Darshan told us we could jump in if we liked. WE DID! It was fabulous! ( I've swum in Lake Thun in Switzerland in the month of August and the water in the Ganges was a lot warmer than Thun's water. We only started feeling slightly cold by the end of the rafting trip when we were in the breeze for long. )
While chatting up Darshan, we found out that just two days earlier, one of the rafters ( not in a Paddle India raft ) had died when he fell out on a rapid and because he did not follow instructions and panicked, his leg got stuck in rocks and his weak, bad quality life jacket could not keep him afloat. There are all kinds of companies that will sell you their rafting services in Rishikesh with prices ranging from Rs. 300 to Rs. 2,000 per person. I highly recommend going with Paddle India.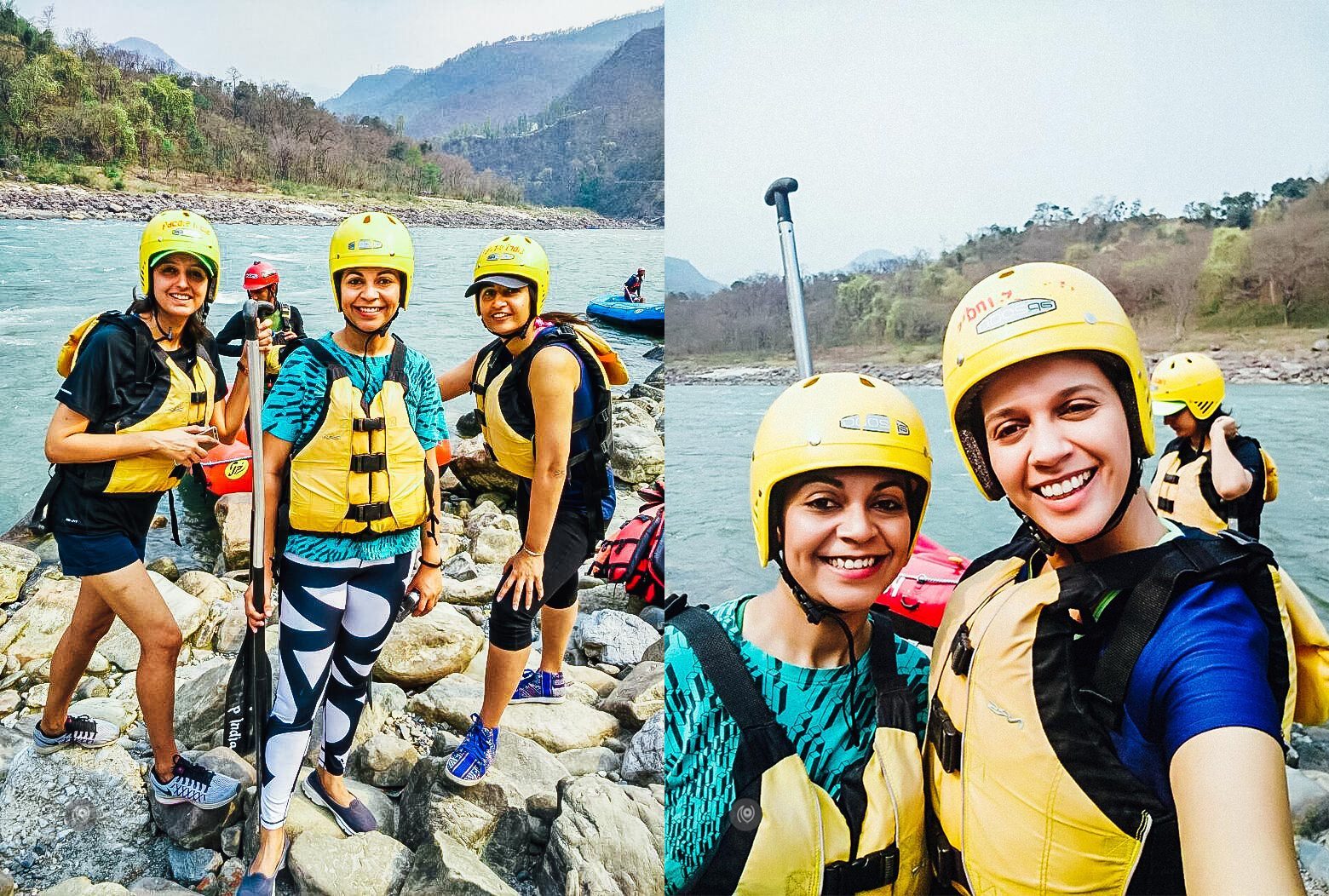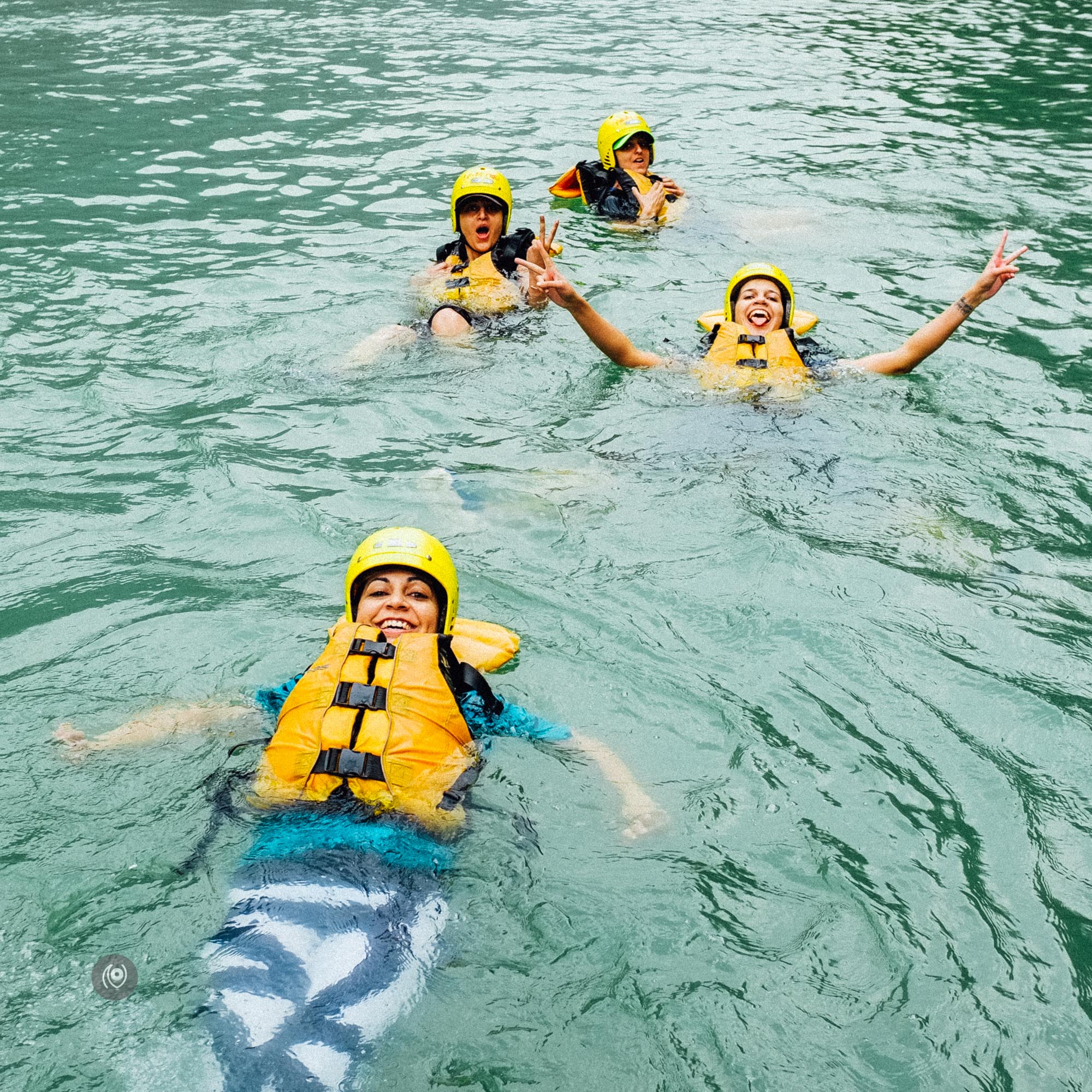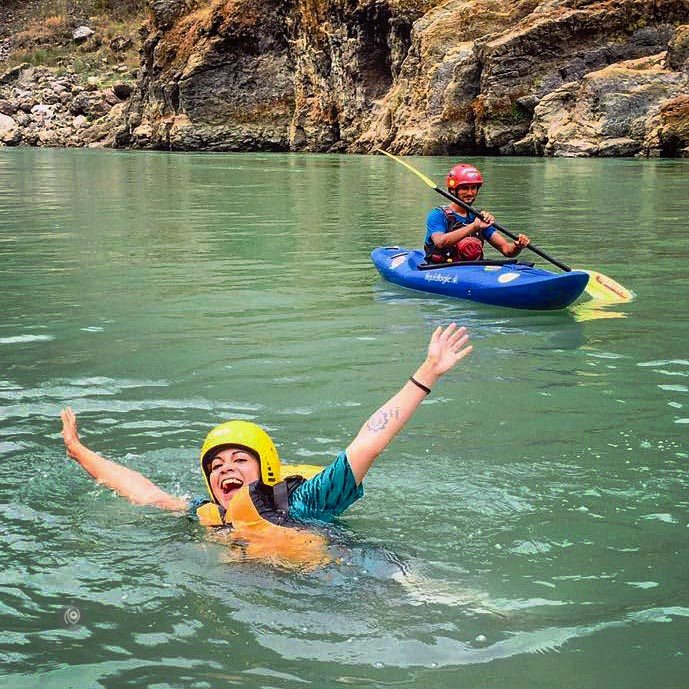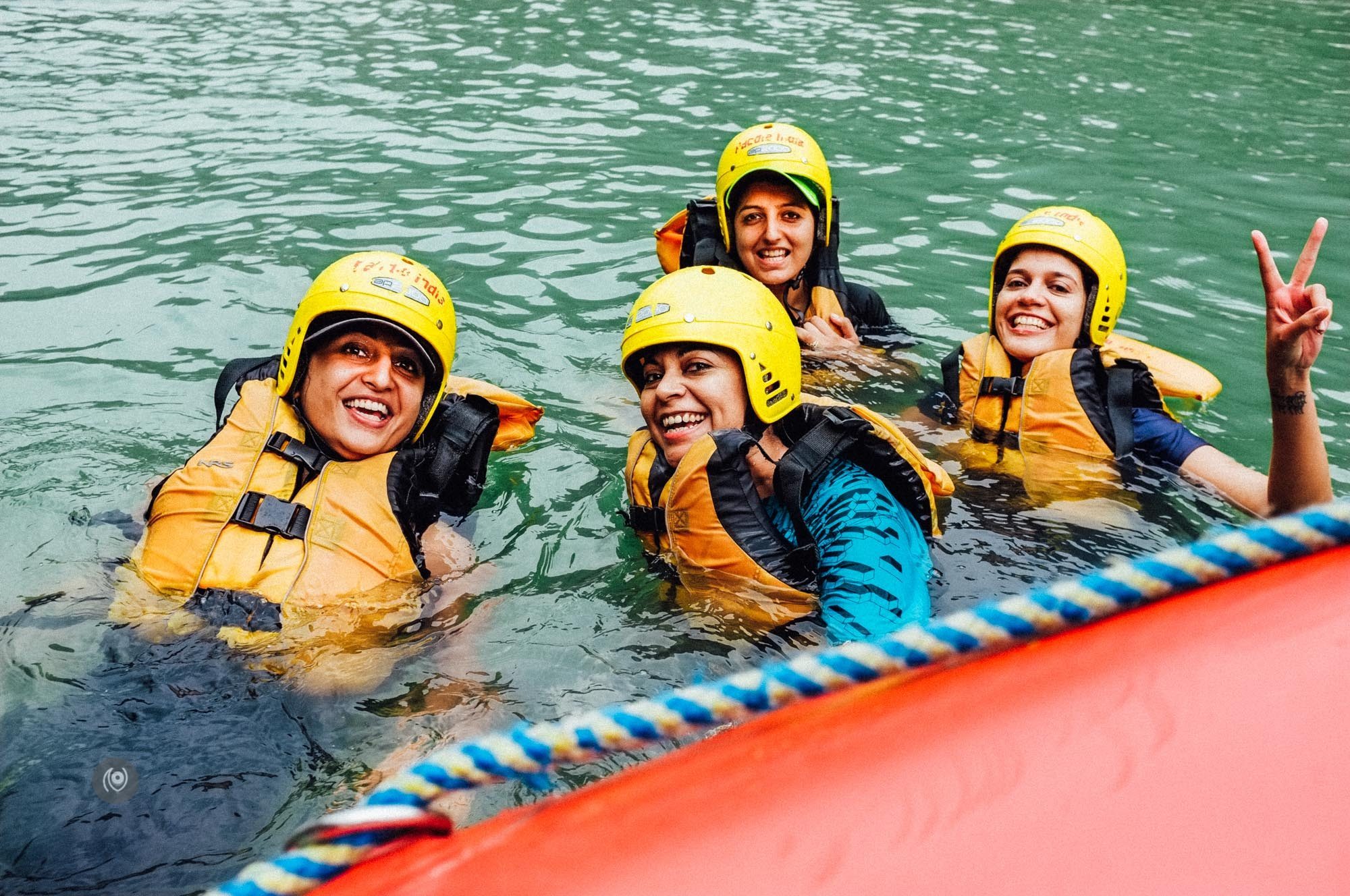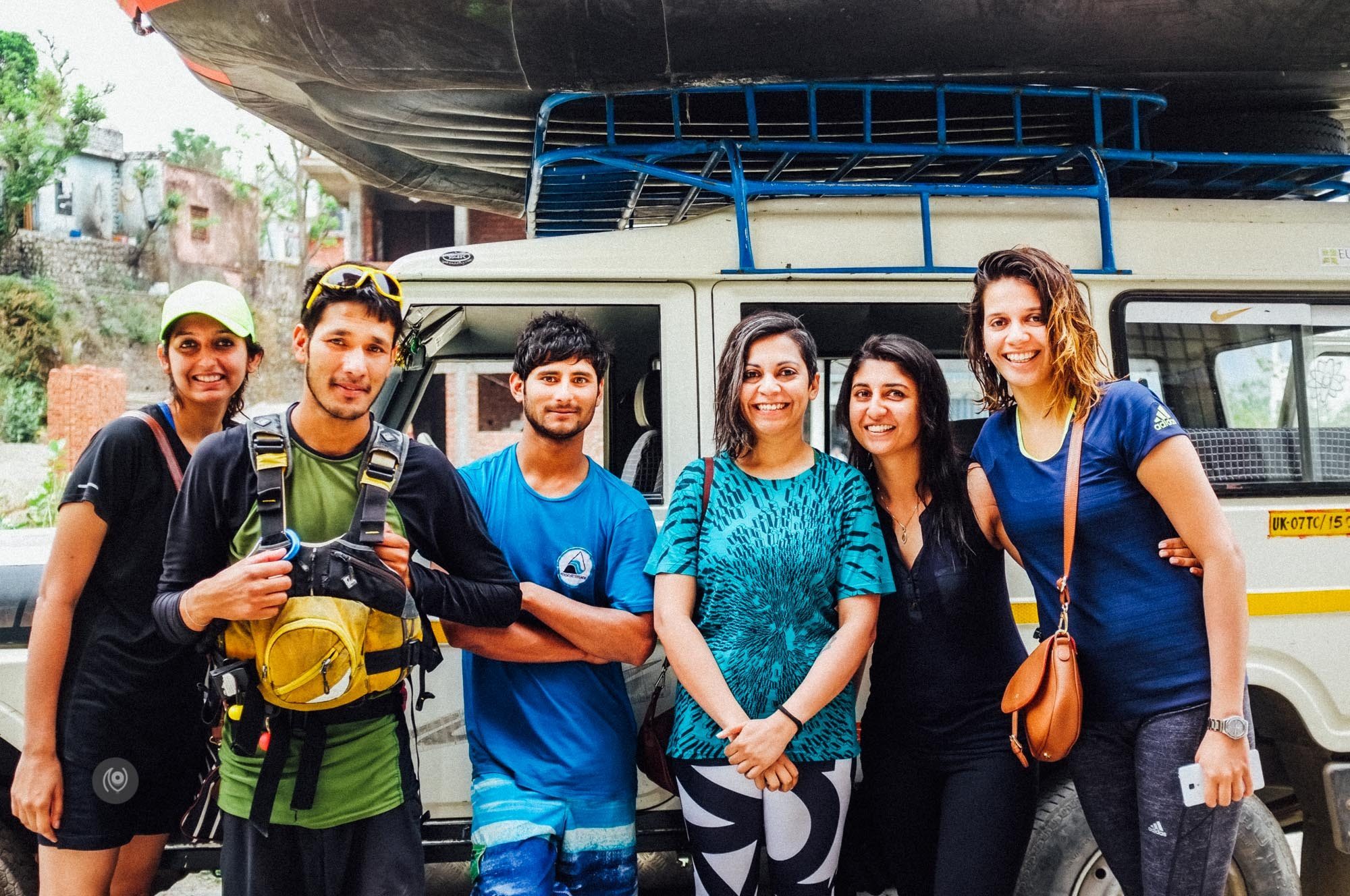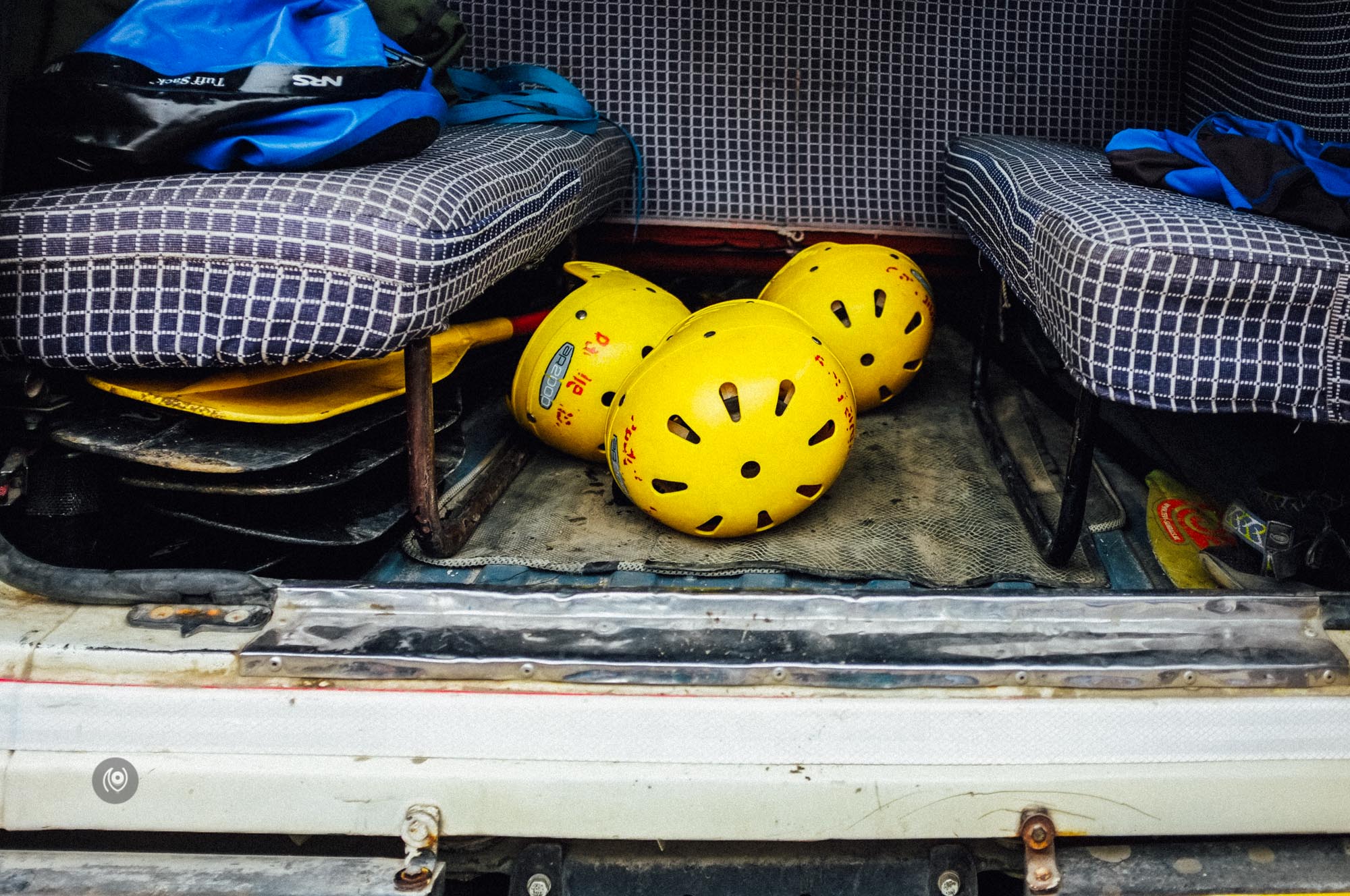 I'm going to miss soft-spoken and experienced Darshan and mischievous and young Rohit a LOT. Their company provides a lot of other excursions and trips and I was amazed at the photographs they'd pinned to their notice board at their office. The board was dilapidated but the photographs and the scenes in those photographs were stunning. India is SO SO beautiful – getting to these places can be a lot of work but it is so worth it. After my experience with them at Rishikesh, I am seriously considering a trek with them. As a woman in India, I also felt very safe with them from that point of view. Rare in this day and age.
Our rafting session came to a close and we were chauffeured from the river bank to their office and then to our rooms, where our host was kind enough to allow us the use of the rooms way after check out time so that we could shower and change. I had carried a sealable plastic bag in which we dumped our wet clothes and shoes ( you keep your shoes on while rafting because the raft is slippery – when you jump into the water, if you're wearing laced shoes, better to keep them on as there's very little time – oh and getting back into the raft requires you to have strong arms, if not, it can be a bit of an awkward spectacle as your raft-leader pulls you back into the raft. ).
We saw a bunch of other rafting companies had employed the use of their customers to bring the raft up from the river bank to the vehicle onto which it would be strapped for its journey back to the office. Luckily Paddle India did no such thing. I was a bit horrified – even though I would have helped bring the raft back up if they'd asked, I'd seen how tricky it can be to do that and how heavy the raft is – with my weak arms, I wouldn't want to find out!
We ate lunch at Madras Cafe, masala dosa and sambhar were yummy but the curd rice was bland. Then we were picked up by our friend's parents who drove us to the Jolly Grant airport. There's nothing to do at the airport if you reach there early like we did. So I listened to podcasts and chomped on a tube of pringles as a slow muscle ache began. I'm typing this today and can barely sit on my butt – it hurts with all the clenching I did for two whole hours while rafting! My arms don't hurt as much – clearly I didn't use much to row, ergo, I must've rowed quite badly. But I was definitely better than the one guy who was on the raft with us. He was flailing more than rowing. Heh.
And just like that, the weekend trip to Rishikesh came to a close. I didn't like the main Rishikesh town but drive up a little and there's some really beautiful locations. The water level of the river was quite low, hence rafting wasn't very dangerous,
Non-vegetarian food is not allowed, neither is alcohol. Who does this "not allowed" – implements this "rule", is anybody's guess. I don't know if it is a criminal offence to buy / sell / consume non-vegetarian food or alcohol in Rishikesh. I heard from various sources that one can procure branded alcohol from Raiwala, which is about ten kilometers from Rishikesh. Or, locally brewed alcohol is also available at the outskirts of Rishikesh. Allegedly, non-vegetarian food can be purchased from the "chicken market", which is near the railway station. Considering the number of locals, Indian tourists and foreign tourists I saw smoking weed, I'm guessing that's permissible – it is still illegal under Indian law but Rishikesh ( considering its religious ties ) seems to be operating on a set of rules of its own creation. I have not spoken with local police or government officials, so am unable to confirm or deny anything.
If I had to go back to Rishikesh, I'd only go back for the river rafting experience with Paddle India, That's it.
I hope I haven't missed out any piece of information – if there's something you'd like to know, please ask in the comments – will be happy to answer if I'm aware!
( In the second photo, I'm carrying a travel bag by Nicobar. )