Village Visit, Haryana from 2013
Previous photo story from the drive to Bahadurgarh from Gurgaon : Village Visit, Haryana #Drive
Our main reason for visiting the village this time was to get some work done for our parents at HUDA Bahadurgarh. We were needed to sign some papers. Such things entice me for two reasons : one, that I get to photograph the village life and the drive toward it from the city. Two, that I get to eat some wholesome, amazing home-made food at my Mom's village, where some of the family still resides.
I didn't want to photograph the interiors of the office or the people who work in the office because I wasn't sure if it was even allowed – and if it wasn't, I worried they might let me make photos anyway, and that might get them into trouble. Because I was going to blog the photos.
I look like a "patrakaar". It wasn't intentional but it usually helps when visiting Goverment Offices and establishments to get work done. In this case I didn't have to worry about it because my Dad's presence fills an entire office and "magically", usually, work does get done. In smaller towns, there is still a LOT of respect for Army Officer, even if they are retired. ( Getting things done in Gurgaon is a whole different ball game. )
Not only did our work get done, I also did not feel like I was being stared at. Which was super weird. Apart from a couple of inane questions that one of the officials asked Akanksha : "What is your height?", to which she responded 5'8″ and "What work do you do?", to which she responded, "I write online.", it was an uneventful experience.
When someone asks me what I do, I tend to respond with, "I'm a photographer." to keep it simple. "Blogger" isn't something anyone really gets even in the cities, hence unfair to expect anything in simpler villages and towns. "Writer" and "online" is still much easier to understand, even if the real meat of how exactly we earn our bread isn't understood.
I also heard the official asking my Dad if both his daughters were married. To which my Dad responded in the positive and the official added, "But they look so young!" Hah. If we'd told him that we'd been married for 6-7 years apiece, he probably would've died of shock. And if we'd told him that this is my second marriage, he would have jolted back alive too.
The staff at HUDA Bahadurgarh was all men. The only women present were serving beverages and cleaning the floor.
Depending on what you were there for, there were helpful A4-sized sheets stuck to glass panes, which told you what documents you would need to get the job done.
We had asked the boys along because we'd thought their presence might help get things done quicker, but as it turned out, they sat it out in the waiting area.
Maybe, things really are changing?
Or maybe, it's just that most people in small towns look at people like me and Akanksha and think we're foreigners and treat us well. It's strange how they try to speak with me in broken English while I'm at least half-decently capable of responding to them in jaatu!
Jacket : GoodEarth | Bag : Chiaroscuro's SCOTTIE | Shoes : NappaDori
The off-white "chikan" embroidery kurta I'm wearing is older than I am. It first belonged to my Mom and then I inherited it and wore it a LOT during college. It stayed with me afterwards and seems to survive all the wardrobe purges. It's survived for so long now, it makes no sense to throw it out! I recently shared old photos and in one of the photos – from 2003, I'm wearing the same kurta!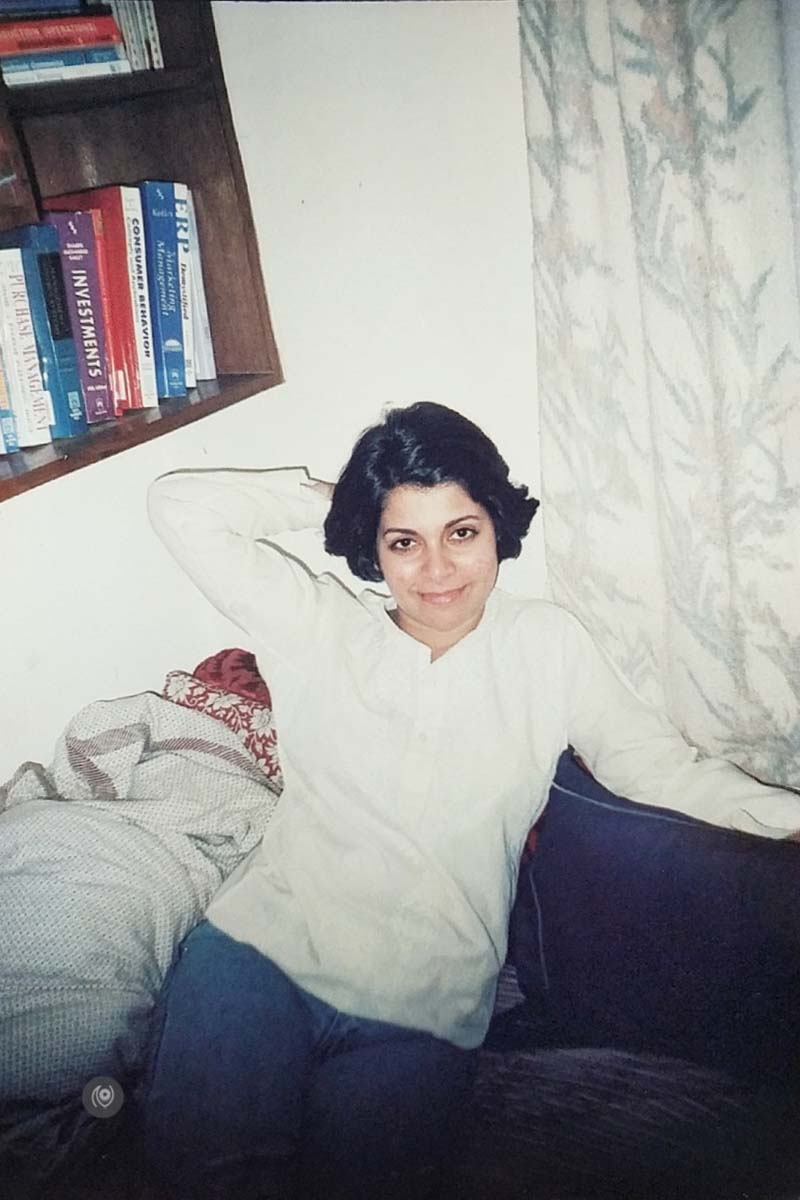 Village Visit, Haryana from 2013
Previous photo story from the drive to Bahadurgarh from Gurgaon : Village Visit, Haryana #Drive