We did the Jama Masjid and the Red Fort in Delhi before we headed to Varnasi – on the day before the festival of Holi no less! We spent the entire day on the banks of the river Ganges and headed back to the hotel only once the Sun had set and we'd witnessed the Ganga Aarti. Even on the day of Holi, Shiori wanted to come back to the ghats but only stayed back at the hotel at the insistence of the the hotel staff and drivers who said it would be an ill-advised move. Phew. I'd have gone with her if she'd ventured out but I would have had all my hackles up. It is not safe for a woman, period.
We did go out in the afternoon and thankfully no color was smeared or thrown at us. We did get a bunch of water balloons thrown at us, which missed. PHEW. I was carrying my DSLR with me and had stashed it away in my backpack, which is why not too many photographs of the city of Benaras.
The rive, Ganga, was in bad shape. We also spent some time morbidly observing dead bodies being cremated on funeral pyres at the "Burning Ghat". The "Jucie Bar" right at the Burning ghat was shocking even for me. We didn't go there. Photography is not allowed at the ghat where the cremations take place but it seemed to me that this rule only applied if you were a foreigner and / or female. If you get on a boat and they row you past the burning ghat, get a long lens and photograph away.
There was one hotel at the ghats, where we found refuge for a bit but their kitchen was closed and we could only wrangle a plate of potato fries and lassi and lemonade, which were wonderful to escape the afternoon temperatures.
The locals at the ghats were mostly friendly, even if some of them were high on marijuana. The boat "vendors" would shout "BOAT!" in our faces till mine turned blue from saying, "No thank you." "MADAM BOAT!" Yikes. Pricing for boat rides varied – the farther you walked form the main Dashashwamedha Ghat, the more expensive it got.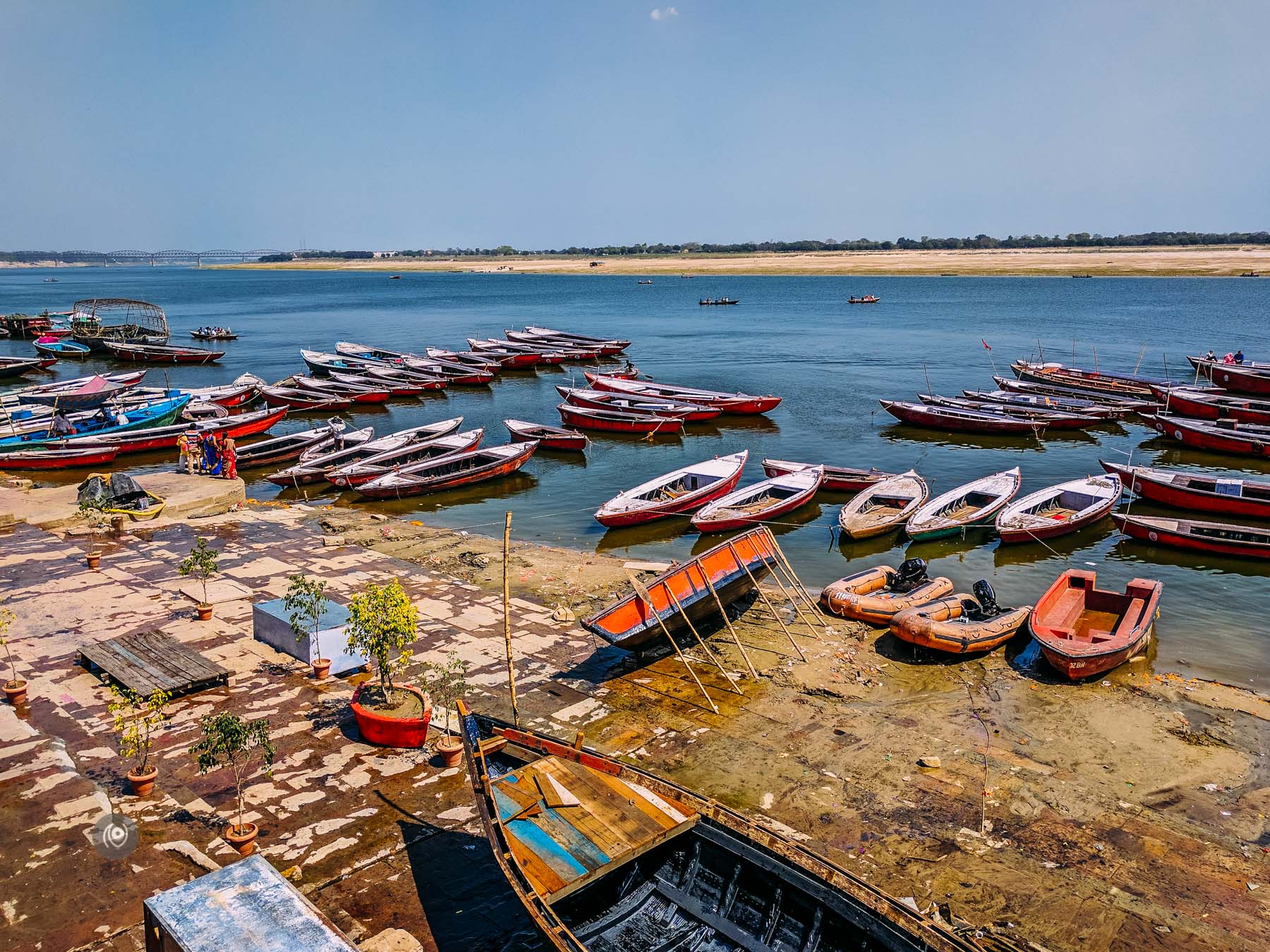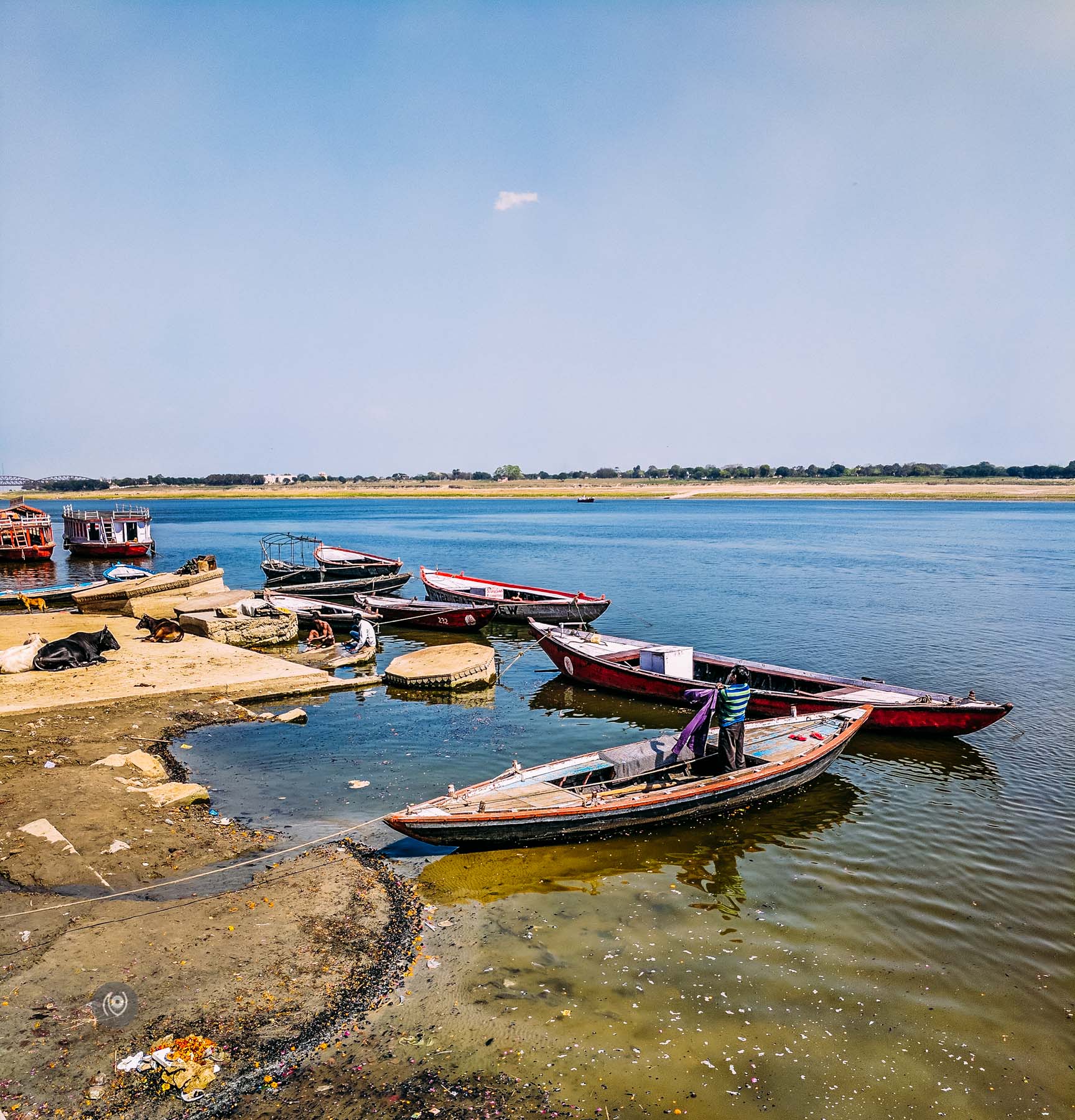 This was my first time in Varanasi and my first time at these particular ghats on the banks of the river Ganges. I had read about how bad the river was doing despite attempts to clean it and to conserve life in it but I hadn't seen it first-hand. Until this trip. The poorer people that bring bodies to be cremated cannot afford the cost of hiring a "holy man" to read the last rites / perform the ritual or the cost of the wood required to burn the funeral pyre or the services of the person ( a man ) who smashes the harder bones – like the skull – once the fires have burned out. Or the cost of having the ashes collected and them immersed, etc. Many of the poorer people simply dump dead bodies into the river and they stay there to rot and bloat, which has affected life in the river's ecosystem.
Apart from the bodies that are disposed of this way ( we didn't see any thankfully ), there's a whole host of other stuff that gets thrown – flowers, oils, clothing, garbage – in this case also a lot of Holi colours, most of which are synthetic chemicals, A lot of the material that is use in prayer rituals, which is burned, also gets dumped into the river.
The second photograph below is of a man looking for precious items on the shallow part of the river bed. This, I learned, is a profession. Each man has certain sections of the river marked out as their territory and they move to newer ones based on a mutual understanding with other fellow "scavengers". They are looking for jewellery items that might have stayed on a dead body after it was dumped into the river – or in the ashes that made it to the river – or fell off of someone who was putting a body / ashes into the river. Our man here did find a silver ring with a non-precious stone on it within the ten minutes I was around to make a photo of him. Once i'd noticed him, I couldn't un-see all the others down the river banks. Wearing a loin-cloth and with their heads turned sideways just above the surface of the water, the Sun beating down on their exposed backs, firm buttocks and muscled legs for the stamina required to stand in the water bent-over like this for minutes at a stretch for hours throughout the day.
Death and commerce. The living need to eat.
Above, part of a structure on the river bank that is slowly tilting on its side and will eventually fall into the river. It smelled of urine and neglect. Our man, the "scavenger" below, walking away after he'd found something.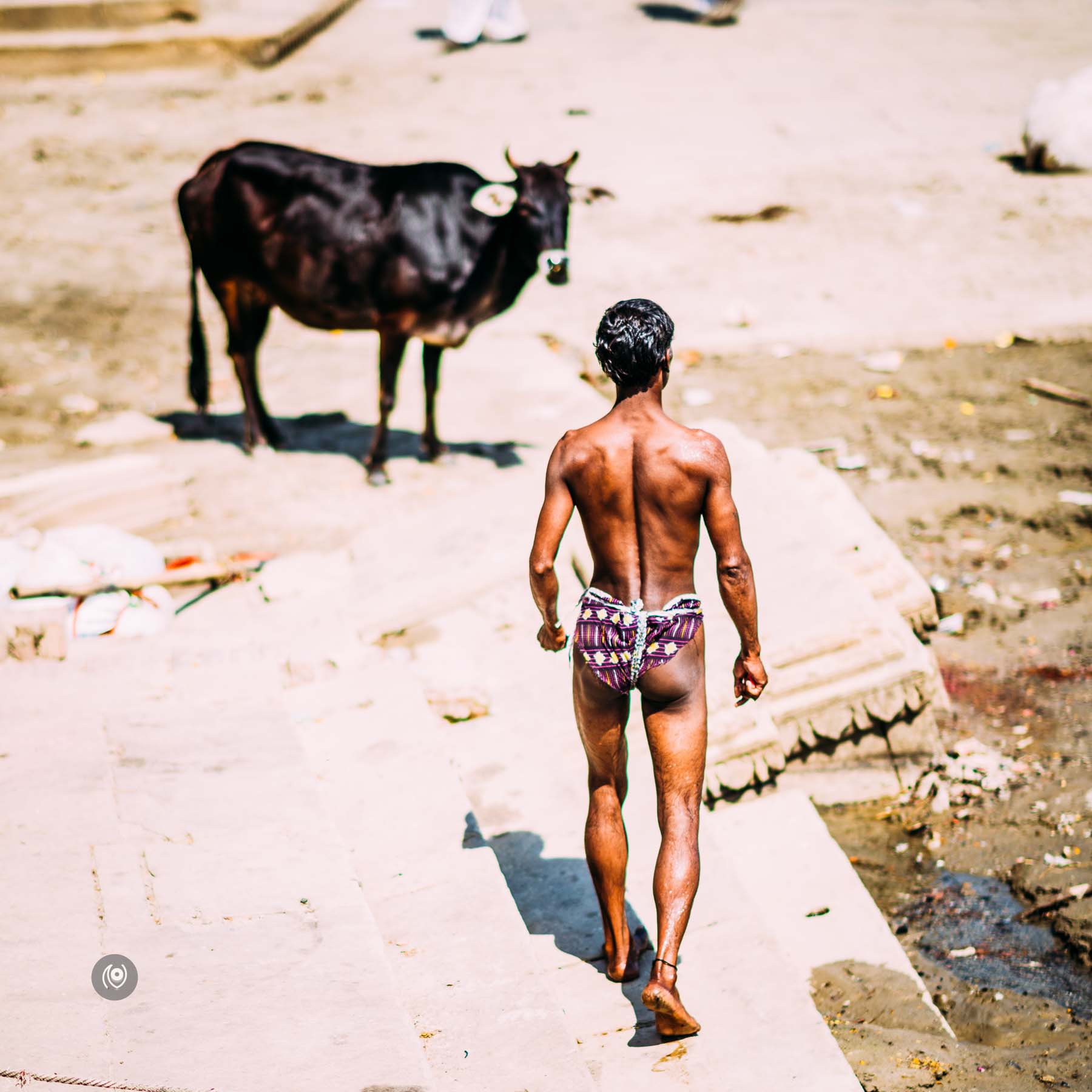 Below, a "holy man" washes himself and his clothes while his belongings are kept on the steps that lead to the water. We were seated at a higher level and could observe him going about his task. Eventually, he came up to our level and asked us to move so that he could utilize the space to dry his clothes.
We watched the Ganga aarti for its entirety – please carry drinking water and snacks with you because there's no place to really sit and order and eat there. You can purchase snacks and oily samosas from the streets just before entering the area of the ghats but I don't advise that.
In Varanasi, we stayed at Hotel Surya, which had clean rooms and absolutely wonderful food at their restaurants – but everything we asked for – like water bottles was "Madam that will cost extra". By the end of our first day there, we were joking aloud about how our next request was going to be met with "Madam extra charge". It was a nice hotel still – cheap and clean and friendly staff – as long as you don't want WiFi – they don't know how it works or how to make it work if it isn't and the speeds are beyond abysmal. If you have a local Indian SIM then phone data works just fine. Don't pay for the hotel's WiFi. Ask for the driver named "Raju" for your airport pick up and drop or city tour and you will not be disappointed. Raju has interesting stories about how he taught himself English. Also ask him about his family's weaving business and maybe, if you have the time, he'll take you to his family home, feed you lovely local fare and show you how his family weaves wonderful Benarasi Silk Sarees. Tip generously.
If you're going to be out the entire day anyway, Hotel Surya is a decent hotel. If you're going to be in, then do not miss the food. They have a pool and a large lawn, so if the weather is great, you're set. Lots of privacy as well because it's away from the main road.
After two days in Varanasi, Shiori and I headed back to Delhi for the night and then headed to Agra the next morning, by train. Both of us were feeling ill while on the train – she had a stomach bug and my throat felt like it would close up. It was important for Shiori to see the Taj Mahal and there was no way I was leaving her alone, so off we went!
Agra with Shiori was basically me passed out in the terrible hotel's room. I had very high fever and didn't even step out into the city of Agra except when we were driven from the railway station to the hotel in a cab and back. The hotel was TERRIBLE. It's called the Orient Taj – no relation to the Taj Group of Hotels and they were abysmally bad on all levels – the service ( or the lack there of ), courtesy levels ( late night request for a cab was met with "We charge Rs. X", to which I said that the cab we'd taken from the railway station had cost X/10 and I was told I could take it or leave it and then they hung up on me! If I hadn't been sick as a dog, there would have been a racket and then some – I could barely croak on the phone let alone go all the way to the lobby and figure out whose head needed to be bitten off ), food ( what's that you want? A side of bread? Rs. 1,500 of course ), room ( there was fungal growth on three rooms that were shown to us before we settled on the fourth, which had fungal growth too, just not visible to the naked eye from a distance. ) I'd give them a minus rating if that was possible. My worst hospitality experience ever. And it was expensive.
Many thanks to Sanjay Tiwari at Taj Cabs – the cab service that agreed to pick us from the hotel in the wee hours of the morning without charging us extra fare – their driver was also punctual and courteous. I called them up at ten in the night and they still agreed to arrange a cab for us the next morning at five a.m. at no extra cost. Now THAT was hospitality.
We got back to Delhi and proceeded to hibernate at our respective rooms to recover. I wasn't able to meet Shiori again because I was so ill and she had to leave for Tokyo within a few days. Luckily, she did get some time to pick up curries and condiments and just two days ago she told me on Twitter that she was making Rogan Josh!
What a mad MAD trip! And soon, it'll be my turn in Tokyo!
More travel stories on Naina.co in the EyesForDestinations category.