What do you do when you visit a place that's supposed to be a hotel but feels like home? ( And not just because you're working on a gig with them. ) I don't know about you but I did not want to leave Suryagarh.
A few years ago, an agency had contacted me on behalf of the property, asking me if I wanted to spend a few days and write about my experience. Having never been in favour of giving away my work for free, we tried to come to a common ground where we felt that both parties had derived equal value. I didn't know anything about Suryagarh, and might have been keen to move on to the next prospective client – the communication went no where.
All things work out eventually and I cannot begin to tell you how grateful I am that it worked out quite like this. Without even getting into how beautiful the property is, how ornate the architecture is or how luxurious each experience was, this is a MUST visit destination.
On its own, Jaisalmer is a quaint, Golden City with lovely people and hospitality. But Suryagarh is something else altogether. It would be impossible for me to point out one inauthentic smile on the faces of the people that work at Suryagarh. If you need something, they're right there. If you want to be left alone, they'll stay away. Proactive, pre-emptive, this experience was unlike any other. And they weren't treating us this way because we were their "blogger" guests – I saw them do this with ALL their guests. It was unbelievably wonderful.
We drove from Jodhpur to Jaisalmer – the roads are currently being torn and remade, so the drive wasn't exactly pleasant but once the roads are done, it's like driving on miles upon miles of straight, smooth, unending surface.
Our original deal was that I'd do one blog feature about the property. But once I got there, I knew that would not be possible regardless of how much I tried to remove images from my final select. I've already published one #CoverUp personal style feature that was photographed at Suryagarh and this one here, with 51 photographs, is just to show you Day One at the property. I tried. I couldn't bring down the number further without removing some thing that I think is relevant to the entire experience. I also recorded one episode of my podcast, The Naina Redhu Experience, from the roof of my room at Suryagarh. Also up now : Dinner On The Dunes
I'll take you through Day One below. We were welcomed by the Suryagarh Jeep somewhere on the outskirts of Jaisalmer, after we'd crossed through the city. The area is dotted with wind turbines and wind farms. Once we were at the hotel, their resident music and dance performers hit up a beat, danced with us and we were showered with Bougainvillea petals ( OMG I LOVE THAT! ). It was the season for Bougainvilleas all across North India and the flowers grow everywhere. My hat even caught a little bud on its rim. I considered that as a special sign for some reason. A moment in time to stop and smell the roses.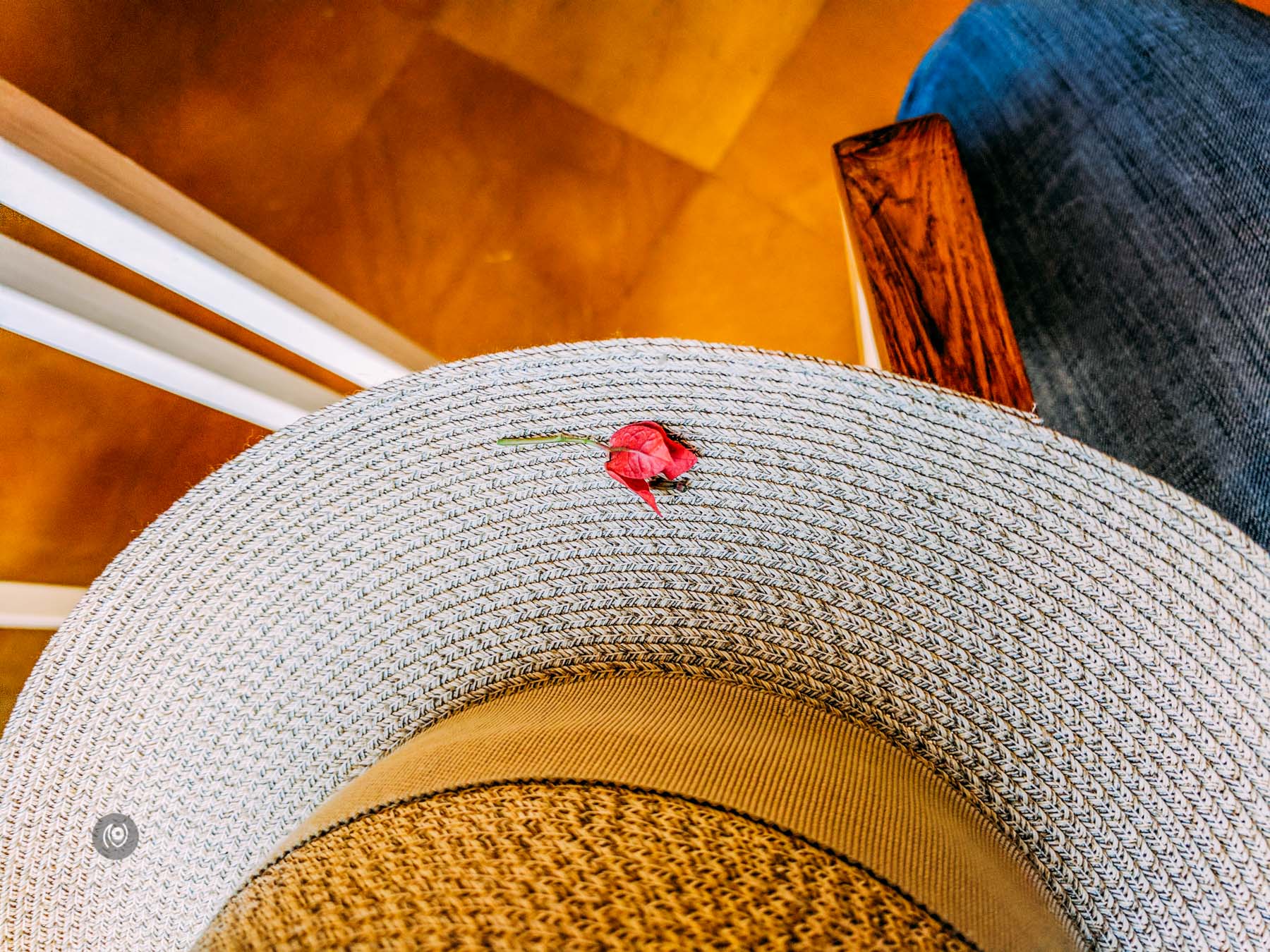 After a quick bite and drinks, we were shown to our rooms. OMG the rooms! Our parents got the best set, which was such a lovely thing. The Villas are a new addition to the rooms at the hotel. They're close to the vegetable patch and a stone's throw from the main structure. Complete privacy. A private pool. Jacuzzi. And the bath tubs are divine. With "ubtan" and bath salts and Kama Ayurveda skin care, there's little you're left wanting for. The rooms come equipped with television, coffee machine, and a few things I might've lost track of already. There's so much to observe and eat and do, it's not humanly possible for me to keep track of everything! ( I tend to blog every single day when I travel – this time, I blogged maybe ONCE – was too busy enjoying and photographing all the experiences! )
The rooms have a beautiful ceiling as well – and your own private roof that you can climb to and watch the sunset from. There's a sunrise viewing spot on the mail building too – the sunrise isn't directly visible from the Villas as the main structure hides the rising Sun.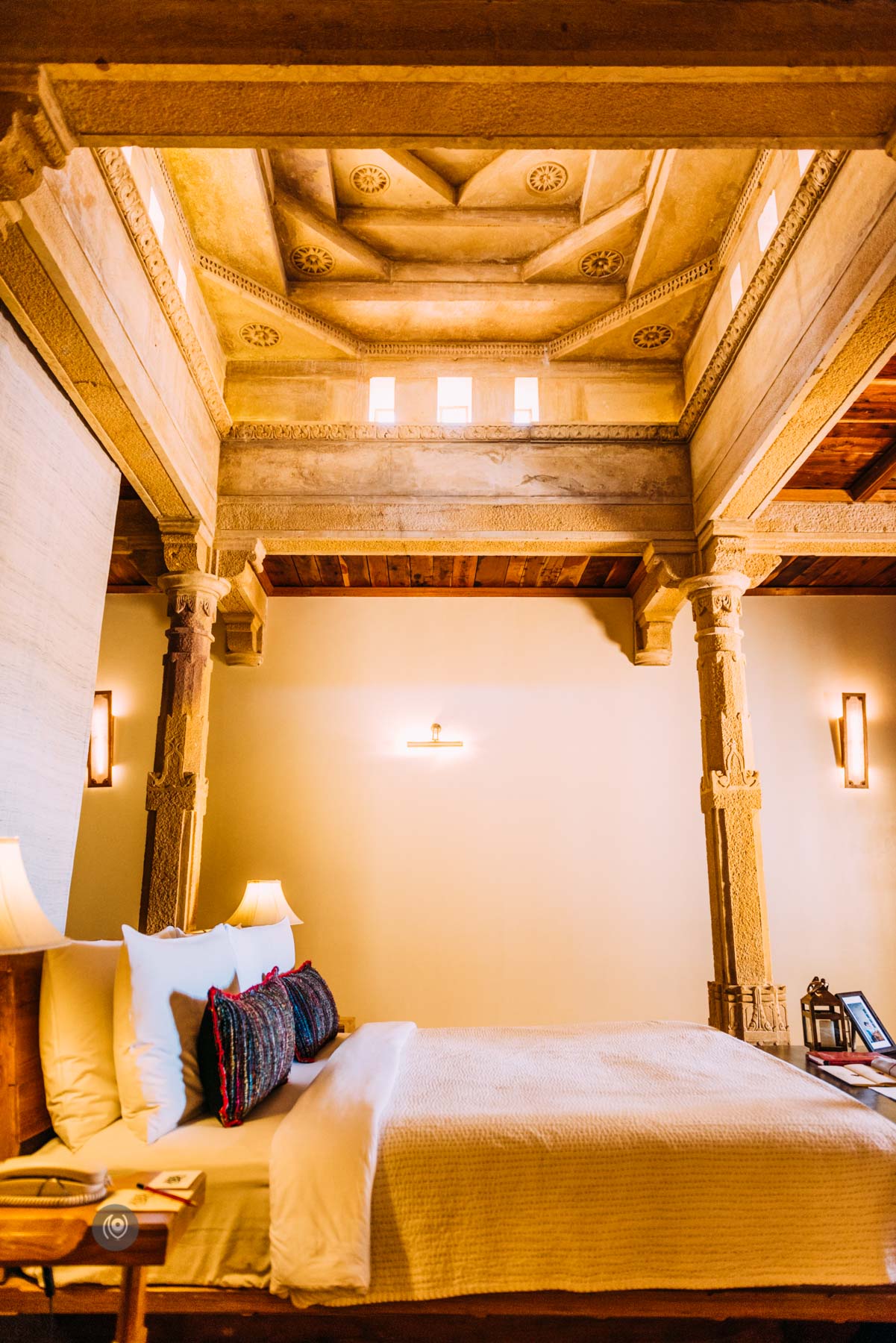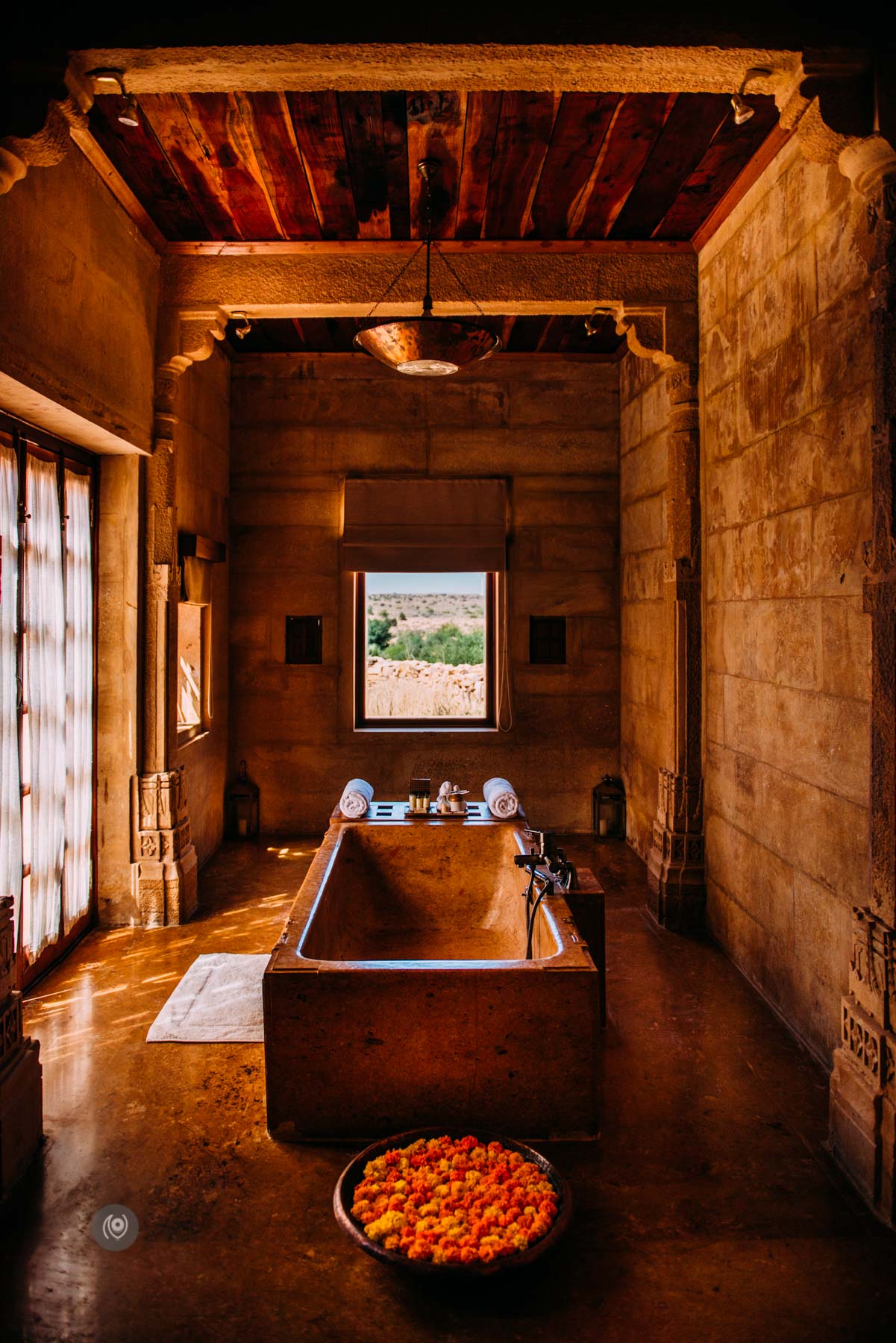 We did a short walk around the hotel and got a tour of the facilities. Don't miss the marble on the floor in the lobby – it's the same type that was use to build the Taj Mahal in Agra – super scarce to find now. The Billiards room. The indoor swimming pool. The Rait spa – try the salt-wrap treatment and their special "sand" treatment among other regular ones like deep tissue massages. We all ended up opting for the Byra for some reason – without consulting each other! It was lovely.
The hotel's courtyard is a special place. I'll be writing about that and sharing photographs from there in a separate photo feature. I wasn't aware of it – but people on Twitter and Instagram, thankfully, told me that I must not miss the courtyard in the early morning hours. I'm not a morning person, so I was quite reluctant but the photographer in me was easier to convince – I could catch the sunrise AND I could catch the courtyard. OMG I'm so glad that I did and if your'e headed to Suryagarh, you MUST NOT MISS THE COURTYARD from around 7am till about 8/8:30am.
Reflection of a section of the courtyard in an empty wine glass. ( All images are clickable if you would like to see larger versions! )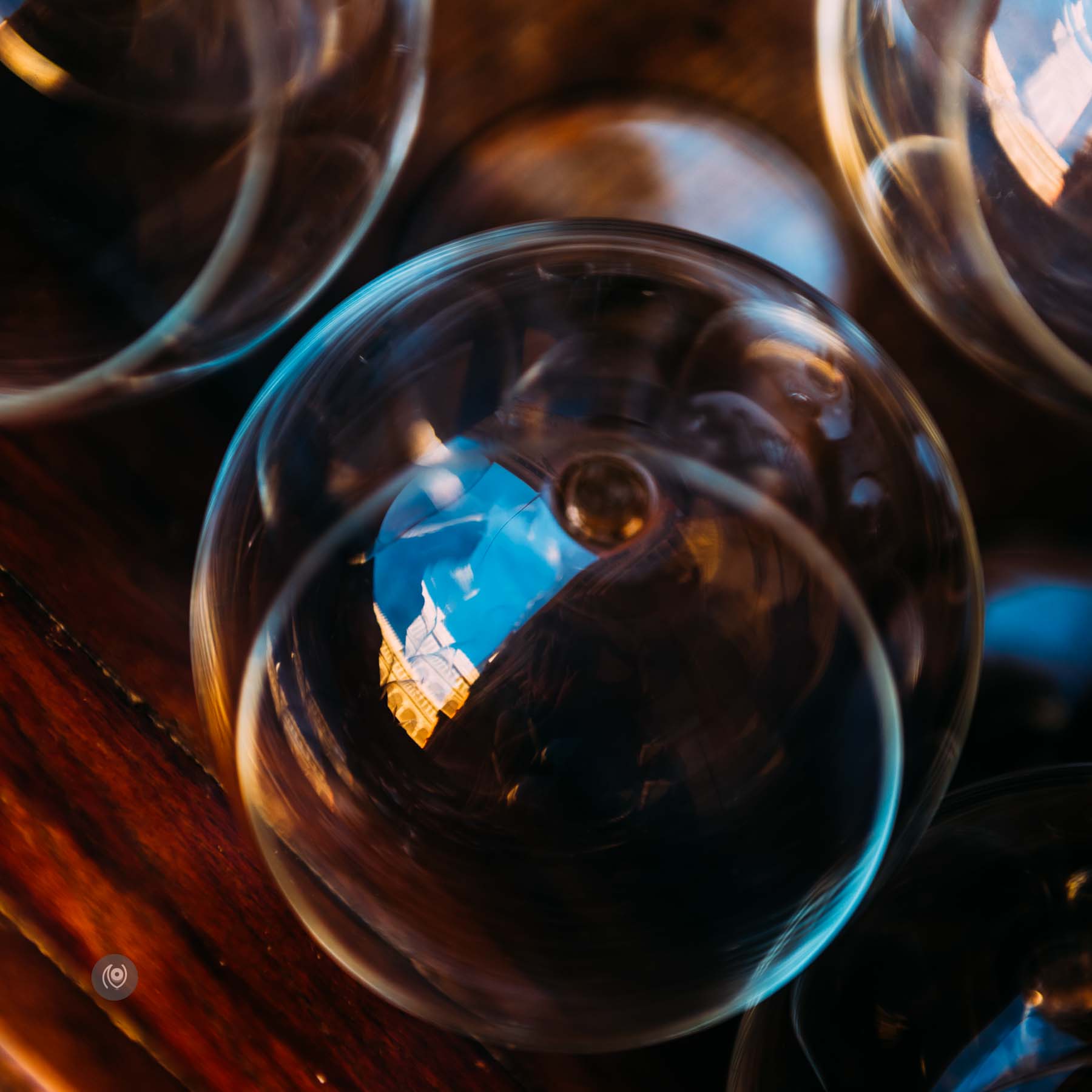 In the evening, there's a Rajasthani Musical performance for all guests. You can grab a snack and a drink and chill under the stars before it's time for dinner. The hotel looks divine at night as well. They setup a special table for us to dine in the courtyard. The food did not end. All the local Rajasthani delicacies that I could possibly think of and then some. The hotel of course has other cuisines as well – some well known chefs and recipe creators from India have helped curate the selections.
This isn't the only photo feature about Suryagarh but I think I'm going to end up thanking Siddharth and Nakul in each one of them. Thanks guys! I love you! You guys are marvellous at your jobs and so handsome and smart and polite. Very grateful to have spent time with you and the rest of the staff at Suryagarh. Special mention to Sandeep. That black cold coffee was GREAT.
More soon! I promise!