( One of the participants had a flight to catch and left just before I got in the group photograph above. )
Something happened after I wrapped the 4th Edition of #WorkshopsByNaina. A new energy. More confidence. More structure and content. Within one month of wrapping up the 4th Edition, I was revving to go and am happy to report that the 5th Edition on 13th of September, 2019, went AWESOME!
The participants and I ( for this particular workshop subject matter and format, a maximum of 5 participants are allowed ), meet at a professional conference space, in this case, WeWork Forum in Gurgaon, and we discuss possible solutions tailored to each individual's unique situations.
We always start with portrait photographs of the participants. This serves as an ice-breaker. Whatever little awkwardness is there at the beginning, goes away completely when I put people in front of the camera.
The workshop has seen all kinds of solopreneurs previously : professional photographers ( lifestyle photographer, fashion photographer, wedding photographer, baby & maternity photographer), artists, a beauty salon owner, a product designer, an entreprenuer planning to launch a beauty brand, a textile jewellery designer, the owner of a precious jewellery brand, a professional networker, etc.
For the 5th Edition, the workshop had :
For roughly 3-4 hours, we exchanged information, discussed the pros and cons of various approaches and discussed real life situations that I had experienced.
The focus was on brand building, mostly online. The fundamental rules of running a successful business haven't changed. Social media has, however, allowed us to expand our reach and horizons internationally.
When I launched the workshops in 2018, I started with sharing 8 blog posts with the participants. For the 5th Edition, we are already up to 12 blog posts. These serve as reference material that the participants can come back to revisit at their own pace.
This time, I also shared the 12 blog posts with their updated content with all previous workshop attendees as well.
Since I had included a case study about my brooches, I carried a 24 inch diameter canvas studded with a variety of my hand-painted wearable art brooches to show to the participants in-person.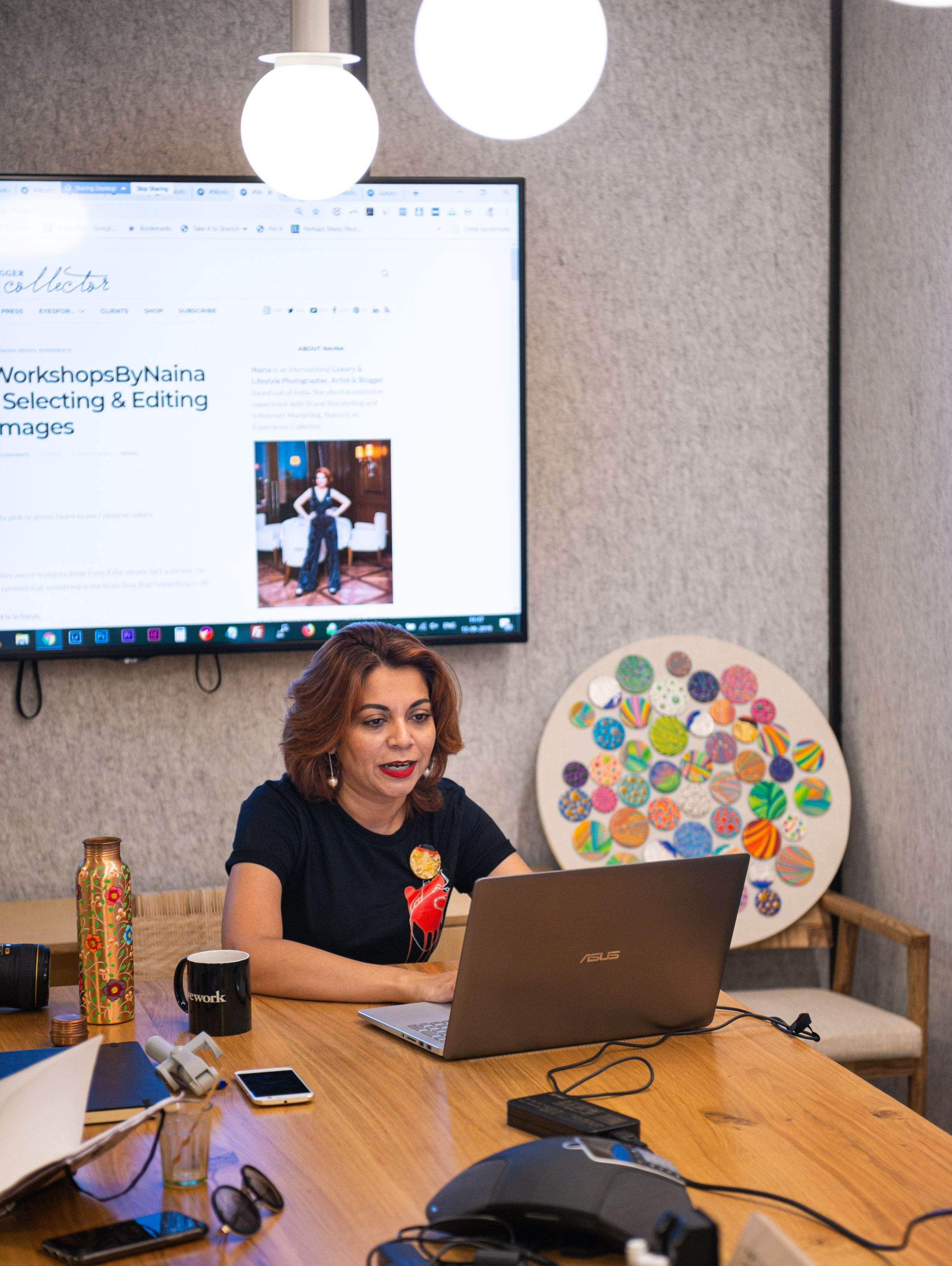 I'm grateful to have found a platform like MeetUp and a professional conferencing space at many of the WeWork locations in Gurgaon. Because everything just works at WeWork, I am able to focus entirely on delivering my best in the workshop without having to worry about a multitude of variables likes air-conditioning, coffee, water, washrooms, electricity, etc. Special thanks to Iti, Shruti and Sohini at WeWork Forum. Also, as always, thanks are due to Arushi.
This was the first time I decided to conduct the workshop on a Friday and WeWork was BUZZING! Lots of energy and coffee all around.
( See the Workshop's listing / registration page on my Shop for pricing and offerings. )
Scroll to see links to blog posts about previous workshops at the end of this blog post.
This time, I also planned to create additional content that I could use to market the workshop further. The main content piece I created was a 30-40 second video of each participant introducing themselves and their brand and then sharing one main takeaway from the workshop.
#WorkshopsByNaina is also now a separate, dedicated account on Instagram, where I will be sharing content from the workshops.
Apart from the brand building conversations, each participant also receives a high resolution image file of their portrait and access to over 6,000 words of content created specifically for this workshop, in the form of 12 blog posts.
As an experiment, I have introduced two new things in the mix, post-workshop : 
A WhatsApp Group

( I know. The last thing I want is to be added to a WhatsApp Group – but that's not because there's something wrong with the platform. It's because what usually happens on these groups. "Good Morning" messages are strictly forbidden. ) The reason I've made this group is because no one was engaging with the Facebook Group that I had created for the workshops. Even important announcements and questions were being completely missed. As long as I'm able to curate and moderate the group, I have my fingers crossed that we will be fine.

Events

: I am fortunate enough to be invited to a lot of events throughout the year. Bharat accompanies me sometimes but mostly, I turn down invites a LOT because I know Bharat won't be keen and I won't know what to do alone. So. I have decided to start taking workshop participants with me to these events. Depending on what the event is and what I feel might be a fit for a particular person, I will check their availability and share the details and let's see! I've already made a good start where Adete accompanied me for JJ Valaya's Couture Fashion Show and Neha ( TinyLove Photography ) accompanied me to the re-launch of the Christian Louboutin Store.
Stay In Touch
Read & see more from the 1st, 2nd, 3rd and 4th Editions of #WorkshopsByNaina
For announcements of future workshops, subscribe to my newsletter. I barely send out one in six months. If I manage to get regular, maximum once a month, if that. Mainly only announcements of workshops. I'm planning to schedule the next one in mid-November.
Remember, if you are not a resident of Delhi / Gurgaon / NCR, I am available for personal one-on-one video call consultations.
( Images of me and the group courtesy Akanksha Redhu. )